Religious leaders are taking to social media to remember famed Christian evangelist Rev. Billy Graham, who died Wednesday at the age of 99.
Some praised Graham – who preached to more than 200 million people in his lifetime – online, calling him "the most important evangelist since the Apostle Paul" and "one of the most faithful followers of Jesus." Others recalled the impact he had on their faith or the faiths of loved ones.
Here's a look at how Graham is being remembered.
Franklin Graham
Franklin Graham, the late reverend's son, recalled something his father once said about Heaven. 
"My father … was once asked, 'Where is Heaven?' He said, 'Heaven is where Jesus is and I am going to Him soon!' This morning, he departed this world into eternal life in Heaven, prepared by the Lord Jesus Christ — the Savior of the world — whom he proclaimed for 80 years," Franklin Graham said. 
Russell Moore
Russell Moore, president of the Ethics & Religious Liberty Commission, part of the Southern Baptist Convention, said it's almost "impossible" to count the number of people he knows who have become Christians through Graham's work.
In an interview with Fox News, Moore praised the authenticity of Graham, saying he was someone who was the same in both his public and private life.
"My earliest memories are watching him preach on television as a very small child. I remember being struck as a child with the gravity with which he took the Gospel. That continued with me for the rest of my life," Moore said. "When I met Dr. Graham, that same sense of weightiness of the Gospel was evident in him personally – just as it was in public."
"The death of Billy Graham is a time for all of us to reflect on the hope that he preached – forgiveness of sins and peace with God through Jesus Christ."

– Russell Moore
Moore added that Graham was "successful" because his work wasn't all about himself, comparing him to the John the Baptist.
"I think the death of Billy Graham is a time for all of us to reflect on the hope that he preached – forgiveness of sins and peace with God through Jesus Christ," Moore said. "I hope there's a great deal of reflection, not just on what he did, but why." 
Greg Laurie
Pastor Greg Laurie went from watching Graham on his black and white television to attending one of his crusades in San Diego, California, to serving with him as a board member on the Billy Graham Evangelistic Association.
"I wasn't in any way disappointed that I got to know him. He was every much the man you would have hoped he would be," Laurie, the pastor of Harvest Christian Fellowship, a non-denominational church in New York City, told Fox News.
Laurie said Graham, who he has been friends with since the early 1990s, was a "very humble man" who enjoyed meeting and talking with new people. Graham was faithful in his message, Laurie said, which was simply: We're all sinners, but God loves us and sent his son to die for us.
"I don't think anyone will ever take Billy's place. But we can all, in our own way, follow his example and proclaim the same Gospel as he did."

– Greg Laurie
"I don't think anyone will ever take Billy's place. But we can all, in our own way, follow his example and proclaim the same Gospel as he did," Laurie said. 
Samuel Rodriguez
Rev. Samuel Rodriguez recalled watching Graham preaching on his black and white television when he was a young teenager. His sermons about reaching the world with the gospel inspired Rodriguez to do the same, he told Fox News.
The president of the National Hispanic Christian Leadership Conference, Rodriguez praised Graham as the "quintessential unifier," pointing, in particular, to the integration of his crusades at a time when segregation was prevalent.
"No Christian leader in modern history brought more unity to the Christian body than Billy Graham," he said.
"He understood that every single person is created in the image of God without exception," Rodriguez said of Graham, who he also called a "civil rights advocate."
Additionally, Rodriguez said Graham brought together different factions of Christianity – charismatics and non-charismatics – through his preaching.
"He taught me if you teach the word, but most importantly if you live the word, if your character lines up with your rhetoric, then God will convict the hearts of mankind," said Rodriguez. 
Anne Graham Lotz
When evangelist Anne Graham Lotz thinks of the late preacher, she doesn't necessarily think of the public figure – but her father, she said in a statement.
"But when I think of him I also think of his message because he was immersed in it. Saturated in it. He was his message…a simple man who had responded to God's love by placing his faith in Jesus, receiving the assurance that his sins were forgiven, that he would not perish, but would have everlasting life," Lotz, an author, said. "Simple faith. Faith that matters more than anything else."
Lotz recalled that she's said she was raised by a single parent, as Graham was often away for his ministry.
"Now, he has left again. This time, he will not be coming back. At least, not until Jesus does, too," Lotz said. "While he may be physically absent and his voice silent, I am confident that his message will continue to reverberate throughout the generations to come."
She said she hopes her father's death will be a "rallying cry" for others to "rise up to take his place." 
Lee Strobel
Author of the bestseller "Case for Christ," Lee Strobel tweeted a simple message following Graham's death.
"A life of sharing the Good News with the world. Well done, good and faithful servant!" he wrote.
Beth Moore
Author and evangelist Beth Moore also took to Twitter to remember Graham.
"There simply will never be another Billy Graham," she posted. "What a gift of God to this world."
Steven Furtick
Steven Furtick, pastor of Elevation Church in the Charlotte area, paid tribute to Graham.
"You showed us how to leave the 99 for the 1. Thank you, Dr. Graham," Furtick tweeted.
His social media post referenced the Biblical parable about a shepherd who leaves his flock of 99 safe sheep to look for the one that wandered off.  
Robert Morris
Founding pastor of Gateway Church, a megachurch in the Dallas area, Robert Morris said he was praying for Graham's family.
"Rev. Billy Graham was one of the most faithful followers of Jesus. He made a huge impact in my life, and even led my wife, Debbie, to the Lord," Morris said on Twitter. "This world will miss him, but we celebrate that he is now with the One he loved so much."
Thom Rainer
Thom Rainer, the president of LifeWay Christian Resources, remembered one of his last conversations with Graham.
"Last time I was with Billy Graham, he said he missed his wife, Ruth, and he missed heaven. Now he is present for the great reunion," Rainer said. "May we remember his legacy and may we follow his passion for evangelism."
Ruth Graham, his wife of more than 60 years, died in 2007.
Joel Osteen
Evangelist and author Joel Osteen shared photos of himself with Graham with his Twitter followers, calling the late religious leader a "hero in our home."
"Next to my own father, Reverend Graham was the most humble and gracious man I ever knew. I am honored to call him a friend and mentor," Osteen said.
Dave Ramsey
Author and financial counselor Dave Ramsey remembered Graham as "possibly the greatest man of the last 100 years."
"The world is darker today as Billy Graham goes home," Ramsey said. "Thousands of souls applauding in Heaven as he walks in and hears: 'Well done good and faithful servant.'"
Jerry Falwell
Liberty University President Jerry Falwell expressed his prayers for Graham's family on social media.
"The Christian faith has lost its greatest orator of the last century who gave hope to billions that, even [though] we are all sinners, there is hope & eternal life thru faith in Jesus Christ," Falwell said. 
THE ONE THING BILLY GRAHAM WOULD WANT US TO REMEMBER
David Platt
Pastor David Platt shared one of Graham's famous quotes on social media.
"Someday you will read or hear that Billy Graham is dead. Don't you believe a word of it. I shall be more alive than I am now. I will just have changed my address. I will have gone into the presence of God."
John Piper
At the conclusion of Graham's sermons during his crusades, he would often end with the hymn, "Just As I Am" – also the title of his autobiography.
Renowned author Pastor John Piper shared some of the lyrics from the 1835 song on social media.
Tony Evans
Pastor Tony Evans honored Graham with a social media post, calling him "one of the greatest evangelists of all time."
"Welcome home, my friend," he said.
Mattie Montgomery
President of the Awakening Evangelism ministry Mattie Montgomery praised Graham's legacy on social media.
"A faithful servant entered into the joy of his master today. God, raise up more like Billy Graham, who will stay faithful and focused, who will run the race with endurance!!"
Cardinal Dolan
Cardinal Timothy Dolan, the archbishop of New York, said his family had "respect and admiration" for Graham, despite a difference in religious beliefs.
"There was no question that the Dolans were a Catholic family, firm in our faith, but in our household there was always respect and admiration for Billy Graham and the work he was doing to bring people to God." 
Archbishop of Canterbury
Justin Welby, the archbishop of Canterbury, said Graham was "an exemplar to generation upon generation of modern Christians."
"When it comes to a living and lasting influence upon the worldwide church he can have few equals: for he introduced person after person to Jesus Christ," said the archbishop, the leader of the Church of England.
"Now he is face to face with Jesus Christ, his saviour and ours. It is the meeting he has been looking forward to for the whole of his life."

– Archbishop of Canterbury
"The debt owed by the global church to him is immeasurable and inexpressible," Welby continued. "Personally I am profoundly grateful to God for the life and ministry of this good and faithful servant of the gospel; by his example he challenged all Christians to imitate how he lived and what he did."
"He was one who met presidents and preachers, monarchs and musicians, the poor and the rich, the young and the old, face to face. Yet now he is face to face with Jesus Christ, his saviour and ours. It is the meeting he has been looking forward to for the whole of his life."
Jeffrey Epstein: The mysterious life and death of the disgraced billionaire | US News
Jeffrey Epstein's sex scandal and suicide has prompted huge conversation about the mysterious life of the New York financier.
The billionaire money manager and convicted sex offender hanged himself in his cell earlier this month while awaiting trial for charges of sex trafficking and conspiracy.
But despite being ruled a suicide by New York's medical examiner, the financier's death has sparked widespread conspiracy theories relating to his celebrity social circle, and to whether justice in his case would be reached.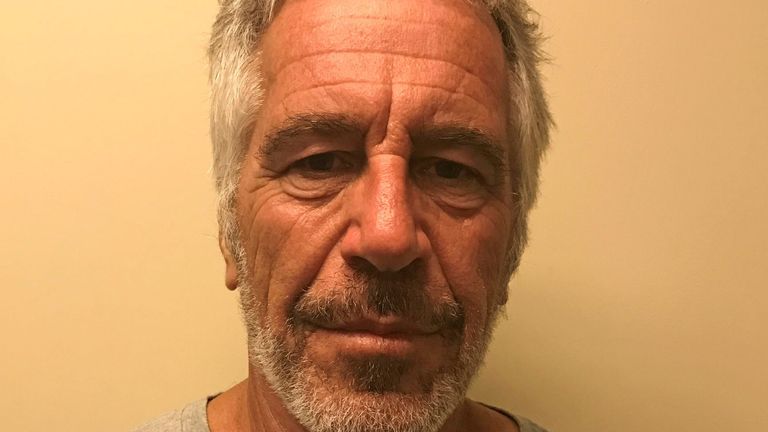 Here, Sky News looks at what we know about Epstein's life and death and why his case is clouded in so many questions.
:: Who is Jeffrey Epstein?
Born into a working class family in Brooklyn, New York, the university dropout started his career as a maths and physics teacher at Dalton School, where he taught the son of Alan Greenberg, the chairman of investment bank Bear Stearns.
He left teaching after just two years – reportedly after being scouted by Mr Greenberg – and later founded his own company J Epstein and Co in 1982.
Described by New York Magazine in 2002 as a "moneyman of mystery", Epstein catapulted himself to the height of the global elite by looking after billions of dollars of assets from a mostly-secret client base.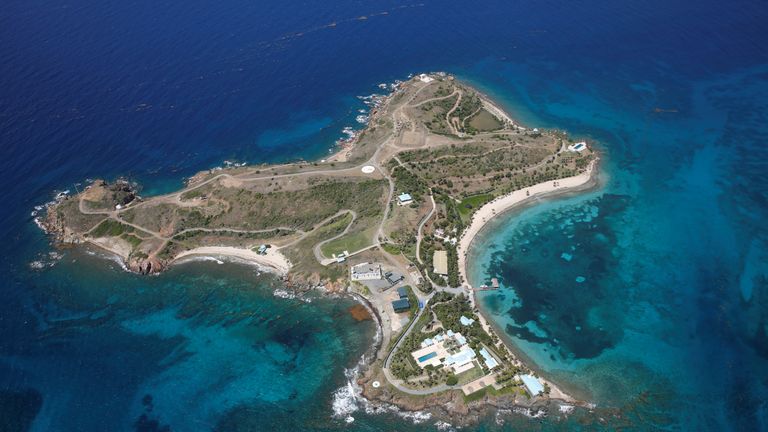 He later founded the Jeffrey Epstein VI Foundation, based in the US Virgin Islands, to "support cutting edge science and science education around the world", and donated $6.5m (£5.3m) to Harvard University for a mathematical biology and evolutionary dynamics programme.
But aside from this, the 66-year-old's life was one full of question marks from his secretive work, his notoriously high-profile friends and his evasion of serious punishment for dozens of alleged sex crimes.
:: Sex trafficking and the 'Lolita Express'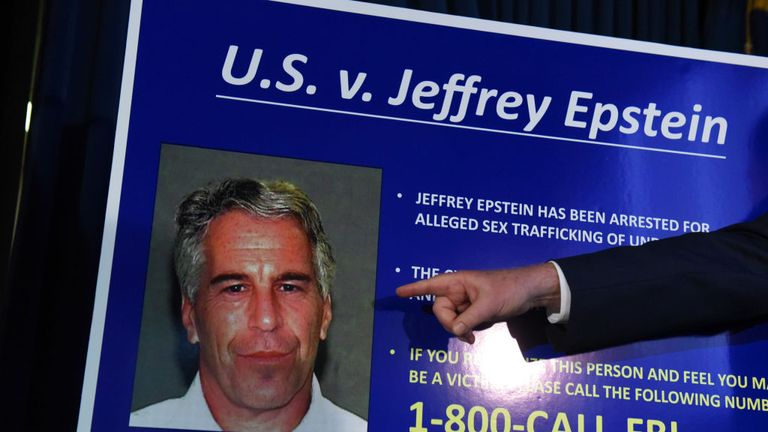 At the time of his death, Epstein was being held in custody on charges related to running a sex-trafficking scheme that involved dozens of underage girls.
He had pleaded not guilty and faced up to 45 years in prison if convicted.
Epstein was specifically accused of using his private jet, nicknamed the "Lolita Express", to shuttle girls as young as 14 between his lavish residences in New York and Florida between 2002 and 2005.
:: Listen to the Daily podcast on Apple Podcasts, Google Podcasts,Spotify,Spreaker
It was alleged the girls were recruited under the guise of being paid to massage the money manager – but would be molested instead.
According to FBI records, Epstein had relied on an entire staff of recruiters and employees who had allegedly lined up such victims for him.
His former girlfriend Ghislaine Maxwell, the daughter of the late press baron Robert Maxwell, is among those accused of recruiting some of the girls.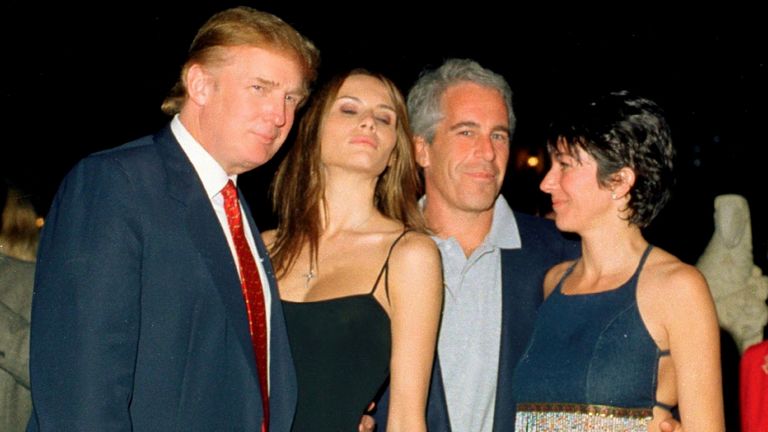 The charges came after Epstein had notoriously evaded potential life behind bars for a similar sex crime case around a decade earlier.
It was a case that received enormous publicity, even more so due to his plea deal – described in a Miami Herald investigation as "the ultimate break".
Dozens of women had accused the financier of sexual assault – some of whom have since spoken about their experiences publicly – and it looked likely that the 53-page federal indictment built against him would see him answer to a lengthy prison sentence.
But a plea deal struck by then US Attorney Alexander Acosta, who went on to become labour secretary under US President Donald Trump, led to Epstein avoiding federal charges.
In 2008, Epstein pleaded guilty to lesser state charges on two counts of soliciting prostitution from a minor, which ultimately led to a lesser punishment.
As a result, he was registered as a sex offender and was handed an 18-month sentence, of which he served 13 months.
Of those months, he was also allowed to spend 12 hours a day, six days a week, at his private office.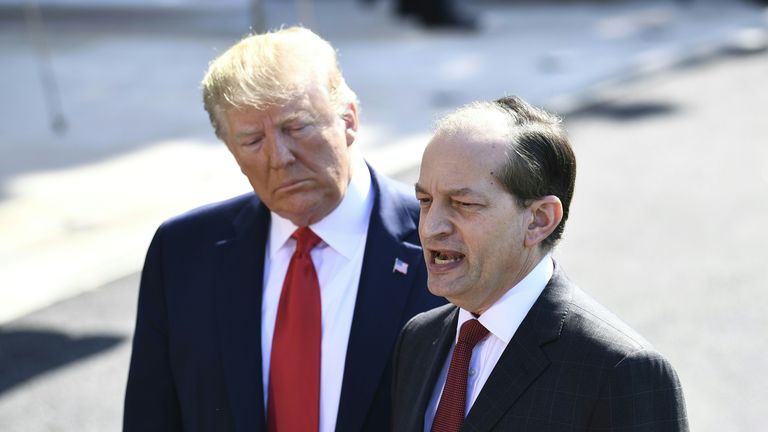 The deal also meant the extent of any further crimes and victims were concealed, and the names of his co-conspirators were buried.
Following criticism of his handling of the case, Mr Acosta announced his resignation as labour secretary several days after Epstein was arrested on fresh charges earlier this year.
:: Celebrity connections
Epstein's celebrity circle of connections famously included the likes of Donald Trump, Bill Clinton, Kevin Spacey, Woody Allen and Prince Andrew.
His longtime friendship with the Duke of York came after they were introduced to each other in the 1990s, and they were known to holiday together and spend time at each other's residences.
Their friendship appeared to also survive Epstein's guilty plea to child prostitution charges in 2008, after pair were photographed together following the financier's release from prison.
But the relationship came under pressure in 2015 when Andrew was dragged into the widely-discussed scandal after one of Epstein's alleged victims, Virginia Roberts, said she had been forced to have sex with the prince on several occasions when she was 17 years old.
Buckingham Palace has repeatedly denied the claims, deeming them "false and without any foundation".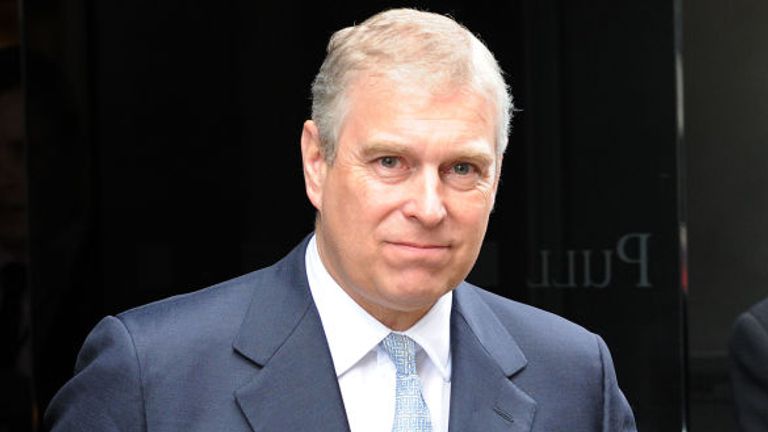 On Monday, Andrew said in a statement that he was "appalled by recent reports of Jeffrey Epstein's alleged crimes" and "deplores any exploitation of any human being".
He added that "the suggestion he would condone, participate or encourage any such behaviour is abhorrent".
The statement was released after the Mail on Sunday surfaced video showing the duke inside Epstein's residence in New York in 2010, waving goodbye to a woman, two years after Epstein's 2008 conviction.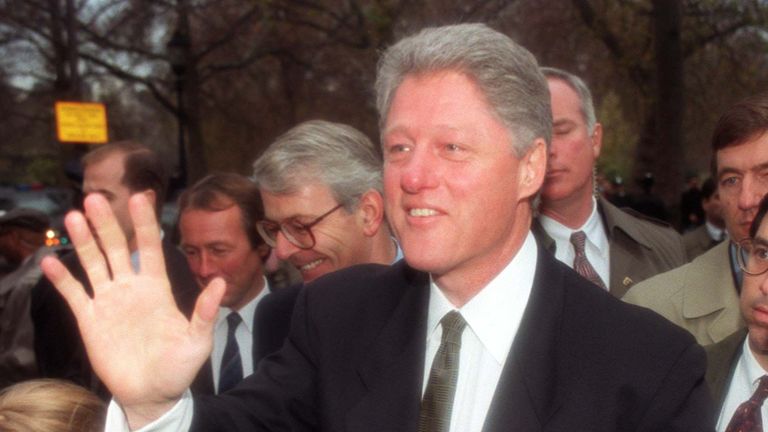 Among Epstein's other high-profile connections is Bill Clinton, who is said to have flown on the "Lolita Express" 26 times, while Mr Trump has previously joked about his Epstein's appetite for younger women.
In a 2002 interview with New York magazine, Mr Trump quipped: "I've known Jeff for 15 years. Terrific guy.
"He's a lot of fun to be with. It is even said that he likes beautiful women as much as I do, and many of them are on the younger side. No doubt about it – Jeffrey enjoys his social life."
:: Where do the conspiracy theories stem from?
The rumour mill was fast pushed into motion after Epstein's suicide at the New York Metropolitan correctional centre earlier this month.
The 66-year-old had recently returned from suicide watch and was to be checked every 30 minutes after an incident in which he was found on the floor of his cell with bruises on the neck.
This prompted questions after his death whether prison officers had simply dropped the ball with their inmate, or if someone in Epstein's high-profile social circle had wanted him silenced.
US media reported that two staff members falsified the prison log to cover the fact they had fallen asleep and failed to check on Epstein when due to do so.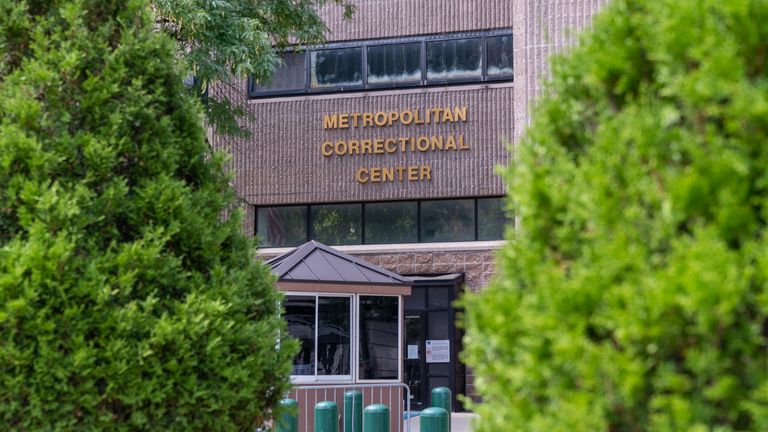 They have since been suspended, and the FBI and justice department are continuing investigations.
New York Mayor Bill de Blasio, who insisted in a media interview that he was "not a conspiracy theorist by nature", said that "something is way too convenient" about the case.
He added: "It means that sometimes you see a series of events that you cannot give a normal explanation for, and there needs to be a full investigation."
Mr Trump also joined the conspiracy conversation.
The US president retweeted a right-wing comedian's unsubstantiated claim surrounding the incident, which suggested Bill Clinton was involved.
A spokesman for Mr Clinton said previously that the former president "knows nothing about the terrible crimes Jeffrey Epstein pleaded guilty to in Florida some years ago, or those with which he has been recently charged in New York".
Sardinia: Tourists who took sand from beach face jail sentence | World News

Two French tourists could be jailed after being caught with sand allegedly stolen from a Sardinian beach.
The white sand was taken from the beach of Chia, in the island's south, and was crammed into 14 plastic bottles.
The bottles were found by police in the boot of the tourists' vehicle as they prepared to board a ferry to France
In total, there was 40kg of sand, police said.
According to Italian news agency Ansa, the tourists said they had taken the sand as a souvenir and were not aware they were breaking the law.
The pair could be jailed for up to six years on the charge of theft, with the aggravating circumstance of having stolen an asset destined for public utility, Ansa said.
Sardinia is blessed with many stunning beaches and the French tourists are not the first to try to bring some of that beauty home.
But Italian authorities have become stricter about the problem in recent years.
Signs on beaches warn visitors that taking sand, or others things such as stones, is illegal and that they risk being fined up to £2,700.
In 2018, an Italian resident in the UK was fined after stealing sand from a beach near the northern city of Olbia.
And during the summer of 2017, more than a tonne of sand was found in tourists' luggage at Cagliari airport, according to reports.
There is also a Facebook page called Sardinia Is Being Robbed And Pillaged, which documents damage done to various beaches and the seizures of items such as sand.
The page has more than 30,000 followers and its introduction says: "With the excuse of [acquiring a] souvenir, tourists every year take from the island what nature has taken thousands of years to create.
"Sand theft is a crime."
EU: Britain will suffer most if there is a no-deal Brexit | Politics News
The European Union is ready for a no-deal Brexit and Britain would suffer most under such a scenario, Brussels has claimed.
European Commission spokeswoman Natasha Bertaud said no deal would never be the bloc's preferred outcome.
Prime Minister Boris Johnson has promised to take Britain out of the EU on 31 October, with or without an agreement in place.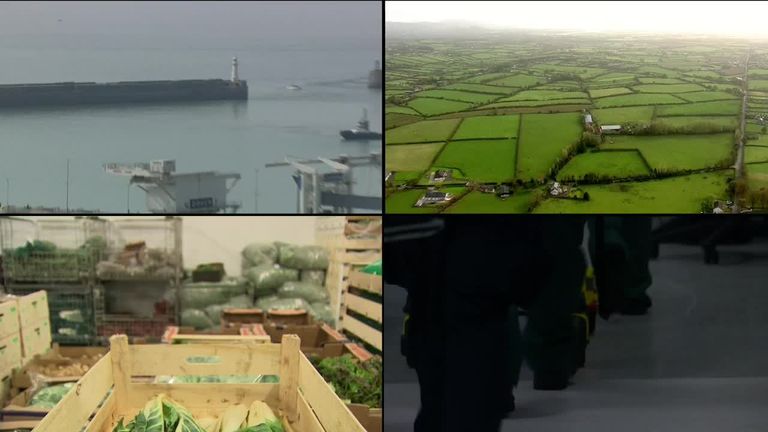 Speaking on Monday, Mr Johnson said Britain can "definitely" get ready for no deal.
But the EU was decidedly more downbeat on the prospect of this happening.
"This will obviously cause significant disruption both for citizens and for businesses and this will have a serious negative economic impact," Ms Bertaud said, referring to a no-deal Brexit.
"That would be proportionally much greater in the United Kingdom than it would be in the EU 27 states."
She cited European Commission President Jean-Claude Juncker as having said that if it a no-deal Brexit happened "it is the British who will unfortunately be the biggest losers".
The comments come after a British government document detailing the potential impacts of a no-deal divorce was leaked at the weekend.
According to the Operation Yellowhammer assessment published in the Sunday Times, Britain could be hit with a three-month "meltdown" at its ports, a hard Irish border and shortages of food and medicine.
Downing Street said on Monday that the dossier was "out of date" and the government was "making all necessary preparations ahead of 31 October".
A "large-scale public information campaign" is expected to begin shortly, Number 10 said.
A spokeswoman said: "In relation to business we have been engaging widely and will continue to do so and that's been significantly stepped up in recent weeks.
"We have published numerous documents on how businesses can prepare.
"You can expect to see further information being published in the coming weeks in relation to how the public… can further prepare and the changes that they are likely to see across a range of areas."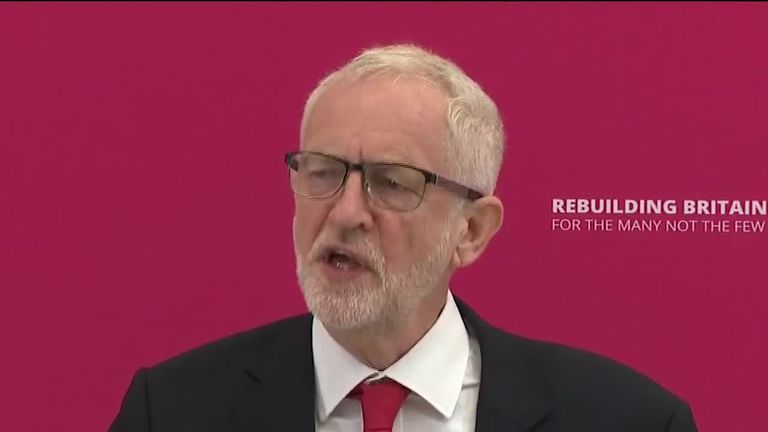 Asked about the leaked dossier, Mr Johnson said: "If you look at the preparations the UK had made by March 29, we were very far advanced.
"Things then slipped back a bit, but we're very confident that by 31 October we will be ready and that's the crucial thing.
"I think that's what people want. People are very confident themselves that they can do it.
"I'm not pretending that there won't be bumps on the road, there will be. I said that on the steps of Downing Street.
"But if everybody puts their minds to it, I have absolutely no doubt that we can get ready."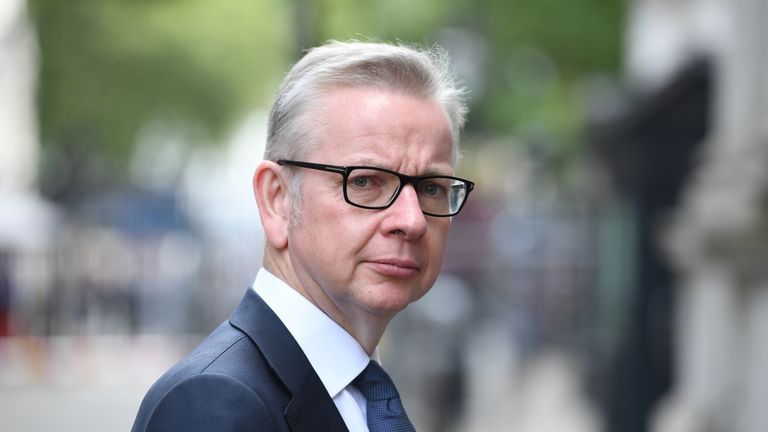 Mr Johnson will this week head to Berlin and Paris as he tries to secure a new Brexit deal.
During trips to Germany and France, the PM will tell Angela Merkel and Emmanuel Macron "there must be a new deal to replace the failed Brussels deal" – but if one cannot be struck, the UK is prepared to leave the EU without an agreement.
Number 10 said it expected there to be "very little discussion" of Brexit during the visit to Berlin on Wednesday and Paris on Thursday, with other topics to be the focus.