Religious leaders are taking to social media to remember famed Christian evangelist Rev. Billy Graham, who died Wednesday at the age of 99.
Some praised Graham – who preached to more than 200 million people in his lifetime – online, calling him "the most important evangelist since the Apostle Paul" and "one of the most faithful followers of Jesus." Others recalled the impact he had on their faith or the faiths of loved ones.
Here's a look at how Graham is being remembered.
Franklin Graham
Franklin Graham, the late reverend's son, recalled something his father once said about Heaven. 
"My father … was once asked, 'Where is Heaven?' He said, 'Heaven is where Jesus is and I am going to Him soon!' This morning, he departed this world into eternal life in Heaven, prepared by the Lord Jesus Christ — the Savior of the world — whom he proclaimed for 80 years," Franklin Graham said. 
Russell Moore
Russell Moore, president of the Ethics & Religious Liberty Commission, part of the Southern Baptist Convention, said it's almost "impossible" to count the number of people he knows who have become Christians through Graham's work.
In an interview with Fox News, Moore praised the authenticity of Graham, saying he was someone who was the same in both his public and private life.
"My earliest memories are watching him preach on television as a very small child. I remember being struck as a child with the gravity with which he took the Gospel. That continued with me for the rest of my life," Moore said. "When I met Dr. Graham, that same sense of weightiness of the Gospel was evident in him personally – just as it was in public."
"The death of Billy Graham is a time for all of us to reflect on the hope that he preached – forgiveness of sins and peace with God through Jesus Christ."

– Russell Moore
Moore added that Graham was "successful" because his work wasn't all about himself, comparing him to the John the Baptist.
"I think the death of Billy Graham is a time for all of us to reflect on the hope that he preached – forgiveness of sins and peace with God through Jesus Christ," Moore said. "I hope there's a great deal of reflection, not just on what he did, but why." 
Greg Laurie
Pastor Greg Laurie went from watching Graham on his black and white television to attending one of his crusades in San Diego, California, to serving with him as a board member on the Billy Graham Evangelistic Association.
"I wasn't in any way disappointed that I got to know him. He was every much the man you would have hoped he would be," Laurie, the pastor of Harvest Christian Fellowship, a non-denominational church in New York City, told Fox News.
Laurie said Graham, who he has been friends with since the early 1990s, was a "very humble man" who enjoyed meeting and talking with new people. Graham was faithful in his message, Laurie said, which was simply: We're all sinners, but God loves us and sent his son to die for us.
"I don't think anyone will ever take Billy's place. But we can all, in our own way, follow his example and proclaim the same Gospel as he did."

– Greg Laurie
"I don't think anyone will ever take Billy's place. But we can all, in our own way, follow his example and proclaim the same Gospel as he did," Laurie said. 
Samuel Rodriguez
Rev. Samuel Rodriguez recalled watching Graham preaching on his black and white television when he was a young teenager. His sermons about reaching the world with the gospel inspired Rodriguez to do the same, he told Fox News.
The president of the National Hispanic Christian Leadership Conference, Rodriguez praised Graham as the "quintessential unifier," pointing, in particular, to the integration of his crusades at a time when segregation was prevalent.
"No Christian leader in modern history brought more unity to the Christian body than Billy Graham," he said.
"He understood that every single person is created in the image of God without exception," Rodriguez said of Graham, who he also called a "civil rights advocate."
Additionally, Rodriguez said Graham brought together different factions of Christianity – charismatics and non-charismatics – through his preaching.
"He taught me if you teach the word, but most importantly if you live the word, if your character lines up with your rhetoric, then God will convict the hearts of mankind," said Rodriguez. 
Anne Graham Lotz
When evangelist Anne Graham Lotz thinks of the late preacher, she doesn't necessarily think of the public figure – but her father, she said in a statement.
"But when I think of him I also think of his message because he was immersed in it. Saturated in it. He was his message…a simple man who had responded to God's love by placing his faith in Jesus, receiving the assurance that his sins were forgiven, that he would not perish, but would have everlasting life," Lotz, an author, said. "Simple faith. Faith that matters more than anything else."
Lotz recalled that she's said she was raised by a single parent, as Graham was often away for his ministry.
"Now, he has left again. This time, he will not be coming back. At least, not until Jesus does, too," Lotz said. "While he may be physically absent and his voice silent, I am confident that his message will continue to reverberate throughout the generations to come."
She said she hopes her father's death will be a "rallying cry" for others to "rise up to take his place." 
Lee Strobel
Author of the bestseller "Case for Christ," Lee Strobel tweeted a simple message following Graham's death.
"A life of sharing the Good News with the world. Well done, good and faithful servant!" he wrote.
Beth Moore
Author and evangelist Beth Moore also took to Twitter to remember Graham.
"There simply will never be another Billy Graham," she posted. "What a gift of God to this world."
Steven Furtick
Steven Furtick, pastor of Elevation Church in the Charlotte area, paid tribute to Graham.
"You showed us how to leave the 99 for the 1. Thank you, Dr. Graham," Furtick tweeted.
His social media post referenced the Biblical parable about a shepherd who leaves his flock of 99 safe sheep to look for the one that wandered off.  
Robert Morris
Founding pastor of Gateway Church, a megachurch in the Dallas area, Robert Morris said he was praying for Graham's family.
"Rev. Billy Graham was one of the most faithful followers of Jesus. He made a huge impact in my life, and even led my wife, Debbie, to the Lord," Morris said on Twitter. "This world will miss him, but we celebrate that he is now with the One he loved so much."
Thom Rainer
Thom Rainer, the president of LifeWay Christian Resources, remembered one of his last conversations with Graham.
"Last time I was with Billy Graham, he said he missed his wife, Ruth, and he missed heaven. Now he is present for the great reunion," Rainer said. "May we remember his legacy and may we follow his passion for evangelism."
Ruth Graham, his wife of more than 60 years, died in 2007.
Joel Osteen
Evangelist and author Joel Osteen shared photos of himself with Graham with his Twitter followers, calling the late religious leader a "hero in our home."
"Next to my own father, Reverend Graham was the most humble and gracious man I ever knew. I am honored to call him a friend and mentor," Osteen said.
Dave Ramsey
Author and financial counselor Dave Ramsey remembered Graham as "possibly the greatest man of the last 100 years."
"The world is darker today as Billy Graham goes home," Ramsey said. "Thousands of souls applauding in Heaven as he walks in and hears: 'Well done good and faithful servant.'"
Jerry Falwell
Liberty University President Jerry Falwell expressed his prayers for Graham's family on social media.
"The Christian faith has lost its greatest orator of the last century who gave hope to billions that, even [though] we are all sinners, there is hope & eternal life thru faith in Jesus Christ," Falwell said. 
THE ONE THING BILLY GRAHAM WOULD WANT US TO REMEMBER
David Platt
Pastor David Platt shared one of Graham's famous quotes on social media.
"Someday you will read or hear that Billy Graham is dead. Don't you believe a word of it. I shall be more alive than I am now. I will just have changed my address. I will have gone into the presence of God."
John Piper
At the conclusion of Graham's sermons during his crusades, he would often end with the hymn, "Just As I Am" – also the title of his autobiography.
Renowned author Pastor John Piper shared some of the lyrics from the 1835 song on social media.
Tony Evans
Pastor Tony Evans honored Graham with a social media post, calling him "one of the greatest evangelists of all time."
"Welcome home, my friend," he said.
Mattie Montgomery
President of the Awakening Evangelism ministry Mattie Montgomery praised Graham's legacy on social media.
"A faithful servant entered into the joy of his master today. God, raise up more like Billy Graham, who will stay faithful and focused, who will run the race with endurance!!"
Cardinal Dolan
Cardinal Timothy Dolan, the archbishop of New York, said his family had "respect and admiration" for Graham, despite a difference in religious beliefs.
"There was no question that the Dolans were a Catholic family, firm in our faith, but in our household there was always respect and admiration for Billy Graham and the work he was doing to bring people to God." 
Archbishop of Canterbury
Justin Welby, the archbishop of Canterbury, said Graham was "an exemplar to generation upon generation of modern Christians."
"When it comes to a living and lasting influence upon the worldwide church he can have few equals: for he introduced person after person to Jesus Christ," said the archbishop, the leader of the Church of England.
"Now he is face to face with Jesus Christ, his saviour and ours. It is the meeting he has been looking forward to for the whole of his life."

– Archbishop of Canterbury
"The debt owed by the global church to him is immeasurable and inexpressible," Welby continued. "Personally I am profoundly grateful to God for the life and ministry of this good and faithful servant of the gospel; by his example he challenged all Christians to imitate how he lived and what he did."
"He was one who met presidents and preachers, monarchs and musicians, the poor and the rich, the young and the old, face to face. Yet now he is face to face with Jesus Christ, his saviour and ours. It is the meeting he has been looking forward to for the whole of his life."
Eight gold miners rescued in Zimbabwe – but dozens feared dead | World News
Eight illegal gold miners have been pulled alive from flooded pits after being trapped underground for days in Zimbabwe.
Exhausted and muddied, they were quickly whisked away by rescuers as relatives at the scene cheered and hugged one another.
Zimbabwe has declared a national disaster after heavy rain caused a dam wall to collapse on Tuesday, with water rushing into nearby mining tunnels.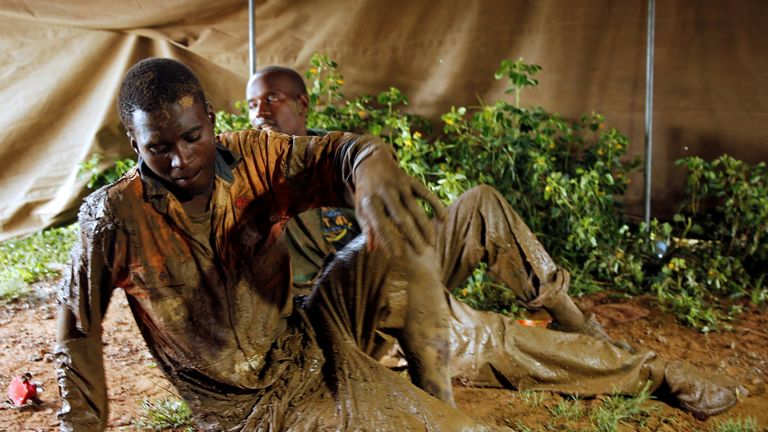 It is unclear how many miners remain trapped, but officials have estimated that up to 70 people were underground at the time.
According to the government's deputy chief mining engineer, "it doesn't seem likely" that there are any other survivors.
But Henrietta Rushwaya, the chief executive of the Zimbabwe Miners' Federation, expressed hope of a miracle, saying: "We hope we will be able to retrieve all of the people in time."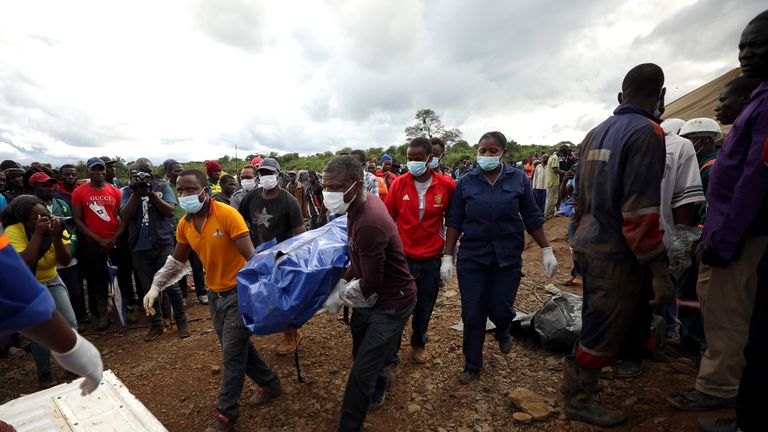 At least 22 bodies have been identified underground so far – and one by one, they have been pulled from tunnels, placed in body bags and taken to a tent.
Ignoring a strong stench, some friends and relatives have broken police lines in an attempt to identify their loved ones.
The disaster happened in Battlefields – a small settlement 110 miles west of Harare that is rich in gold deposits and popular with illegal miners.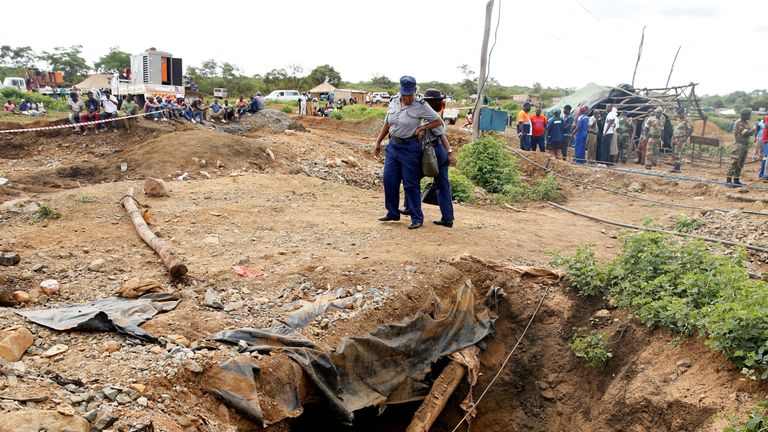 The makeshift shafts and tunnels, some running as deep as 50m (164ft), can easily collapse in the rainy season when the ground is soft.
According to the Zimbabwean government, $200,000 (£155,000) is needed to complete the rescue effort – with a spokesman urging "well-wishers" to donate body bags, masks and gloves.
UK on wrong side of law on Saudi arms sales, watchdog warns | World News
Britain is "narrowly on the wrong side" of international law over arms sales to Saudi Arabia during the Yemen conflict, a Westminster watchdog has warned.
It was "highly likely" that UK weapons had caused "significant" civilian casualties during the course of the brutal four-year civil war, the House of Lords international relations committee said.
The influential cross-party group said relying on Saudi assurances they were not targeting civilians was not an "adequate way" of fulfilling the UK's obligations under an international arms trade agreement.
The government has faced repeated calls to suspend arms sales to Saudi Arabia after it began airstrikes in March 2015 against Iranian-backed Houthi rebels, who seized control of large swathes of the country.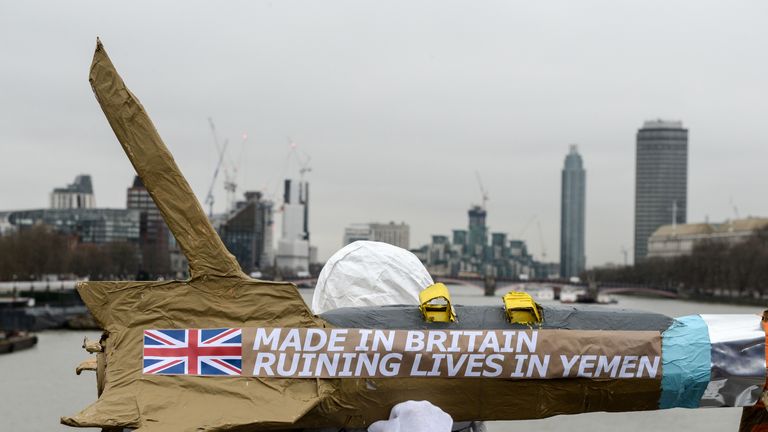 Last year the United Nations estimated at least 6,600 civilians had died as a result of indiscriminate bombing and another 10,000 injured, although it acknowledged the actual figures were likely to be significantly higher.
In its inquiry report, the committee said that since the start of the conflict the UK had licensed £4.7bn of arms exports to Saudi Arabia and a further £860m to its allies in the international coalition against the Houthis.
Typhoon jet fighters and associated systems accounted for the majority of exports approved for the Saudis.
In evidence to the committee, ministers argued that the government's licensing process was "narrowly on the right side of international humanitarian law".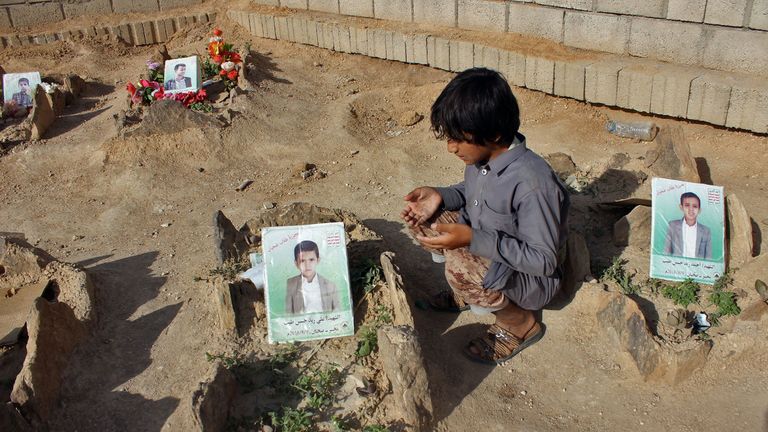 The committee however said: "Although conclusive evidence is not yet available, we assess that it is narrowly on the wrong side.
"Given the volume and type of arms being exported to the Saudi-led coalition, we believe they are highly likely to be the cause of significant civilian casualties in Yemen, risking the contravention of international humanitarian law."
The committee said relying on Saudi-led review processes into incidents of suspected civilian casualties was not sufficient to meet Britain's obligations under international law.
"We are deeply concerned that the Saudi-led coalition's misuse of their weaponry is causing, whether deliberately or accidentally, loss of civilian life," it said.
It added: "Export licensing decisions for the sale of arms always require fine judgements, balancing legitimate security concerns against human rights implications, and each situation must be assessed individually."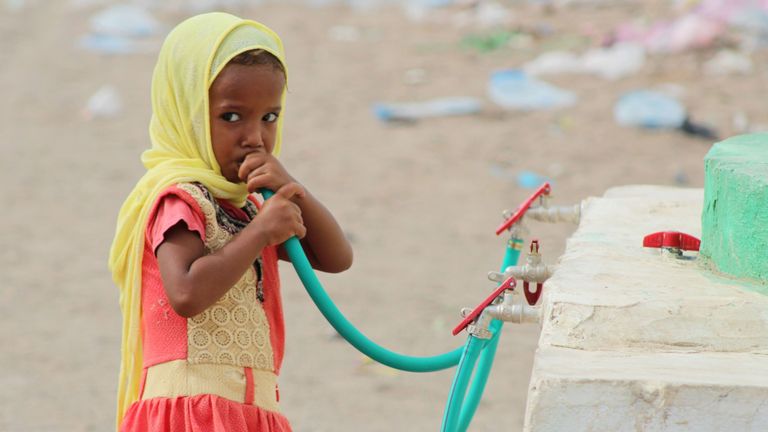 Committee chairman, Tory former foreign minister Lord Howell of Guildford, said: "The humanitarian situation in Yemen is unconscionable.
"That the UK is the second-largest exporter of arms to Saudi-Arabia, and the fifth-largest donor of humanitarian aid in Yemen is a contradiction which the government must address as a matter of urgency."
A government spokeswoman said: "The UK is doing all that it can to help parties to find a way to end this devastating conflict."
Hitler actor Bruno Ganz, who went viral in memes, dies | Ents & Arts News
The actor Bruno Ganz, who was most famous for playing Adolf Hitler in the Oscar-nominated film Downfall, has died aged 77.
The Swiss star had cancer and died at his home in the Swiss city of Zurich.
Ganz portrayed Hitler as a ranting and delusional madman in a bunker during the final days of his life.
But he was also shown as a fatherly figure with Parkinson's disease who was concerned about his secretaries' welfare.
One particular scene in the 2004 movie featured a furious fuhrer and spawned many parody memes online.
The memes included Hitler being told his pizza would arrive late, finding out the UK would leave the EU, and discovering there was no toilet paper.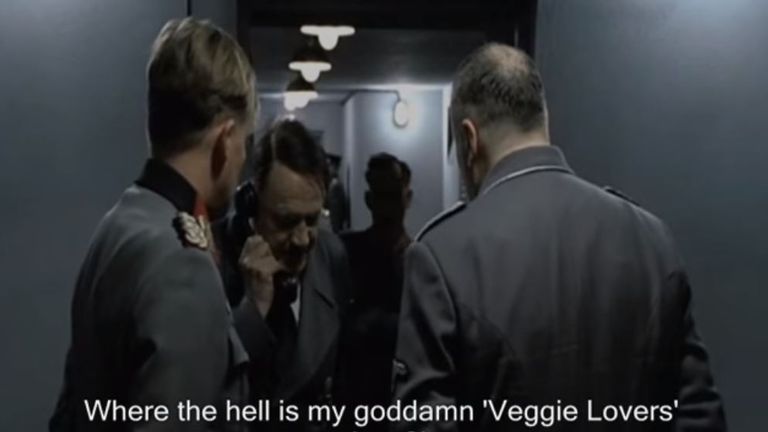 The actor immersed himself in the Nazi dictator role to such a degree that it affected his personality.
He said: "I tend to identify with my roles to such an extent that I appear to be totally convinced about certain statements that, in real life, I would never believe in."
For more than 50 years, Ganz worked in German language theatre, film and television.
He was described by German foreign minister Heiko Maas as "one of the most important actors of our time", whose "brilliant work remains".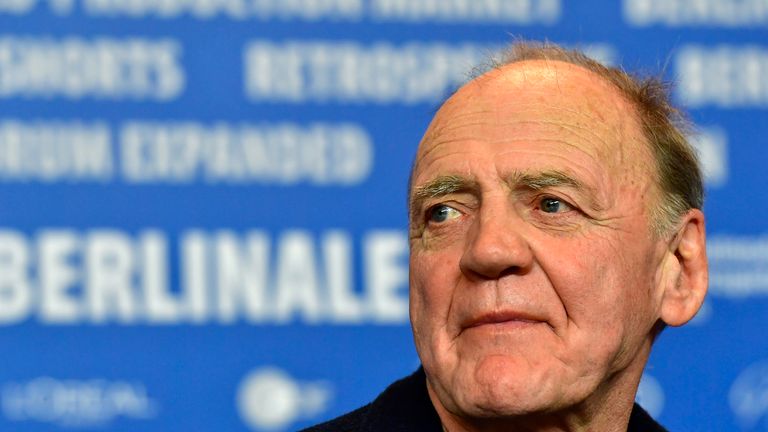 He was the holder of the Iffland-Ring, the most important award for German-speaking actors.
In Hollywood, he featured alongside Liam Neeson in the 2011 movie Unknown, and also appeared in the 2004 blockbuster The Manchurian Candidate, starring Denzel Washington.
Married once, he separated from his wife with whom he had a son.