Religious leaders are taking to social media to remember famed Christian evangelist Rev. Billy Graham, who died Wednesday at the age of 99.
Some praised Graham – who preached to more than 200 million people in his lifetime – online, calling him "the most important evangelist since the Apostle Paul" and "one of the most faithful followers of Jesus." Others recalled the impact he had on their faith or the faiths of loved ones.
Here's a look at how Graham is being remembered.
Franklin Graham
Franklin Graham, the late reverend's son, recalled something his father once said about Heaven. 
"My father … was once asked, 'Where is Heaven?' He said, 'Heaven is where Jesus is and I am going to Him soon!' This morning, he departed this world into eternal life in Heaven, prepared by the Lord Jesus Christ — the Savior of the world — whom he proclaimed for 80 years," Franklin Graham said. 
Russell Moore
Russell Moore, president of the Ethics & Religious Liberty Commission, part of the Southern Baptist Convention, said it's almost "impossible" to count the number of people he knows who have become Christians through Graham's work.
In an interview with Fox News, Moore praised the authenticity of Graham, saying he was someone who was the same in both his public and private life.
"My earliest memories are watching him preach on television as a very small child. I remember being struck as a child with the gravity with which he took the Gospel. That continued with me for the rest of my life," Moore said. "When I met Dr. Graham, that same sense of weightiness of the Gospel was evident in him personally – just as it was in public."
"The death of Billy Graham is a time for all of us to reflect on the hope that he preached – forgiveness of sins and peace with God through Jesus Christ."

– Russell Moore
Moore added that Graham was "successful" because his work wasn't all about himself, comparing him to the John the Baptist.
"I think the death of Billy Graham is a time for all of us to reflect on the hope that he preached – forgiveness of sins and peace with God through Jesus Christ," Moore said. "I hope there's a great deal of reflection, not just on what he did, but why." 
Greg Laurie
Pastor Greg Laurie went from watching Graham on his black and white television to attending one of his crusades in San Diego, California, to serving with him as a board member on the Billy Graham Evangelistic Association.
"I wasn't in any way disappointed that I got to know him. He was every much the man you would have hoped he would be," Laurie, the pastor of Harvest Christian Fellowship, a non-denominational church in New York City, told Fox News.
Laurie said Graham, who he has been friends with since the early 1990s, was a "very humble man" who enjoyed meeting and talking with new people. Graham was faithful in his message, Laurie said, which was simply: We're all sinners, but God loves us and sent his son to die for us.
"I don't think anyone will ever take Billy's place. But we can all, in our own way, follow his example and proclaim the same Gospel as he did."

– Greg Laurie
"I don't think anyone will ever take Billy's place. But we can all, in our own way, follow his example and proclaim the same Gospel as he did," Laurie said. 
Samuel Rodriguez
Rev. Samuel Rodriguez recalled watching Graham preaching on his black and white television when he was a young teenager. His sermons about reaching the world with the gospel inspired Rodriguez to do the same, he told Fox News.
The president of the National Hispanic Christian Leadership Conference, Rodriguez praised Graham as the "quintessential unifier," pointing, in particular, to the integration of his crusades at a time when segregation was prevalent.
"No Christian leader in modern history brought more unity to the Christian body than Billy Graham," he said.
"He understood that every single person is created in the image of God without exception," Rodriguez said of Graham, who he also called a "civil rights advocate."
Additionally, Rodriguez said Graham brought together different factions of Christianity – charismatics and non-charismatics – through his preaching.
"He taught me if you teach the word, but most importantly if you live the word, if your character lines up with your rhetoric, then God will convict the hearts of mankind," said Rodriguez. 
Anne Graham Lotz
When evangelist Anne Graham Lotz thinks of the late preacher, she doesn't necessarily think of the public figure – but her father, she said in a statement.
"But when I think of him I also think of his message because he was immersed in it. Saturated in it. He was his message…a simple man who had responded to God's love by placing his faith in Jesus, receiving the assurance that his sins were forgiven, that he would not perish, but would have everlasting life," Lotz, an author, said. "Simple faith. Faith that matters more than anything else."
Lotz recalled that she's said she was raised by a single parent, as Graham was often away for his ministry.
"Now, he has left again. This time, he will not be coming back. At least, not until Jesus does, too," Lotz said. "While he may be physically absent and his voice silent, I am confident that his message will continue to reverberate throughout the generations to come."
She said she hopes her father's death will be a "rallying cry" for others to "rise up to take his place." 
Lee Strobel
Author of the bestseller "Case for Christ," Lee Strobel tweeted a simple message following Graham's death.
"A life of sharing the Good News with the world. Well done, good and faithful servant!" he wrote.
Beth Moore
Author and evangelist Beth Moore also took to Twitter to remember Graham.
"There simply will never be another Billy Graham," she posted. "What a gift of God to this world."
Steven Furtick
Steven Furtick, pastor of Elevation Church in the Charlotte area, paid tribute to Graham.
"You showed us how to leave the 99 for the 1. Thank you, Dr. Graham," Furtick tweeted.
His social media post referenced the Biblical parable about a shepherd who leaves his flock of 99 safe sheep to look for the one that wandered off.  
Robert Morris
Founding pastor of Gateway Church, a megachurch in the Dallas area, Robert Morris said he was praying for Graham's family.
"Rev. Billy Graham was one of the most faithful followers of Jesus. He made a huge impact in my life, and even led my wife, Debbie, to the Lord," Morris said on Twitter. "This world will miss him, but we celebrate that he is now with the One he loved so much."
Thom Rainer
Thom Rainer, the president of LifeWay Christian Resources, remembered one of his last conversations with Graham.
"Last time I was with Billy Graham, he said he missed his wife, Ruth, and he missed heaven. Now he is present for the great reunion," Rainer said. "May we remember his legacy and may we follow his passion for evangelism."
Ruth Graham, his wife of more than 60 years, died in 2007.
Joel Osteen
Evangelist and author Joel Osteen shared photos of himself with Graham with his Twitter followers, calling the late religious leader a "hero in our home."
"Next to my own father, Reverend Graham was the most humble and gracious man I ever knew. I am honored to call him a friend and mentor," Osteen said.
Dave Ramsey
Author and financial counselor Dave Ramsey remembered Graham as "possibly the greatest man of the last 100 years."
"The world is darker today as Billy Graham goes home," Ramsey said. "Thousands of souls applauding in Heaven as he walks in and hears: 'Well done good and faithful servant.'"
Jerry Falwell
Liberty University President Jerry Falwell expressed his prayers for Graham's family on social media.
"The Christian faith has lost its greatest orator of the last century who gave hope to billions that, even [though] we are all sinners, there is hope & eternal life thru faith in Jesus Christ," Falwell said. 
THE ONE THING BILLY GRAHAM WOULD WANT US TO REMEMBER
David Platt
Pastor David Platt shared one of Graham's famous quotes on social media.
"Someday you will read or hear that Billy Graham is dead. Don't you believe a word of it. I shall be more alive than I am now. I will just have changed my address. I will have gone into the presence of God."
John Piper
At the conclusion of Graham's sermons during his crusades, he would often end with the hymn, "Just As I Am" – also the title of his autobiography.
Renowned author Pastor John Piper shared some of the lyrics from the 1835 song on social media.
Tony Evans
Pastor Tony Evans honored Graham with a social media post, calling him "one of the greatest evangelists of all time."
"Welcome home, my friend," he said.
Mattie Montgomery
President of the Awakening Evangelism ministry Mattie Montgomery praised Graham's legacy on social media.
"A faithful servant entered into the joy of his master today. God, raise up more like Billy Graham, who will stay faithful and focused, who will run the race with endurance!!"
Cardinal Dolan
Cardinal Timothy Dolan, the archbishop of New York, said his family had "respect and admiration" for Graham, despite a difference in religious beliefs.
"There was no question that the Dolans were a Catholic family, firm in our faith, but in our household there was always respect and admiration for Billy Graham and the work he was doing to bring people to God." 
Archbishop of Canterbury
Justin Welby, the archbishop of Canterbury, said Graham was "an exemplar to generation upon generation of modern Christians."
"When it comes to a living and lasting influence upon the worldwide church he can have few equals: for he introduced person after person to Jesus Christ," said the archbishop, the leader of the Church of England.
"Now he is face to face with Jesus Christ, his saviour and ours. It is the meeting he has been looking forward to for the whole of his life."

– Archbishop of Canterbury
"The debt owed by the global church to him is immeasurable and inexpressible," Welby continued. "Personally I am profoundly grateful to God for the life and ministry of this good and faithful servant of the gospel; by his example he challenged all Christians to imitate how he lived and what he did."
"He was one who met presidents and preachers, monarchs and musicians, the poor and the rich, the young and the old, face to face. Yet now he is face to face with Jesus Christ, his saviour and ours. It is the meeting he has been looking forward to for the whole of his life."
Flooding and mudslides kill at least 60 people in South Africa | World News
Flooding and mudslides have killed at least 60 people on South Africa's eastern coast, officials have said.
Most of the deaths were in KwaZulu-Natal province, where many homes collapsed, and at least three people died in neighbouring Eastern Cape.
Rescuers were digging through the collapsed buildings on Wednesday after days of heavy rain hit areas around the port city of Durban.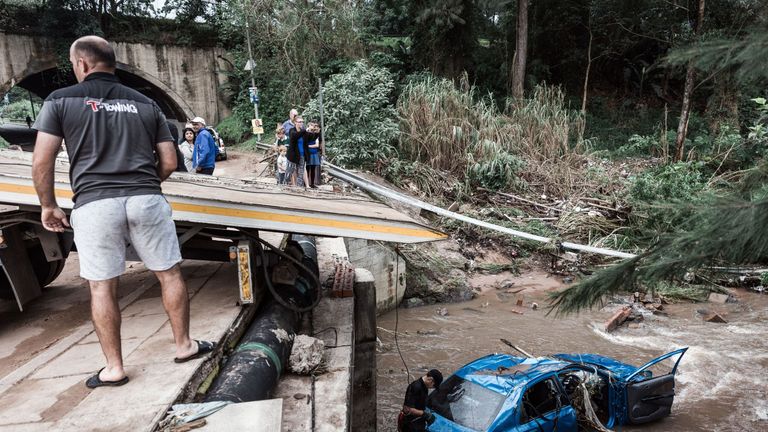 More than 1,000 people have also fled their homes.
The extent of the rain late on Monday was unexpected, said Lennox Mabaso from the Co-operative Governance and Traditional Affairs Department.
He said some people had been swept away by floodwater, adding: "There was flooding and some structures were undermined and collapsed on people."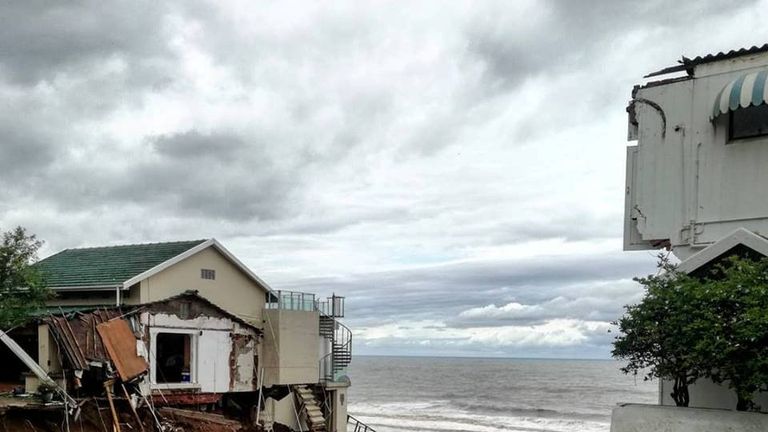 Victor da Silva, from the coastal town of Amanzimtoti, said his family managed to get out before the floods destroyed their home and cars.
He said: "On Monday, the water was just crazy.
"And yesterday morning I got here, everything was fine, my garage was still here, the other part of the house was still here, and it just couldn't stop raining.
"And then an hour-and-a-half later, everything [vanished] because the rain just hasn't stopped."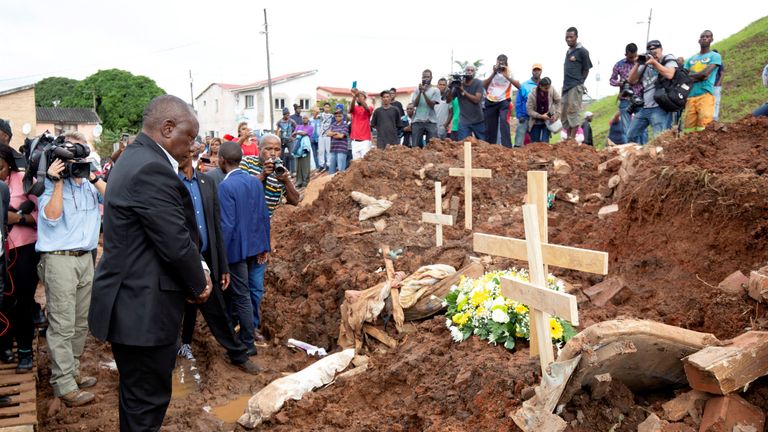 The deaths come a week after 13 people died when a wall at a church in KwaZulu-Natal collapsed after heavy rain.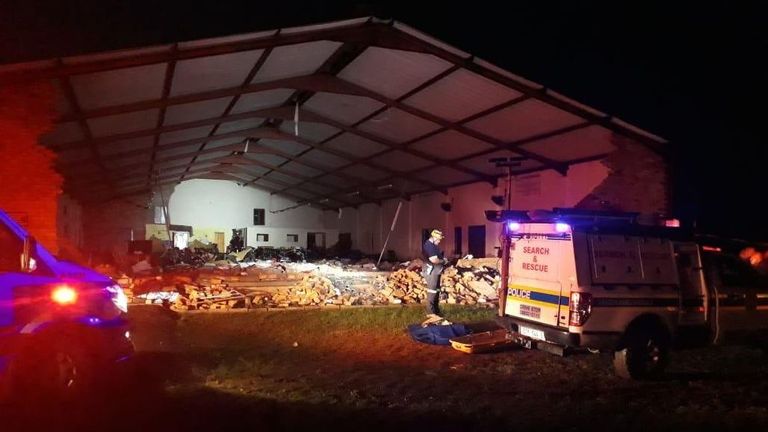 South African President Cyril Ramaphosa visited the province on Wednesday and is expected to visit the Eastern Cape in the next few days.
"This is partly what climate change is about, that it just hits when we least expect it," said Mr Ramaphosa.
Facebook warns of $5bn hit as US investigates how it handles user data | Business News

Facebook has warned it could face a hit of up to $5bn (£3.88bn) as a result of an investigation by US regulators into its handling of user data.
The social media giant, which also owns Instagram and WhatsApp, disclosed the estimated cost of the investigation into it by the Federal Trade Commission (FTC) as it published first-quarter financial results.
Facebook reported a 26% rise in revenues to $15.1bn (£11.7bn) – beating analysts' targets – and estimated that more than 2.1 billion people on average now use its "family" of services every day.
But profits fell by 51% compared with the same period last year to $2.43bn (£1.88bn) as it set aside $3bn (£2.33bn) to cover the FTC inquiry into its "platform and user data practices".
The FTC has been investigating revelations that Facebook inappropriately shared information belonging to 87 million of its users with political consulting firm Cambridge Analytica.
The probe has focused on whether the sharing of the data with the British firm, and other privacy disputes, violated a 2011 agreement with the regulator to safeguard users' privacy.
The FTC is yet to announce any findings.
Facebook said it estimated the range of loss it faced as a result of the investigation was between $3bn and $5bn.
The company added: "The matter remains unresolved and there can be no assurance as to the timing or the terms of any final outcome."
Investors shrugged off the disclosure, sending shares 5% higher in after-hours trading as they focused on Facebook's buoyant revenues – boosted by the success of its Instagram platform and surging ad income.
Facebook also reported an 80% rise in costs to $11.8bn (£9.15bn) as it ramped up spending to improve content and security across its platforms.
The company's number of employees stood at nearly 38,000 at the end of last month, up 36% on last year.
It added that its measure of monthly active users rose by 8% to 2.38 billion as of 31 March, while daily active users rose 8% to 1.56 billion on average for March.
Founder and chief executive Mark Zuckerberg said: "We had a good quarter and our business and community continue to grow.
"We are focused on building out our privacy-focused vision for the future of social networking, and working collaboratively to address important issues around the internet."
Three-year-old migrant boy found alone and in tears near US border | US News
A three-year-old migrant boy was found wandering alone in a Texas cornfield near the US-Mexico border.
The boy, in tears, was discovered in the Rio Grande Valley near Brownsville by US Border Patrol agents on Tuesday morning.
Officials said his name and a telephone number were written on his shoes.
The US Customs and Border Protection (CBP) tweeted: "We believe the boy was with a larger group that ran when they encountered agents."
The boy has been taken to a nearby border station while officials try to trace his family.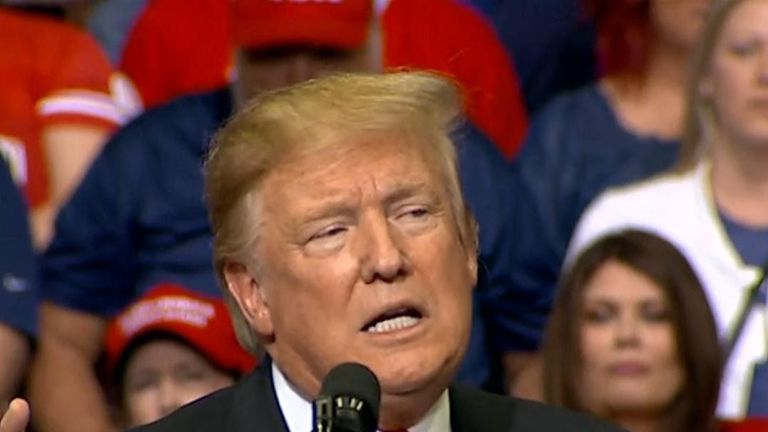 It came as Donald Trump renewed his threat on Wednesday to send more troops to the US-Mexico border after an incident in which Mexican soldiers confronted US personnel.
Mexico blamed the incident on confusion, and said it was not looking for confrontation with the US.
In tweets on Wednesday morning, Mr Trump said: "Mexico's Soldiers recently pulled guns on our National Guard Soldiers."
He said it was probably as a diversionary tactic for drug smugglers on the border.
The president added: "Better not happen again! We are now sending ARMED SOLDIERS to the Border. Mexico is not doing nearly enough in apprehending & returning!"
US Border Patrol agents have been struggling to cope with the rising number of families trying to reach the US from Central America.
Between January and the end of March this year, 207,475 people have been detained on the southwest US border, according to US Border Patrol figures.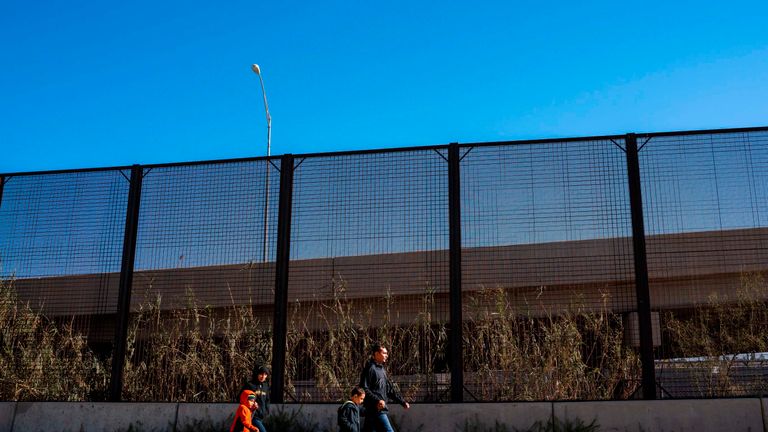 Mr Trump made migration a key part of his presidential campaign as he said criminals and drug dealers from Mexico were swamping the US.
The president had promised to build a wall to stop the flow of migrants – but last year, Congress refused to give him the $5.7bn (£4.5bn) needed to construct it, leading to a government shutdown.
In February, he declared a national emergency so he could get round Congress and divert funds from the military to the wall.
In March, army engineers received permission to start planning and building 57 miles of 18ft-high fencing along the border.