Anger grows as communities remain cut off
Isolated and angry, frustrations are mounting on the coast road out of the tsunami hit city of Palu in Indonesia.
Smaller, disaster-hit communities line the shore winding north to Dongala.
Dongala residents shelter in a basic camp made of plastic sheeting draped over wooden posts. They built it alone after their houses were destroyed.
It's three-day-old Gambita's first home.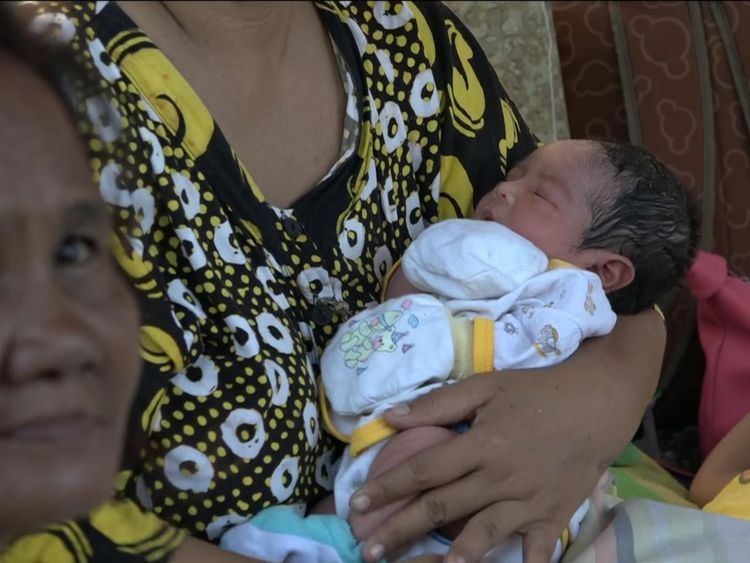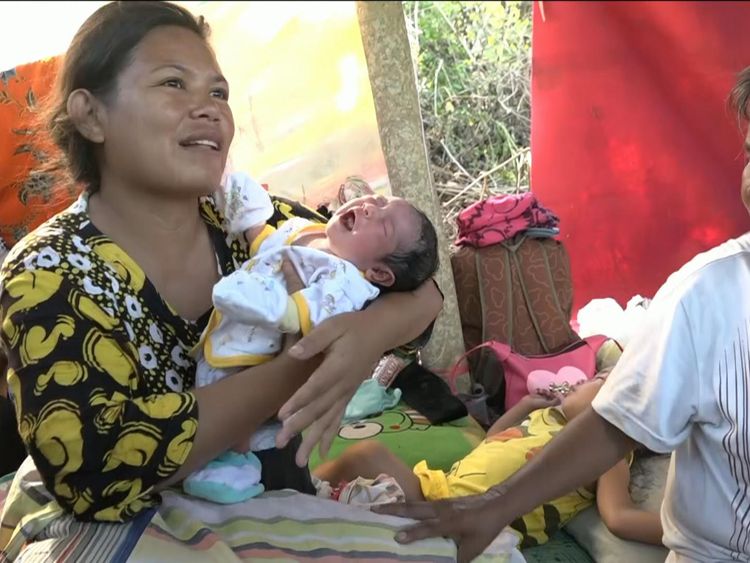 Born a day after the tsunami, a flimsy tent is now the only protection her mother, Isma, can give her.
There's no running water, no toilets.
I ask what help is the government giving them?
"Nothing," Isma replies.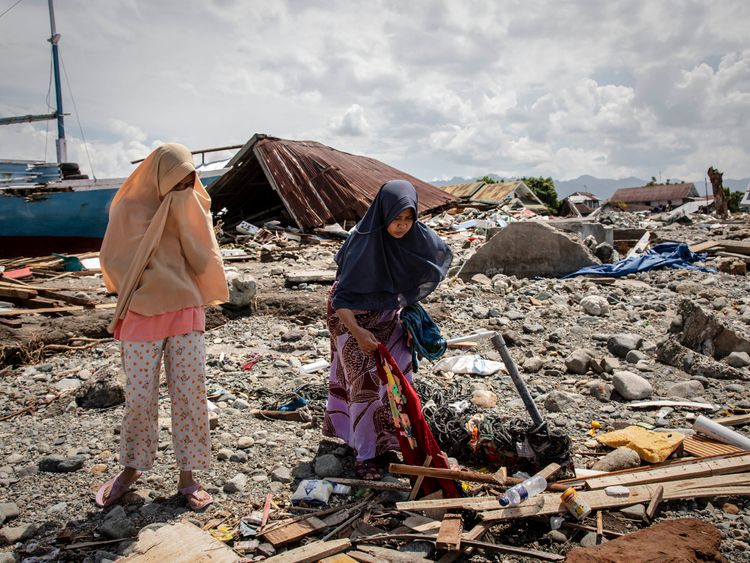 Destitute and deeply traumatised, the lack of support only worsens their pain.
Reliving the earthquake that destroyed her home, another mother, Sherley, bursts into tears.
"The ground shook and the shaking was very very strong," she cries.
"It blew the electricity, so we ran outside but the water level was rising so we had to come up here to the mountain. Everyone had to do the same."
Many smaller communities have been cut off for days – and say they are alone and without aid.
As we pass through one village, a crowd is having a stand-off with police.
"You're useless, get out of here," they shout.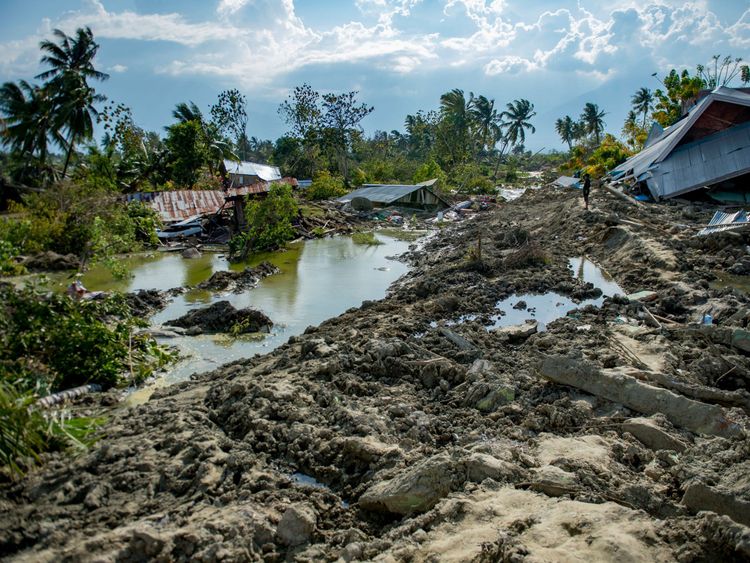 They're armed with sticks and someone throws a rock. Despair has turned to resentment and tensions are starting to boil over.
Four days after the devastating tsunami and earthquake, aid still is not getting through here.
It is now estimated more than 60,000 people have been left homeless by Friday's earthquake and tsunami and many believe they have little hope of getting any aid.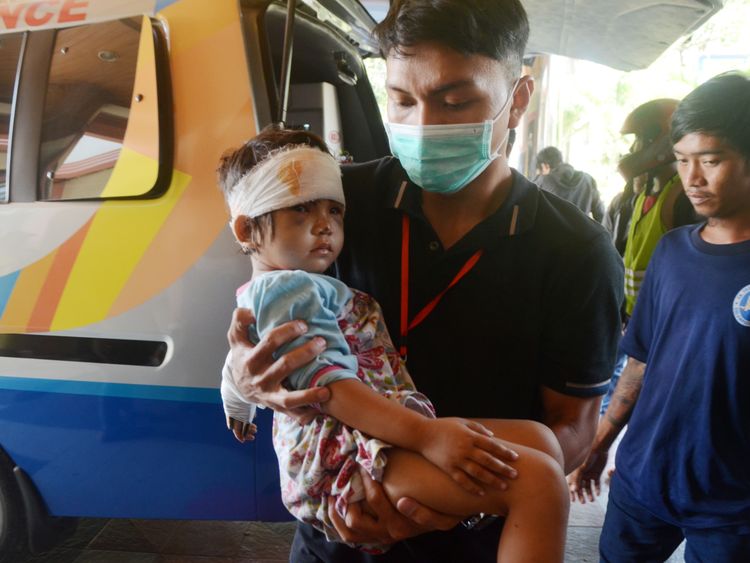 Rather than wait for government support, lines of survivors now beg by the road.
They hope passing drivers will help where authorities have not.
"I'm not very happy," explains father, Ambun Tambunan, "because of the lack of aid we have to do this, we have to ask for handouts".
As they wait for supplies to trickle through, community leaders are gathering what they can.
Rauf Zainudin is co-ordinating aid for local residents where he lives.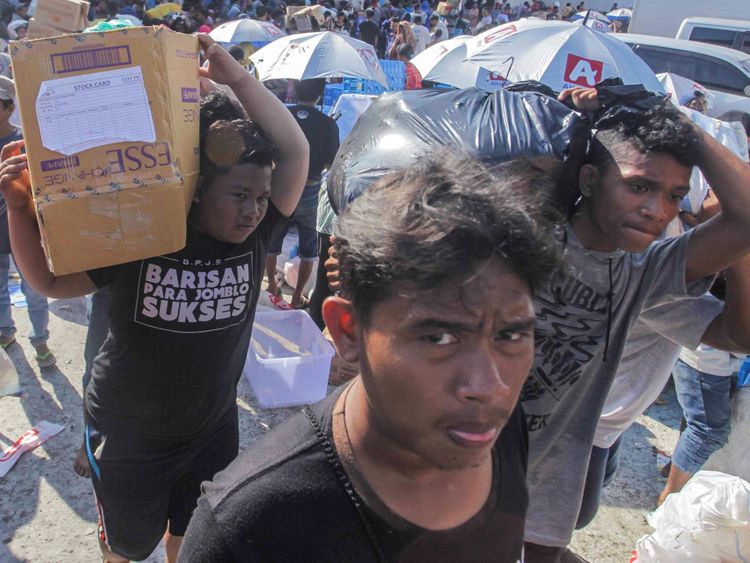 In a small shelter he shows me a table of clothes and a few boxes of noodles, crackers and water.
The government has called for international support but patience is wearing thin.
"We've never seen a disaster this big so we hope when it comes to aid that it's not just the local authorities supplying it, but that the national government steps in to help," he says.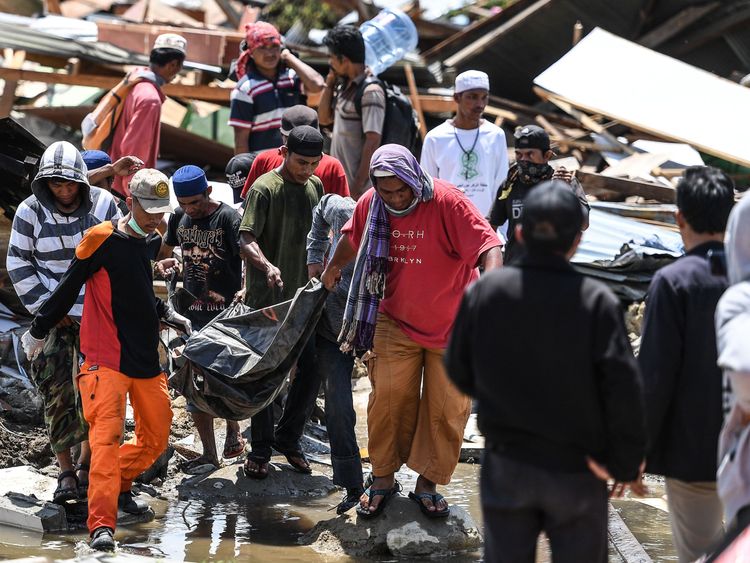 Conveys of aid are slowly rolling towards these shattered communities but some say they are arriving too late.
These survivors have lived through nature's brutal punishment and now feel forgotten by man.
Journalist's killing was 'tragic incident'

The US has described the killing of journalist Jamal Khashoggi as a "tragic incident".
Mr Khashoggi went missing on 2 October during a visit to the consulate to get marriage papers and, after weeks of pressure, Saudi Arabia has admitted he died after a fight between him and others at the consulate.
Eighteen people have been arrested and countries such as Turkey have accused Saudi Arabia of a state-sponsored killing.
But the US stopped short of such strong language, with White House press secretary Sarah Sanders saying Mr Khashoggi's death was a "tragic incident".
She said: "The United States acknowledges the announcement from the Kingdom of Saudi Arabia that its investigation into the fate of Jamal Khashoggi is progressing and that it has taken action against the suspects it has identified thus far.
"We will continue to closely follow the international investigations into this tragic incident and advocate for justice that is timely, transparent, and in accordance with all due process.
"We are saddened to hear confirmation of Mr Khashoggi's death, and we offer our deepest condolences to his family, fiancée, and friends."
More follows…
Journalist Khashoggi killed at consulate

Saudi Arabia has confirmed Jamal Khashoggi was killed inside the consulate in Istanbul after a fight broke out.
According to the Saudi public prosecutor, the fight broke out between Mr Khashoggi and people who met him in the consulate, leading to his death.
Eighteen Saudis have been arrested so far in connection with the journalist's death, state television added.
In other developments, one of Saudi Arabia's top intelligence officials, Ahmed El Asiri, has been sacked, as has royal court adviser Saud Al-Qahtani.
The Saudi rulers were expected to say that General Asiri received orders from Prince Mohammed to capture Mr Khashoggi for an interrogation in Saudi Arabia, but either misunderstood or overstepped and took the dissident's life, according to two of the people familiar with Saudi plans who were quoted in the New York Times.
Mr Khashoggi went missing on 2 October, during a visit to the consulate to get marriage papers.
His disappearance brought intense pressure on Saudi Arabia to explain what had happened and concerns grew after Turkish authorities said he had been killed in a premeditated murder.
An official, speaking to Reuters news agency, said at the time: "We believe that the murder was premeditated and the body was subsequently moved out of the consulate."
A senior police source told online news website Middle East Eye the journalist had been "brutally murdered, killed and cut into pieces".
"Everything was videotaped to prove the mission had been accomplished and the tape was taken out of the country," they said.
US president Donald Trump was criticised for not being tough enough on Saudi Arabia, saying only that consequences would "have to be very severe" if Saudi rulers were found to have killed him.
Also, a number of countries, including the UK, pulled out of a major investment summit in Riyadh next week in protest.
Sky News special correspondent Alex Crawford said from Istanbul that confirmation of Khashoggi's death was "not too much of a surprise from our sources in Turkey".
"I think the Saudi just thought there was nowhere else to go – they had to admit it.
"Now they've been backed into a corner where they've had to admit something very badly went wrong."
Mr Khashoggi fled Saudi Arabia for Washington in September 2017, months after Prince Mohammed was appointed heir to the throne.
He had been criticised by Saudi authorities for being too progressive and he had described Prince Mohammed as a "brash and abrasive young innovator" – and even said he is "acting like Putin".
More follows…
PhD student held in Dubai on spying charge 'suffering significant health issues'
A British student accused of spying in the United Arab Emirates is said to be suffering from "significant health issues" after being in solitary confinement for five months.
Matthew Hedges says he flew to the UAE on 5 May to interview sources for research about the country's security strategy and foreign policy.
The 31-year-old Durham University PhD student was detained at Dubai Airport and his family say he has been in solitary confinement ever since.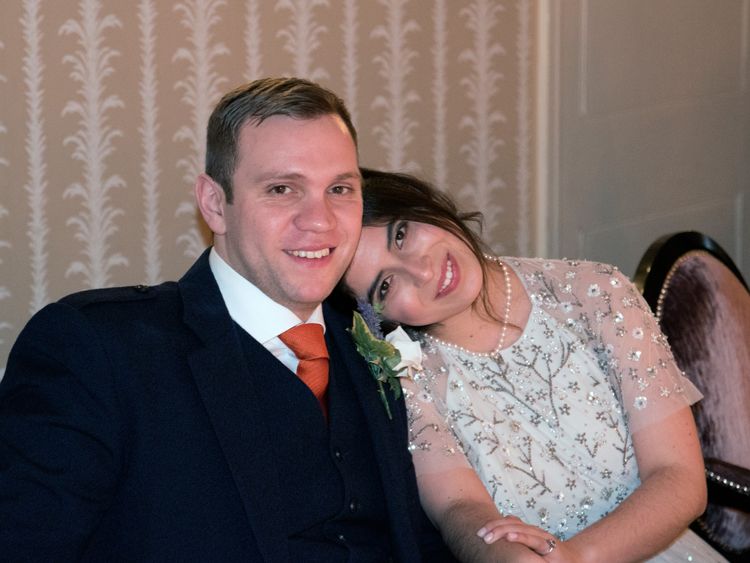 Durham and Exeter universities have now issued a joint statement saying they are "deeply concerned" about Mr Hedges's welfare.
"Matt is suffering from significant health issues after more than five months in detention," they said.
"His welfare and right to a fair trial are now the overriding concerns of both Durham and Exeter universities."
The universities called on UAE and UK authorities to "treat Matt with proper fairness and to make every effort to return Matt to his wife, Daniela, and his family and friends".
They said they assured the court of Mr Hedges's status as a PhD student "in good standing".
"Matt's thesis is nearing completion and was carried out in full accordance with Durham University's research and ethics procedures," the statement continued.
"His academic colleagues speak highly of his work, noting both his diligence and level of scholarship, as well as his undoubted passion and care for the Arab Gulf and its people."
Prime Minister Theresa May has called Mr Hedges a "man of integrity and principle" and told MPs his case has been raised with officials "at the highest levels" in the UAE.
The academic started his PhD at Durham in 2013 after completing a masters degree in Middle East studies at Exeter.