A 5.9-magnitude earthquake has hit near Sumba island in Indonesia, says the US Geological Survey.
The tremor is several hundred miles south of Sulawesi, where a powerful quake and tsunami hit on Friday.
More than 800 people died, according to official figures, but the actual number is believed to be far higher.
Indonesian authorities are scrambling to find any survivors and provide shelter, food and water for people left homeless.
The USGS recorded three quakes south of Sumba between 23:12 UTC and 23:59. They measured 5.0, 5.4 and 5.9 on the Richter scale.
Friday's quake was 7.5 in magnitude.
More follows…
India vows 'crushing response' as Kashmir bombing leaves at least 41 soldiers dead | World News
India's prime minister has warned Pakistan of a "crushing response" to a suicide bombing that left at least 41 soldiers dead in Kashmir.
Narendra Modi blamed its neighbour for the attack on a paramilitary convoy in an India-controlled part of the region on Thursday, with his finance minister adding that he will try to ensure the "complete isolation" of Pakistan from the international community.
A local Kashmiri, named by police as Adil Ahmad Dar, rammed an explosive-filed van into a bus travelling in the convoy.
The bombing is the deadliest in the disputed region's volatile history.
Two dozen other soldiers were injured in the attack, India's paramilitary Central Reserve Police Force spokesman Sanjay Sharma said.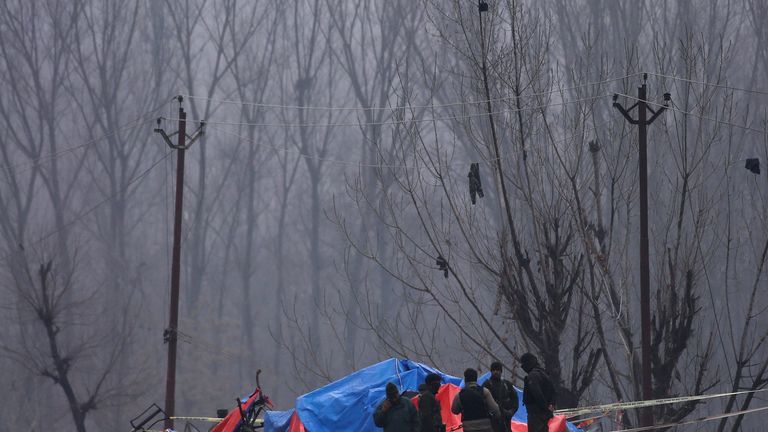 Police said the bus was destroyed and at least five other vehicles were damaged.
Conflicting reports suggest between 41 and 46 soldiers were killed in the attack.
The Greater Kashmir newspaper reports that militant group Jaish-e-Mohammed claimed responsibility.
A pre-recorded video circulated on social media showed the purported attacker in combat clothes, surrounded by guns and grenades.
Images show that vehicles were set alight by demonstrators after protests broke out following the bombing.
Both nuclear-armed countries claim all of the Muslim-majority region but only control parts of it, with India accusing Pakistan of supporting rebels there.
Mr Modi said: "Our neighbouring country thinks such terror attacks can weaken us, but their plans will not materialise."
He added that government forces have been "given total freedom" to deal with the militants.
Mr Modi said: "Security forces have been given permission to take decisions about the timing, place and nature of their response."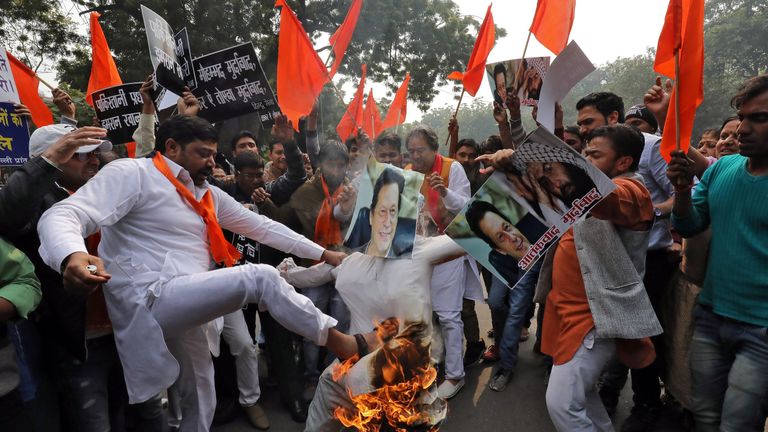 Pakistan's ruling party has rejected his allegation, saying India's ruling party was blaming his country for the attack for political gains in an upcoming national election.
Naeemul Haq, a senior leader of the Tehreek-e-Insaf party, which came to power in last year's parliamentary elections, said: "The Indian allegations against Pakistan over yesterday's incident are part of the election campaign."
He added that violence in Kashmir, which sits above northern Pakistan and northern India, was "the result of the brutalities of Indian-occuiped forces in Kashmir".
The attack was ratched up already high tensions between India and Pakistan, who both administer parts of the disputed territory but claim it entirely.
Indian finance minister Arun Jaitley said New Delhi was withdrawing the most-favoured nation trade status given to Pakistan, and would take all possible diplomatic steps "to ensure the complete isolation from international community of Pakistan of which incontrovertible evidence is available of having a direct hand in this gruesome terrorist incident".
Pakistan's foreign ministry said the country condemns acts of violence anywhere in the world and denied involvement.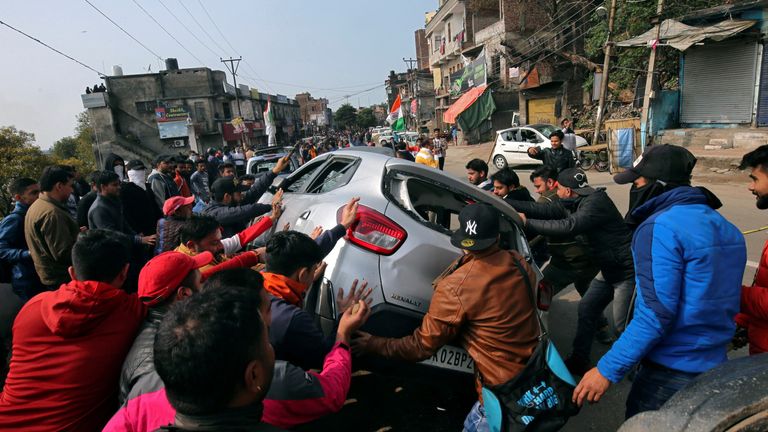 It said in a statement: "We strongly reject any insinuation by elements in the Indian media and government that seek to link the attack to Pakistan without investigations."
Rebels, many of whom want Kashmir united with Pakistan, have been fighting Indian control since 1989.
The Muslim-majority region has experienced renewed attacks and repeated public protests in recent years as a new generation of Kashmiri rebels, especially in southern areas, has challenged New Delhi's rule with a mixture of violence and social media.
Authorities suspended movement of security convoys in the Kashmir valley on Friday and home minister Rajnath Singh arrived in its largest city of Srinagar to review the security situation.
The attack has raised tensions elsewhere in Hindu-majority India.
Hundreds of residents carrying India's national flag in Hindu-dominated Jammu city in the Muslim-majority state burned vehicles and hurled rocks at homes in Muslim neighbourhoods, officials said.
Authorities imposed a curfew and appealed for restraint.
Some people were reported injured in the mob attacks.
Nearly 100 protesters chanting slogans such as "Pakistan down!" and "Attack Pakistan!" burned an effigy of Pakistani prime minister Imran Khan in a park close to India's Parliament in New Delhi.
Leo Varadkar: 'Nasty surprise' for those who think EU unity will falter over Brexit | Politics News
Those who believe the EU's solidarity towards Ireland will falter over the Brexit backstop are "in for a nasty surprise", the Irish prime minister has warned.
Leo Varadkar said Dublin's "concerns have become the European Union's concerns" during the UK's exit from the bloc.
He told the All-Island Civic Dialogue on Brexit at Dublin Castle: "One of the most striking things about what has unfolded since the UK's decision to leave has been the remarkable solidarity from the EU.
"Despite many attempts to bilateralise issues or to divide the 27, the solidarity has been strong and resolute and those who think it will break at the last moment are in for a nasty surprise."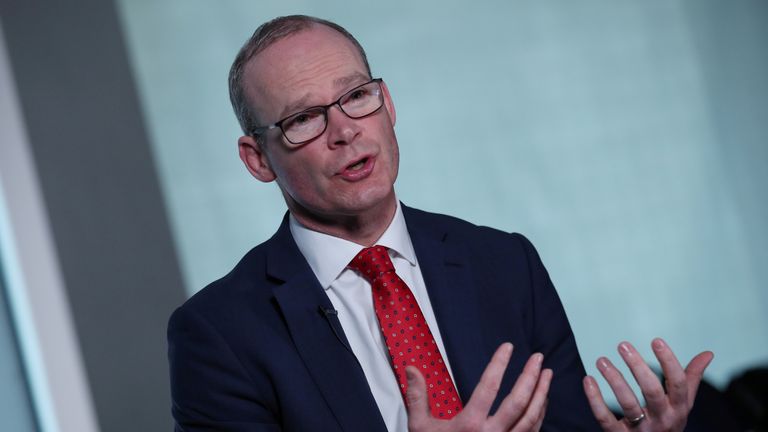 The backstop has emerged as the main issue preventing UK Prime Minister Theresa May getting a Brexit deal through parliament in time for Britain to leave the EU as scheduled at the end of March.
The arrangement is an insurance policy designed to avoid the return of a hard border on the island of Ireland in the event such a scenario isn't averted by a future EU-UK trade relationship.
If the deadlock cannot be broken, the default position is that Britain will leave the EU without a withdrawal agreement on 29 March.
On the prospect of there being a no-deal Brexit, Mr Varadkar said this was now a very real and possible scenario.
He said: "I explained to [European Commission] president [Jean-Claude] Juncker the assistance Ireland will require in the event of a no-deal Brexit.
"For his part he emphasised that the EU stands ready to help Ireland in finding and funding the specific solutions to the challenges we might face."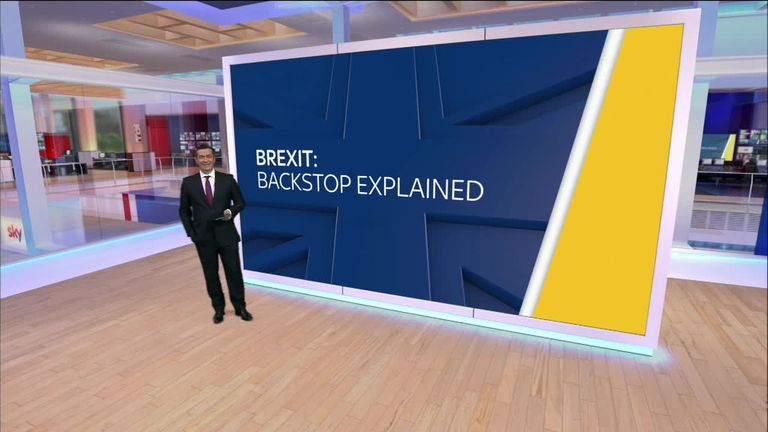 Simon Coveney, Ireland's foreign minister and deputy prime minister, expressed his exasperation that Brexit has yet to be resolved.
"I think it is extraordinary and unbelievable really that the British parliament and British government have let it come to this," he said.
"We are 42 days out until Britain is due to leave, there is still division within a political party that is causing Ireland to spend hundreds of millions of euros to prepare for no deal."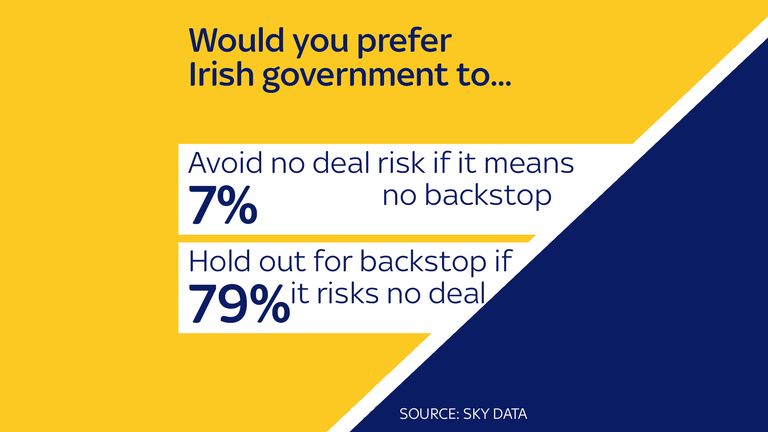 Mr Coveney said it was "crazy" the prospect of Britain exiting the EU without a divorce agreement was still on the table.
Mrs May is currently trying to secure legally binding changes to the backstop in order to win round MPs, who overwhelmingly rejected her original Brexit deal in a vote last month.
Mr Coveney said the EU would "try to accommodate the prime minister but will have to be reasonable".
But he cautioned there was a limit to the leeway that would be forthcoming.
"We cannot and will not allow a situation, that in order for the prime minister to get a deal with hardline MPs, we will not allow Irish interests to be sacrificed to achieve that – we can't," Mr Coveney said.
The current impasse has triggered calls for Article 50 – the two-year process during which a country has to negotiate the terms of its EU exit – to be extended.
On that prospect, Mr Coveney said: "Ireland has always said we will not be an obstacle to an extension if it was reasonable to do it."
US/China trade war talks to continue next week after 'progress' | Business News
The US and China are to hold further trade war peace talks in Washington next week after both sides hailed "progress".
A week of negotiations in China's capital, which latterly included a banquet for US trade representative Robert Lighthizer and Treasury Secretary Steven Mnuchin, were aimed at securing enough progress to avert an escalation.
US tariffs on $200bn worth of Chinese imports are due to rise to 25% from 10% by 1 March without sufficient progress.
The US is demanding China curb forced technology transfers and better enforce intellectual property rights.
As the clock ticks down to the deadline, officials held a week of talks in the Chinese capital – with top level talks over Thursday and Friday.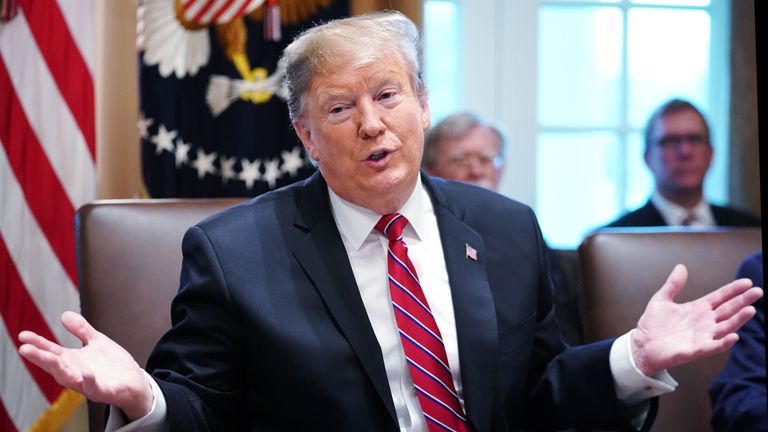 Mr Mnuchin said in a Twitter post that they had held "productive meetings" with President Xi's top economic adviser.
Chinese state TV quoted Xi Jinping as saying: "The consultations between the two sides' teams achieved important step-by-step progress."
He added that China was willing to take a "cooperative approach".
White House press secretary Sarah Sanders said the focus would now return to Washington.
"The United States looks forward to these further talks and hopes to see additional progress," she said.
"Both sides will continue working on all outstanding issues in advance of the 1 March 2019 deadline for an increase in the 10 percent tariff on certain imported Chinese goods."
The trade war has had an impact on not only the US and Chinese economies but damaged global growth and the outlook too.
Stock markets fell sharply last year as investors digested the potential impact on corporate earnings, particularly in the tech sector – at the heart of US complaints against Chinese behaviour and their trade imbalance.
Any signs of hope for a truce have been seized on since.
Values rose in Europe on Friday on renewed hopes a truce will be agreed.
However, gains were tempered by continued worries over far weaker than expected retail sales data for the world's largest economy, released on Thursday.