The entire fleet of F-35 stealth jets is to be checked for a fault following a crash in the US last month.
The post-crash investigation, carried out after a plane came down in South Carolina, identified a faulty fuel tube.
As a result the global fleet is on an "operational pause".
Each £150m aircraft must now be checked before being cleared to fly again – with each check taking up to six hours.
It is a hugely embarrassing turn of events for the programme and has been described to Sky News by a senior defence industry source as a "cock up of epic proportions".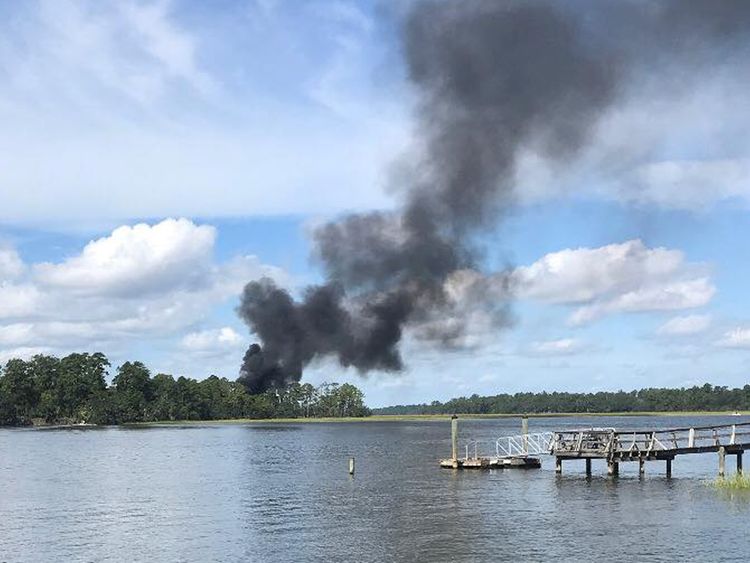 In a statement, F-35 programme spokesman Joe DellaVedova said the checks should be complete by the end of the week, adding: "If suspect fuel tubes are installed, the part will be removed and replaced.
"If known good fuel tubes are already installed, then those aircraft will be returned to flight status.
"Inspections are expected to be completed within the next 24 to 48 hours."
Depending on how many aircraft are affected, the future progress of the programme – which is already the most expensive in history – could be in jeopardy.
The programme is led by the Pentagon but Britain is its only tier one partner.
Britain has 16 F-35B jets and has pledged to buy 138 in total.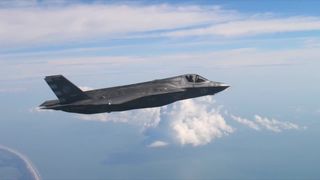 The faulty part is believed to have been made by US engine manufacturer Pratt & Whitney.
Pratt & Whitney would only say in a statement that they are "supporting the US Marine Corp investigation into the incident".
The Royal Navy has told Sky News that one of the F-35s onboard the new aircraft carrier HMS Queen Elizabeth has been checked and is flying again.
The F-35s stationed at RAF Marham in Norfolk are yet to be checked but are not due to fly this week.
"Safety is our paramount concern, therefore the UK has decided to pause some F-35 flying as a precautionary measure while we consider the findings of an ongoing enquiry," an MoD spokesman said.
"F-35 flight trials from the aircraft carrier, HMS Queen Elizabeth, are continuing and the programme remains on schedule to provide our armed forces with a game-changing capability.
"We will continue to review the situation as further information becomes available."
The first F-35B jets only landed on HMS Queen Elizabeth last month.
They are now in a period of flight trials off the east coast of the US.
China in 'strong protest' to US over Meng Wanzhou arrest
China has summoned the US ambassador in Beijing as it lodged "strong protests" over the detention of a Chinese technology executive in Canada.
Meng Wanzhou, chief financial officer of smartphone giant Huawei, was arrested on 1 December while changing planes in Vancouver.
She is the daughter of Huawei's founder Ren Zhengfei and the growing row between the US and China over the case destabilised global stock markets last week as share prices suffered big falls.
Chinese foreign minister Le Yucheng has "lodged solemn representations and strong protests" with US ambassador Terry Branstad, according to the Xinhua news agency.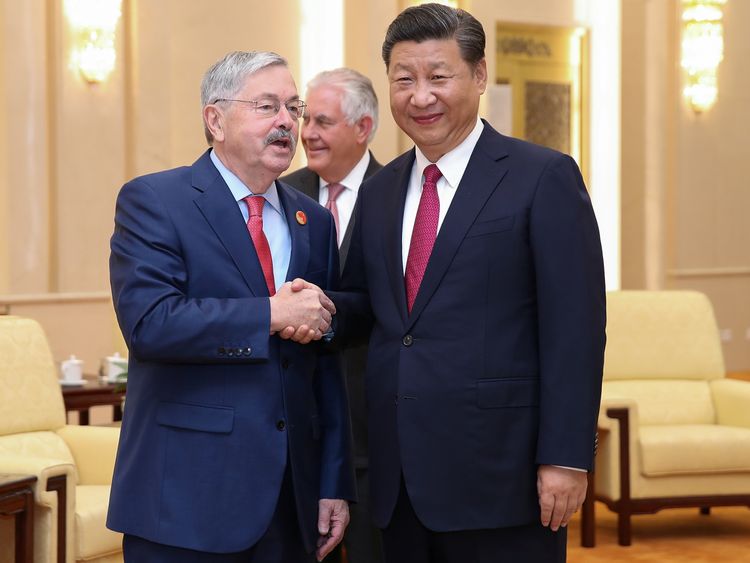 Mr Le reportedly called Ms Meng's detention "extremely egregious" and demanded the US rescinds its order for her arrest.
He also urged the US to "immediately correct its wrong actions" and said it would take further steps based on Washington's response.
The move comes a day after Canadian ambassador John McCallum was summoned amid a similar protest warning of "grave consequences" if she was not released.
A Canadian prosecutor has urged a Vancouver court to deny bail to Ms Meng.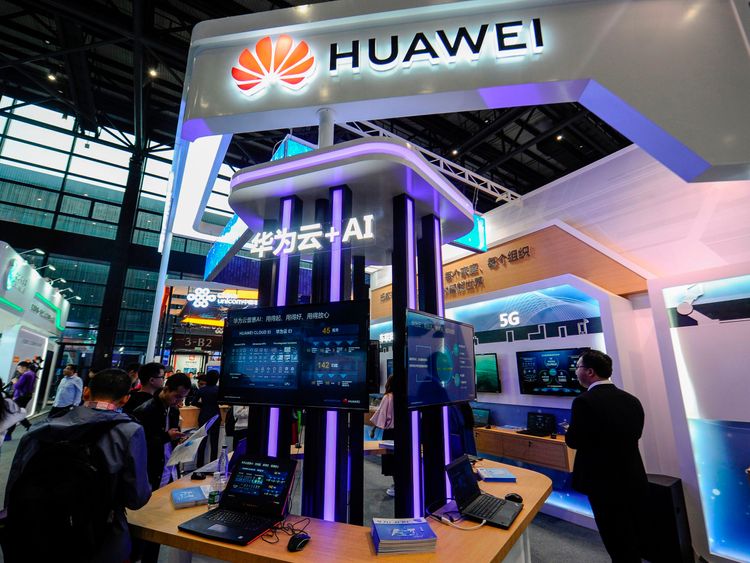 Huawei is the world's biggest supplier of telecoms equipment and has been the target of deepening US security concerns over its ties to the Chinese government.
Ms Meng, who was held at the request of the US and faces extradition there, is suspected of trying to evade US trade sanctions on Iran.
The electronics giant allegedly used a Hong Kong shell company to sell equipment in Iran in violation of those restrictions and there are claims she covered up her firm's links.
The US also claimed she and Huawei misled American banks about its business dealings in the Middle East country.
The surprise arrest has raised doubts about whether a trade truce between Washington and Beijing will hold and whether the world's two biggest economies can resolve the complicated issues that divide them.
America's trade representative Robert Lighthizer has said US-China trade negotiations need to reach a successful conclusion by a "hard deadline" of 1 March next year or new tariffs will be imposed.
World markets are jittery over the prospects of a deepening row over China's huge trade surplus with the US and American claims that China is stealing intellectual property and technology.
At a G20 summit last weekend in Argentina, President Donald Trump and Chinese leader Xi Jinping agreed to a 90-day truce that delayed the planned US hike of tariffs on 1 January to 25% from 10% on $200bn of Chinese goods while they negotiate a trade deal.
World's oldest known bird lays another egg
The world's oldest known bird is set to become a mother again – after raising at least 30 other youngsters.
Wisdom the albatross has laid another egg at her nest site in Midway Atoll National Wildlife refuge on a tiny island about 1,200 miles northwest of Hawaii, in the Pacific Ocean.
Biologists believe Wisdom is at least 68 years old, forcing them to re-evaluate the age which they expected albatrosses to live to.
Albatross mate for life, but will recouple if a partner dies. The current age of her mate Akeakamai is not known, but the pair have been together since 2006.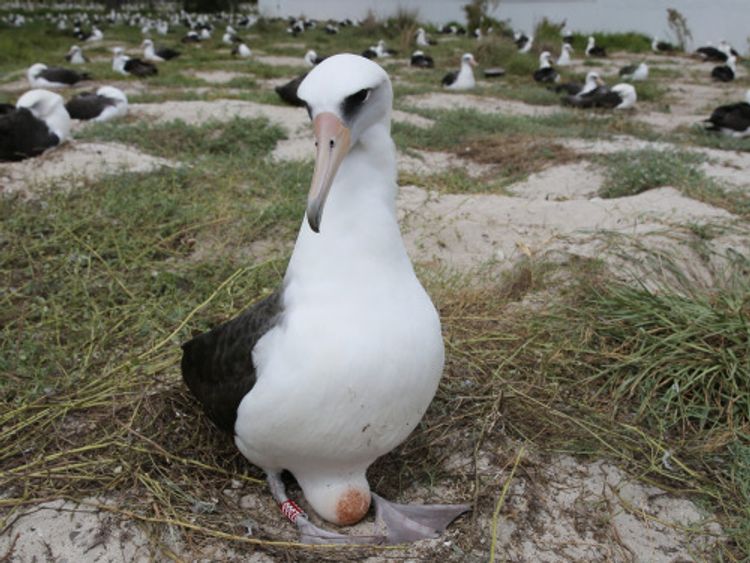 "She first appeared back at her traditional nest site on November 29 and biologists on Midway have confirmed that she has laid an egg," a statement from the US Fish and Wildlife Service Pacific Region said.
"Wisdom and her mate Akeakamai return to the same nest site on Midway Atoll each year. Biologists call this type of behavior 'nest site fidelity'."
Albatross lay a single egg and incubate it for just over two months before they spend another five months rearing it to fledgling status after it hatches.
During that time, Wisdom and Akeakamai will take it in turns to sit on the egg or tend to the chick as the other searches for food at sea.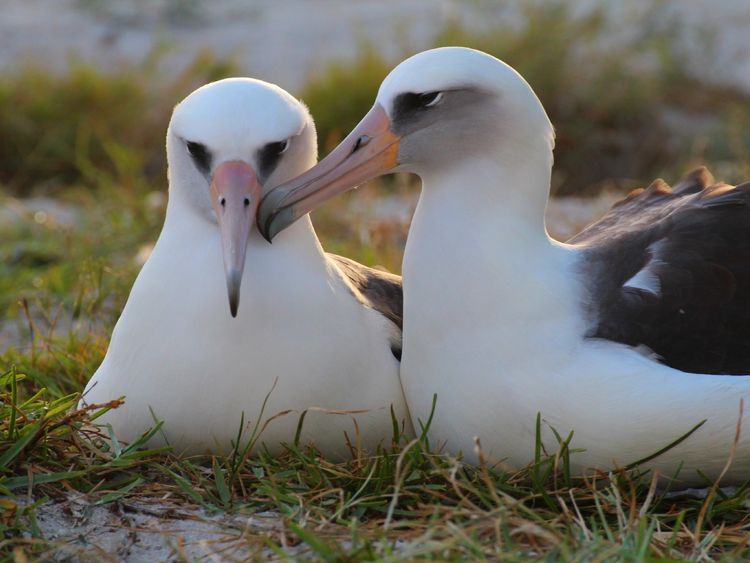 It is thought that Wisdom, a Laysan albatross, has reared between 30 and 36 chicks in her life.
The chick she produced in 2001 was observed just a few feet away from her in 2017, providing further evidence that albatross offspring return to their parents as they get older.
"Midway Atoll's habitat doesn't just contain millions of birds, it contains countless generations and families of albatrosses," said Kelly Goodale, US Fish and Wildlife Service Refuge biologist.
"If you can imagine when Wisdom returns home she is likely surrounded by what were once her chicks and potentially their chicks. What a family reunion!"
The USFWS says nearly 70% of the world's Laysan albatross and almost 40% of black-footed albatross rely on the reserve.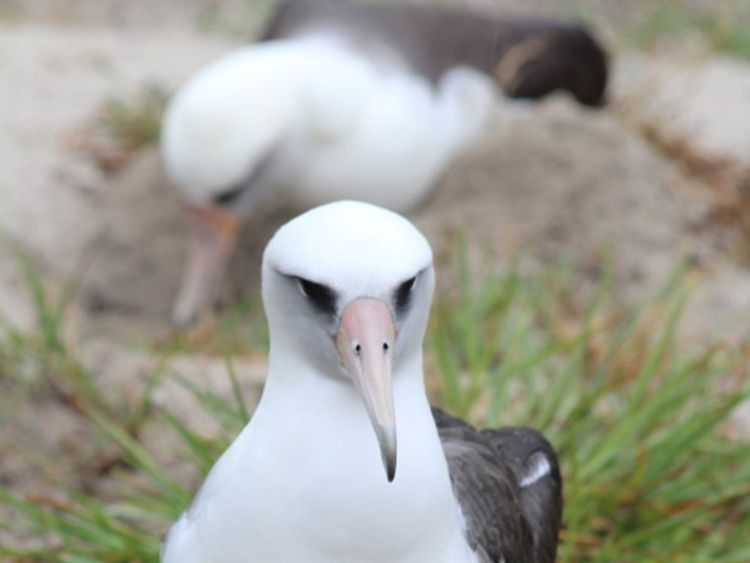 There are around three million birds on the atoll, about 1.2 million of which are albatross – providing a crucial refuge for the birds, most species of which are at risk due to loss of habitat, ocean plastic and commercial fishing practices, according to the WWF.
Wisdom was first ringed in 1956 at a time when Midway Island was a strategic outpost for the US Navy.
The biologist who ringed her then rediscovered her 46 years later in 2002 while surveying an area he had previously visited.
It was because she was a fully developed adult bird when he first saw her that he was able to determine her minimum age.
In 2006, she was seen again and from that point, after her age was recognised, she began to be monitored regularly.
While the Laysan albatross does not have the wingspan of the wandering albatross – the largest wingspan of any bird – like other species they spend most of their lives in flight over the oceans.
It is thought Wisdom has travelled more than three million miles in her lifetime.
Soap star questioned and two held after diamond trader found dead in forest

A soap star has been questioned by police while a former ministerial aide and a policeman have been arrested over the alleged murder of a diamond trader.
Mumbai police detained actress Devoleena Bhattacharjee, who stars in popular Indian drama Saath Nibhana Sathiya, and quizzed her for several hours over the death of Rajeshwar Udani, officials reportedly said on Saturday.
The Times of India reported that the 28-year-old was the girlfriend of Sachin Pawar, who used to work as a personal assistant to the ruling Bharatiya Janata Party's (BJP) Prakash Mehta.
NDTV reported that Pawar is also an acquaintance of the diamond merchant.
The broadcaster said authorities were remaining tight-lipped on her role in the case but hinted other women from the entertainment business could be questioned.
The investigation comes after the 57-year-old diamond trader's heavily decomposed body was found in a forest on 5 December in the Raigad district of Maharashtra. He had been reported missing on 28 November.
He was found without any apparent injuries and without any ID. His son identified him from the clothes and shoes he was wearing.
After he had been missing almost a week, police said they were investigating a kidnapping.
Mr Udani's driver reportedly told police that the businessman had asked to be dropped near the Pant Nagar market where he got into another vehicle.
Media reports say detectives believe Mr Udani may have been killed at another location before being dumped in the forest.
Call records reportedly showed the businessman was a regular at several bars and was in touch with women from the entertainment business through Pawar.
After being released, Bhattacharjee thanked concerned fans on Twitter, saying she was "safe and home".
"There is nothing to get worried about," she wrote. "It was an investigation as I know the person who got killed… an official statement has been already given by the department… All is well!!:)"