The entire fleet of F-35 stealth jets is to be checked for a fault following a crash in the US last month.
The post-crash investigation, carried out after a plane came down in South Carolina, identified a faulty fuel tube.
As a result the global fleet is on an "operational pause".
Each £150m aircraft must now be checked before being cleared to fly again – with each check taking up to six hours.
It is a hugely embarrassing turn of events for the programme and has been described to Sky News by a senior defence industry source as a "cock up of epic proportions".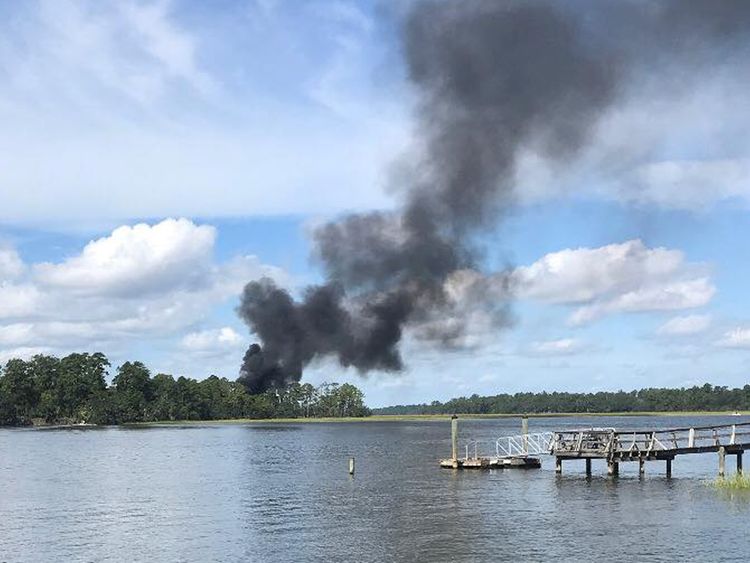 In a statement, F-35 programme spokesman Joe DellaVedova said the checks should be complete by the end of the week, adding: "If suspect fuel tubes are installed, the part will be removed and replaced.
"If known good fuel tubes are already installed, then those aircraft will be returned to flight status.
"Inspections are expected to be completed within the next 24 to 48 hours."
Depending on how many aircraft are affected, the future progress of the programme – which is already the most expensive in history – could be in jeopardy.
The programme is led by the Pentagon but Britain is its only tier one partner.
Britain has 16 F-35B jets and has pledged to buy 138 in total.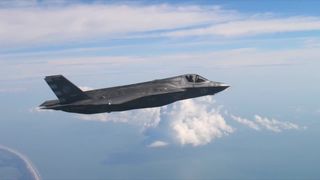 The faulty part is believed to have been made by US engine manufacturer Pratt & Whitney.
Pratt & Whitney would only say in a statement that they are "supporting the US Marine Corp investigation into the incident".
The Royal Navy has told Sky News that one of the F-35s onboard the new aircraft carrier HMS Queen Elizabeth has been checked and is flying again.
The F-35s stationed at RAF Marham in Norfolk are yet to be checked but are not due to fly this week.
"Safety is our paramount concern, therefore the UK has decided to pause some F-35 flying as a precautionary measure while we consider the findings of an ongoing enquiry," an MoD spokesman said.
"F-35 flight trials from the aircraft carrier, HMS Queen Elizabeth, are continuing and the programme remains on schedule to provide our armed forces with a game-changing capability.
"We will continue to review the situation as further information becomes available."
The first F-35B jets only landed on HMS Queen Elizabeth last month.
They are now in a period of flight trials off the east coast of the US.
Drones delay flights in and out of Dubai airport – reports | World News

Flights in and out of Dubai International Airport are on hold after reports of drones flying in the area.
Traveller Andrew Todd tweeted that thousands of people were "sitting in planes going nowhere".
Anush Wijesinha said he had been "stuck of ages" on the runway because his plane was "unable to taxi as unauthorised drones have entered the airspace here and all takeoffs have been grounded!"
More follows…
300 babies die every day because of war – Save the Children report | UK News
More than half a million babies may have died because of wars in the last five years, charity Save the Children report.
Their research suggests 300 babies are dying every day, working out as an average of more than 100,000 deaths annually.
This figure does not include children killed directly by fighting.
The charity found at least 550,000 deaths of children under the age of one could be attributed to the effects of conflict in the 10 worst-affected conflict zones, including Yemen, Syria and Iraq, between 2013 and 2017.
When the age range was increased to children under the age of five, the deaths rose to 870,000.
The deaths of these children may have been caused by starvation, outbreaks of disease, damage to hospitals, or delays to aid deliveries.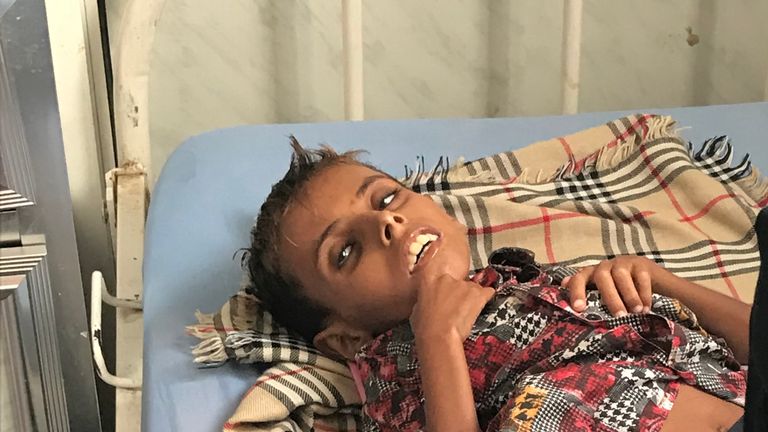 Sky News reported the case of Adam, a 10-year-old Yemeni boy who weighed just 10kg. He was one of 400,000 children in Yemen suffering from severe acute malnutrition at the time and died before the article could be published.
Save the Children highlight the case of Saleh (not his real name), a 12-year-old boy who was asleep in bed when a bomb fell on his home.
"I got buried and screamed, and tried to get the fire off me," Saleh said. "I was asleep and woke up burned. My mother started screaming and came to me while I was on fire."
He survived, but faces more operations and has been unable to walk for more than a year.
Off the back of this report, Save the Children are calling for the UK to make a number of changes, including to enact the Chilcot inquiry's recommendation to track civilian harm and comprehensively record civilian casualties in conflicts the UK is engaged in.
The charity is also urging the government to speak out against violations against children in conflict – including when such acts are committed by allies.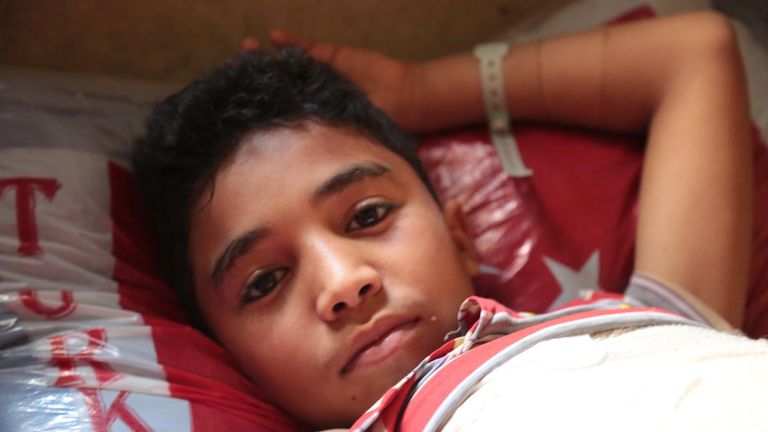 Kevin Watkins, CEO of Save the Children UK, said: "The UK should be using its global influence to protect children living in war zones… Some are treated as collateral damage in urban bombing. Others are deliberately targeted for killing, abduction and recruitment by armed groups. Millions go hungry because humanitarian aid is obstructed.
"Britain should send a clear message to the world: the war on children must end, and those who commit crimes against children will be held to account."
The areas considered as the 10 worst-affected conflicted zones in 2017 by the charity are: Afghanistan, Yemen, South Sudan, Central African Republic, Democratic Republic of Congo, Syria, Iraq, Mali, Nigeria and Somalia.
Research was conducted with the Peace Research Institute Oslo for Save the Children's Stop the War on Children report found 420 million children, almost a fifth (18%) of all children in the world – were living in conflict affected areas in 2017.
This is a rise of 30 million compared to the year before and the highest in almost 30 years.
Pompeii dig uncovers well-preserved Narcissus fresco | World News
Archaeologists have discovered a fresco in an ancient home in Pompeii, portraying mythological hunter Narcissus, who fell in love with his own reflection.
The find was made in the atrium of a house along with another fresco depicting a sensual scene between the Roman god Jupiter disguised as a swan and Spartan queen Leda.
The Italian site's general director Massimo Osanna said the myth of Narcissus, mirroring himself in the water, was a "recurring theme for Pompeii".
"The appearance is languid, a feature which comes back in all of those characters who have something in common with the Gods' world or with beauty," he said.
"Endymion [a mythological king] is in the same pose, for example, it's a very topical theme."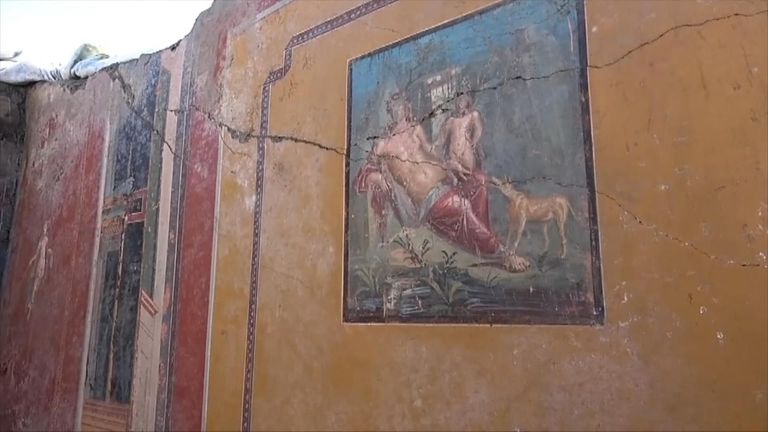 Archaeologist Alfonsina Russo said the "beauty of the rooms" prompted officials to carry on making further discoveries so that the house could one day – at least partially – be open to the public.
The team working on the site also found a dozen glass containers, eight terracotta vases and a bronze funnel under a staircase.
Pompeii was destroyed in 79 AD after a volcanic eruption killed more than 2,000 people and is still one of the most-visited archaeological sites in the world.
The latest discoveries come after an inscription found on a house in the ruins of Pompeii last year suggested the city was destroyed by a volcanic eruption in October 79 AD – two months later than originally believed.
Archaeologists also uncovered the remains of a horse that died in the eruption nearly 2,000 years ago.