Scientists in China have bred healthy mice from same-sex parents for the first time.
Researchers achieved the feat by altering stem cells from a female mouse and injecting them into the eggs of another female.
They also bred "somewhat unhealthy" offspring from two male mice, but the pups died shortly after birth.
The breakthrough marks the first time researchers have been able to overcome the barriers that prevent same-sex mammals from producing healthy babies.
Mice have reportedly been born from same-sex parents before but they had serious abnormalities.
The process used at the Chinese Academy of Sciences involved "substantial genetic modification" meaning it is "unlikely to be useful in humans for now".
The mice born from two mothers have now grown into adults and have had healthy offspring of their own via normal intercourse with a male.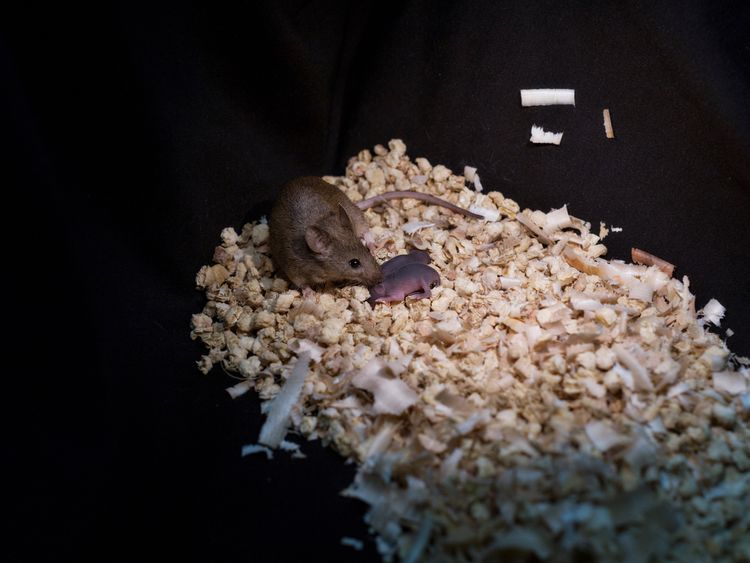 Dr Tim Hore, senior anatomy lecturer at the University of Otago in New Zealand, said: "The researchers in this paper used genetic modification to alter the genes which are expressed in a parent-specific manner in mammals.
"In doing so they were able to artificially overcome some of the usual incompatibility between parents of the same sex, meaning they were able to create relatively healthy offspring with two mothers, and somewhat unhealthy offspring from two fathers that died shortly after birth."
Scientists have been trying to work out what it makes it so challenging for mammals of the same sex to reproduce.
Animals such as sharks, chickens and Komodo dragons can have children without a genetic contribution from a male.
The researchers in China have noted that there are still obstacles in achieving their feat with other mammals.
Dr Hore said: "The work does fall short of creating mammalian offspring from the same sex in the absence of substantial genetic modification, meaning it is unlikely to be useful in humans for now."
He added: "In order for same-sex (human) parents to both have genetic contributions to their children in an assisted reproduction setting, it is likely another technological leap will be required.
"One possible approach is using 'epigenetic-editing' on haploid stem cells, essentially reprogramming the DNA of one parent so it looks like that of the opposite sex without altering any genetic sequence."
Lufthansa profit warning brings turbulence for airline shares | Business News
Shares in European airlines have plunged after Lufthansa blamed intense short haul competition for a profit warning.
The German carrier said falling sales at its Eurowings budget arm accounted for much of the woes it was experiencing in Europe, as operators engage in a fare price war.
Rival airlines including easyJet and Ryanair have also come under pressure, as higher fuel costs place margins at risk.
There have been a string of recent casualties with Monarch, Flybmi, Germania, Air Berlin and Wow collapsing.
Tour operators including TUI and Thomas Cook have also issued profit warnings this year – with the latter company confirming a takeover approach a week ago as the pair also battle falling demand partly linked to Brexit uncertainty.
Shares in Lufthansa were as much as 11% down after it downgraded profit expectations for 2019 by up to €1bn (£891m).
The carrier said that its fuel bill could come in €550m (£490m) above last year's total, despite the recent dips in world oil costs.
The news proved toxic for its listed competitors.
In the UK, shares in easyJet were 4% lower while British Airways' parent IAG saw its market value dip by more than 3%.
Ireland-listed Ryanair was also 4% down.
:: Ryanair profits slump 29% as cost pressures mount
Lufthansa said: "Yields in the European short-haul market, in particular in the group's home markets, Germany and Austria, are affected by sustained overcapacities caused by carriers willing to accept significant losses to expand their market share.
"The group expects the European market to remain challenging at least for the remainder of 2019."
Backpacker who was kidnapped and raped on Australian farm used Facebook to raise alarm | World News
A backpacker has told how she sent desperate pleas for help over Facebook after being chained up and sexually abused by a farmer in Australia.
Davine Arckens, from Belgium, waved her right to anonymity to describe her two-day ordeal in February 2017 after Gene Charles Bristow was convicted of her kidnap and rape.
The 24-year-old told 60 Minutes Australia she was lured to a pig shed in Meningie, South Australia, after she placed an advert on the Gumtree website in a bid to find work.
After Bristow demanded to check her body for needle marks to ensure she was not a drug user, Ms Arckens said he lunged on her, pulled her arms behind her back and threatened to shoot her if she did not do what he said.
She said Bristow, 54, used cable ties then chains to bind her wrists and shackle both her legs, then stripped her naked and sexually abused her.
"I was just stuck there and I thought it would take a while for people to notice I was gone or even to find me," she told 60 Minutes.
"I was like: 'I'm not getting out of here. This is it. This is where I'm going to die.'"
Ms Arckens spotted small metal hooks for binding wool bales in the shed and used them to loosen the shackles and set herself free.
She used a laptop and WiFi stick hidden in her bag to log onto Facebook and sent desperate messages for help.
Her friend, fellow backpacker Echo Wang, who was in Far North Queensland, picked up Ms Arckens' Facebook messages and immediately raised the alarm.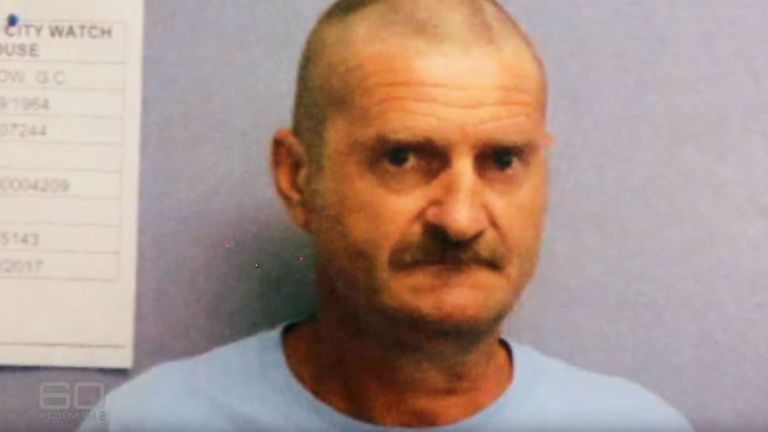 Describing Ms Wang, Ms Arckens told 60 Minutes: "She's like a hero for me. She helped me, she was there for me. She took action."
Ms Arckens said she put her shackles back on and waited for help as detectives used signals from her phone to track her location.
After police appealed to the public for information, she said Bristow dropped her off at a nearby motel before officers raided his farm and arrested him.
He was jailed last month for at least 12-and-a-half years after being found guilty of kidnap and rape, Sky News Australia reported.
Bristow's son David told 60 Minutes Australia that he was "disgusted" by his father's actions, adding: "Rot in hell. You get what you deserve."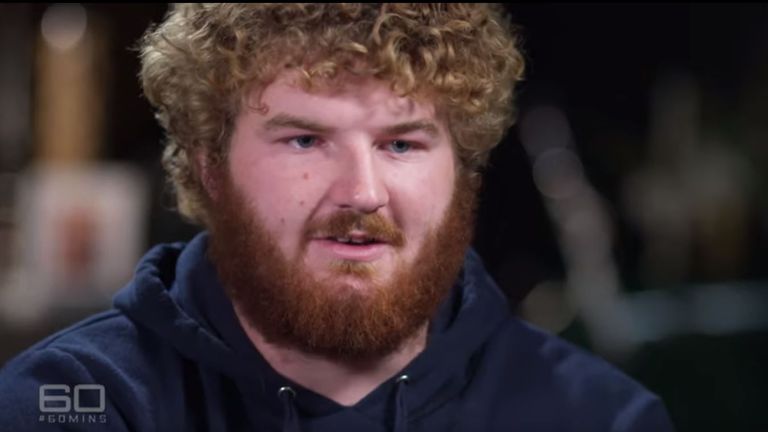 Bristow is likely to be deported to the UK, where he grew up, following his sentence, according to reports.
It came as several young backpackers said they had been subjected to rape threats and abuse in Australia amid fears the country's working holiday visa programme could be exploited.
An investigation by the Australian Broadcasting Corporation (ABC) uncovered widespread mistreatment of those on the scheme, in which travellers aged 18 to 30 agree to work in rural industries in exchange for an extended stay in the country.
British backpacker Frances Fairs told ABC that a hostel owner in a remote part of Victoria, southeastern Australia, threatened to rape her if she refused his advances.
"He called me into his office and was like 'right here is the deal, you either sleep with me and my girlfriend or I rape you. Pick one'," she said.
There are fears that more travellers will face abuse and exploitation if they work in isolated parts of Australia for longer periods under plans by the country's government to lengthen the working visa programme.
Under new rules, the scheme will be extended to allow young backpackers to remain in Australia for a third year if they carry out specified work for six months.
Australia's department of home affairs told ABC it had established a migrant workers' task force in an effort to reduce exploitation by unscrupulous employers.
Chanchal Lahiri: Stuntman feared dead after magic trick in River Ganges goes wrong | World News
A stuntman has been declared missing after he lowered himself into the River Ganges while tied up with rope and steel chains for a magic trick.
Chanchal Lahiri, also known as Wizard Mandrake, was lowered into the river by a crane while his friends, family and police watched from the river bank on Sunday.
Before entering the cage, the 40-year-old reportedly said: "If I can free myself it will be magic, if I cannot it will be tragic."
Mr Lahiri has not emerged from the river since – sparking a frantic search – and is feared dead.
"We are still searching," a family member told the AFP news agency.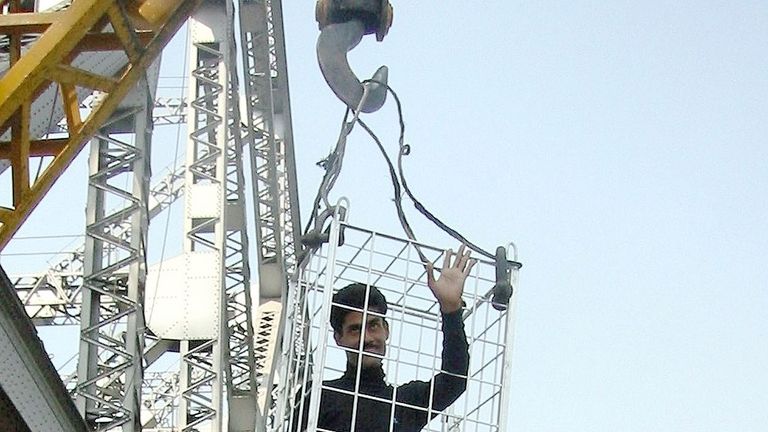 The Indian escape artist pulled off a similar stunt 21 years ago in the same river by locking himself inside a bulletproof glass box while he was tied with chains.
He was dropped from a bridge and managed to escape within 29 seconds, according to reports.
After he performed the same stunt in 2013, he was assaulted by witnesses who claimed it was fake – accusing Mr Lahiri of exiting the locked cage through a visible door.