The White House expects the Turkish government to release detained American pastor Andrew Brunson in the coming days after reaching a secret deal, NBC News reported Thursday, citing two senior administration officials and another person briefed on the situation.
The detention of the pastor has been an ongoing source of tension between the U.S. and Turkey, one of America's most important allies in the region.
The news of Brunson's potential release comes as Turkey and another U.S. ally, Saudi Arabia, are engaged in a dispute over the disappearance of a Saudi journalist, Jamal Khashoggi, who has not been seen since entering the Saudi Arabian consulate in Istanbul earlier this month.
A number of anonymous Turkish police sources have told domestic and international news outlets that the Turkish government believes that Khashoggi was murdered on the orders of the Saudi government.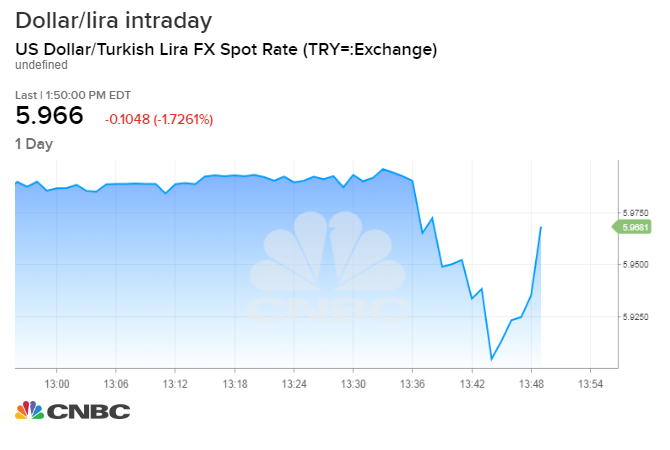 NBC reported that while the details of the agreement weren't immediately clear, it does include a U.S. commitment to scale back economic pressure on Turkey.
The Turkish lira rallied more than 2 percent on the news to trade at 5.97 per U.S. dollar. The iShares MSCI Turkey ETF, which tracks the performance of Turkish stocks, jumped more than 5 percent to its session high.
The White House did not immediately respond to CNBC's request for comment. There are some doubts within the administration about how conclusive the deal may be, NBC News reported. One senior official told the outlet that Turkey came close to a similar agreement several months ago.
The continued detention of the pastor, who was arrested in 2016 following a failed coup attempt in the country, compelled the U.S. to slap Turkey with sanctions over the summer.
Read the full story at NBC News.
— CNBC's
Fred Imbert
contributed to this article.
This story is developing. Please check back for updates.