Hyde Park bomb accused is arrested over soldier murders in Northern Ireland
A man whose trial over the 1982 IRA bombing in London's Hyde Park collapsed has been arrested on suspicion of murdering two soldiers in Northern Ireland in 1972.
John Downey, 66, was detained by Irish officers in County Donegal under a European Arrest Warrant as part of a joint operation with the Police Service of Northern Ireland.
He is expected to appear at Dublin high court on Tuesday afternoon.
Downey is wanted for questioning in Northern Ireland, suspected of killing Lance Corporal Alfred Johnston, 32, and Private James Eames, 33, in County Fermanagh.
They died when an IRA bomb exploded in a car they were checking on the Irvinestown Road in Cherrymount, Enniskillen on 25 August 1972.
In 2013, Downey was charged with murdering four Royal Household Cavalrymen in a bomb attack in Hyde Park in 1982.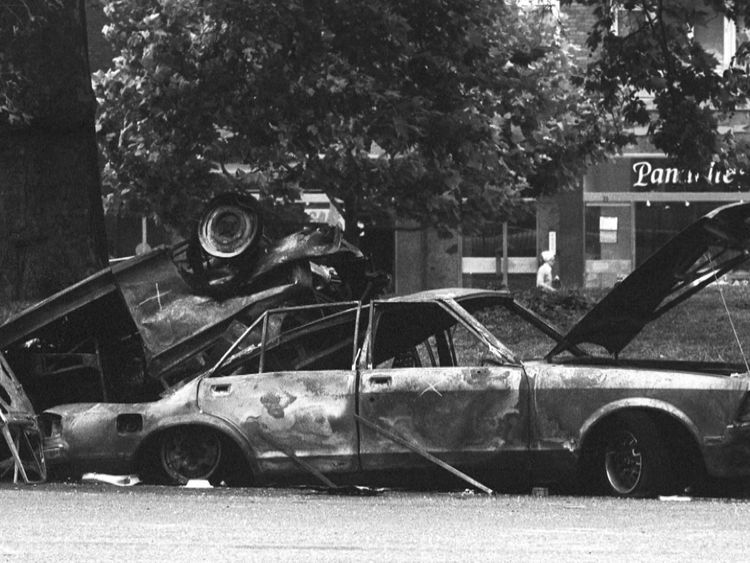 Trooper Simon Tipper, 19, Lance Corporal Jeffrey Young, 19, Squadron Quartermaster Corporal Roy Bright, 36, and Lieutenant Anthony Daly, 23, died as they made their way from their Kensington barracks to a Changing Of The Guard ceremony at Horse Guards Parade.
Downey stood trial at the Old Bailey in 2014, but the case dramatically collapsed after it was revealed he had received a written assurance from former prime minister Tony Blair's government that he was not actively wanted by the authorities.
The letter was issued under the terms of the controversial On The Runs (OTRs) scheme.
Trial judge Mr Justice Sweeney ruled Mr Downey's arrest at Gatwick Airport, as he transited the UK on the way to a holiday, represented an abuse of process and he put a stay on any future prosecution in relation to the Hyde Park case.
The episode sparked a government inquiry into the OTR scheme.
Mr Downey has always denied any involvement in the Hyde Park attack.
Republicans and Democrats in final push as voters head for the polls
Polls open later in what is proving to be one of the most divisive US midterm elections for decades.
Donald Trump has been campaigning up to the last minute, addressing rally after rally and urging supporters to vote, saying the media would treat the results as a referendum on his presidency.
"Even though I'm not on the ballot, in a certain way I am on the ballot," he said. "The press is very much considering it a referendum on me and us as a movement."
He made the comments before a three-state rally blitz in a final push to keep Congress in Republican hands and prevent any potential losses that could change the course of his presidency.
President Trump repeatedly claimed a Democratic takeover would throw the US into chaos, sparking a wave of illegal immigration and crime.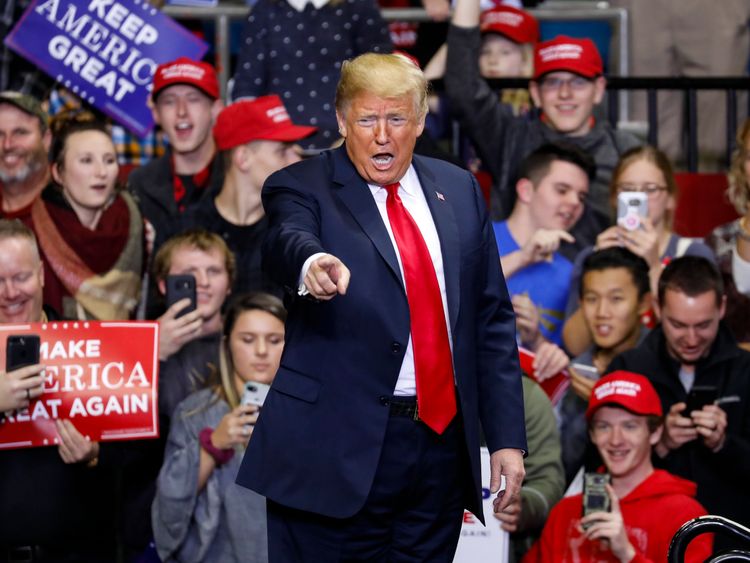 In Fort Wayne, Indiana, he said Democrats would take a "wrecking ball to our economy and to the future of our country" and that they would oversee "a socialist nightmare".
Protesters interrupted the billionaire multiple times at the rally as they chanted against Mr Trump. They were soon drowned out by the president's supporters. Mr Trump told one demonstrator to "go home to mommy".
He reminded supporters to help preserve "fragile" Republican victories that could be wiped out by Democratic gains in Congress.
"It's all fragile. Everything I told you about, it can be undone and changed by the Democrats if they get in," Mr Trump told supporters on a telephone town hall meeting held by his re-election campaign. "You see how they've behaved. You see what's happening with them. They've really become radicalised."
The US leader has already looked to distance himself from any potential blame if Republicans lose the House of Representatives, saying: "My primary focus has been on the Senate."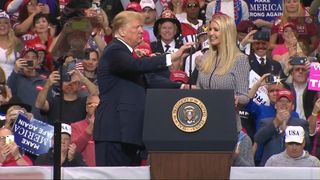 In the lead up to the elections, President Trump has been to 11 rallies in six days, and has notably issued personal attacks on several political rivals.
House minority leader Nancy Pelosi, Senate minority leader Chuck Schumer and representative Maxine Waters regularly featured in his closing messages as he argued Democrats would plunge the country into chaos.
However, in a TV interview on Monday, the US leader said he wished he had taken a softer tone in his first two years as president.
He told Sinclair Broadcasting: "I would like to have a much softer tone… I feel to a certain extent I have no choice, but maybe I do and maybe I could have been softer from that standpoint."
But there was little softening in tone as he attended rallies in Ohio, Indiana and Missouri, where his hard-line rhetoric on immigration remained.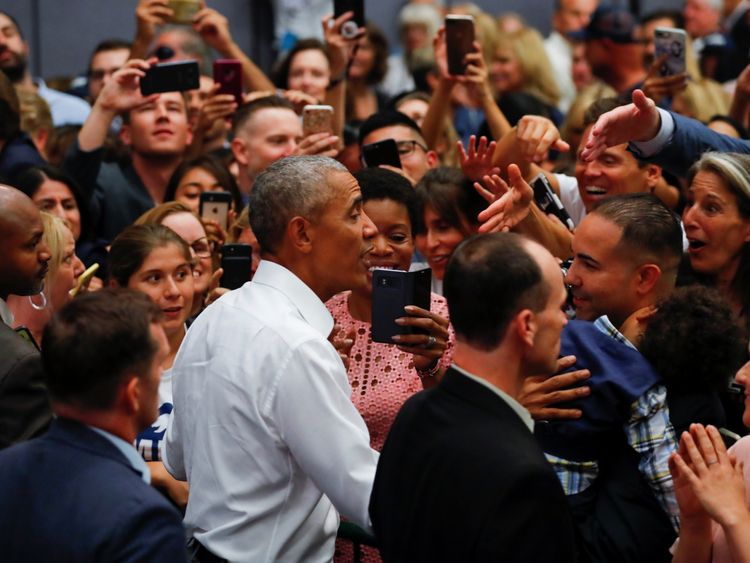 The ramped up rhetoric comes as Mr Trump's campaign advert featuring an immigrant convicted of killing two police officers was taken off Facebook, NBC and Fox News.
CNN already rejected the advert, claiming it was racist.
When asked if he thought the advert was racist as he left for the rallies, the president said: "A lot of things are offensive. Your questions are offensive a lot of times."
Meanwhile, former president Barack Obama delivered doughnuts to Democratic campaign volunteers in a House district in Virginia, where candidate Jennifer Wexton is challenging Republican Barbara Comstock.
Mr Obama said America's character and commitment to decency were on the ballot.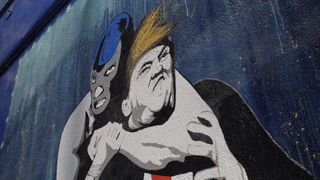 "All across the country, what I'm seeing is a great awakening," he said. "People woke up and said: 'Oh, we can't take this for granted. We've got to fight for this.'"
He added: "You're going out there, you're going to make sure that people vote to start making things better.
"And when you do that, then the spirit of America is going to shine. Alright? Let's get to work."
At a rally on Sunday, without naming the current US leader, Mr Obama condemned him and Republicans for what he described as divisive policies.
He also accused Mr Trump of lying and "fear-mongering", warning Democrats not to get distracted.
Elsewhere, Facebook blocked 30 accounts and 85 Instagram accounts in its efforts to stop interference online during the elections.
It said authorities discovered online activity "linked to foreign entities" and that it was investigating the accounts.
:: Live coverage of the US midterm elections on Sky News from 11pm on Tuesday with Adam Boulton live in Washington and our breaking results service on skynews.com and app, plus expert analysis from breakfast on Wednesday.
Shark kills paddle boarder off the north-east coast of Australia
A man has died after being attacked by a shark while paddle boarding and swimming near the Whitsunday Islands in northeast Australia.
It is the third shark attack in the last two months in the same area.
Police said the 33-year-old tourist from Victoria was with a group of friends who had chartered a yacht, when the shark struck leaving him with severe leg and arm injuries.
Despite at least two of the people he was with being doctors, who immediately gave first aid, he died after being airlifted to hospital.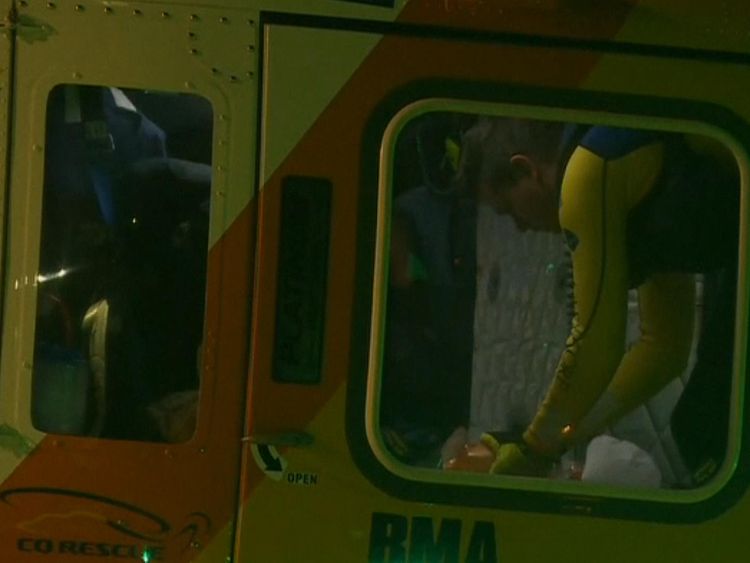 Inspector Steve O'Connell of the Queensland Police Service said: "The group of 10 people were all very good friends and associates on holiday, and most of them had a medical background, which meant there were at least two doctors on board, who were able to render immediate first aid.
"The QAS (Queensland Ambulance Services) and the helicopter were notified, however, by the time the helicopter arrived on scene, the man had lost a substantial amount of blood and had come in to cardiac arrest.
"CPR was ongoing for a very long time, and every solid effort was made to try and save that man's life. Once he was stabilised he was airlifted by the helicopter to Mackay Base Hospital.
"But his injuries and the reaction to those injuries were so severe that, unfortunately, he has not survived, (not) long after his arrival at Mackay Base Hospital."
In September a 12-year-old girl and a 46-year-old man suffered severe injuries from shark attacks while swimming on two consecutive days in the same area.
Those attacks led to a cull in which four tiger sharks were killed.
Toddler 'who looked like doll' rescued from sea by fisherman in New Zealand

A toddler was pulled from the sea by a fisherman after he went wandering from his parents' tent during a camping trip.
Gus Hutt was early morning fishing on Matata Beach on New Zealand's North Island when he spotted 18-month-old Malachi Whyte floating near his line.
Mr Hutt told the New Zealand Herald: "As he floated past I thought he was just a doll. Even as I reached out and grabbed him by the arm, I still thought it was a doll."
He said the child looked like porcelain and his short wet hair was stuck to his face.
Mr Hutt continued: "He let out a little squeak and I thought, 'Oh God this is a baby and it's alive'."
He said if he had checked his line a minute later he would not have seen him.
"He was bloody lucky, but he just wasn't meant to go; it wasn't his time."
Malachi was even luckier because Mr Hutt's choice of fishing location was 100m from his usual spot but right where the child drifted past.
Mr Hutt's wife alerted staff at the camp where he was staying and they set out to find his parents.
Malachi's mother, Jessica Whyte, said of the camp manager: "She was like 'do you guys have a young child?' Then she said he's been found in the water.
"It was horrible in between hearing that and seeing him. I don't think my heart [beat] from hearing that to seeing him. I don't think my heart worked.
"It was scary but he was breathing, he was alive.
"Oh God, it was amazing seeing him. I gave him a big hug."
Emergency services were called to the scene during the incident on 26 October and the boy was taken to hospital but allowed home later that day.
Rebecca Salter, owner of Murphy's Holiday Camp, said the child had been so excited to be on the beach that he undid the tent zip and wandered into the ocean while his parents were asleep.
The toddler was all smiles when the parents later stopped by to thank him for saving their son's life, Mr Hutt said.
"He was wriggling trying to get down to have a look at everything, he was just a lovely, cheeky little fella."