White House press secretary Sarah Huckabee Sanders has been accused of sharing a video doctored to make a journalist appear more aggressive.
The clip shows the moment CNN reporter Jim Acosta refused to hand over a microphone to an intern during a heated exchange with US President Donald Trump.
The White House has since banned Mr Acosta over what it called "unacceptable" conduct.
We stand by our decision to revoke this individual's hard pass. We will not tolerate the inappropriate behavior clearly documented in this video. pic.twitter.com/T8X1Ng912y

— Sarah Sanders (@PressSec) November 8, 2018
Ms Sanders took aim at the CNN correspondent after accusing him of "placing his hands on a young woman just trying to do her job as a White House intern".
Ms Sanders went on to share a clip that appears identical to one published by cable network C-SPAN, writing: "We stand by our decision to revoke this individual's hard pass. We will not tolerate the inappropriate behaviour clearly documented in this video."
But Storyful, a social media intelligence agency that specialises in video, say its analysis shows the clip "contains extra frames that do not appear in the C-SPAN broadcast of the event".
Its report claims the video has several frames repeated.
It says: "These frames do not appear in the original C-SPAN footage, and appear to exaggerate the action of Acosta.
"There is a clear moment (frames 13, 14, 15 in our first clip, where C-SPAN version is on the left) when the Sanders video halts and the C-SPAN footage does not.
"The two clips, which were roughly in sync before that moment, are out of sync thereafter," Storyful said.
Many in the media industry were furious with Ms Sanders for sharing the video, including one of Mr Acosta's colleagues.
Matt Dornic, a vice-president at CNN, said: "Absolutely shameful, @PressSec. You released a doctored video – actual fake news. History will not be kind to you."
The Storyful report also says: "The video shared by Sanders appeared under an hour after the same video, with the same close-up, was posted by Infowars.com contributor Paul Joseph Watson."
Infowars.com is a controversial far-right site described by many as a publisher of conspiracy theories and fake news.
The same three still frames are repeated in the zoomed-in clips of the incident in the Sanders video, its report adds.
Mr Watson posted his defence on Twitter, saying: "Here's the video that proves I did not 'doctor' or 'speed up' the Acosta video, as some media outlets claim. I merely zoomed in.
Here's the video that proves I did not "doctor" or "speed up" the Acosta video, as some media outlets claim. I merely zoomed in.

Nice try to distract from Acosta's behavior, but this kind of dishonesty is why the media has a massive trust issue.

Please correct your stories. pic.twitter.com/g0AzlEyVx0

— Paul Joseph Watson (@PrisonPlanet) November 8, 2018
"Nice try to distract from Acosta's behavior, but this kind of dishonesty is why the media has a massive trust issue.
Deloitte Football Money League 2019: Real Madrid richest ahead of Barcelona and Manchester United | Business News
Real Madrid have replaced Manchester United as the world's wealthiest club, according to the latest Deloitte Football Money League.
Manchester United slipped into third spot after generating £590m – representing a comparatively low two per cent year-on-year increase.
Meanwhile, neighbours Manchester City retained their fifth-place ranking with revenues of £504m – an 11 per cent rise from 2016/17 figures.
Bundesliga champions Bayern Munich ranked fourth for a second year running with £557m, while Ligue 1 giants Paris Saint-Germain climbed one place into sixth spot on £480m.
Premier League leaders Liverpool recorded the biggest income increase from clubs in the top 10, with profits soaring 25 per cent to £455m, while Chelsea also achieved an impressive 22 per cent growth with £448m.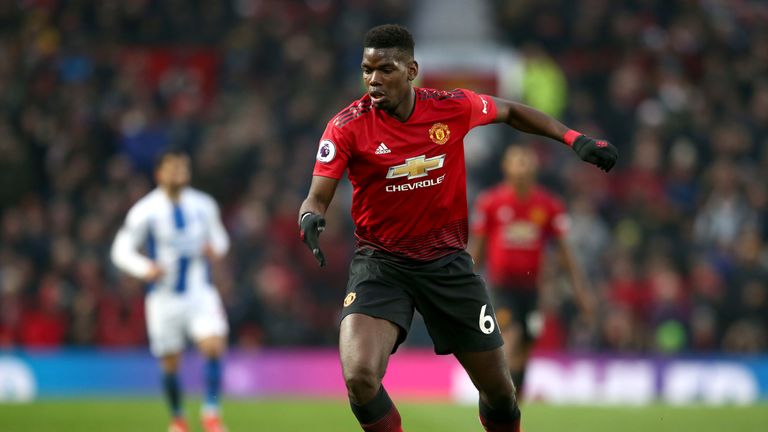 Arsenal (£389m) dropped three places into ninth spot after missing out on Champions League football for the first time in 20 years, but narrowly trumped north London rivals Tottenham (£379m).
Everton (£189m), West Ham (£175m) and Newcastle (£179m) also made the top 20, with Rafa Benitez's side recording a chart-topping 108 per cent increase in revenue – up from £86m in 2016/17.
Other clubs to make the annual index include Juventus (£350m), Borussia Dortmund (£281m), Atletico Madrid (£270m), Inter Milan (£249m), Roma (£222m), Schalke (£216m) and AC Milan (£184m).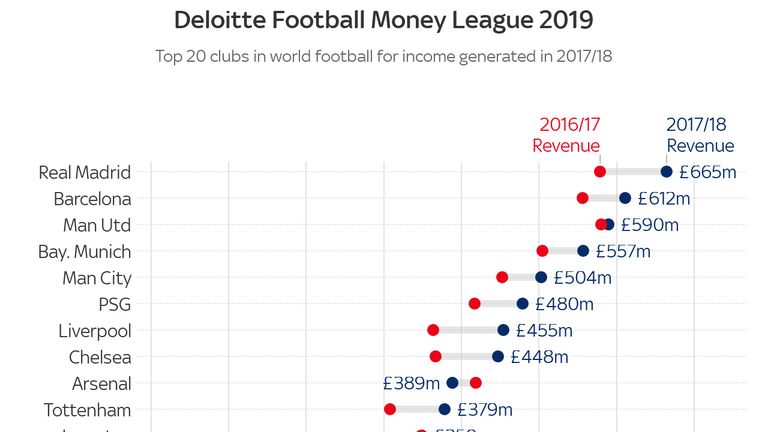 Dan Jones, head of the Sports Business Group at Deloitte, said: "Real Madrid's outstanding financial performance in 2017/18 is built on their long history of success on the pitch, most recently three consecutive Champions League titles.
"This has enabled the club to continue to drive commercial revenue as the appetite to partner with Europe's most successful clubs remains stronger than ever."
Five people killed in shooting at Florida bank | US News

Five people have been killed at a bank in Florida after a gunman opened fire.
The gunman, identified as Zephan Xaver, 21, called police after firing shots inside the SunTrust bank in Sebring, Florida, and eventually surrendered.
Karl Hoglund, Sebring police chief, said the shooting happened at about 12.30pm ET (17.30GMT).
Xaver called police to tell them he had fired shots, according to authorities.
Negotiators failed to convince him to leave the bank, at which point the Highlands County Sheriff's Office SWAT team entered the building and continued to speak to him.
He surrendered and is in custody. His motive is not clear.
Mr Hoglund said: "Today has been a tragic day in our community.
"We've suffered significant loss at the hands of a senseless criminal doing a senseless crime."
No information has been released about the victims.
CNN reported there had been no danger to the surrounding areas.
Ron DeSantis, Florida governor, said he was asking the state department of law enforcement to help local police.
Sue Malliano, a spokesman for the SunTrust bank, said: "We are working closely with officials and seeking to take care of everyone affected at our Sebring, Florida branch."
Troops return to Bulawayo with a vengeance | World News
A week of protest, violence and national trauma in Zimbabwe began last week in the country's second largest city, Bulawayo.
It was here on the morning of 14 January that protesters took to the streets after President Emerson Mnangagwa's administration raised fuel prices by 150%.
Seized with fury, demonstrators blocked roads and occupied neighbourhoods – and their protests would lead to city-wide looting and rioting.
Shops and business in large swathes of the city were destroyed or stripped bare. I asked the owner of one supermarket in an area called Nkeita what had happened to the police.
"They came late, they were late. Everything was gone when they got here," he replied.
Business owners told me that they were abandoned by the police and the army for the first three or four days.
Government critics, like lawyer and former opposition MP David Coltart, think that the authorities decided to hand over this independent-minded community to thugs and criminal elements.
"I have seen the destruction of food outlets on an industrial scale.
"Having represented the people of Bulawayo for many years, I cannot believe the people themselves would have done this because they would have harmed themselves.
"Some 80% of food outlets in working class areas were destroyed. The capacity of these businesses to open again was effectively ended."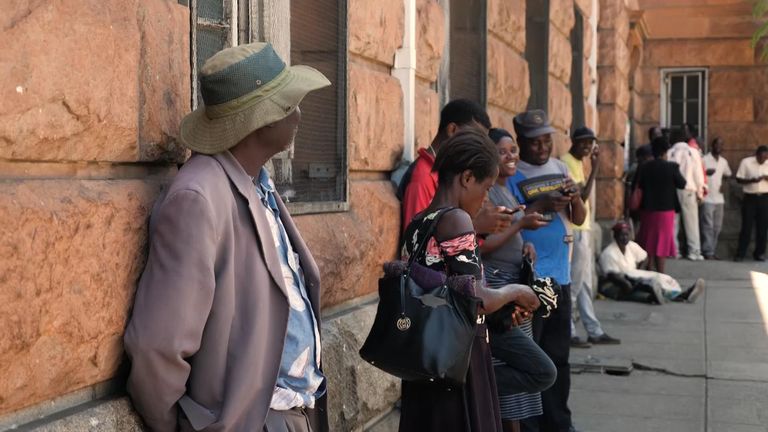 Zimbabwe's president promised to prosecute members of the army or the police who were found guilty of misconduct.
Yet it is members of the public in Bulawayo who are now being rounded up and arrested as the authorities re-assert their control in the city.
Lawyers told us 500 people have been detained in the past few days. The city's prisons, "are packed like sardines," said one.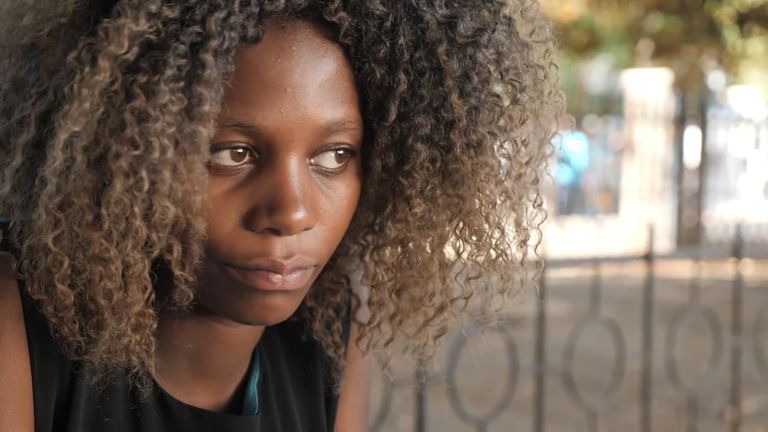 We found one woman called Noxolo Maphosa, outside the city's stately magistrate's court, carrying a toothbrush and some basic suppliers for her brother, Josephat.
Josephat Ngulube ran as a candidate in the last election but he was arrested over the weekend for trying to organise a protest.
"Now I don't know what is going to happen to him," said Ms Maphosa.
"I am just waiting for them to tell us what is going to happen but I don't have hope. I thought we would get a trial date today but they keep on postponing. I am losing hope."
The police and the members of the military are back on the streets and they are making their presence felt.
I heard and saw evidence of systematic raids and beatings carried out in the city's suburbs.
Residents in an area called Marbutweni told us that troops turned up after 8pm on Tuesday and went door to door, administering beatings to men over the age of 14.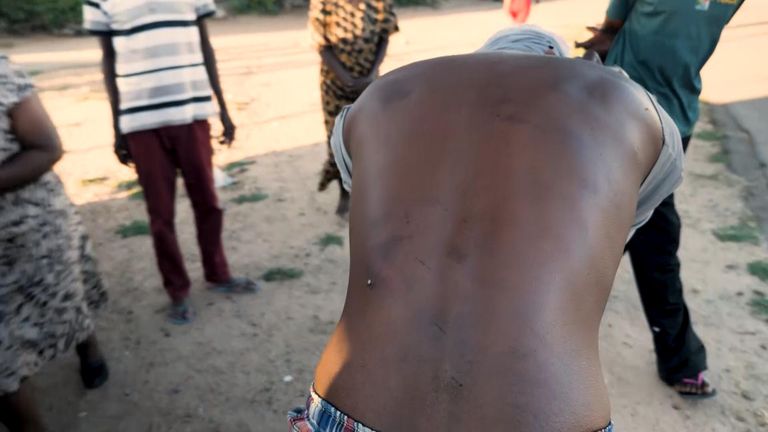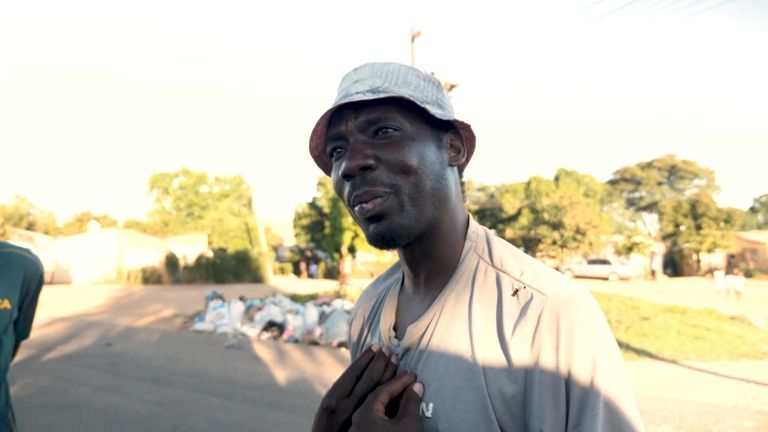 A resident called Clive showed us a series of blue marks and bruises covering his back, then turned around to address us in a quivering voice.
"I met those guys. 'Where you coming from?' (they said).
"I said 'I am going home. It is after dark'.
"(They said) lie down and then nine guys were hitting me. Baton sticks and everything. Come on, is this Zimbabwe?"
We were given more testimony from a man called John, whose face was badly swollen.
"I was asking, 'what did I do wrong?' But they were continuously beating me and I don't know what to do now because I am scared," he told us.
These are arbitrary and unjustified attacks in a country led by a man – Emerson Mnangagwa – who is trying to sell it as a modern democracy. The people of Bulawayo are unlikely to forgive.