Moscow names square after British double agent Kim Philby

Moscow has named a square after the notorious British double agent Kim Philby.
The Russian capital's mayor, Sergei Sobyanin, ordered the renaming of an intersection close to the headquarters of the country's foreign intelligence service on Tuesday.
The move, which came as a surprise to many local residents, is announced during a period of troubled relations between the UK and Russia following the poisoning of former double agent Sergei Skripal in Salisbury earlier this year.
Perhaps Britain's most famous Cold War traitor and member of the Cambridge Five, Harold "Kim" Philby was a senior MI6 officer who in 1963 was exposed for passing information to the Russians for three decades.
He died in Moscow in 1988 and is said to have enjoyed walking around the city, although he lived in a residential neighbourhood far from the intersection now named after him.
Some residents wrote on a neighbourhood Facebook page that they had no idea who Philby was and suggested he had nothing to do with the local area.
The intelligence agency "should have named the ramp leading to their campus after him instead," one user wrote.
Russia's foreign intelligence agency have maintained tributes to the spy, with a website page dedicated to him and the information he provided the Russians in the Second World War, and a portrait revealed last year.
The Cambridge Five – a ring of high-profile men who were recruited as Soviet informers while at the university in the 1930s – also included Guy Burgess, a journalist and MI6 officer, and Anthony Blunt, who worked for MI5 during the war and went on to have a distinguished career as an art historian.
Philby, who joined MI6 in the Second World War, became head of the agency's anti-Soviet section toward the end of the war, while operating unbeknown as a KGB agent.
Scientists redefine kilogram as original measure loses mass
A quiet revolution could this week change the standard for weighing everything from drug doses to jumbo jet fuel.
Scientists from more than 60 countries will vote on Friday on whether a lump of metal held in a Parisian vault should continue to be the definition of a kilogram.
Le Grand K, a small cylinder of titanium alloy, has set the standard since 1889. All the scales in the world are ultimately calibrated against it, even those weighing in pounds and ounces.
It's so important to the global economy that three key-holders are needed to unlock the vault. When the Nazis occupied Paris they left untouched the building that houses "Le Grand K".
The problem, though, is that while the mother of all kilograms has only been taken out of its protective case four times in the last century, it has lost atoms and therefore mass.
It amounts to just 20 billionths of a gram, about the weight of an eyelash, but in a world that needs to weigh objects with ever greater accuracy, that's a big deal.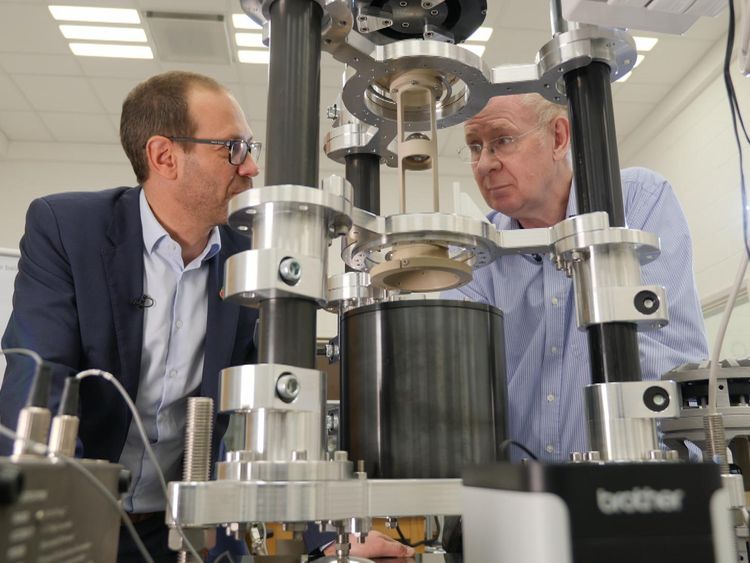 Britain has a copy of Le Grand K called Kilo 18, which it won in a lottery in 1889, and is stored at the National Physical Laboratory (NPL) in West London.
Stuart Davidson, a metrologist or weight scientist at NPL, is one of the trusted guardians.
"Once you get up to a few tens of tonnes – things like filling an aircraft with fuel – everything needs to be traceable back to a standard," he told Sky News.
"The same is true when you get down to very small masses like a milligram – for example the active ingredients of pharmaceuticals.
"You like to know you are getting the right dose of drugs when you are given a prescription."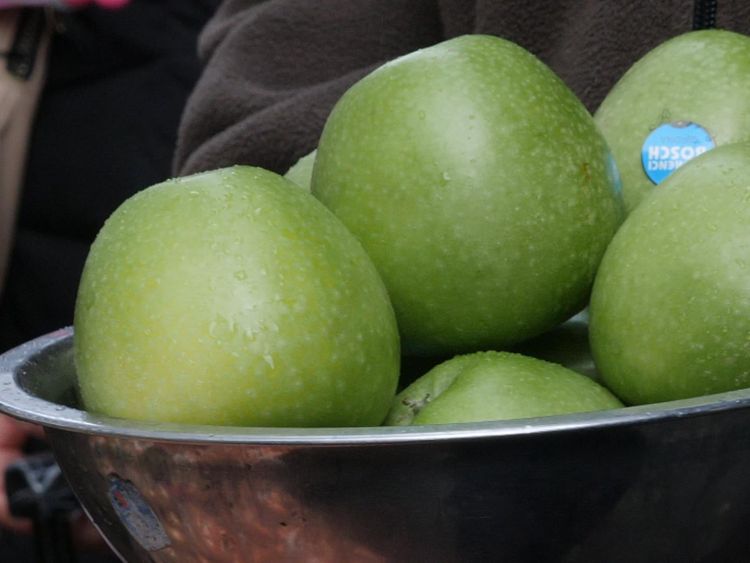 Scientists at the lab are now part of the global effort to devise a more accurate, immutable definition of a kilogram that is no longer dependent on a physical object.
They are using what is known as a Kibble Balance, named after the British physicist who first conceptualised, to express the mass of a kilogram in terms of the amount of upward electromagnetic force is needed to balance the downward drag of gravity.
Then with some heavy-duty maths, they relate that to a fundamental physical law of nature.
By taking the answer – a number called Planck's Constant – they can reverse the process and calibrate scales with unprecedented accuracy.
Ian Robinson, a fellow at NPL, has been leading the work.
He says labs around the world will be able to have a kibble balance, liberating the definition of a kilogram from its physical and geographical ties.
"You are not reliant on any one object anymore," he said.
"Effectively our mass scale is spread out and everyone can contribute. I see it as egalitarian – a form of democracy for mass."
Other important standard units have already been updated.
The metre is no longer defined by a rod of metal, but by the distance light travels in a set, and very small, fraction of a second.
And a second is no longer defined by a fraction of the time it takes for the Earth to complete one rotation, which scientists now know varies, but by vibrations in a caesium atom.
Michael de Podesta, a principle research scientist at NPL, said the public will not notice any difference when grocery shopping.
"But it means people like me won't worry about the kilogram losing weight," he said.
"It will make it future-proof.
"Scientists will be able to measure things in ever more detail and engineers fabricate things with ever more precision.
"Improvements in measurement will lead to advances in science."
Trial of drug kingpin Joaquin 'El Chapo' Guzman starting in New York
Brooklyn, New York, is bracing itself for a trial of mammoth proportions.
Joaquin 'El Chapo' Guzman is the notorious Mexican drug lord whose audacious escapes from prison grabbed headlines across the world.
He is accused of running the world's biggest drug cartel and spending decades smuggling more than 150 tonnes of cocaine into the United States.
Prosecutors have spent years building the case against Guzman, who was extradited in 2017 after escaping Mexican jails twice – once in a laundry cart, and later down a mile-long tunnel that reached his prison shower.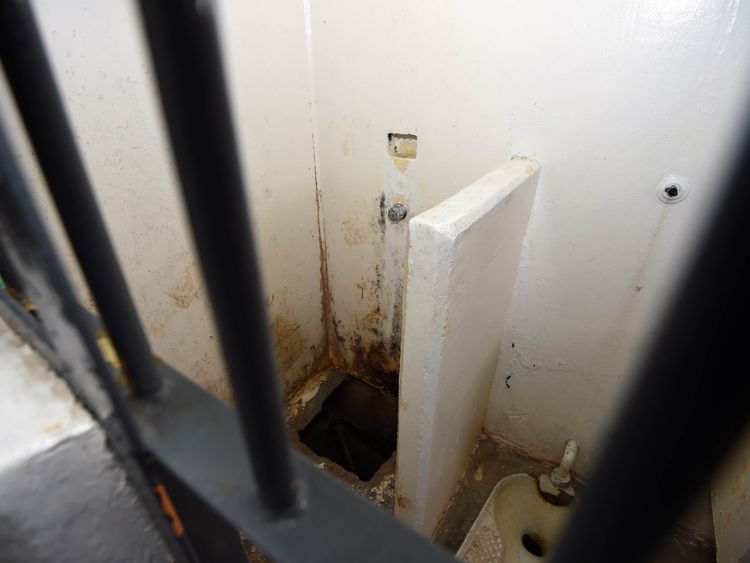 In the confines of a New York federal courtroom, he now faces charges relating to drug trafficking, money laundering and firearms.
Millions of dollars are being spent on every possible measure to prevent him slipping away again – and to protect the 12 people tasked with deciding his fate.
This is no regular jury arrangement – all members will be anonymous with armed guards accompanying them to and from court each day.
Guzman's trial could last up to four months.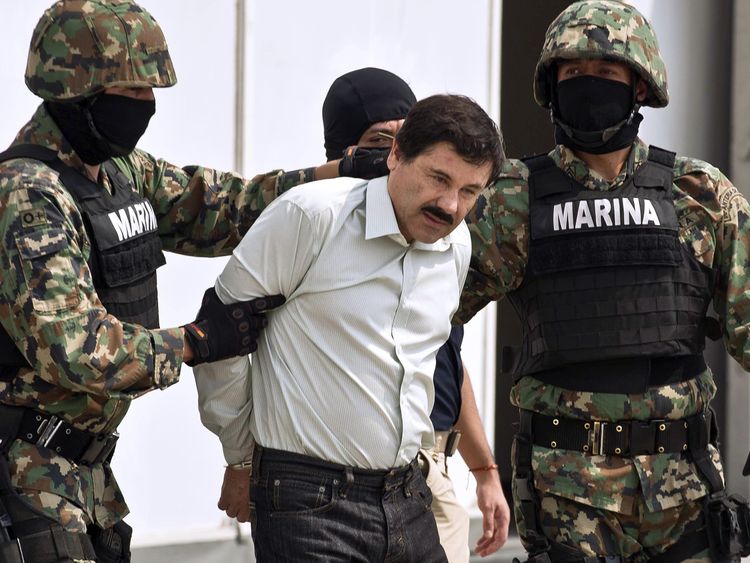 Those men and women will decide whether the man whose nickname means "shorty" is guilty or not of 11 trafficking, firearms and money laundering charges.
The indictment says the Sinaloa cartel, which Guzman is accused of leading from 1989 to 2014, became "the largest drug trafficking organisation in the world… with thousands of members".
Prosecutors argue that in that time, the cartel smuggled around 154,000 kilograms of cocaine into the US, as well as heroin and methamphetamine – earning them 14 billion dollars.
The examination of the legendary kingpin's life will tell an epic tale.
The judgement could see him behind bars for the rest of his life.
California wildfire deaths rise to 44 as more bodies are found in cars and homes

A total of 44 people have been killed in California's devastating wildfire as authorities continue to find bodies in burnt-out cars and homes.
Butte County sheriff said it had become the deadliest wildfire in US history.
More follows…