By Ian Woods, senior news correspondent
The small West Norfolk village of Snettisham is home to fewer than 3,000 people, but its history is a tale of heroism.
A century ago, 45 men from Snettisham fought and died for their country in the First World War.
Most of them young men and teenagers.
The small number of people who lived there means one in six of Snettisham's adult working men lost their lives.
Every family in the village was affected by the loss of a loved one.
The residents of the village, of whom many are descendants of war soldiers, have decided that to mark 100 years since the First World War, they will truly remember The 45 – delving into their backgrounds and finding out exactly who they were, how they lived, and how they died.
Here, we look at some of those soldier and their stories.
The 45 names on the town's war memorial were polished and restored to mark the hundredth anniversary of the start of the war, but villager Stuart Dark told Sky News that they needed to do more.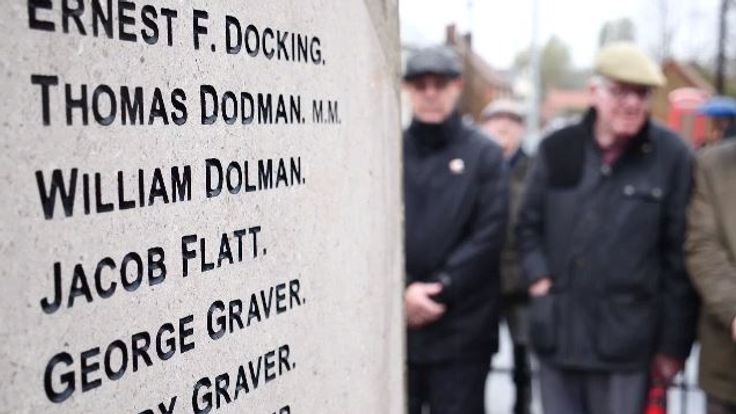 "To remember someone you have to know something about them. Reading out those names every November 11th – we didn't really know those backstories, they got lost in the sands of time and it was absolutely right that we went back and looked at who these people were."
Mr Dark, a retired police officer, says it took 500 hours of research to paint a picture of each man, and discover where they were buried. The next step was to arrange to visit all of them. Most were in France or Belgium, but one man was killed in Palestine and another died while training pilots in Canada.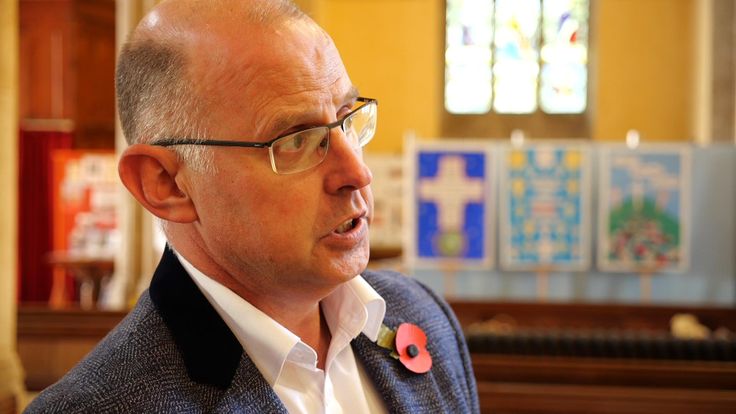 At each grave there was a solemn ceremony in which their details were read out, and wreaths of poppies and west Norfolk lavender were laid. A letter, written by a child from Snettisham primary school to the individual soldier was also left. Some are direct descendants of the 45 who died.
Nell Mitchell is a descendant of Sydney Mitchell who made it home from the front despite a hand grenade exploding in his face.
He died from influenza and pneumonia on 2 December 1918, at the age of just 21, only three weeks after the signing of the Armistice.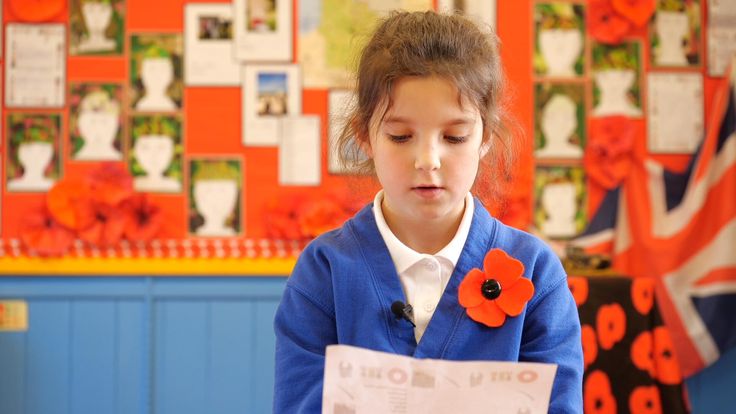 The rector of the village church Reverend Veronica Wilson told Sky News the project has been "marvellous".
"It has brought the village together because it has involved the parish council, the school, the church and lots of other organisations as we sought to remember and value the 45 men from the village who died. This project has helped us to remember these gentlemen as individuals, known and loved and remembered by us as a community."
While the men of Snettisham went to war, the war came to Snettisham on 19 January 1915. A Zeppelin which is thought to have been trying to target the nearby royal residence of Sandringham, instead dropped a bomb close to St Mary's – Snettisham's medieval church. Windows were shattered and it left a huge crater which stills exists to this day.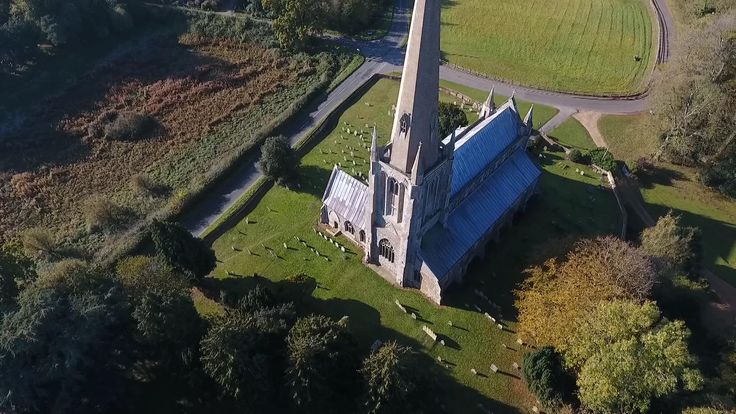 Inside the church, Sky News spoke to Paul Arthur Lincoln, grandson of Charles Arthur Lincoln whose name is on the church's roll of honour, listing fatalities from the Great War.
Charles Arthur Lincoln enlisted on the 10 April 1917 at the age of 33 and was killed in action less than five months later.
He left behind his wife, Florence, and their seven-year-old son, Arnold.
Florence died on 10 September 1959 in Wandsworth, London.
Arnold Arthur went on to become a minister of religion and had Paul.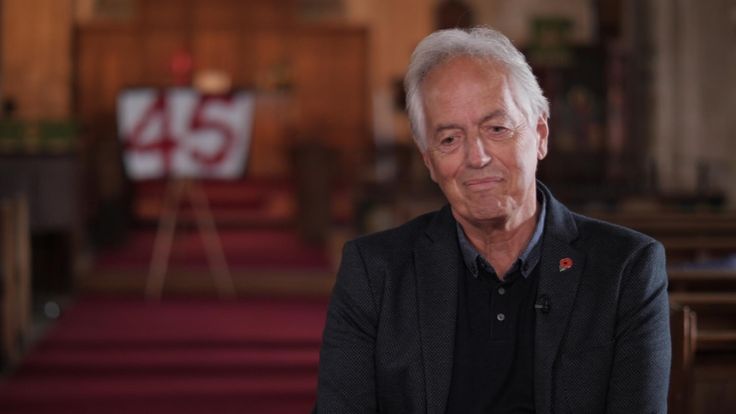 Paul told Sky News he has learnt a lot about his grandfather thanks to the project.
"It makes you go back and look at the past and find out more. My father was only seven when [his father] died in the war… there is very little known about him.
"I've learnt some things that I didn't know before."
One thing Paul has wondered is why his grandfather Charles decided to enlist at the age of 33.
"I don't know the answer to that," he says. "I guess he saw lots of his friends and relatives who were killed and felt he had to do something and joined up."
A particularly touching story is that of Harold William Meek.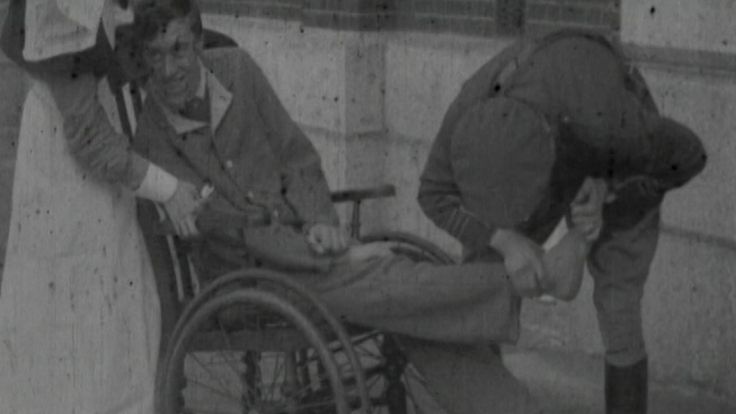 Both his brothers – Charles and Percy – survived the war, but Harold died at sea on 30 December 1917 aged just 23.
His transport ship was torpedoed by a U-boat off the coast of Egypt.
Although Percy survived the war, he had suffered severe shell shock as a result of the constant bombardment in the trenches which left him paralysed.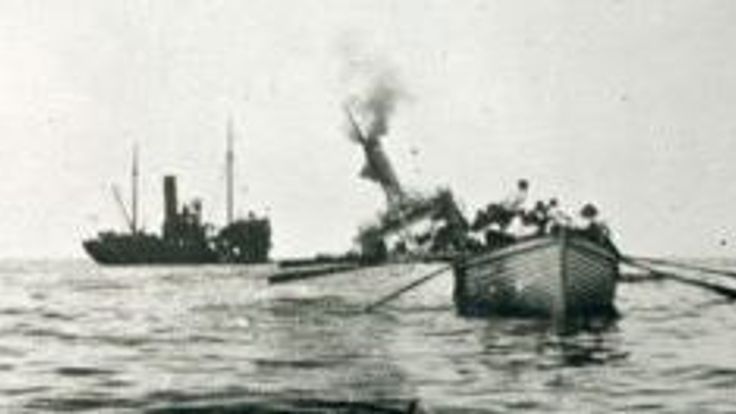 After treatment, including the simple therapy of weaving baskets, he eventually made a full recovery and returned to Norfolk.
Jose Railton took her family to visit the graves of two great-great-great-uncles – Charles Young Mitchell who is buried in France and Augustus Holland Mitchell who is buried in Belgium.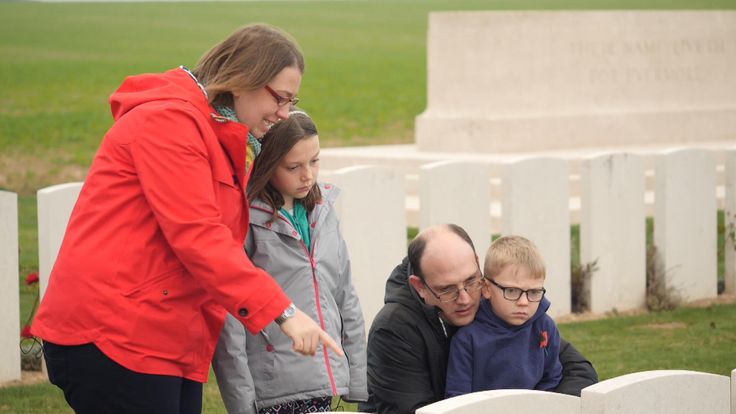 Charles Young Mitchell was a sergeant in the 4th Battalion of the Royal Fusiliers on the day he died – 31 August 1918.
He was 27 years old and was recently married – he was killed six weeks before the Armistice.
The battalion was stationed south of Ecoust-St Mein in Pas de Calais.
While the battalion travelled it was targeted by enemy machine guns which fired on them from a sunken road.
Because of the recorded day of Charles's death, he was likely a victim of the ambush.
For many years Jose's father talked about making the journey to visit the memorial in France, but he never did.
To honour her family's history and the memory of her great-uncles, Jose took her own children, Elliot and Poppy, who put down flowers and a letter they had written for Charles.
"He was very young, he hadn't been able to start a family yet".
"It's taken so long to get here," she says.
"My dad spoke about coming here when we were little and he's no longer with us.
"Seeing the number of burials and their ages… It's a bit overwhelming really."
"To come here and not have my dad with me and him not be able to do this with me has been difficult," Jose says.
"But what has been nice is to come with my children and share stories with them.
"And what I'm hoping is that in years to come that they'll come back with their children and carry on learning."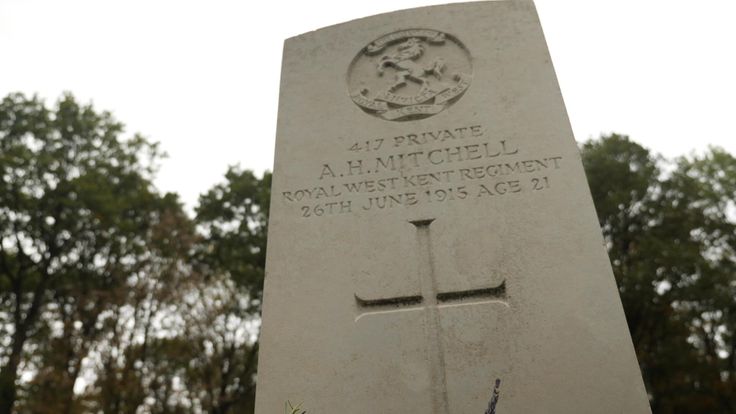 They then made the journey to Belgium where Augustus was laid to rest.
Augustus belonged to 6th Battalion of the Royal West Kent Regiment – he was Charles's younger brother.
The regiment entered France at the start of June 1915 and took over part of the frontline at Ploegsteert Wood, Belgium, on 23 June – referred to as Plugstreet Wood by the British.
Augustus Holland Mitchell enlisted in to the army in Tonbridge, Kent. He was assigned to the Queen's own (Royal West Kent) Regiment and given regimental number G/417.
Augustus died three days later, aged 21.
Plugstreet Wood was a station for units to train or recuperate from fighting.
It had become treacherous from battle and the forest was partially flooded and was full of shell holes submerged in water.
According to the battalion's war diary, two men "died accidentally while bathing" on 25 June.
Several men from another regiment died there six months earlier.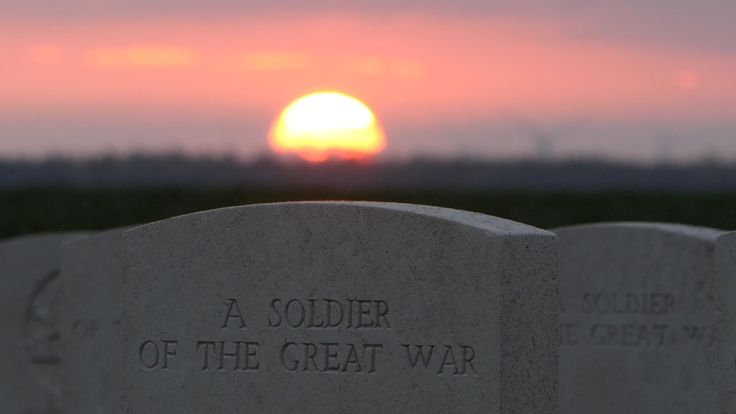 Augustus is thought to be one of the two men mentioned in the diary, as his death was recorded as 26 June.
It is believed he may have underestimated the depth of water in the war-torn forest when he went in to bathe.
Several of the Snettisham 45 earned medals for bravery, but in the eyes of the village they were equally heroic.
And a century later they have undergone a kind of resurrection.
Long gone, but no longer forgotten.
Deloitte Football Money League 2019: Real Madrid richest ahead of Barcelona and Manchester United | Business News
Real Madrid have replaced Manchester United as the world's wealthiest club, according to the latest Deloitte Football Money League.
Manchester United slipped into third spot after generating £590m – representing a comparatively low two per cent year-on-year increase.
Meanwhile, neighbours Manchester City retained their fifth-place ranking with revenues of £504m – an 11 per cent rise from 2016/17 figures.
Bundesliga champions Bayern Munich ranked fourth for a second year running with £557m, while Ligue 1 giants Paris Saint-Germain climbed one place into sixth spot on £480m.
Premier League leaders Liverpool recorded the biggest income increase from clubs in the top 10, with profits soaring 25 per cent to £455m, while Chelsea also achieved an impressive 22 per cent growth with £448m.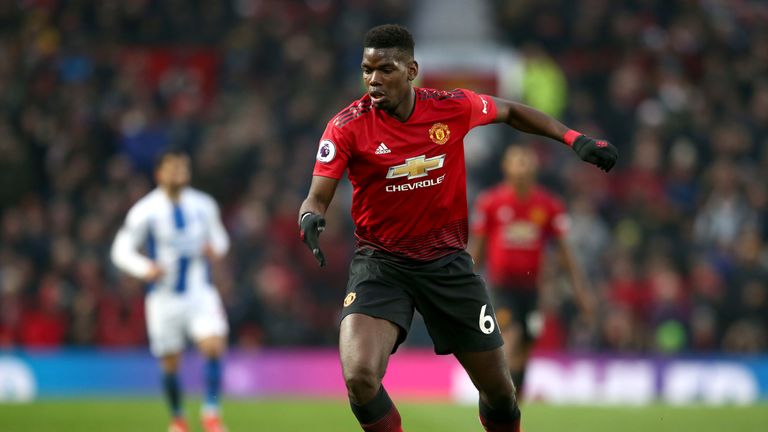 Arsenal (£389m) dropped three places into ninth spot after missing out on Champions League football for the first time in 20 years, but narrowly trumped north London rivals Tottenham (£379m).
Everton (£189m), West Ham (£175m) and Newcastle (£179m) also made the top 20, with Rafa Benitez's side recording a chart-topping 108 per cent increase in revenue – up from £86m in 2016/17.
Other clubs to make the annual index include Juventus (£350m), Borussia Dortmund (£281m), Atletico Madrid (£270m), Inter Milan (£249m), Roma (£222m), Schalke (£216m) and AC Milan (£184m).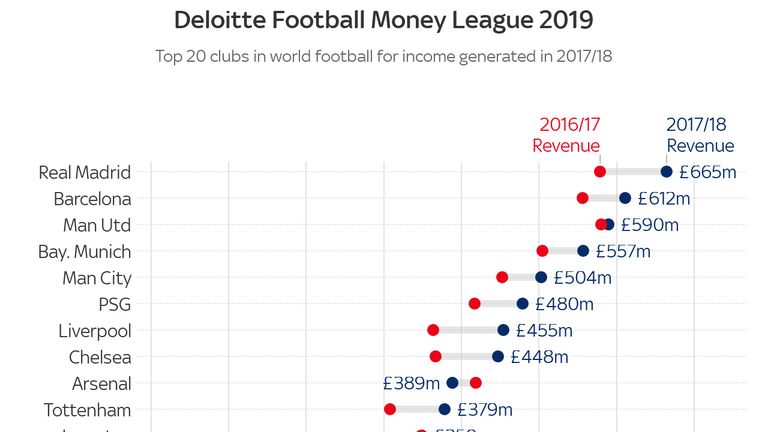 Dan Jones, head of the Sports Business Group at Deloitte, said: "Real Madrid's outstanding financial performance in 2017/18 is built on their long history of success on the pitch, most recently three consecutive Champions League titles.
"This has enabled the club to continue to drive commercial revenue as the appetite to partner with Europe's most successful clubs remains stronger than ever."
Five people killed in shooting at Florida bank | US News

Five people have been killed at a bank in Florida after a gunman opened fire.
The gunman, identified as Zephan Xaver, 21, called police after firing shots inside the SunTrust bank in Sebring, Florida, and eventually surrendered.
Karl Hoglund, Sebring police chief, said the shooting happened at about 12.30pm ET (17.30GMT).
Xaver called police to tell them he had fired shots, according to authorities.
Negotiators failed to convince him to leave the bank, at which point the Highlands County Sheriff's Office SWAT team entered the building and continued to speak to him.
He surrendered and is in custody. His motive is not clear.
Mr Hoglund said: "Today has been a tragic day in our community.
"We've suffered significant loss at the hands of a senseless criminal doing a senseless crime."
No information has been released about the victims.
CNN reported there had been no danger to the surrounding areas.
Ron DeSantis, Florida governor, said he was asking the state department of law enforcement to help local police.
Sue Malliano, a spokesman for the SunTrust bank, said: "We are working closely with officials and seeking to take care of everyone affected at our Sebring, Florida branch."
Troops return to Bulawayo with a vengeance | World News
A week of protest, violence and national trauma in Zimbabwe began last week in the country's second largest city, Bulawayo.
It was here on the morning of 14 January that protesters took to the streets after President Emerson Mnangagwa's administration raised fuel prices by 150%.
Seized with fury, demonstrators blocked roads and occupied neighbourhoods – and their protests would lead to city-wide looting and rioting.
Shops and business in large swathes of the city were destroyed or stripped bare. I asked the owner of one supermarket in an area called Nkeita what had happened to the police.
"They came late, they were late. Everything was gone when they got here," he replied.
Business owners told me that they were abandoned by the police and the army for the first three or four days.
Government critics, like lawyer and former opposition MP David Coltart, think that the authorities decided to hand over this independent-minded community to thugs and criminal elements.
"I have seen the destruction of food outlets on an industrial scale.
"Having represented the people of Bulawayo for many years, I cannot believe the people themselves would have done this because they would have harmed themselves.
"Some 80% of food outlets in working class areas were destroyed. The capacity of these businesses to open again was effectively ended."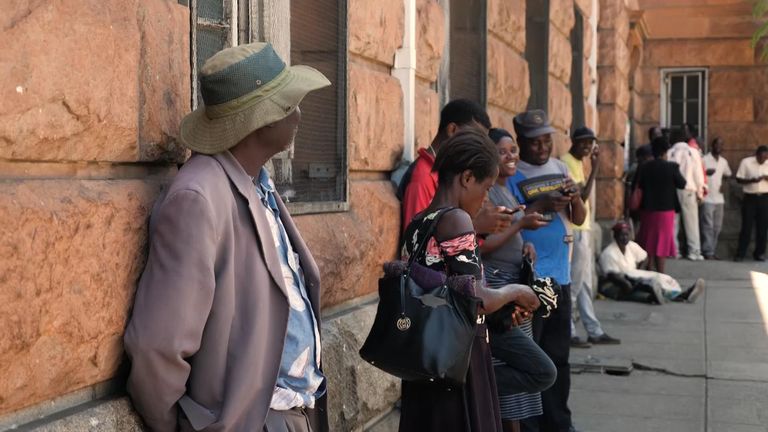 Zimbabwe's president promised to prosecute members of the army or the police who were found guilty of misconduct.
Yet it is members of the public in Bulawayo who are now being rounded up and arrested as the authorities re-assert their control in the city.
Lawyers told us 500 people have been detained in the past few days. The city's prisons, "are packed like sardines," said one.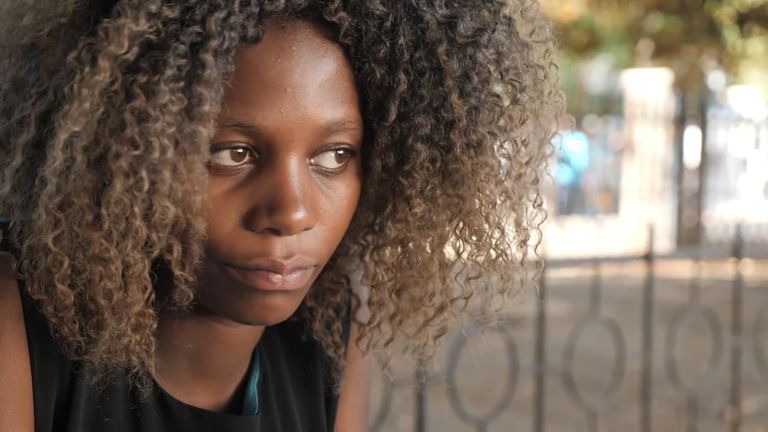 We found one woman called Noxolo Maphosa, outside the city's stately magistrate's court, carrying a toothbrush and some basic suppliers for her brother, Josephat.
Josephat Ngulube ran as a candidate in the last election but he was arrested over the weekend for trying to organise a protest.
"Now I don't know what is going to happen to him," said Ms Maphosa.
"I am just waiting for them to tell us what is going to happen but I don't have hope. I thought we would get a trial date today but they keep on postponing. I am losing hope."
The police and the members of the military are back on the streets and they are making their presence felt.
I heard and saw evidence of systematic raids and beatings carried out in the city's suburbs.
Residents in an area called Marbutweni told us that troops turned up after 8pm on Tuesday and went door to door, administering beatings to men over the age of 14.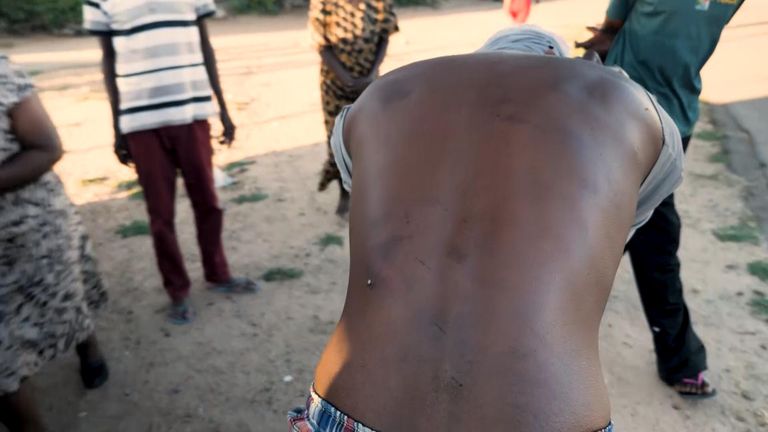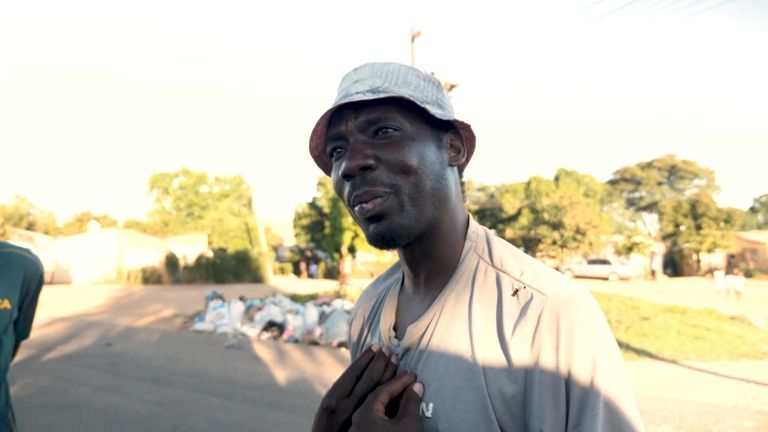 A resident called Clive showed us a series of blue marks and bruises covering his back, then turned around to address us in a quivering voice.
"I met those guys. 'Where you coming from?' (they said).
"I said 'I am going home. It is after dark'.
"(They said) lie down and then nine guys were hitting me. Baton sticks and everything. Come on, is this Zimbabwe?"
We were given more testimony from a man called John, whose face was badly swollen.
"I was asking, 'what did I do wrong?' But they were continuously beating me and I don't know what to do now because I am scared," he told us.
These are arbitrary and unjustified attacks in a country led by a man – Emerson Mnangagwa – who is trying to sell it as a modern democracy. The people of Bulawayo are unlikely to forgive.