Jose Railton's two great-great-great-uncles died fighting in the First World War.
She took her family to visit them – Charles Young Mitchell, who is buried in France, and Augustus Holland Mitchell, who is buried in Belgium.
Here, she tells Sky News what it was like visiting the graves of her distant relatives.
For over 30 years our family had talked about visiting the graves of our relatives who lost their lives during the First World War… but we never did.
As children we had holidayed in Snettisham, Norfolk, visiting the war memorial in the village and the church, looking at the names of relatives that had passed away, but not really fully knowing their individual stories of how they had come to be commemorated in such a way.
Later, when our first child was born, a girl, it felt fitting to name her Poppy Leigh in tribute.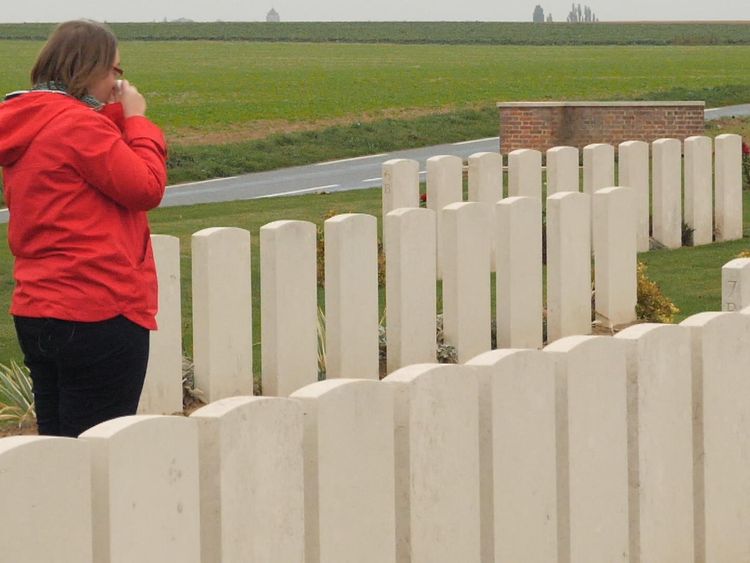 As an adult I found myself performing the same rituals with my own children; stopping off at Snettisham on our way back home from a day trip to the seaside; observing the minute's silence on Armistice Day and attempting to explain the complexities of WWI and the parts members of their family had played, despite knowing little of the facts myself.
Earlier this year I became aware of the Snettisham 45 project. I introduced Poppy (now aged nine) to the website and she read eagerly about her great-great-great-uncles Charles and Gus Mitchell – where they lived, what regiments they belonged to, and when and where they had died.
She began asking questions, which led to further research, conversations over dinner and the whole family becoming re-enthused about finding out more details.
I contacted the people organising the Snettisham 45 project to say thank you for all of their work, little realising that within months this would result in us as a family visiting both France and Belgium.
As we drove in the car towards the Honourable Artillery Company Cemetery outside of Arras, the children began to point out cemeteries, (easily identified by the Cross of Sacrifice).
Poppy commented on how many there were and how similar they appeared.
I felt nervous.
I knew where we were going, even what it looked like, as I'd seen photographs, but I wasn't sure what my reaction would be.
H.A.C Cemetery, Ecoust St-Mein, is situated on raised ground.
We walked up the steps carrying our poppy crosses, wreaths of Norfolk lavender and letters in hand.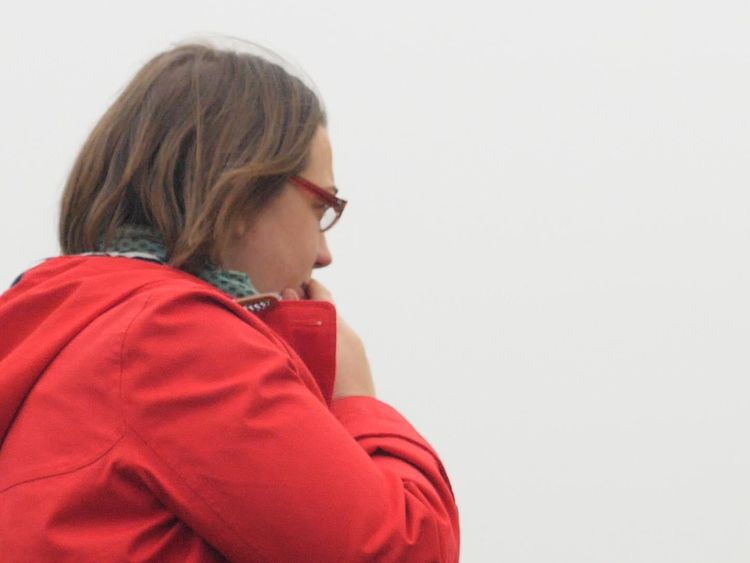 What first struck me was the uniformity and scale of the site, and the difficulty this presented in finding the grave we were looking for.
I felt lost at where to begin, having travelled all the way to France, the prospect of finding Charlie's grave felt no closer.
As we walked the rows of burials the children began to read the ages of the soldiers that lay there.
We all agreed that it was incredibly sad, not only had so many people died, but also that they were very young.
Some not much older than children themselves.
Many of the headstones had the same dates, indicating that many of the men would have been fighting together.
The sense of loss was overwhelming and I began to cry.
Charlie had been 27 when killed in action in 1918; we reflected on how he was just starting out in life, newly married but yet to have children. Upon identifying Charlie's burial we stood and spoke of his life, about the things we did know for certain, the things the children wanted to find out. But we understand that much of what had happened will remain unknown.
Jon and the children continued to look around the site allowing me a few moments to gather my own thoughts.
As I looked around I was very aware of how much the scenery reminded me of Norfolk.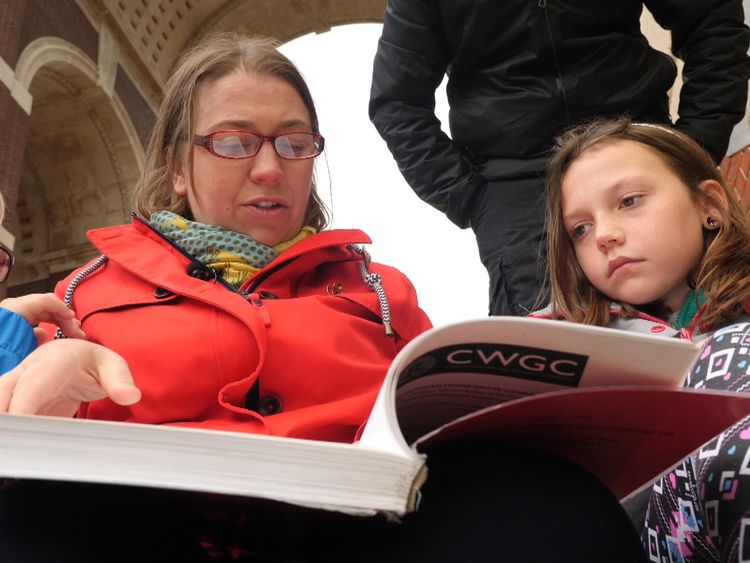 This gave me some comfort.
I also thought of my father who had passed away some years before.
He never made this visit, and will never know the stories uncovered as part of this project.
But I've now been able to share them with my children in the hope that they pass this information on to their children.
Later that day we drove to Rifle House Cemetery, Ploegsteert, Belgium; to pay our respects at the burial of Augustus (Gus) Mitchell.
Gus had drowned in 1915.
We knew no details and could only speculate as to what may have happened. He was recorded as being 22 at the time and engaged to be married.
Rifle House Cemetery, although still maintained by the Commonwealth War Graves Commission, has a very different atmosphere to that of H.A.C Cemetery.
The H.A.C Cemetery Ecoust St-Mein is situated on a roadside and is very open; Rifle House Cemetery on the other hand is very secluded, accessed via a single access track deep in Ploegsteert Woods.
This felt fitting as both Gus and Charlie had been gamekeepers.
I also felt much calmer and more collected at this site, it was much smaller and felt more natural an environment in which to be paying respects to a relative.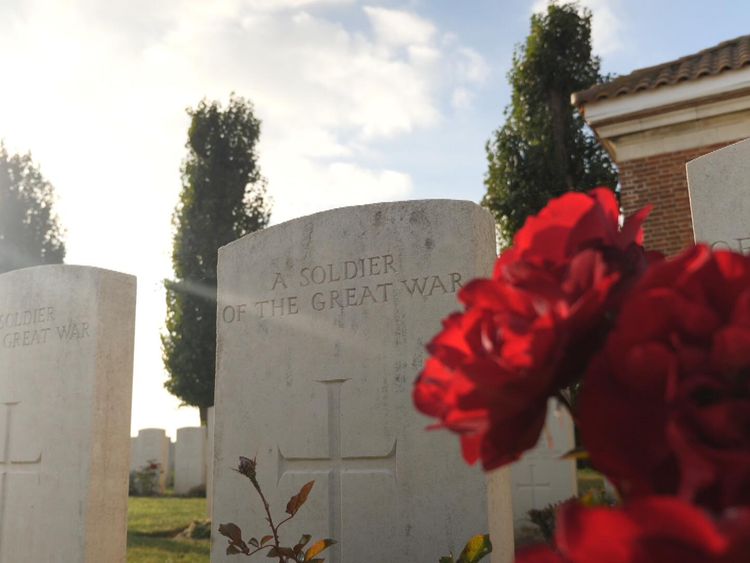 We realised during our visit that, in a way, we have many more questions than we did at the beginning of this journey, and that our research would have to continue.
On returning home we discovered many things including that Herbert, the children's great-great-grandfather, had married a WWI widow, her first husband having lost his life in 1917 at the battle of Scarpe.
The great-uncle I had known growing up, was her child from this marriage.
We also discovered that Charlie had most likely been killed via German machine gunfire and that Gus had drowned while bathing.
Tragically another young soldier had also lost his life attempting to save him.
The visit to the war graves and learning the individual stories of family members has been an invaluable experience for all of us.
The children have been able to explore and get a better sense of their family history and the experiences of those who fought during the war, as well as being able to reflect on the feelings of those that they left behind.
I am sure in years to come we will return to these cemeteries, and I'd encourage other families to do the same.
Boy Scouts of America sex abuse: More than 12,000 victims since 1944, lawyer claims | US News
An alarming new wave of sexual abuse lawsuits against the Boy Scouts of America (BSA) has emerged, according to a New York lawyer.
Victims' rights attorney Jeff Anderson claims that more than 12,000 members of the youth organisation have been victims of sexual abuse since 1944.
He also revealed that files maintained by the BSA lists more than 7,800 alleged perpetrators of sexual abuse, a figure that was not previously reported.
Scoutmaster or troop leaders who were accused of sexual abuse were listed in the BSA "perversion files" which came to light during a 2012 court case in the state of Oregon.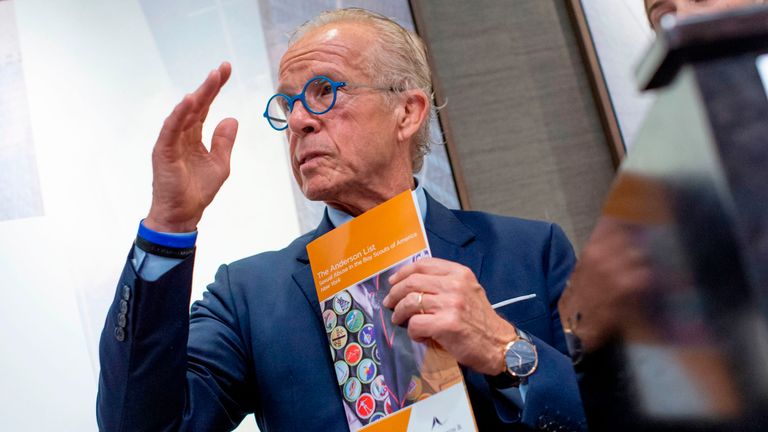 Lawyers are now demanding the full release of thousands of names of alleged offenders, with nearly 200 of them reportedly from New York and New Jersey.
The fresh allegations came to light after Mr Anderson compiled an "incomplete" list of former Boy Scout leaders accused of abuse.
He accused the organisation of running a system of denial and cover-up, claiming the BSA has files on child abusers within their ranks dating back to the 1940s.
During a press conference on Tuesday, Mr Anderson discussed what he claims to be a widespread pattern of abuse.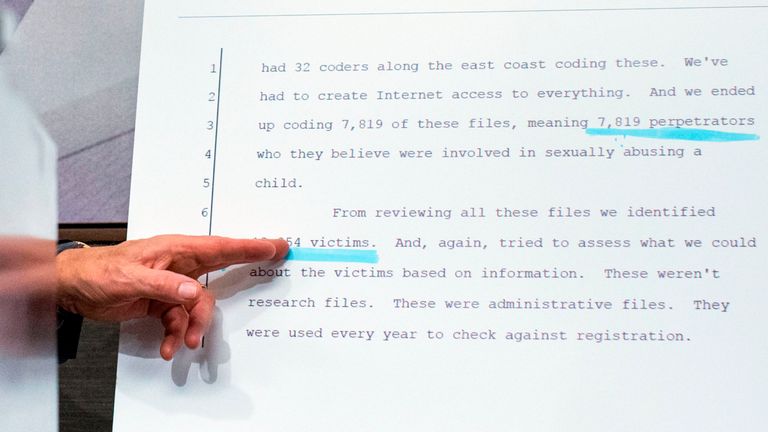 He said: "For many, many years there's been an excavation of what are called the 'perversion files' – those are files held and hoarded at the Boy Scouts of America headquarters.
"Those 'perversion files' that they've had reflect that they have removed thousands of offenders of childhood sexual abuse over the years and they've kept that in files secretly."
Citing testimony by a professional retained by the Boy Scouts to audit the files, Mr Anderson said there were 7,819 suspected perpetrators, while the number of victims are said to total 12,254.
He said: "That is a number not known before today or ever revealed by the Boy Scouts of America."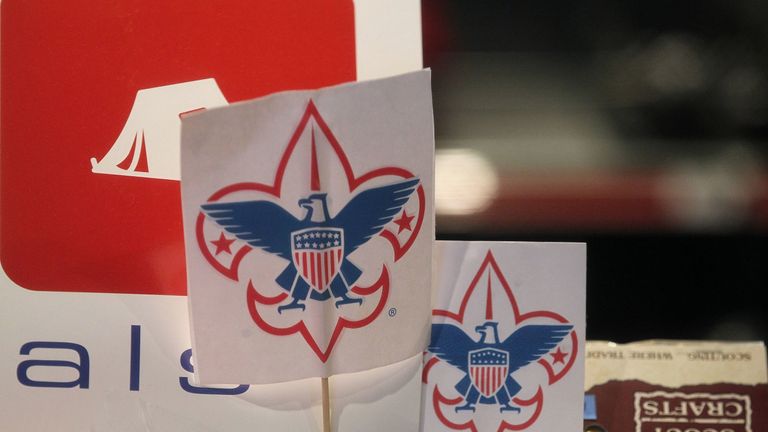 Mr Anderson called on more victims to come forward.
In a statement to News 4, a BSA spokesperson said they "care deeply about all victims of child sex abuse and sincerely apologise to anyone who was harmed during their time in scouting."
They added: "We believe victims, we support them, and we have paid for unlimited counselling by a provider of their choice.
"Nothing is more important than the safety and protection of children in scouting and we are outraged that there have been times when individuals took advantage of our programs to abuse innocent children."
The organisation added that it never "knowingly allowed a sexual predator to work with youth".
Sri Lanka attacks: YouTube defends hosting videos featuring hate preacher Zahran Hashim | Science & Tech News
YouTube has defended hosting video messages from a hate preacher linked to the Sri Lanka attacks, saying it only found one which was in breach of its policies.
Sky News has identified videos on YouTube featuring Zahran Hashim, the Islamist preacher whom authorities suspect of inspiring attackers behind the Easter Sunday atrocities which killed at least 359 people.
One such video – an hour-long sermon, hosted in an automatically generated YouTube playlist which also referenced an "insolent cunning Christian missionary troll" – was deleted after Sky News flagged it to the video platform.
In response, YouTube said it was removing all videos that featured Zahran Hashim other than those which portrayed him in context, such as part of a media report.
However, the company told Sky News that the channel belonging to the terror preacher was deleted by the user and not by its moderators.
It added that those moderators had deleted just one video he uploaded, which was found to have breached YouTube's policies, with five others seen to have been legitimate videos, with view counts under 1,000.
Sky News' diplomatic editor Dominic Waghorn said: "Far from staying below the radar, Zahran Hashim seems to have been begging for attention and well-known to multiple intelligence agencies."
Far from staying below the radar Zahran Hashim seems to have been begging for attention and well known to multiple intel agencies. Why did Sri Lanka do nothing? If it had 100s of lives would have been saved.

— Dominic Waghorn (@DominicWaghorn) April 24, 2019
In a video released on Tuesday by Islamic State, purporting to feature the suicide bombers behind the Sri Lanka atrocities, one of the attackers pledges their allegiance to Hashim.
Dominic Waghorn reported that alarm had been raised in India and Sri Lanka about Hashim's conduct for some time, and he was known to Sri Lankan intelligence – although authorities appeared not to have acted on the matter.
Sri Lanka's deputy defence minister Ruwan Wijewardene said investigations were ongoing to identify the mastermind of the attack, but referenced an Islamic State video in which Zahran Hashim was mentioned.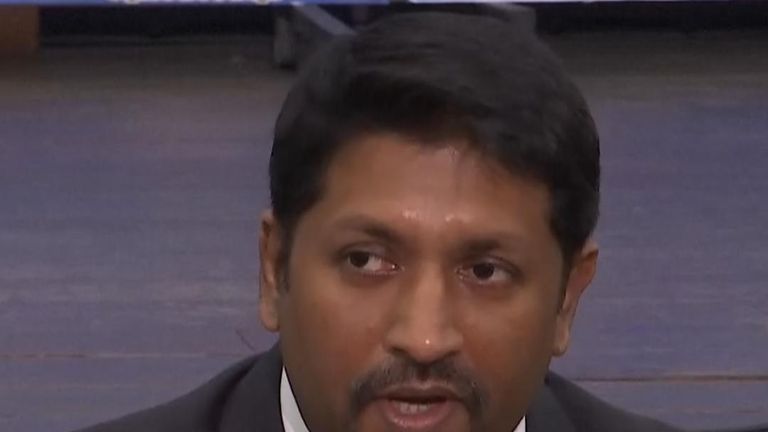 Neil Potts, the public policy director at Facebook, Katy Minshall, the head of public policy in the UK at Twitter, and YouTube's director of public policy Marco Pancini, were questioned by MPs earlier about the role their platforms had in spreading hate material.
Mr Pancini said: "Our focus after the horrific events in Sri Lanka was to, first and foremost, make sure that we applied the procedures that we described before.
"So we identified the attackers, we worked together will law enforcement to make sure that if they had a channel or presence on the platform, that it was closed, and make sure that when people search for information on what's happening, they find authoritative sources."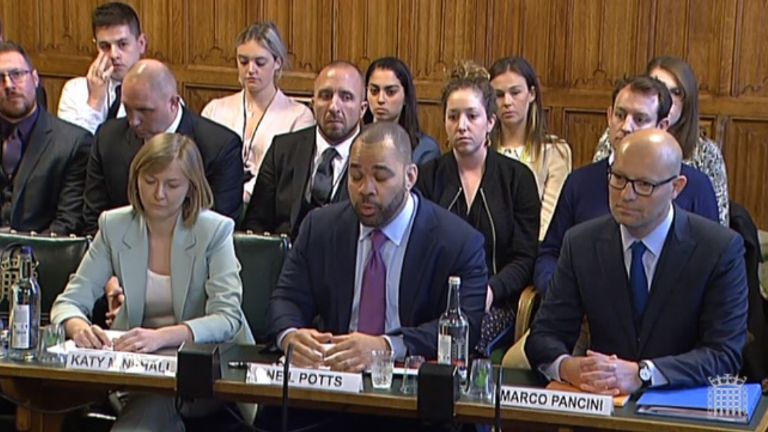 The video which Sky News flagged to YouTube was deleted moments after Mr Pancini claimed the company had followed these procedures.
In a statement, YouTube said it "rejects violent extremism and we take swift action against terrorism content".
It added: "We are removing videos that feature the perpetrators of this attack.
"We've invested heavily in people, smart detection technology, and a network of expert organisations to ensure we keep making progress in detecting and removing extremist content as quickly as possible."
Boeing suspends forecasts as 737 MAX crisis weighs | Business News
Boeing has reported a 21% dip in first quarter profits as its 737 MAX airliners remain grounded worldwide following two crashes.
The world's largest commercial aircraft manufacturer said it had suspended its earnings forecasts and would issue new guidance at a future date as it worked to return the planes to service.
All versions of the aircraft were withdrawn last month – days after an Ethiopian Airlines jet came down outside Addis Ababa and five months after a Lion Air flight suffered a similar fate in Indonesia.
A total of 346 people died.
Investigations have centred on anti-stall software.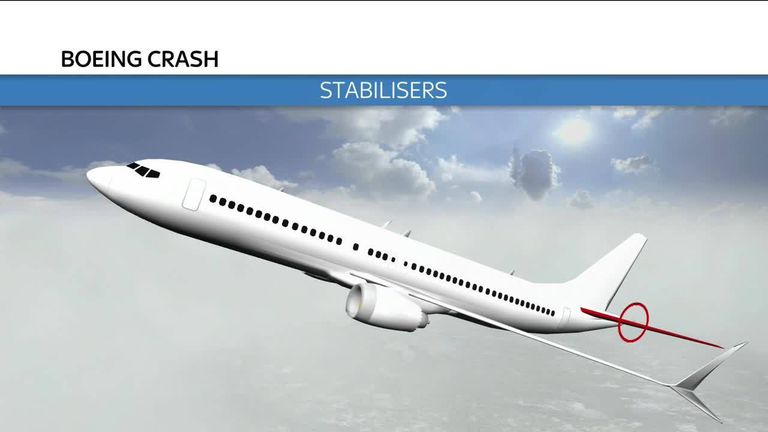 The company said it faced $1bn of extra costs in the three months to March related to the deadly accidents.
It revealed that efforts to provide a fix to the software had so far resulted in 135 "test and production flights" but it did not give details on when it hoped to resolve the issue and roll out updated training packages to airlines.
Boeing's decision not to update its earnings forecasts – guidance to investors on its expected future financial performance – reflects a lack of clarity on how much the crisis is going cost the company.
There is the potential for lawsuits and regulatory penalties in addition to costs associated with finding a solution.
The company has cut production of the jets to 42 aircraft per month, down from 52, and total deliveries were 19% down on the same period last year.
Operating cash flow in the first quarter was around $350m lower while core operating earnings were 21% down at just shy of $2bn.
Net earnings, which takes some one-off costs into account, were 13% down at $2.1bn.
More follows…