The Irish Aviation Authority is investigating an unidentified flying object (UFO) after pilots reported seeing one off the coast of Ireland.
Shannon Air Traffic Control received a call from a British Airways pilot flying from Montreal to Heathrow over County Kerry at 6.47am on 9 November.
In an audio clip posted by LiveATC.net, the pilot can be heard asking if there were military exercises taking place within the craft's airspace at the time.
She said the object came up alongside the plane before vanishing at "a very high speed".
"Alongside you?" the Shannon Air Traffic Controller replied.
"It came up on our left-hand-side and then rapidly veered to the north," the BA pilot said.
She said it was "a bright light and then it disappeared at a very high-speed", adding they were "wondering" what it could be – adding that that it did not seem to be on a collision course.
Controllers on the ground said there was "nothing showing on either primary or secondary (radar)".
Two other planes can then be heard reporting the sighting to Shannon Air Traffic Control.
A Virgin Airlines pilot suggested that the it could be an object re-entering the earth's atmosphere after reporting seeing "multiple objects following the same sort of trajectory… very bright from where we were."
Another pilot said the speed of the UFO was "astronomical, it was like Mach 2", or twice the speed of sound.
Despite the term UFO being widely used for extra-terrestrial spacecraft, most UFOs are later identified as conventional objects or phenomena.
The Irish Aviation Authority said they were investigating the incident.
In a statement, an IAA spokesman told Sky News: "Following reports from a small number of aircraft on Friday 9th November of unusual air activity the IAA has filed a report.
"This report will be investigated under the normal confidential occurrence investigation process."
Nigeria postpones presidential election at last minute | World News
Nigeria's presidential election has been postponed just hours before polls were due to open.
The country's election commission said it was delaying the vote to 23 February due to unspecified "challenges", amid reports that voting materials had not been delivered to some areas.
The delay is expected to spark anger in Africa's most populous nation and largest democracy after many people had relocated for the chance to vote.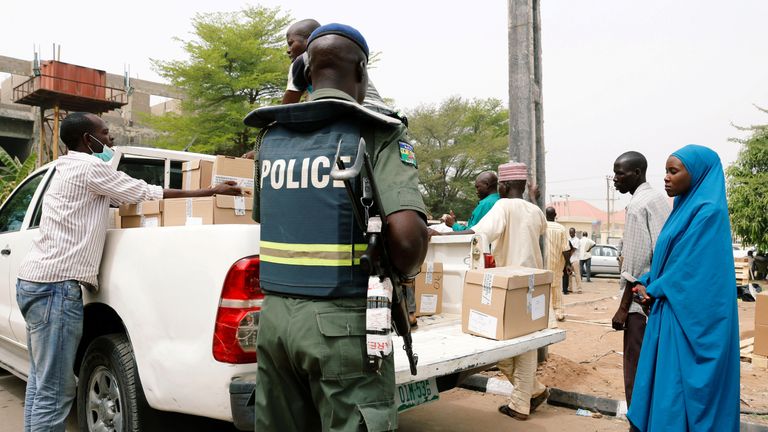 Mahmood Yakubu, chairman of the Independent National Electoral Commission (INEC), said: "This was a difficult decision to take but necessary for successful delivery of the elections and the consolidation of our democracy."
A review of logistics led the commission to conclude that going ahead with the election as planned was "no longer feasible," he said.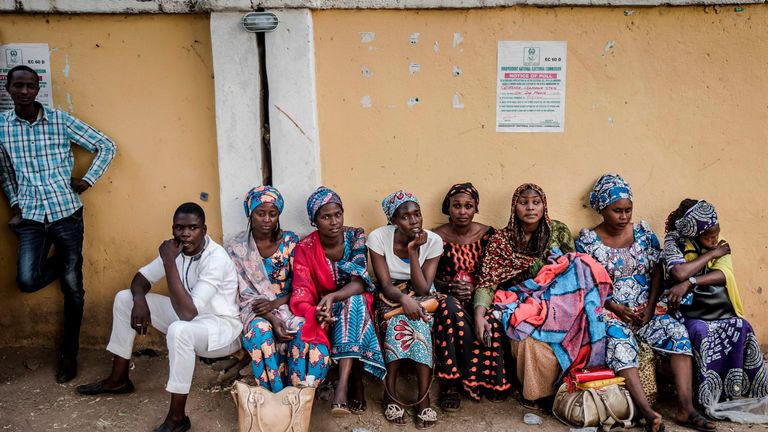 Nigeria also postponed its presidential election in 2015 because of deadly insecurity in the northeast of the country, which remains under threat from Islamic extremists.
More than 84 million voters had been expected to head to the polls on Saturday, in what is seen as a close and heated race between President Muhammadu Buhari and Atiku Abubakar, a billionaire former vice president.
:: 'Four' killed in stampede at election rally for Nigeria president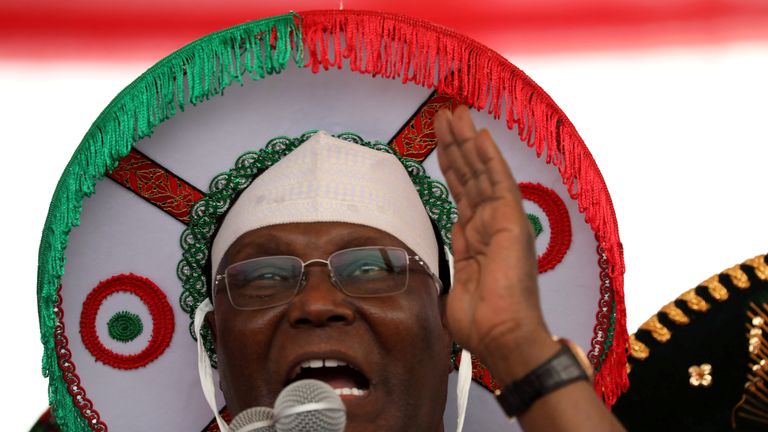 Both men have pledged to work for a peaceful election even as their supporters, including high-level officials, have caused alarm with warnings against foreign interference and allegations of rigging.
Mr Buhari made history when he came to power in 2015 with the first defeat of an incumbent Nigerian president.
That election was hailed as one of the most transparent and untroubled ever in Nigeria, which has seen deadly post-vote violence in the past.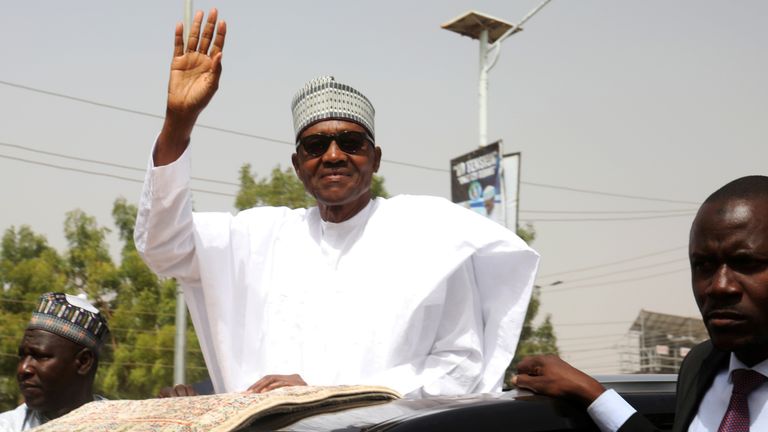 Mr Buhari's term has been marked by a crash in global oil prices that spun Nigeria's economy into a rare recession, from which it only emerged in 2017.
Unemployment shot up and the country passed India as the nation with the most people living in extreme poverty. More than 13 million children are said to be out of school.
Many Nigerians also worry about Mr Buhari himself after he spent more than 150 days outside the country for an unspecified medical treatment.
In December, he bizarrely denied rumours he had died following a period of ill health and had been replaced by a Sudanese clone.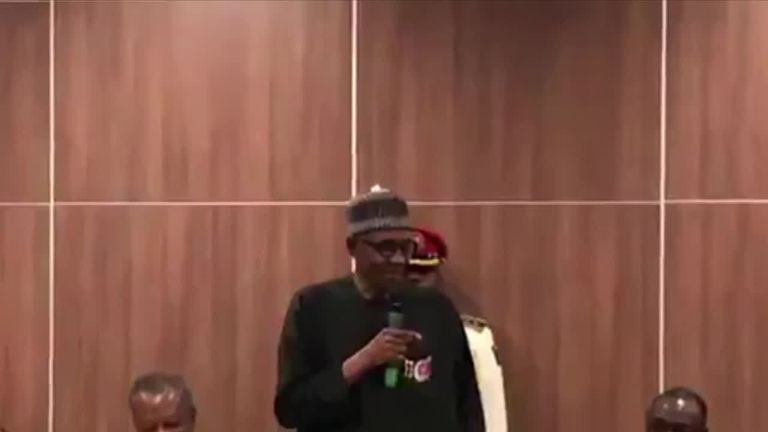 Meanwhile, Mr Abubakar has followed in the footsteps of US President Donald Trump by campaigning on the theme of "Let's Make Nigeria Work Again".
He has vowed to apply his business acumen to privatise Nigeria's state oil company and lift 50 million people out of poverty by 2025, but has faced years of corruption allegations.
Emiliano Sala's funeral to be held in Argentina | World News
The funeral of Emiliano Sala is set to take place in Argentina following his death in a plane crash over the English Channel.
The footballer's relatives wept after his body arrived in Buenos Aires on Friday before being taken to his home province of Santa Fe.
The 28-year-old striker died last month, just two days after completing a £15m move from French club Nantes to Cardiff City.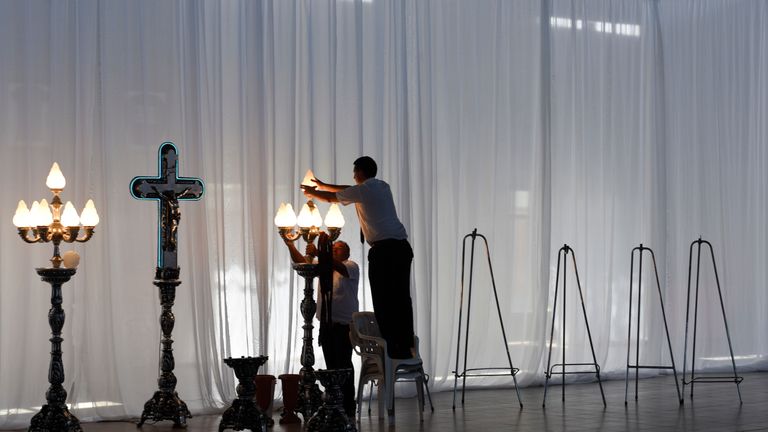 His funeral is taking place in his hometown of Progreso from 10am UK time (7am local time), with Cardiff manager Neil Warnock and chief executive Ken Choo expected to attend.
Martha Kelner, Sky News' sports correspondent, who is in Progreso, said Sala's body will be cremated in Santa Fe in line with his family's wishes.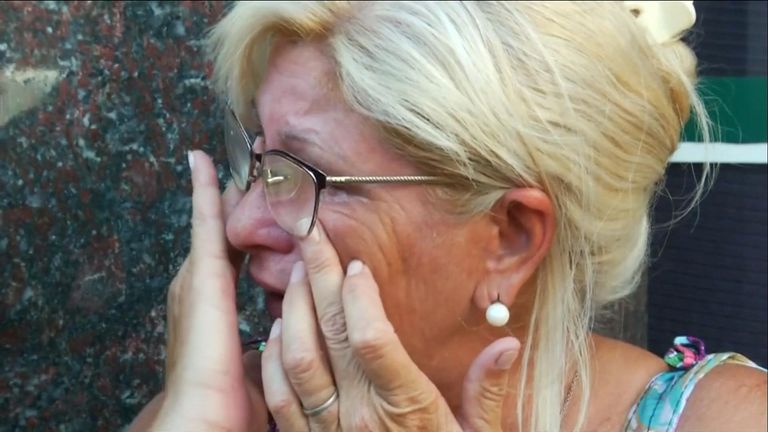 The Argentinian striker was travelling to Cardiff in a private plane with pilot David Ibbotson when it crashed in the English Channel near Alderney on 21 January.
Sala's body was recovered from the wreckage on 7 February but Mr Ibbotson remains missing, with funds being raised to continue the search for the 59-year-old from Lincolnshire.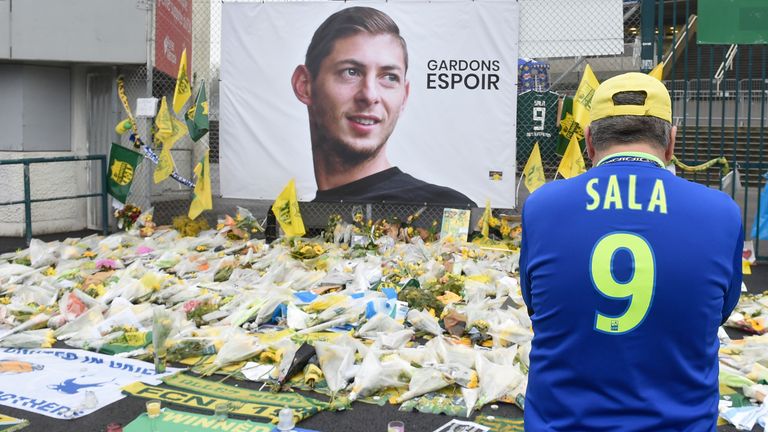 A post-mortem examination confirmed Sala had died from "head and trunk injuries", Dorset Coroner's Court heard.
Nantes, for whom Sala scored 42 goals in 120 league appearances, will be represented at his funeral by defender Nicolas Pallois and general secretary Loic Morin.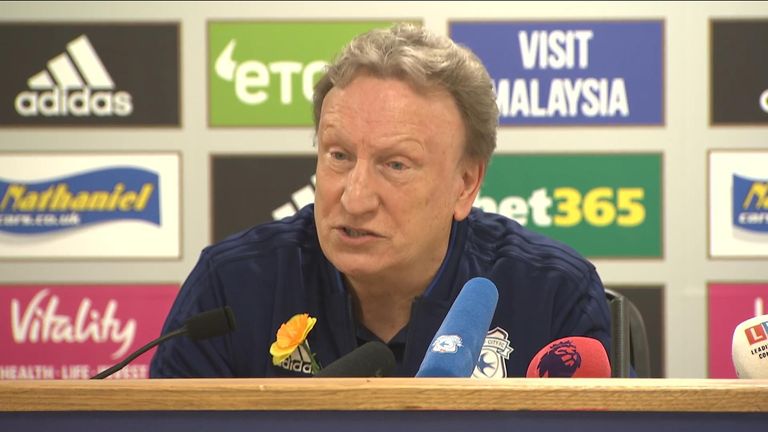 Sala's boyhood club, San Martin de Progreso, posted an emotional tribute on Facebook earlier this week, saying: "We are waiting for you… like the first day you left but this time to stay with us forever.
"You went and you are an example for everyone. Eternally in our hearts."
Paul Manafort faces more than 19 years in prison – US court filing | US News

Prosecutors for special counsel Robert Mueller have urged a federal judge to impose a strict prison sentence for President Donald Trump's former campaign manager Paul Manafort.
Manafort, 69, was found guilty in August last year of eight counts of bank and tax fraud.
In their sentencing memo filed in US District Court for the Eastern District of Virginia, prosecutors recommended that Manafort should face between 19.6 and 24.4 years in prison.
He also faces having to pay between $50,000 and $24m in restitution.
"In the end, Manafort acted for more than a decade as if he were above the law, and deprived the federal government and various financial institutions of millions of dollars," the prosecutors wrote.
"The sentence here should reflect the seriousness of these crimes, and serve to both deter Manafort and others from engaging in such conduct."
Manafort has been in jail for several months as he awaits his formal sentencing.
His lawyers have said the incarceration has created a mental and physical strain on Manafort, who has recently used a wheelchair in court appearances.
:: The Mueller probe: What is it all about and who's being investigated?
Manafort was one of the first people in US President Donald Trump's circle to face criminal charges as part of Mr Mueller's investigation into whether the Trump campaign colluded with Russia to tilt the 2016 presidential election in his favour.
Mr Trump has denied colluding and called the probe a "witch hunt", while Russia has denied meddling in the election.
None of the charges Manafort faced related directly to Russian interference in the 2016 campaign.