A motorist has died and flights have been cancelled as a month's worth of rain fell on Sydney on Wednesday morning.
Severe thunderstorms and heavy rainfall have lashed Australia's biggest city, deluging railway stations and leaving more than eight thousand people without power.
There was chaos on Sydney's roads as the storm struck only hours before the city's morning rush hour.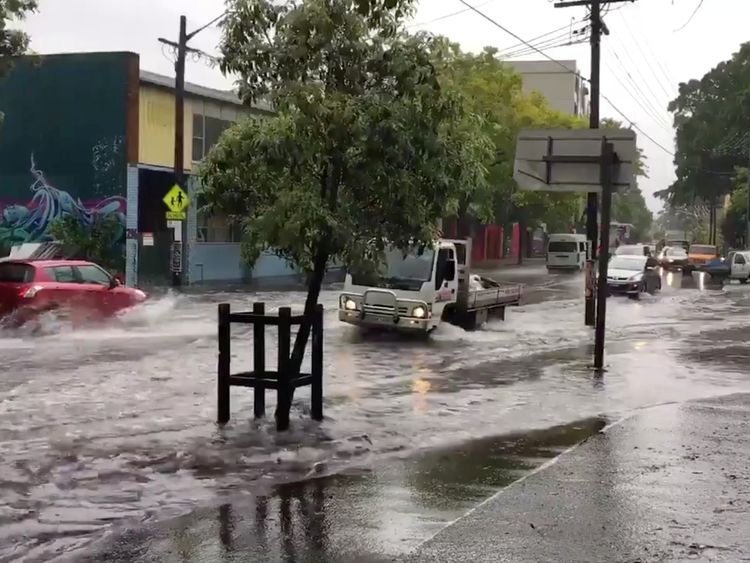 Several stranded motorists were plucked from rising floodwaters.
Two police officers were seriously injured when a tree fell on them as they assisted a stranded driver.
Police called on motorists to stay off the roads due to the "horrendous weather".
New South Wales state Assistant Police Commissioner Michael Corboy said: "We are asking all road users to reconsider the need to be on the roads throughout what will be a severe rain event today."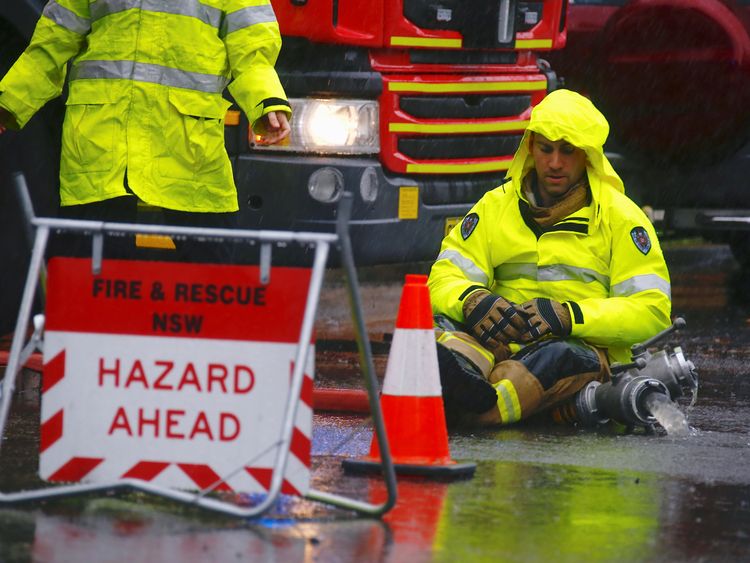 Australia's Bureau of Meteorology (BOM) said Sydney received more than 10cm of rain within a few hours, with the city usually experiencing an average of 8.4cm for the whole of November.
The rains have offered a welcomed respite to farmers who have suffered through a sustained drought in recent months, but the weather caused major disruptions to the Sydney's infrastructure.
The city's airport, the country's busiest, said it cancelled at least 20 flights after closing two of its three runways.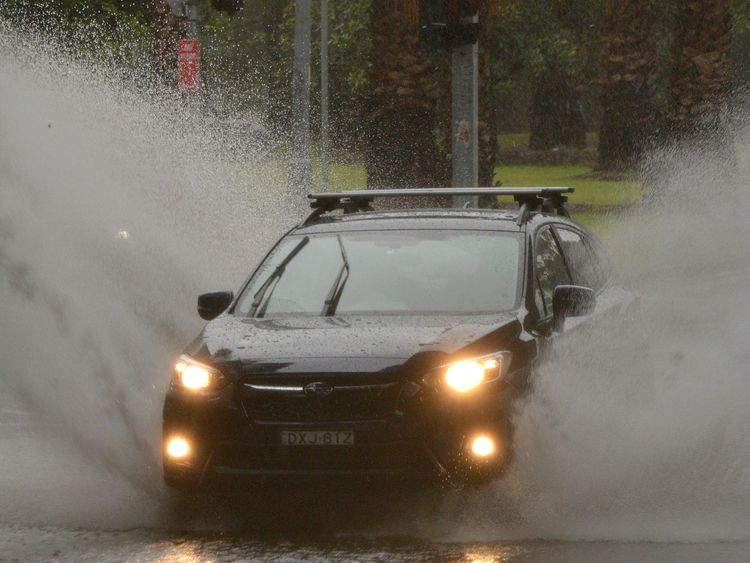 Cait Kyann, a spokeswoman from Sydney Airport, said: "The storm is pretty intense in and around the airport.
"We are operating from a single runway so that means that there are delays and likely some flights will be cancelled."
Ausgrid, the nation's biggest electricity network, said the storm had left 8,100 customers without power around Sydney and the Central Coast area to its north.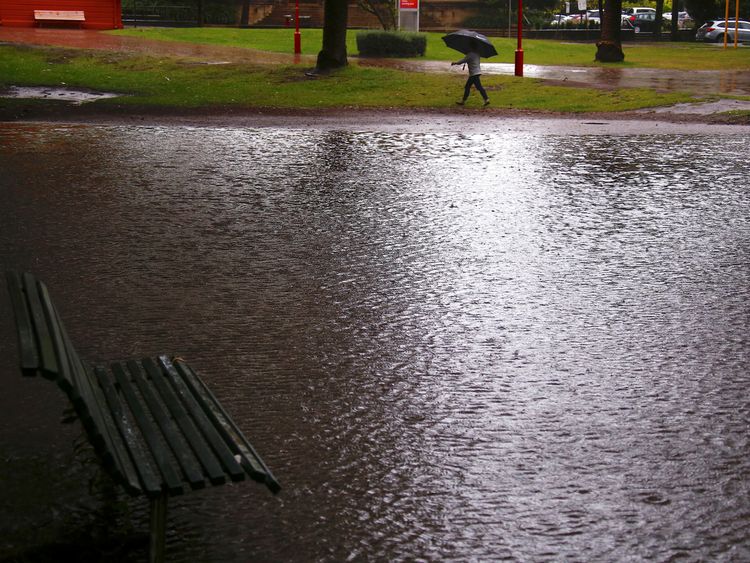 The BOM said the storms would last through most of the day before easing, with gale force winds whipping up four metre waves which were expected to pound Sydney's beaches.
The weather is in stark contrast to soaring temperatures nearing 40C in Queensland.
Strong winds in the northern state have exacerbated major bushfires.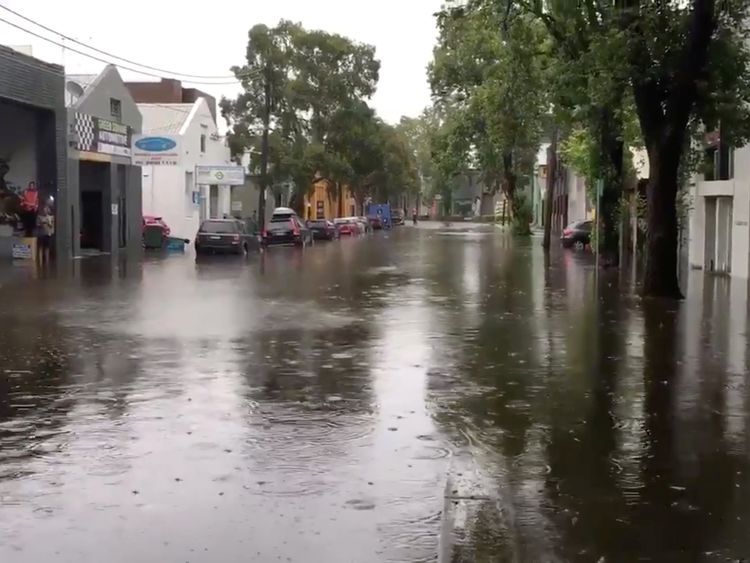 Firefighters have been battling for nearly a week to contain more than 80 fires across Queensland.
Craig Crawford, fire and emergency services minister for the Queensland, told Australian Broadcasting Corp radio: "We are expecting a very bad day.
"These are the kind of days where people could lose their lives."
How missing Dubai princess practised her escape
Footage of a missing Dubai princess scuba diving in her palace as she prepares to flee her family has been shared with Sky News, along with new pictures of the young woman.
Sheikha Latifa bint Mohammed bin Rashid Al Maktoum is the daughter of Dubai's ruler.
In March, Princess Latifa fled the UAE and a video was circulated online in which she made allegations of abuse at the hands of her father.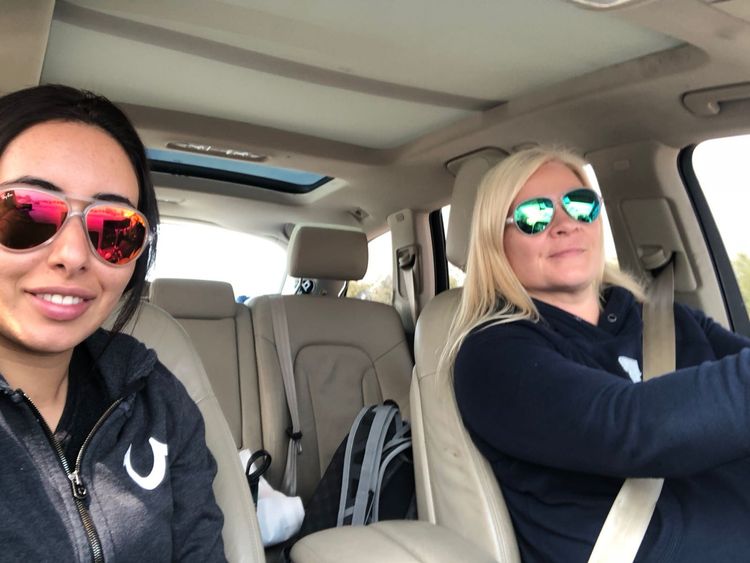 Today, her 33rd birthday, marks almost exactly nine months since she was last seen.
Her case sounds stranger than fiction, but has been accepted by Human Rights Watch and Amnesty International, while the UN group on enforced disappearances heard evidence on her case earlier this year.
She attempted to escape with the help of French former spy Hervé Jaubert and long-time friend Tiina Jauhiainen.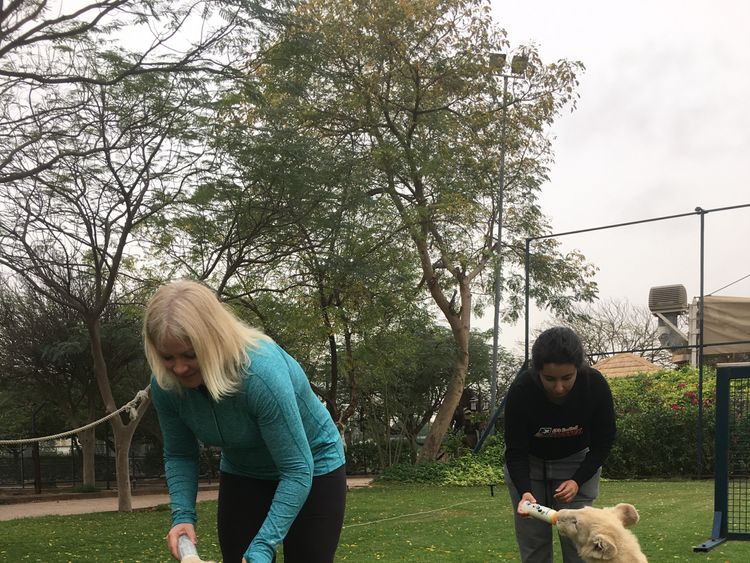 After fleeing through neighbouring Oman, she made it onboard Mr Jaubert's boat, The Nostromo, and set sail for the Indian coast.
The yacht was intercepted and those on board say they were beaten by armed men who boarded the ship and then detained in the UAE.
Both Ms Jauhiainen and Mr Jaubert say Latifa shouted that she was seeking asylum in India but was taken onto a helicopter. It is the last time they ever saw her.
"Latifa was determined to leave Dubai… She said it was worth taking any kind of risk as she had literally had enough of her life in Dubai," Ms Jauhiainen told Sky News.
"She was looking forward to the day impatiently and when with me it was the only topic we would talk about along all the things she wanted to do when she had what she had always wanted, her freedom," she added.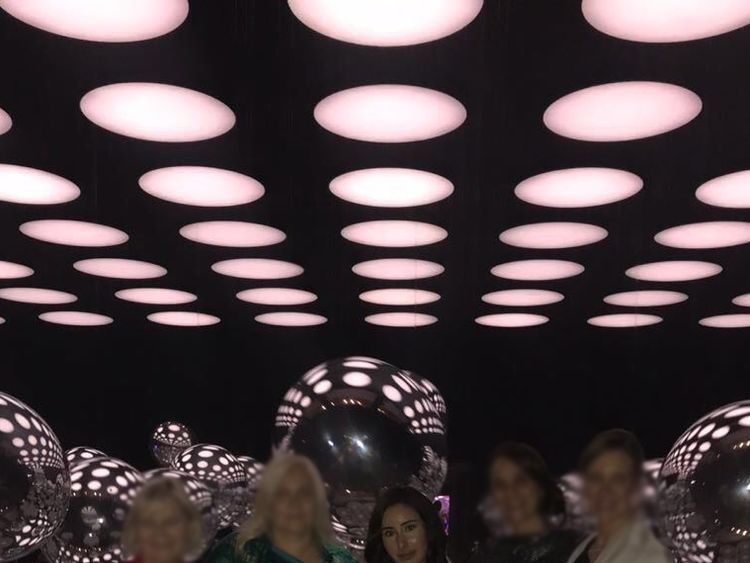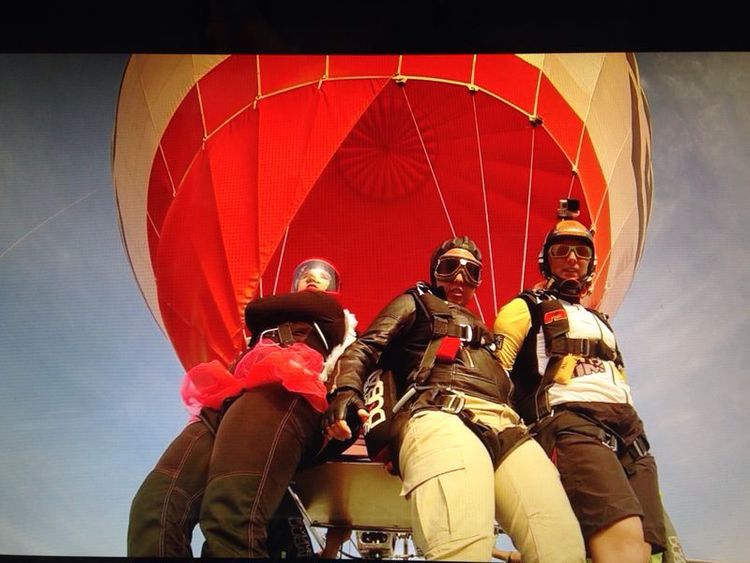 Speaking to Sky News, Mr Jaubert said: "Maybe Latifa did not make it. I'm not sure she is alive."
In a statement to Sky News, the Dubai Ruler's Court said: "We are aware and deeply saddened by the continued media speculation regarding Her Highness Sheikha Latifa bint Mohammed al Maktoum. This private family matter has caused significant upset and distress for all concerned, most of all Sheikha Latifa."
They add: "Her Highness Sheikha Latifa is now safe in Dubai.
"She and her family are looking forward to celebrating her birthday today, in privacy and peace, and to building a happy and stable future for her."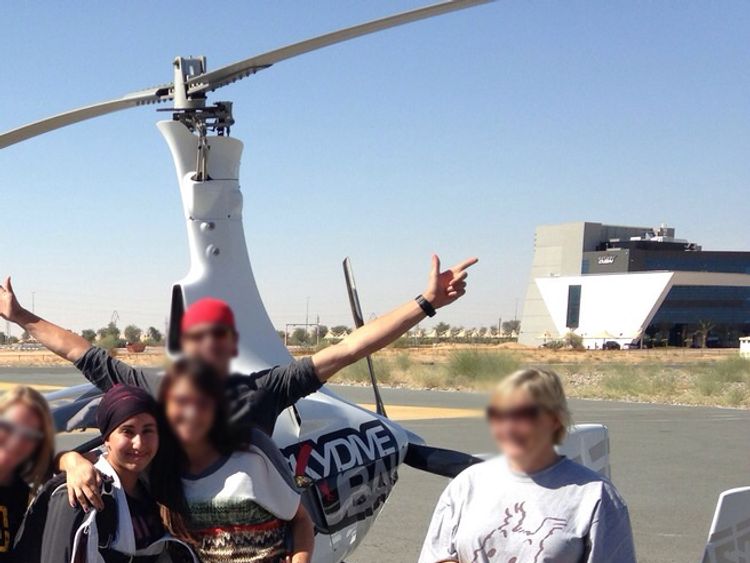 Never before seen photos shared with Sky News show Latifa feeding lion cubs with Ms Jauhiainen, sky diving and spending time with friends.
As well as a video of Latifa laughing with Ms Jauhiainen, another friend and her child, a short clip shows the princess training for her future escape by scuba diving in her family pool.
The video was taken by Ms Jauhiainen on 12 February 2018 in the grounds of the princess's mother's grand home.
Ms Jauhiainen said she drove the scuba gear and underwater scooter to the building that housed the pool.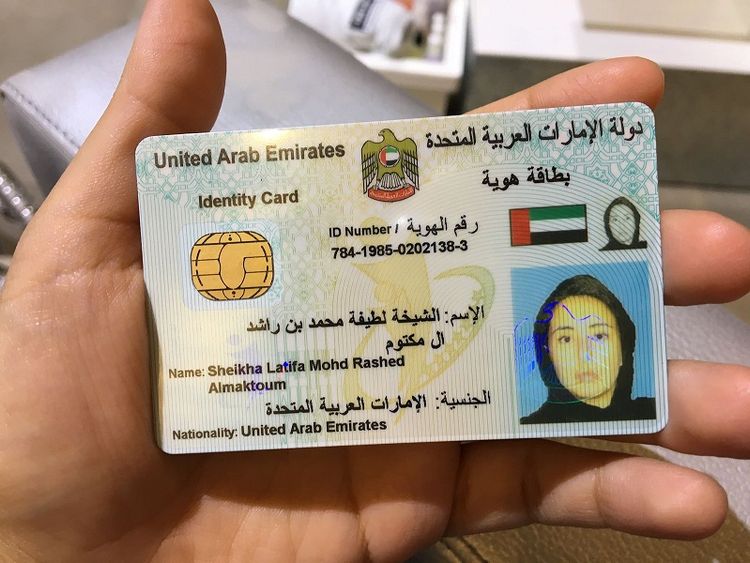 "At this point the plan for Latifa's escape was still for her to dive using a rebreather, diving gear, dive computer and an underwater scooter from UAE to Oman crossing the border…a distance of nearly 10 km underwater," Ms Jauhiainen told Sky News.
"Training was a problem. One time we managed to go to her uncle's beach house to practise but visibility was so bad that she couldn't try out all the gear simultaneously.
"This time I was allowed to go inside her compound to 'exercise' but actually the plan was to test the gear."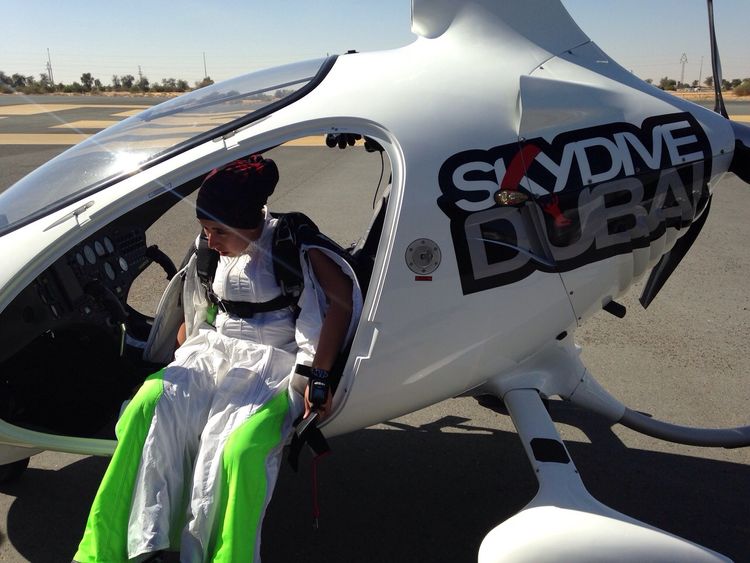 Ms Jauhiainen said they decided to abandon this escape plan after encountering too many problems.
Emails seen by Sky News show Latifa, who said she tried to flee the UAE aged 16, approached Mr Jaubert about a second escape attempt back in May 2012.
"My ultimate goal is to never return to this country again," she writes in coded emails to Mr Jaubert, in which explains she hopes to gain refugee status in the UK or other Western countries.
A glimpse of Latifa's nature can be seen in this email correspondence, where among worries for her own safety and those helping her, she speaks of trying to make sure her pet monkey is safely re-homed ahead of her running away.
In her emails, Latifa explores ways to bring her sister, Shamsa, with them on their escape attempt.
Cambridge police began an investigation into claims Shamsa was kidnapped off the streets of Cambridge in 2000.
In the Dubai Ruler's Court statement, they also said: "Sheikha Latifa and Sheikha Shamsa are adored and cherished by their family.
"Unfortunately, Sheikha Latifa was vulnerable to exploitation primarily by Mr Herve Jaubert, a man with a criminal record. He and his accomplices demanded payment of a ransom of USD $100 million, shortly after Her Highness disappeared from Dubai, for her return."
Greenhouse gas emissions produced by humans are making heatwaves 30 times more likely

Heatwaves like the one experienced in the UK this Summer are now 30 times more likely than under natural conditions because of climate change, according to the Met Office.
The extreme temperatures hit agriculture and infrastructure particularly hard and people were urged to cut their water usage.
New computer modelling analysis compared the actual climate with that of the natural climate we would have had without human-induced emissions.
It found that the UK now has around a 12% chance of summer average temperatures being as high as they were in 2018, whereas they would have less than 0.5% chance of happening in a "natural" climate.
This summer was the equal warmest in a series dating back to 1910, along with 2006, 2003 and 1976, with temperatures reaching a peak on 27 July when 35.6C (96F) was recorded at Felsham, Suffolk.
Professor Peter Stott, from the Met Office and University of Exeter, said: "Our provisional study compared computer models based on today's climate with those of the natural climate we would have had without human-induced emissions.
"We find that the intensity of this summer's heatwave is around 30 times more likely than would have been the case without climate change."
He added: "This rapidly increasing chance results from the increase in concentrations of carbon dioxide and other greenhouse gases in the atmosphere."
The Met Office findings will be announced at the UN climate talks currently taking place in Poland, where countries are meeting to finalise the rules of how the Paris Agreement on tackling global warming will work and to build momentum towards increasing ambition on efforts to cut greenhouse gas emissions.
Greenpeace UK executive director John Sauven said: "The link between climate change and extreme weather like the heatwave that scorched the UK last summer is getting stronger.
"It used to be a fingerprint, it now looks more like a smoking gun. If we stay on the current course, we know the kind of world we're heading towards: more floods, heatwaves, droughts, and rising sea levels."
Huawei CFO Meng Wanzhou facing extradition to the US after arrest in Canada
The global chief financial officer of Chinese phone firm Huawei is facing extradition to the US after being arrested in Canada.
Meng Wanzhou, who is the daughter of company founder Ren Zhengfei, has been detained in Vancouver in relation to suspected violations by Huawei of US sanctions placed on Iran.
Huawei is one of the largest makers of telecommunications network equipment in the world and is thought to have been shipping products from America to the Middle Eastern country since at least 2016.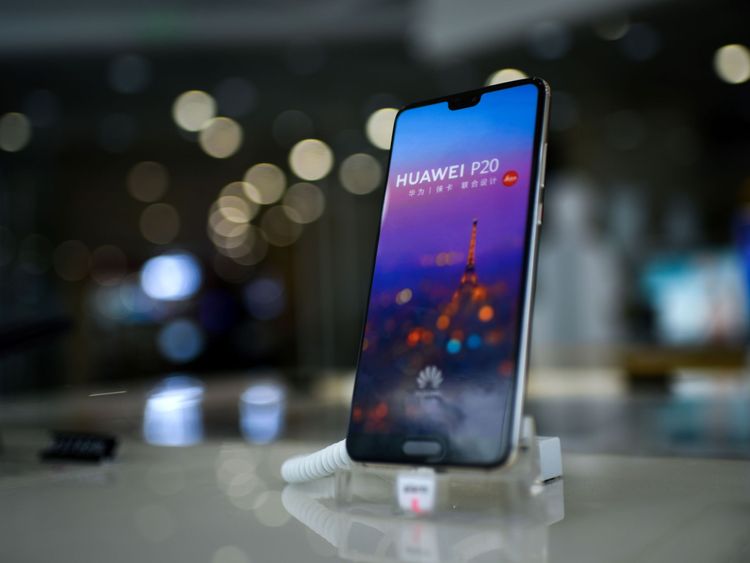 The firm has confirmed the arrest of Ms Meng, which happened on 1 December, but said it was "not aware of any wrongdoing" by its CFO, who will appear in court for a bail hearing on Friday.
The Chinese embassy in Ottawa has called for her immediate release.
It said in a statement: "The Chinese side firmly opposes and strongly protests over such kind of actions which seriously harmed the human rights of the victim.
"The Chinese side has lodged stern representations with the US and Canadian side, and urged them to immediately correct the wrongdoing and restore the personal freedom of Ms Meng Wanzhou."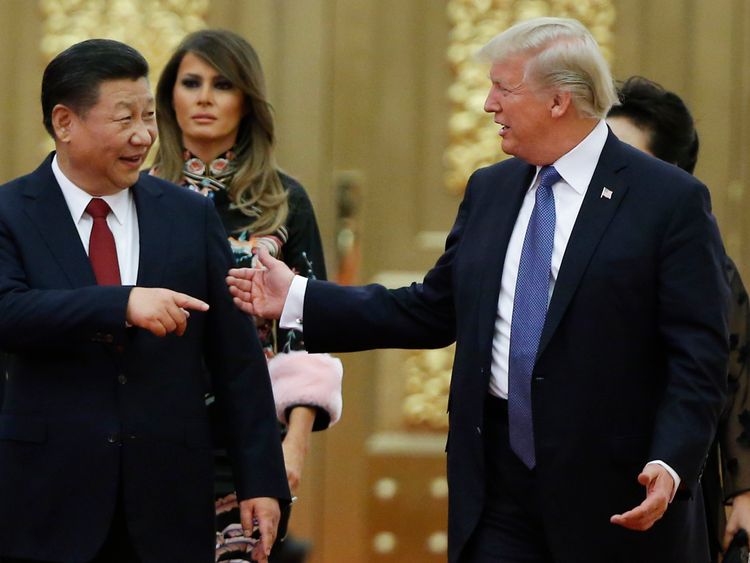 News of the arrest came on the same day that BT announced it would be removing Huawei-manufactured equipment from its 3G and 4G mobile networks.
Western countries have become increasingly wary of working with Huawei over fears it could provide the Chinese government with avenues for espionage.
Australia barred Huawei from providing 5G technology for its wireless networks over the summer and New Zealand followed suit in November.
In October, former security minister Admiral Lord West told Sky News that allowing Chinese companies to play a role in the introduction of 5G in the UK could compromise our critical data infrastructure.
Despite being completely locked out of the US, Huawei surpassed Apple earlier this year to become the number two smartphone maker in the world – only behind Samsung.
It has been helped by securing an increased share of the UK market, with TechRadar reporting that its acclaimed P20 handset had contributed to a rise from 2.7% to 13.7% in the three months leading up to July 2018.
The arrest of Ms Meng last week happened as Chinese President Xi Jinping dined with Donald Trump during the G20 summit in Buenos Aires.
Mr Xi and Mr Trump agreed a 90-day trade truce during the event and are set to begin negotiations to end their ongoing trade war, but the arrest of a top executive at a major Chinese company seems likely to re-escalate tensions between the countries.