A painting by Pierre Auguste Renoir valued at up to 160,000 euros (£141,000) has been stolen from a Vienna auction house.
The Golfe, mer, falaises vertes, a lesser-known landscape by the prolific French impressionist, was snatched by three men from its frame on display on Monday ahead of a planned sale at the Dorotheum auction house.
A police spokesman said: "The men left the site through different exits and fled."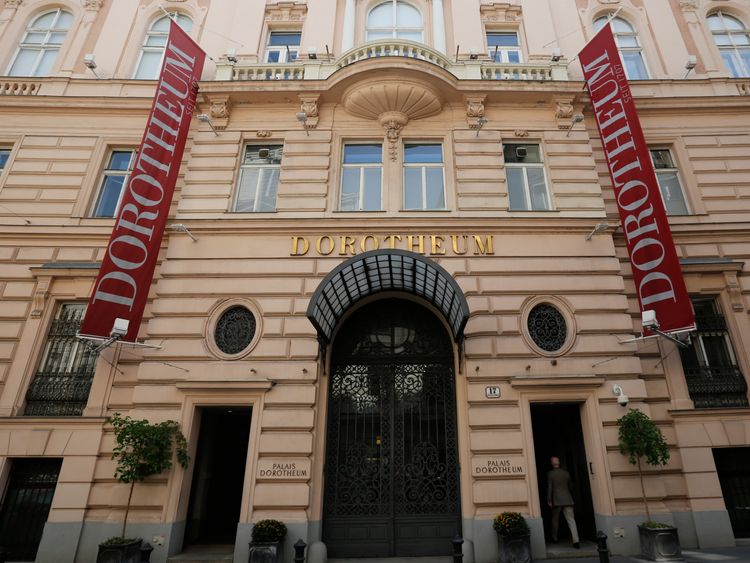 They released pictures of the three suspects taken from security-camera footage and added the heist had been professional.
The Dorotheum, Vienna's best-known auction house in the heart of the city, confirmed that a theft had taken place but would not provide further details.
The painting was estimated at 120,000 to 160,000 euros and had been due to go under the hammer on Wednesday evening.
Plastic pollution: Flip-flop found in poo of endangered Indian Ocean tortoise | Ocean Rescue News
A huge plastic clean-up operation is being organised on one of the most important turtle nesting islands in the Indian Ocean.
The isolated Aldabra atoll, 390 miles off the coast of Africa, is strewn with plastic that has been swept long distances by ocean currents.
Around 5,000 endangered green turtles nest on beaches around the coral atoll, an outlying island of the Seychelles and a UNESCO World Heritage site.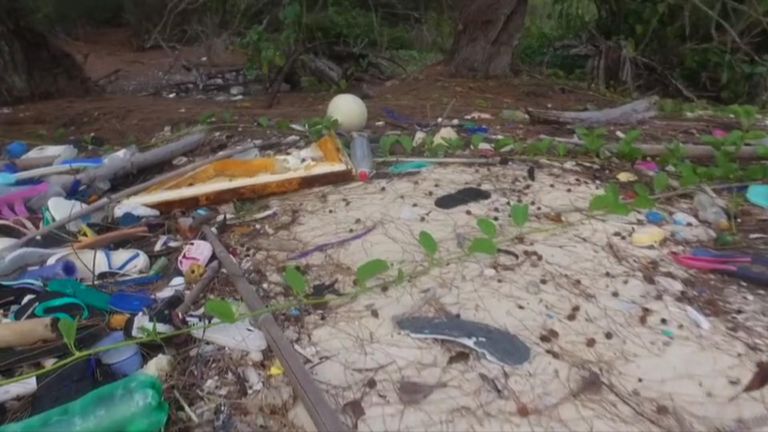 But the animals are being entangled in nylon fishing ropes, and the hatchlings can struggle to reach the sea because of debris on the sand.
A team from the Seychelles Islands Foundation and Queen's University Oxford will attempt to clear around 50 tonnes of plastic from the key nesting sites in a month-long expedition.
Sky News will film the operation for its ground-breaking Deep Ocean Live programmes to be broadcast in March.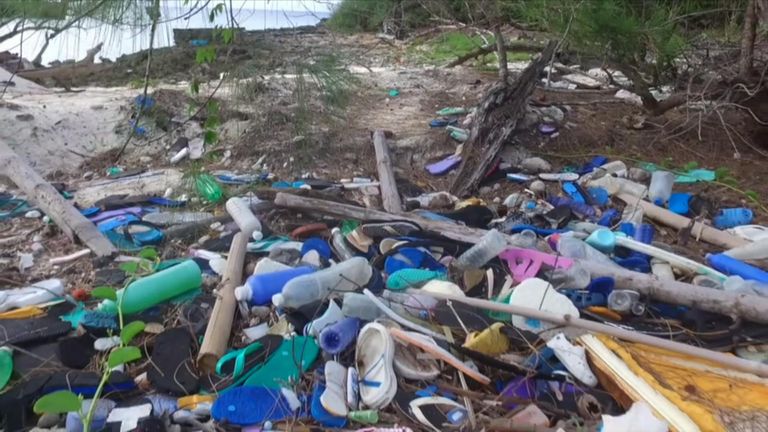 April Burt, a PhD student at Queen's College, is helping to coordinate the clean-up.
She told Sky News: "It makes it harder for the turtles.
"It can deter them from coming on the beaches which they have been coming all their lives. They then expend more energy when they are trying to flick out big bits of trash from where they want to nest.
"And then when the hatchlings come out they are having to get through all this trash before they even get to the sea."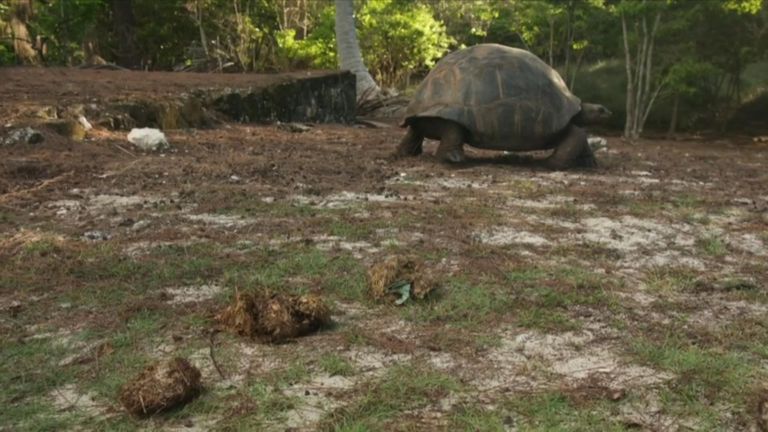 Rough calculations suggest there could be 1,000 tonnes of plastic across Aldabra.
Analysis shows a high proportion by weight is fishing gear, likely from industrial tuna fishing in the Indian Ocean.
But there is also a huge amount of consumer plastic, mostly flip-flops, cigarette lighters and bottles.
The island's 150,000 giant tortoises are eating the debris. Scientists even found half a flip-flop in a pile of dung.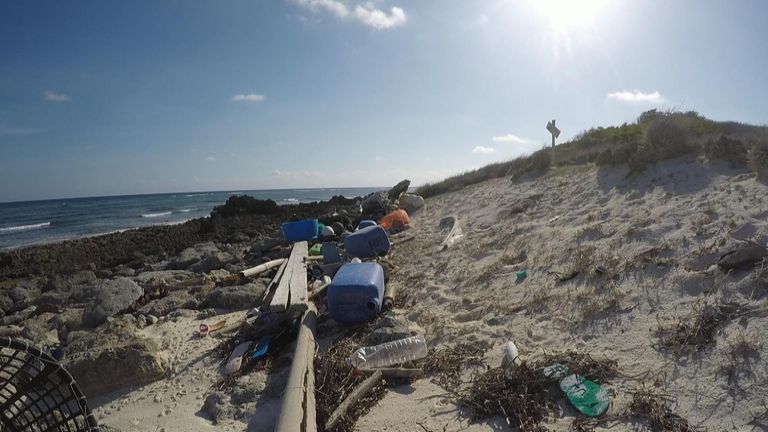 Jeremy Raguain, a project officer with the Seychelles Islands Foundation, said: "It's cataclysmically ironic that a place that is so far and so protected still gets affected by this kind of stuff.
"It's everyday items that we have all used and you can look at the items and ask, 'how does it end up here, why here?'"
The Oxford team has begun preliminary analysis of ocean currents to try to identify possible sources for the plastic.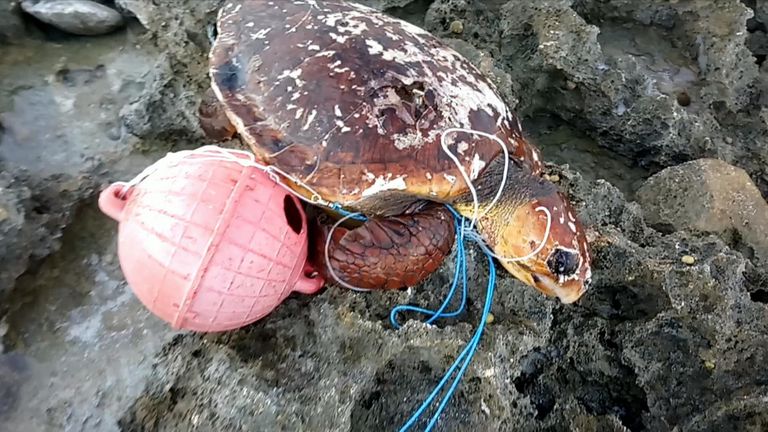 Helen Johnson, an oceanographer at Oxford University, said the models have so far gone two years.
"The work we have done so far suggest the plastic is coming from the east coast of Africa," she said.
"It is being swept off shore, out into the Indian Ocean then south before heading west towards Aldabra."
A secondary source appears to be India and Sri Lanka, 2,700 miles away.
As the scientists finesse the models and run them back for longer periods, it's possible that they could identify plastic being swept across the width of the Indian Ocean from Indonesia, one of the biggest sources of ocean plastic pollution.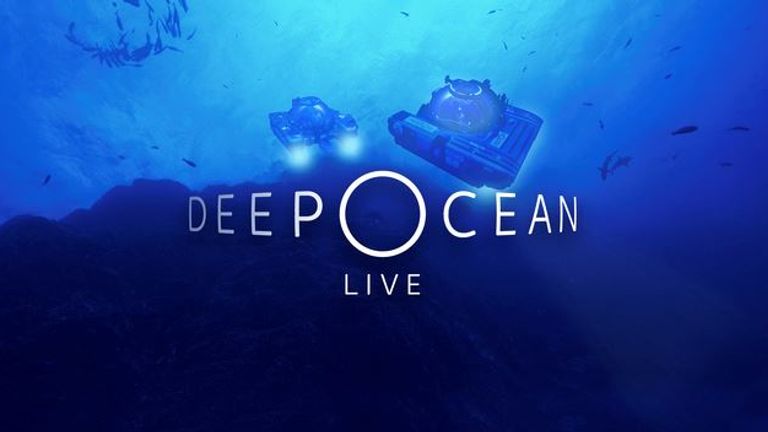 :: Sky News will broadcast live from 300 metres down in the Indian Ocean next month. The series – called Deep Ocean Live – will examine the impact of plastic pollution, and includes the first ever live programme from submersibles in the twilight zone.
:: Sky's Ocean Rescue campaign encourages people to reduce their single-use plastics. You can find out more about the campaign and how to get involved at www.skyoceanrescue.com
Pilot killed after India Air Force jets collide during show rehearsal | World News
A pilot has been killed after two planes collided during a rehearsal for an aerobatic show in India.
Two other pilots were injured in the crash which happened in the southern state of Karnataka on Tuesday.
The Indian Air Force Hawk jets were due to perform at Aero India 2019, a five-day air show expected to draw around 500 aviation firms and defence contractors.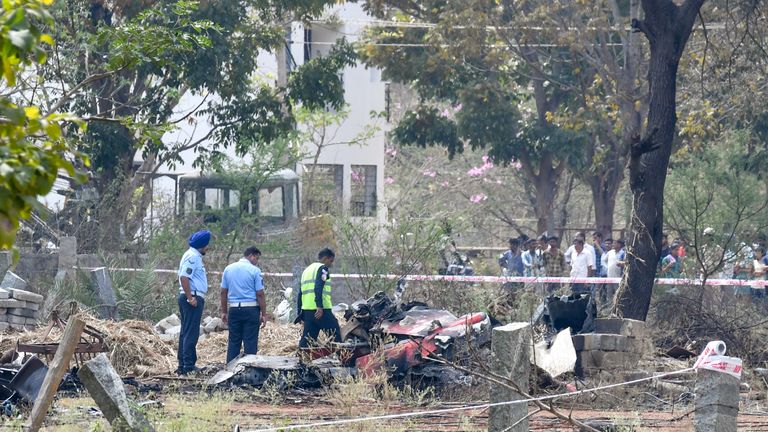 A police spokesman: "One Indian Air Force pilot has unfortunately lost his life.
"Two others were injured and shifted to hospital, but are said to be out of danger."
The surviving pilots managed to eject from their aircraft, according to local media.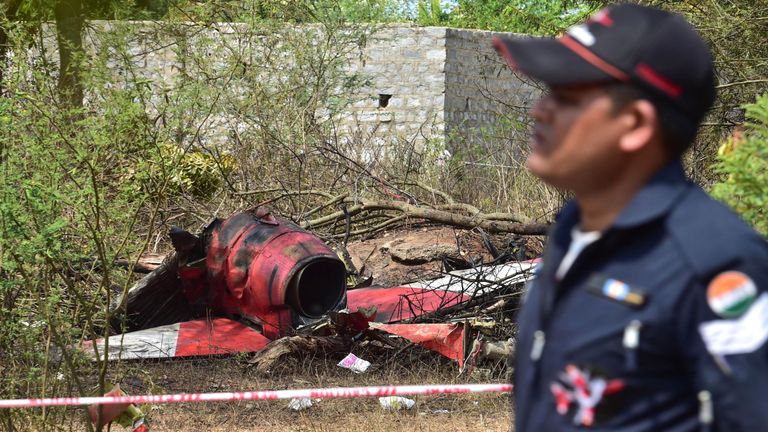 India's defence ministry confirmed the aircraft were part of the Surya Kiran aerobatic display team and crashed near the Yelahanka Air Force base.
It is the second deadly accident involving Indian Air Force aircraft this month.
A Mirage 2000 trainer fighter aircraft crashed in the southern city of Bengaluru on 1 February, killing two pilots.
Hugo Palmer: Australian police scale back search for missing Briton | World News
Police in Australia are scaling back the search for a British tourist and his friend who went missing from a popular beach north of Sydney.
Officers said they were reducing the air and sea search for 20-year-old Hugo Palmer and Frenchman Erwan Ferrieux, also 20, more than two days after their belongings were found by early morning walkers at Shelley Beach in New South Wales on Monday.
Police later discovered their rental car in the beach's car park with several personal items inside, including travel documents.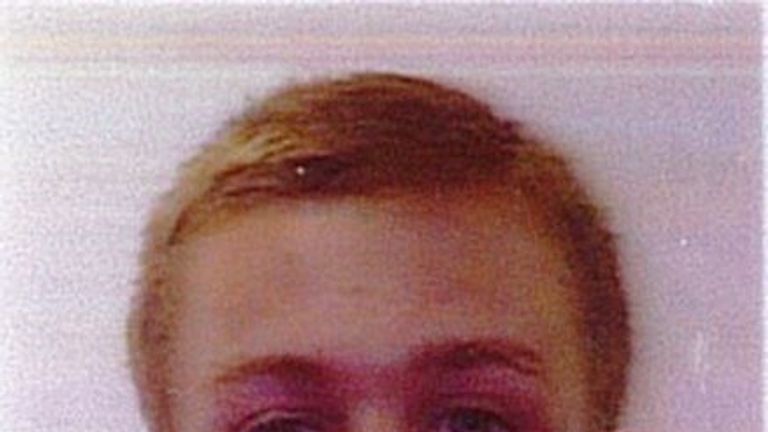 Emergency services – including police divers – have been trying to find the pair but there has been no sign of the men.
A New South Wales Police spokesman said: "Based on advice from experts, police have scaled back the air and sea search, but sweeps of the coastline and foreshore will continue over the coming days."
Mr Palmer, from East Grinstead in East Sussex, and Mr Ferrieux arrived in Australia in November and have been in the Port Macquarie area since Sunday.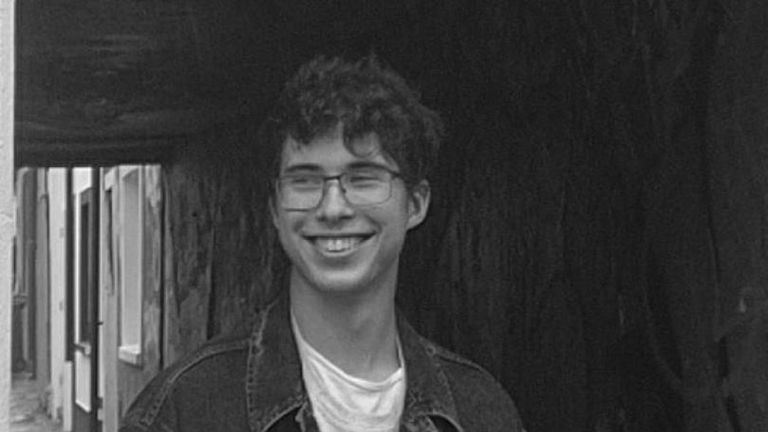 Inspector Peter Neville said he was still hopeful of finding the pair alive.
He told the Port Macquarie News: "This whole operation is about locating and rescuing these young men.
"From some of the discussions I've had this morning we honestly believe these people could well be alive.
"At the moment this is strictly a rescue mission."
He said two of the men's friends, who were in Sydney when they disappeared, had travelled to Port Macquarie to support the search effort.