Former FBI director James Comey has backed down from his legal challenge and agreed to testify in private to the House of Representatives judiciary committee.
He is expected to be questioned over decisions not to prosecute Hillary Clinton over her use of a private email server and the investigation into potential collusion between Russia and Donald Trump's election campaign team.
Mr Comey, who was sacked by the president last year, had tried to quash the subpoena ordering him to answer questions in private.
His lawyer, David Kelley, had accused Republican members of the committee of wanting a closed hearing so they could selectively leak parts of Mr Comey's testimony.
But the former FBI boss has now agreed to Friday's session after the committee said a transcript would be released after 24 hours and that he could speak about it afterwards.
Mr Comey tweeted: "Grateful for a fair hearing from judge. Hard to protect my rights without being in contempt, which I don't believe in.
"So will sit in the dark, but Republicans agree I'm free to talk when done and transcript released in 24 hours. This is the closest I can get to public testimony."
Grateful for a fair hearing from judge. Hard to protect my rights without being in contempt, which I don't believe in. So will sit in the dark, but Republicans agree I'm free to talk when done and transcript released in 24 hours. This is the closest I can get to public testimony.

— James Comey (@Comey) December 2, 2018
The agreement was reached a day before lawyers were to appear again in court.
Democrats have said the Republican-led inquiry is an attempt to undermine the inquiry into Russian interference in the 2016 presidential election by Special Counsel Robert Mueller – himself a former FBI director.
Republicans have said the FBI is biased against Mr Trump, citing its decision not to bring criminal charges against his former presidential challenger Hillary Clinton.
A Justice Department report earlier this year criticised Mr Comey for his handling of the Clinton matter, but said he did not show any bias.
The Republican-led inquiry into the FBI is in a race against time to produce conclusions because it will be shut down as Democrats prepare to take over control of the House of Representatives in January.
Saudi Arabia refuses to extradite Jamal Khashoggi murder suspects
Saudi Arabia has refused to extradite two suspects in the murder of journalist Jamal Khashoggi, after Turkey's chief prosecutor filed warrants for their arrest.
Turkish prosecutors said last week there is a "strong suspicion" that Saud al-Qahtani, an aide to the Crown Prince Mohammed bin Salman, and General Ahmed al-Asiri, the deputy head of foreign intelligence, were among those who planned Mr Khashoggi's murder at the Saudi consulate in Istanbul.
But Saudi Arabia's foreign minister Adel al-Jubeir has said: "We don't extradite our citizens."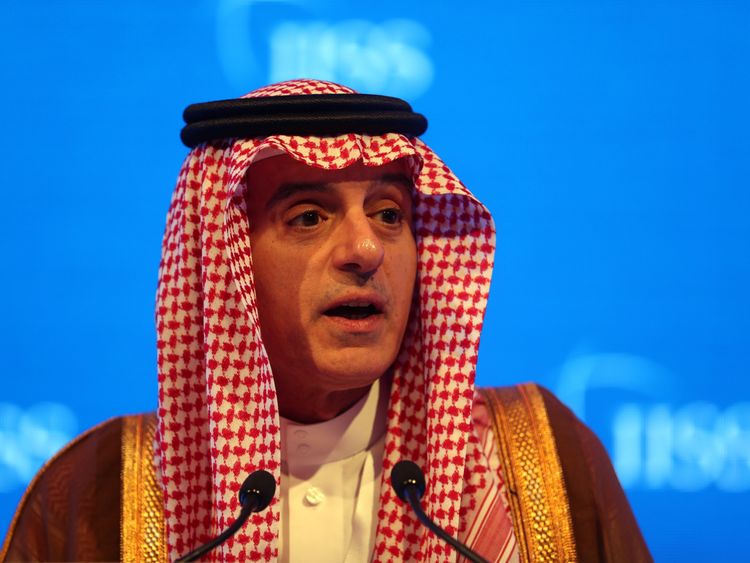 He also refused to confirm whether the men were being detained.
Asiri often sat in during Prince Mohammed's closed-door meetings with foreign dignitaries and Qahtani was a key counsellor.
Both of them were sacked when Riyadh admitted Mr Khashoggi was murdered in the consulate in Turkey.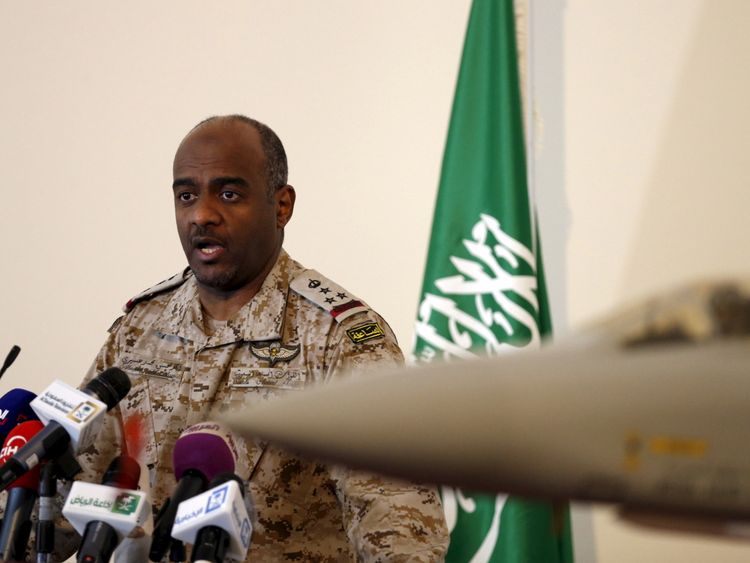 :: Jamal Khashoggi: Saudi journalist's body parts found
Mr Jubeir added: "The Turkish authorities have not been as forthcoming as we believe they should have been.
"We have asked our friends in Turkey to provide us with evidence that we can use in a court of law. We have not received it in the manner that it should have been received."
Turkey claims a 15-member Saudi team was sent to Istanbul to kill the Washington Post journalist.
Turkey's president Recep Erdogan said the order to kill the reporter came from the highest levels of the Saudi government, but has insisted it was not ordered by King Salman.
Saudi Arabia has detained 21 people in connection to the murder.
Qahtani was one of 17 Saudi officials who were targeted by sanctions imposed by the US Treasury Department in mid-November for "his role in preparing the operation" against Mr Khashoggi.
The Saudi journalist, who was a vocal opponent of his country's leadership, was killed as he went to the consulate in Turkey to obtain papers for his forthcoming marriage.
'It was worth everything I went through'

A boxer has made history after becoming the first transgender male to fight professionally in the US.
American super-featherweight Patricio Manuel won his bout against Mexican Hugo Aguilar with a unanimous judges' decision.
Manuel, from Los Angeles, said: "I wouldn't trade any of it. It was worth everything I went through to get to this point. I'm a professional boxer now."
The 33-year-old added: "It's a high right now. I'm just really happy. This is the definition of true happiness in this moment."
Manuel was cheered on by nearly 70 friends and family members in Indio, California.
He insisted on no special treatment before or during Saturday's fight and requested that ringside commentators not mention he was once a woman, the Desert Sun newspaper reported.
It said scars from surgery were visible on Manuel's chest and abdomen when he stepped into the ring.
Manuel fought in the 2012 US Olympic trials as a woman, but a shoulder injury ended the athlete's attempt to make the team for the London Games after just one bout.
Manuel began transitioning several months later, and after surgery and hormone treatments got through the bureaucracy of getting licensed to fight.
California boxing authorities were wary of granting Manuel a licence.
But once the International Olympic Committee ruled before the 2016 Rio Games that female to male transgender athletes could compete "without restriction" the way was cleared for him.
Aguilar, who was fighting in the US for the first time, learned of Manuel's transition just two days before the bout, the Los Angeles Times reported.
But he said it wasn't an issue.
"For me it's very respectable," he said.
"It doesn't change anything for me. In the ring he wants to win and I want to win too."
Manuel joins mixed martial artist Fallon Fox and Thai boxer Parinya Charoenphol as transgender males who have fought professionally in combat sports.
Nobel Prize winner battling sexual violence requires 24-hour protection
It is located in a ramshackle neighbourhood in the Congolese city of Bukavu, where a million people or more eke out a living on its downtrodden streets. But Dr Mukwege's Panzi Hospital feels somewhat removed.
There is an air of generosity about this place which is personified on the faces of those who staff it and there is sense of quiet conviction in the manner of the man who founded it – an individual who has spent 20 years treating appalling injuries inflicted on women in the Democratic Republic of Congo.
"We can't stand idly by while people just destroy our humanity," says this year's co-winner of the Nobel Peace Prize.
"Indifference creates consequences for you and for me. It is a kind of complicity. We have to stand up to it."
Denis Mukwege, 2018 Nobel Laureate, surrounded by his team at Panzi Hospital, celebrating after the announcement of this year's Nobel Peace Prize. pic.twitter.com/mbXR8eMsgA

— The Nobel Prize (@NobelPrize) October 9, 2018
As the son of a Pentecostal Church minister, Dr Mukwege soon realised there were limits to the power of prayer.
He says: "I started to follow my father, who was a pastor and I think something happened when he was taking care of a child who was sick, he just prayed but he didn't give him medicines… I discovered there are things that my father couldn't do and I said to him I will be a medical doctor."
Dr Mukwege trained as a pediatrician but the casework took him by surprise.
"I found women who came to me to seek treatment, had been raped with extreme violence and I could not be indifferent," he says.
"I just took the responsibility to start to treat them. I didn't really go to school to learn how to do it."
I asked: "There was no course, no medical degree to teach you?"
He replied: "I think what I saw, for the first time, even (though) I was a medical doctor, was so traumatising because it is not really something that you can learn.
"Can you imagine when people shoot in the genitals of woman? No one can teach you how to (treat) these types of things."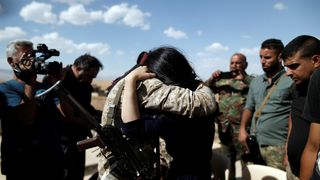 We watched this self-taught surgeon sweep round the hospital, talking to patients and advising his staff. A typical day can involve five to six rape-related operations a day.
Dr Mukwege told me he can tell where a women or child comes from in this troubled country by the way she has been brutalised.
"What we discovered was that you would just know where they come from because of the (men) doing the torture. Some shoot in the genitals, (some) use bayonets or burn them or use sand and things like that. It was easy for us to know."
In the post-operation ward, the beds are occupied by women who lie quietly on their backs. The smell of urine is pervasive.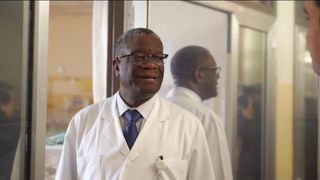 The nature of his work is unrelenting and Dr Mukege has added political activism to his brief in a bid to change it.
"I treat a mother, after that I treat her (daughter) and the grandchildren. Should I stay in the operating room and wait for women to be treated?
"I just feel that to treat the consequences is not the solution. We should treat the root causes and the root causes are war, the root causes are the minerals of Congo, the root causes are people who want to do business in Congo and don't pay tax."
Dr Mukwege is using his standing in DR Congo to criticise rebel commanders, army soldiers and the country's corrupt and impassive government.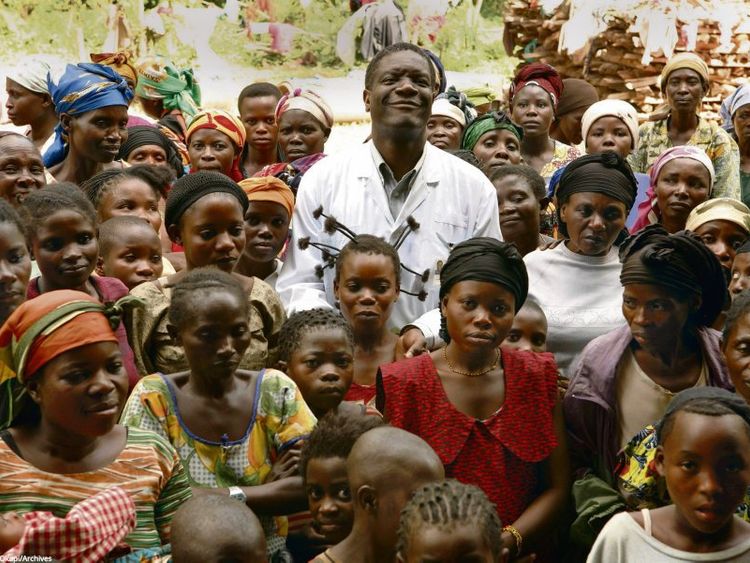 But this activism can be dangerous. Dr Mukwege barely survived an assassination attempt in 2012 after he gave a fiery speech at the UN. Now, he requires 24-hour personal protection from a detachment of UN troops.
He said: "The pressure is there, of course, and you can see in the media, the fake news that they are doing each week, against me.
"But I think that this can't stop us (talking) about what is going on in this country and you hope that one day the Congolese population can take more responsibility (for) their destiny."
He for one, has taken responsibility by running a hospital that will not turn anyone away.
We met one of his patients as we were preparing to leave – a 12-year-old girl called Tina, who slipped her arm around the doctor and offered him a smile.
Tina is deaf – and she is also a new mother after she was raped last year. Dr Mukwege cared for her through the pregnancy.
Speaking with sadness, he said: "To be a mother at this age, it is terrible.
"How can you imagine that people can do things as they are doing. She didn't get her childhood and now already she is herself a mother. Even though she doesn't understand what happened to her."
The Panzi Hospital is a place of healing amid unimaginable suffering and it is run by the rarest of individuals. A selfless man who has inspired the world.