The Christmas shopping surge in Paris may already be "lost" as businesses fear warzone-like scenes in the French capital will deter visitors and cost them billions of euros.
Tear gas, stun grenades and water cannon were used during violent protests over the weekend which saw more than 130 people injured and 412 people arrested.
Cars were torched, shops smashed up and rocks hurled at police as "yellow vest" protesters rampaged in the streets around the Arc de Triomphe and the Champs Elysees.
French finance minister Bruno Le Maire met business leaders on Monday and said the impact was already "severe and ongoing", with shops and restaurants reporting takings down between 20 and 50%.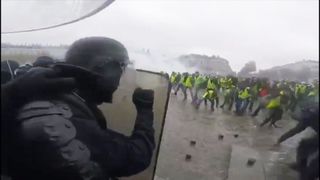 Hotel reservations have slumped 15 to 25%, he added.
Retail groups say the lucrative festive period, when takings normally jump dramatically, could have been dealt a killer blow by the anarchic scenes broadcast around the world.
"The lost revenue and losses, especially in food services, is going to be in the billions of euros," said Jacques Creyssel of the FCD retail federation.
Saturday's protest had "decimated the welcoming image of Paris and France," said Roland Heguy of the CAT tourism federation, warning that this Christmas season was "at risk, if not already lost".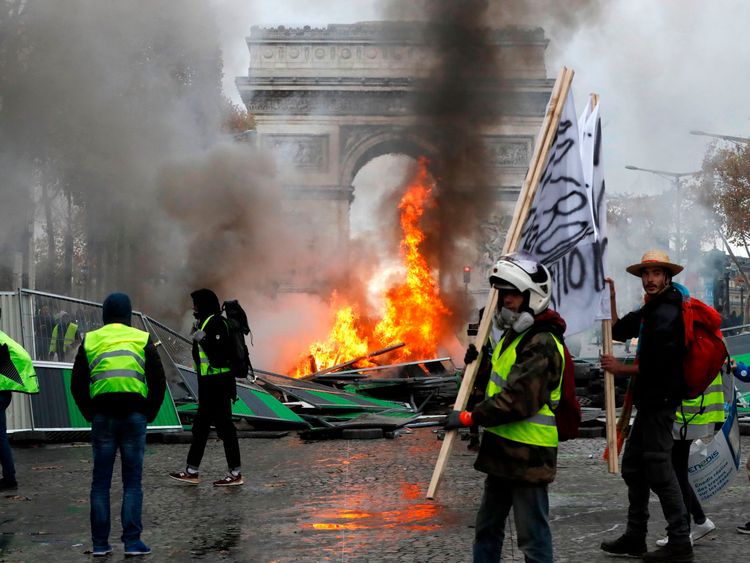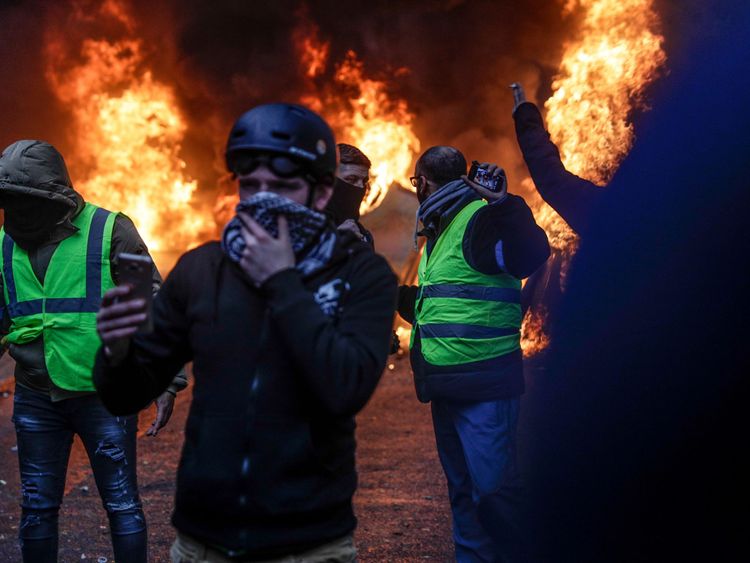 A manager of the Alsace brasserie on the Champs Elysees told Le Parisien he had lost €50,000 on Saturday after evacuating customers through a back door and closing for the day.
With protests taking place across the country, Oil giant Total said 75 of its petrol stations had run dry as demonstrators blocked access to 11 fuel depots.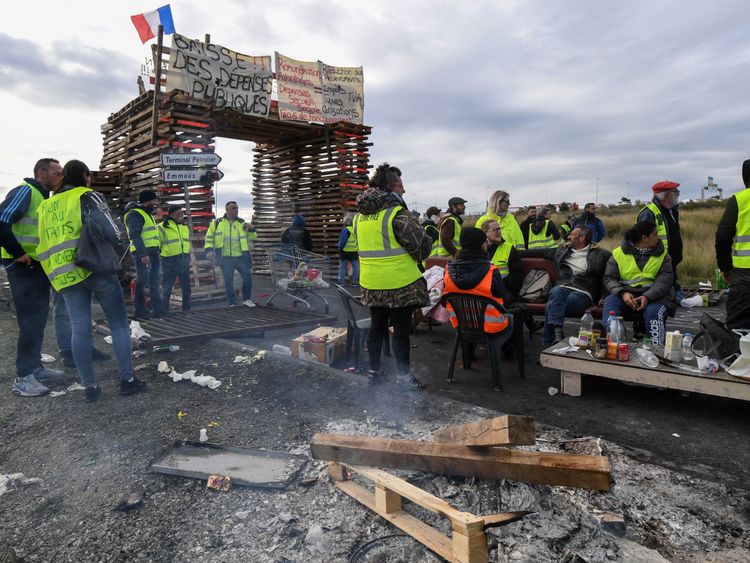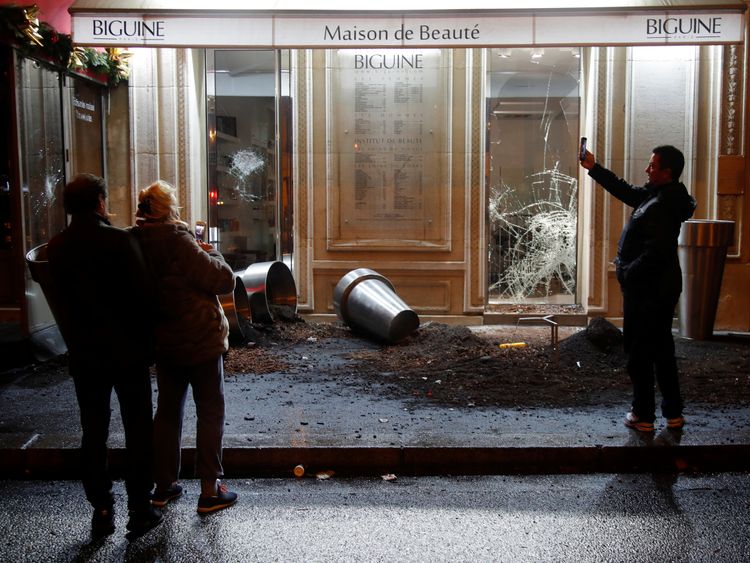 President Emmanuel Macron – who has cancelled a trip to Serbia over the unrest – said people "shouldn't underestimate the shock to people, in France and abroad, of seeing in the media what looked like war scenes".
The protests started nearly three weeks ago as a response to green taxes on diesel that have pushed up the cost for many drivers, with another hike due next month.
However, people are now taking to the streets in cities across the country over the general rise in the cost of living and a feeling that President Macron is out of touch with normal people.
Saturday's violence is believed to have been fuelled by far-left and far-right activists, some of whom wore gas masks as police responded with tear gas.
Paris's police chief said officers fought demonstrators who were carrying hammers, gardening tools, bolts, aerosol cans and rocks.
Irish ticket-holder wins €175m EuroMillions jackpot | World News

A lucky ticket-holder in Ireland has won an estimated EuroMillions jackpot of €175m (£153m).
The winning numbers were: 19, 08, 18, 01, 39, while the lucky stars were 09 and 07.
A EuroMillions spokesman said: "There was one winner of the EuroMillions jackpot. The winning ticket was sold in Ireland."
It is reportedly the eighth biggest EuroMillions win in history, with the final jackpot €175,475,380.
Just last month Patrick and Frances Connolly from Northern Ireland were revealed as the winners of the £115m (€132m) New Year's Day EuroMillions jackpot.
The couple, from Co Armagh, became the fourth biggest UK lottery winners in history.
More follows…
Search for survivors after Swiss avalanche injures at least four people | World News
Mountain rescue teams are continuing to search for survivors after an avalanche in Switzerland left at least four people hurt, including one critically.
During an operation involving eight helicopters, the injured were pulled out of the snow after being buried in the popular ski resort of Crans-Montana.
Valais police said the avalanche happened near the Plaine Morte peak and resort operator CMA said an alarm went off shortly before 2.30pm local time.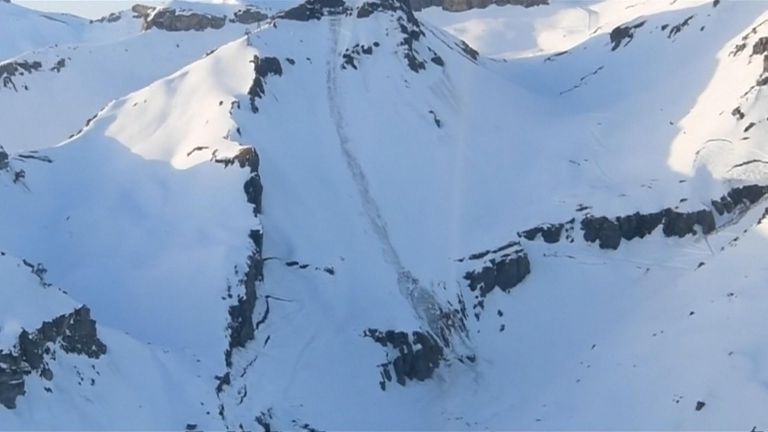 The emergency operation also involved more than 240 police and rescue workers.
Commander Christian Varone said: "Rescuers arrived very quickly, they rescued four injured people including one whose life is in danger, and three were injured more superficially.
"Witnesses told us there could be more people under the snow, that is why we are pursuing the search with considerable means."
The avalanche comes ahead of a women's World Cup skiing event involving stars such as Switzerland's Lara Gut on the Mont Lachaux run at Crans-Montana.
Event spokesman Hugo Steinegger said Swiss military forces who had been deployed for the races were quickly sent to the avalanche site to help with the rescue operation.
He said the avalanche was not expected to affect the start of the event, which begins with training runs on Thursday.
British football fan 'beaten and starved in UAE after arrest for wearing Qatar shirt' | UK News
A British football fan who claims he was detained in the United Arab Emirates for wearing a Qatar shirt has told Sky News he was left to starve in prison after being beaten up.
Ali Issa Ahmad was allegedly arrested for wearing the t-shirt after going to watch an Asian Cup tie between Qatar and Iraq last month.
The 26-year-old from Wolverhampton is now warning other football supporters to "be careful" if they are considering travelling to the UAE.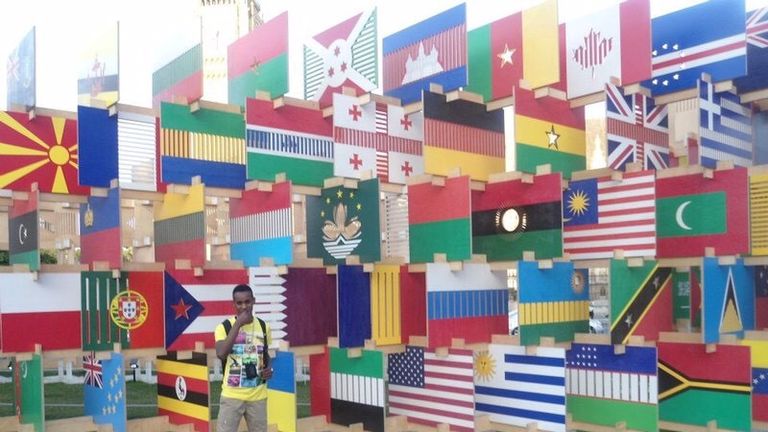 In an interview with Sky's Tom Parmenter following his return to the UK, Mr Ahmad said: "I was beaten. I was terrified. I couldn't handle it.
"They didn't allow me to sleep for three days.
"They didn't even allow me to eat or drink. It was unbelievable to be honest.
"I don't know why they did that because I was only wearing a t-shirt for Qatar football.
"In their law, you could face prison for 15 years for doing that. That's what they said to me.
"I was treated very badly to be honest."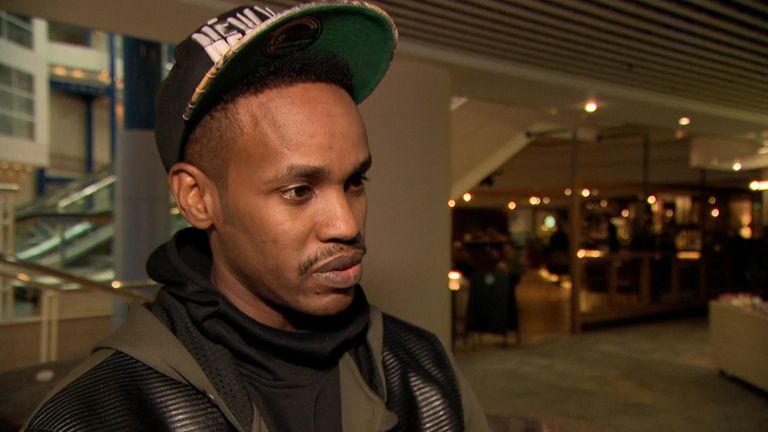 Mr Ahmad said four "intelligence officials" had followed him to his car after the football match ended and told him to hand over his t-shirt.
After questioning why they wanted the item of clothing, he gave it to them but was followed again as he travelled from Abu Dhabi to Dubai.
The next day, he said was still being tracked so he changed hotels – but he was followed once again.
"It was quite scary to be honest," Mr Ahmad said.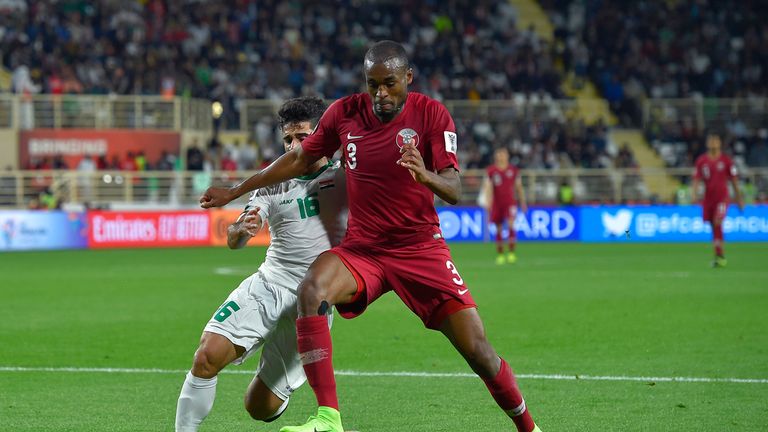 " I don't know why those guys were doing it. It was a very difficult time."
UAE officials have denied Mr Ahmad was detained for wearing the garment and insisted he had been charged after making false assault allegations to officers.
The UAE embassy in London said the dual British-Sudanese national had presented himself to a police station where he claimed he had been harassed and beaten up by UAE national football fans for cheering the Qatar team.
The embassy claimed he had been assessed at a hospital where a doctor concluded his injuries "appeared to be self-inflicted".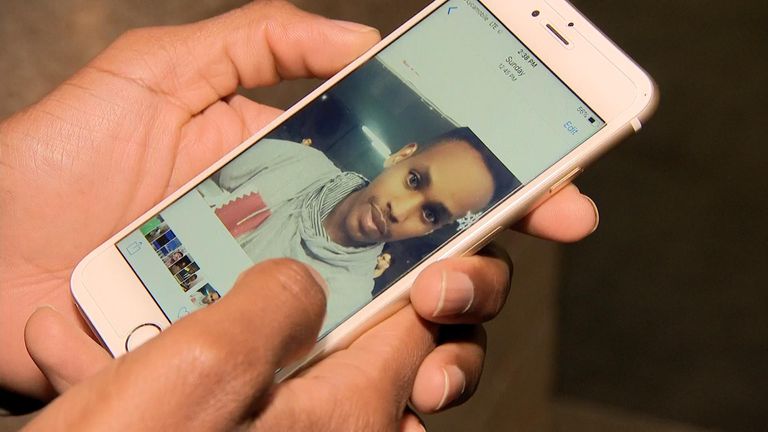 Mr Ahmad insisted "that wasn't the case" and challenged the UAE authorities to provide CCTV evidence to back up their claims.
He said he was unaware that Qatar shirts were banned in the UAE and said football fans "had to be careful".
"It's unbelievable that wearing a t-shirt is a crime," he said.
"It's freedom of support and freedom of speech."
Mr Ahmad added that he was "relieved" to be released and had followed Qatar's football team for many years, watching the team at the London 2012 Olympics
In its advice for visitors to the UAE, the Foreign Office warns that anyone "showing sympathy for Qatar on social media or by any other means of communication could be jailed or handed a 'substantial' fine".
The laws were introduced after the UAE joined Saudi Arabia, Bahrain and Egypt in cutting ties with Qatar in 2017 over allegations the oil-rich state supports Islamic extremists. Doha denies the charges.