The brother of an Australian cricket star has been charged by police after he allegedly planted a note detailing a fake terror plot in order to frame a love rival.
Arsalan Khawaja – the brother of Pakistani-born batsman Usman Khawaja – was arrested by counter-terror investigators in Parramatta, west of Sydney, on Tuesday morning.
Police have confirmed that he has been charged with forgery and attempting to pervert justice with regards to a false document containing information on a scheme to target senior politicians and major monuments.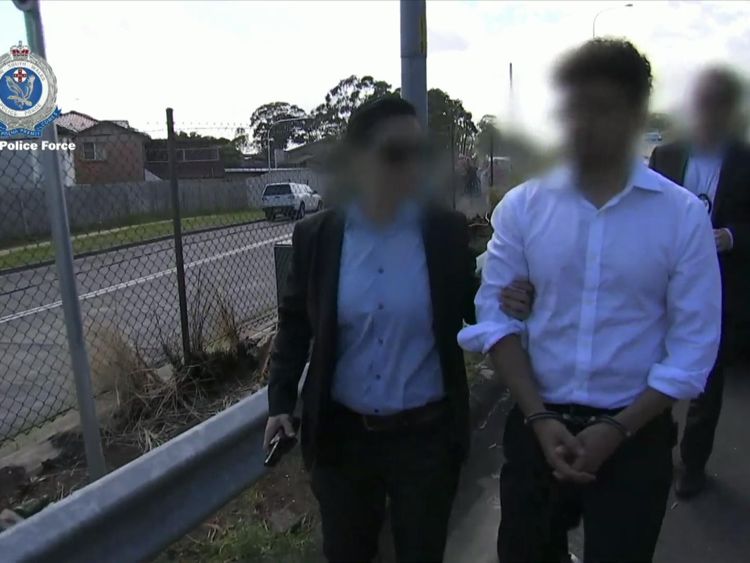 The bogus hit list – which included former prime minister Malcolm Turnbull and the Sydney Opera House – was found in a notebook at University of New South Wales on 30 August.
Its alarming discovery led to the wrongful arrest of PhD student Mohamed Nizamdeen, but the case against him was dismissed after officers were left unable to link the handwriting on the notebook to him.
Assistant police commissioner Mick Willing told reporters that Mr Nizamdeen, 25, had been the victim of a "planned and calculated" ruse, which he said was "motivated, in part, by a personal grievance".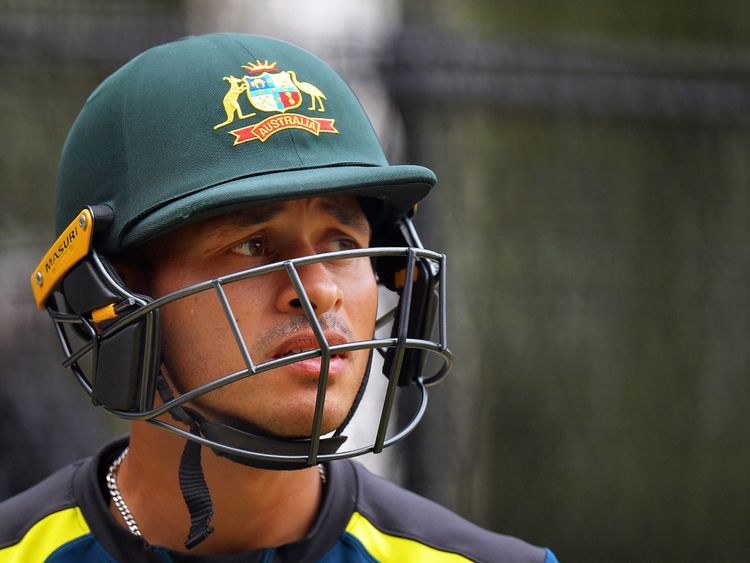 The Sydney Morning Herald is among the Australian news outlets reporting that the ill feeling between the pair was over a woman they both liked.
According to the Herald, Mr Nizamdeen is now suing police over his arrest, claiming the authorities were "immature" and "unprofessional" in the way they treated him.
Mr Willing said: "We regret the circumstances which led to him being charged and the time he subsequently spent in custody. We feel very sorry for him and what happened to him."
Khawaja, meanwhile, has already made his first court appearance and was granted bail with conditions, including surrendering his passport, not going within 100 metres of the university, and a $50,000 (£28,931) surety.
The 39-year-old is also required to report to Parramatta police station three times a week and is barred from contacting people who may be called as witnesses, with his next court date set for 12 February.
His brother offered little in the way of comment when quizzed by Fox Sports ahead of Australia's upcoming test match against India in Adelaide.
The cricketer said: "Out of respect for the process it'd be inappropriate for me to make any further comments."
Austrian vice chancellor Heinz-Christian Strache quits over 'corruption' video | World News
Austria's vice chancellor has resigned after footage of him seeming to offer lucrative German contracts to a potential Russian benefactor were published in newspapers this week.
At a news conference, Heinz-Christian Strache told reporters he was set up illegally, and claimed the publication was a "political assassination".
But he did admit his behaviour in the video was "stupid, irresponsible and a mistake".
The scandal has increased speculation around the future of Austria's governing coalition between Mr Strache's anti-immigration Freedom Party and Chancellor Sebastian Kurz's centre-right People's Party.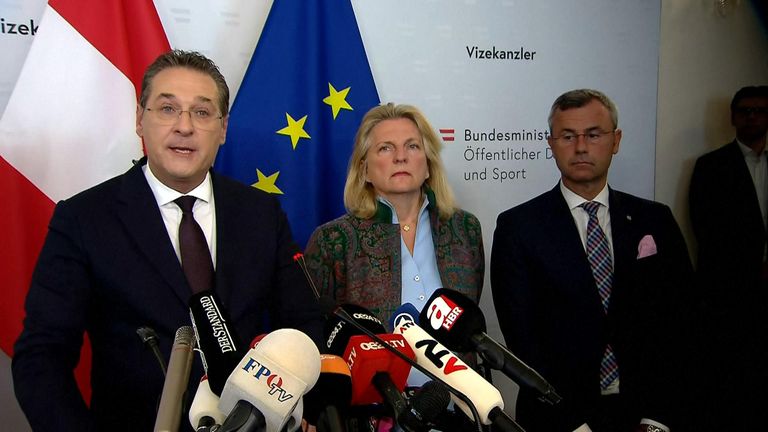 Chancellor Kurz has not yet spoken publicly about the scandal but scenarios could involve replacing Mr Strache in the cabinet with another party member, or there could be a call to end the coalition completely and hold new elections.
Mr Strache did say in his resignation statement that he was standing down so that the coalition could continue.
German newspapers Sueddeutsche Zeitung and Der Spiegel published parts of a covert video that allegedly showed Mr Strache offering government contracts to a woman from Russia, who was supposedly interested in investing large amounts of money in Austria.
In the clip, Mr Strache and party colleague Johann Gudenus can be heard telling the woman she would get big construction contracts, in return for buying an Austrian newspaper and supporting the Freedom Party.
Sueddeutsche Zeitung and Der Spiegel said the footage was authenticated by a forensic video expert.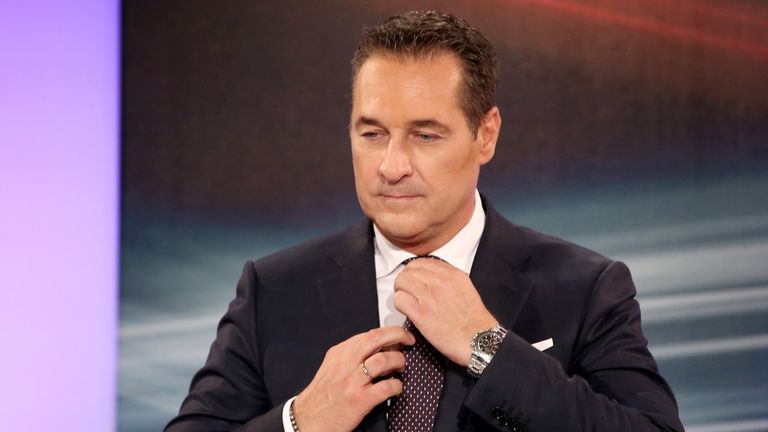 According to the newspapers, the video was recorded during a six-hour long drink-fuelled conversation at a villa in Ibiza.
The woman claimed to be the niece of a prominent Russian businessman.
As well as discussing investments, which included the sale of Austrian newspaper Kronen Zeitung, Mr Strache also suggested ways of funnelling money to his party through an unconnected foundation that would get around Austria's political donation rules.
Mr Strache said there was no more contact with the woman and there were on financial contributions.
Arnold Schwarzenegger kicked to the floor at event in South Africa | World News
Bodybuilder and actor Arnold Schwarzenegger has been attacked whilst out at an event in South Africa, footage shows.
In a clip that emerged on Saturday, Schwarzenegger can be seen at the Arnold Classic Africa event in Johannesburg when someone runs up behind him and kicks him in the back.
The two-footed blow caused the Austrian to fall forward into a crowd of people and hit the ground.
Shortly after the incident, the 71-year-old re-takes his seat at the side of the court, seemingly unfazed by the attack.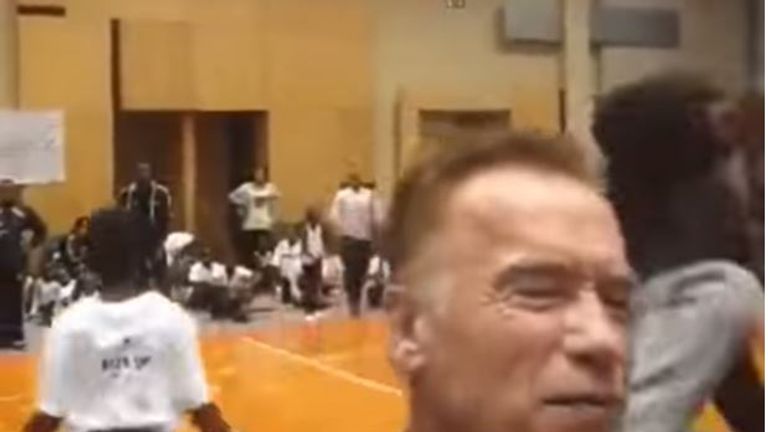 Responding to the incident, he tweeted saying: "Thanks for your concerns, but there is nothing to worry about. I thought I was just jostled by the crowd, which happens a lot.
"I only realized [sic] I was kicked when I saw the video like all of you. I'm just glad the idiot didn't interrupt my Snapchat."
Thanks for your concerns, but there is nothing to worry about. I thought I was just jostled by the crowd, which happens a lot. I only realized I was kicked when I saw the video like all of you. I'm just glad the idiot didn't interrupt my Snapchat.

— Arnold (@Schwarzenegger) May 18, 2019
The former California governor also posted a video of himself greeting fans outside the Sandton Convention Centre, where the event is being held.
A statement from the event organisers said he was "sadly and unexpectedly attacked by a crazed fan" after they had "breached security".
It added: "Sandton Convention Centre security responded swiftly by apprehending the offender and handing him over to police."
Wayne Price, organiser of the event said: "Arnold was in great spirits and very generous with fans and athletes alike.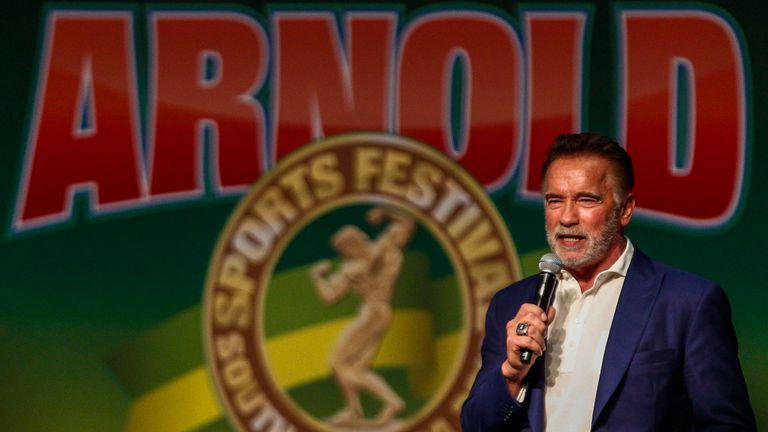 "Mr Schwarzenegger is fine and still in good spirits. He still carried on with the activities as planned and is fully taking this in his stride.
"He even joked that some people got more excited than others."
The event organisers confirmed that Schwarzenegger would not be pressing charges and sees the event as "as unfortunate incident by a mischievous fan".
Surprise election win for Australia's Liberal Party-led coalition | World News
Australia's opposition Labor Party leader Bill Shorten has conceded defeat in the country's election.
Mr Shorten told supporters in Melbourne: "Without wanting to hold out any false hope, while there are still millions of votes to count and important seats yet to be finalised, it is obvious that Labor will not be able to form the next government."
Exit polls had favoured the Labor Party but, despite significant gains in New South Wales and Victoria, Mr Shorten's bid to become Australia's sixth prime minister in six years fell short.
With more than half of the votes counted, the coalition government was heading for a surprise win, although whether it can govern with an outright majority is not yet clear.
By late Saturday, the Liberal-National coalition had won 74 seats in the 151-seat lower house, with 65 going to Labor and 12 undecided, according to the Australian Broadcasting Corp.
A total of 76 seats are needed to form a majority government.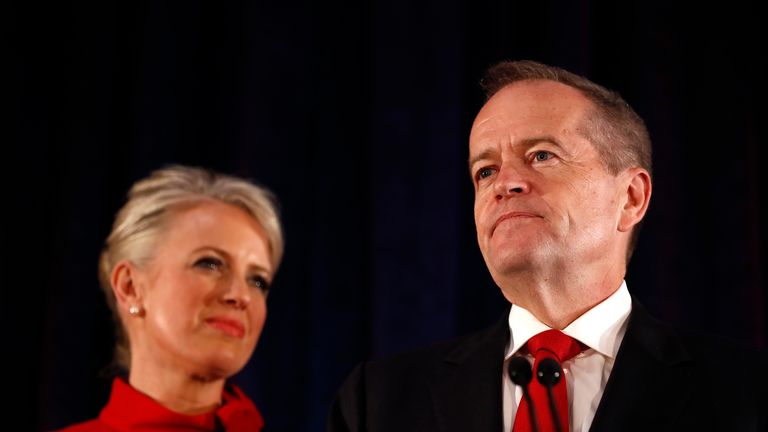 Mr Morrison had campaigned on income tax cuts and the risk to the economy posed by Labor, and his party made important gains in the states of Queensland and Tasmania on the way to victory.
Speaking to supporters after the result, he said: "I have always believed in miracles."
"Tonight is not about me or even the Liberal Party but it's about every single Australian who depends on their government to put them first and so, friends, that's exactly what we're going to do."
But the Liberals did lose at least one big name: former prime minister Tony Abbott, who lost his seat of Warringah after 25 years.
His opponent, independent candidate Zali Steggall, has previously said she would vote with the Liberal coalition on confidence and supply but that she wanted more ambitious action on climate change, one of the election's big issues.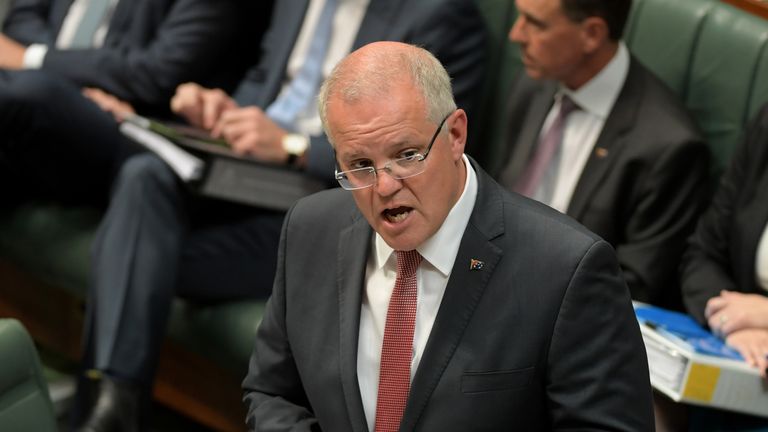 Australia is the world's largest exporter of coal and liquefied natural gas. It is also very dependent on coal-fired electricity.
But the country also suffers heavily from bushfires, record high temperatures, drought, and damage to its coral reefs.
Mr Morrison, a supporter of the coal industry, had vowed to uphold Australia's commitment to the 2015 Paris Accord (which would see the country's emissions cut by 26-28%) but said any further cuts would hurt the economy.
Mr Shorten, a former union leader, had said his government would aim to cut carbon emissions by 45% from 2005 levels by 2030, with net zero emissions by 2050.
Voting is compulsory for Australia's 17 million eligible voters.
There were more than 7,000 polling stations across Australia and another 90 overseas. The Australian High Commission in London said there had been more than 10,000 votes cast by Australian citizens in the UK by Friday lunchtime.