Michelle Obama says one of her main aims throughout her years as first lady was to not fall over and become a meme.
In an honest, funny account of her life and her time in the White House, Mrs Obama spoke frankly about the challenges she faced as the first black first lady – and that even one of the most famous women in the world still worries about falling over and looking stupid.
But she was far from making herself look anything but brilliant if the cheers and standing ovations at London's Royal Festival Hall were anything to go by.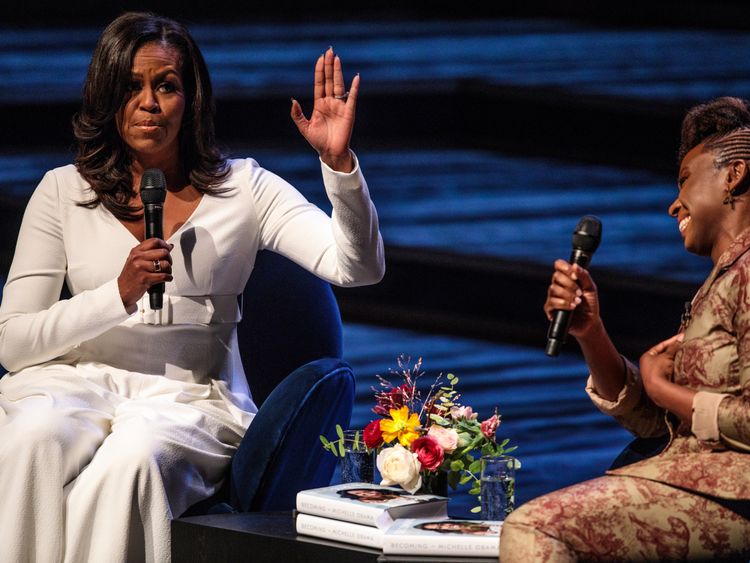 Speaking to author Chimamanda Ngozi Adichie at the event, Mrs Obama recounted events that led to her publishing her first book, Becoming – from growing up in Chicago's South Side, to marrying the man she mentored at a law firm after getting her law degree.
That man, named Barack, was late on his first day.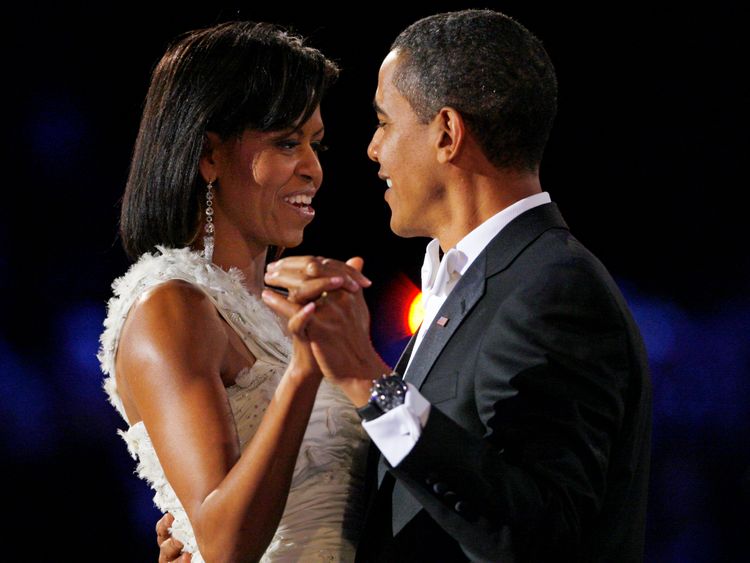 On growing up in a working class family with not a lot of money, Mrs Obama said one of the most valuable things she was taught as a child was that her feelings were important.
"My mother said I'm raising adults, I'm not raising babies," she recalled.
"It was never 'speak when spoken to', she encouraged us to let our voices be heard.
"My parents believed my voice was relevant and my opinions were meaningful and my anger and frustration was real.
"That was the gift they gave me. They kept my flame lit – even though some people put that flame out or douse it because were scared they may not be ladylike."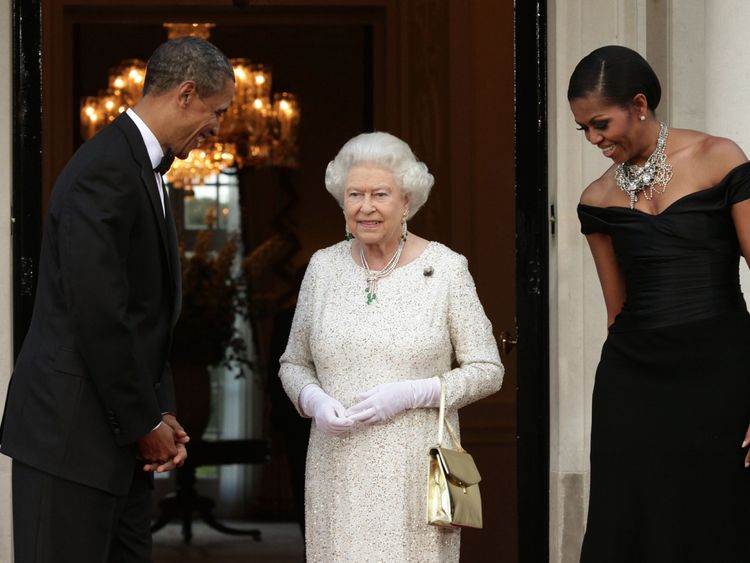 And of course, she told of the moment that she breached protocol and touched Her Majesty.
She said: "I touched her! After all those protocol lessons, I was human."
But in all the trials and tribulations that come with being first lady, Mrs Obama said "if you wanted to know what I thought about" – it was falling over.
"One or my primary goals for the eight years was to never become a meme," she admitted.
She also spoke of her marriage and how the former president treats her with love and respect, and had a few tips for the men who came to see her.
"He doesn't play games fellas, that's a very attractive quality," she said.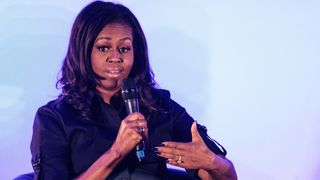 Michelle LaVaughn Robinson Obama is much more than a former first lady, and that is the message she wanted to hammer home.
Although she was thrust into the spotlight as the president's wife, she wants to tell all women and young people that it's not about where they started, and they can build their own dreams like she did – even as the wife of one of the world's most powerful men.
"I didn't want to become an appendage to his dreams," she said.
"I didn't want to follow his jet stream. I wanted my own identity so I wouldn't get lost in his journey."
Football star Ada Hegerberg asked to twerk after inaugural women's Ballon d'Or win
French DJ Martin Solveig has been accused of sexism after asking Norwegian striker Ada Hegerberg if she could twerk just moments after she won the inaugural women's Ballon d'Or award.
The 23-year-old – who scored 15 goals for Lyon during a triumphant Champions League campaign last season – was encouraged to perform the provocative dance move as she gave her acceptance speech.
She replied "no" and turned away from the podium as Solveig laughed off her answer, as other footballers in the audience looked on in bemusement.
Lyon striker Ada Hegerberg, first female Ballon D'Or winner after scoring over 250 career goals at the age 23, asked to twerk on stage in front of footballing giants and the public watching. Disgusting and really ruined her moment she deserved. Poor. pic.twitter.com/FSz0ozz2T4

— Sean (@SeanWalkerSport) December 3, 2018
The bizarre incident has sparked outrage among fans online, with Solveig – who has apologised for causing offence – coming under heavy criticism for his "sexist", "disrespectful" and "disgusting" request.
One viewer, Sean Walker, tweeted: "Lyon striker Ada Hegerberg, first female Ballon D'Or winner after scoring over 250 career goals at the age 23, asked to twerk on stage in front of footballing giants and the public watching.
"Disgusting and really ruined her moment she deserved. Poor."
Football journalist Siavoush Fallahi added: "What kind of question is this? And why are these guys laughing? This is disgusting, I'm so sorry for Ada Hegerberg."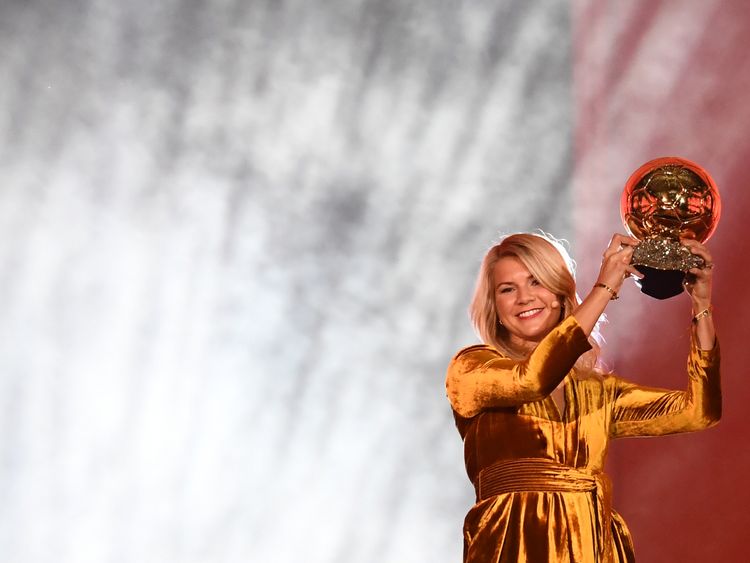 Responding to the criticism, Solveig tweeted: "Sincere apologies to the one I may have offended.
"My point was: I don't invite women to twerk but dance on a Sinatra song. Watch the full sequence. People who have followed me for 20 years know how respectful I am especially with women.
"I explained to @AdaStolsmo the buzz and she told me she understood it was a joke. Nevertheless my apologies to anyone who may have been offended. Most importantly congratulations to Ada."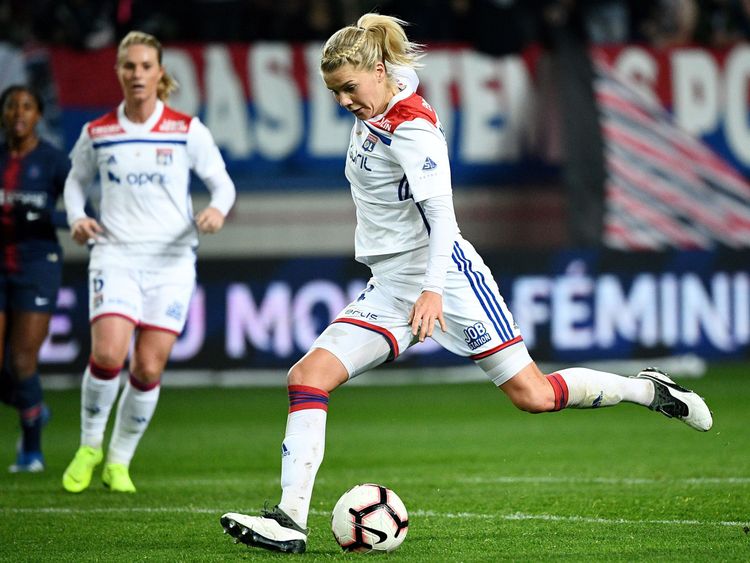 Hegerburg claimed the award – voted for by journalists – after seeing off Wolfsburg and Denmark forward Pernille Harder, German midfielder Dzsenifer Marozsan, and England and Lyon defender Lucy Bronze.
It recognises her as the best female footballer in the world.
In her acceptance speech at the ceremony in Paris, she said: "I want to say thanks to my teammates because this would not have been possible without them, my coach or our president Jean-Michel Aulas.
"I also want to thank France Football. This is a huge step for women's football.
"And to young girls all over the world, please, believe in yourself."
France Football has handed out a men's Ballon d'Or every year since 1956 and the 2018 edition marked the first time in a decade that it had been won by someone other than Lionel Messi or Cristiano Ronaldo.
Luka Modric won the award after helping Real Madrid to another Champions League trophy, before inspiring Croatia to an unlikely appearance in the World Cup final.
Cristiano Ronaldo came second and Antoine Griezmann – who was part of the France team that beat Croatia to the biggest prize in football – came third.
His countryman Kylian Mbappe won the inaugural Kopa Trophy for the best male player aged 21 and under.
Christmas may be 'lost' with firms fearing billions of losses as shoppers stay away
The Christmas shopping surge in Paris may already be "lost" as businesses fear warzone-like scenes in the French capital will deter visitors and cost them billions of euros.
Tear gas, stun grenades and water cannon were used during violent protests over the weekend which saw more than 130 people injured and 412 people arrested.
Cars were torched, shops smashed up and rocks hurled at police as "yellow vest" protesters rampaged in the streets around the Arc de Triomphe and the Champs Elysees.
French finance minister Bruno Le Maire met business leaders on Monday and said the impact was already "severe and ongoing", with shops and restaurants reporting takings down between 20 and 50%.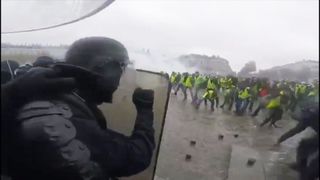 Hotel reservations have slumped 15 to 25%, he added.
Retail groups say the lucrative festive period, when takings normally jump dramatically, could have been dealt a killer blow by the anarchic scenes broadcast around the world.
"The lost revenue and losses, especially in food services, is going to be in the billions of euros," said Jacques Creyssel of the FCD retail federation.
Saturday's protest had "decimated the welcoming image of Paris and France," said Roland Heguy of the CAT tourism federation, warning that this Christmas season was "at risk, if not already lost".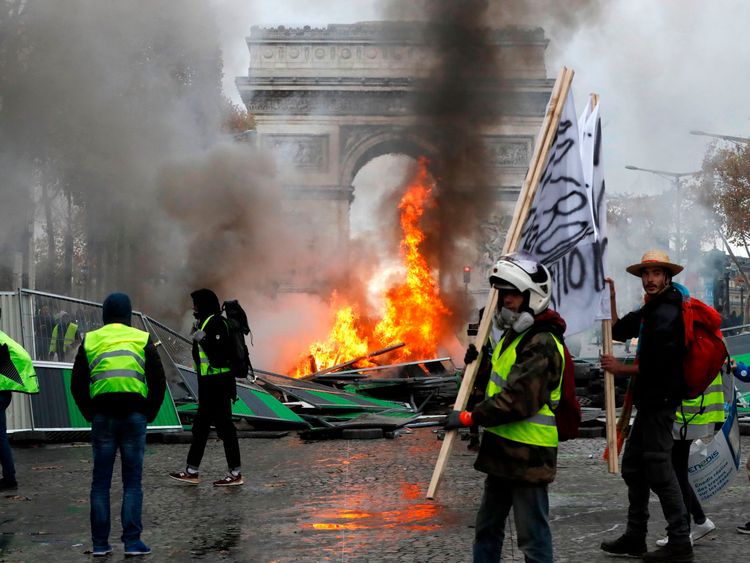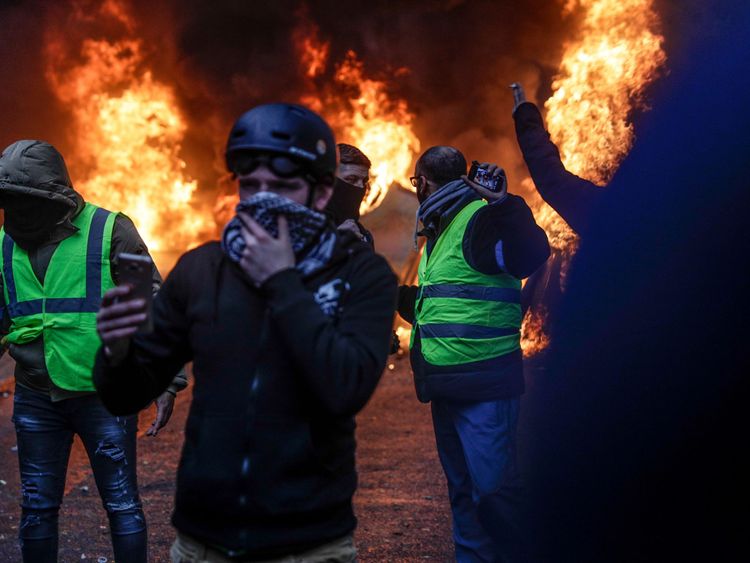 A manager of the Alsace brasserie on the Champs Elysees told Le Parisien he had lost €50,000 on Saturday after evacuating customers through a back door and closing for the day.
With protests taking place across the country, Oil giant Total said 75 of its petrol stations had run dry as demonstrators blocked access to 11 fuel depots.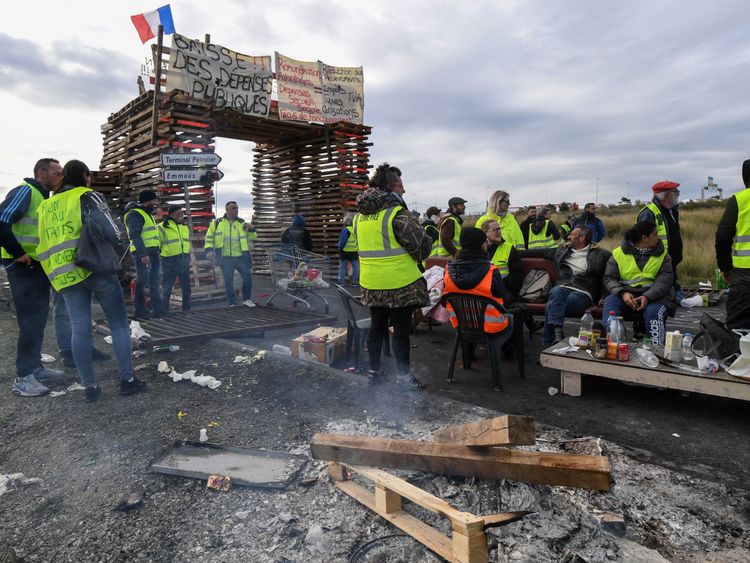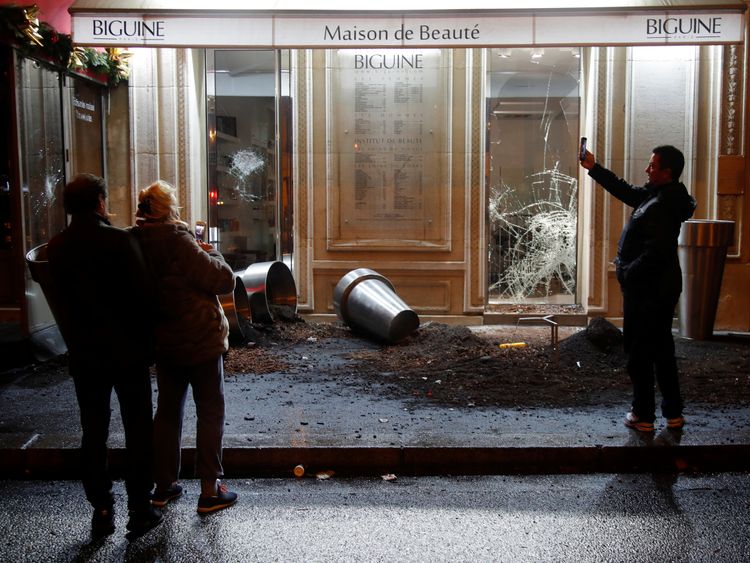 President Emmanuel Macron – who has cancelled a trip to Serbia over the unrest – said people "shouldn't underestimate the shock to people, in France and abroad, of seeing in the media what looked like war scenes".
The protests started nearly three weeks ago as a response to green taxes on diesel that have pushed up the cost for many drivers, with another hike due next month.
However, people are now taking to the streets in cities across the country over the general rise in the cost of living and a feeling that President Macron is out of touch with normal people.
Saturday's violence is believed to have been fuelled by far-left and far-right activists, some of whom wore gas masks as police responded with tear gas.
Paris's police chief said officers fought demonstrators who were carrying hammers, gardening tools, bolts, aerosol cans and rocks.
Mandela charity concert featuring Beyonce and Jay Z marred by muggings
A spate of muggings marred a charity concert at which Beyonce, Jay-Z and other stars performed in honour of Nelson Mandela.
Tens of thousands flocked to the FNB Stadium in Johannesburg on Sunday for a music festival also featuring Usher, Pharrell Williams, Oprah Winfrey and South African President Cyril Ramaphosa.
But muggings tarnished the Global Citizen Festival: Mandela 100 event, which campaigns for girls' education and an end to extreme poverty. Many members of the audience got tickets to the concert through charity work.
While the majority got home safely afterwards, others were targeted by thieves as they left the stadium.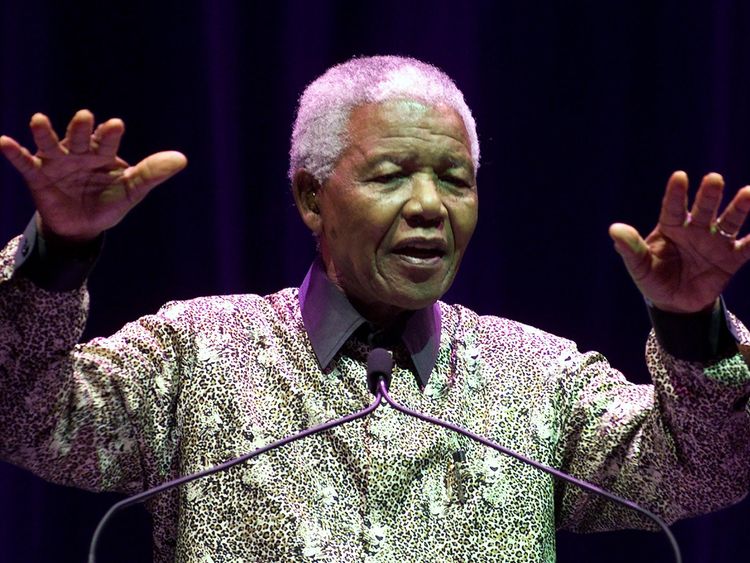 "The criminals were basically having a field day," said Zikhona Tshona, a reporter for the South African news organisation eNCA.
"People's bags are getting snatched, people are losing their phones, people are fighting in the midst of us looking for an Uber," a reveller said in a video posted on YouTube.
He said there was a stampede when someone pulled out a gun.
The Global Citizen and another group backing the concert, the House of Mandela, said it was "saddened to hear the challenges people had while leaving the venue."
It said it urged South African police "to act swiftly and efficiently."
Police arrested one suspect after a mobile phone was stolen, Brigadier Vish Naidoo said.
"We find that there's a lot of communication taking place on the social media platform, but that is not being reported to us," said Mr Naidoo.
He added that it is therefore "very difficult for us to deny or even confirm that such things have happened."
In 2013, thieves stole cash takings at the stadium after a Justin Bieber concert.