British yachtswoman Susie Goodall must wait until Friday to be rescued after her boat was "destroyed" while she competed in a 30,000-mile round-the-world race.
The 29-year-old was about 2,000 miles west of Cape Horn in the southern Pacific Ocean when she lost her mast during a "ferocious" storm.
She was lying in fourth place in the Golden Globe Race when 60-knot winds and "massive seas" damaged her Rustler 36 yacht DHL Starlight on Wednesday.
She said she was "thrown across the cabin and was knocked out for a while".
Goodall, from Falmouth in Cornwall, tweeted the boat was "unbelievably roly" and she was "totally and utterly gutted".
She later added: "This motion is just horrible! Clinging on in my bunk."
"In need of a good cuppa tea! But sadly no cooker."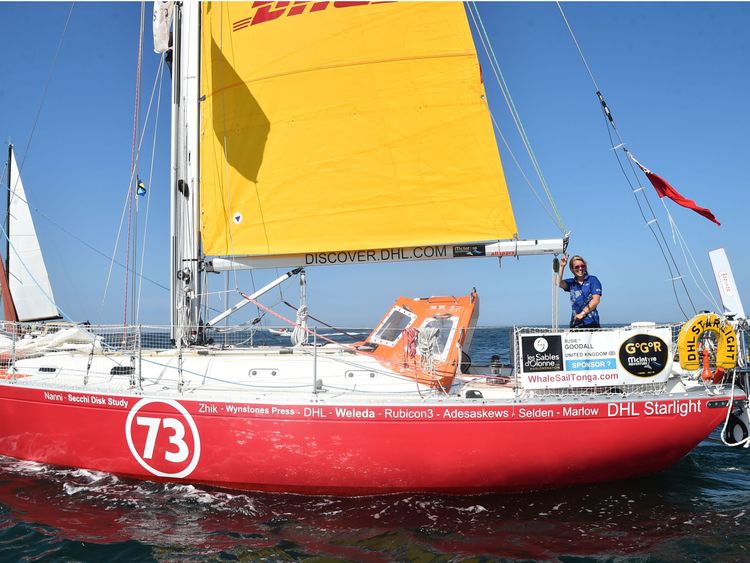 A distress signal from her yacht was first picked up by the Falmouth coastguard.
They alerted race control and the Chilean maritime search and rescue authorities who are responsible for that sector of the Pacific.
The authorities have contacted a ship 480 miles south-west of Goodall's position and asked for help. The crew expects to reach the area on Friday.
Goodall has been contacted on her emergency satellite phone by race officials who said she was "safe and secure onboard".
She said: "I have been dismasted. Thought I had holed the hull because the boat filled with water, but the hull is not holed. The hull is OK.
"The boat is destroyed. I can't make up a jury rig. The only thing left is the hull and deck which remain intact.
"We were pitchpoled [rolled end over end] and I was thrown across the cabin and knocked out for a while."
Goodall is the youngest and only female competitor taking part in the non-stop around the world yacht race, which sees competitors sail single-handedly, abandoning any form of modern technology or satellite navigation equipment.
Competitors set off from France on 1 July and it is expected to take around nine months to complete.
The last time the race took place was in 1968. Sir Robin Knox Johnston was the only person to finish back then.
Eighteen sailors took part in this year's 30,000-mile race.
But more than half of the competitors have now dropped out, with many being dismasted.
'She sounded largely unrepentant': What happened when Sky News tracked down Shamima Begum | World News
We had just about given up in the al-Hawl displacement camp in northeastern Syria.
It is not an easy place to get to but we had made the trip in the hope of speaking to the British teenager Shamima Begum.
She arrived at the camp two weeks ago after fleeing the village of Baghouz where IS is making its last stand.
We spoke to the facility's manager and drank a cup of tea – and another one.
He said they were looking for her in the camp, which now houses 40,000 people, but they were having trouble finding her.
It was the work of The Times reporter Anthony Loyd that had brought us there.
In his interview with the 19-year-old, conducted last week, she had sounded largely unrepentant.
Life under IS had been "normal", she said. The sight of a severed head in a dustbin, "didn't faze me at all".
Critically, the teenager said she wanted to come back to Britain.
She was pregnant and wanted to bring up the child there.
:: Read the full interview transcript here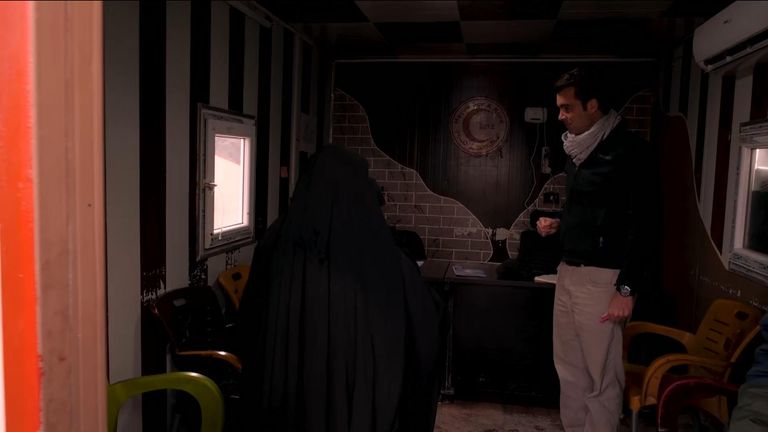 Her comments generated a furious debate in the UK.
Some say Shamima Begum should be banned for treason – others argue she deserves a second chance.
Top politicians have also weighed in with Home Secretary Sajid Javid promising that he "will not hesitate" to keep people like the 19-year-old out of the country.
I had my own list of questions for her.
Was the former Bethnal Green schoolgirl aware of the national debate now centring on her future?
Would she choose a more apologetic approach when explaining her involvement in IS?
Most importantly perhaps, did she think she could be rehabilitated?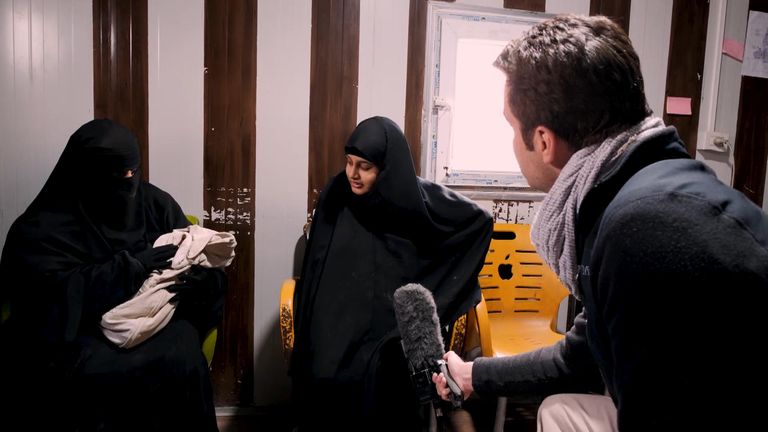 After three hours or so at the camp office I did not think I would get a chance to ask her those questions, but we heard a whisper from a camp worker that she might have been taken to a local hospital for treatment.
We walked over the place where the ambulances are parked and my colleague poked his head in a portacabin.
Shamima Begum was there, sitting on a table, a few hours after giving birth to a baby boy.
"Would you like do an interview?" asked my colleague.
"We are from Sky News."
"No way. Really?" came the response in an earthy London accent.
We spoke to the teenager for about 15 minutes and she answered my questions clearly and confidently.
For someone who had fled a war zone and just given birth, she struck me as stoic and composed – but she seemed utterly unaware of the implications of her decisions since leaving London in 2015.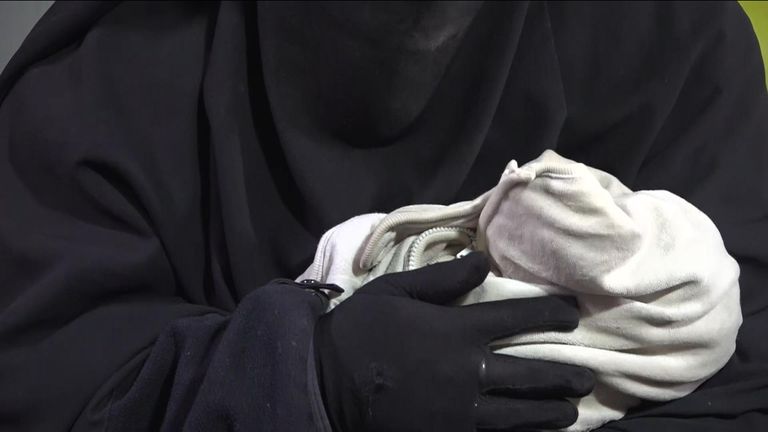 In our interview she described life in IS like this: "It was nice. It was like how they showed it in the videos – come make a family together."
She also felt that people in Britain would welcome her back. She said: "A lot of people should have sympathy towards me for everything I've been through. I didn't know what I was getting into when I left and I was hoping that for the sake of me and my child, they could let me come back."
What struck me, more than anything perhaps, was her honesty.
I have interviewed former IS soldiers and family members on previous assignments and they tend to skate over their personal actions – and disown the organisation as a whole.
But Shamima Begum does not. She embraced life in IS. She was happy.
She says she married a wonderful man in IS (27-year old Dutchman called Yago Reidijk, now being held in a Kurdish prison).
For parliamentarians and ministers and the public-at-large, this poses a huge challenge.
What are our obligations to Shamima Begum – a young woman and British citizen – who is not ready to apologise?
But if we do not take her, who will?
The Kurds in northern Syria are absolutely overwhelmed.
One this is certain. The rehabilitation of this 19-year-old will not be easy – something that she freely admits.
She said: "It would be really hard because of everything I've been through now.
"I'm still kind of in the mentality of planes over my head and (having) an emergency backpack.
"I think it would be a big shock to go back to the UK and start life again."
Manhole explosions force theatre evacuation of Jersey Boys show in Manhattan | US News
People in a theatre performance of Jersey Boys was forced to evacuate after a series of manhole explosions in midtown Manhattan.
The manhole fires began at around 8pm on Saturday at West 50th Street near Eighth Avenue, causing public confusion and disruption to train operations.
Emergency services attended the scene and the Fire Department said the fires were under control by 9.15pm.
Everyone who was at the theatre complex is unharmed, a representative for New World Stages said.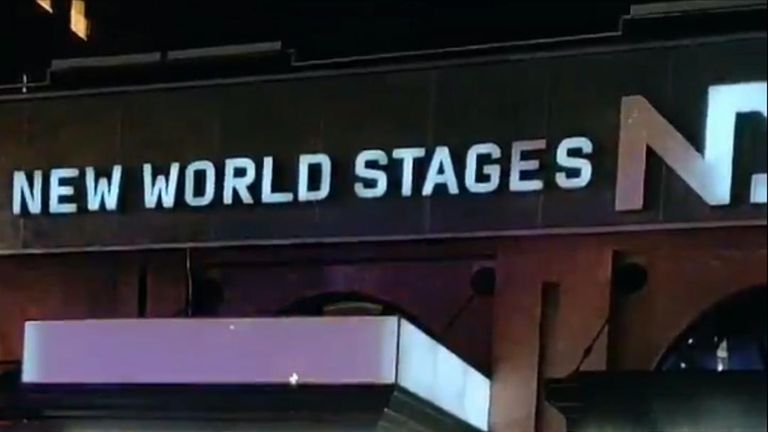 "All patrons, casts, crews and staff were evacuated as a precaution and performances were then cancelled. Thankfully, no one was hurt," said Michael Coco, senior director of theatre operations for the Shubert Organization.
A number of explosions were reported in the area, with some witnesses sharing clips on social media.
Photos posted on social media showed flames shooting into the air, while video footage shows a blaze from a manhole just outside the theatre complex.
One theatre-goer posted on Facebook: "As we were entering the building, there was a big boom. No idea what it was, but they kept letting people in.
"Right when the show was supposed to start, they announced they had to evacuate the theater. So now we're outside with the other four shows that are performed in the same theater."
They later updated the post with: "All shows in the building cancelled."
NYC tonight: Heard 4 or 5 bangs/explosions. Strong gas/smoke smell. Most police/fire activity focused around 50th btwn 8th & 9th. Per previous tweet, was inside @newworldstages and heard deep thud/bang, saw window blown out. This was manhole outside, blueish flames issuing forth pic.twitter.com/k95CO2tTQP

— Tim Teeman (@TimTeeman) February 17, 2019
Tim Teeman, a senior editor at the Daily Beast, wrote on Twitter that he was inside the theatre complex when he heard "4 or 5 bangs/explosions" and could smell smoke.
Other cancelled plays of the night included The Play That Goes Wrong, Puffs and A Spirited History of Drinking.
The Citizen safety network app shared clips of the blaze on Twitter, reporting: "police are blocking off traffic on W 50th St from 8th Ave to 9th Ave."
Subway trains skipped the 50th Street station nearest the explosions while firefighters investigated.
The cause of the fires was not known.
Two dozen bodies recovered from flooded illegal Zimbabwe gold mine | World News
The bodies of 24 illegal gold miners have been recovered from flooded tunnels in Zimbabwe after a dam wall collapsed following heavy rain.
Up to 70 may have been trapped in the mine and the search near Kadoma continues, the government said. It has declared a national disaster.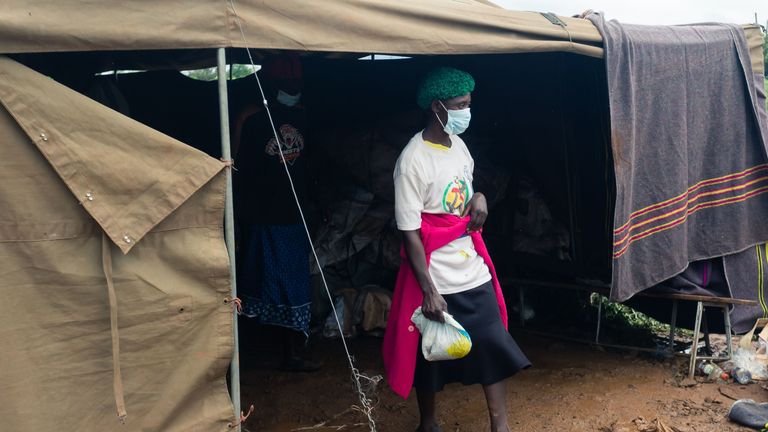 Eight people were rescued, all but one of whom have been discharged from hospital.
Henrietta Rushwaya, who leads the country's small-scale miners' association, said 23 of the bodies had been identified.
According to the government's deputy chief mining engineer, "it doesn't seem likely" that there are any other survivors.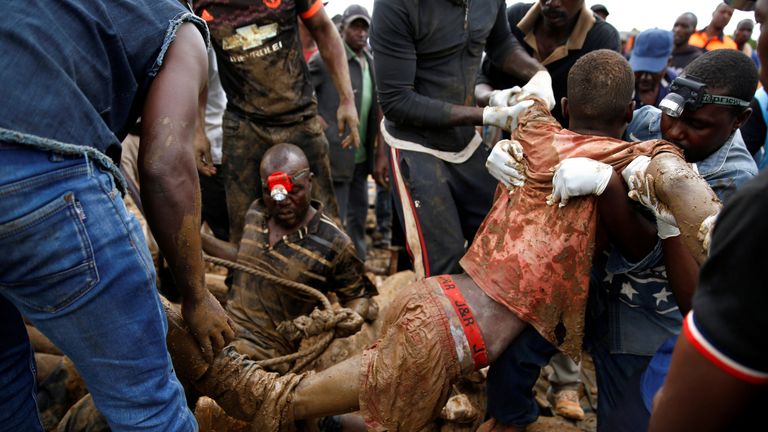 The disaster happened in Battlefields – a small settlement 110 miles west of Harare that is rich in gold deposits and popular with illegal miners.
Friends and relatives have broken police lines in an attempt to identify their loved ones.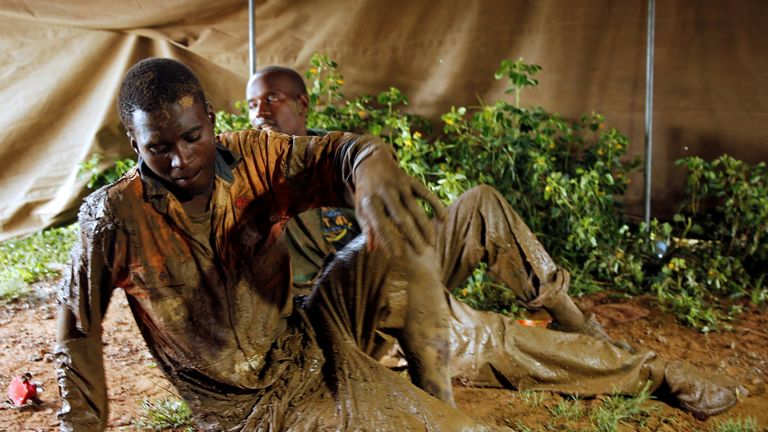 The makeshift shafts and tunnels, some running as deep as 50m (164ft), can easily collapse in the rainy season when the ground is soft.
According to the Zimbabwean government, $200,000 (£155,000) is needed to complete the rescue effort – with a spokesman urging "well-wishers" to donate body bags, masks and gloves.