Paris police have urged shops and restaurants on the Champs-Elysees to close ahead of new protests against embattled president Emmanuel Macron.
A dozen museums have announced weekend closures following vandalism and clashes with police during the "yellow vest" riots last week.
Shops, restaurants and other businesses are expected to shut on the famous avenue during one of the busiest shopping periods of the year before Christmas.
Authorities warned that another wave of "great violence" and rioting could be unleashed in the French capital despite Mr Macron's surrender over a fuel tax hike.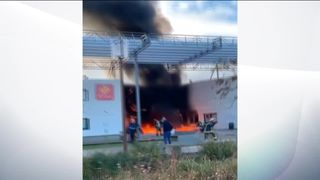 The Paris Opera has cancelled planned performances at two sites in the city, and two theatres also plan to close.
The Arc de Triomphe remains closed since last weekend's protest damaged the monument, while two music festivals have also been postponed.
The Louvre Museum and the Eiffel Tower still plan to remain open.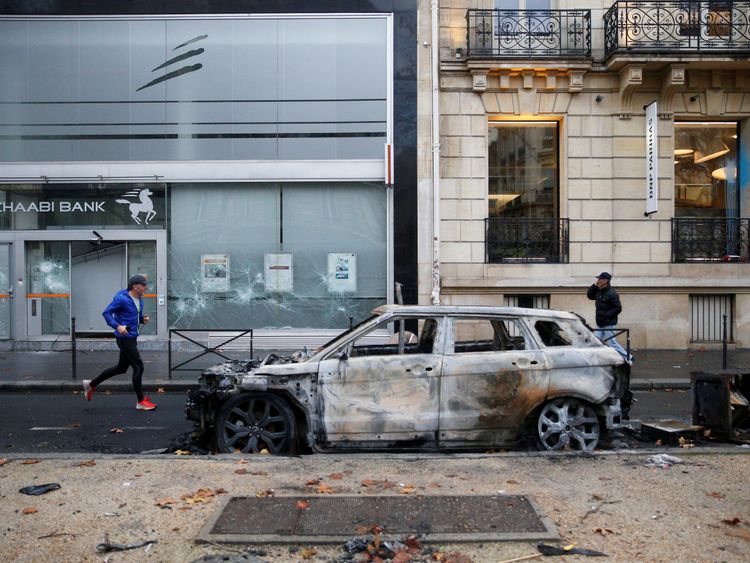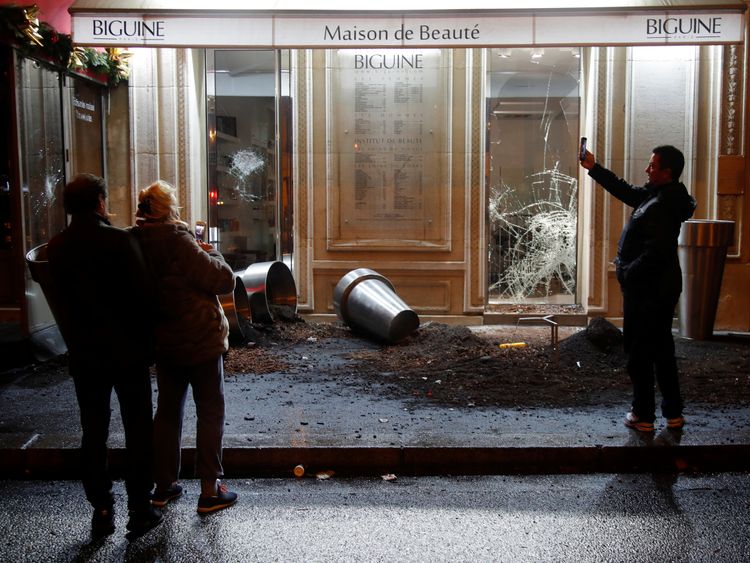 Many stores were smashed and looted during the capital's worst rioting in decades, which saw more than 130 people injured and 412 people arrested.
Tear gas, stun grenades and water cannon were used and cars were torched, while rocks were hurled at police as protesters rampaged in the streets around the capital's tourist landmarks.
Mr Macron is promising "exceptional" security measures for the planned protests amid fears that radicals and troublemakers will take advantage to seed chaos.
Nationwide, 89,000 security force members will be deployed – 8,000 of them in Paris.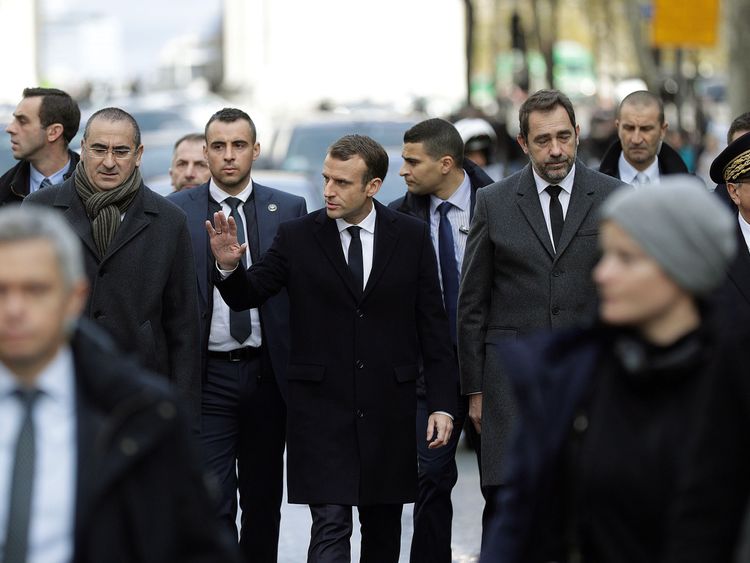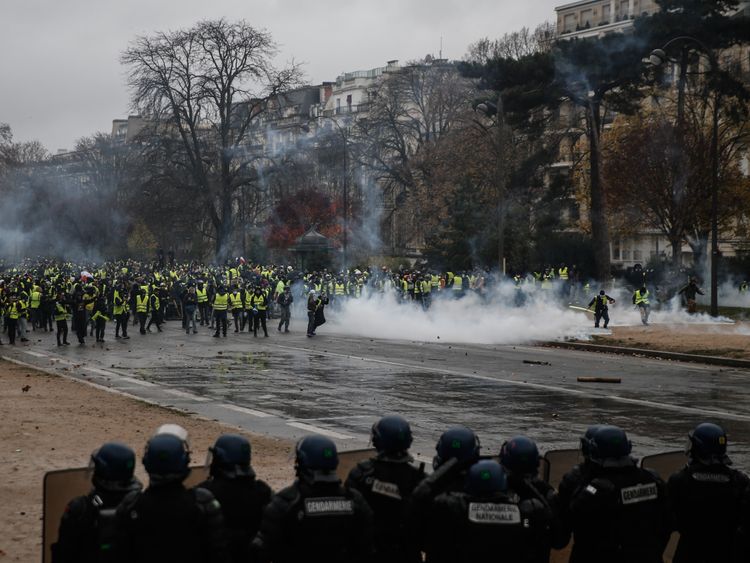 Speaking Thursday to lawmakers, the France's prime minister Edouard Philippe said the government is taking "all measures necessary" to secure the protests.
Mr Philippe urged "yellow vest" protesters to stay home for their own protection from those who could hijack the rallies.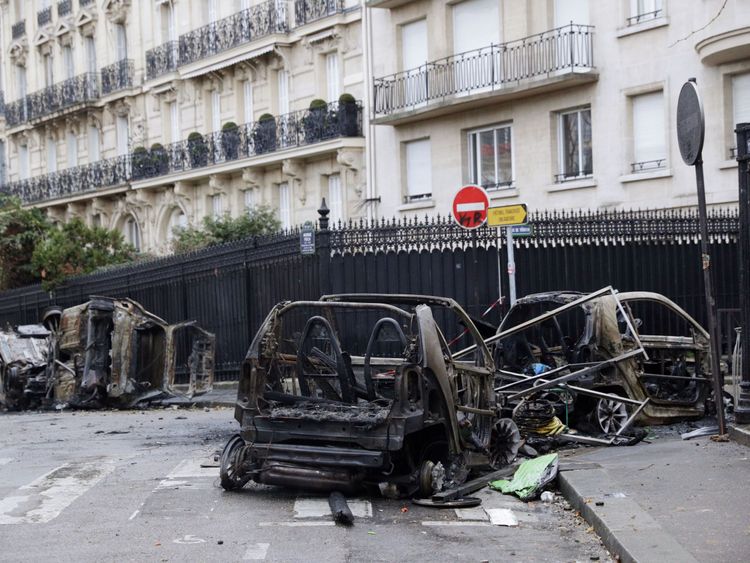 The protests started around three weeks ago as a response to green taxes on diesel that have pushed up the cost for many drivers, with another hike due next month.
On Wednesday, Mr Macron agreed to abandon the fuel tax hike.
However people are now taking to the streets in cities across the country over the general rise in the cost of living and a feeling that the president is out of touch with normal people.
Mr Philippe acknowledged that government's dramatic concession over fuel tax rise "doesn't respond" to all the protester's concerns.
Earlier this week, finance minister Bruno Le Maire said shops and restaurants reported takings down between 20% and 50% – with the Christmas shopping surge in Paris feared "lost".
A manager of the Alsace brasserie on the Champs Elysees told Le Parisien he had lost €50,000 (£44,508) on Saturday after evacuating customers through a back door and closing for the day.
Pig hearts transplanted into baboons
Pig hearts have been transplanted into baboons – a development that could pave the way for humans to receive porcine organs in future.
Researchers from Germany, Sweden and Switzerland said two Anubis baboons had survived for six months, while another two lived for at least three months.
Previously, the longest a baboon had survived after such a procedure was 57 days.
Since then, genetic modifications have been made to the hearts and a new transplant technique has been developed.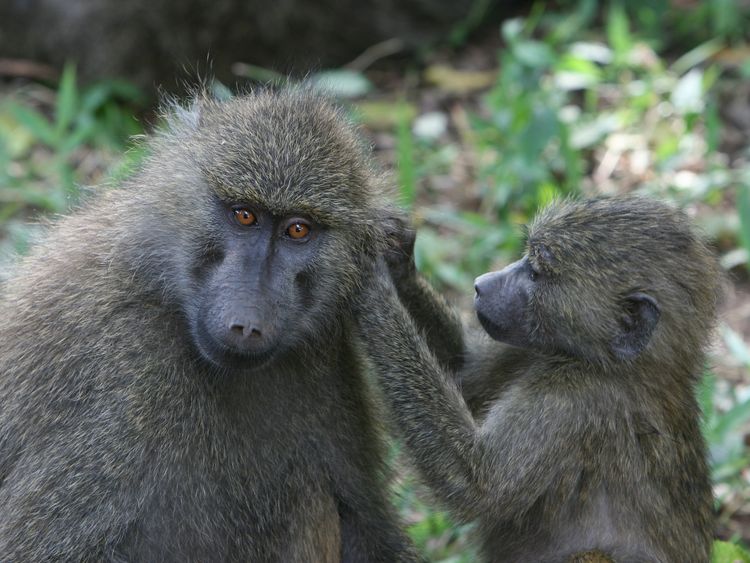 The pigs were modified so that they produced a human version of two proteins which block an immune response in alien cells.
It was also ensured that they generated thrombomodulin, which prevents blood from clotting after surgery.
The research team also stopped preserving donor hearts in cold storage and kept them at 8C instead.
Fluids containing oxygen, hormones, red blood cells and nutrients were circulated through them.
The baboons were given drugs to stop the pig heart growing too big, and to lower their blood pressure to match that of the pigs.
The transplant procedure was refined during three trials involving 14 baboons.
One of the five baboons in the final experiment had to be put down after developing a blood clot.
The transplantation of an organ between two different species – known as xenotransplantation – is thought to be one way of overcoming a shortage of organs for humans needing a transplant.
The scientists' findings were published in the Nature journal.
Woman faced 22 years in jail for criticising her government
After spending one year in a Rwandan prison waiting for the country's high court to decide on her case, Diane Rwigara feared the worst.
The 37-year-old told Sky News: "I will just have to accept it and go to prison because I guess that is the price that you pay for freedom."
The former financial accountant faced a 22-year spell in jail for "inciting insurrection" and "forgery" after she tried to run in last year's presidential election against Rwanda's long-time president Paul Kagame.
Her mother, Adeline, also faced a 22-year term after sending messages that were critical of the government on Whatsapp to her sister and a couple of her friends.
But in a surprise judgment, the court found that both members of the Rwigara family were innocent.
"All charges… have been dropped. The court finds that the prosecution charges were baseless," said one member of the three-judge panel.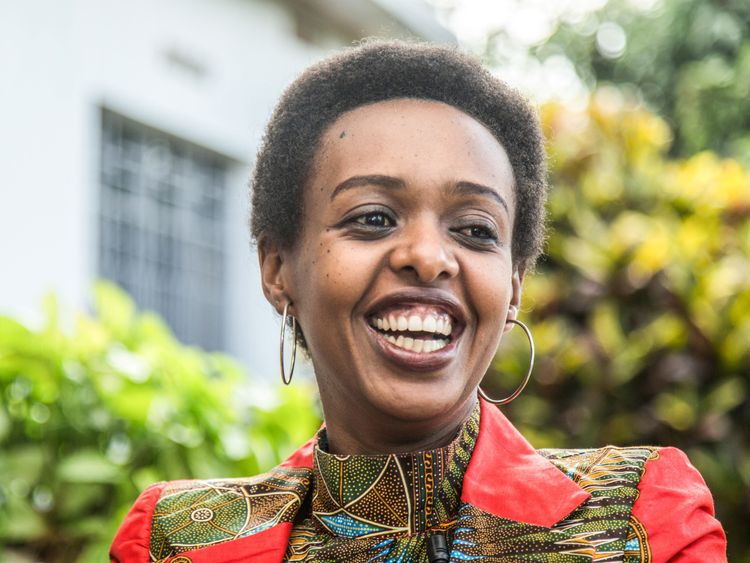 While the decision will come as a great relief to both women, it will not erase what the pair have been through.
Ms Rwigara's difficulties began when she declared her candidacy in Rwanda's 2017 presidential contest.
Her 44-year old campaign manager, Thadeyo Muyenzi, went missing and has still not been found.
Then, nude photos – purportedly of Ms Rwigara – were published and shared on social media.
Finally, the country's election board banned her from participating after they accused her of forging people's signatures in support of her bid. Kagame won a third term in office with 98% of the vote.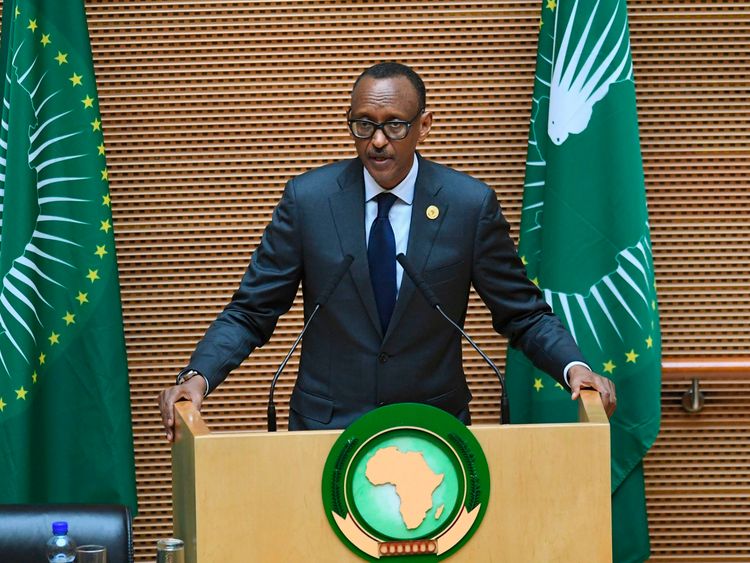 Undeterred, the budding politician launched her own political party called the People Salvation Movement, but the police raided the family home – detained the accountant and her mother for the following 12 months.
Speaking to Sky News hours before the verdict was announced, Ms Rwigara said she was targeted by the state because she is prepared to challenge Kagame and his ruling clique.
She added: "This is what happens when you dare to have a different political opinion – a different view from those in the government.
"This is what happens if you don't disappear like my campaign manager or get thrown into prison or lose your life. So yes, you do pay a price for speaking out in this country."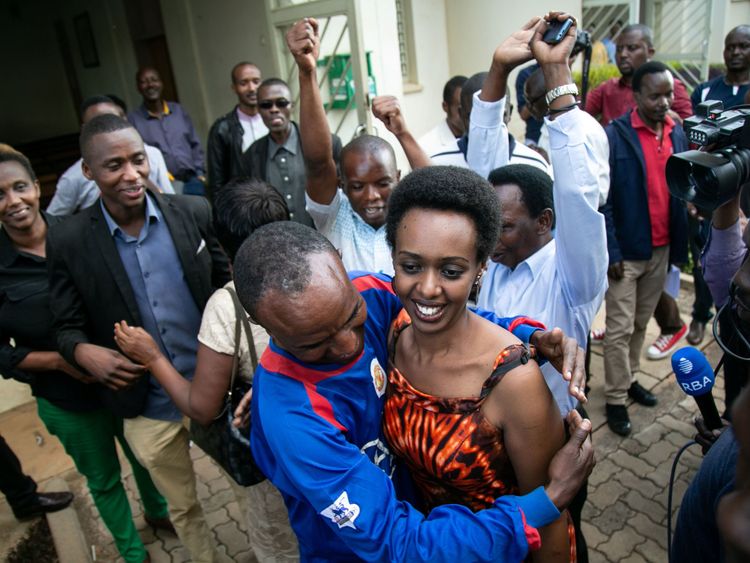 Paul Kagame, the country's towering, beanpole-like president, has been widely praised for his role in providing stability and economic growth after Rwanda's catastrophic genocide in 1994.
However, human rights groups and others have tired of his increasingly autocratic style.
Criticism of the government is rarely tolerated and in 2015, he engineered a constitutional amendment which means he can hold the presidency until 2034.
Amnesty International welcomed the court's verdict on Diane and Adeline Rwigara but called on the Rwandan government to do more to protect freedom of expression and political debate: "[They] should never have faced charges for expressing their views.
"We call on the Rwandan authorities to build on this judgment and work towards developing greater tolerance and acceptance of alternative and critical views."
Ms Rwigara, who is described as "fearless" by those close to her, is not about to apologise for attempting to hold Rwanda's leaders to account. Nor is she likely to stop trying.
"I speak the truth, that the system is built on a lie," she said. "They simply do not want to be exposed.
"The lie is that everything is well in Rwanda and I just talk about [the reality] which is the high level of unemployment, the high level of poverty, the disappearances, the killings, all that, and they are not ready for that to be exposed."
Death row inmate chooses electric chair over 'inhumane' lethal injection
An inmate in the US has chosen to be executed in the electric chair after arguing that lethal injections are not humane.
David Earl Miller will be the second person to die in the Tennessee's electric chair in recent months on Thursday evening.
The 61-year-old has been on death row for 36 years – the longest time a prisoner has waited for execution in the state.
Miller was convicted of first-degree murder for the May 1981 killing of Lee Standifer.
The 23-year-old woman, who was mentally disabled, was repeatedly beaten, stabbed and dragged into the woods after going on a date with Miller.
Convicted murderer Edmund Zagorski, who was executed on 1 November, had also chosen the electric chair over lethal injection, despite proponents saying this method is painless and humane.
Both inmates had argued in court that Tennessee's current method, involving the drug midazolam, involves a prolonged and torturous death.
Miller and Zagorski pointed to the state's execution of Billy Ray Irick in August, which took about 20 minutes.
During this time, Irick was coughing and huffing before he turned dark purple.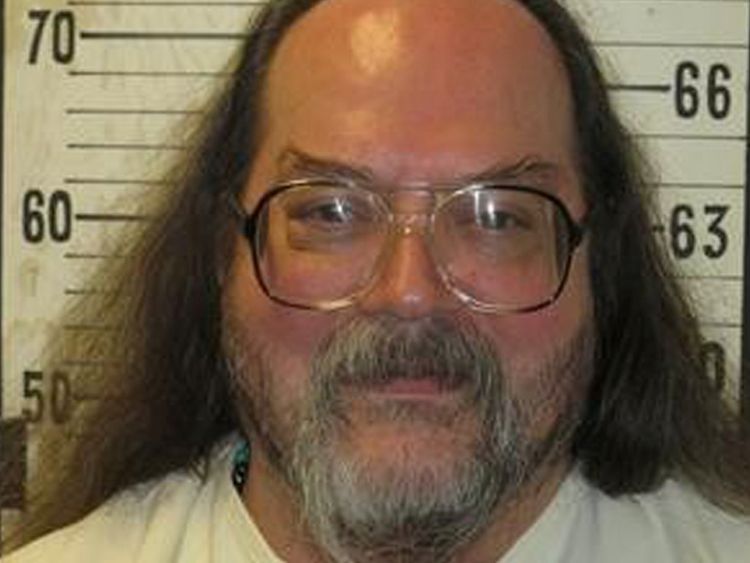 The duo's case was thrown out – mainly because a judge said they failed to prove that a more humane alternative was available.
Zagorski's execution was delayed for about three weeks after he requested the electric chair amid a last-minute flurry of legal manoeuvres.
A federal court judge eventually ordered the state to comply, and the 63-year-old was executed on 1 November.
It was only the second time Tennessee had put an inmate to death in the electric chair since 1960.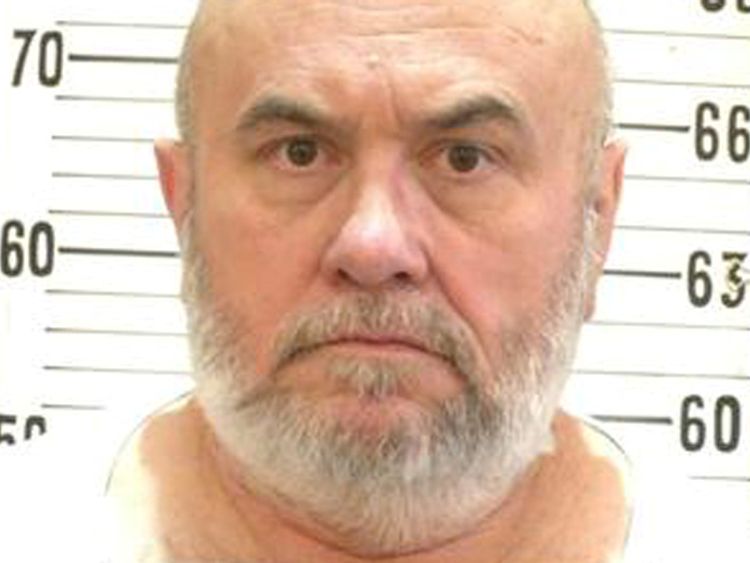 States have moved away from the electric chair in recent decades – and no state uses electrocution as its main execution method anymore.
First used in 1890, execution by electric chair was developed as a "humane alternative" to hanging.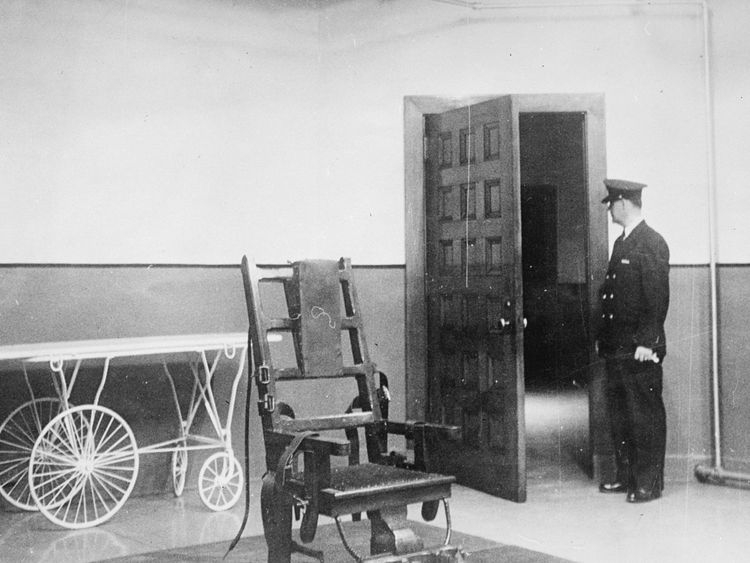 Various cycles of alternating current would be passed through the individual's body which would then cause fatal damage to the internal organs. It involves two powerful jolts of electric current, with the first causing immediate unconsciousness.
In Tennessee, inmates whose crimes were committed before 1999 can choose electrocution over lethal injection.