Paris police have urged shops and restaurants on the Champs-Elysees to close ahead of new protests against embattled president Emmanuel Macron.
A dozen museums have announced weekend closures following vandalism and clashes with police during the "yellow vest" riots last week.
Shops, restaurants and other businesses are expected to shut on the famous avenue during one of the busiest shopping periods of the year before Christmas.
Authorities warned that another wave of "great violence" and rioting could be unleashed in the French capital despite Mr Macron's surrender over a fuel tax hike.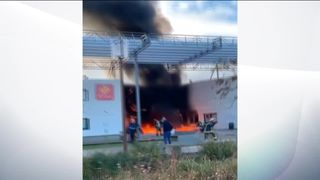 The Paris Opera has cancelled planned performances at two sites in the city, and two theatres also plan to close.
The Arc de Triomphe remains closed since last weekend's protest damaged the monument, while two music festivals have also been postponed.
The Louvre Museum and the Eiffel Tower still plan to remain open.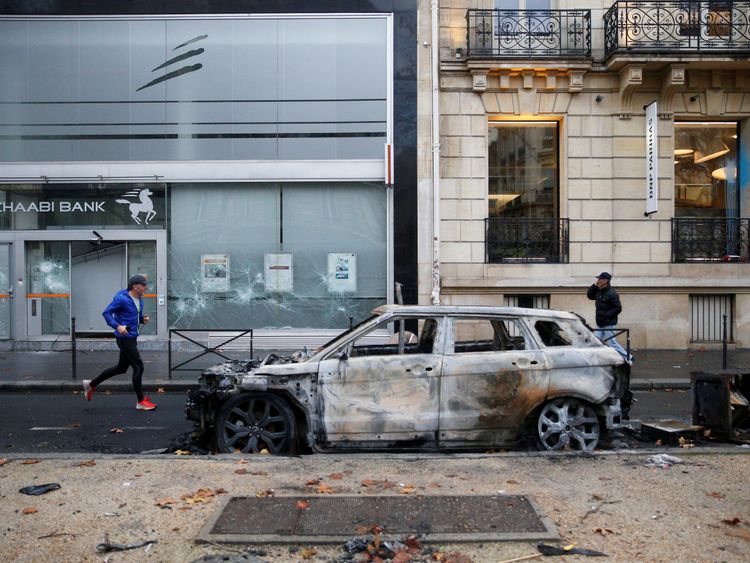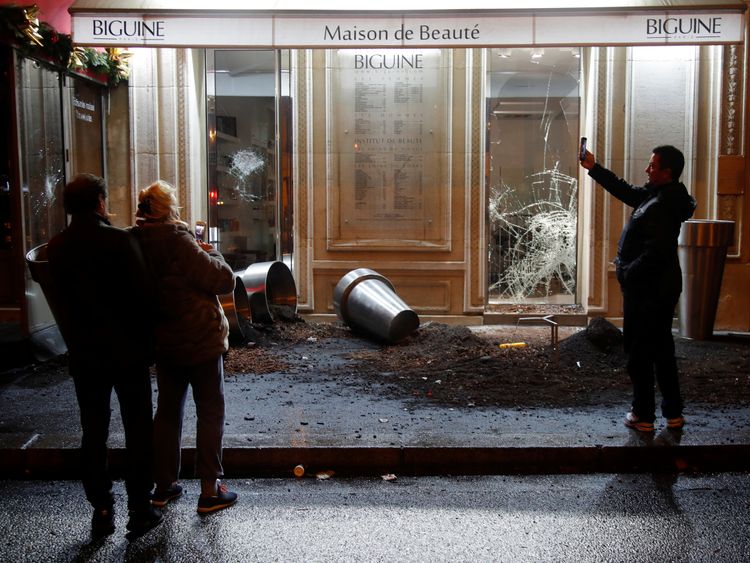 Many stores were smashed and looted during the capital's worst rioting in decades, which saw more than 130 people injured and 412 people arrested.
Tear gas, stun grenades and water cannon were used and cars were torched, while rocks were hurled at police as protesters rampaged in the streets around the capital's tourist landmarks.
Mr Macron is promising "exceptional" security measures for the planned protests amid fears that radicals and troublemakers will take advantage to seed chaos.
Nationwide, 89,000 security force members will be deployed – 8,000 of them in Paris.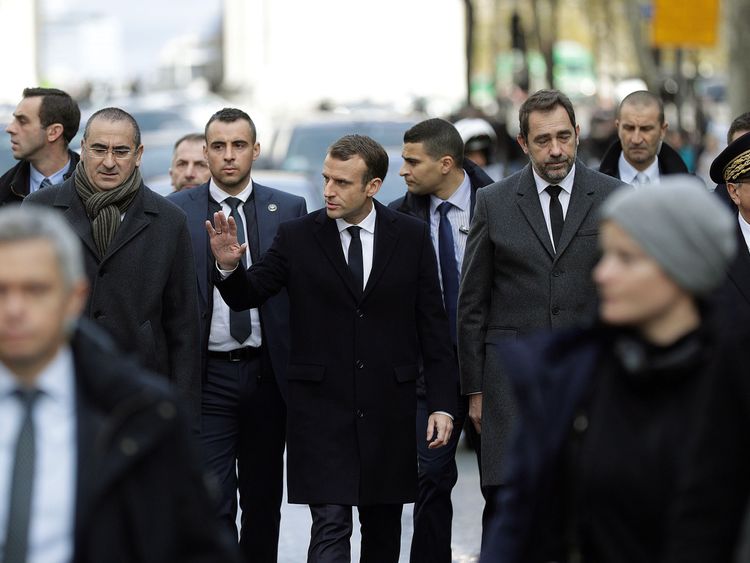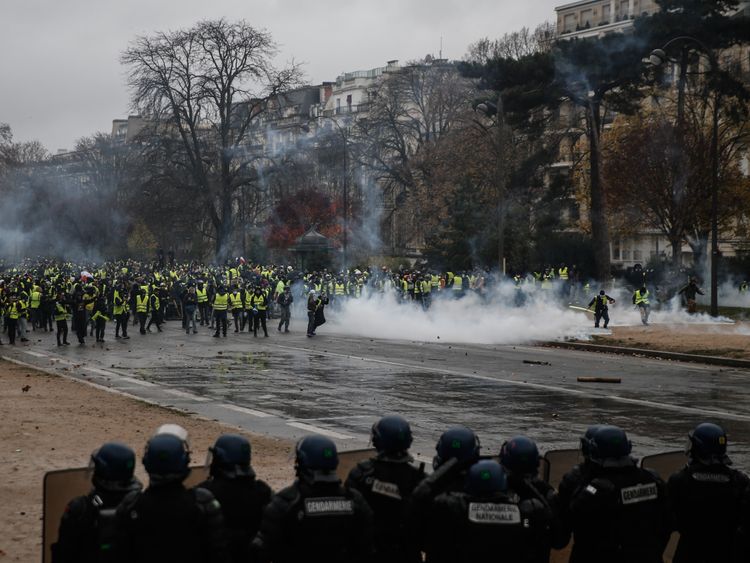 Speaking Thursday to lawmakers, the France's prime minister Edouard Philippe said the government is taking "all measures necessary" to secure the protests.
Mr Philippe urged "yellow vest" protesters to stay home for their own protection from those who could hijack the rallies.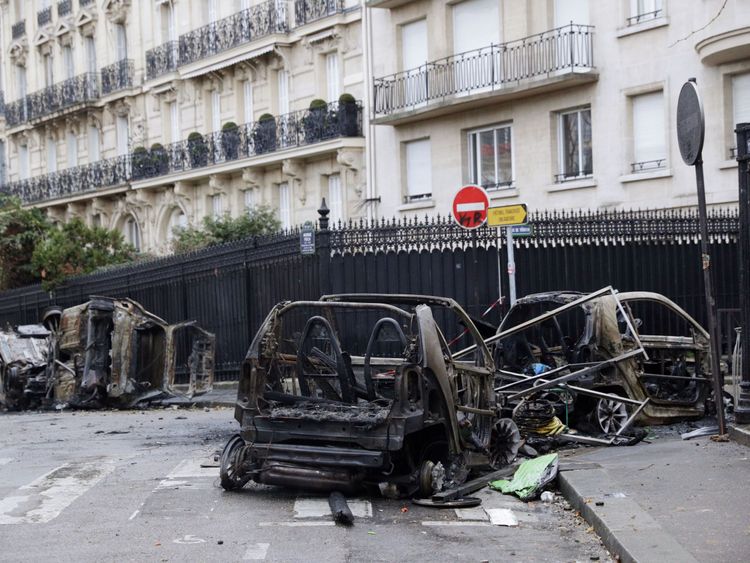 The protests started around three weeks ago as a response to green taxes on diesel that have pushed up the cost for many drivers, with another hike due next month.
On Wednesday, Mr Macron agreed to abandon the fuel tax hike.
However people are now taking to the streets in cities across the country over the general rise in the cost of living and a feeling that the president is out of touch with normal people.
Mr Philippe acknowledged that government's dramatic concession over fuel tax rise "doesn't respond" to all the protester's concerns.
Earlier this week, finance minister Bruno Le Maire said shops and restaurants reported takings down between 20% and 50% – with the Christmas shopping surge in Paris feared "lost".
A manager of the Alsace brasserie on the Champs Elysees told Le Parisien he had lost €50,000 (£44,508) on Saturday after evacuating customers through a back door and closing for the day.
White House press secretary Sarah Sanders interviewed in Russia probe | US News

White House press secretary Sarah Sanders has been questioned by the special counsel investigating Russian interference in the presidential election.
In a statement Ms Sanders said: "The President urged me, like he has everyone in the administration, to fully cooperate with the special counsel.
"I was happy to voluntarily sit down with them."
US intelligence agencies believe Moscow interfered in the 2016 election in an effort to tip it to Republican Donald Trump and away from his Democratic challenger, Hillary Clinton.
Mr Mueller is investigating the allegations and whether anyone in the president's campaign may have colluded with Russia.
He is also looking into whether Mr Trump may have tried to obstruct the investigation.
Moscow has vehemently denied interfering in the campaign and Mr Trump has dubbed the Mueller investigation a "with hunt".
Mr Mueller is investigating the allegations and whether anyone in the president's campaign may have colluded with Russia.
A judge ruled earlier this week, a judge ruled that Mr Trump's former campaign chairman had intentionally lied to investigators and a jury.
It was found he misled the FBI, prosecutors and a federal grand jury about his involvement with Konstantin Kilimnik, his co-defendant who the FBI say is linked to Russian intelligence.
More follows…
21 Savage says he was 'definitely targeted' during US arrest | Ents & Arts News
UK-born rapper 21 Savage was held at a US detention centre so that the Trump administration could send a message on immigration, his lawyer has claimed.
The federal government's immigration policies had been "pretty debilitating", Dina LaPolt alleged.
"And I think that, you know, they look for ways to make examples of people," she told ABC's Good Morning America (GMA).
The rapper – real name Sha Yaa Bin Abraham-Joseph – said a helicopter had been involved on 3 February.
"I was just driving" the 26-year-old told GMA. "And I just seen guns and blue lights. And, then, I was in the back of a car. And I was gone."
Asked whether he had been told that he was under arrest, he said, "No, they didn't. They didn't say nothing. They just said: 'We got Savage.'
"It was definitely targeted," the father-of-three said.
:: 21 Savage: Jay-Z hires lawyer for detained rapper – and calls arrest a 'travesty'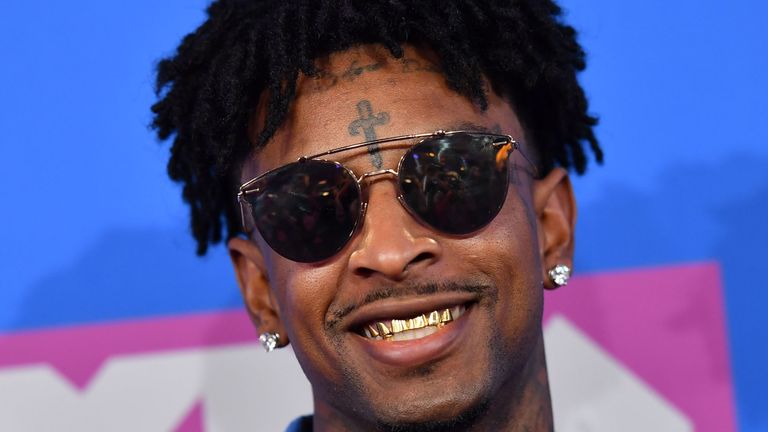 Immigration and Customs Enforcement (ICE) declined to comment on Ms LaPolt's claims, GMA said.
ICE agents detained 21 Savage on charges of being a foreign citizen who had overstayed his US visa by more than a decade.
He was released on a $100,000 (£77,650) bond from an ICE detention centre in south Georgia on Wednesday.
During the TV interview, the rapper said he was seven when he first arrived in the United States.
He added that he left the US in 2005 to attend his uncle's funeral and returned the same year.
"I didn't even know what a visa was," he said when asked whether he was aware it had expired.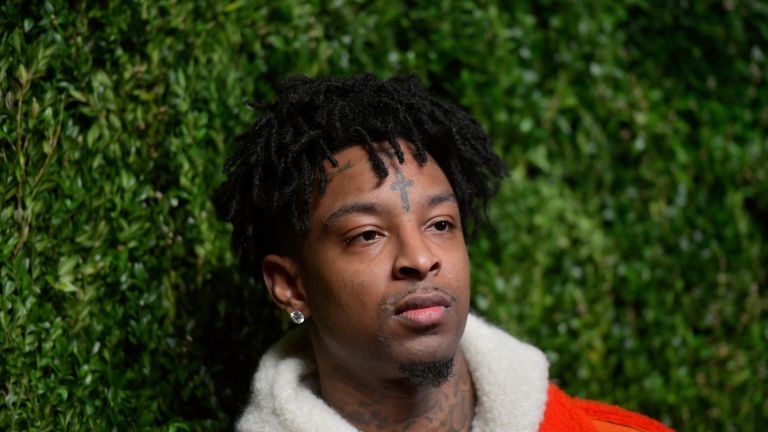 Ms LaPolt said America was built by immigrants and that 21 Savage had given back to his community by setting up "national financial literacy programmes" and by helping young mothers.
"He's an amazing individual," she said.
Asked whether he feared being deported, 21 Savage said: "Yeah, but I feel like I been through so much in my life.
"I learned to embrace the times when I'm down because they always build me up and take me to a new level in life," he said.
The rapper's legal team said a deportation hearing was pending but that they were confident he would be able to remain in the US.
'I don't trust anyone': The British women who married IS jihadis | World News
Reema Iqbal is talking to us from behind the plastic sheeting which marks the tented area which is now her home in Roj camp in northeast Syria.
She is not wearing the all-covering black Islamic dress and veil that most of the women walking around the camp are dressed in.
She's instead in a T-shirt with shoulder-length hair which is wavy and flowing.
The first thing that strikes me is how healthy she appears. Her hair is shiny; her skin is glowing and flawless, and her teeth are white.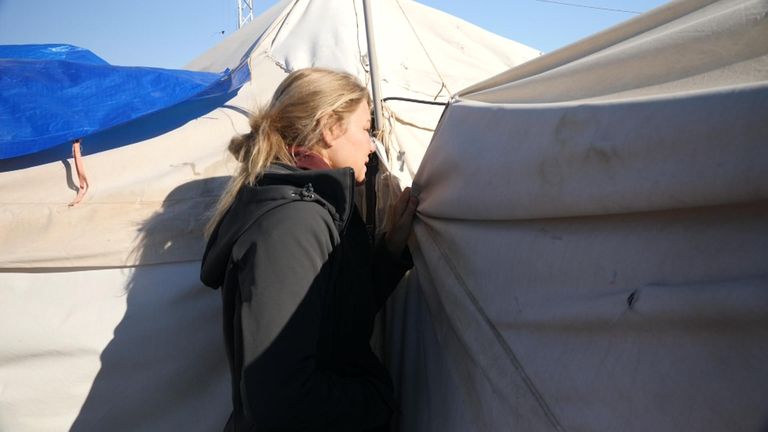 It stands out in this windswept, damp, miserable, shabby tented detention centre where she's been with her two children for the past year.
Her appearance is out of kilter with her surroundings. She looks like she should be watching her sons in a park in east London – which was her home before she travelled to Syria to live in the Islamic State caliphate five years ago.
Instead she is now viewed as an IS family member and held under armed guard with her children, along with about a thousand other mainly women and children.
They are all relatives – wives and children – of men suspected of being IS fighters and now in prisons guarded by soldiers from the US-led coalition which has been fighting the extremists.
Their lives are pretty miserable. There is no running water. They're living on top of each other in small tents which look grubby.
Some of them have been given small heaters to take the chill away. Their small bits of washing are hung on bits of string.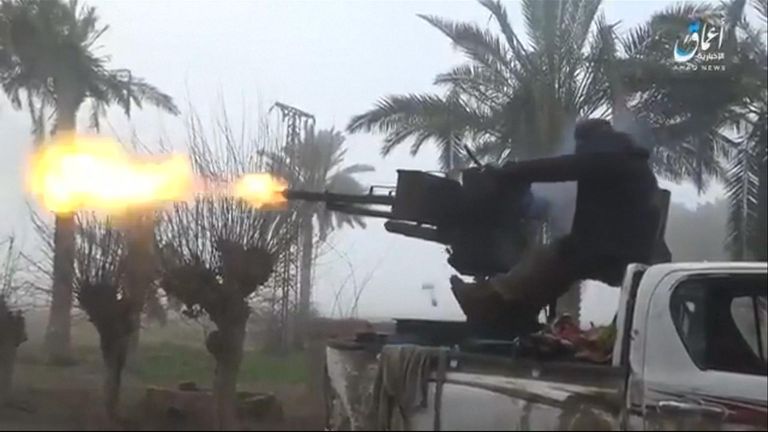 They are utterly reliant on the guards from the Syrian Democratic Force (SDF) for pretty much everything. And they are under armed guard 24/7 with no-one allowed in without express permission and no-one allowed out.
Reema Iqbal, who is around 30 years old, and her two sisters, Zara, aged 28 and Samila, 32, upped and left their homes in London, where they had previously had university educations, and set off to live in the caliphate at the height of the extremists' power and influence.
At that time, the extremists were taking over swathes of land in Iraq and Syria.
By 2014, they had control of more than 34,000 square miles, an area bigger than Ireland or Austria.
Many of those I've spoken to – men and women – seemed to have been lured to join the caliphate, believing it was their Islamic duty; hoping to lend support and help to persecuted civilians who were being bombed by Syrian President Bashar al Assad and being killed and injured daily.
But the extremists went on to kill Yazidi men and enslave thousands of Yazidi women, buying and selling them at markets.
They instilled an extreme form of Islam over their controlling population, and executions and amputations were commonplace.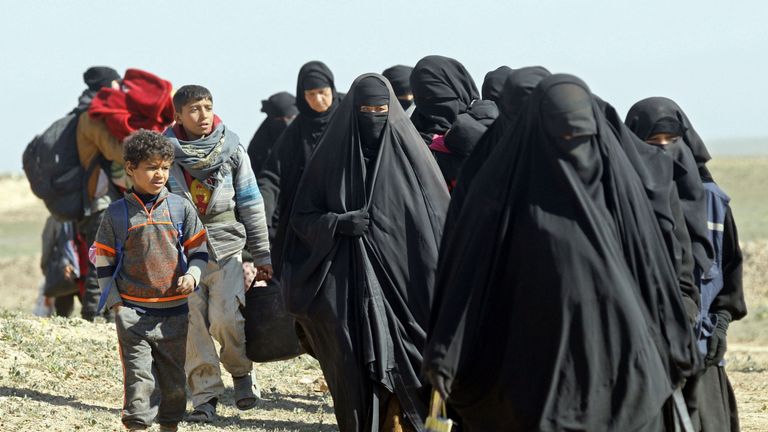 But Reema Iqbal does not want to talk about this. She is polite, friendly and smiles frequently, but she is adamant she is not going to talk to anyone right now.
"I don't trust anyone. I'm sorry. I've been burned before," she said.
She admits life is hard for her in the camp.
Despite her smiles, she's obviously desperate to leave and there's a flash of anger and bitterness when I suggest maybe she has been forgotten by the outside world.
"I have NOT been forgotten", she insists.
"I am not forgotten."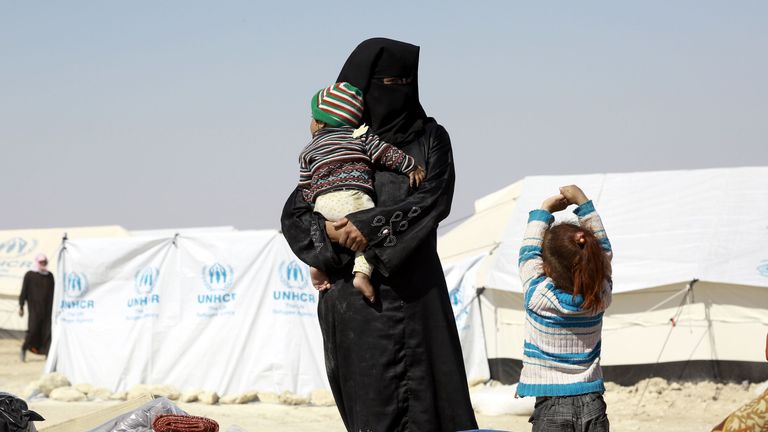 The camp organisers tell me she has changed her name to Saqina, although no explanation is provided and she certainly is not saying.
Previous reports suggest she was once married to an IS fighter called Celso Da Costa, who died fighting with IS.
Every reference to the women and girls who went to Syria is accompanied by the description "jihadi bride" which I suspect may be one reason she's not inclined to talk to a journalist right now.
She knows the SDF is attempting to exert pressure on governments to repatriate their nationals. The French authorities have yielded.
Every man or woman captured by the coalition is viewed as potentially dangerous.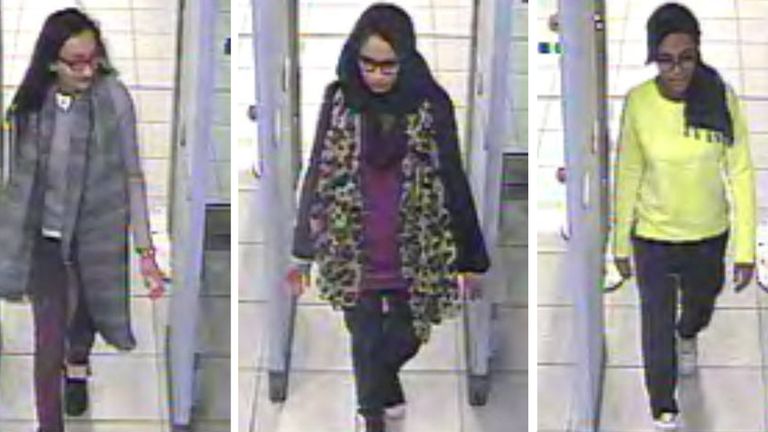 The men are separated and kept in prisons. The women and children are spread around a handful of detention centres and placed in tents which are surrounded by fencing and guards with weapons.
In this camp alone there are about five British women and their children.
Reema Iqbal's sister Zara, whose husband was also killed in the battles, has been separated from her and is in another camp, we are told.
The third sister, Samila, is thought to have been married to a doctor called Shajul Islam, who was accused of being involved in the kidnapping of the British journalist John Cantlie in 2012.
Nothing is known about either Samila, her husband or Mr Cantlie's whereabouts, although there are persistent but unconfirmed indications that they are all still alive.
According to the camp guards, there are about a thousand people here – roughly about 400 families and among them there are French, German, Swedish, Belgium, Russian, Turkish, Tunisian, Algerian and American women as well as the British.
A few tents away from Reema Iqbal is Naseema Begum, who has four children she is looking after alone in the tent.
She too is from London and complains about being coerced into interviews organised by her SDF captors for Kurdish television.
She also appears nervous about being interviewed for fear it might make their position even worse.
Both women appear resigned to the fact it's going to take some time to get out of this camp. They've been here a year already and there's no sign anyone is rushing to help them or bring them back home.