After spending one year in a Rwandan prison waiting for the country's high court to decide on her case, Diane Rwigara feared the worst.
The 37-year-old told Sky News: "I will just have to accept it and go to prison because I guess that is the price that you pay for freedom."
The former financial accountant faced a 22-year spell in jail for "inciting insurrection" and "forgery" after she tried to run in last year's presidential election against Rwanda's long-time president Paul Kagame.
Her mother, Adeline, also faced a 22-year term after sending messages that were critical of the government on Whatsapp to her sister and a couple of her friends.
But in a surprise judgment, the court found that both members of the Rwigara family were innocent.
"All charges… have been dropped. The court finds that the prosecution charges were baseless," said one member of the three-judge panel.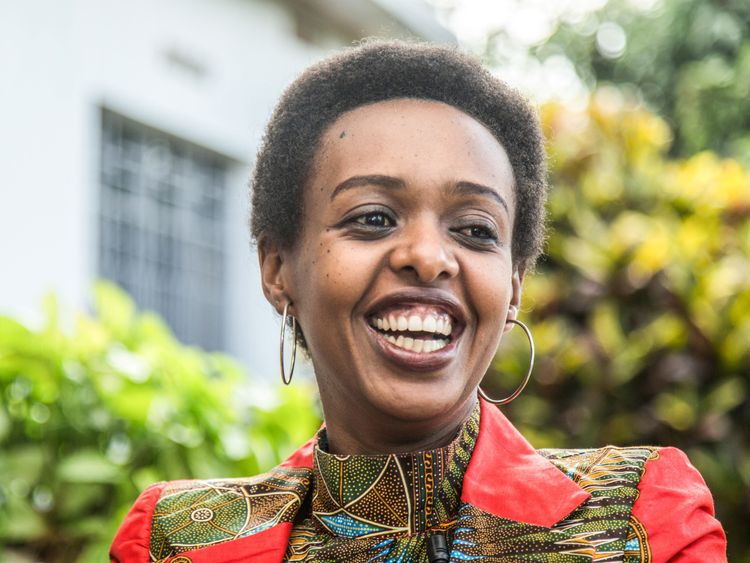 While the decision will come as a great relief to both women, it will not erase what the pair have been through.
Ms Rwigara's difficulties began when she declared her candidacy in Rwanda's 2017 presidential contest.
Her 44-year old campaign manager, Thadeyo Muyenzi, went missing and has still not been found.
Then, nude photos – purportedly of Ms Rwigara – were published and shared on social media.
Finally, the country's election board banned her from participating after they accused her of forging people's signatures in support of her bid. Kagame won a third term in office with 98% of the vote.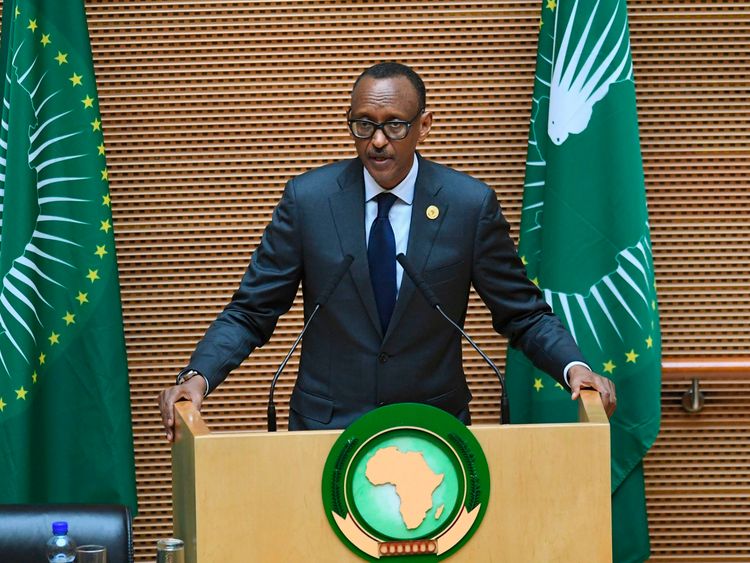 Undeterred, the budding politician launched her own political party called the People Salvation Movement, but the police raided the family home – detained the accountant and her mother for the following 12 months.
Speaking to Sky News hours before the verdict was announced, Ms Rwigara said she was targeted by the state because she is prepared to challenge Kagame and his ruling clique.
She added: "This is what happens when you dare to have a different political opinion – a different view from those in the government.
"This is what happens if you don't disappear like my campaign manager or get thrown into prison or lose your life. So yes, you do pay a price for speaking out in this country."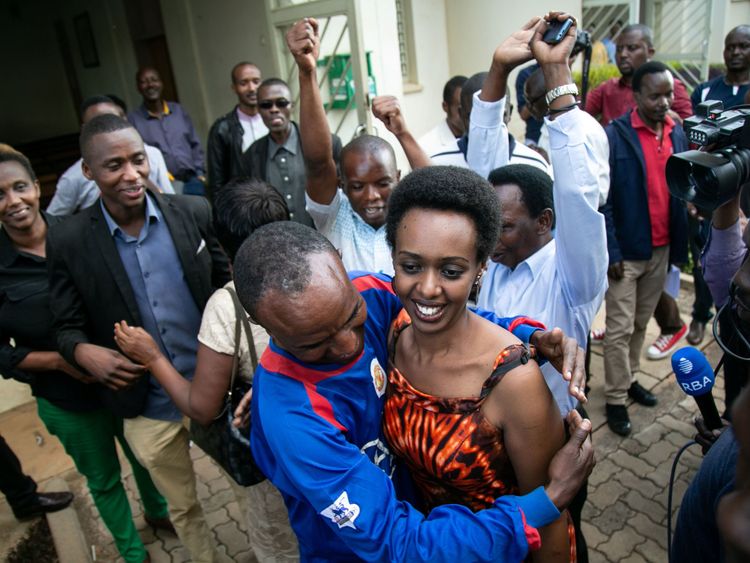 Paul Kagame, the country's towering, beanpole-like president, has been widely praised for his role in providing stability and economic growth after Rwanda's catastrophic genocide in 1994.
However, human rights groups and others have tired of his increasingly autocratic style.
Criticism of the government is rarely tolerated and in 2015, he engineered a constitutional amendment which means he can hold the presidency until 2034.
Amnesty International welcomed the court's verdict on Diane and Adeline Rwigara but called on the Rwandan government to do more to protect freedom of expression and political debate: "[They] should never have faced charges for expressing their views.
"We call on the Rwandan authorities to build on this judgment and work towards developing greater tolerance and acceptance of alternative and critical views."
Ms Rwigara, who is described as "fearless" by those close to her, is not about to apologise for attempting to hold Rwanda's leaders to account. Nor is she likely to stop trying.
"I speak the truth, that the system is built on a lie," she said. "They simply do not want to be exposed.
"The lie is that everything is well in Rwanda and I just talk about [the reality] which is the high level of unemployment, the high level of poverty, the disappearances, the killings, all that, and they are not ready for that to be exposed."
Josie Clacher: Teenage daughter of British millionaire found dead in Majorca pool | UK News

The teenage daughter of a British millionaire has been found dead in a swimming pool while on a family holiday in Majorca.
Josie Clacher was staying at a villa in the town of Alaro with family and friends when she was found at the bottom of the pool at about 7am on Tuesday morning.
Paramedics tried to revive the 18-year-old using CPR but she was pronounced dead at the scene.
It was reported she had gone out with friends the night before she died.
Rachel Clacher, Josie's mother, co-founded the telephone answering company Moneypenny, which is said to be worth more than £100m.
Mrs Clacher had been staying at the villa with her daughter when she died.
The entrepreneur was appointed a CBE in the Queen's Birthday Honours List earlier this year for services to business and her charity work.
She established the Moneypenny Foundation – now known as WeMindTheGap – in 2014 to offer holistic paid traineeships to unemployed and disadvantaged young people.
A spokesperson for Moneypenny said: "We are all extremely devastated by this tragic news and our thoughts and prayers are with the family at this tragic time."
Fingerprints and facial recognition data exposed in major breach | Science & Tech News
More than one million fingerprints and a host of usernames and passwords have been exposed on an unsecured database hosted by a security platform that lists the Metropolitan Police among its clients.
Researchers claim to have discovered the publicly accessible information on the web-based BioStar 2, which is owned and operated by South Korean company Suprema.
The firm describes itself as a "global powerhouse in biometrics, security and identity solutions" and sells its services to thousands of organisations around the world, including businesses, banks and Scotland Yard.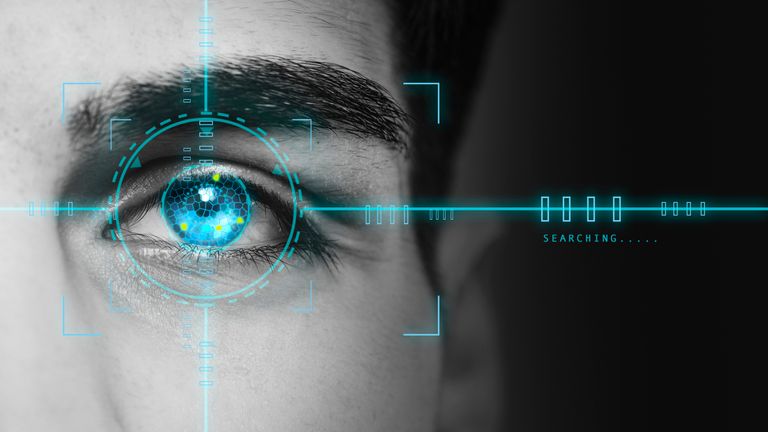 BioStar 2 is a security system that allows biometrics to be used to grant people access to buildings and other restricted areas.
It hosts an enormous amount of fingerprint and facial identification data – plus the usernames and passwords associated with them.
Internet privacy researchers Noam Rotem and Ran Locar, of vpnMentor, say they discovered that BioStar 2 had been breached on 5 August and that it was not resolved for eight days.
In a report published on the vpnMentor website, they said: "This is a huge leak that endangers both the businesses and organisations involved, as well as their employees.
"Our team was able to access over one million fingerprint records, as well as facial recognition information – combined with the personal details, usernames and passwords, the potential for criminal activity and fraud is massive."
The pair said Suprema had been "generally very uncooperative" since being made aware of the issue, which saw them able to access more than 27.8 million records totalling 23GB of data.
Among the information seen were entry and exit times, home addresses and emails.
But they said the potential for biometrics to be stolen was of greatest concern, adding: "Facial recognition and fingerprint information cannot be changed. Once they are stolen, it cannot be undone."
As well as fraud, they said victims could be at risk of blackmail, extortion and theft.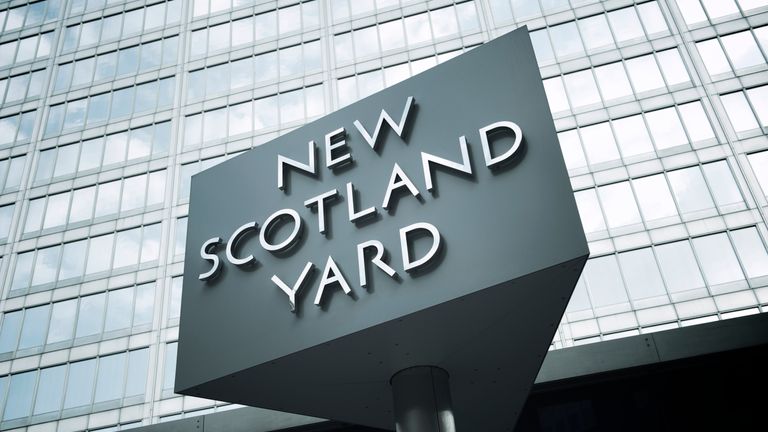 Security experts have described the scale of the leak as "disturbing".
Piers Wilson, of cyber security firm Huntsman Security, told Sky News: "The huge quantity of sensitive personal information, such as biometric data, that has potentially been exposed to cyber criminals as a result of poor cyber security practices by Suprema is disturbing to see.
"Such basic mistakes, including not encrypting data and making admin passwords easily accessible, are easy to avoid and there should have been steps taken to better protect systems.
"This breach is just another example of why cyber security must be taken more seriously in all businesses."
John Sheehy, director of strategic security services at research company IOActive, said: "The more secure an organisation itself is, the more attractive that organisation's supply chain becomes in the mind of the attacker – and you can't get any more secure than a government, bank or police force.
"An attacker wants to find the easiest pathway to get into the network so oftentimes, it's the supplier who has an exploitable vulnerability that can get them full access into the original target's network."
Sky News has contacted Suprema and the Metropolitan Police for comment.
Some MacBooks banned from US flights over battery fire risk | Science & Tech News
Certain models of the MacBook Pro have been banned from flights in the United States over fears their batteries may overheat and pose a fire risk.
Apple recalled some of the 15-inch variants of the 2015 edition of its popular laptop earlier this summer, affecting those sold between September 2015 and February 2017.
The tech giant said the devices "may overheat and pose a safety risk" and asked people to stop using them, and they will now not be allowed to be taken on planes in the US unless the battery has been replaced.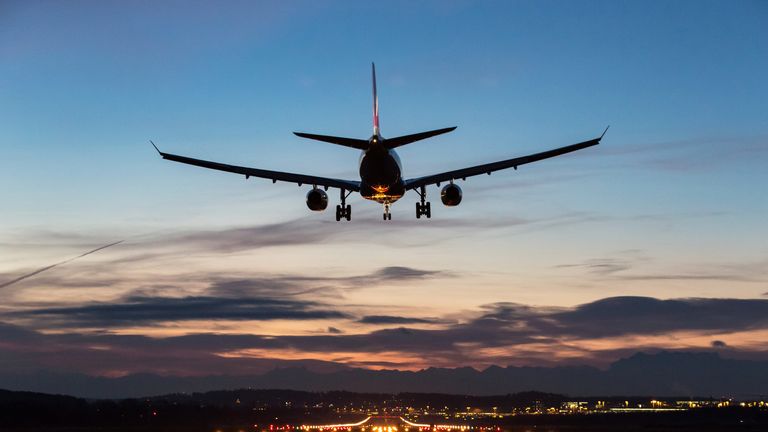 The US Federal Aviation Administration said it was advising airlines to adhere to its safety rules regarding products with recalled batteries, meaning they cannot be placed in carry-on luggage or in the cargo hold.
It comes after similar guidelines issued by the European Union Aviation Safety Agency, which advised owners of the laptops to seek a replacement battery from Apple.
Apple said at the time of the recall that affected customers could get a new battery free of charge, and advised people to visit its website and enter their product serial number to find out if their MacBook was faulty.
Four European airlines with the same cargo operations manager implemented their own bans on the laptops this week, according to an internal notice seen by Bloomberg.
Total Cargo Expertise reportedly wrote to employees to say those affected would no longer be allowed on flights operated by Thomas Cook Airlines, Air Italy, Air Transat and TUI Group Airlines.
Staff will remind passengers at the gate and before take-off.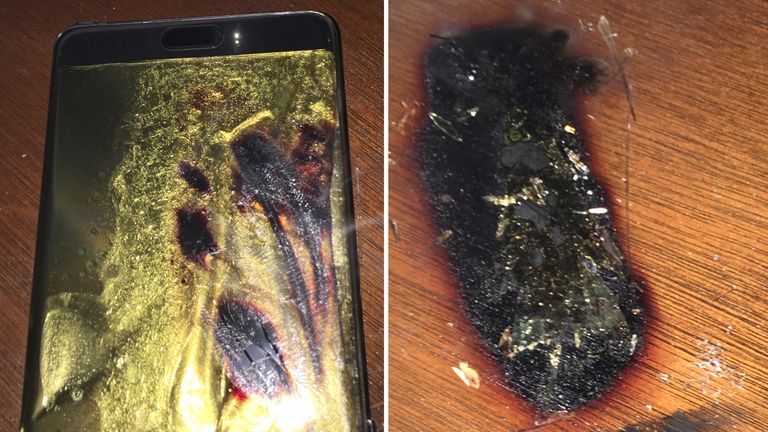 The ban echoes one handed down to the Samsung Galaxy Note 7 smartphone back in 2016, which was barred from flights, recalled and eventually ceased production after widespread reports its batteries were catching fire and exploding.
The South Korean firm said at the time that its profits would take a £4.3bn hit from costs associated with its failed device, but it has since bounced back and last week unveiled its highly-anticipated Galaxy Note 10 range.