After spending one year in a Rwandan prison waiting for the country's high court to decide on her case, Diane Rwigara feared the worst.
The 37-year-old told Sky News: "I will just have to accept it and go to prison because I guess that is the price that you pay for freedom."
The former financial accountant faced a 22-year spell in jail for "inciting insurrection" and "forgery" after she tried to run in last year's presidential election against Rwanda's long-time president Paul Kagame.
Her mother, Adeline, also faced a 22-year term after sending messages that were critical of the government on Whatsapp to her sister and a couple of her friends.
But in a surprise judgment, the court found that both members of the Rwigara family were innocent.
"All charges… have been dropped. The court finds that the prosecution charges were baseless," said one member of the three-judge panel.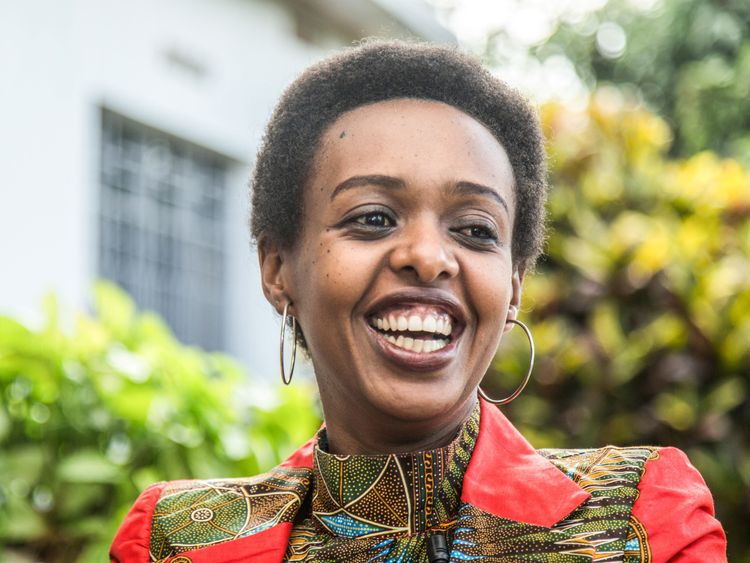 While the decision will come as a great relief to both women, it will not erase what the pair have been through.
Ms Rwigara's difficulties began when she declared her candidacy in Rwanda's 2017 presidential contest.
Her 44-year old campaign manager, Thadeyo Muyenzi, went missing and has still not been found.
Then, nude photos – purportedly of Ms Rwigara – were published and shared on social media.
Finally, the country's election board banned her from participating after they accused her of forging people's signatures in support of her bid. Kagame won a third term in office with 98% of the vote.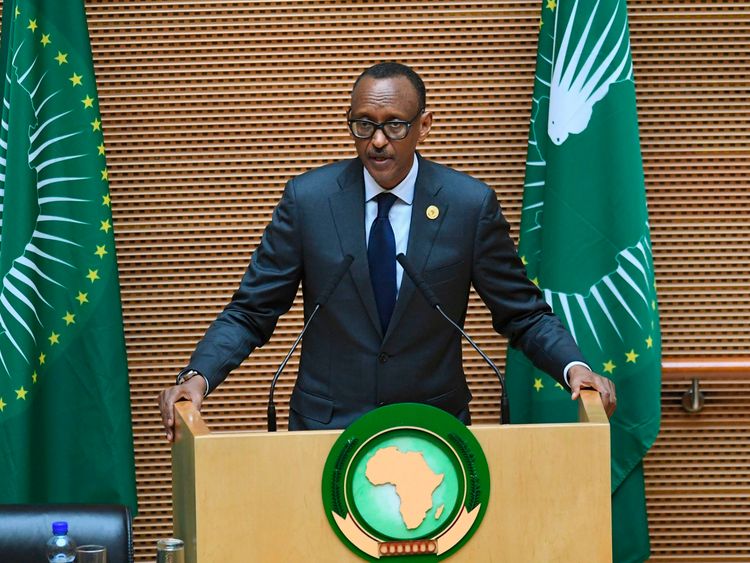 Undeterred, the budding politician launched her own political party called the People Salvation Movement, but the police raided the family home – detained the accountant and her mother for the following 12 months.
Speaking to Sky News hours before the verdict was announced, Ms Rwigara said she was targeted by the state because she is prepared to challenge Kagame and his ruling clique.
She added: "This is what happens when you dare to have a different political opinion – a different view from those in the government.
"This is what happens if you don't disappear like my campaign manager or get thrown into prison or lose your life. So yes, you do pay a price for speaking out in this country."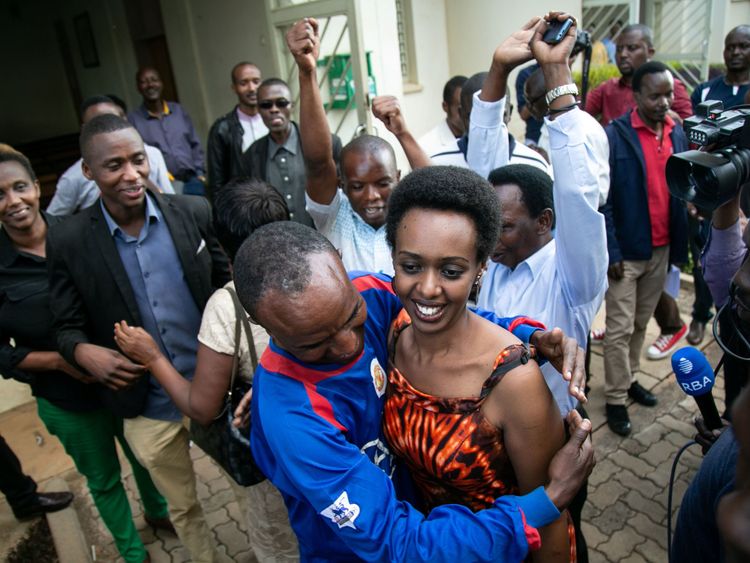 Paul Kagame, the country's towering, beanpole-like president, has been widely praised for his role in providing stability and economic growth after Rwanda's catastrophic genocide in 1994.
However, human rights groups and others have tired of his increasingly autocratic style.
Criticism of the government is rarely tolerated and in 2015, he engineered a constitutional amendment which means he can hold the presidency until 2034.
Amnesty International welcomed the court's verdict on Diane and Adeline Rwigara but called on the Rwandan government to do more to protect freedom of expression and political debate: "[They] should never have faced charges for expressing their views.
"We call on the Rwandan authorities to build on this judgment and work towards developing greater tolerance and acceptance of alternative and critical views."
Ms Rwigara, who is described as "fearless" by those close to her, is not about to apologise for attempting to hold Rwanda's leaders to account. Nor is she likely to stop trying.
"I speak the truth, that the system is built on a lie," she said. "They simply do not want to be exposed.
"The lie is that everything is well in Rwanda and I just talk about [the reality] which is the high level of unemployment, the high level of poverty, the disappearances, the killings, all that, and they are not ready for that to be exposed."
Kashmir: India-Pakistan tensions flare as more soldiers are killed in gun battle | World News
Tensions in the disputed Kashmir region have escalated further after four Indian soldiers, three suspected militants, a police official and a civilian were killed during a gun battle.
The nine deaths come after a local Kashmiri militant rammed a van fitted with explosives into a paramilitary bus on Thursday, killing at least 40 soldiers.
The suicide bombing was the worst attack against Indian government forces in Kashmir's history.
Security officials said the latest fighting broke out after government forces surrounded a village in the region of southern Pulwama, following a tip-off that militants were hiding out there.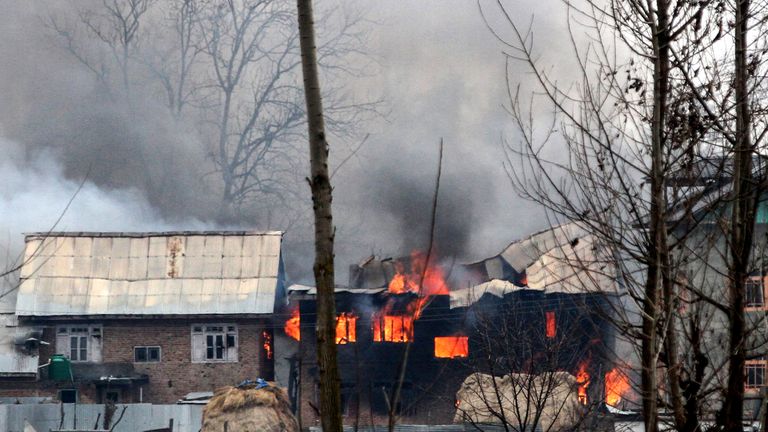 Monday's violence saw a senior police officer, an army officer and another three soldiers wounded.
Police said troops had come under heavy gunfire as they started conducting searches.
Residents reported troops destroying one house with explosives during the stand-off.
The bodies of two militants were recovered from the debris and a civilian was killed in the crossfire, according to police.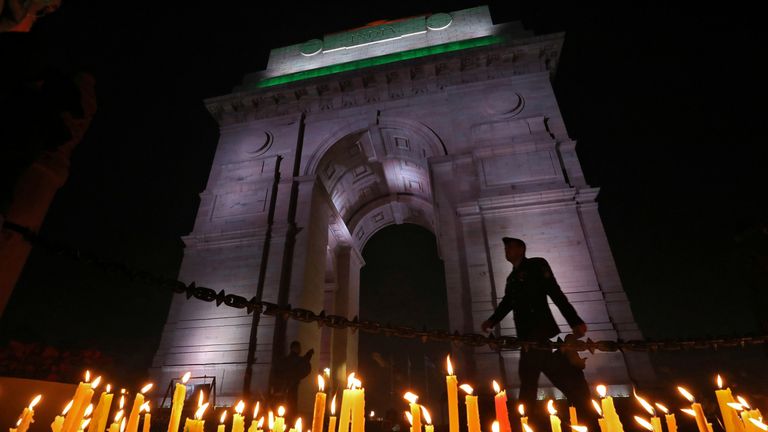 Among the soldiers killed in the gun battle was an Indian army major. One of the wounded soldiers is reportedly in a critical condition.
Anti-India protests and clashes followed the fighting, with residents – mainly young people – trying to march to the site of the stand-off in solidarity with the rebels.
Government troops fired tear gas at the protesters, who were reportedly throwing stones.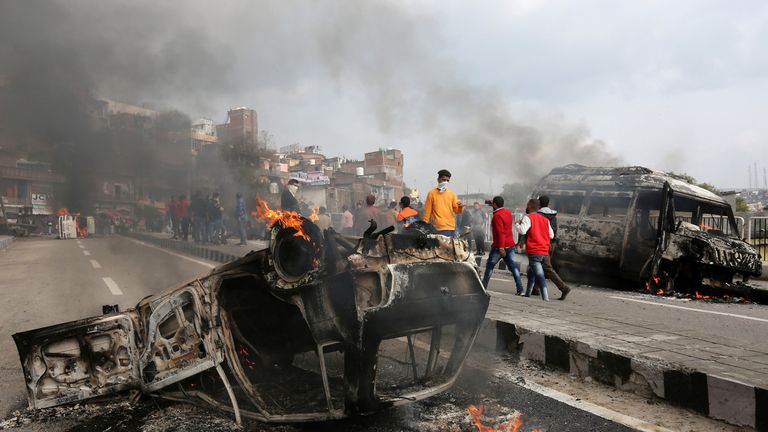 India has blamed Pakistan over Thursday's suicide bombing as tensions continue to grow between the neighbouring nations.
New Delhi has promised a "jaw-breaking response" to the attack.
However, Pakistan has warned India not to link it with the bombing without an investigation and said it was part of New Delhi's "known rhetoric and tactics" to divert attention from human rights violations in Kashmir.
Both India and Pakistan administer part of Kashmir but both sides claim the entire region belongs to them.
Poland pulls out of Israel summit after 'racist' comments in row over Holocaust | World News
The Polish prime minister has cancelled plans to send a delegation to Jerusalem after the acting Israeli foreign minister said Poles "sucked antisemitism from their mothers' milk".
Mateusz Morawiecki had already pulled out of a meeting with Israeli prime minister Benjamin Netanyahu and leaders of four central European nations, following a comment by the Israeli leader last week that "Poles collaborated with the Nazis".
Poland's foreign minister Jacek Czaputowicz had been chosen to take the prime minister's place at the meeting on Monday and Tuesday but has now cancelled the Polish participation altogether.
Israel Katz, acting foreign minister in Israel, said in an interview on Sunday: "I am the son of Holocaust survivors.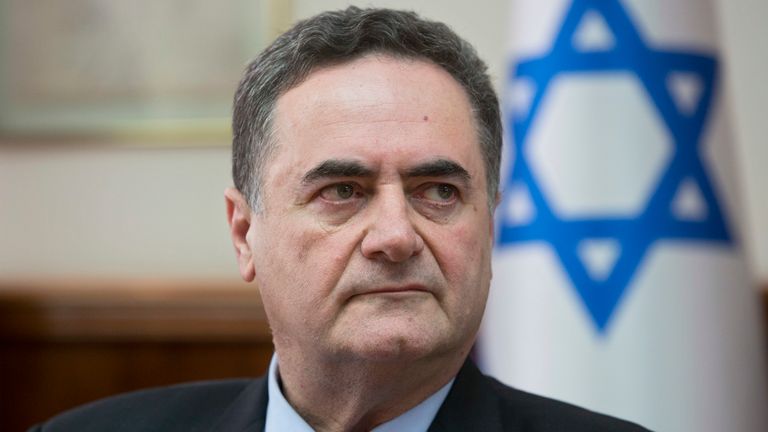 "The memory of the Holocaust is not something to compromise about. It is obvious. We will not forget, and we will not forgive.
"Poles collaborated with the Nazis, definitely. Collaborated with the Nazis. As (former Israeli prime minister) Yitzhak Shamir said – his father was murdered by Poles – he said that from his point of view they sucked antisemitism with their mothers' milk.
"You can't sugarcoat this history."
It was Mr Katz's first interview since being made acting foreign minister on Sunday.
Mr Morawiecki called the comments "racist" and "completely unacceptable".
Poland's withdrawal has triggered the collapse of the summit with the four nations known as the Visegrad group. The Hungarian and Slovak prime ministers are already in Israel and bilateral talks will take place instead.
Mr Netanyahu had said the meetings would be an important step in his outreach to central European countries.
Many have pro-Israel governments, and he is relying on them to counter the criticism the nation faces in international forums.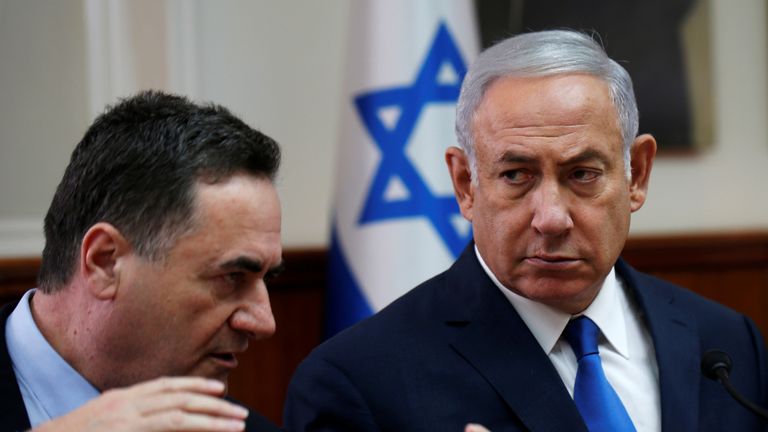 Mr Netanyahu's comments came as he was asked about hosting delegations from countries like Lithuania and Ukraine who have taken part in selective Second World War commemorations, playing down their countries' involvement.
The Israeli leader said he challenges those who try to revise history.
He said: "I know the history. I don't starch it and I don't whitewash it. In Lithuania, in particular, there were some horrible things. No one is concealing that.
"This whole idea that we diminish history – we don't distort, and we don't hide, and no one has any interest in that, on the contrary."
During the briefing, Mr Netanyahu tried to deflect criticism over the deal he struck with Polish leaders on their Holocaust speech laws, which has criminalised blaming Poland for crimes against Jewish people in the Second World War.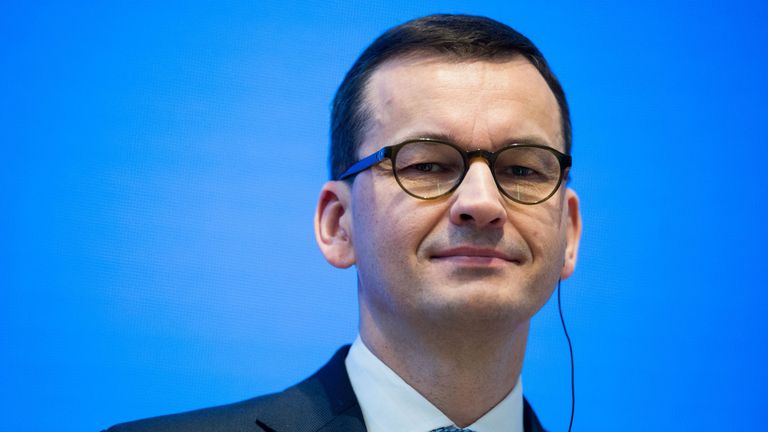 He said: "Poles collaborated with the Nazis and I don't know anyone who was ever sued for such a statement."
He was reported by some to have said "the Poles", prompting fury.
Mr Netanyahu's office said he had referred to "Poles and not the Polish people or the country of Poland".
Poland was the first occupation of Adolf Hitler's regime and never had a collaborationist government.
Members of the resistance in Poland struggled to warn the world about the mass killings and thousands of Poles risked their lives to help Jews.
However, Holocaust researchers have also collected evidence that shows Polish villagers murdered Jews as they fled the Nazis, and some preyed on Jews for financial gain.
Firefighters in California rescue a mountain lion stuck in a tree | World News
Firefighters have rescued a mountain lion that was stuck in a tree outside a home in the California desert.
The homeowner called for help after spotting the cougar close to his home near the edge of the San Bernardino mountains.
The big cat was perched on a branch about 15m (50ft) above ground.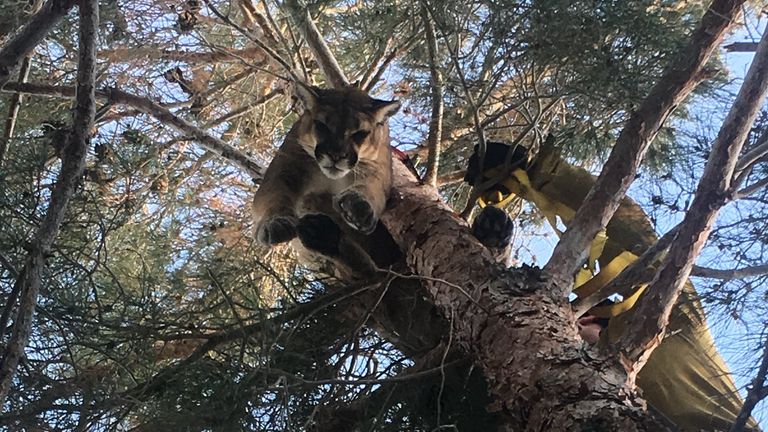 State wildlife officials tranquillised the feline before San Bernardino County firefighters lowered the animal to the ground using a rescue harness.
The mountain lion was assessed by experts before being released back into the wild.
Rick Fischer, a warden for the State Department of Fish and Wildlife, said it was not uncommon for big cats to wander outside their habitat in the mountains nearby.
Attacks on humans remain rare – although the animals are known to prey on pets and livestock.
Experts say young mountain lions are known to wander outside their normal habit in an attempt to establish their territory.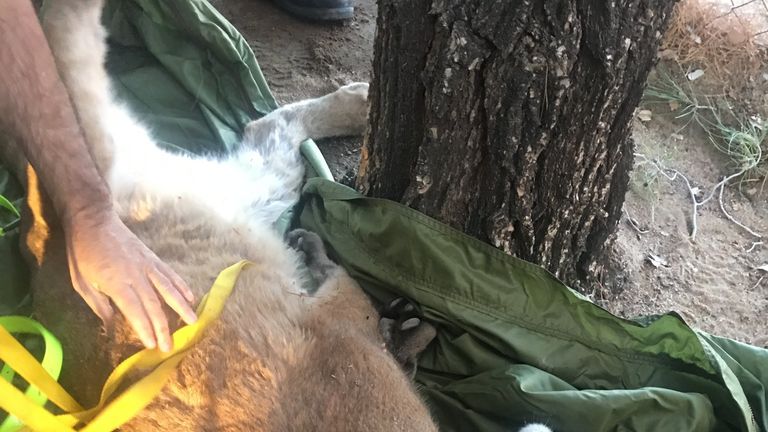 Mr Fischer added: "Leaving the lion in the tree would not have been safe for the community.
"Once the lion regained consciousness we ensured he safely returned to his suitable habitat."
The latest mountain lion incident comes days after a runner who was attacked by one of the animals in Colorado described how he wrestled it to the ground and jammed his foot on to its neck during a life-and-death struggle.