An Afghan boy who went viral over his love of the Argentinian footballer Lionel Messi has had to flee his home after being hunted by the Taliban.
Murtaza Ahmadi, now aged 7, was pictured wearing a homemade Messi shirt that his brother fashioned out of a blue and white plastic bag in 2016.
The colours matched the jersey of the Argentinian national side, and the footballer's name and shirt number were scrawled on the back in pen.
Murtaza, who later met his idol after the image went viral, had to flee Afghanistan's southeastern Ghazni province with his family in November.
The UN has said 4,000 families left amid intense fighting after the Taliban launched an offensive in the previously safe area.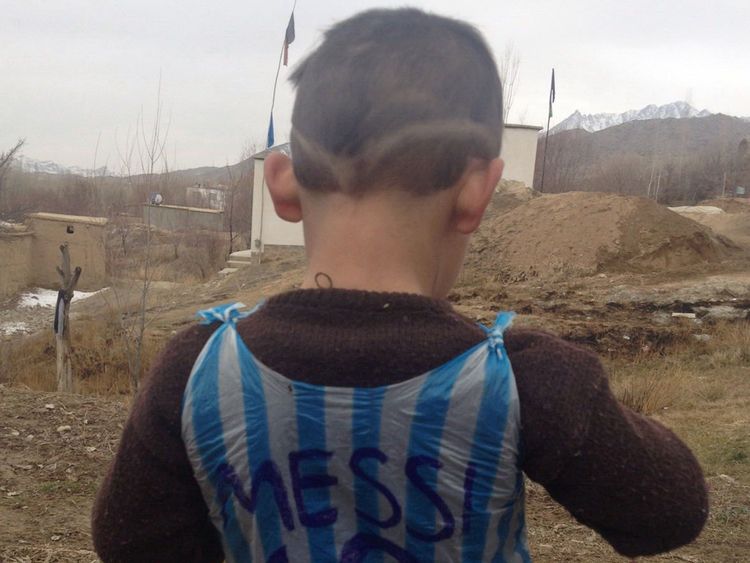 Witnesses have described "absolute terror" as hundreds of civilians, soldiers and insurgents were killed in the fighting.
Murtaza's family belongs to the Shiite-denominated Hazara ethnic group, who were targeted by the Sunni Taliban in the attacks.
The boy is now living in a cramped room in the capital Kabul with his mother and brother.
His father Arif has remained in Jaghori where he works as a farmer.
Shafiqa has said the Taliban have been searching for her son by name.
She said: "(They) said if they capture him, they will cut him into pieces."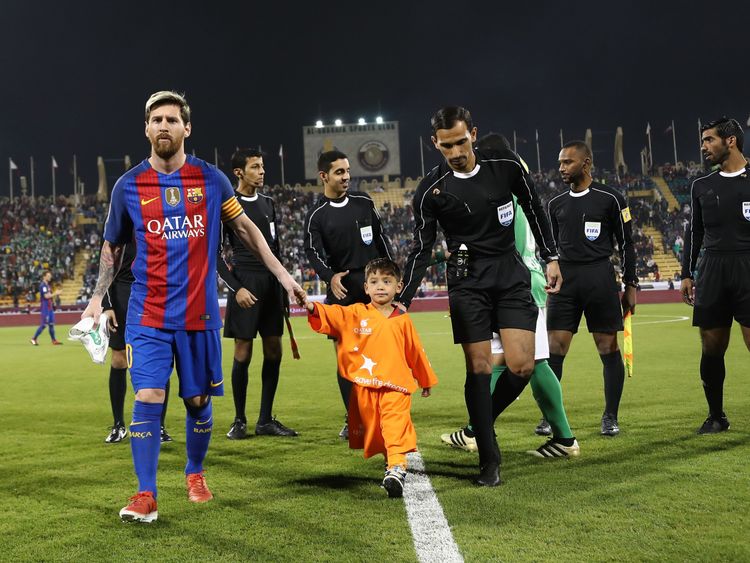 Murtaza's older brother Houmayoun, who made the Messi plastic bag jersey, said: "We are worried something bad will happen if they know who Murtaza is."
Shafiqa added that she hid her famous son's face with a scarf to prevent him from being recognised as they fled Ghazni.
She also told how they left their home district of Jaghori in the night after hearing gunshots.
Shafiqa said: "We couldn't take any of our belongings, we left only with our lives."
Barcelona forward Messi, a UNICEF goodwill ambassador, met with the youngster after the image emerged 2016.
Murtaza clutched the footballer's hand as he walked out onto the pitch with him for a Barcelona friendly in Qatar.
Messi gave him a signed shirt and ball, which were among the possessions left behind when the family fled Jaghori.
Murtaza said: "I want them back so I can play."
"I miss Messi.
"When I meet him (again), I will say, 'Salaam' and 'How are you?' Then he will reply saying thank you and be safe, and I will go with him to the pitch where he will play and I will watch him."
Sports were rarely tolerated under the 1996-2001 Taliban regime, and the Kabul football stadium was a well-known venue for stonings and executions.
Afghan security forces have beaten back the Taliban in Jaghori, but Shafiqa has said she doesn't feel her family is safe there.
She said: "The danger of the Taliban coming back is high, going back is not an option."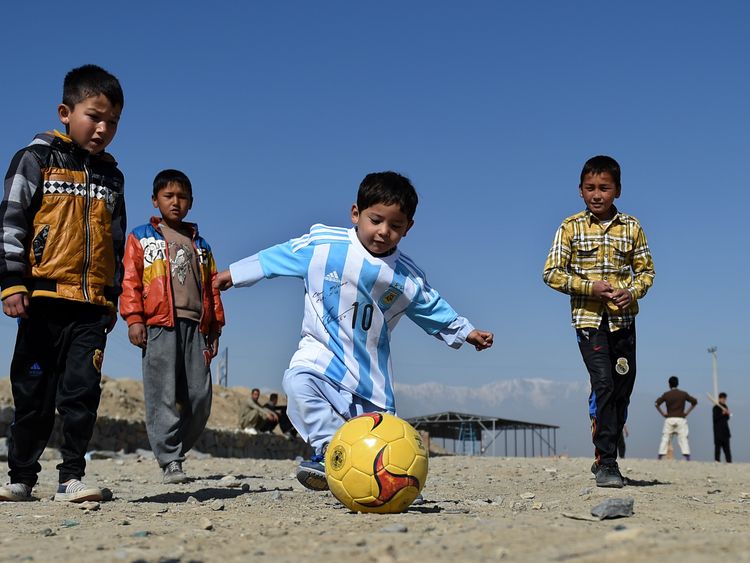 Shafiqa has also told how her family received unwanted attention from the image of Murtaza in the makeshift Messi shirt.
She said: "Local strongmen were calling and saying, 'You have become rich, pay the money you have received from Messi or we will take your son'.
"At night we would sometimes see unknown men, watching and checking our house, and then the calls.
"During the days, we wouldn't dare let him outside home to play with other children."
The family have already fled once before when they sought asylum in Pakistan in 2016.
They returned reluctantly after their money ran out.
The family are among more than 300,000 Afghans who have fled their homes due to violence since the beginning of 2018 alone, according to the UN's agency for humanitarian affairs.
Irish ticket-holder wins €175m EuroMillions jackpot | World News

A lucky ticket-holder in Ireland has won an estimated EuroMillions jackpot of €175m (£153m).
The winning numbers were: 19, 08, 18, 01, 39, while the lucky stars were 09 and 07.
A EuroMillions spokesman said: "There was one winner of the EuroMillions jackpot. The winning ticket was sold in Ireland."
It is reportedly the eighth biggest EuroMillions win in history, with the final jackpot €175,475,380.
Just last month Patrick and Frances Connolly from Northern Ireland were revealed as the winners of the £115m (€132m) New Year's Day EuroMillions jackpot.
The couple, from Co Armagh, became the fourth biggest UK lottery winners in history.
More follows…
Search for survivors after Swiss avalanche injures at least four people | World News
Mountain rescue teams are continuing to search for survivors after an avalanche in Switzerland left at least four people hurt, including one critically.
During an operation involving eight helicopters, the injured were pulled out of the snow after being buried in the popular ski resort of Crans-Montana.
Valais police said the avalanche happened near the Plaine Morte peak and resort operator CMA said an alarm went off shortly before 2.30pm local time.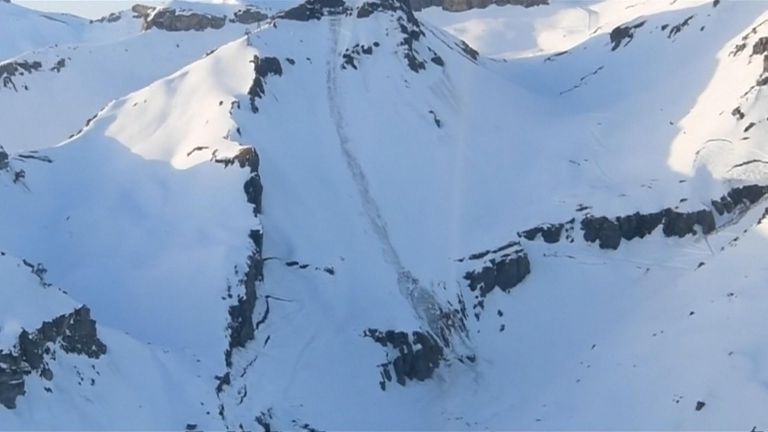 The emergency operation also involved more than 240 police and rescue workers.
Commander Christian Varone said: "Rescuers arrived very quickly, they rescued four injured people including one whose life is in danger, and three were injured more superficially.
"Witnesses told us there could be more people under the snow, that is why we are pursuing the search with considerable means."
The avalanche comes ahead of a women's World Cup skiing event involving stars such as Switzerland's Lara Gut on the Mont Lachaux run at Crans-Montana.
Event spokesman Hugo Steinegger said Swiss military forces who had been deployed for the races were quickly sent to the avalanche site to help with the rescue operation.
He said the avalanche was not expected to affect the start of the event, which begins with training runs on Thursday.
British football fan 'beaten and starved in UAE after arrest for wearing Qatar shirt' | UK News
A British football fan who claims he was detained in the United Arab Emirates for wearing a Qatar shirt has told Sky News he was left to starve in prison after being beaten up.
Ali Issa Ahmad was allegedly arrested for wearing the t-shirt after going to watch an Asian Cup tie between Qatar and Iraq last month.
The 26-year-old from Wolverhampton is now warning other football supporters to "be careful" if they are considering travelling to the UAE.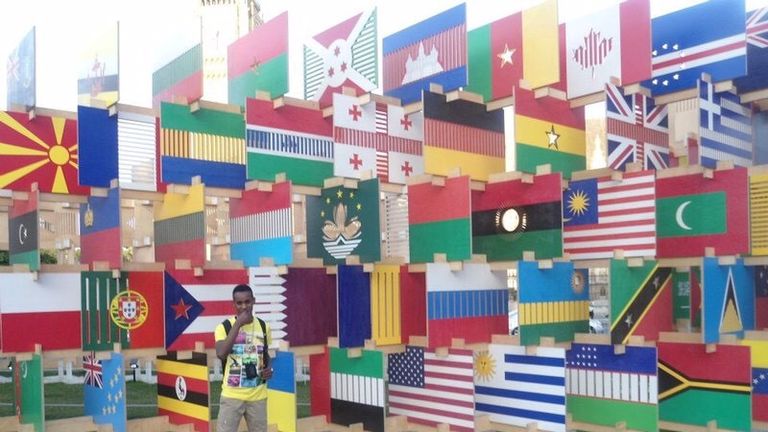 In an interview with Sky's Tom Parmenter following his return to the UK, Mr Ahmad said: "I was beaten. I was terrified. I couldn't handle it.
"They didn't allow me to sleep for three days.
"They didn't even allow me to eat or drink. It was unbelievable to be honest.
"I don't know why they did that because I was only wearing a t-shirt for Qatar football.
"In their law, you could face prison for 15 years for doing that. That's what they said to me.
"I was treated very badly to be honest."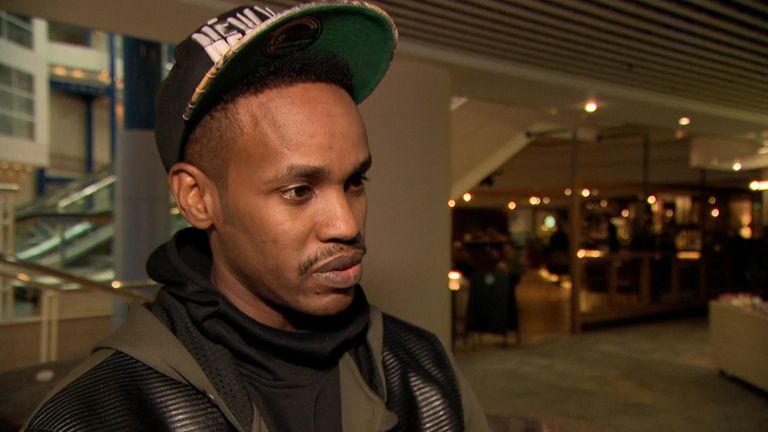 Mr Ahmad said four "intelligence officials" had followed him to his car after the football match ended and told him to hand over his t-shirt.
After questioning why they wanted the item of clothing, he gave it to them but was followed again as he travelled from Abu Dhabi to Dubai.
The next day, he said was still being tracked so he changed hotels – but he was followed once again.
"It was quite scary to be honest," Mr Ahmad said.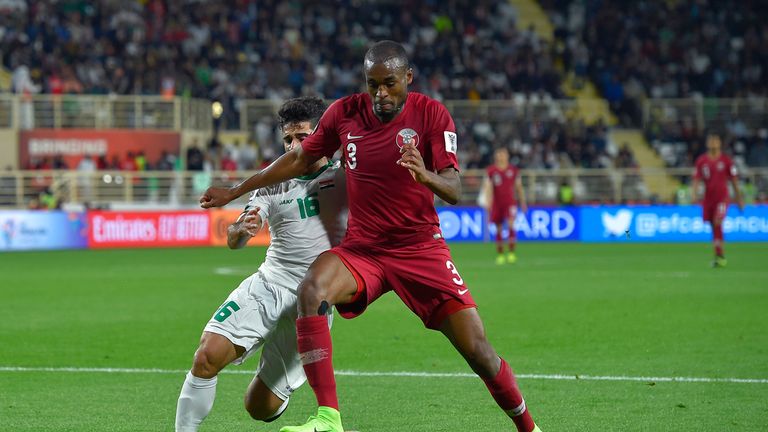 " I don't know why those guys were doing it. It was a very difficult time."
UAE officials have denied Mr Ahmad was detained for wearing the garment and insisted he had been charged after making false assault allegations to officers.
The UAE embassy in London said the dual British-Sudanese national had presented himself to a police station where he claimed he had been harassed and beaten up by UAE national football fans for cheering the Qatar team.
The embassy claimed he had been assessed at a hospital where a doctor concluded his injuries "appeared to be self-inflicted".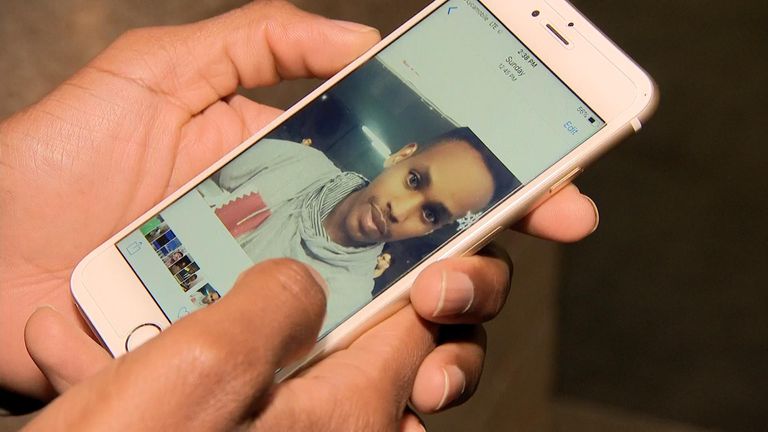 Mr Ahmad insisted "that wasn't the case" and challenged the UAE authorities to provide CCTV evidence to back up their claims.
He said he was unaware that Qatar shirts were banned in the UAE and said football fans "had to be careful".
"It's unbelievable that wearing a t-shirt is a crime," he said.
"It's freedom of support and freedom of speech."
Mr Ahmad added that he was "relieved" to be released and had followed Qatar's football team for many years, watching the team at the London 2012 Olympics
In its advice for visitors to the UAE, the Foreign Office warns that anyone "showing sympathy for Qatar on social media or by any other means of communication could be jailed or handed a 'substantial' fine".
The laws were introduced after the UAE joined Saudi Arabia, Bahrain and Egypt in cutting ties with Qatar in 2017 over allegations the oil-rich state supports Islamic extremists. Doha denies the charges.