Scenes of schoolchildren kneeling with their hands behind their heads has triggered outrage as France braces itself for more violent protests this weekend.
Footage, which has sparked condemnation by politicians, shows the pupils on the ground as riot police yell orders at them.
It is feared that the viral videos could further inflame the "yellow vest" protests, which have led to the worst rioting Paris has seen in decades.
With further "significant violence" expected on Saturday, Paris is going into effective lockdown, with the Eiffel Tower and scores of shops on the Champs-Elysees to close as a precaution, as well major museums including the Louvre.
The students were detained by police in the Paris suburb of Mantes-la-Jolie, in unrest that has spread to dozens of schools during three weeks of anti-government demonstrations.
A total of 146 people were arrested outside the town's Saint-Exupery high school after protesters clashed with police and burned two cars.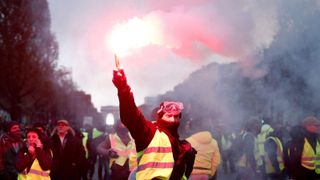 Responding to the images, socialist leader Olivier Faure tweeted: "Whatever wrong was done, nothing justifies this filmed humiliation of minors.
"There is no need to pour even more oil on the flames."
Laurent Saint-Martin, a senior member of the ruling Republic On The Move (LREM) party, said around 40 of the students were masked and intent on carrying out vandalism and arson.
But he too described the videos as "shocking", telling Franceinfo radio: "It's right to be angry, looking at these images."
Defending the treatment of the children, Interior Minister Christophe Castaner aid: "Over the past few days, the students have been joined by about 100 hooded youths armed with clubs and incendiary devices and determined to pick a fight with police."
He said roadblocks had been set alight, missiles hurled at motorists and houses robbed in the area.
"It is in this context that the security forces stepped in," said Mr Castaner.
He said the protests had "created a monster" and vowed a zero-tolerance approach by police to violence.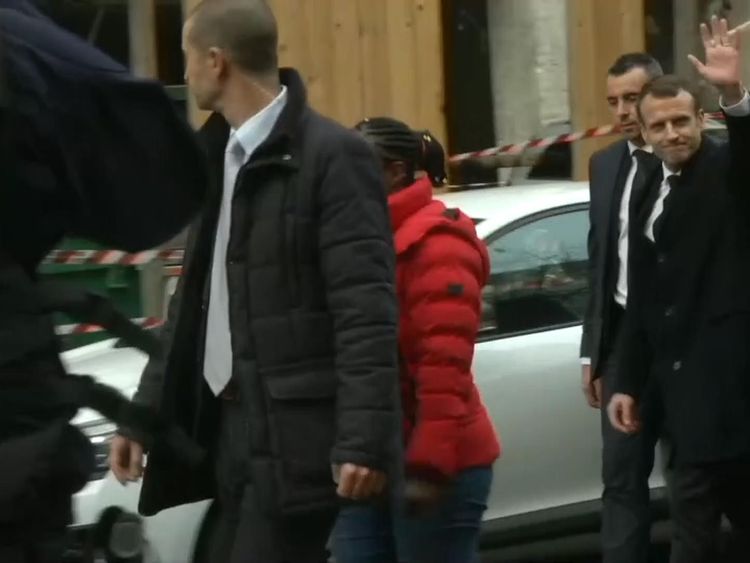 Demonstrations at some 280 schools against stricter university entrance requirements have added to the feeling of discontent in France amid the continuing "yellow vest" protests.
Dozens of people wearing face masks threw Molotov cocktails, torched rubbish bins and clashed with police outside schools in several cities on Thursday.
The "yellow vest" protests, named after the safety jackets worn by demonstrators, began on 17 November in opposition to rising fuel taxes, but have since grown into a wider movement against Emmanuel Macron in the biggest challenge of his presidency so far.
The protesters are furious at rising costs of living blamed on high taxes, and accuse Mr Macron, a former investment banker, of favouring the rich with his policies.
They argue the president is out of touch with ordinary people and many are calling on him to resign.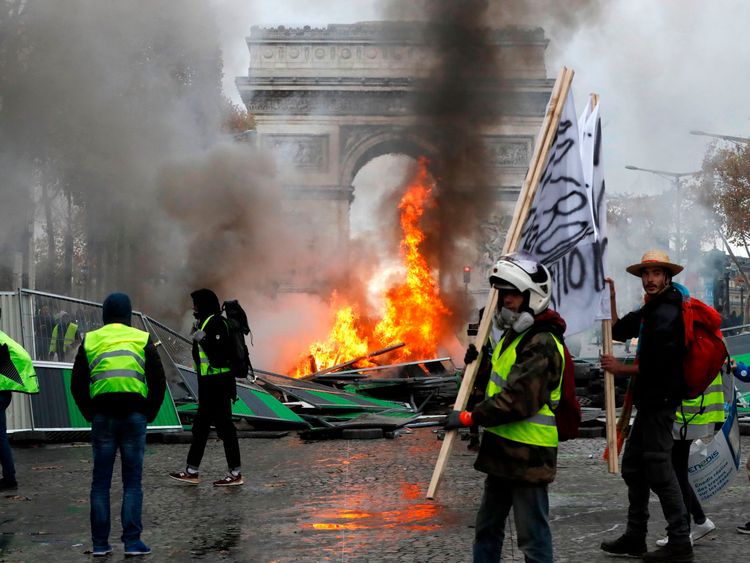 Ahead of expected unrest tomorrow, a number of football games, including one involving Paris Saint-Germain, have been cancelled.
The closures are likely to cost businesses thousands of pounds in lost income as Christmas shoppers steer clear of the capital for a second weekend in a row.
Shops have lost around €1bn (£893m) in revenue since the start of the protests last month, according to the French retail federation (FCD), which includes large supermarket groups like Carrefour.
Farmers have called for demonstrations every day next week, while two lorry driver unions plan an indefinite sympathy strike from Sunday night.
Four people have died in accidents during the protests and political leaders have appealed for calm.
But many "yellow vests" have urged fresh protests this weekend, claiming a series of of government concessions do not go far enough.
The government this week scrapped planned fuel tax hikes planned for January – one of the protesters' main demands – and announced a string of other measures designed to help low-income families.
The climbdown over the fuel tax – intended to help France move to a greener economy – marks a major shift for Mr Macron, who has previously vowed not to be swayed, like previous presidents, by large street protests.
Prominent "yellow vest" protester Benjamin Cauchy has called on Mr Macron to meet a delegation to defuse a situation that he said had brought France "to the brink of insurrection and civil war".
"We're asking him to meet us to negotiate on spending power, which is what underpins all this anger," Mr Cauchy said.
Prime Minister Edouard Philippe said the government was ready to consider "any measure which would allow us to boost spending power".
But Mr Macron's office has said he will stick to his decision to cut a "fortune tax" on high-earners, abolished last year in a bid to boost investment.
That decision is deeply unpopular with protesters and together with a series of comments, viewed as insensitive to ordinary workers, has led critics to dub Mr Macron a "president of the rich".
Teen in court for allegedly throwing two chairs off 45th floor balcony | World News

A teenager has appeared in court after allegedly throwing two chairs off a 45th floor balcony in Toronto, Canada.
Marcella Zoia, 19, was charged with mischief endangering life, mischief endangering property and common nuisance, and has now been released on $2,000 (£1,170) bail.
The case made headlines this week when a video was circulated on social media showing a blonde woman, dressed in black, hurling a chair off a high-rise balcony before it plummets to the street below.
The footage sparked outrage with people calling the woman's behaviour "irresponsible" and "unacceptable".
The chairs landed near the front entrance of the apartment block, but there were no reports of injuries.
As well as being freed on bail, Zoia was ordered to live with her mother.
And she must also not have any contact with the four people who were allegedly with her at the time.
Zoia appeared in court after turning herself in and her lawyer Greg Leslie said: "She is embarrassed by what happened.
"She wished it never happened. Of course, she would never wish anyone would be hurt."
Mr Leslie said Zoia was under pressure from her peers and they are looking for the others involved.
Police believe the incident happened on Saturday around 10am at an apartment in the Harbour and York streets area, which overlooks the Gardiner Expressway and Lake Shore Boulevard.
Constable David Hopkinson said the chair-throwing appeared "very callous" because of the apparent disregard for harm that could have been caused in a heavily-populated area.
The city's mayor John Tory has said he hopes the case is a lesson to others.
"This is irresponsible behaviour that is unacceptable," he said of the video.
"It was not just a lark gone bad. It was grossly irresponsible behaviour that could have caused serious injury and death."
Donald Trump to sign funding bill and declare national emergency over Mexico border wall | US News
Donald Trump will sign a security funding bill to avert another government shutdown but will also declare a national emergency over the border wall, says the White House.
By declaring such an "executive action", the Republican president is attempting to bypass Congress to get $5.7bn that Democrats in the lower House of Representatives have denied him for his wall along the southern border with Mexico.
So far, in stopping him from getting that money, politicians have blocked Mr Trump from implementing one of his key 2016 campaign pledges.
The border bill, providing more than $300bn for homeland security, does not contain the money Mr Trump demanded for the wall but does contain cash for other border security measures.
The bill would provide $1.37bn to help build 55 miles of new physical barriers on the border – the same amount of cash as last year.
Mr Trump, who has insisted the wall is needed to keep out Mexican criminals, now appears to be heading towards sparking a court challenge from Democrat opponents on constitutional grounds.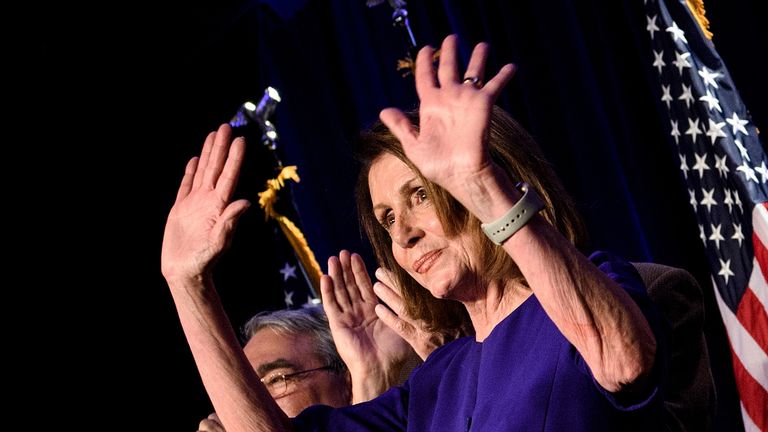 Reuters reported a source familiar with the situation said the White House had identified $2.7bn in funds previously provided by Congress that could be redirected to barrier funding as part of an emergency.
And White House lawyers had looked at the figures and believed they would withstand a legal challenge, said the source.
Speaker of the House, Nancy Pelosi, criticised Mr Trump's announcement, insisting the situation on the border was not an emergency.
Asked by reporters whether she would file a legal challenge to the emergency declaration, Democrat Ms Pelosi said: "I may, that's an option."
She said the president would set a precedent with his emergency declaration that should be met with great unease and dismay by Republicans.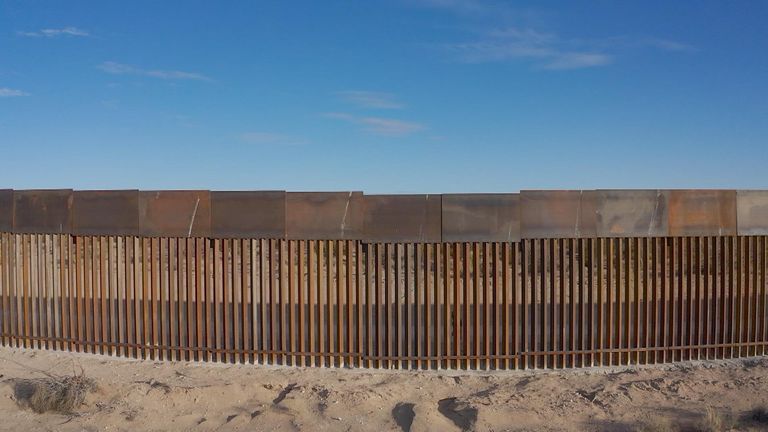 The bipartisan legislation would provide more than $300bn to fund the Homeland Security department and a range of other federal agencies until 30 September, the end of the current fiscal year.
Funding is due to expire on Friday and if more money is not confirmed it would trigger another partial federal shutdown on Saturday morning.
Congress was expected to approve the legislation.
GOP leader in the Republican-controlled Senate, Mitch McConnell, earlier told the chamber: "I've just had an opportunity to speak with President Trump…he's prepared to sign the bill. He will also be issuing a national emergency declaration at the same time."
British football fan detained 'for wearing Qatar shirt' is freed | World News

A British man held in the United Arab Emirates reportedly for wearing a Qatar shirt has been freed and has left the country, say Sky sources.
Ali Issa Ahmad, 26, was arrested in Sharjah emirate on 22 January, apparently after he had the Qatar shirt on at a football match – considered an offence in the UAE.
The dual British-Sudanese national, who lives in Wolverhampton, was arrested while on holiday in the Gulf state.
He had reportedly been watching the Asian Cup tie between Qatar and Iraq.
But Qatari officials denied he was detained for wearing the garment.
Its embassy in London says he turned up at a police station falsely claiming to have been beaten up for wearing the shirt when actually he inflicted the injuries on himself.
Allowed to make a phone call on 31 January, Mr Ahmad called his friend Amer Lokie, who told a British newspaper he had been "beaten" by security men after being accused of promoting Qatar.
The UK Foreign Office warns in its advice for visitors to the UAE that anyone "showing sympathy for Qatar on social media or by any other means of communication could be jailed or handed a 'substantial' fine".
The laws were introduced after the UAE joined Saudi Arabia, Bahrain and Egypt in cutting ties with Qatar in 2017 over allegations the tiny, oil-rich state supports Islamic extremists.
More follows…