Scenes of schoolchildren kneeling with their hands behind their heads has triggered outrage as France braces itself for more violent protests this weekend.
Footage, which has sparked condemnation by politicians, shows the pupils on the ground as riot police yell orders at them.
It is feared that the viral videos could further inflame the "yellow vest" protests, which have led to the worst rioting Paris has seen in decades.
With further "significant violence" expected on Saturday, Paris is going into effective lockdown, with the Eiffel Tower and scores of shops on the Champs-Elysees to close as a precaution, as well major museums including the Louvre.
The students were detained by police in the Paris suburb of Mantes-la-Jolie, in unrest that has spread to dozens of schools during three weeks of anti-government demonstrations.
A total of 146 people were arrested outside the town's Saint-Exupery high school after protesters clashed with police and burned two cars.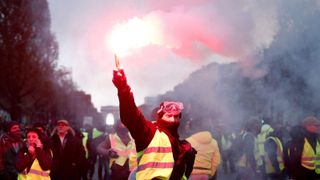 Responding to the images, socialist leader Olivier Faure tweeted: "Whatever wrong was done, nothing justifies this filmed humiliation of minors.
"There is no need to pour even more oil on the flames."
Laurent Saint-Martin, a senior member of the ruling Republic On The Move (LREM) party, said around 40 of the students were masked and intent on carrying out vandalism and arson.
But he too described the videos as "shocking", telling Franceinfo radio: "It's right to be angry, looking at these images."
Defending the treatment of the children, Interior Minister Christophe Castaner aid: "Over the past few days, the students have been joined by about 100 hooded youths armed with clubs and incendiary devices and determined to pick a fight with police."
He said roadblocks had been set alight, missiles hurled at motorists and houses robbed in the area.
"It is in this context that the security forces stepped in," said Mr Castaner.
He said the protests had "created a monster" and vowed a zero-tolerance approach by police to violence.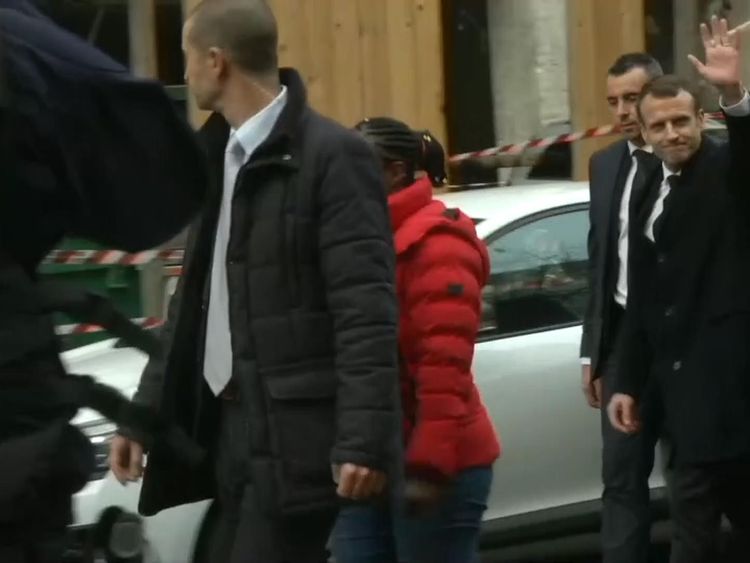 Demonstrations at some 280 schools against stricter university entrance requirements have added to the feeling of discontent in France amid the continuing "yellow vest" protests.
Dozens of people wearing face masks threw Molotov cocktails, torched rubbish bins and clashed with police outside schools in several cities on Thursday.
The "yellow vest" protests, named after the safety jackets worn by demonstrators, began on 17 November in opposition to rising fuel taxes, but have since grown into a wider movement against Emmanuel Macron in the biggest challenge of his presidency so far.
The protesters are furious at rising costs of living blamed on high taxes, and accuse Mr Macron, a former investment banker, of favouring the rich with his policies.
They argue the president is out of touch with ordinary people and many are calling on him to resign.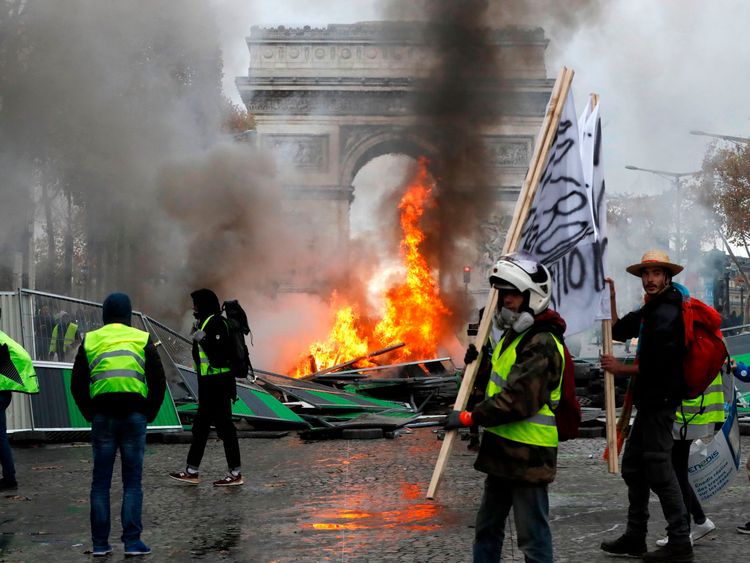 Ahead of expected unrest tomorrow, a number of football games, including one involving Paris Saint-Germain, have been cancelled.
The closures are likely to cost businesses thousands of pounds in lost income as Christmas shoppers steer clear of the capital for a second weekend in a row.
Shops have lost around €1bn (£893m) in revenue since the start of the protests last month, according to the French retail federation (FCD), which includes large supermarket groups like Carrefour.
Farmers have called for demonstrations every day next week, while two lorry driver unions plan an indefinite sympathy strike from Sunday night.
Four people have died in accidents during the protests and political leaders have appealed for calm.
But many "yellow vests" have urged fresh protests this weekend, claiming a series of of government concessions do not go far enough.
The government this week scrapped planned fuel tax hikes planned for January – one of the protesters' main demands – and announced a string of other measures designed to help low-income families.
The climbdown over the fuel tax – intended to help France move to a greener economy – marks a major shift for Mr Macron, who has previously vowed not to be swayed, like previous presidents, by large street protests.
Prominent "yellow vest" protester Benjamin Cauchy has called on Mr Macron to meet a delegation to defuse a situation that he said had brought France "to the brink of insurrection and civil war".
"We're asking him to meet us to negotiate on spending power, which is what underpins all this anger," Mr Cauchy said.
Prime Minister Edouard Philippe said the government was ready to consider "any measure which would allow us to boost spending power".
But Mr Macron's office has said he will stick to his decision to cut a "fortune tax" on high-earners, abolished last year in a bid to boost investment.
That decision is deeply unpopular with protesters and together with a series of comments, viewed as insensitive to ordinary workers, has led critics to dub Mr Macron a "president of the rich".
Police identify 'location of interest' in case of missing backpacker

Detectives investigating the murder of British backpacker Grace Millane in New Zealand have identified a "location of interest", Auckland police have said.
A scene examination is taking place in a bush area on Scenic Drive in Auckland.
The countryside road lies on the city's outskirts and is a roughly 30-minute drive from the CityLife hotel where Ms Millane was last seen on 1 December.
Police have said the examination is a "methodical and slow process and is expected to take all day".
The force added that they are unable to confirm whether the 22-year-old's body has been located at the site.
Police have said part of the road will be closed until 7pm local time (6am GMT).
Detective Inspector Scott Beard will provide an update from the cordon at 4:30pm local time (3:30am GMT).
More follows…
Russian prison torture victim 'brought back to life four times'
Yaroslavl Pretrial Detention Centre no. 1 is a bleak brick building crowned with barbed wire on the banks of Russia's River Volga.
We're there to meet a former inmate, Yevgeny Makarov.
He had just spent six years and eight months inside – here and at another of Yaroslavl's insalubrious jails.
The prison guards don't want us to film. Not missing a beat, Mr Makarov thrusts his mobile phone camera in their faces and demands to know what their problem is. He won't let up. Eventually they leave.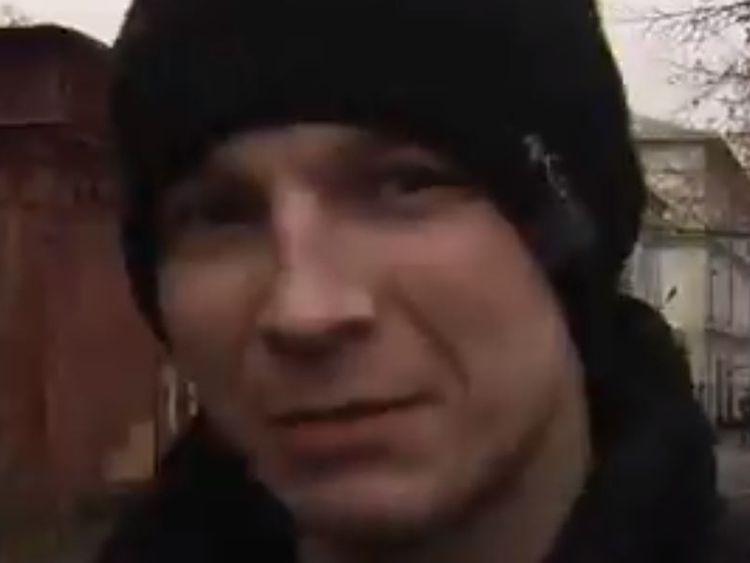 It's plucky from a man who 18 months earlier was lying handcuffed to a table, stripped from the waist down with a roomful of guards taking turns to beat him.
"They punched me on my feet, in my face, choked me with a towel, they poured water into my mouth so that I suffocated. I died four times because of that and they brought me back to life four times," he says.
They didn't beat the spirit out of him.
We know all this because there's a video. Torture in Russian jails is nothing new. Seeing the brutal evidence of it is.
It is a hard watch. Mr Makarov's telling of it is unpleasant enough but he doesn't describe how he yelled.
His case caused a public outcry but only because the video was leaked – the publicity shaming Russia's prisons service into carrying out nationwide inspections and prosecuting the guards involved.
Thirteen of the guards now sit behind bars awaiting trial. Another is under house arrest. Mr Makarov points out their windows. "I hope, I deeply hope that these sadists are punished," he says.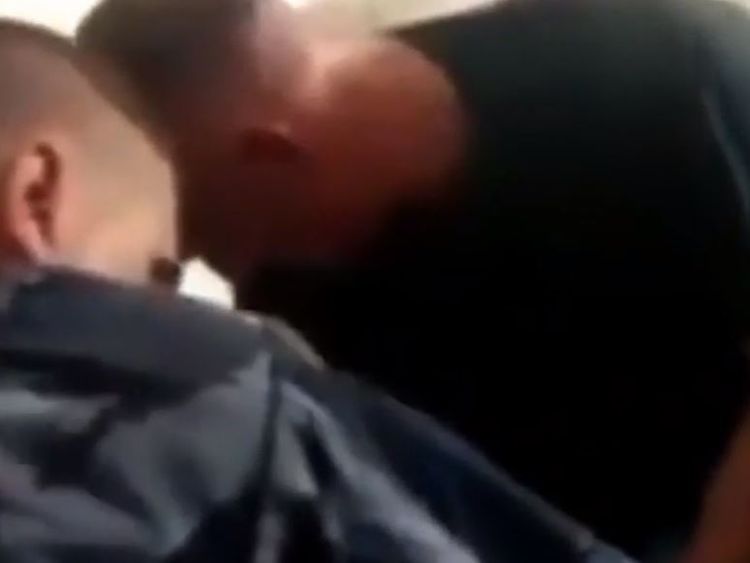 Mr Makarov's lawyer, Irina Biryukova, from the human rights group Public Verdict, had been busy long before the video came out.
She had complained to prison authorities that Mr Makarov and others were being beaten. She had brought their case to the European Court of Human Rights which had ordered authorities to look into it.
The video was leaked one year later. Only then was there a response.
It's thrown the spotlight on a culture of torture and abuse in Russia's jails. Ms Biryukova says the publicity from the video has emboldened others to speak out.
He said: "We're receiving a very big number of reports from convicted people from other prisons from all over Russia.
"We started to work with them. This shows us that people stopped being scared and began to talk about the problem of torture."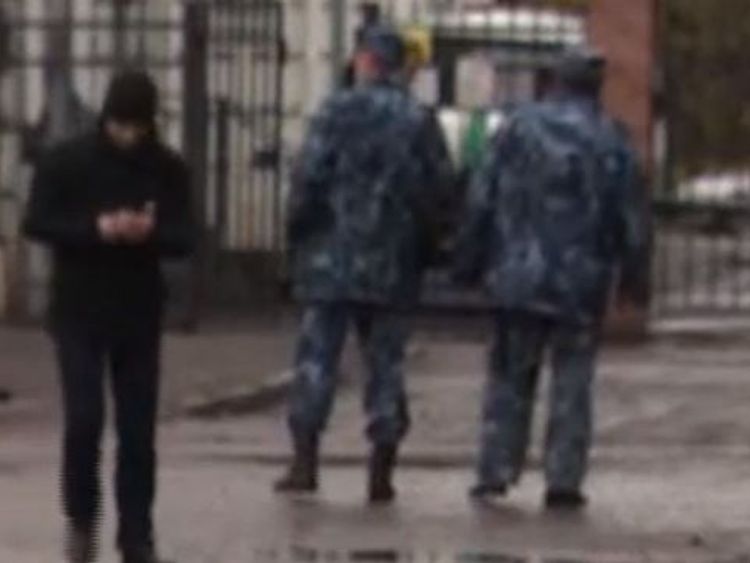 This Monday is Human Rights Day. It marks 70 years since the United Nations General Assembly adopted the Universal Declaration of Human Rights.
It comes at a time when Russia is threatening to leave the Council of Europe, and if it does, the jurisdiction of the European Court of Human Rights (ECHR).
The ECHR has long been a final recourse for Russian citizens and one that has repeatedly held the state to account for human rights abuses.
Most recently the court ordered Moscow to pay opposition politician Alexey Navalny a £25,000 fine for his repeated detentions.
At a Moscow conference to mark the anniversary, Russia's Human Rights Commissioner Tatyana Moskolkova was hosting her Eurasian counterparts.
It's a mark of where Russia's focus lies. 'Sharing human rights best practice' was the name given to the event. From Iran to Kazakhstan, the line-up of attendees were not known for their stellar human rights records.
Ms Moskolkova told us she would regret any departure from the ECHR. "The Council of Europe without Russia is not a complete organisation," she says.
"The same I believe for Russia. Without international human rights bodies, that would be a step back."
What is surprising about Mr Makarov's case though is the fact that the pressure came from within.
A video that was leaked by an insider and brought to the attention of an independent media outlet had the power to initiate a shift.
The trial hasn't started yet but Ms Biryukova thinks the chances of justice being served are high because of the publicity.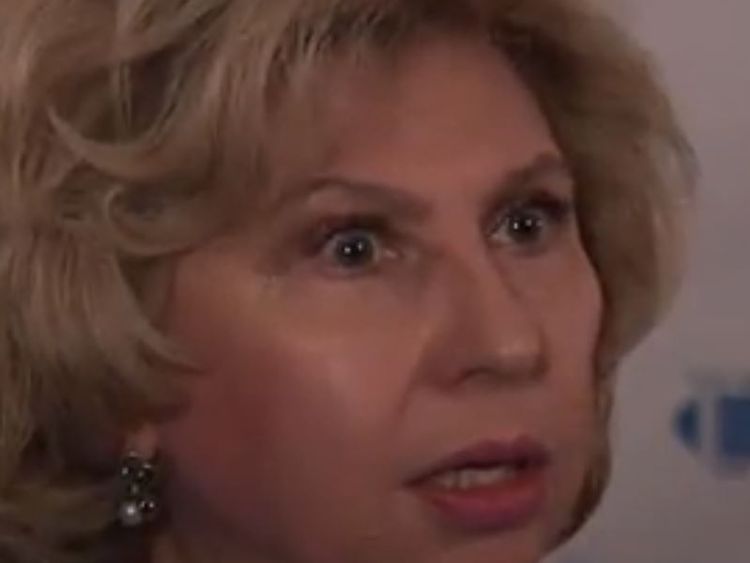 Russia's Federal Penitentiary Service has now documented a further 168 violations in prisons and detention facilities across the country and says those involved will face disciplinary charges.
Whether they will follow through on each and every case is another story but it is a start.
There is little to celebrate in the battle against abuse in Russia's jails; this is a small but significant victory.
Donald Trump says chief of staff to leave post at end of year
US President Donald Trump has said his chief of staff John Kelly will leave his post at the end of the year.
Mr Kelly, a retired Marine general, has been in the role since the end of July last year.
Mr Trump did not name his successor, and is expected to announce the new chief in the next day or two.
Mr Trump made the announcement at the White House before departing for the Army-Navy American football game in Philadelphia.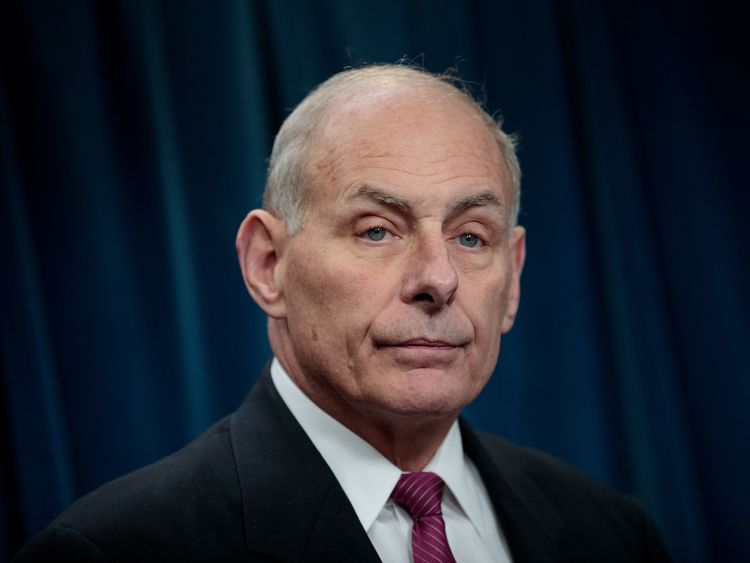 He said: "John Kelly will leaving – I don't know if I can say retiring – but he's a great guy.
"We'll be announcing who will be taking John's place – it might be on an interim basis. I'll be announcing that over the next day or two, but John will be leaving at the end of the year.
"He's been with me almost two years now, between two positions.
"I appreciate his service very much."
Mr Kelly is credited with bringing some discipline to the White House, but his time with Mr Trump has not bee smooth sailing.
The shake up comes as Mr Trump prepares for what could be a challenging time from January when the Democrats take over the House after the mid-term elections. He also faces his next campaign for the 2020 presidential elections.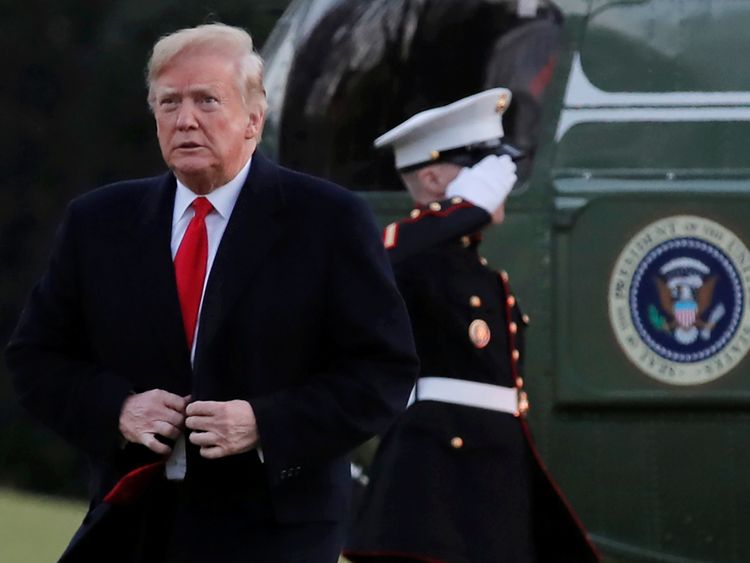 It's also despite Mr Trump asking his chief to stay on until 2020 when he reached the end of his first year. CNN also reported that the president had asked Mr Kelly to consider committing to his second term.
CNN also suggests that Mr Trump and Mr Kelly are no longer on speaking terms. Aides are said to believe the relationship between the pair cannot bounce back now, despite Mr Kelly allegedly being close to quitting on several occasions.
Mr Kelly moved from the Department of Homeland Security to chief of staff after Reince Priebus left. He took over as intrigue grew because of allegations of election interference from Russia.
Mr Trump has made several changes to his top team in the past few days, announcing his nomination for UN ambassador as former Fox News presenter Heather Nauert.
Earlier on Saturday he announced Army chief of staff General Mark Milley as his pick to be the new chairman of the joint chiefs of staff.
Two of his staff who worked on his 2016 campaign will leave their roles to begin working on the re-election campaign. Bill Stepien has been Mr Trump's political director, and Justin Clark was the director of the office of public liaison.