Imran Khan has accused the US of "pushing Pakistan away" despite the country's help to bring the Afghan Taliban to peace talks.
Reflecting on the two nations' changing relationship, the Pakistani prime minister said his country would no longer want to be "treated like a hired gun", referring to the war against the Soviet Union in the 1980s and the ongoing US "war on terror".
Mr Khan and Donald Trump were involved in a Twitter spat last month after the American president suggested Pakistan had harboured Osama bin Laden despite receiving billions in US aid.
Mr Khan told The Washington Post: "I would never want to have a relationship where Pakistan is treated like a hired gun – given money to fight someone else's war.
"We should never put ourselves in this position again. It not only cost us human lives, devastation of our tribal areas, but it also cost us our dignity. We would like a proper relationship with the US."
The United States has foolishly given Pakistan more than 33 billion dollars in aid over the last 15 years, and they have given us nothing but lies & deceit, thinking of our leaders as fools. They give safe haven to the terrorists we hunt in Afghanistan, with little help. No more!

— Donald J. Trump (@realDonaldTrump) January 1, 2018
Trump's false assertions add insult to the injury Pak has suffered in US WoT in terms of lives lost & destabilised & economic costs. He needs to be informed abt historical facts. Pak has suffered enough fighting US's war. Now we will do what is best for our people & our interests

— Imran Khan (@ImranKhanPTI) November 19, 2018
He added: "For instance, our relationship with China is not one-dimensional. It's a trade relationship between two countries. We want a similar relationship with the US."
When asked if Pakistan was trying to hedge its bets using China, Mr Khan replied: "The US has basically pushed Pakistan away."
Bin Laden, the mastermind of the 9/11 terror attacks and the head of al Qaeda, was killed in 2011 during a raid by US special forces on his compound in Abbottabad, Pakistan. The raid strained relationship between America and long-time ally in the region.
On Twitter last month following the bin Laden accusations, Mr Khan said Mr Trump needed to be "informed about historical facts", adding that Pakistan had "suffered enough fighting US's war [on terror]".
The former cricketer told the newspaper he was merely "setting the record straight" with Mr Trump "saying Pakistan was the reason for these sanctuaries [for Taliban leaders]". The Pakistani leader insisted there "are no sanctuaries in Pakistan".
He said: "The exchange was about being blamed for deeply flawed US policies – the military approach to Afghanistan."
The comments come as Pakistan's army backed US efforts for a political settlement with the Afghan Taliban to end 17 years of fighting. Major General Asif Ghafoor urged the US to leave Kabul as a "friend of the region" rather than a "failure".
Mr Khan said peace in Afghanistan was in Pakistan's interest and vowed to put pressure on the Afghan Taliban but said it was "easier said than done" with "about 40% of Afghanistan now out of the government's hands".
On Wednesday, he met with a US peace envoy in Islamabad and pledged to help find a political solution to the long-running war.
During last month's exchange with Mr Trump, the Pakistani leader said his country had suffered 75,000 casualties and lost $123bn (£95.7bn) during America's so-called war on terror despite no one from his country being involved in the 9/11 attacks.
He said the US provided a "minuscule" $20bn (£15.6bn) in aid.
In his latest interview, Mr Khan spoke also about his plans to tackle poverty in Pakistan and said he was inspired by the UK's welfare state.
"I went as an 18-year-old to play cricket in England. It was the first time I saw a welfare state," he said. "It cared for the underprivileged, for the people who can't compete in the race."
Body of second British woman to go missing in Jamaica is found by the road
The body of a second British woman to go missing in Jamaica has been found as police investigate three murders in two weeks.
Barbara Findley, who moved to Jamaica from Kensington five years ago, was reported missing at the end of November.
Police found her body on the side of a road on Wednesday, according to The Times.
Ms Findley, who described herself as a photographer and stylist, was found by a car wash manager in woodland not far from her home.
She is understood to have one daughter, who lives in Britain.
It comes soon after the disappearance of Karen Cleary, a 44-year-old woman from London who was in Jamaica building her dream home.
A man who claimed to be her partner, Andy Kane, travelled to the island to help police find her, and said her body had been found in the garden of her home in St Mary.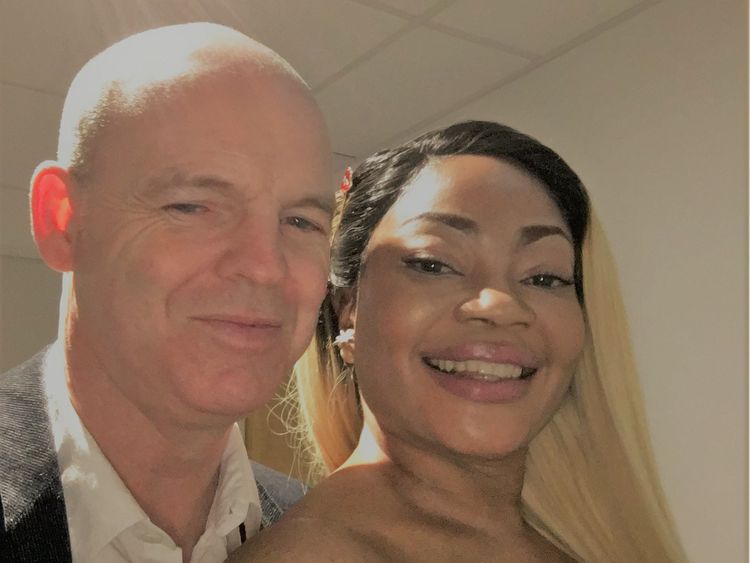 Now, Ken Brown, who says he is Karen Cleary's husband, says a man has confessed to her murder and has led police to the grave he dug.
Mr Brown – who says Mr Kane was just a friend of Ms Cleary – said: "I am just devastated. She was building a dream home, we had planned this wonderful life together.
"She was coming back in January and then we were going to go for a big holiday around Thailand – the future was rosy."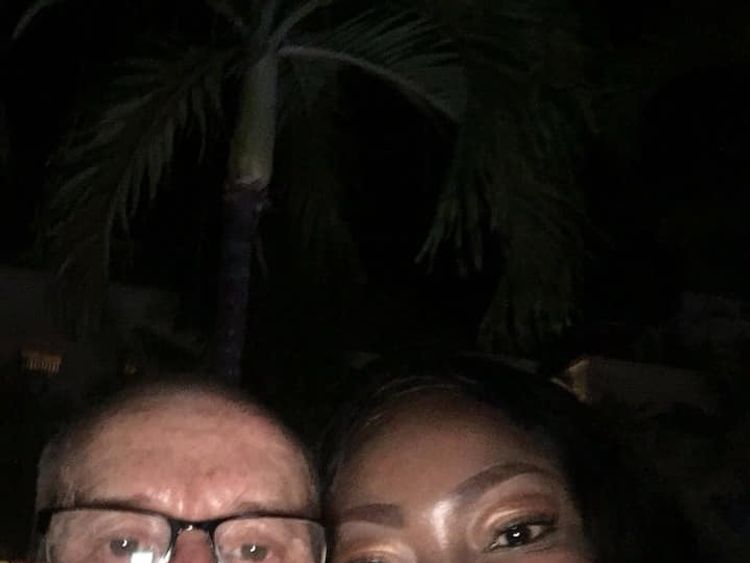 He said the dig to recover her body took several hours, as the killer had buried her deep, put tarpaulin over the body and poured concrete on top.
He claims police told him a confession was vital, because sniffer dogs could never have found her body.
A third woman, Nancy Hardy, 72, from Florida, was also found dead on the island – discovered in a shallow grave in a town near where she lived.
Police identified her body on 29 November.
Her daughter, Chandra Hardy, told the Daily Hampshire Gazette: "She was an extraordinary human being, fiercely independent and truly eccentric."
Survivors of Houthi rebel prisons tell of torture
Former prisoners of rebels in Yemen have revealed the torture they suffered at the hands of their captors, including being burned with acid, beaten and hung by their wrists for weeks on end.
The accounts of brutality have emerged as UN-backed peace talks got under way in Sweden between the Houthi rebels and the Yemeni government.
As a confidence-building move, the two sides have agreed to release thousands of prisoners, although the details have still to be hammered out.
However, while captives of the government side are mostly Houthi fighters, the rebels' prisoners are largely civilians, detained in sweeps aimed at suppressing opposition and gaining hostages who could be traded for ransom or exchange.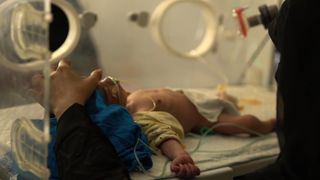 More than 18,000 prisoners have been jailed by the Houthis in the last four years, according to the Abductees' Mothers Union, an association of female relatives of detainees, which has also documented a thousand cases of torture.
The group says at least 126 prisoners have died as a result of torture since the Houthis took over the Yemeni capital, Sanaa, in late 2014.
Houthi leaders have previously denied that they engage in torture.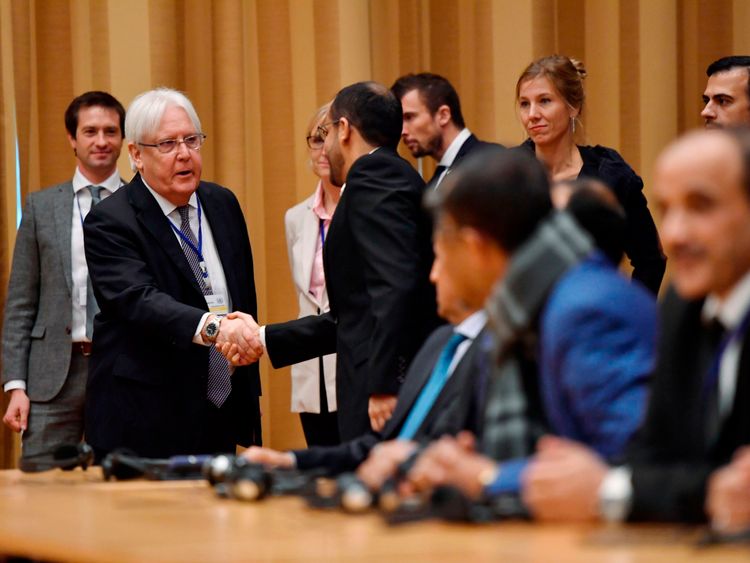 Amnesty International says that "horrific human rights abuses, as well as war crimes, are being committed throughout the country by all parties to the conflict".
However, much of the international condemnation of Yemen's bloody civil war has centred on abuses carried out by the US-backed and Saudi-led military coalition fighting on the side of the Yemeni government.
One of those tortured by Houthi fighters was a hospital medic, Farouk Baakar, who was detained for treating an "enemy" of the rebels, who had been left for dead.
He spent 18 months in rebel prisons, where he says he was burned, beaten an chained to the ceiling by his wrists for 50 days, according to an AP investigation that revealed the torture.
Another former prisoner, a school teacher told how he had been held for nearly five months in an underground cell, during which he was blindfolded the entire time.
He kept count of the days by following the Muslim calls to prayer.
Throughout his detention, he said, his jailers beat him with iron rods and told him he was going to die.
"Prepare your will," he said they told him.
The conflict has claimed tens of thousands of lives and led to a humanitarian crisis that has pushed millions to the brink of starvation.
A Saudi-led Arab coalition intervened in 2015 to restore a government ousted by the Iranian-backed Houthi movement.
Markets take stock after FTSE's worst day since Brexit result
The latest selling storm to hit world stock markets has petered out after the FTSE 100 suffered its biggest percentage fall since the day after the Brexit referendum.
Asian indices were mostly in positive territory on Friday after a calmer end to trading in New York, while the FTSE opened was 1.5% up in early deals – recovering some of the previous day's 3.2% loss.
Investors took fright when it emerged the chief financial officer at Chinese telecoms giant Huawei had been arrested at the request of the country's trade war foe, the United States.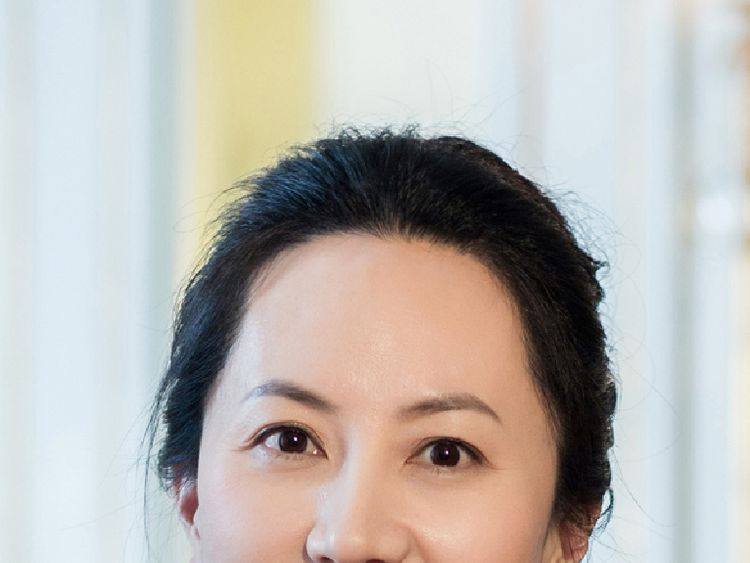 Meng Wanzhou faces extradition from Canada over allegations the global firm broke US sanctions against Iran though a bail hearing was set for later on Friday.
Her detention exacerbated fears that a ceasefire in the trade war agreed between Donald Trump and his Chinese counterpart Xi Jinping at the G20 summit last weekend was not the breakthrough the market had originally thought.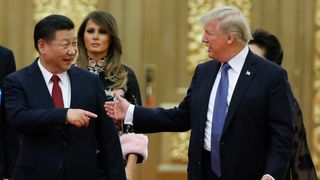 :: 'Bad Trump' to blame as global markets tumble
Add to that issue concerns about the US economy and a recent slump in oil costs – with the OPEC cartel failing to agree production cuts to boost prices – there is a toxic cocktail of factors for investors to consider.
Following the share bloodbath across Europe, the Dow Jones ended Thursday trading just 0.3% lower on Wall Street after an initial heavy sell-off of almost 800 points while the tech-dominated Nasdaq also fought back to close the session slightly up.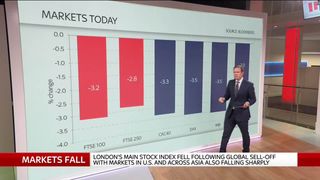 Hong Kong's Hand Seng, the Shanghai Composite and the Nikkei in Tokyo were all up – but not by much – on the final day of the trading week.
The FTSE's gains were tempered by some retail negativity after a pre-AGM statement from the owner of Primark reported "negative" like-for-like store sales in November.
Associated British Foods led the fallers – down 2.1%. Other stock markets in Europe were also seeing tentative gains following Thursday's rout.
Providing some of the market support were hopes the US Central Bank will react to growing fears of a US recession by not raising interest rates as much next year as previously indicated.
Ahead of a key US jobs report on Friday, which was forecast to show steady but not spectacular hiring and wage growth, a report in the Wall Street Journal said the bank was planning a "wait-and-see approach".
Rising rates make it more expensive to borrow to invest and it has been a core reason behind selling on world markets this year following a gradual end to post-crisis central bank stimulus.
Analyst Neil Innes, head of Asia-Pacific trade at OANDA, suggested markets may have overreacted this week.
He told the AP news agency: "The Huawei headline could not have come at a worse time, with the market reeling as confusion reigned over the G20 fallout.
"But when you laminate trade war issues with observed dovish shifts from major central banks, it merely adds a whole new level of unwanted confusion entering year-end."
He added: "I'm trying to suggest… we were going through a market-driven event rather than a meaningful shift to the dark economic side that had all the doom and 'gloomers' coming out of their caves this week."