New Zealand police say they "hold grave fears" for the safety of a British backpacker who is missing in the country.
Grace Millane, who turned 22 on Sunday, was last seen entering the CityLife hotel in Auckland at 9:41pm on Saturday 1 December.
Detective Inspector Scott Beard from Auckland Police was unable to confirm on Friday if Ms Millane left the hotel.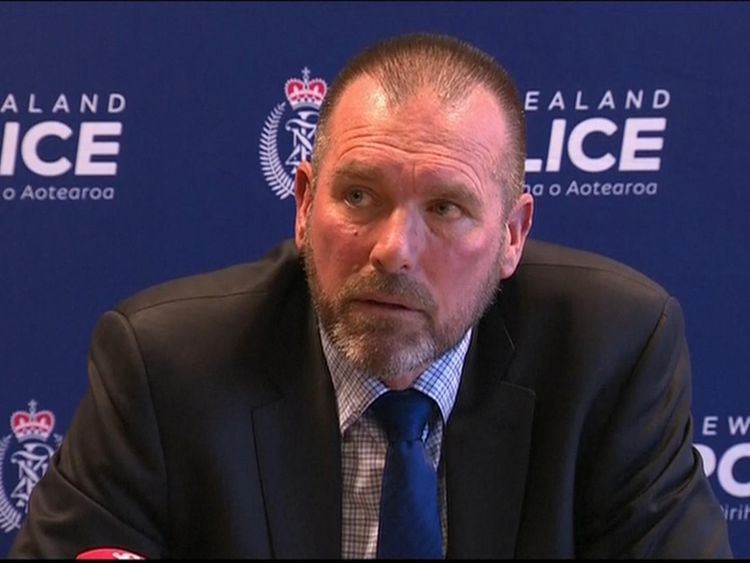 He said: "As part of our investigation we have reviewed hours and hours of CCTV footage and this will continue throughout the weekend."
DI Beard added that Ms Millane from Wickford, Essex, was with a male companion when she entered the hotel.
He continued: "Police have identified this man and he has been spoken to.
"Through our investigations we have also identified a location of interest as an apartment in the CityLife hotel in Queen Street.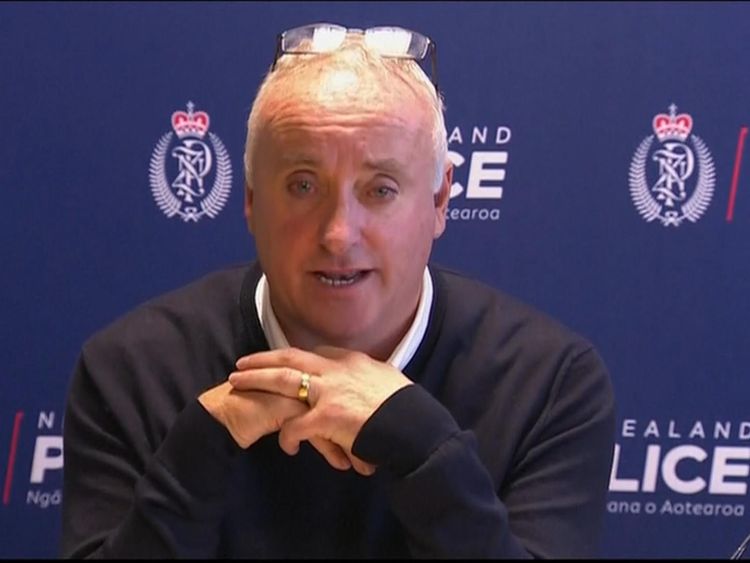 "We are conducting a scene examination at this address."
The police officer said the man is not in custody but is a person of interest in the case.
He said there is no evidence of foul play and that Ms Milane is still being treated as missing, but added: "At this point we hold grave concerns for her safety."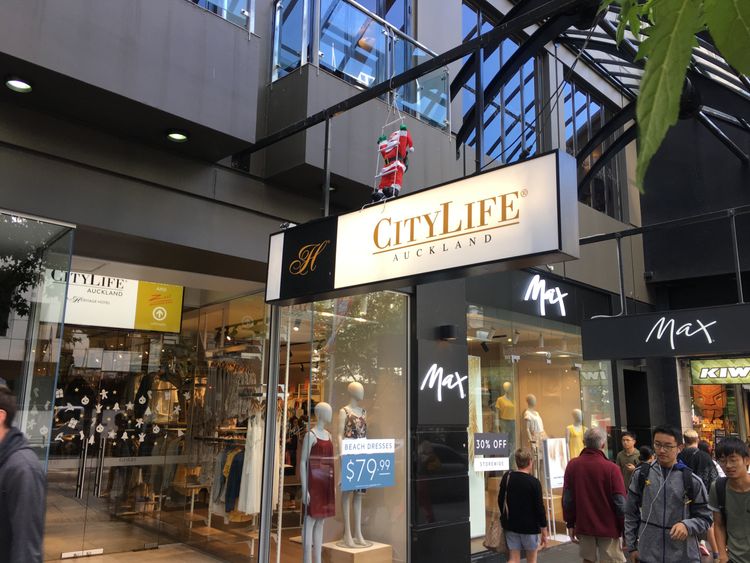 DI Beard would not confirm reports she had been using the dating app Tinder while in Auckland.
Ms Millane's father David has flown out to New Zealand amid the investigation into her disappearance.
He told reporters: "Grace is a lovely, outgoing, fun-loving, family-orientated daughter.
"Grace has never been out of contact for this amount of time.
He added that Ms Millane had been in Peru in South America before arriving in New Zealand alone as part of a year of travelling.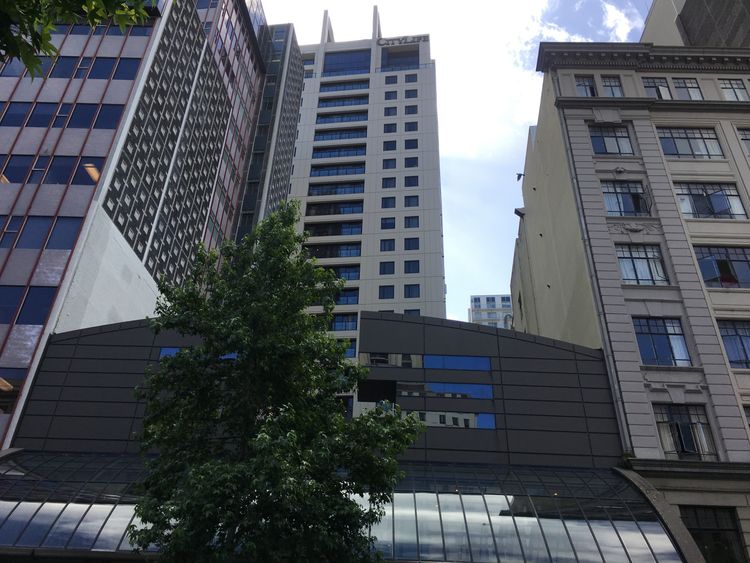 She was staying at the Base Backpackers hostel in central Auckland before her disappearance.
Mr Millane continued: "She had been bombarding us with numerous photographs and messages of her adventures.
"We are all extremely upset and it is very difficult at this time to explain the range of emotions we are going through."
New Zealand police have released a CCTV image of Ms Millane entering the SkyCity entertainment complex at around 7:15pm on Saturday.
She was wearing a black dress and what was believed to be white Converse trainers.
A number of unconfirmed sightings have been reported to officers.
Australian rugby star sacked over anti-gay social media post


Rugby Australia has sacked one of its biggest stars Israel Folau for social media posts which were critical of gay people.

Source link
UK sold £11.5m of arms to Saudi Arabia in months after Khashoggi murder | UK News
The British government licenced the sale of almost £11.5m worth of military equipment to Saudi Arabia in the three months after the murder of journalist Jamal Khashoggi, Sky News has learnt.
The true figure is likely to be higher, because of the use of a type of licence which allows the agreement to be extended over time. The government is not obliged to clarify the final figure.
Figures from the Department of International Trade (DIT), compiled by the Campaign Against Arms Trade (CAAT), and verified and analysed by Sky News, show between October and December 2018 a total of £11,414,054 military licences were granted to Saudi Arabia.
Saudi Mr Khashoggi, a staunch critic of his crown prince, was last seen entering the country's consulate in Istanbul on 2 October last year.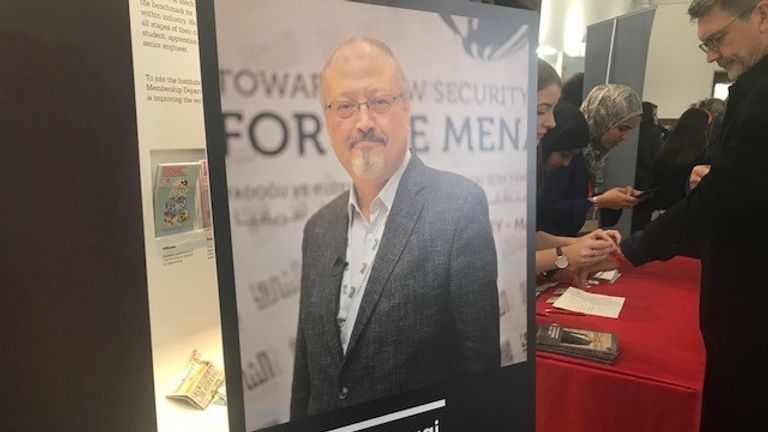 The UK approved a £9.1m military export licence for what is listed as "military patrol/assault craft". According to CAAT, this happened just three days after Mr Khashoggi was last seen and as investigations into his disappearance surged on amid suspicions he had been killed.
In the months that followed, Sky News has seen that licences were granted for anti-armour ammunition, electronic warfare equipment and "military improvised explosive device decoying/detection/disposal/jamming equipment", among others.
No licences processed during the three months after Mr Khashoggi's death were refused, rejected or revoked.
The UK's relationship with Saudi Arabia came under scrutiny after Mr Khashoggi's murder, which the United Nations has said was "planned and perpetrated" by Saudi officials.
Foreign Secretary Jeremy Hunt raised the case during a visit to Saudi Arabia in November and Prime Minister Theresa May issued a warning to the country's crown prince, telling him he must take action to ensure "such a deplorable incident" does not happen again.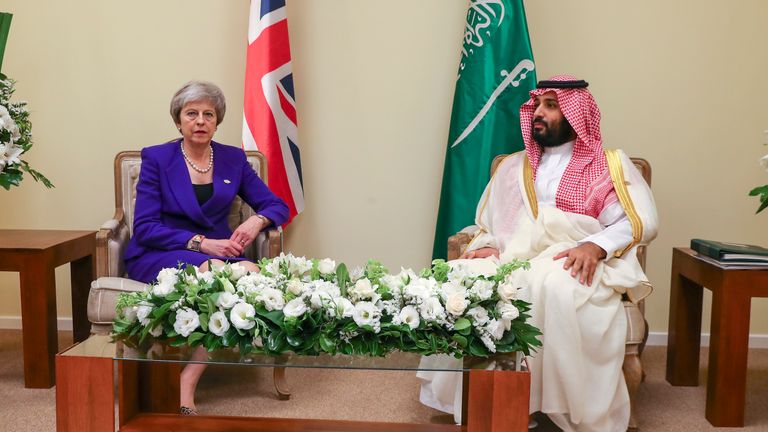 Additionally, the spiralling war in Yemen which has had a devastating impact on civilians has fuelled criticism. The conflict has seen thousands die and 20 million more live on the brink of famine.
Sky News previously revealed that the UK sold at least £5.7bn worth of arms to the Saudi-led coalition fighting in Yemen since the start of the war in 2015 – with more than 80% of those sales have been received by Saudi Arabia.
The total sales to Saudi Arabia since the start of the war in March 2015 up to the latest available data is £4.7bn.
Newly published documents by the government also show that Saudi Arabia is in the top ten countries ranked by value of licences approved by the UK in 2018 – with £130m worth of licences. The US and South Korea are first and second, with £3.23bn and £760m.
A spokesperson for the DIT told Sky News: "The government takes its export responsibilities very seriously. We operate one of the most robust export control regimes in the world and keep our defence exports to Saudi Arabia under careful and continual review.
"All export licence applications are assessed on a case-by-case basis against the Consolidated EU and National Arms Export Licensing Criteria, taking account of all relevant factors at the time of the application.
"We will not a grant a licence if to do so would be inconsistent with these criteria."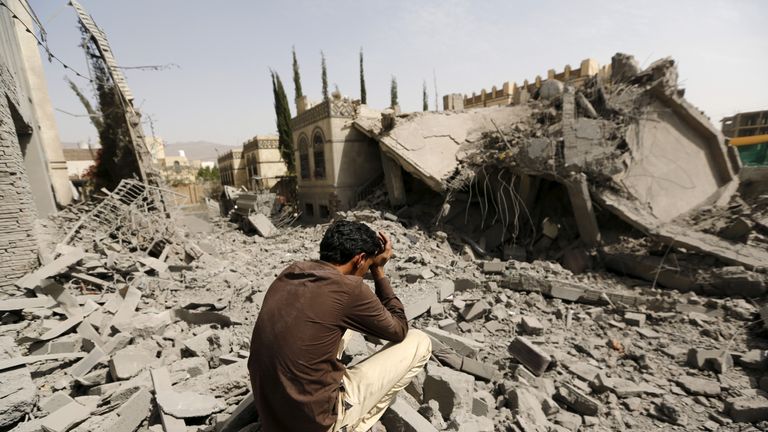 Andrew Smith, spokesperson for CAAT, said: "The murder of Jamal Khashoggi was condemned around the world, but for the arms dealers it was business as usual. At the same time as the regime was coming under unprecedented pressure, the UK government was cozying up to the dictatorship and signing off on arms deals."
He added: "The humanitarian crisis that Saudi forces have inflicted on Yemen hasn't been enough to stop arms sales. Nor has the brutal killing of Jamal Khashoggi. If these atrocities haven't been enough for Downing Street to act then what more would it take?"
Pregnant woman strangled and has baby cut from womb after responding to offer on Facebook | US News
A pregnant woman who responded to an offer of free baby clothes on Facebook was strangled and had her child cut from her womb, say Chicago police.
The body of Marlen Ochoa-Lopez, 19, was found behind a house in Chicago on Wednesday, three weeks after she was last seen leaving her high school.
"We believe that she was murdered, and we believe that the baby was forcibly removed following that murder," said police spokesman Anthony Guglielmi.
The baby is said to be in a serious condition and is not expected to survive.
Three people are in custody. Two, 46-year-old Clarisa Figueroa and her 24-year-old daughter Desiree, were charged with murder. The mother's boyfriend, 40-year-old Piotr Bobak, was charged with concealment of a homicide.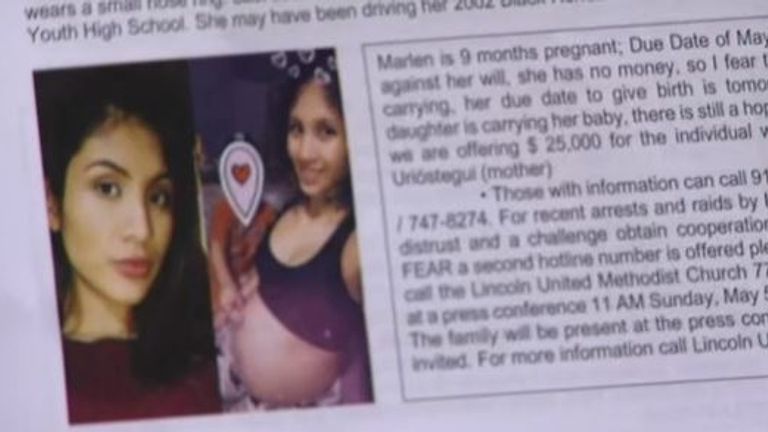 The victim's family said she had been lured to the home by a woman on Facebook who was offering baby clothes and a pushchair.
"She was giving clothes away, supposedly under the pretence that her daughters had been given clothes and they had all these extra boy clothes," said family spokeswoman Cecelia Garcia.
Ms Ochoa-Lopez's family had been organising search parties and publicising her disappearance.
The breakthrough came when a woman set up a fundraising page saying she needed money for a funeral because her baby was about to die, according to Sara Walker – another spokeswoman for the victim's family.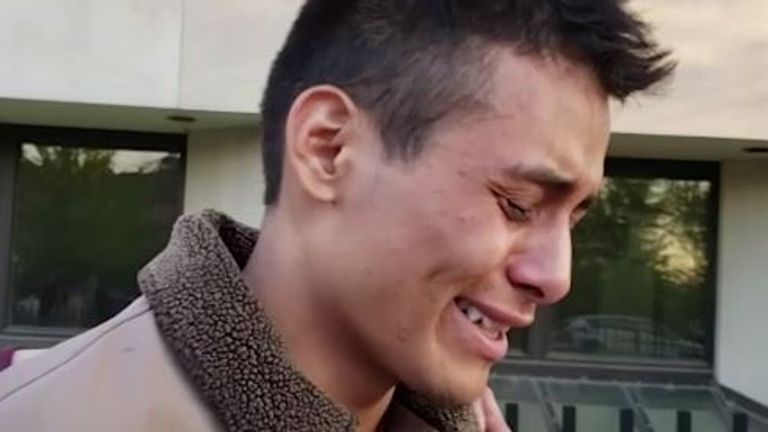 The same woman had called emergency services the day Ms Ochoa-Lopez disappeared to say her newborn was having trouble breathing.
The baby was taken to hospital and DNA tests later found the baby actually belonged to Ms Ochoa-Lopez.
Yiovanni Lopez, the baby's father, has been visiting his son in hospital.
"Why did these people, why did these bad people, do this? She did nothing to them," Mr Lopez told reporters in Spanish. "She was a good person."
Ms Ochoa-Lopez was already mother to one young son.