Global oil prices have surged after a tentative deal was reportedly cut to ease production and tackle a fresh supply glut.
US crude and Brent crude prices entered bear market territory last month – only weeks after hitting their highest level for four years – as growing supplies of US shale oil combined with fears around a slowing global economy.
On Friday, following a tough round of talks in Vienna, the Organisation of Petroleum Exporting Countries (OPEC) signalled output would fall next year – and by a greater margin than some market experts had predicted.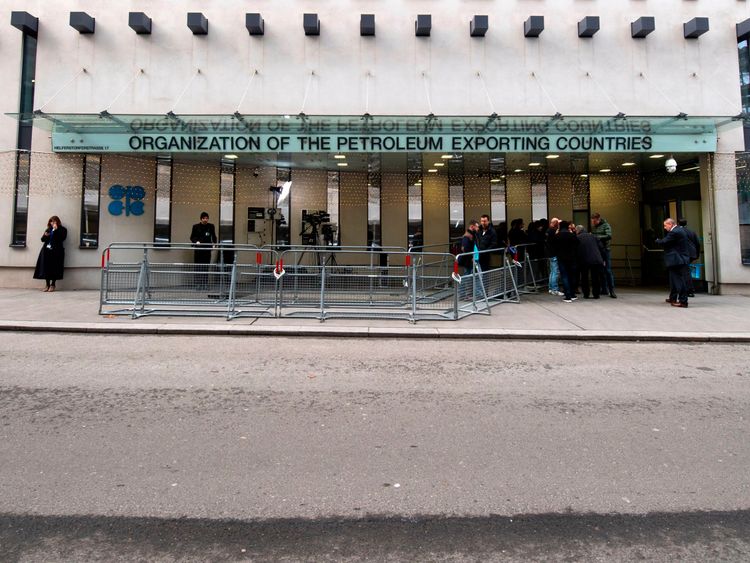 It was understood that a combined cut of 1.2 million barrels per day (bpd) was agreed by OPEC with Russia, which is not a member, also joining the effort.
However, the Reuters news agency said Russia's output figure was yet to be fully nailed down.
:: Oil bear market shows US shale has teeth
A major sticking point had proved to be a demand by sanctions-hit Iran that it be exempt from some of the reduction restrictions, though Tehran later indicated it was happy with the outcome.
BNP Paribas strategist Harry Tchilinguirian told the Reuters Global Oil Forum: "(A cut of) 1.2 million bpd, if implemented promptly and fully, should be enough to largely attenuate, but not eliminate, expected implied global inventory builds in the first half of next year."
Competition to Brent from US shale output has weighed on prices at a time when financial markets are worried about the health of the global economy and the fallout of the US-China trade war.
Production from the US, Russia and OPEC nations grew by more than three million bpd in 2018 – the majority of the gain a result of US output growth.
The outcome of the OPEC meeting will disappoint Donald Trump.
The US president had urged OPEC not to put economic growth at risk by cutting output and raising prices.
US light crude was trading up 4% at $53 a barrel on Friday afternoon while Brent was 5% higher at $63.
The shift higher is unlikely to have a big effect on petrol prices over the Christmas holiday period for UK motorists as pump costs have been slow to come down since the dramatic fall in oil prices began in October.
<a href='https://news.sky.com/story/sky-views-whoever-wins-the-caster-semenya-case-will-be-monumental-for-athletics-11640789'>Whoever wins, the Caster Semenya case will be monumental for athletics</a>


<a href='https://news.sky.com/story/sky-views-whoever-wins-the-caster-semenya-case-will-be-monumental-for-athletics-11640789'>Whoever wins, the Caster Semenya case will be monumental for athletics</a>

Source link
Spanish warship orders commercial ships to leave British Gibraltar waters | UK News
A Spanish warship with its guns manned ordered commercial ships to leave British Gibraltar waters, the territory's government said.
Royal Navy ships were deployed in response to the incident on Sunday.
The Spanish warship's crew can be heard in an audio recording of a radio exchange telling ships anchored at Gibraltar to "leave Spanish territorial waters".
Commercial boats which were told to move were ordered to remain by the Gibraltar Port Authority.
The actions of the Spanish navy were branded "foolish" by a spokesman for Her Majesty's Government of Gibraltar.
The spokesman added: "There is only nuisance value to these foolish games being played by those who don't accept unimpeachable British sovereignty over the waters around Gibraltar, as recognised by the whole world in the United Nations Convention on the Law of the Sea.
"It seems there are still some in the Spanish navy who think they can flout international law.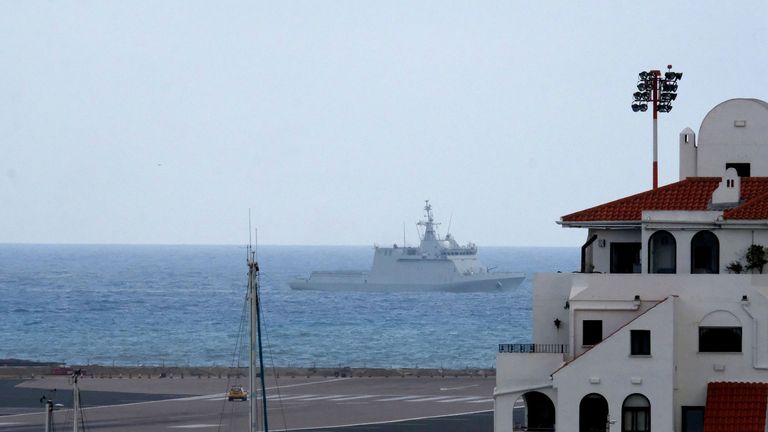 "This probably accounts for the state of extremism of some parts of the Spanish political spectrum these days."
The warship was accused by the government of trying to take "executive action" against the commercial boats, which were anchored on the eastern side of the Rock.
A crew member is heard in the recording asking the Spanish ship "to verify you are referring to our ship" because they are anchored in Gibraltar.
He said: "We are not adrift, we are at anchor now."
He is then told again to leave Spanish waters.
A statement released by the Gibraltar government said: "The Royal Navy deployed a launch and a rigid-hulled inflatable boat to the scene.
"After being challenged by the Royal Navy, the Spanish warship sailed slowly along the Gibraltar coast with its weapons uncovered and manned."
The Gibraltar government "is verifying every aspect of the incident in order to ensure that appropriate action is taking as soon as possible".
'She sounded largely unrepentant': What happened when Sky News tracked down Shamima Begum | World News
We had just about given up in the al-Hawl displacement camp in northeastern Syria.
It is not an easy place to get to but we had made the trip in the hope of speaking to the British teenager Shamima Begum.
She arrived at the camp two weeks ago after fleeing the village of Baghouz where IS is making its last stand.
We spoke to the facility's manager and drank a cup of tea – and another one.
He said they were looking for her in the camp, which now houses 40,000 people, but they were having trouble finding her.
It was the work of The Times reporter Anthony Loyd that had brought us there.
In his interview with the 19-year-old, conducted last week, she had sounded largely unrepentant.
Life under IS had been "normal", she said. The sight of a severed head in a dustbin, "didn't faze me at all".
Critically, the teenager said she wanted to come back to Britain.
She was pregnant and wanted to bring up the child there.
:: Read the full interview transcript here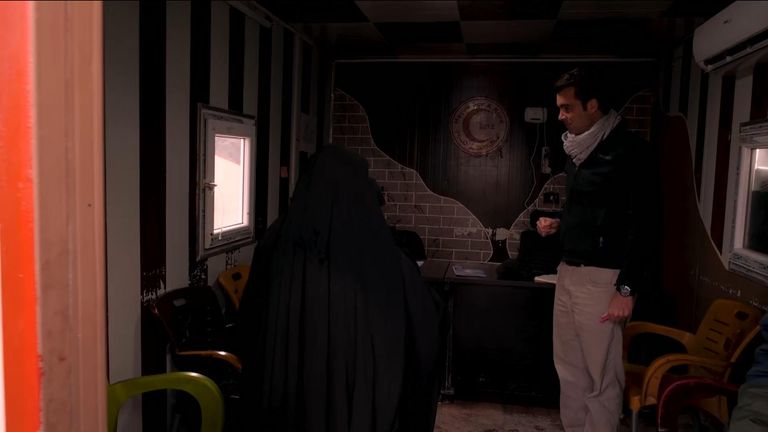 Her comments generated a furious debate in the UK.
Some say Shamima Begum should be banned for treason – others argue she deserves a second chance.
Top politicians have also weighed in with Home Secretary Sajid Javid promising that he "will not hesitate" to keep people like the 19-year-old out of the country.
I had my own list of questions for her.
Was the former Bethnal Green schoolgirl aware of the national debate now centring on her future?
Would she choose a more apologetic approach when explaining her involvement in IS?
Most importantly perhaps, did she think she could be rehabilitated?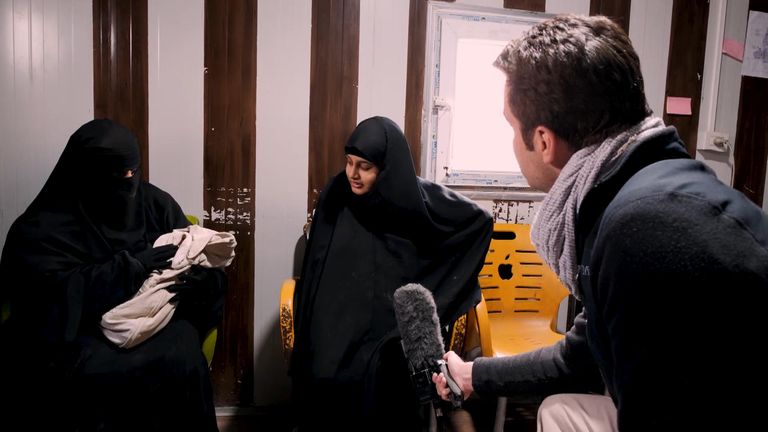 After three hours or so at the camp office I did not think I would get a chance to ask her those questions, but we heard a whisper from a camp worker that she might have been taken to a local hospital for treatment.
We walked over the place where the ambulances are parked and my colleague poked his head in a portacabin.
Shamima Begum was there, sitting on a table, a few hours after giving birth to a baby boy.
"Would you like do an interview?" asked my colleague.
"We are from Sky News."
"No way. Really?" came the response in an earthy London accent.
We spoke to the teenager for about 15 minutes and she answered my questions clearly and confidently.
For someone who had fled a war zone and just given birth, she struck me as stoic and composed – but she seemed utterly unaware of the implications of her decisions since leaving London in 2015.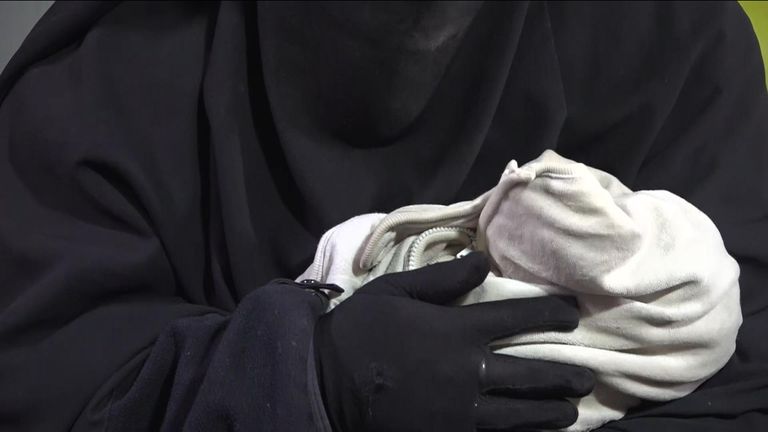 In our interview she described life in IS like this: "It was nice. It was like how they showed it in the videos – come make a family together."
She also felt that people in Britain would welcome her back. She said: "A lot of people should have sympathy towards me for everything I've been through. I didn't know what I was getting into when I left and I was hoping that for the sake of me and my child, they could let me come back."
What struck me, more than anything perhaps, was her honesty.
I have interviewed former IS soldiers and family members on previous assignments and they tend to skate over their personal actions – and disown the organisation as a whole.
But Shamima Begum does not. She embraced life in IS. She was happy.
She says she married a wonderful man in IS (27-year old Dutchman called Yago Reidijk, now being held in a Kurdish prison).
For parliamentarians and ministers and the public-at-large, this poses a huge challenge.
What are our obligations to Shamima Begum – a young woman and British citizen – who is not ready to apologise?
But if we do not take her, who will?
The Kurds in northern Syria are absolutely overwhelmed.
One this is certain. The rehabilitation of this 19-year-old will not be easy – something that she freely admits.
She said: "It would be really hard because of everything I've been through now.
"I'm still kind of in the mentality of planes over my head and (having) an emergency backpack.
"I think it would be a big shock to go back to the UK and start life again."