Global oil prices have surged after a tentative deal was reportedly cut to ease production and tackle a fresh supply glut.
US crude and Brent crude prices entered bear market territory last month – only weeks after hitting their highest level for four years – as growing supplies of US shale oil combined with fears around a slowing global economy.
On Friday, following a tough round of talks in Vienna, the Organisation of Petroleum Exporting Countries (OPEC) signalled output would fall next year – and by a greater margin than some market experts had predicted.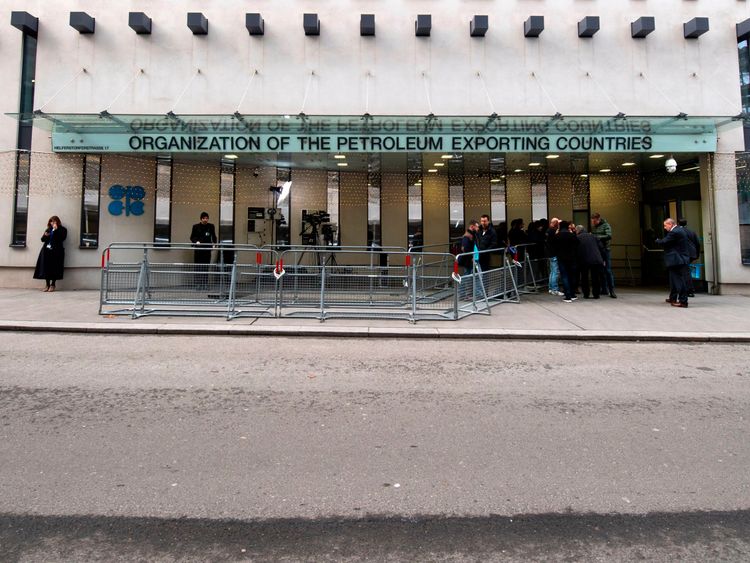 It was understood that a combined cut of 1.2 million barrels per day (bpd) was agreed by OPEC with Russia, which is not a member, also joining the effort.
However, the Reuters news agency said Russia's output figure was yet to be fully nailed down.
:: Oil bear market shows US shale has teeth
A major sticking point had proved to be a demand by sanctions-hit Iran that it be exempt from some of the reduction restrictions, though Tehran later indicated it was happy with the outcome.
BNP Paribas strategist Harry Tchilinguirian told the Reuters Global Oil Forum: "(A cut of) 1.2 million bpd, if implemented promptly and fully, should be enough to largely attenuate, but not eliminate, expected implied global inventory builds in the first half of next year."
Competition to Brent from US shale output has weighed on prices at a time when financial markets are worried about the health of the global economy and the fallout of the US-China trade war.
Production from the US, Russia and OPEC nations grew by more than three million bpd in 2018 – the majority of the gain a result of US output growth.
The outcome of the OPEC meeting will disappoint Donald Trump.
The US president had urged OPEC not to put economic growth at risk by cutting output and raising prices.
US light crude was trading up 4% at $53 a barrel on Friday afternoon while Brent was 5% higher at $63.
The shift higher is unlikely to have a big effect on petrol prices over the Christmas holiday period for UK motorists as pump costs have been slow to come down since the dramatic fall in oil prices began in October.
Surprise election win for Australia's Liberal Party-led coalition | World News
Australia's opposition Labor Party leader Bill Shorten has conceded defeat in the country's election.
Mr Shorten told supporters in Melbourne: "Without wanting to hold out any false hope, while there are still millions of votes to count and important seats yet to be finalised, it is obvious that Labor will not be able to form the next government."
Exit polls had favoured the Labor Party but, despite significant gains in New South Wales and Victoria, Mr Shorten's bid to become Australia's sixth prime minister in six years fell short.
With more than half of the votes counted, the coalition government was heading for a surprise win, although whether it can govern with an outright majority is not yet clear.
By late Saturday, the Liberal-National coalition had won 74 seats in the 151-seat lower house, with 65 going to Labor and 12 undecided, according to the Australian Broadcasting Corp.
A total of 76 seats are needed to form a majority government.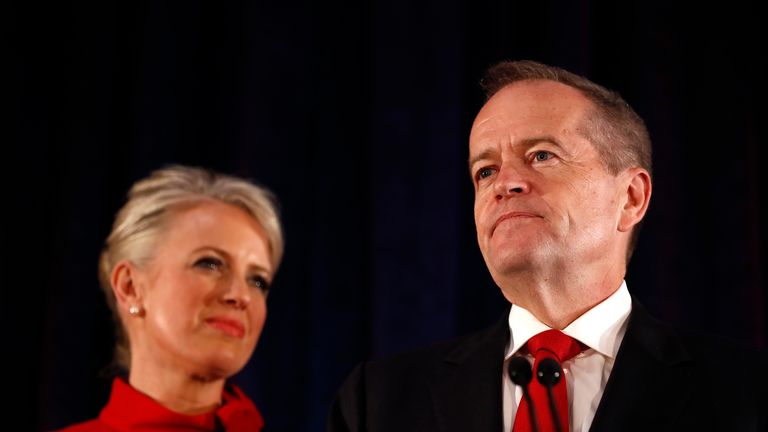 Mr Morrison had campaigned on income tax cuts and the risk to the economy posed by Labor, and his party made important gains in the states of Queensland and Tasmania on the way to victory.
Speaking to supporters after the result, he said: "I have always believed in miracles."
"Tonight is not about me or even the Liberal Party but it's about every single Australian who depends on their government to put them first and so, friends, that's exactly what we're going to do."
But the Liberals did lose at least one big name: former prime minister Tony Abbott, who lost his seat of Warringah after 25 years.
His opponent, independent candidate Zali Steggall, has previously said she would vote with the Liberal coalition on confidence and supply but that she wanted more ambitious action on climate change, one of the election's big issues.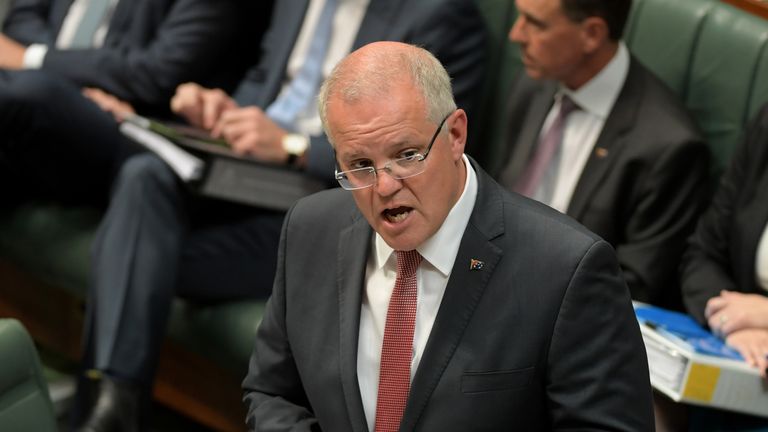 Australia is the world's largest exporter of coal and liquefied natural gas. It is also very dependent on coal-fired electricity.
But the country also suffers heavily from bushfires, record high temperatures, drought, and damage to its coral reefs.
Mr Morrison, a supporter of the coal industry, had vowed to uphold Australia's commitment to the 2015 Paris Accord (which would see the country's emissions cut by 26-28%) but said any further cuts would hurt the economy.
Mr Shorten, a former union leader, had said his government would aim to cut carbon emissions by 45% from 2005 levels by 2030, with net zero emissions by 2050.
Voting is compulsory for Australia's 17 million eligible voters.
There were more than 7,000 polling stations across Australia and another 90 overseas. The Australian High Commission in London said there had been more than 10,000 votes cast by Australian citizens in the UK by Friday lunchtime.
US-Iran tensions: US airlines warned about risk of flying over Persian Gulf | World News
US diplomats have warned that US air carriers and commercial operators flying over the Persian Gulf face a risk from being "misidentified" as tensions between US and Iran continue to escalate.
The warning relayed on Saturday by officials in Kuwait and the UAE came from a Federal Aviation Administration (FAA) Notice to pilots published on Thursday.
It said that all US air carriers and commercial operators flying over the waters of Persian Gulf and the Gulf of Oman should exercise caution due to "heightened military activities and increased political tension" in the region.
This presents "an increasing inadvertent risk to US civil aviation operations due to the potential for miscalculation or misidentification," the FAA said.
It also warned that aircraft flying over the region could experience inadvertent GPS interference and other communications jamming, which could occur "with little to no warning".
The Persian Gulf is a major gateway in global air travel and the FAA said the warning applies to airspace "overwater… above the Persian Gulf and Gulf of Oman".
The region is home to Dubai International Airport in the United Arab Emirates, the base of Emirates, is the world's busiest for international travel, while long-haul carriers Etihad and Qatar Airways also operate there, with flights going in and out of their capitals Abu Dhabi and Doha.
The FAA said its warning applied only to US carriers, US registered aircraft and US pilots, but said it did not apply to foreign carriers or US pilots flying foreign registered aircraft or for foreign carriers.
Sky News has reached out to US air carriers that could be affected by the warning for further comment. Sky News has been told the UK has not issued any similar warning.
The concerns appear to be rooted in what happened 30 years ago after Operation Praying Mantis, a daylong naval battle in the Persian Gulf between American forces and Iran during the country's long 1980s war with Iraq.
On July 3, 1988, the USS Vincennes mistook an Iran Air passenger flight heading to Dubai for an Iranian F-14.
The Vincennes fired two missiles at the airplane, killing 290 people on board.
Concerns about a possible conflict between the US and Iran have flared since the White House sent a warship and bombers to the region to counter Tehran's alleged ambition to attack American forces or interests in the region.
The rising tensions have also seen Washington order all non-essential diplomatic staff out of Iraq.
Britain has also raised the threat level for UK forces and diplomats in Iraq because of what sources say is a heightened security risk from Iran and on Friday told British-Iranian dual nationals not to travel to Iran.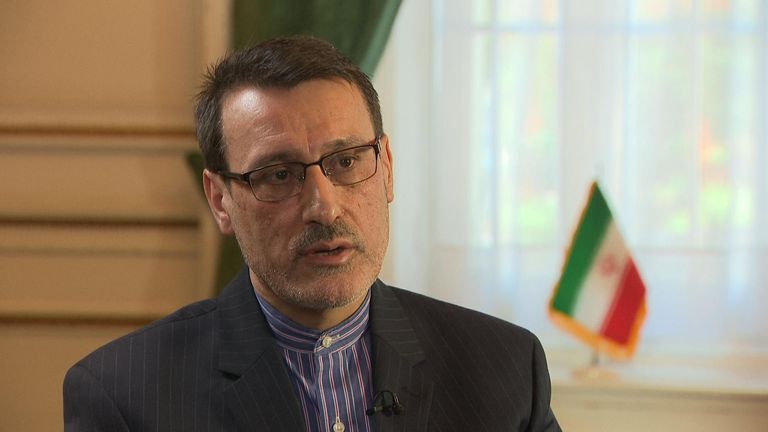 UK's Foreign Secretary Jeremy Hunt has said there was a risk the US and Iran could end up at war unintentionally.
Earlier this week, Sky News revealed the Foreign Office is in "crisis mode" because of the rising tensions between US and Iran.
On Wednesday, Iran's ambassador to the UK, Hamid Baeidinejad, told Sky News that Iranian armed forces are "fully ready for any eventuality in the region," and a senior commander of Iran's Revolutionary Guards has said his country will hit back if the US makes any moves in the Gulf.
All while some politicians in the US are saying the American public is being "kept in the dark" over a possible war with Iran.
In 2018, US President Donald Trump made a decision to withdraw from the 2015 nuclear accord between Iran and world powers and impose wide-reaching sanctions on Tehran.
Despite the escalation of tensions by comments on both sides, Mr Trump said on Friday "I hope not", when asked if his country was going to war with Iran
Tehran has long insisted it does not seek nuclear weapons, though the West fears its program could allow it to build atomic bombs.
Eurovision: Who is Michael Rice – the UK's act? | Ents & Arts News
Hundreds of millions of people around the world will tune in to watch the Eurovision Song Contest tonight, where British hopeful Michael Rice will take to the stage to battle for Europe's biggest prize in music.
The 21-year-old from Hartlepool will be hoping to replicate the success of Katrina And The Waves, who last won the competition for the UK in 1997 with the song Love Shine A Light.
Rice won the UK's annual selection contest, You Decide, back in February when members of the public got the chance to vote for who to send to the annual music competition.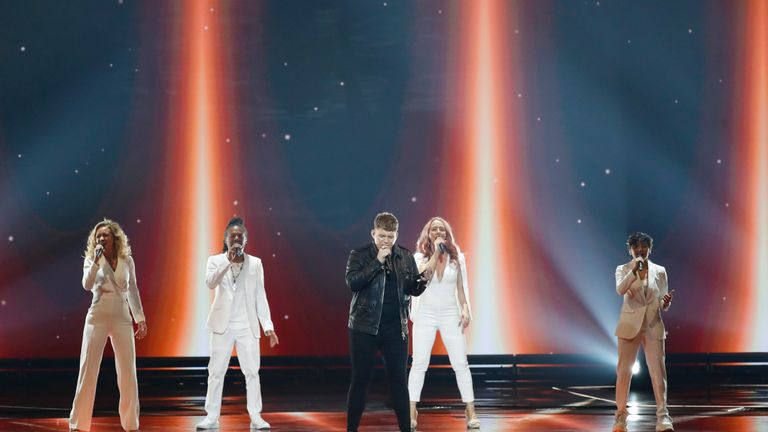 :: Who is Michael Rice?
The singer-songwriter won the first series of BBC One's All Together Now – which requires contestants to encourage a panel of 100 other singers, including Spice Girl Geri Horner, to join in with them before the end.
He managed to get 94 of the singers to accompany him on his rendition of Leonard Cohen's Hallelujah in the final and used the £50,000 prize money to help his mum's dessert shop in his hometown.
Before that, Rice took part in The X Factor in 2014, and auditioned with Whitney Houston's I Look To You.
He made it as far as the boot-camp stage, before leaving the competition – which was later won by Ben Haenow.
Rice is working on his first EP, with producers that have worked with the likes of James Arthur and Jessie J.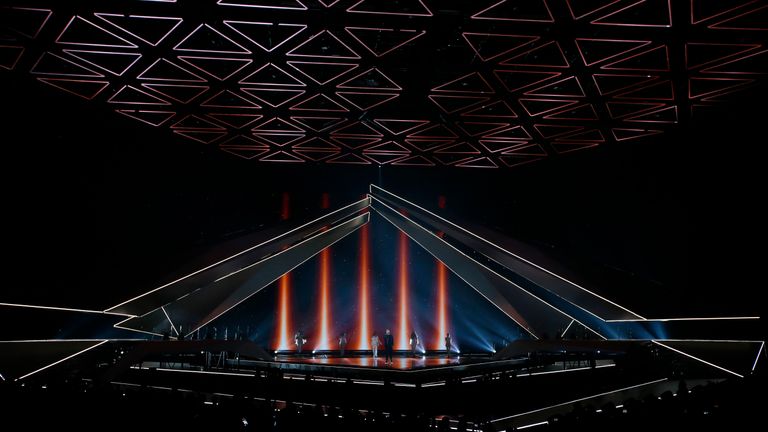 :: What will he perform at the Eurovision Song Contest 2019?
Rice will perform Bigger Than Us in Tel Aviv, having automatically qualified for the final, as the UK is one of the "big five" countries.
The staging will be simple, and he is due to be joined by five other performers on stage who will sing backing vocals on the track.
His song was co-written by John Lundvig – Sweden's act for 2019, who decided to perform something else during the Swedish selection process and offer the track up to the UK.
Lundvig will go up against Rice in Israel, and has been mooted as one of the favourites.
So far, the track has failed to break in to the UK top 40.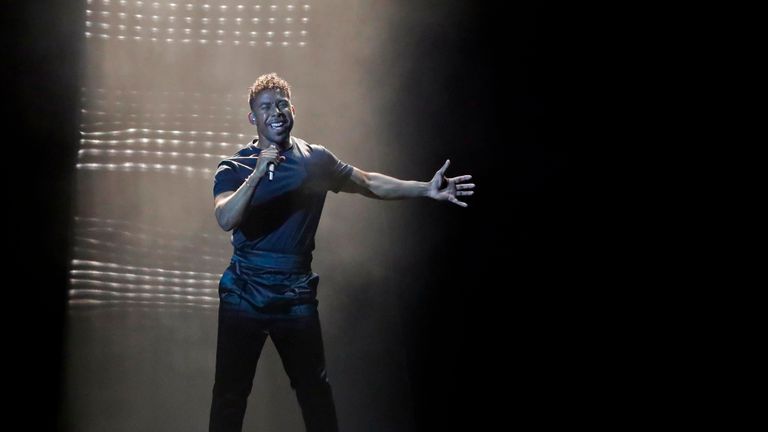 ::What are his chances of winning?
Rice is the next in a long line of British hopefuls who will be attempting to avoid the dreaded "nul points" from our European neighbours – but sits at 150/1 to win the competition, according to odds on Sky Bet.
Favourites for the contest this year are Netherlands, Sweden, Switzerland, and Australia – who have taken part in the competition since 2015.
As usual, fans are able to vote up to 20 times in the contest, but they cannot vote for their own country. Public votes are combined with those of national juries, which voted during Friday's dress rehearsal show.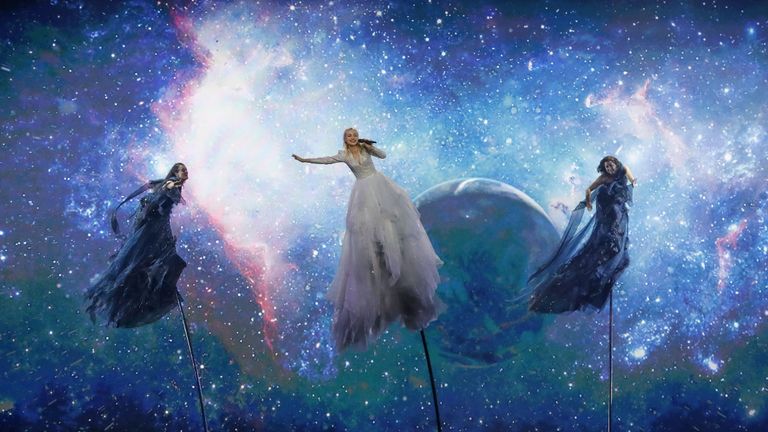 The final in Tel Aviv comes days after an Israeli online stream of Tuesday's semi-final was "hijacked" to show fake explosions and saw the warning "risk of missile attack. Please take shelter".
The clip, which played on a loop showing fake attacks close to the Eurovision venue, was blamed on Hamas by national broadcaster Kan.
The militant group has not commented on the allegation.
The competition begins at 8pm UK time, and will feature a performance from the Queen of Pop, Madonna, who will sing a song from her new album, as well as a classic hit, thought to be Like A Prayer.
She decided to ignore calls for a boycott of the event due to Israel's alleged record of human rights abuses.