Former prisoners of rebels in Yemen have revealed the torture they suffered at the hands of their captors, including being burned with acid, beaten and hung by their wrists for weeks on end.
The accounts of brutality have emerged as UN-backed peace talks got under way in Sweden between the Houthi rebels and the Yemeni government.
As a confidence-building move, the two sides have agreed to release thousands of prisoners, although the details have still to be hammered out.
However, while captives of the government side are mostly Houthi fighters, the rebels' prisoners are largely civilians, detained in sweeps aimed at suppressing opposition and gaining hostages who could be traded for ransom or exchange.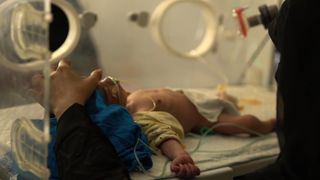 More than 18,000 prisoners have been jailed by the Houthis in the last four years, according to the Abductees' Mothers Union, an association of female relatives of detainees, which has also documented a thousand cases of torture.
The group says at least 126 prisoners have died as a result of torture since the Houthis took over the Yemeni capital, Sanaa, in late 2014.
Houthi leaders have previously denied that they engage in torture.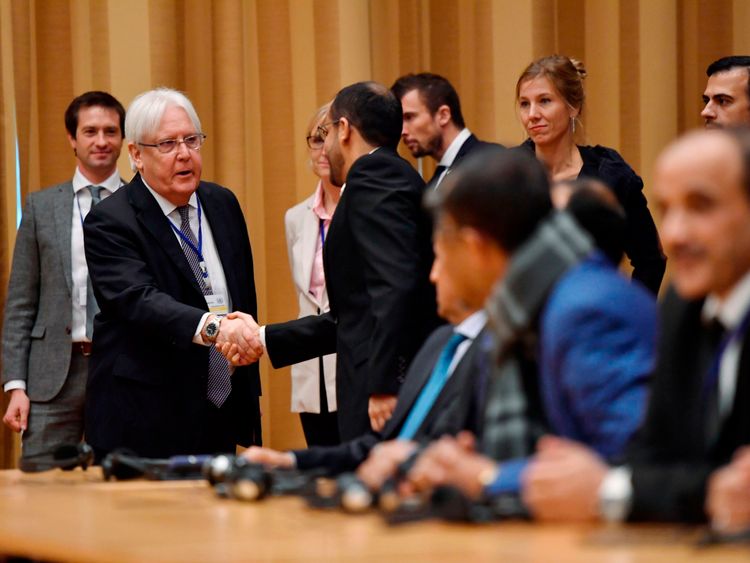 Amnesty International says that "horrific human rights abuses, as well as war crimes, are being committed throughout the country by all parties to the conflict".
However, much of the international condemnation of Yemen's bloody civil war has centred on abuses carried out by the US-backed and Saudi-led military coalition fighting on the side of the Yemeni government.
One of those tortured by Houthi fighters was a hospital medic, Farouk Baakar, who was detained for treating an "enemy" of the rebels, who had been left for dead.
He spent 18 months in rebel prisons, where he says he was burned, beaten an chained to the ceiling by his wrists for 50 days, according to an AP investigation that revealed the torture.
Another former prisoner, a school teacher told how he had been held for nearly five months in an underground cell, during which he was blindfolded the entire time.
He kept count of the days by following the Muslim calls to prayer.
Throughout his detention, he said, his jailers beat him with iron rods and told him he was going to die.
"Prepare your will," he said they told him.
The conflict has claimed tens of thousands of lives and led to a humanitarian crisis that has pushed millions to the brink of starvation.
A Saudi-led Arab coalition intervened in 2015 to restore a government ousted by the Iranian-backed Houthi movement.
Everest 'traffic' blamed for deaths of climbers on overcrowded mountain | World News
Eight people have died climbing Everest in the last week amid fears that a traffic jam of mountaineers is making the journey more treacherous.
Two Indian climbers, Kalpana Das, 52, and Nihal Bagwan, 27, died on Thursday while descending the peak.
A 65-year-old Australian died on the same day on the northern Tibet side of the mountain.
Tour organiser Keshav Patel said: "He (Bagwan) was stuck in the traffic for more than 12 hours and was exhausted.
"Sherpa guides carried him down to Camp 4 but he breathed his last there."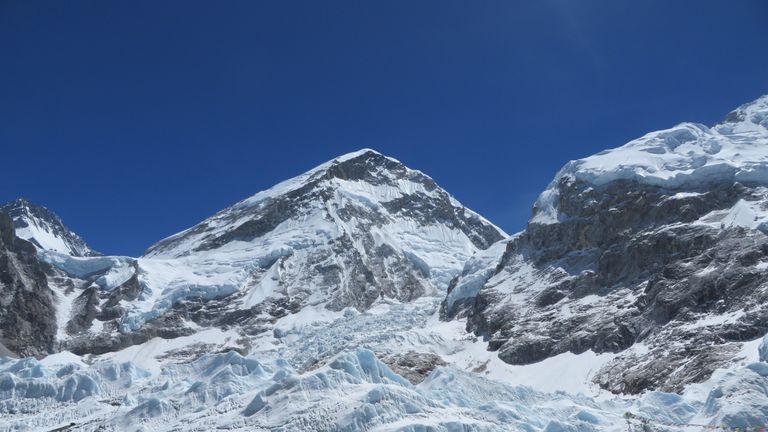 Among the other fatalities were American Donald Cash, 55, who collapsed at the summit as he was taking photographs, and Anjali Kulkarni, 55, who died on his way down.
Ms Kulkarni's expedition organiser, Arun Treks, said heavy traffic at the summit had delayed her descent and caused the tragedy.
"She had to wait for a long time to reach the summit and descend," said Thupden Sherpa.
"She couldn't move down on her own and died as Sherpa guides brought her down."
An Indian and an American lost their lives on the mountain on Wednesday, while an Irish professor, Séamus Lawless, is presumed dead after falling last week.
Nepal has issued a record 381 permits costing $11,000 (£8,600) each for the current spring climbing season.
It comes as record-breaking climber Nirmal Purja posted an image from his latest expedition showing "traffic" on the world's highest peak.
He is attempting to climb the 14 mountains higher than 8,000 metres in just seven months.
Project Possible will see him smash the current world record for one individual which stands at seven years, 11 months and 14 days.
Hundreds of migrants saved after rubber boats get into trouble in Mediterranean | World News

Almost 300 migrants have been rescued from the Mediterranean after trying to reach Europe from Libya.
The migrants – mostly from Arab and African countries – were saved as rescue charities warned of the increasing danger and instability of Libya.
The International Organisation for Migration in Libya described conditions in the north African country as "extremely worrying", saying there are "no safe ports in Libya and migrants should not be returned to detention".
Three rubber boats were rescued from the sea on Thursday, according to Libya's navy.
The first boat was found about 30 miles from the Libyan capital Tripoli with its bottom collapsed, leaving most of its 87 migrants – including a child – in the water and clinging on to what was left of the boat.
Earlier in the day another two boats were saved, carrying a total of 203 migrants near Zlitin, about 100 miles east of Tripoli.
Naval forces spokesman Ayoub Qassem said they had been taken back to the cities of Khomas and Janzur before being handed over to police.
On Friday a fourth boat reached the Italian island of Lampedusa with 57 men and one woman who were from Morocco, Algeria, Syria, Libya, Gambia and Bangladesh.
Libya has long been a gathering point for people fleeing African countries for Europe.
Italy's most southern point, Lampedusa, is only 185 miles from Tripoli – closer to the northern coast of Africa than it is to the Italian mainland.
More than 1,100 migrants have reached Italy this year, according to the United Nations, although this is a small number compared with more than 12,600 who arrived in Greece during the same period.
Since Libya's dictator Muammar Gaddafi was killed in 2011, the oil-rich country has struggled with political unrest.
In April this year, the situation worsened, with Khalifa Haftar's Libyan National Army advancing on the capital Tripoli.
His troops have since been halted in the city's southern suburbs by fighters loyal to Prime Minister Fayez al Serraj's Government of National Accord.
But despite Libya's own internal turmoil, desperate people continue to flock from other African nations, hoping to use it as a departure point for what they hope will be a better life in Europe.
Thousands of them have died in recent years while making the sea crossing and others have been detained and abuse by people smugglers and other groups.
Taiwan gay marriage: Hundreds of couples tie the knot on historic day | World News
Hundreds of gay couples in Taiwan have rushed to get married on Friday – the first day a landmark decision that legalised same-sex marriage took effect.
Taiwan became the first country in Asia to allow same-sex marriage last week in a legislative vote on a cause that the island's LGBT rights' activists have championed for two decades.
A household registration office in central Taipei was packed as couples seized the earliest opportunity to tie the knot.
Jubilant couples held bouquets of flowers and posed for photos, smiling and kissing.
"The legalisation of marriage is only the first step," said a 48-year-old novelist who writes under the pen name Chen Hsue.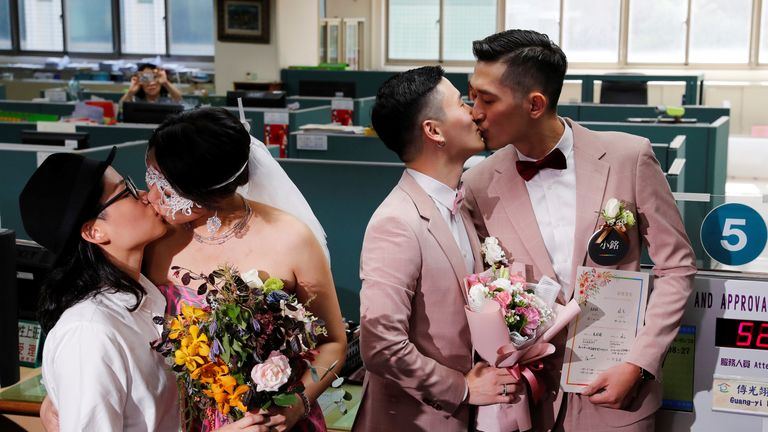 "In the future, through this legalisation, I hope LGBT people could be accepted as ordinary people by Taiwanese society."
Taiwan's officials said 500 same-sex couples registered their marriages across the island on Friday.
A Taipei resident said tearfully that he and his partner feel lucky that they are able to announce in front of everyone that they are gay.
The two men wore matching pastel pink suits and stood in front of a rainbow display featuring messages blessing the newlyweds.
Several couples requested that their real names not be made public because they fear the stigma that still exists around being gay in Taiwan.
In 2017, the democratic island's constitutional court declared same-sex couples had the right to legally marry, and set a deadline of 24 May, 2019, for the law to be formalised.
Taiwan's acceptance of gay and lesbian relationships began in the 1990s when leaders in today's ruling Democratic Progressive Party championed the cause to help it stand out in Asia as an open society.
Vietnam lifted a ban on same-sex marriage in 2015, however that is seen as purely ceremonial as they are not offered the same legal protections available to opposite-sex couples.
Although claimed by China as its own territory, Taiwan is a self-governing democracy with a vibrant civil society.