Former prisoners of rebels in Yemen have revealed the torture they suffered at the hands of their captors, including being burned with acid, beaten and hung by their wrists for weeks on end.
The accounts of brutality have emerged as UN-backed peace talks got under way in Sweden between the Houthi rebels and the Yemeni government.
As a confidence-building move, the two sides have agreed to release thousands of prisoners, although the details have still to be hammered out.
However, while captives of the government side are mostly Houthi fighters, the rebels' prisoners are largely civilians, detained in sweeps aimed at suppressing opposition and gaining hostages who could be traded for ransom or exchange.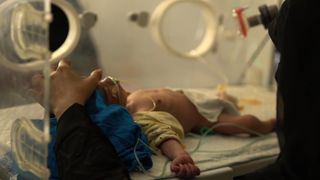 More than 18,000 prisoners have been jailed by the Houthis in the last four years, according to the Abductees' Mothers Union, an association of female relatives of detainees, which has also documented a thousand cases of torture.
The group says at least 126 prisoners have died as a result of torture since the Houthis took over the Yemeni capital, Sanaa, in late 2014.
Houthi leaders have previously denied that they engage in torture.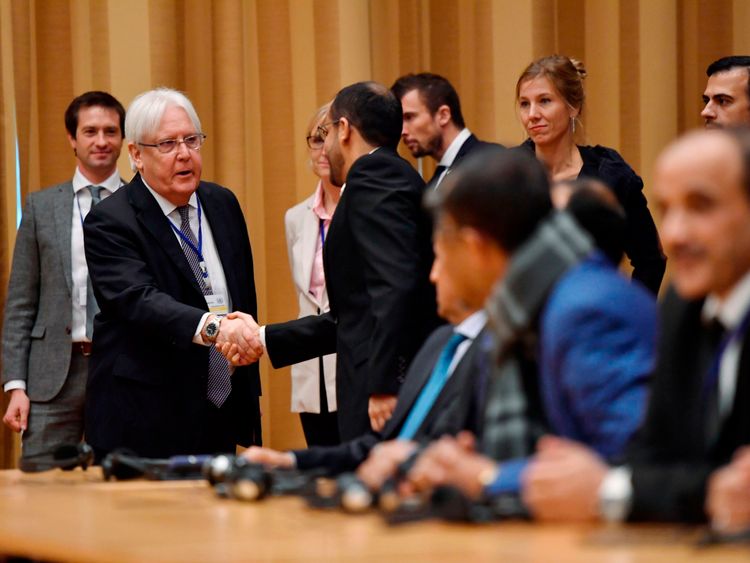 Amnesty International says that "horrific human rights abuses, as well as war crimes, are being committed throughout the country by all parties to the conflict".
However, much of the international condemnation of Yemen's bloody civil war has centred on abuses carried out by the US-backed and Saudi-led military coalition fighting on the side of the Yemeni government.
One of those tortured by Houthi fighters was a hospital medic, Farouk Baakar, who was detained for treating an "enemy" of the rebels, who had been left for dead.
He spent 18 months in rebel prisons, where he says he was burned, beaten an chained to the ceiling by his wrists for 50 days, according to an AP investigation that revealed the torture.
Another former prisoner, a school teacher told how he had been held for nearly five months in an underground cell, during which he was blindfolded the entire time.
He kept count of the days by following the Muslim calls to prayer.
Throughout his detention, he said, his jailers beat him with iron rods and told him he was going to die.
"Prepare your will," he said they told him.
The conflict has claimed tens of thousands of lives and led to a humanitarian crisis that has pushed millions to the brink of starvation.
A Saudi-led Arab coalition intervened in 2015 to restore a government ousted by the Iranian-backed Houthi movement.
World's oldest known bird lays another egg
The world's oldest known bird is set to become a mother again – after raising at least 30 other youngsters.
Wisdom the albatross has laid another egg at her nest site in Midway Atoll National Wildlife refuge on a tiny island about 1,200 miles northwest of Hawaii, in the Pacific Ocean.
Biologists believe Wisdom is at least 68 years old, forcing them to re-evaluate the age which they expected albatrosses to live to.
Albatross mate for life, but will recouple if a partner dies. The current age of her mate Akeakamai is not known, but the pair have been together since 2006.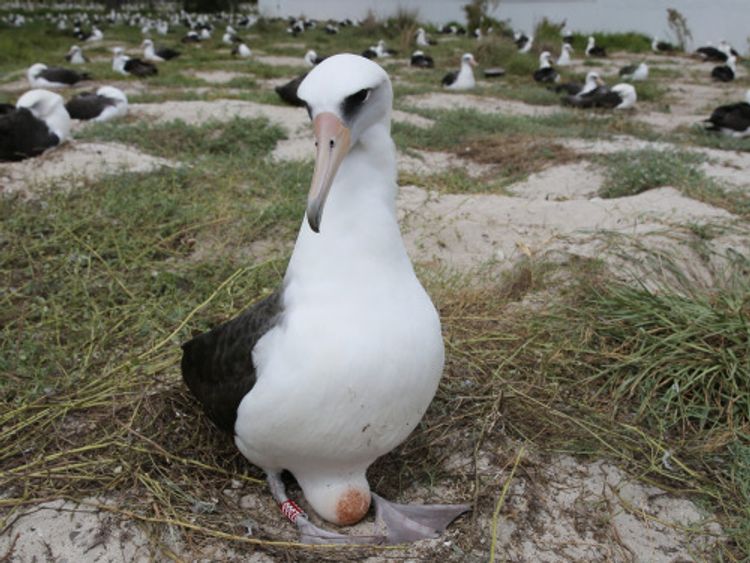 "She first appeared back at her traditional nest site on November 29 and biologists on Midway have confirmed that she has laid an egg," a statement from the US Fish and Wildlife Service Pacific Region said.
"Wisdom and her mate Akeakamai return to the same nest site on Midway Atoll each year. Biologists call this type of behavior 'nest site fidelity'."
Albatross lay a single egg and incubate it for just over two months before they spend another five months rearing it to fledgling status after it hatches.
During that time, Wisdom and Akeakamai will take it in turns to sit on the egg or tend to the chick as the other searches for food at sea.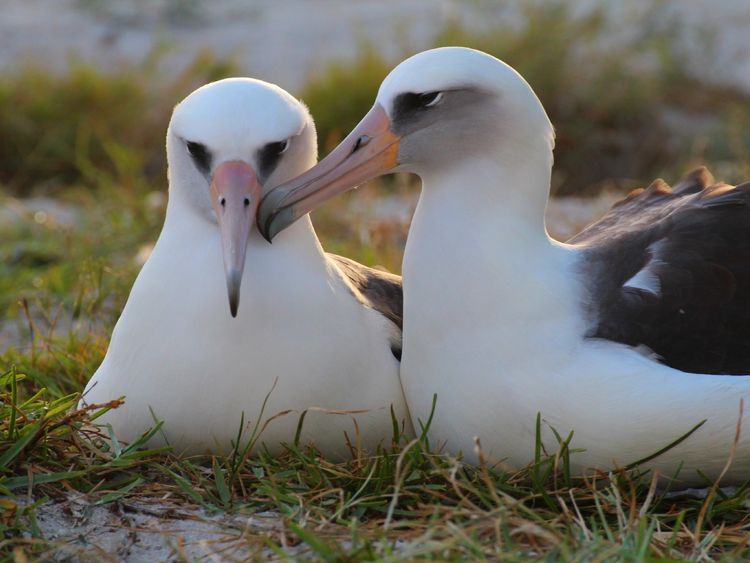 It is thought that Wisdom, a Laysan albatross, has reared between 30 and 36 chicks in her life.
The chick she produced in 2001 was observed just a few feet away from her in 2017, providing further evidence that albatross offspring return to their parents as they get older.
"Midway Atoll's habitat doesn't just contain millions of birds, it contains countless generations and families of albatrosses," said Kelly Goodale, US Fish and Wildlife Service Refuge biologist.
"If you can imagine when Wisdom returns home she is likely surrounded by what were once her chicks and potentially their chicks. What a family reunion!"
The USFWS says nearly 70% of the world's Laysan albatross and almost 40% of black-footed albatross rely on the reserve.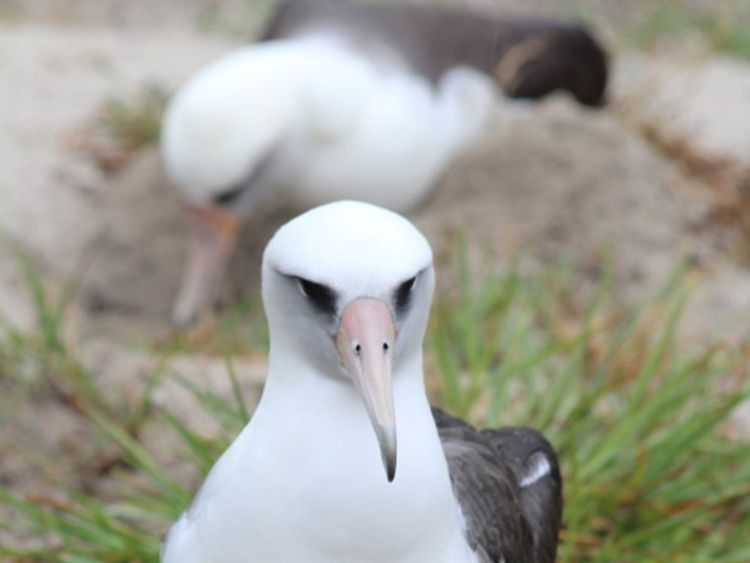 There are around three million birds on the atoll, about 1.2 million of which are albatross – providing a crucial refuge for the birds, most species of which are at risk due to loss of habitat, ocean plastic and commercial fishing practices, according to the WWF.
Wisdom was first ringed in 1956 at a time when Midway Island was a strategic outpost for the US Navy.
The biologist who ringed her then rediscovered her 46 years later in 2002 while surveying an area he had previously visited.
It was because she was a fully developed adult bird when he first saw her that he was able to determine her minimum age.
In 2006, she was seen again and from that point, after her age was recognised, she began to be monitored regularly.
While the Laysan albatross does not have the wingspan of the wandering albatross – the largest wingspan of any bird – like other species they spend most of their lives in flight over the oceans.
It is thought Wisdom has travelled more than three million miles in her lifetime.
Soap star questioned and two held after diamond trader found dead in forest

A soap star has been questioned by police while a former ministerial aide and a policeman have been arrested over the alleged murder of a diamond trader.
Mumbai police detained actress Devoleena Bhattacharjee, who stars in popular Indian drama Saath Nibhana Sathiya, and quizzed her for several hours over the death of Rajeshwar Udani, officials reportedly said on Saturday.
The Times of India reported that the 28-year-old was the girlfriend of Sachin Pawar, who used to work as a personal assistant to the ruling Bharatiya Janata Party's (BJP) Prakash Mehta.
NDTV reported that Pawar is also an acquaintance of the diamond merchant.
The broadcaster said authorities were remaining tight-lipped on her role in the case but hinted other women from the entertainment business could be questioned.
The investigation comes after the 57-year-old diamond trader's heavily decomposed body was found in a forest on 5 December in the Raigad district of Maharashtra. He had been reported missing on 28 November.
He was found without any apparent injuries and without any ID. His son identified him from the clothes and shoes he was wearing.
After he had been missing almost a week, police said they were investigating a kidnapping.
Mr Udani's driver reportedly told police that the businessman had asked to be dropped near the Pant Nagar market where he got into another vehicle.
Media reports say detectives believe Mr Udani may have been killed at another location before being dumped in the forest.
Call records reportedly showed the businessman was a regular at several bars and was in touch with women from the entertainment business through Pawar.
After being released, Bhattacharjee thanked concerned fans on Twitter, saying she was "safe and home".
"There is nothing to get worried about," she wrote. "It was an investigation as I know the person who got killed… an official statement has been already given by the department… All is well!!:)"
Police warning as child caught on CCTV being told to steal parcels
Police in Maryland have warned residents to be on alert for parcel thieves after a young girl was seen on CCTV being directed to steal packages from a porch.
Officers released footage of the incident at an apartment block in Bel Air as they urged people to be extra vigilant over the Christmas period.
The girl, who is believed to be around eight, was spotted running towards the property, then looking back to get directions, before taking the parcel.
The Harford County Sheriff's Office wrote on Facebook: "We always warn you about package Grinches this time of year, but it's hard to believe that a Grinch decided to use Cindy Lou Who this year to steal packages!
"Who uses a child in this manner?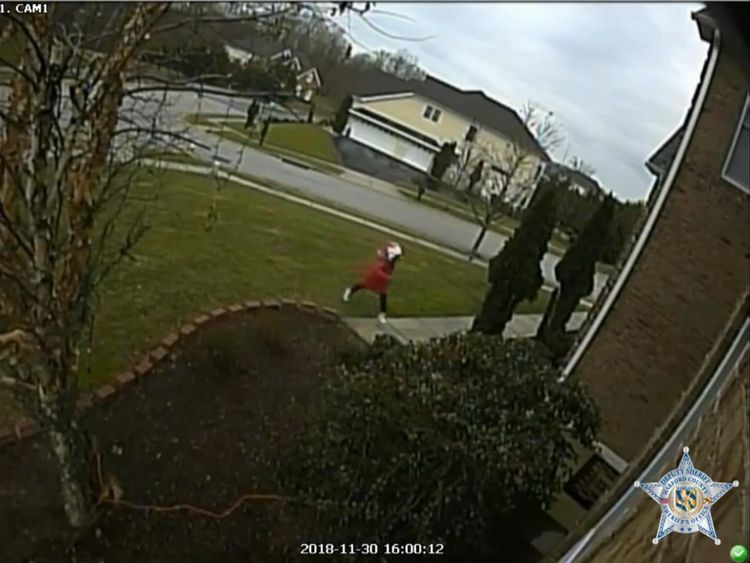 "Please be aware of your surroundings, look for suspicious activity in your neighbourhood, and have packages delivered to a safe and secure location if you can.
"Remember, if you see something suspicious, call us."
The incident happened on 30 November around midday at Inez Court in Bel Air.