Police in Maryland have warned residents to be on alert for parcel thieves after a young girl was seen on CCTV being directed to steal packages from a porch.
Officers released footage of the incident at an apartment block in Bel Air as they urged people to be extra vigilant over the Christmas period.
The girl, who is believed to be around eight, was spotted running towards the property, then looking back to get directions, before taking the parcel.
The Harford County Sheriff's Office wrote on Facebook: "We always warn you about package Grinches this time of year, but it's hard to believe that a Grinch decided to use Cindy Lou Who this year to steal packages!
"Who uses a child in this manner?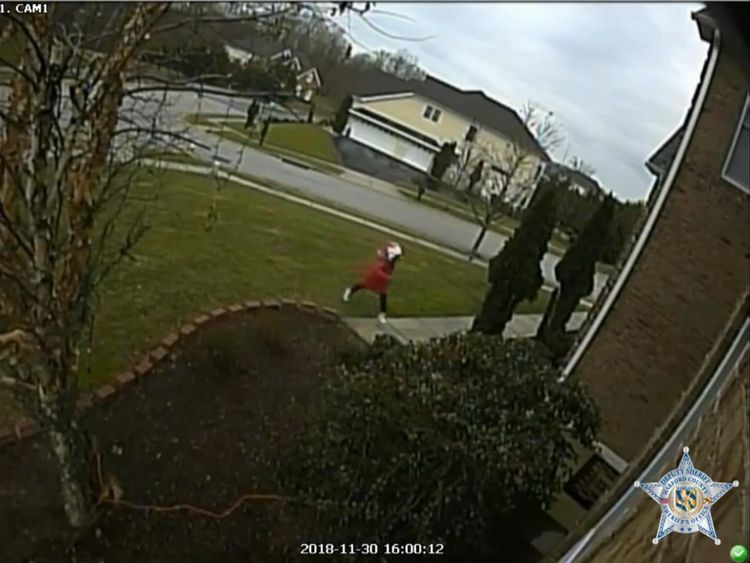 "Please be aware of your surroundings, look for suspicious activity in your neighbourhood, and have packages delivered to a safe and secure location if you can.
"Remember, if you see something suspicious, call us."
The incident happened on 30 November around midday at Inez Court in Bel Air.
Fyre Festival co-founder Ja Rule claims he was also victim of scam
Fyre Festival co-founder Ja Rule claims he was also a victim of the infamous event which promised customers a luxury party on an island in the Bahamas.
Two documentaries have detailed what happened behind the scenes of the flop event, which resulted in co-founder Billy McFarland being jailed for six years for fraud.
Ja Rule has claimed he lost money through his involvement in organising and promoting the festival, as a crowdfunding page gathered pace for a Bahaman woman who used $50,000 (£38,000) of her own money to pay other staff who helped at the event.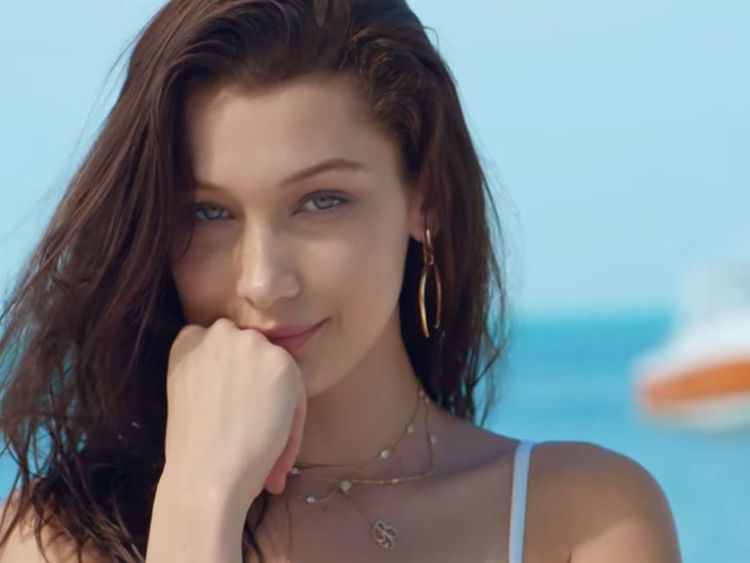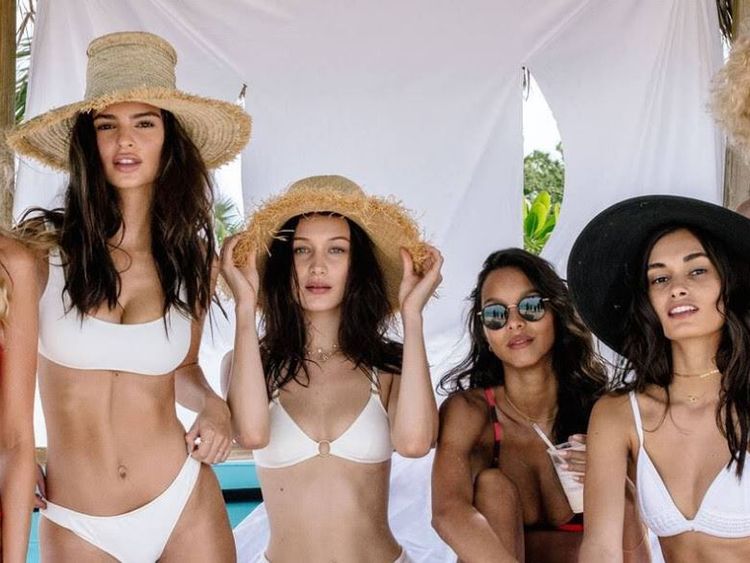 Fyre Festival was billed as a luxury weekend on a sandy private Bahamian island, surrounded by azure water where guests would party with social media influencers and models.
An advert for the festival featured supermodels Bella Hadid, Kendall Jenner and Hailey Baldwin.
Tickets for the event cost up to $75,000 (£58,000) Guests were also encouraged to load up wristbands with money to be used for purchases during the event.
When guests turned up, they found they were to sleep on rain-soaked mattresses in hurricane disaster tents on what had been a building site on a different island than originally advertised.
:: Celebrity luxury event Fyre Festival turns to 'mass chaos'
:: 'Disaster' Fyre Festival in Bahamas hit with $100m lawsuit
Instead of gourmet food, an image showed one festival-goer had been presented with two unbuttered basic pieces of brown bread, two thin slices of cheese and a handful of salad.
Guests had to search through a huge dump of luggage off the back of industrial lorries in order to find their belongings.
Ja Rule was not arrested or charged in connection with McFarland's fraud and the rapper has denied he was involved in defrauding party-goers and locals on the island.
He was not interviewed for either of the two documentaries which aired on Netflix and US streaming site Hulu but appears in footage filmed at the time.
In the Netflix documentary, he is heard saying "it's not like anybody died" after the event collapsed.
So Fyre Fest is a complete disaster. Mass chaos. No organization. No one knows where to go. There are no villas, just a disaster tent city. pic.twitter.com/1lSWtnk7cA

— William Needham Finley IV (@WNFIV) April 27, 2017
He faced a backlash on Twitter after the Netflix show aired on Friday, replying to one follower to say he had lost "plenty" of money on the project.
"I never made or got paid one dollar from Fyre…But everyone else did," he wrote.
In another tweet, he wrote: "I too was hustled, scammed, bamboozled, hood winked, lead astray!!!"
I too was hustled, scammed, bamboozled, hood winked, lead astray!!!

— Ja Rule (@Ruleyork) January 20, 2019
A restaurant owner in the Bahamas who was confronted with having to cater for an unexpectedly large workforce says she used $50,000 (£38,000) of her own money to pay other staff who helped at the event – despite not receiving a penny herself.
A crowdfunder on gofundme.com has raised more than $160,000 (£124,000) for Maryann Rolle after her experience was highlighted in the Netflix documentary.
Ms Rolle, who runs the Exuma Point Bar and Grille, said: "My life was changed forever, and my credit was ruined by Fyre Fest.
"My only resource today is to appeal for help."
'Drunk passenger' attempts to hijack Aeroflot plane and demands flight to Afghanistan

A drunk passenger who tried to hijack a passenger jet over Russia has been arrested, police have said.
The man had been on an Aeroflot flight from the Siberian city of Surgut to the Russian capital Moscow when he tried to break into the cockpit.
He told the crew that he was armed and demanded the plane divert to Afghanistan, according to Russian news agencies.
The plane made an emergency landing in the city of Khanty-Mansiysk, about 185 miles (298km) west of Surgut.
After landing, the plane stood on the runway for more than an hour, as the airport was evacuated.
Следователи и криминалисты СК России производят осмотр самолета, следовавшего рейсом Сургут-Москва и совершившего вынужденную посадку в аэропорту Ханты-Мансийска pic.twitter.com/MJY7p160N9

— Следственный комитет (@sledcom_rf) January 22, 2019
State television channel Rossiya-24 showed footage of masked security officers leading the man on to the tarmac with his hands behind his back.
It later turned out that he had no weapons.
In a statement, Aeroflot said: "The passengers and crew members on board the aircraft disembarked safely and without injury."
Investigators said the man was a Surgut resident with a previous conviction for property damage.
He will be charged with hijacking, a crime that carries a jail sentence of between seven and 12 years.
Natural world at severe risk, Sir David Attenborough tells Prince William on stage in Davos
Sir David Attenborough warned of the "echoes and implications" in the natural world of everything humans do in the urban world as he took questions from old friend Prince William.
In front of a packed audience at the World Economic Forum in Davos, the Duke of Cambridge spoke to the 92-year-old broadcaster and naturalist for half an hour, talking about their shared passions for conservation, tackling climate change and Sir David's long broadcasting career.
After William asked what advice Sir David would give to people of his age, the broadcaster said: "We have to recognise that every breath of air we take, every mouthful of food that we take comes from the natural world, and that if we damage the natural world we damage ourselves.
"We are one coherent eco-system, it's not just a question of beauty or interest or wonder, it's the essential ingredient, the essential part of human life is a healthy planet.
"We are in the danger of wrecking that, if we don't recognise the sort of connections that I've been describing then the whole of the planet becomes in hazard and we are destroying the natural world and with it ourselves."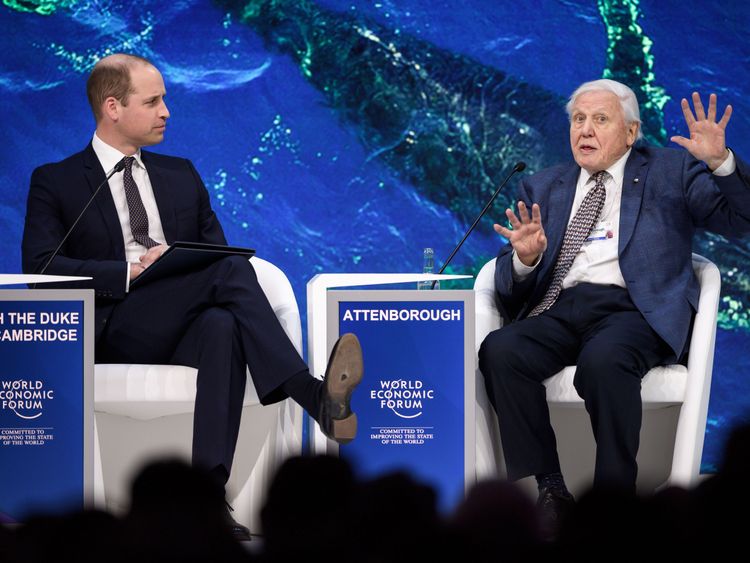 William described it as a personal treat to interview the leading environmentalist, who he has described as a "national treasure".
Reading from a list of prepared questions, William said: "Normally i have to endure people asking me questions, so it's nice to be turning the tables for once."
In a veiled dig at political leaders, he asked: "Why do you think the world leaders and those in key positions of leadership have taken so long and there have been quite a few faltering steps to act on environmental challenges?"
Sir David replied: "Because the connection between the natural world and the urban world, the society of human society has always, since the industrial revolution, has been remote and widening and we didn't realise the effects of what we were doing out there, but now we are seeing that almost everything we do has its echoes and has its implications across the natural world.
"We have now to really be careful what we do because we can exterminate things without even knowing".
Talking specifically about the impact of plastic waste, he added: "We have now to be really aware of the dangers of what we are doing. We already know that that of course the plastic problem in the seas is wreaking appalling damage upon marine life, the extent of which we don't yet fully know."
Sir David said he was optimistic to see a gathering like this at the WEF, widely recognised as a global talking shop for political and economic leaders, as well as philanthropic celebrities.
Asked by William about the conflict between environmentalism, capitalism and economic success, Sir David said: "Still it is seen by some people that in fact humanity and industrialised humanity in particular is in opposition to the natural world.
"It is not. We are all one world and that is the important thing that we need to recognise, and which organisations and events like this give you the optimism of feeling that fact, that fundamental beautiful fact is now being recognised.
"That is why it is so exciting to be at this great important occasion where people attending it have more power perhaps than any other gathering in the world, and the feeling that those responsible for this gathering recognise this fundamental truth."
He added that those in the room must "do something to make sure that the pact between the natural world and humanity is given its proper place and honour."
Work around conservation and the environment has become a key focus for Prince William's charitable work.
Sir David was awarded the Crystal Award by the World Economic Forum for his leadership on environmental campaigning and used his acceptance speech to call for a global plan to tackle the issues.
:: Sky's Ocean Rescue campaign encourages people to reduce their single-use plastics. You can find out more about the campaign and how to get involved at www.skyoceanrescue.com