The world's oldest known bird is set to become a mother again – after raising at least 30 other youngsters.
Wisdom the albatross has laid another egg at her nest site in Midway Atoll National Wildlife refuge on a tiny island about 1,200 miles northwest of Hawaii, in the Pacific Ocean.
Biologists believe Wisdom is at least 68 years old, forcing them to re-evaluate the age which they expected albatrosses to live to.
Albatross mate for life, but will recouple if a partner dies. The current age of her mate Akeakamai is not known, but the pair have been together since 2006.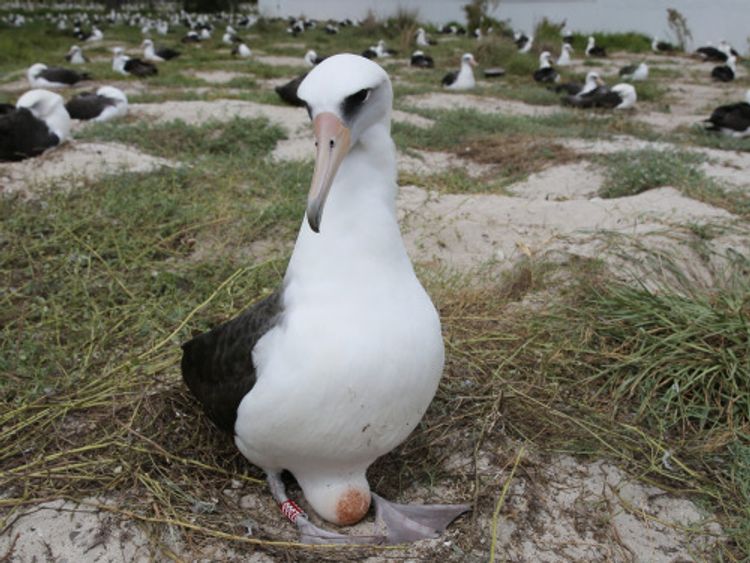 "She first appeared back at her traditional nest site on November 29 and biologists on Midway have confirmed that she has laid an egg," a statement from the US Fish and Wildlife Service Pacific Region said.
"Wisdom and her mate Akeakamai return to the same nest site on Midway Atoll each year. Biologists call this type of behavior 'nest site fidelity'."
Albatross lay a single egg and incubate it for just over two months before they spend another five months rearing it to fledgling status after it hatches.
During that time, Wisdom and Akeakamai will take it in turns to sit on the egg or tend to the chick as the other searches for food at sea.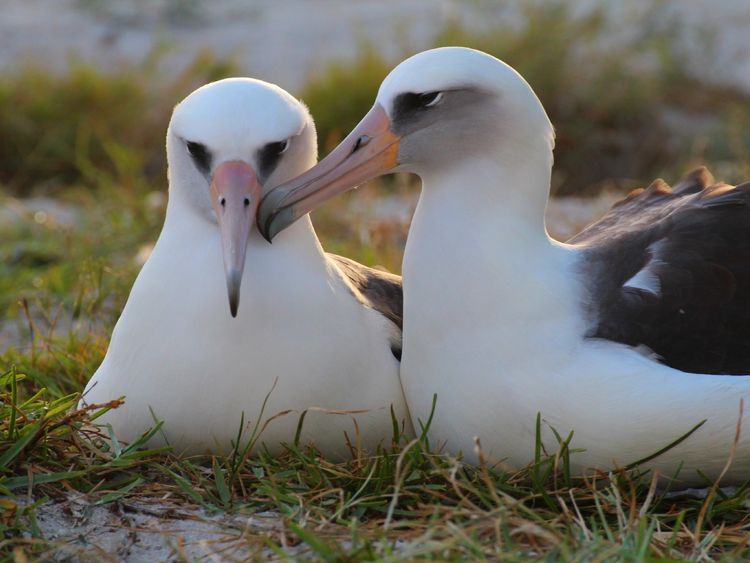 It is thought that Wisdom, a Laysan albatross, has reared between 30 and 36 chicks in her life.
The chick she produced in 2001 was observed just a few feet away from her in 2017, providing further evidence that albatross offspring return to their parents as they get older.
"Midway Atoll's habitat doesn't just contain millions of birds, it contains countless generations and families of albatrosses," said Kelly Goodale, US Fish and Wildlife Service Refuge biologist.
"If you can imagine when Wisdom returns home she is likely surrounded by what were once her chicks and potentially their chicks. What a family reunion!"
The USFWS says nearly 70% of the world's Laysan albatross and almost 40% of black-footed albatross rely on the reserve.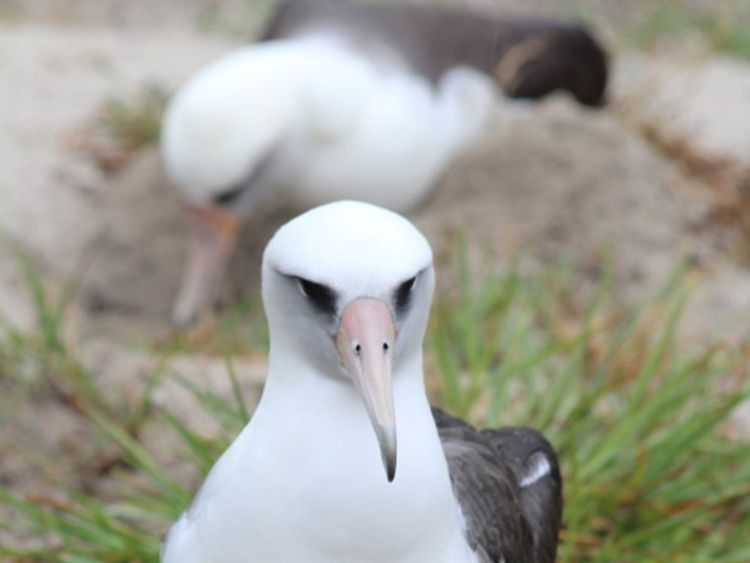 There are around three million birds on the atoll, about 1.2 million of which are albatross – providing a crucial refuge for the birds, most species of which are at risk due to loss of habitat, ocean plastic and commercial fishing practices, according to the WWF.
Wisdom was first ringed in 1956 at a time when Midway Island was a strategic outpost for the US Navy.
The biologist who ringed her then rediscovered her 46 years later in 2002 while surveying an area he had previously visited.
It was because she was a fully developed adult bird when he first saw her that he was able to determine her minimum age.
In 2006, she was seen again and from that point, after her age was recognised, she began to be monitored regularly.
While the Laysan albatross does not have the wingspan of the wandering albatross – the largest wingspan of any bird – like other species they spend most of their lives in flight over the oceans.
It is thought Wisdom has travelled more than three million miles in her lifetime.
Brutal crackdown has not crushed dream of democracy in Sudan | World News
The symbol of resistance in Khartoum is delivered by hand.
On countless occasions during our visit, I have seen people look each in the eye and offer their "V for victory" sign.
It is usually done quickly and accompanied with a smile – and everyone knows what it means.
These furtive gestures are important in a city where the majority feel like they are under siege.
A government-backed militia called the Rapid Support Forces (RSF) are a constant presence in the streets and they are loathed and feared in equal measure.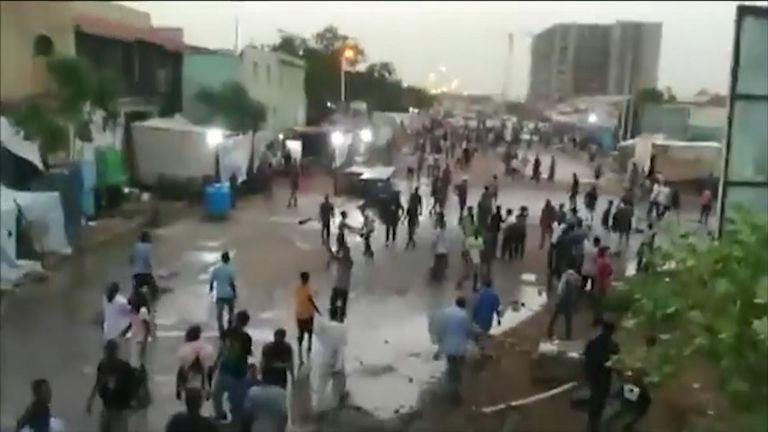 Last week, members of this notorious unit played a key role in the brutal crackdown against protesters campaigning for a civilian government.
More than 120 people lost their lives in the assault, according to the Sudanese Doctors Committee, which also said the bodies of 40 were dumped in the Nile River.
The ruling military council put the nationwide death toll for that day at 61.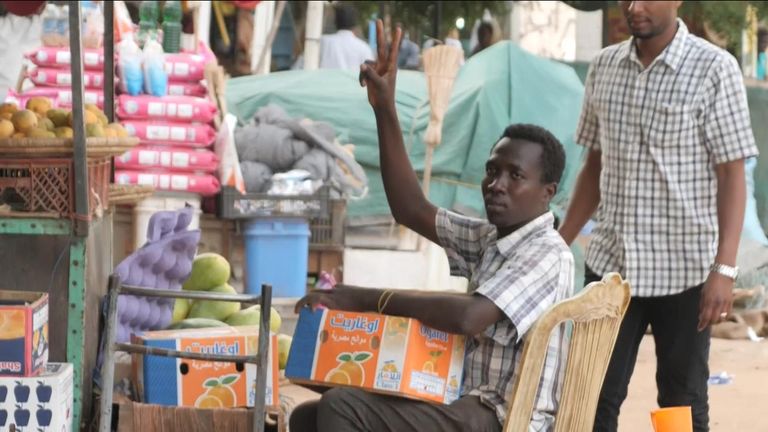 Residents cross the road to avoid the RSF personnel while keeping their eyes firmly fixed on the ground.
We watched one woman frantically flag down a commuter bus as a group of militia men approached her.
There is another form of rebellion in Khartoum and it is plastered on the city walls.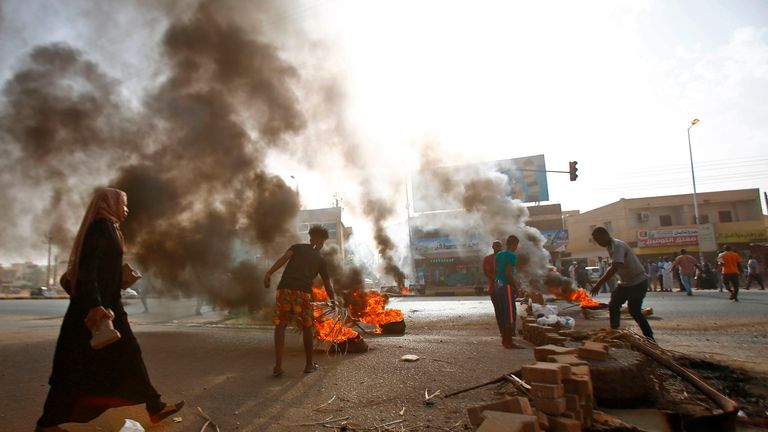 Portraits of the martyrs of this people's movement can be found in almost every neighbourhood and they are colourful, attention-grabbing memorials.
Muawiya Bashir Khalil was shot by the security forces in January after he opened his home to protesters in the neighbourhood of Burri.
A striking representation in purple now graces the wall opposite the bullet-scarred door of his house.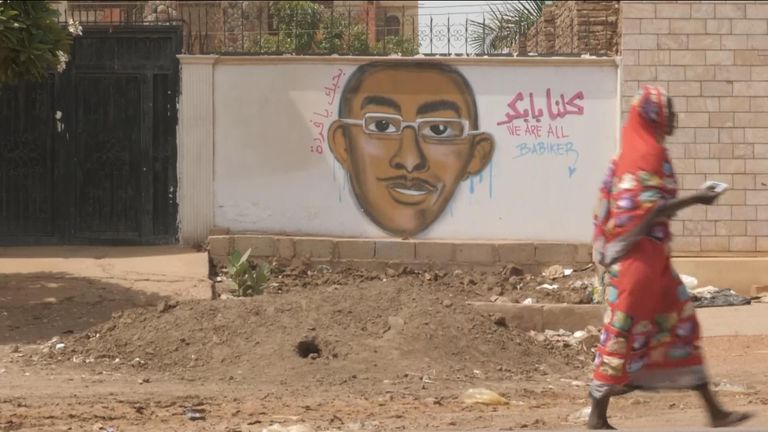 Doctor Babikir Abdel Hamid was killed while pleading with soldiers for permission to take wounded demonstrators to hospital.
Members of his family told us that he had been tending to protesters in a makeshift clinic in his home.
"He was very kind, very understanding, he loved helping people and that is why he was killed," says his sister, Aliaa Abdelhameid Babiker.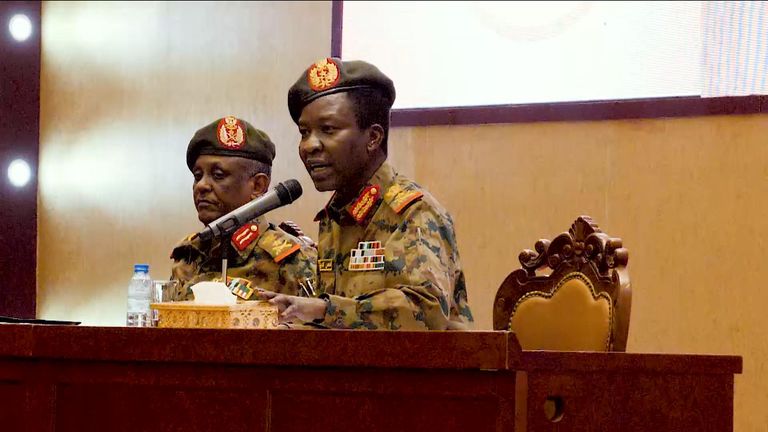 "I just want them to stop," she added. "We don't want soldiers, we just don't want them. I want them to stop killing our people."
The bespectacled portrait of Dr Babiker greets residents and visitors in eastern Khartoum and reminds them of his role in this struggle.
F-35 jets: Chinese-owned company making parts for top-secret UK-US fighters | UK News
A Chinese-owned company is making circuit boards for the top secret next generation F-35 warplanes flown by Britain and the United States, Sky News can reveal.
Exception PCB, a printed circuit board (PCB) manufacturer in Gloucestershire, south west England, produces circuit boards that "control many of the F-35's core capabilities", according to publicity material produced by the UK Ministry of Defence (MoD).
This includes "its engines, lighting, fuel and navigation systems", it said.
When asked about the firm's Chinese ownership, the MoD said Exception PCB is an established manufacturer of circuit boards to the defence industry and presents "no risk" to the F-35 Joint Strike Fighter supply chain.
But defence experts, including former defence ministers, expressed concern that a Chinese-owned company is producing any parts for such a classified, British and American fifth generation programme, because of long-standing fears about Chinese espionage and rivalry.
They said it is a particularly odd situation given President Donald Trump's trade war with China and his opposition to any involvement by another Chinese company, Huawei, in fifth generation civilian mobile phone networks.
"We have been completely and utterly naive about the role of China and it is only now that people are beginning to wake up," said Sir Gerald Howarth, a former Tory defence minister.
There is no suggestion that Exception PCB or its Chinese parent, Shenzhen Fastprint, have done anything wrong.
The Chinese state has long been accused of seeking to steal details on the multi-billion-pound F-35 programme, headed by US defence giant Lockheed Martin.
The stealth aircraft, fitted with a suite of highly classified sensors and other technology, will form a core part of US, British and other allied air and naval forces for the coming decades.
Companies in nine countries that partnered on the programme from its early stages supply components for the entire fleet of aircraft that is being built.
This means parts made in the UK are put on F-35 jets flown by the US, Japanese, Norwegian, Italian and other militaries.
The revelation that one Chinese-owned firm is part of this global supply chain raises the possibility there could be others.
Lockheed Martin was unable to state categorically this was not the case.
"We are not aware of any other Chinese-owned F-35 suppliers at this time," the firm said.
A March publication by the UK MoD, entitled Small and Medium-Sized Enterprise (SME) Action Plan, promoted Exception PCB as an example of a UK-based firm that is part of the supply chain for the F-35.
What it did not mention is that Shenzhen Fastprint – a company based in China and listed on the Shenzhen Stock Exchange – bought Exception PCB in 2013.
Describing its involvement in the aircraft programme, the MoD publication said: "Gloucestershire-based Exception PCB manufacture the circuit boards that control many of the F-35's core capabilities."
A news article published by the MoD last November again promoted Exception PCB's F-35 credentials as part of an event called "Small Business Saturday".
It said the company's 107 employees "manufactured the circuit boards that control many of the F-35's core capabilities, including its engines, lighting, fuel and navigation systems".
An MoD spokesman this week played down the firm's activities when asked about its Chinese ownership and what due diligence the UK had carried out.
"Exception PCB produces bare circuit boards and as a result there are no risks associated with their product in the F-35 aircraft supply chain," he said.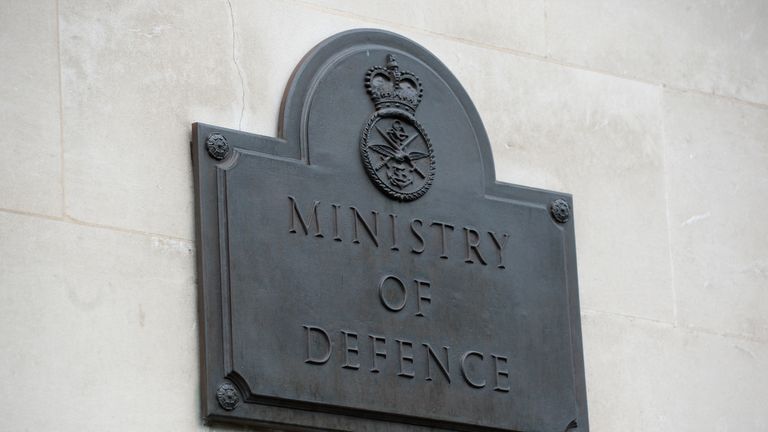 Lockheed Martin, however, signalled there could be a limited risk.
It described Exception PCB as a "third-tier" supplier because its products go via another company, GE Aviation, before reaching the aircraft.
"Exception PCB produces bare circuit boards with no electronics to GE Aviation," it said.
"These parts, like all components on the F-35, are inspected repeatedly at each stage of manufacture. Additionally, Exception PCB has no visibility or access to any sensitive programme information and there is limited to no risk associated with their minimal role in the programme."
It added: "Should Exception PCB be determined an unapproved source in the future, GE Aviation has alternate sources of supply that would ensure no impact to the programme."
Clark Ince, a director of Hallmark Electronics, another printed circuit board manufacturer in the UK, said firms make boards according to a design given to them by their customer.
He said he thinks it is possible for a company that buys another firm to glean details of what the circuit boards on its acquisition's order books might be used for even if – as in the case of Exception PCB – it is simply bare circuit boards for the F-35.
"They can look at certain designs and probably recognise what it's used for. If it is similar to what they are making but of a better design then they will copy it," he said.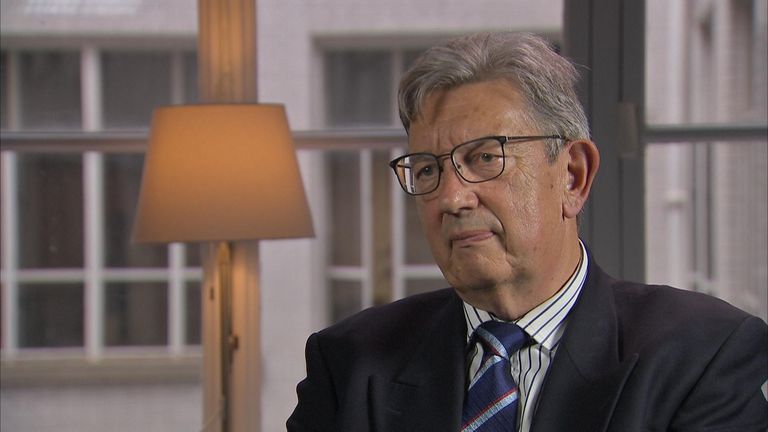 It is also possible to embed technology such as a chip without a customer's knowledge into a circuit board that could affect the way it functions, he said.
Asked whether he thought there was a risk to allow a Chinese-owned company to make circuit boards for the F-35, Mr Ince said: "Yes I think so, personally I think so."
A senior manager at Exception PCB had initially been happy to talk on camera about the F-35 work and show Sky News around the firm's plant on an industrial estate in Tewkesbury.
But the request was denied when he sought approval from his boss and from GE Aviation.
Exception PCB did not reply to subsequent emailed questions about its Chinese ownership, such as whether a firewall is in place to ensure no information about the company's F-35-related work is shared with Shenzhen Fastprint.
An industry source said a delegation from GE Aviation was due to visit Exception PCB's Tewkesbury headquarters this week in the wake of Sky News asking questions about its Chinese ownership even though this had been known when the takeover happened.
Documents on Exception PCB's website show that the company has also done work on other sensitive defence programmes including the Eurofighter Typhoon fighter jet, operated by the Royal Air Force, the US military's F-16 warplanes and the Apache attack helicopter.
An MoD source said the firm has been involved in Lockheed Martin's F-35 programme since its inception almost two decades ago.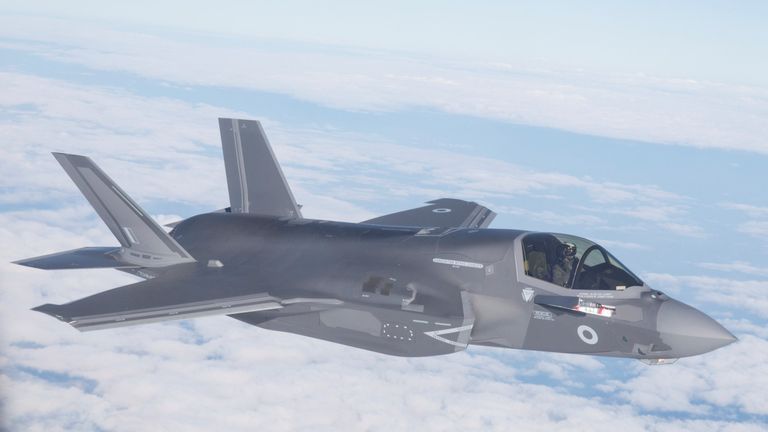 Defence and security experts said it is surprising that a Chinese firm was allowed to acquire a British company with these kind of defence contracts.
"I think it's breath-taking," said Bob Seely, a Tory MP and army reservist who co-authored a paper about concerns on China's Huawei and Britain's 5G mobile network.
"It's not a question of: Is this bad? But it's a question of: How bad is it?" he said. Mr Seely said he plans to raise the matter with Defence Secretary Penny Mordaunt in a letter.
Paul Beaver, a defence analyst, said there can be a blurring of the line between commercial entities and the state in China, which is particularly relevant when it comes to defence.
Beijing "believes that commercial companies in China are part of the state effort", he said.
"What people are concerned about – and I'm one of those – is if you have anything with a Chinese connection at least it ought to be known and the risks need to be assessed… To have it in the world's first fifth generation strike aircraft I think is really a cause for concern."
Lockheed Martin said there are no "direct F-35 suppliers based in China or under Chinese ownership". This does not include indirect suppliers like Exception PCB, however.
"We work closely with our industry partners to manage the F-35 Global Supply Chain in accordance with rigorous defence acquisition standards to ensure no parts and components from unapproved sources are included in aircraft production," Lockheed Martin said.
GE Aviation said it "works closely with all of our suppliers to ensure rigorous compliance with defence acquisition standards, export regulations and all legal obligations, including the F-35 supply chain.
"Exception PCB – a commonly-used industry supplier – produces bare circuit boards in the UK for GE Aviation and has no visibility to the design or drawing of the F-35 system".
Stowaway lizard travels from Kos to Bridgend in holidaymaker's suitcase | World News

A lizard has left behind hot and sunny Greece for South Wales after sneaking into a holidaymaker's suitcase.
The bright green Balkan reptile, which is not dangerous, said goodbye to temperatures of 26C (78.8F) when it travelled over 2,000 miles from Kos to a much cooler Bridgend.
After discovering him in their belongs on their return home to Laleston on 6 June, the holidaymaker called the RSPCA.
The lizard, around 20cm long, or 8 inches, had shed its tail – a common defence mechanism for the species – but apart from that, he was in good condition, despite the journey.
The animal is now being cared for at Silent World, which specialises in exotic creatures.
RSPCA inspector Nic de Celis said: "We're really grateful to the callers, who contacted us and safely confined the lizard in their utility room before we came and made the rescue.
"As a stowaway in a suitcase from Kos to Bridgend for many hours, and with temperatures falling from a high of 26C to 15C, this was some ordeal for the reptile.
"Fortunately, this lizard is now at a specialist centre in Pembrokeshire for boarding and care and is doing well. It is anticipated it will now live there, in safe and appropriate conditions."
Russ and Ginny Spenceley, who run Silent World, added: "He's quite friendly, went straight into a vivarium with us and is eating locusts directly from our hands.
"This lizard will join our other exotic species kept at our specialist facilities."