Bob Einstein, one of the stars of Curb Your Enthusiasm, has died aged 76.
His brother confirmed the actor's death on Twitter, saying: "R.I.P. My dear brother Bob Einstein. A great brother, father and husband. A brilliantly funny man. You will be missed forever."
According to Deadline.com he had been diagnosed with cancer.
Einstein was best-known for playing Marty Funkhouser on the satirical comedy starring Larry David.
He also played stuntman Super Dave Oborne in Super Dave, and had roles in Arrested Development and Ocean's Thirteen.
Einstein was a two-time Emmy winner, and had been nominated another four times for his comedy writing.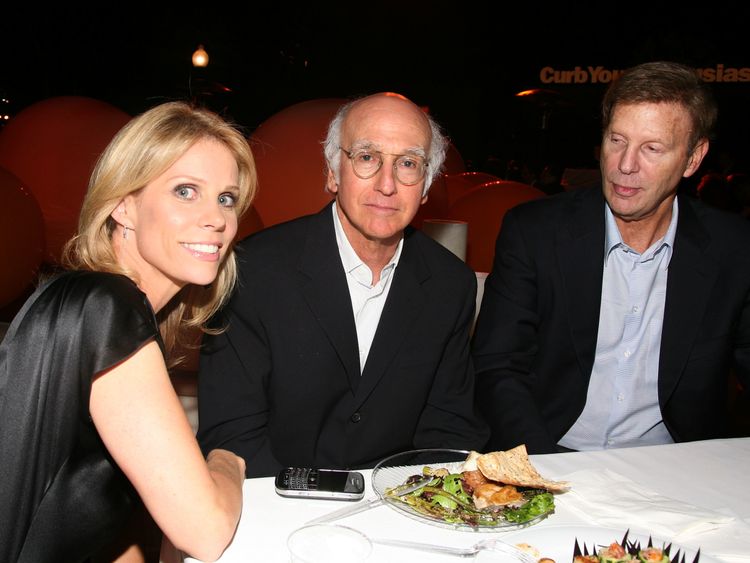 His Curb Your Enthusiasm co-star Richard Lewis tweeted: "I'm in shock. I knew him forever. His long career is hard to match.
"His role on #curbyourenthusiasm was excruciatingly brilliant! Our cast and crew will be devastated. He was so loved. He told me how much he loved LD and Curb. RIP buddy."
Cheryl Hines, who plays Cheryl David on the show, said: "We lost a friend today. thanks for all of the laughs on Curb Your Enthusiasm. Our love to Bob's family. #BobEinstein #SuperDave. The comedy world will miss you."
The 10th series of Curb Your Enthusiasm is currently in production.
Einstein started his career as a writer, working on The Smothers Brother Comedy Hour alongside Steve Martin.
He created the character Super Dave in the early 1970s, and he first appeared on The John Byner Comedy Hour, before becoming a regular part of Bizarre in the 1980s. It was not until 1987 that he got his own show.
Einstein played Larry Middleman in Arrested Development's third season, and Robert "Bobby" Caldwell in Ocean's Thirteen, Matt Damon's character's father.
Deadline reports donations in his memory should be made to the Leukaemia Lymphoma Society.
Five people killed in shooting at Florida bank | US News

Five people have been killed at a bank in Florida after a gunman opened fire.
The gunman, identified as Zephan Xaver, 21, called police after firing shots inside the SunTrust bank in Sebring, Florida, and eventually surrendered.
Karl Hoglund, Sebring police chief, said the shooting happened at about 12.30pm ET (17.30GMT).
Xaver called police to tell them he had fired shots, according to authorities.
Negotiators failed to convince him to leave the bank, at which point the Highlands County Sheriff's Office SWAT team entered the building and continued to speak to him.
He surrendered and is in custody. His motive is not clear.
Mr Hoglund said: "Today has been a tragic day in our community.
"We've suffered significant loss at the hands of a senseless criminal doing a senseless crime."
No information has been released about the victims.
CNN reported there had been no danger to the surrounding areas.
Ron DeSantis, Florida governor, said he was asking the state department of law enforcement to help local police.
Sue Malliano, a spokesman for the SunTrust bank, said: "We are working closely with officials and seeking to take care of everyone affected at our Sebring, Florida branch."
Troops return to Bulawayo with a vengeance | World News
A week of protest, violence and national trauma in Zimbabwe began last week in the country's second largest city, Bulawayo.
It was here on the morning of 14 January that protesters took to the streets after President Emerson Mnangagwa's administration raised fuel prices by 150%.
Seized with fury, demonstrators blocked roads and occupied neighbourhoods – and their protests would lead to city-wide looting and rioting.
Shops and business in large swathes of the city were destroyed or stripped bare. I asked the owner of one supermarket in an area called Nkeita what had happened to the police.
"They came late, they were late. Everything was gone when they got here," he replied.
Business owners told me that they were abandoned by the police and the army for the first three or four days.
Government critics, like lawyer and former opposition MP David Coltart, think that the authorities decided to hand over this independent-minded community to thugs and criminal elements.
"I have seen the destruction of food outlets on an industrial scale.
"Having represented the people of Bulawayo for many years, I cannot believe the people themselves would have done this because they would have harmed themselves.
"Some 80% of food outlets in working class areas were destroyed. The capacity of these businesses to open again was effectively ended."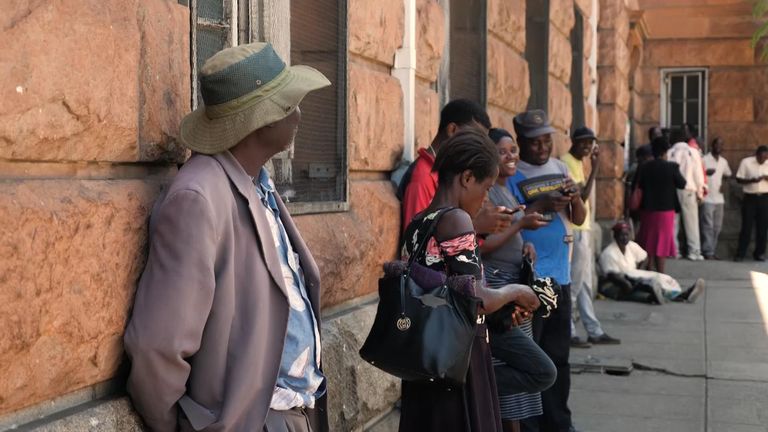 Zimbabwe's president promised to prosecute members of the army or the police who were found guilty of misconduct.
Yet it is members of the public in Bulawayo who are now being rounded up and arrested as the authorities re-assert their control in the city.
Lawyers told us 500 people have been detained in the past few days. The city's prisons, "are packed like sardines," said one.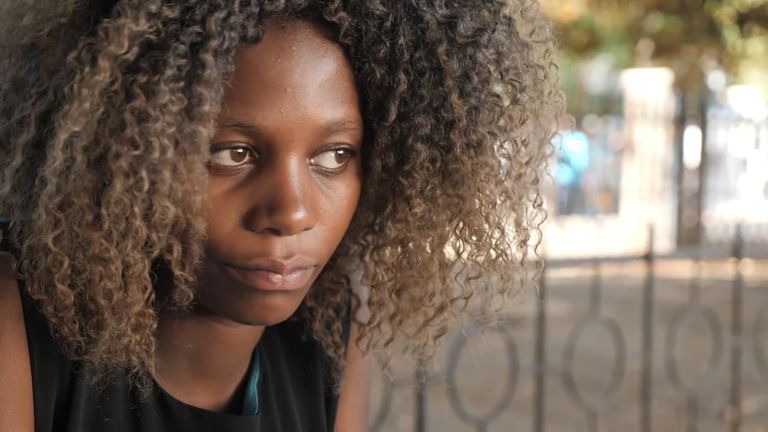 We found one woman called Noxolo Maphosa, outside the city's stately magistrate's court, carrying a toothbrush and some basic suppliers for her brother, Josephat.
Josephat Ngulube ran as a candidate in the last election but he was arrested over the weekend for trying to organise a protest.
"Now I don't know what is going to happen to him," said Ms Maphosa.
"I am just waiting for them to tell us what is going to happen but I don't have hope. I thought we would get a trial date today but they keep on postponing. I am losing hope."
The police and the members of the military are back on the streets and they are making their presence felt.
I heard and saw evidence of systematic raids and beatings carried out in the city's suburbs.
Residents in an area called Marbutweni told us that troops turned up after 8pm on Tuesday and went door to door, administering beatings to men over the age of 14.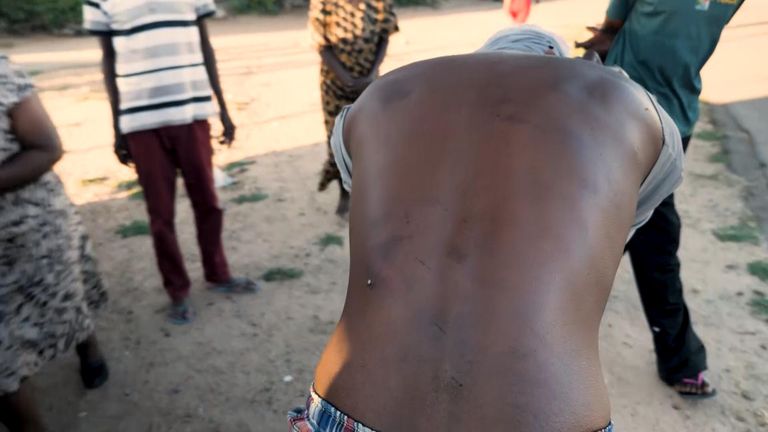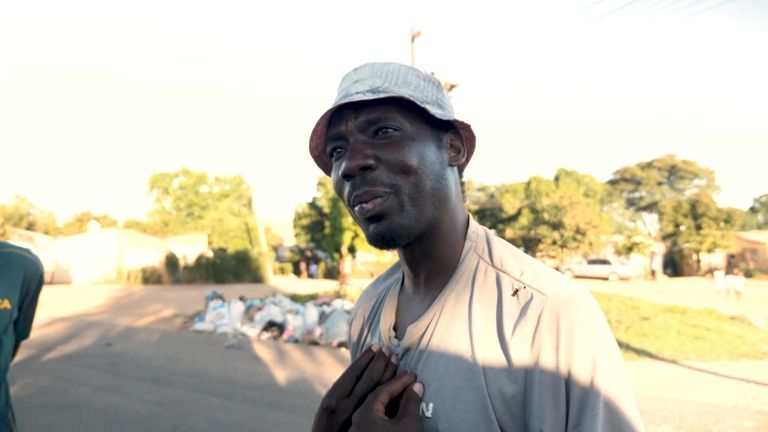 A resident called Clive showed us a series of blue marks and bruises covering his back, then turned around to address us in a quivering voice.
"I met those guys. 'Where you coming from?' (they said).
"I said 'I am going home. It is after dark'.
"(They said) lie down and then nine guys were hitting me. Baton sticks and everything. Come on, is this Zimbabwe?"
We were given more testimony from a man called John, whose face was badly swollen.
"I was asking, 'what did I do wrong?' But they were continuously beating me and I don't know what to do now because I am scared," he told us.
These are arbitrary and unjustified attacks in a country led by a man – Emerson Mnangagwa – who is trying to sell it as a modern democracy. The people of Bulawayo are unlikely to forgive.
Crowds defy police to cry out for change in Venezuela | World News
The crashing sounds of pots and pans being banged together on the streets of neighbourhoods across Caracas signalled the start of a day of demonstrations against the Venezuelan government.
They had promised thousands would be out on the streets across the country; but only the very optimistic dreamed of the size of the turn out following the opposition's call for action.
From all over the capital tens of thousands at first, then hundreds of thousands, ignored the intimidation tactics of the security services to gather with one voice.
For mile after mile a river of humanity marched along motorways, over bridges and jammed themselves on the underground heading for the city centre.
Men, women and children of all ages and all classes, swathed in Venezuelan flags and colours, moved together, shouting out their calls for freedom and liberation.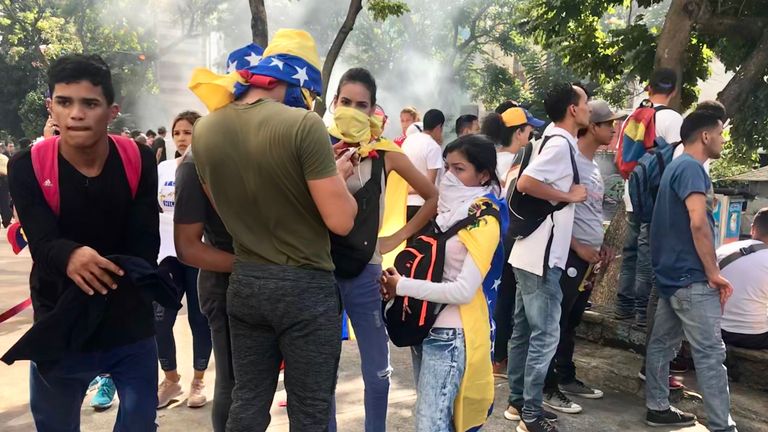 The streets of downtown were filled with throngs of people. Jubilant that after waiting months, if not years, to gather again like this they finally had.
The numbers were so large and so dense no cars could move. We criss-crossed the city on motorcycles, the only viable source of transport, to track the movement of people from all corners of Caracas.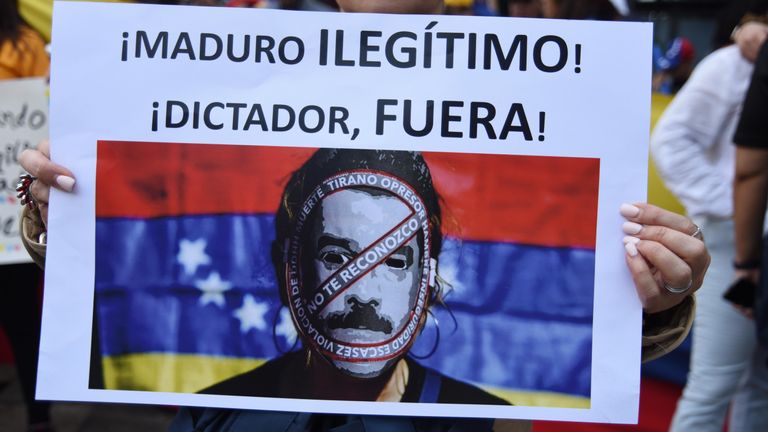 Even the poorest areas, the beating heart of the country's socialist government set up by Hugo Chavez, emptied as people joined the demonstrations.
The Chavez dream of a utopian socialist society is a distant memory now. The country is broke, inflation over a million percent, the currency worthless and government supermarkets empty of food and almost everything else.
In one of the city's main squares thousands upon thousands gathered to see their hero, the speaker of the national assembly, Juan Guaido. He did not disappointment them.
For the first time he openly declared himself the country's interim president. The crowd exploded with a roar of support. Nobody had expected such a bold step. He is now directly challenging the authority of Nicolas Maduro, his government and the military that props them up.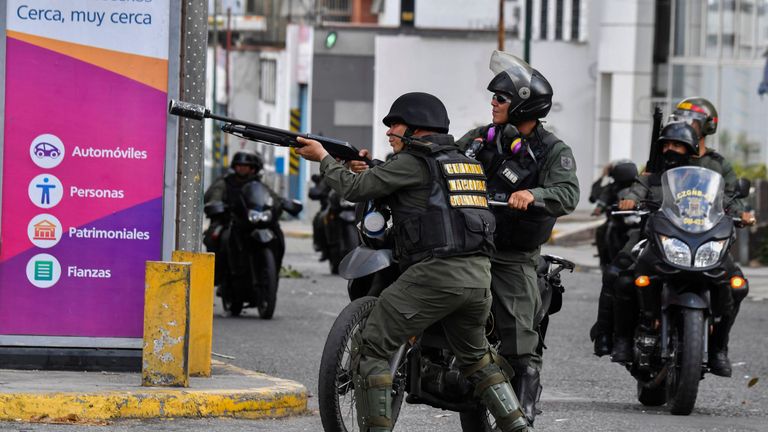 Leaving the stage he was mobbed as the crowds surged around him, minders struggling to keep people back. As he passed I was squashed against a wall by the tide of people.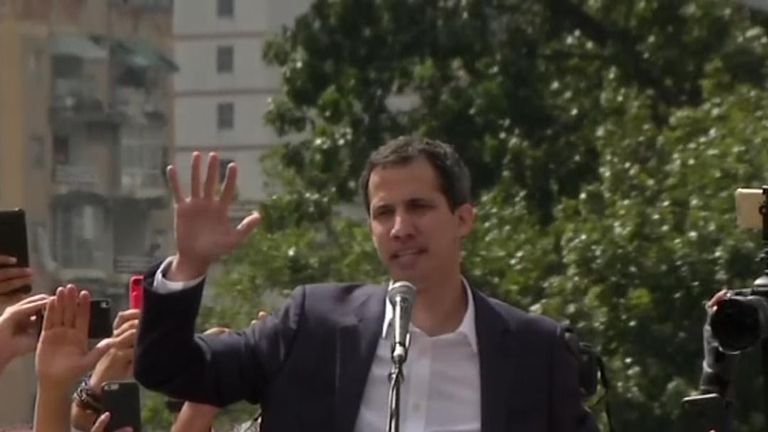 The 35-year-old has charisma and he has galvanised the people. He also has the special gift of doing the right thing, stopping to help lift a woman who had fallen over the in push. He helped her up and kissed her cheeks. She seemed utterly overwhelmed as she thanked him. The crowd went crazy.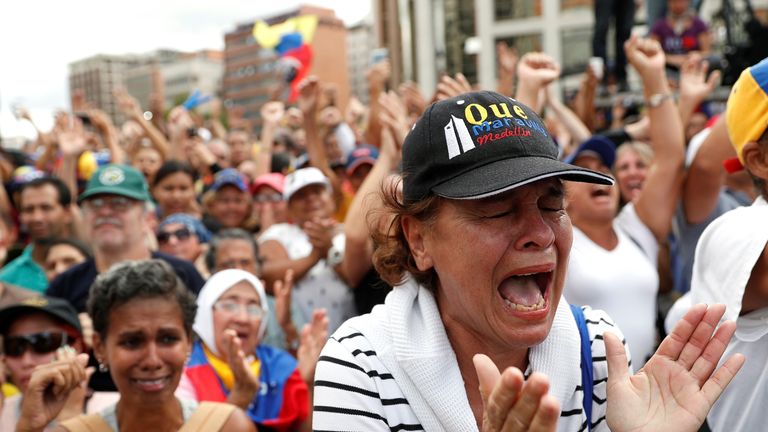 "They needed a messiah," our Venezuelan producer Gustavo whispered to me. "Now they have one."
All around me people chanted "President, President!"
"Now is the time" a group of men and women chanted, "We want change, we want freedom."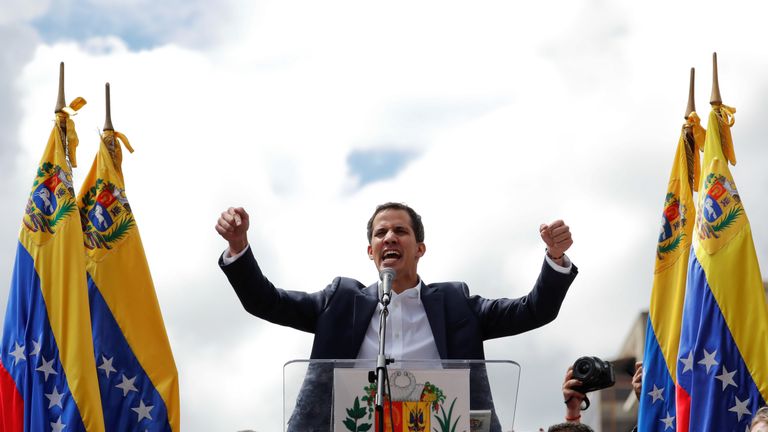 Mr Guaido's supporters say the end is coming for the old guard but Mr Maduro's government still supported by the police and the military will fight back.
Within minutes of Mr Guaido's announcement, it began.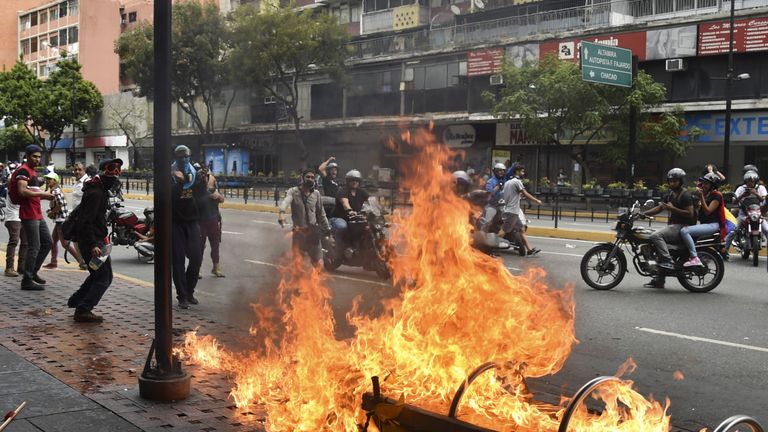 As the police moved in to break up the demonstration crowds of people began fighting back.
They dragged anything they could find onto the streets to protect them from rubber bullets. Clouds of choking tear gas filled the air as volley after volley was fired into the protesters.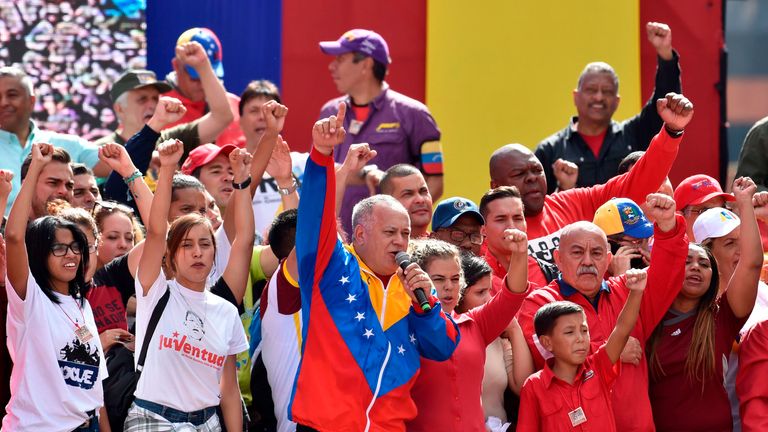 They began smashing up paving stones, gathering the rocks, throwing them at the security services.
The crowds swayed backwards and forwards as the police repositioned themselves; making charges into the protesters attempting to snatch the stone throwers. Near stampedes ebbed and flowed as thousands attempted to hold their ground while trying to escape the choking gas.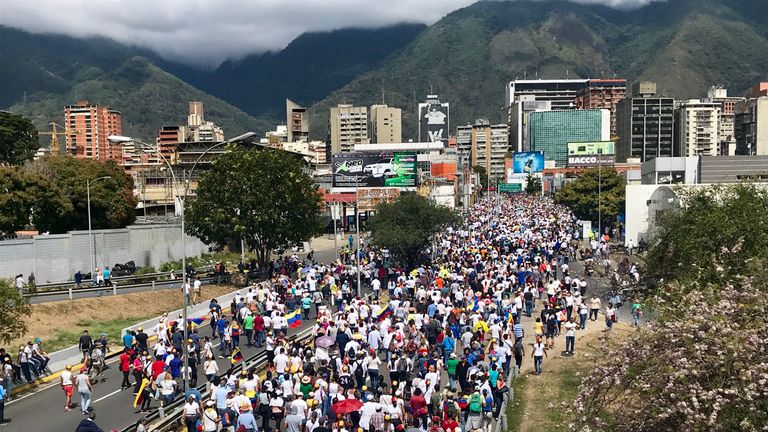 Fires were started in the middle of the city streets. Scaffolding and signposts ripped down to throw at the advancing police supported with armoured cars and water cannon.
It was always going to be like this. President Maduro has no choice. The momentum is with the opposition now, but it is unlikely to be the end of the regime quite yet.
The opposition says they have been warming the streets. They are on fire now.