Three people have been killed and four injured in a shooting at a bowling alley in California.
Officers sealed off an area around Gable House Bowl in Torrance, a coastal city about 20 miles from Los Angeles.
Torrance Police Department warned people to stay away from the area.
More follows…
EU says hard Irish border 'obvious' under 'no-deal' Brexit as split emerges with Dublin
The EU believes a hard border on the island of Ireland is an "obvious" result of a "no-deal" Brexit  – as signs of a split with Dublin emerged over the issue.
Brussels, Dublin and London have all stated they do no want a hard border between the Republic of Ireland and Northern Ireland after Brexit.
But the EU has given apparent confirmation they would enforce such a scenario should the UK leave the bloc without a withdrawal agreement.
The European Commission's chief spokesman Margaritis Schinas said: "If you'd like… to push me and speculate on what might happen in a no-deal scenario in Ireland, I think it's pretty obvious – you will have a hard border.
"Our commitment to the Good Friday Agreement and everything that we have been doing for years with our tools, instruments and programmes will have to take inevitably into account this fact.
"So, of course, we are for peace, of course we stand behind the Good Friday Agreement, but that's what a no-deal scenario would entail."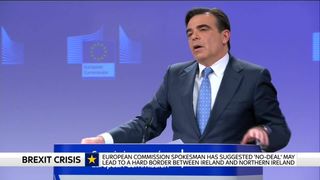 The comments prompted Ireland's deputy prime minister Simon Coveney, also his country's foreign minister, to repeat Dublin's position that it is not planning for a hard border, even with the possibility of a no-deal Brexit.
However, Mr Coveney did admit it would be "very, very difficult" to prevent a hard border without a UK withdrawal agreement.
"The Irish government will not support the re-emergence of border security on this island," he said.
"We're not planning for it in no-deal Brexit planning but, certainly, if we don't have a withdrawal agreement it becomes very, very difficult to prevent that."
Asked whether the Irish government's position that there will be no hard border was no longer credible following the EU spokesman's remarks, Mr Coveney added: "No I don't."
Dublin's stance was reinforced through a statement issued by Mr Coveney's department, which read: 'The EU, Ireland and the British government have been clear we do not want a return to a hard border in Ireland.
"That position has not changed."
With UK MPs having rejected the Brexit deal negotiated by Prime Minister Theresa May, the Irish department for foreign affairs also stressed the "focus" should remain on "Westminster deciding what it wants".
"We will not accept a hard border on this island and therefore we are not planning for one," the statement added.
"This will be more difficult to achieve without the withdrawal agreement and would require very difficult discussions with our EU partners.
"Working out suitable customs and trade arrangements compatible with our EU membership will require detailed discussion with the Commission, while the UK will also need to live up to its responsibilities."
Mrs May's spokesman stressed how the prime minister has said the UK government will do everything in its power to prevent a hard border.
But they added this wouldn't happen "just be people sitting around saying there wouldn't be a [hard] border".
On Monday, Poland's foreign minister Jacek Czaputowicz broke ranks among remaining EU member states to suggest time-limiting the backstop arrangement within Mrs May's Brexit deal – which is unpopular with a significant number of MPs – could break the impasse at Westminster over the withdrawal agreement.
Brussels officials have so far reiterated their commitment to the backstop arrangement – aimed at preventing a hard border in the absence of a future UK-EU trade deal – in its existing terms.
ANALYSIS: First cracks emerge in EU unity over Irish border
By Stephen Murphy, Ireland correspondent
There's little doubt that today's comments from the European Commission spokesman have ratcheted up the pressure on the Irish government, and surprised many in Dublin.
Leo Varadkar's government has said time and time again that it is not preparing for a hard border, because the backstop – the insurance policy to prevent a hard border in Ireland – deals with that issue.
But twice now in two days we have seen cracks appearing in the European solidarity with that position, which been remarkably solid and unified throughout the Brexit negotiation process.
Yesterday, there was the suggestion from the Polish foreign minister that there might be a five-year limit on the backstop, which was swiftly shot down by Mr Coveney.
Today Mr Coveney was forced on the defensive again after the comments from Mr Schinas.
The Irish foreign minister deflected questions on the conflict between the EU and Dublin's positions.
He repeatedly referred to the backstop as being the key to avoiding the hard border, which he said the Irish government wouldn't accept.
But that did little to address the key point: why the European Commission felt able to point out the "obvious", while the Irish government continues to assert that there will be no border infrastructure.
For now, Dublin will continue to say that the focus needs to be on Westminster to produce a solution.
But there will be unease in government circles at the first cracks emerging in the hitherto unified European alliance.
Donald Trump backs 'smeared' teens accused of mocking Native American
Donald Trump has defended a group of high school students accused of disrespecting a Native American activist, tweeting that the teenagers have been "smeared by the media".
The US president later doubled down on his intervention, saying Nick Sandmann and his colleagues had become "symbols of Fake News and how evil it can be," before suggesting they would "use it for the good – maybe even to bring people together".
Many of the students, including Mr Sandmann, who was filmed smirking as Nathan Phillips chanted while playing a drum, were wearing the Make America Great Again hats, which celebrate one of Mr Trump's key political slogans.
Looking like Nick Sandman & Covington Catholic students were treated unfairly with early judgements proving out to be false – smeared by media. Not good, but making big comeback! "New footage shows that media was wrong about teen's encounter with Native American" @TuckerCarlson

— Donald J. Trump (@realDonaldTrump) January 22, 2019
The president's comments are likely to inflame an already febrile dispute that is being seen as a symbol of America's broken society, where opponents find it impossible to agree on anything.
Mr Trump appeared to be endorsing the belief of the students, from Covington Catholic High School in Kentucky, that they were unfairly portrayed as villains in a situation where they say they were not the provocateurs.
Nick Sandmann and the students of Covington have become symbols of Fake News and how evil it can be. They have captivated the attention of the world, and I know they will use it for the good – maybe even to bring people together. It started off unpleasant, but can end in a dream!

— Donald J. Trump (@realDonaldTrump) January 22, 2019
In video footage that went viral, the students – who were attending an anti-abortion rally – are seen coming face to face with the Native American protester at the Lincoln Memorial in Washington on Friday.
The first clips published showed a smirking Mr Sandmann staring at Mr Phillips from just a few feet away while around them other students, some also wearing MAGA hats and sweatshirts, appeared to be mocking the tribal elder.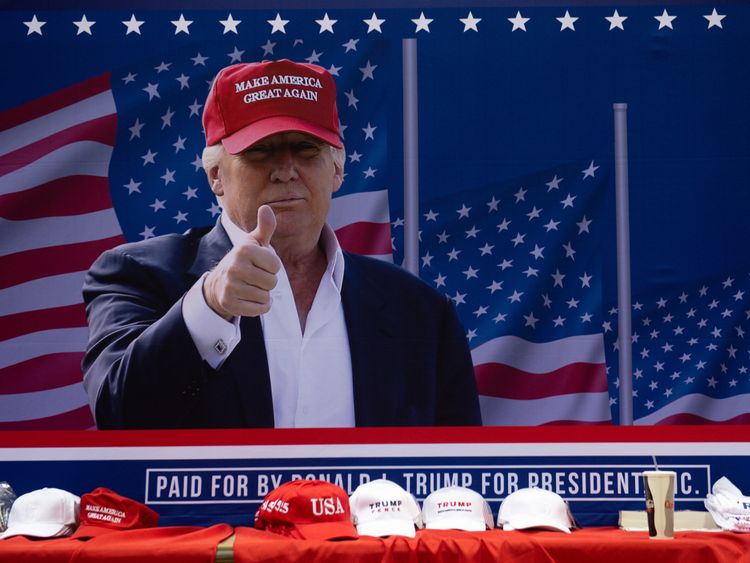 A tearful Mr Phillips, 64, claimed they were shouting "build that wall" at him, referring to another of Mr Trump's key election slogans.
On Sunday, Mr Sandmann issued a statement denying he was disrespecting Mr Phillips and saying he had been trying to reduce the escalating tension.
He accused a group of black men – who identified as Black Hebrew Israelites – of taunting everyone on the site that day, often using expletives. He said they started the confrontation and said he was trying to prevent it.
Longer pieces of video appeared later, confirming the group's ugly, expletive-laden confrontation with the Native Americans who had gathered there for the Indigenous Peoples March.
They were heard calling the Native Americans "Uncle Tomahawks" and "$5 Indians" and the high school students "crackers" – a derogatory term used in the US to describe white people – and worse.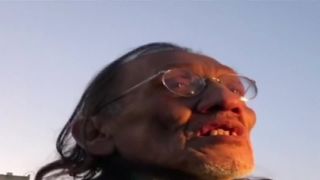 The Indigenous Peoples Movement spokesman Chase Iron Eyes accused President Trump of inciting a "reactionary voting block" and "giving these archaic instincts license, encouraging the kind of aggressive goading that I witnessed".
On Tuesday, the school, which had apologised and promised to investigate the affair, closed until further notice after receiving threats.
Brexit backer Dyson moves head office to Singapore

Brexit-backing businessman Sir James Dyson is to relocate the Dyson head office and tax base from the UK to Singapore.
The relocation of Dyson's head office from the UK means the firm will no longer be a British-registered company and Singapore will become its main tax base.
Dyson's decision to move its headquarters abroad, from Malmesbury, Wiltshire comes after last year's announcement that the company – best known for its vacuum cleaners and other domestic appliances – will manufacturer its new electric cars in Singapore, rather than the UK.
Company founder Sir James Dyson – knighted in 2007 for services to industrial design – has been widely criticised for being pro-Brexit but not being prepared to keep his business interests within the UK.
The firm said in a statement: "An increasing majority of Dyson's customers and all of our manufacturing operations are now in Asia; this shift has been occurring for some time and will quicken as Dyson brings its electric vehicle to market.
"We are now at a point where Dyson's corporate head office will relocate there to reflect the increasing importance of Asia to Dyson's business."
Dyson chief executive Jim Rowan insisted the relocation to Asia was not related to Brexit or the lowering of corporation tax.
He said: "The move is nothing to do with Brexit or tax, it's about making sure we are future proofed.
"There are huge revenue opportunities in Singapore, China is the poster child of that."
More follows…