The maritime rescue service in Spain has saved 549 migrants trying to cross the Mediterranean Sea.
Its craft intercepted six small smuggling boats carrying 350 migrants on Saturday in waters east of the Strait of Gibraltar.
Another 199 migrants were pulled from five different boats on Sunday, including two small inflatable boats.
Four children were being carried on one of the tiny recreational boats while the other was packed with 10 adults.
Estimates by the United Nations refugee agency say 2,262 migrants died while crossing the Mediterranean in 2018 and the EU's border agency said 57,000 migrants reached Spain last year – double the figure for 2017.
The problem has been exacerbated by the fact that Italy, Malta and other EU nations have been refusing to let aid boats full of rescued migrants dock at their ports.
Pope Francis has appealed to European leaders to show "concrete solidarity" to 49 migrants stranded aboard two rescue vessels since December.
Speaking in St Peter's Square on Sunday, he highlighted the plight of migrants rescued in the Mediterranean Sea who have been waiting for days for permission for a safe port to let them disembark.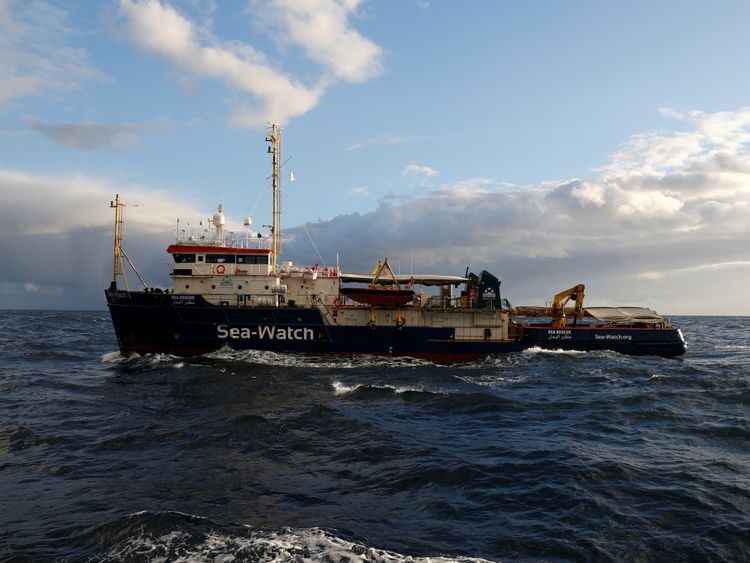 Italy's populist government has refused to let private aid vessels disembark migrants rescued from human traffickers' boats that are not seaworthy in Italian ports.
Malta has also refused migrants permission to leave their vessels but has allowed two boats to enter its waters for fresh supplies.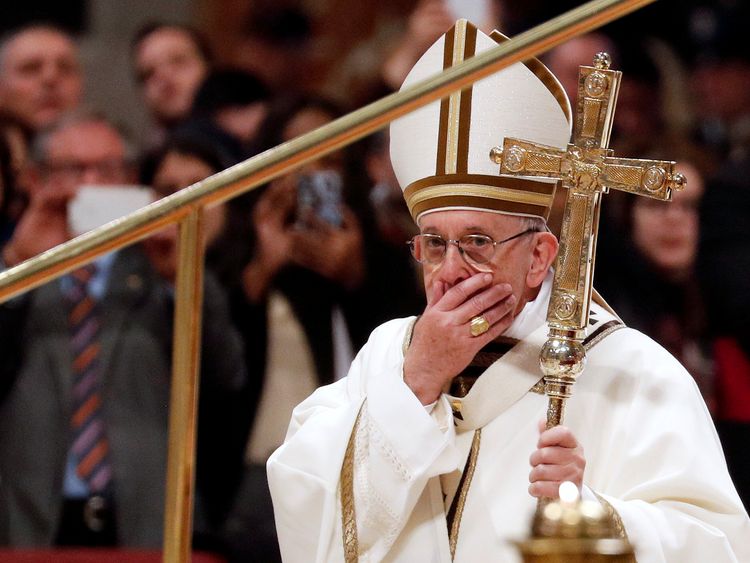 The Pope said: "Forty-nine migrants rescued in the Mediterranean by two NGO ships have been onboard for several days now, waiting to be able to disembark.
"I address a pressing appeal to European leaders that they show some concrete solidarity with respect to these people."
The European Commission also urged EU member states to admit them earlier this week as concern grows over their plight.
Some of the migrants have been stranded at sea for more than two weeks.
Omar al Bashir: Tyrant's prosecution may be all Sudan's warring parties agree on | World News
Sudan's former president Omar al Bashir faces charges of corruption and possession of foreign currency.
Sky's Africa correspondent John Sparks was in Khartoum to see his first public appearance since being deposed by the military.
It came as something of a surprise: a call about a military convoy that we had been invited to join.
But there were a couple of problems.
First, we were given 10 minutes to get to Khartoum's grand Republican Palace to meet the men who would lead the convoy.
Second, we had absolutely no idea where it was going.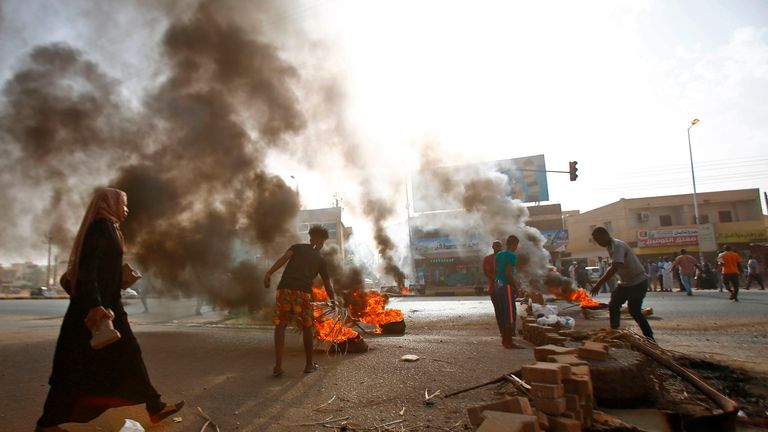 We travelled to the palace at breakneck speed and found the convoy forming inside the gates. Pick-up trucks packed with soldiers surrounded our car and the vehicles of a handful of Sudanese journalists. Within minutes we had crossed the Nile, carving through the morning traffic with dozens of men equipped with rocket-launchers.
Our destination was an ageing prison called the Kober jail. It was built by the British in a bygone age and it has earned itself notoriety.
This is where Sudan keeps its political prisoners and dissenters – and this is where the country's ruling military council have decided to stick the ex-president.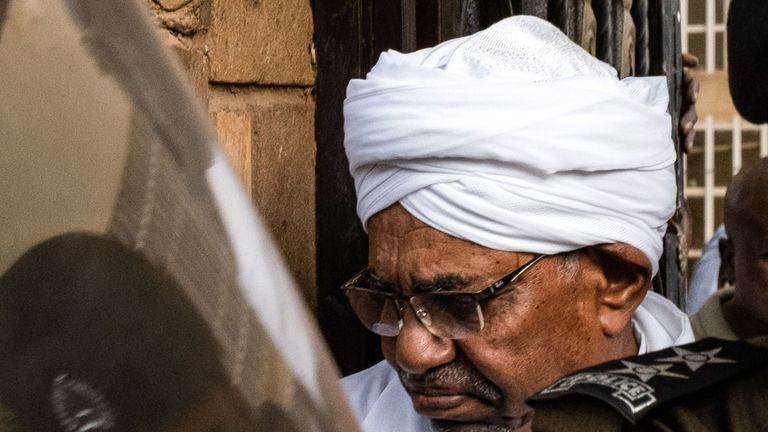 His name is Omar Hassan Ahmad al Bashir – a brigadier who took power in a coup in 1989. He ran the country with an iron fist, issuing purges and ordering executions – or jailing his enemies at Kober prison. The irony will not be lost on the inmates and guards.
The generals made their move against the president in early April after months of vigorous public protest. The economy had deteriorated and the opposition was enraged. They were also well-led by a coalition of professional and civil associations.
Now it is the military men who are the focus of the protesters' anger. Negotiations over a new civilian administration collapsed after the security forces cleared the demonstrators' main 'sit-in' on 3 June. A Sudanese doctors' committee says 118 people were killed, with the bodies of 40 dumped in the Nile River.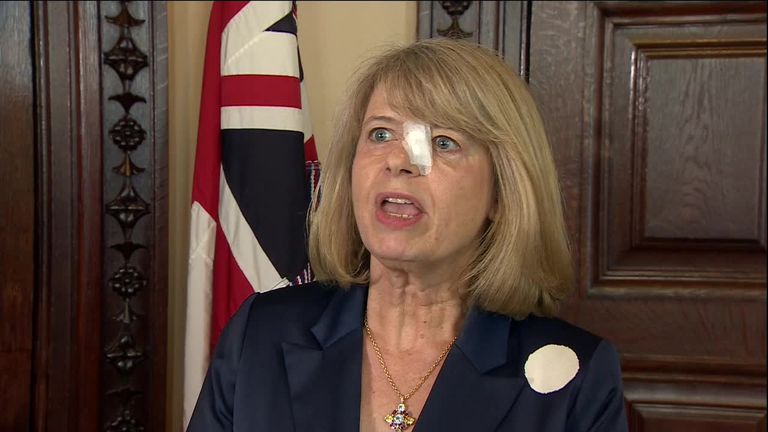 The prosecution of Omar al Bashir may be the only thing that both parties in Sudan agree on. Certainly, it does the military no harm to begin his prosecution.
That is probably why we found ourselves delivered to the door of Kober prison in 42-degree heat.
We got our pictures of the 75-year-old former tyrant as he exited under guard and he looked clean and well-fed in his robes. It was his first public appearance in nine weeks – a trip to the acting state prosecutor to answer charges of corruption and possession of foreign currency.
It seems the music has stopped for the man the Sudanese call "the dancer" but the question of succession is anything but solved.
Israel renames Golan Heights settlement after Donald Trump | World News
Israel's prime minister has renamed a settlement after his favourite world leader: Donald Trump.
The 30-year-old settlement in the Israel-controlled Golan Heights is currently known as Beruchim and has a population of 10 people, mostly elderly immigrants from the former Soviet Union.
It is around 12 miles from the border with Syria and surrounded by land mines and high yellow grass.
Benjamin Netanyahu's cabinet has agreed in principle to rename the community Ramat Trump (Hebrew for Trump Heights), hoping this will encourage more Israelis to move there.
The move is also to thank the US president for his recognition of Israeli sovereignty over the territory in March.
In a ceremony on Sunday, Mr Netanyahu said Mr Trump was a "great friend" of Israel and that the Golan Heights is an "inseparable part of our country and homeland".
The ceremony was also attended by US Ambassador David Friedman, who said: "Few things are more important to the security of the state of Israel than permanent sovereignty over the Golan Heights.
"It is simply obvious, it is indisputable and beyond any reasonable debate."
Two days after Mr Trump's 73rd birthday, Mr Friedman said: "I can't think of a more appropriate and a more beautiful birthday present."
A huge sign was unveiled with the settlement's new name in gold, with US and Israeli flags.
Mr Trump tweeted afterwards that the renaming was a "great honour" and residents of the settlement were also pleased.
Vladimir Belotserkovsky, 75, said: "We certainly thank, and I personally, am satisfied by the fact that they're founding the new settlement named for Trump."
Rosa Zhernakov, a resident since 1991, said she hoped a bigger settlement would give "more security" from any possible return of the land to Syria.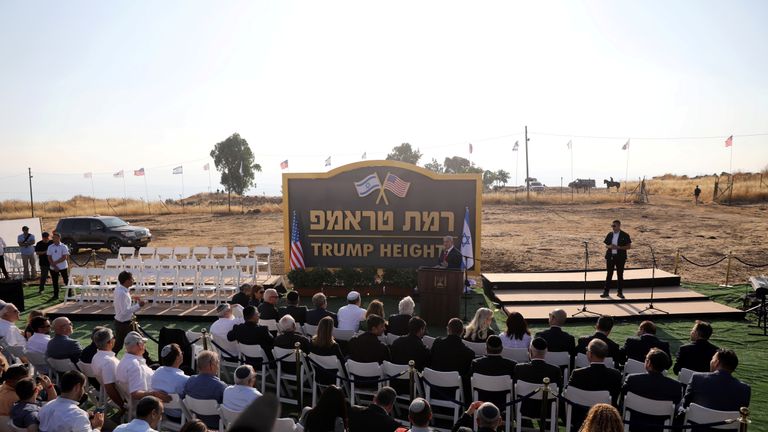 Opposition politician Zvi Hauser described the ceremony as a cheap PR stunt, adding: "Whoever reads the small print on the 'historic' resolution understands that it is a dummy-resolution."
Israel captured the Golan Heights from Syria in 1967 and annexed it in 1981, a move most countries consider illegal.
Almost 50,000 people live in the Golan Heights, roughly half of them Jewish Israelis and half of them Arab Druze.
It is several hours from the economic centre of Tel Aviv and attracts little business besides some tourism and agriculture.
Syria wants the area back but, while it deals with conflict within its own borders, talks are unlikely.
Hong Kong leader apologises amid mass protests | World News
The Hong Kong chief executive has issued an apology to the public after mass protests against a controversial extradition bill.
Tens of thousands of people have been demonstrating against the bill, which they claim would allow China to extradite Hong Kong residents to the mainland for political trials.
Recognising the "strong and different views in society" the government said it had stopped work on the new law, without any timetable to restart it, "with a view to restoring calmness in society as soon as possible and avoiding any injuries to any persons".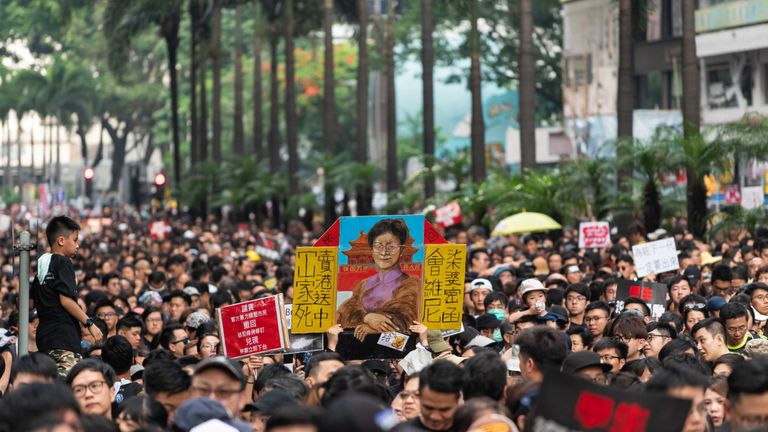 Carrie Lam, the chief executive, admitted "that the deficiencies in the government's work had led to substantial controversies and disputes in society, causing disappointment and grief among the people".
"The chief executive apologised to the people of Hong Kong for this and pledged to adopt a most sincere and humble attitude to accept criticisms and make improvements in serving the public," her statement added.
Ms Lam had claimed the law would prevent criminals using Hong Kong as a safe haven, however many people believed it would repeal legal protections and freedoms promised by the Chinese government when it took control of the territory in 1997.
According to law, Beijing should abide by the "one country two systems" rule, which promises to respect Hong Kong's legal autonomy for 50 years.
The U-turn was seen as one of the biggest political moves in the territory's history, and led many to question Ms Lam's ability to lead Hong Kong.
Over the past week, hundreds of thousands of people marched in Hong Kong over the bill, with many being met by potentially lethal force in police clashes.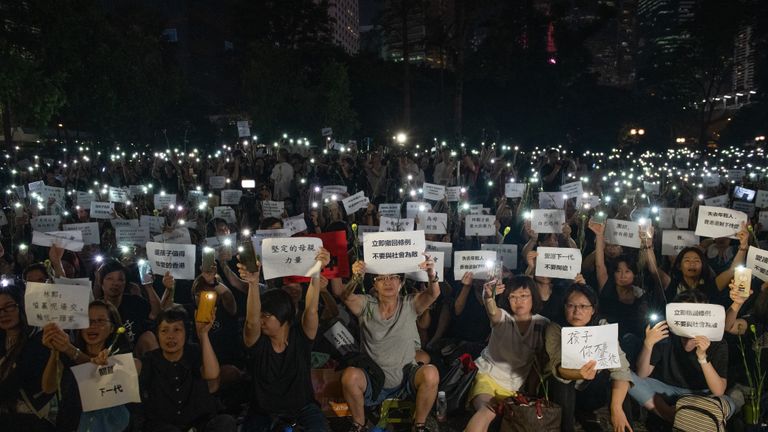 Politician Claudia Mo said: "Democrats in Hong Kong simply cannot accept this suspension decision. Because the suspension is temporary. The pain is still there."
Bonny Leung, a leader of the Civil Human Rights Front, one of the groups that has helped organise the demonstrations, said: "Hong Kong people have been lied to so many times."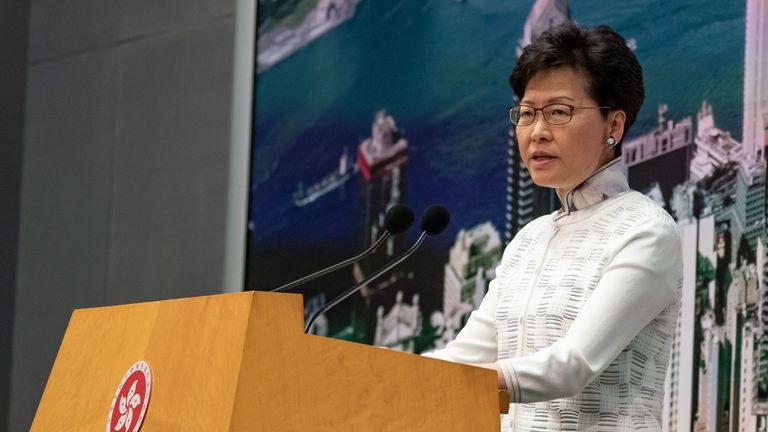 Across the border in China, the communist-led government issued statements that gave their backing to Ms Lam's decision to suspend the bill.
Meanwhile, mourners have been laying flowers on the pavement close to where a man lost his life, after seemingly falling to his death from scaffolding on a shopping mall while he was holding a protest banner.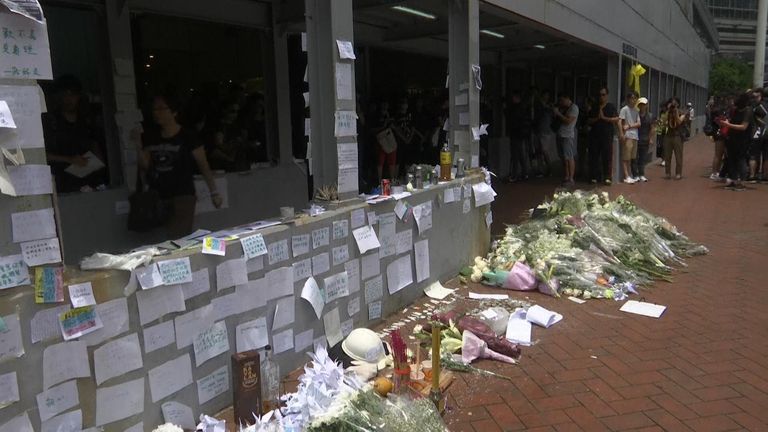 Emergency workers reportedly tried to cushion the man's fall, but failed to catch him.
On Saturday, Foreign Secretary Jeremy Hunt tweeted his support of Ms Lam's decision, saying: "Well done HK Government for heeding concerns of the brave citizens who have stood up for their human rights.
"Safeguarding the rights and freedoms in the Sino-British Joint Declaration is the best future for HK and Britain stands behind this legally-binding agreement."