Jeff Bezos, founder and CEO of US online retail empire Amazon and the world's richest man, has taken to Twitter to publicly announce his impending divorce.
In a tweet published to his authenticated page on Wednesday, Mr Bezos said that he and his wife MacKenzie will divorce after 25 years of marriage.
According to the statement, the couple decided to divorce after a long period of "loving exploration and trial separation" and expect to continue as partners in joint ventures and projects.
"If we had known we would separate after 25 years together, we would do it all again," the tweeted message said.
The couple married in 1993 after they met at hedge fund DE Shaw in New York, where they both worked.
According to a 2013 profile in Vogue magazine, MacKenzie Bezos, 48, is an author who grew up in San
Francisco.
She attended Princeton University and met her husband when interviewing for a job at the hedge fund.
The couple were engaged after three months of dating and married three months after that, according to the magazine.
They have four children.
Speaking at an event in Berlin last April, Jeff Bezos acknowledged MacKenzie's support as instrumental when he founded Amazon in 1994, adding that she did the accounting for the company in its first year.
"When you have loving and supportive people in your life, like MacKenzie, my parents, my grandfather, my grandmother, you end up being able to take risks," he said at the time.
The announcement marked the second time Mr Bezos, 54, was in the news this week, after his company Amazon was named the world's most valuable company for a second time, replacing Microsoft.
Mr Bezos's fortune is believed to be as much as $137bn (£107bn), according to the latest real-time Forbes rankings.
Any financial details of the planned divorce and what impact the legal separation might have on the company are yet to be determined.
Venezuelan opposition leader declares himself president amid unrest | World News

Venezuela's opposition leader has declared himself the new president amid riots which have led to several deaths.
Juan Guaido was met with cheering support after naming himself interim president, raising his right hand as he said he was "formally assuming the responsibility of the national executive".
Soon after, US president Donald Trump formally recognised Mr Guaido as the interim president of Venezuela.
A statement from the White House encouraged other western nations to make the same move.
Nicolas Maduro was sworn in for a contested second term two weeks ago but has been met by international condemnation.
Thousands of Venezuelans have protested against Mr Maduro, accusing him of usurping power and demanding he step down.
Millions have fled as the country reels from a crushing economic crisis. Those who are forced to stay are going hungry.
The Venezuelan parliament is not likely to convene until Thursday at the earliest.
Mr Maduro was re-elected last month but the country's opposition does not recognise the election and says it was fraudulent.
The US recognition of Mr Guaido will mount pressure on Mr Maduro to step down.
More follows…
'I can't say I'm sorry': Trump hat teen Nick Sandmann defends himself over Native American encounter | US News
A US high school student has said he wished he "walked away and avoided" his encounter with a Native American protester.
Nick Sandmann was filmed apparently smirking while standing just a few feet from Nathan Phillips at the Lincoln Memorial in Washington on Friday in a video that has gone viral.
But the teenager said he did not intend to be disrespectful, insisting "I'd like to talk to [Mr Phillips]"
"I mean, in hindsight, I wish we could've walked away and avoided the whole thing. But I can't say that I'm sorry for listening to him and standing there," he told NBC's Today programme.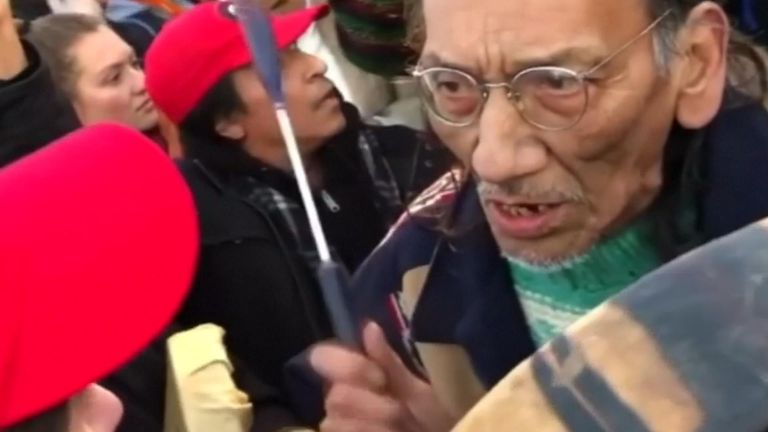 Asked if he felt he owed anyone an apology or has assumed fault for the clash, he instead blamed a group of black men styling themselves as Hebrew Israelites who were also there.
The men were filmed taunting and insulting both the indigenous people gathered with Mr Phillips and the boys, many of whom, including Sandmann, wore red hats bearing President Trump's "Make America Great Again" slogan.
"They started shouting a bunch of homophobic, racist, derogatory comments at us. I heard them call us incest kids, bigots, racists. They called us f*****s," Nick Sandmann said.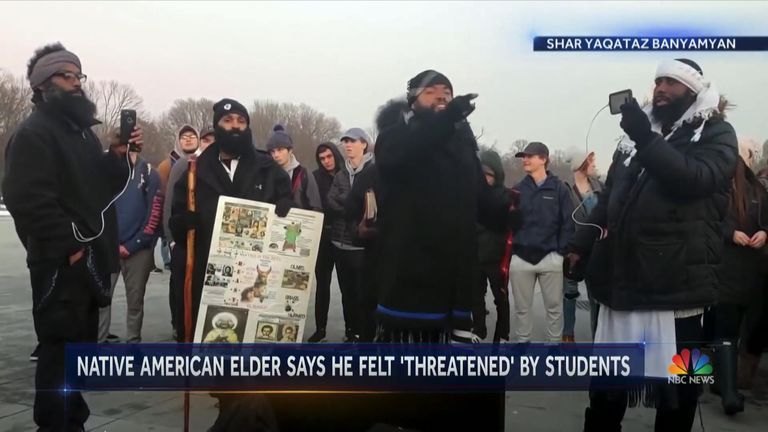 The Covington Catholic High School students, who were in Washington for an anti-abortion rally, outnumbered their aggressors but the teenager said he "definitely felt threatened."
Nathan Phillips, a tribal elder, activist and Vietnam War veteran, was singing and playing a drum as he took part in an indigenous people's march.
He locked eyes with Nick Sandmann while around them some of the teenager's classmates from the private, all-male school in Kentucky, were seen dancing and jumping around, apparently mocking Mr Phillips.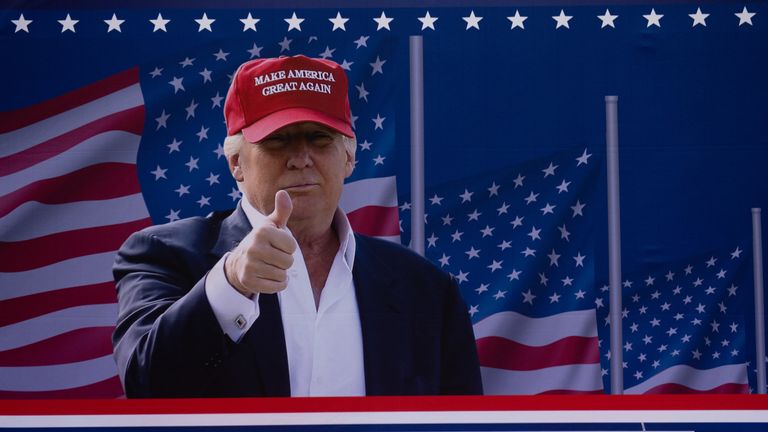 Some were also wearing "Make America Great Again" hats and sweatshirts and one removed his top.
President Trump's press secretary Sarah Huckabee Sanders said on Wednesday the White House has "reached out and voiced our support" to Nick Sandmann and his fellow students.
She said no one understands better than Donald Trump when the media jumps to conclusions and "attacks you for something you may or may not have done."
On Tuesday, Mr Trump defended the students, tweeting that they had been "smeared by the media" and had become "symbols of Fake News and how evil it can be".
Pilot of missing plane carrying Cardiff footballer named as Dave Ibbotson | UK News
The private pilot flying the plane which has gone missing with footballer Emiliano Sala on board has been named as David Ibbotson.
Mr Ibbotson has been missing since the plane disappeared from radar over the English Channel on Monday night.
Guernsey harbour master Captain David Barker confirmed it was Mr Ibbotson, who was from Crowle, near Scunthorpe.
A "visibly upset" woman declined to comment near the home according to The Grimsby Telegraph.
He has been associated with skydiving company Target Skysports, based in Hibaldstow, North Lincolnshire.
A spokesman for the business referred inquiries to the UK's Air Accidents Investigation Branch when contacted by Press Association.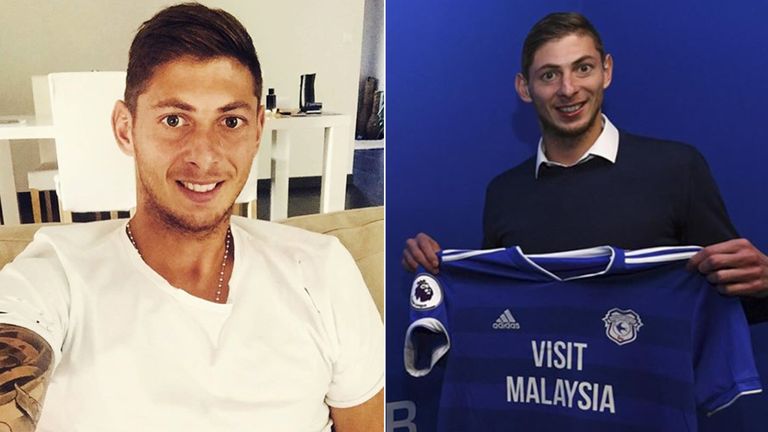 The Channel Islands Air Search has confirmed the search has moved from a rescue to a recovery operation.
Guernsey Police said it had searched 280 square miles using multiple aircraft over five hours on Wednesday, but there was "as yet no trace" of the missing plane.
"The search is ongoing and a decision whether to continue will be taken later today," a spokesman for the force said.
Guernsey Police had earlier said it was looking at four possibilities for the fate of the plane – including that it landed on water, with Sala and the pilot making it onto a life raft known to be on board.
The other possibilities being explored included that the plane had landed elsewhere but had not made contact, that Sala and the pilot landed on water and were picked up by a passing ship, or that the plane broke up on contact with the water – leaving them in the sea.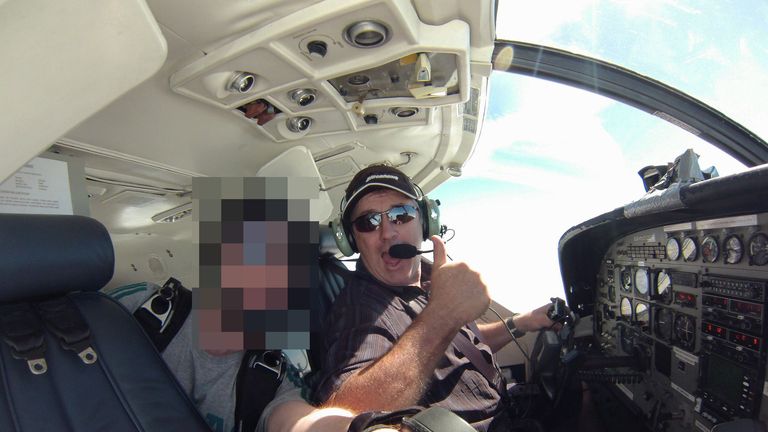 Rescuers have also reviewed satellite images and mobile phone data in the hope of finding the pair.
Police had previously warned that the chances of Sala and Mr Ibbotson surviving were "slim" if the aircraft landed on water.
John Fitzgerald, chief officer of Channel Islands Air Search, said: "I can't see how anybody could survive in such temperatures for that length of time.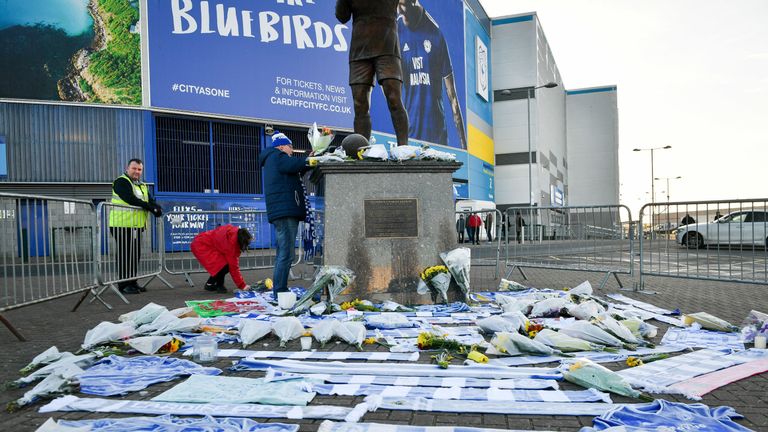 "Looking at the sea conditions today it's very rough out there, there's a good strong wind blowing, with sea conditions [that] are pretty horrendous."
The footballer reportedly voiced fears about the safety of the missing plane in a WhatsApp audio message he sent to friends while on board.
In the message, a voice – reported to be Sala's – is heard saying: "I am here in the plane that seems is about to fall to pieces."
He later adds: "I'm scared."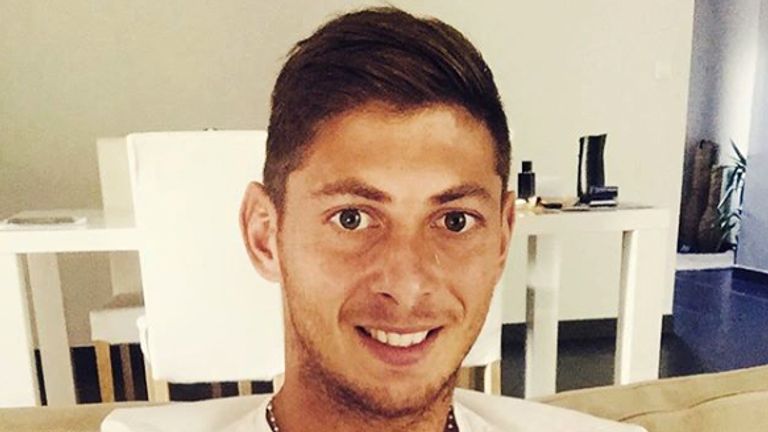 Addressing the media in his home country of Argentina, the footballer's father said he was "beginning to think the worst".
Horacio Sala said: "The hours pass and I am just beginning to think the worst.
"We were in touch on Sunday. He was so happy that he was going there, to an even bigger club."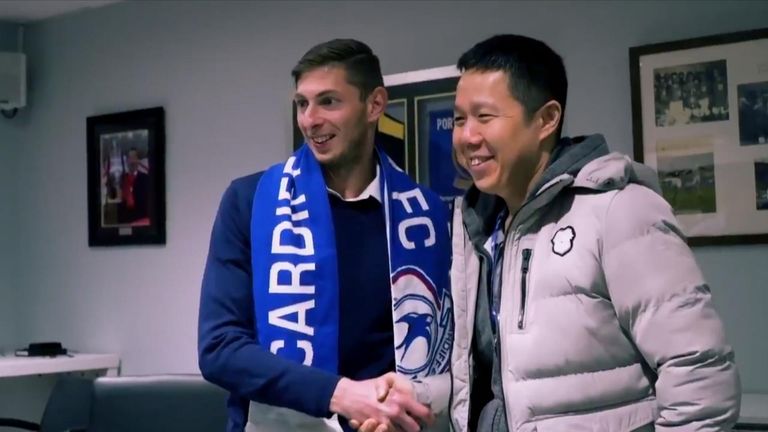 Concerns were raised when the 28-year-old failed to respond to messages on social media after reports he had been travelling to the UK on Monday.
The Argentinian forward, who had played in France since 2012, made Cardiff City history when he was bought for a record fee of £15m on a three-and-a-half year deal from Nantes at the weekend.
The search for the missing aircraft was suspended overnight on Tuesday, with rescue teams finding "no signs" of the plane.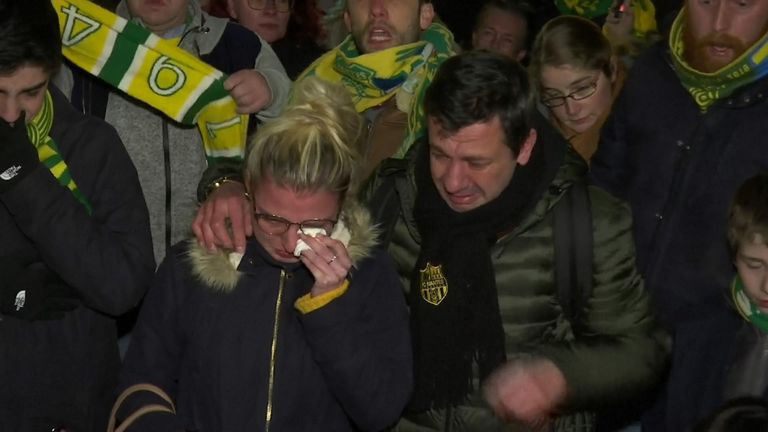 Cardiff City chairman Mehmet Dalman confirmed the club had not booked the aircraft for the trip and Sala had "made his own arrangements".
The PA-46 Malibu, a single turbine engine aircraft, left Nantes for Cardiff at 7.15pm on Monday and after requesting to descend, it lost contact with Jersey air traffic control.
The AAIB said the plane's registration number was N264DB and it is investigating the loss of the plane, working with authorities in Argentina, France and the US.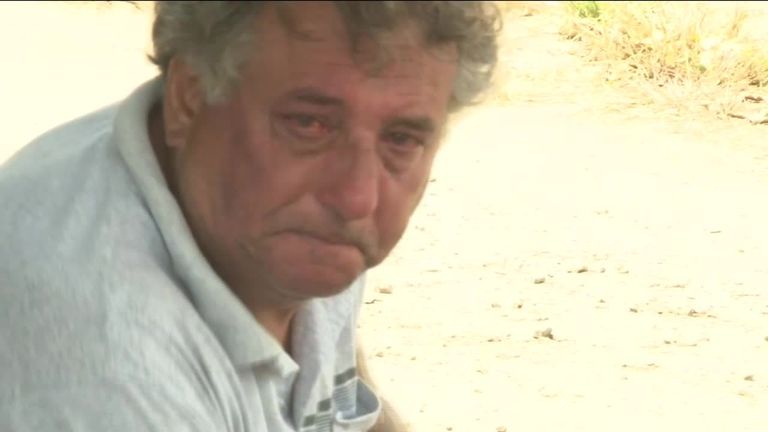 The plane's registered owner is Suffolk-based Southern Aircraft Consultancy (SAC) according to the US Federal Aviation Administration.
An SAC spokesman said: "We learnt of the missing aircraft yesterday and are deeply concerned for those who are missing. Our thoughts are with their family and friends at this difficult time."
Nantes' next Coupe de France match was postponed following Sala's disappearance and fans gathered in the city's Place Royale on Tuesday night to sing songs and lay tributes.
Cardiff's next match against Arsenal at the Emirates Stadium on Tuesday, 29 January is expected to go ahead as planned.