Jeff Bezos, founder and CEO of US online retail empire Amazon and the world's richest man, has taken to Twitter to publicly announce his impending divorce.
In a tweet published to his authenticated page on Wednesday, Mr Bezos said that he and his wife MacKenzie will divorce after 25 years of marriage.
According to the statement, the couple decided to divorce after a long period of "loving exploration and trial separation" and expect to continue as partners in joint ventures and projects.
"If we had known we would separate after 25 years together, we would do it all again," the tweeted message said.
The couple married in 1993 after they met at hedge fund DE Shaw in New York, where they both worked.
According to a 2013 profile in Vogue magazine, MacKenzie Bezos, 48, is an author who grew up in San
Francisco.
She attended Princeton University and met her husband when interviewing for a job at the hedge fund.
The couple were engaged after three months of dating and married three months after that, according to the magazine.
They have four children.
Speaking at an event in Berlin last April, Jeff Bezos acknowledged MacKenzie's support as instrumental when he founded Amazon in 1994, adding that she did the accounting for the company in its first year.
"When you have loving and supportive people in your life, like MacKenzie, my parents, my grandfather, my grandmother, you end up being able to take risks," he said at the time.
The announcement marked the second time Mr Bezos, 54, was in the news this week, after his company Amazon was named the world's most valuable company for a second time, replacing Microsoft.
Mr Bezos's fortune is believed to be as much as $137bn (£107bn), according to the latest real-time Forbes rankings.
Any financial details of the planned divorce and what impact the legal separation might have on the company are yet to be determined.
George Clooney impersonator arrested in Thailand after years on the run | World News
An Italian man accused of posing as George Clooney to sell clothes online has been arrested with his wife in Thailand after years on the run, police have said.
Franceso Galdeli, 58, and Vanja Goffi, 45, were arrested by a joint operation of Interpol agents from Rome and Thai investigators, Thai police said.
The couple, dubbed the Italian Bonnie and Clyde, have been wanted on an Interpol red notice since 2013.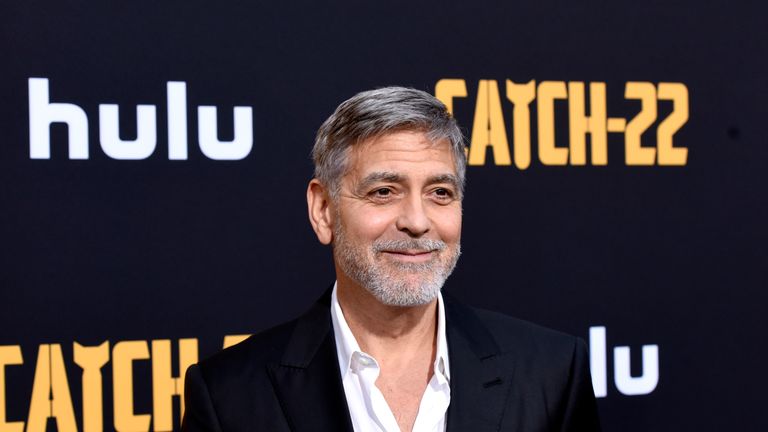 Galdeli was arrested on Saturday near the city of Pattaya on suspicion of staying in the country illegally, while his wife was arrested on suspicion for overstaying her visa.
Clooney sued them in a 2010 trial in Italy and testified against them, saying they had fraudulently used his name.
The Oscar winner said he never approved any affiliation with the bogus brand "GC Exclusive by George Clooney".
"During interrogation, Francesco confessed to claiming to be George Clooney and opening a clothes business to trick people into sending money," a statement from Thailand's crime suppression division said.
They are also accused of various other scams and frauds in Italy, including selling fake Rolex watches online and sending packets of salt to customers instead.
The couple overstayed their visas and had been living in Thailand since 2014, according to authorities.
Police said the couple do not yet have a lawyer and will be charged for overstaying their visas before extradition proceedings begin.
They said Galdeli was sentenced by a Milan court in 2010 to serve more than eight years in jail after being found guilty of impersonating the actor to trick investors, but fled the country.
He was then arrested in July 2014 at Pattaya's Dusit Thani Hotel but managed to escape a day later.
Local police discovered he had paid prison guards 20,000 Thai baht (£500) to cover up his absconding, The Telegraph reported.
Omar al Bashir: Tyrant's prosecution may be all Sudan's warring parties agree on | World News
Sudan's former president Omar al Bashir faces charges of corruption and possession of foreign currency.
Sky's Africa correspondent John Sparks was in Khartoum to see his first public appearance since being deposed by the military.
It came as something of a surprise: a call about a military convoy that we had been invited to join.
But there were a couple of problems.
First, we were given 10 minutes to get to Khartoum's grand Republican Palace to meet the men who would lead the convoy.
Second, we had absolutely no idea where it was going.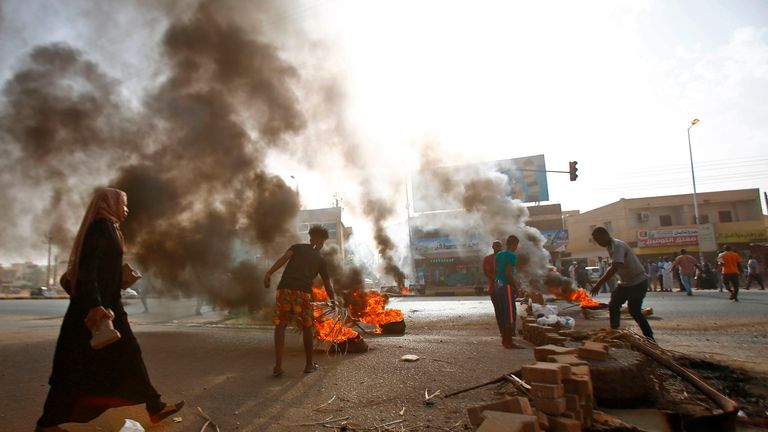 We travelled to the palace at breakneck speed and found the convoy forming inside the gates. Pick-up trucks packed with soldiers surrounded our car and the vehicles of a handful of Sudanese journalists. Within minutes we had crossed the Nile, carving through the morning traffic with dozens of men equipped with rocket-launchers.
Our destination was an ageing prison called the Kober jail. It was built by the British in a bygone age and it has earned itself notoriety.
This is where Sudan keeps its political prisoners and dissenters – and this is where the country's ruling military council have decided to stick the ex-president.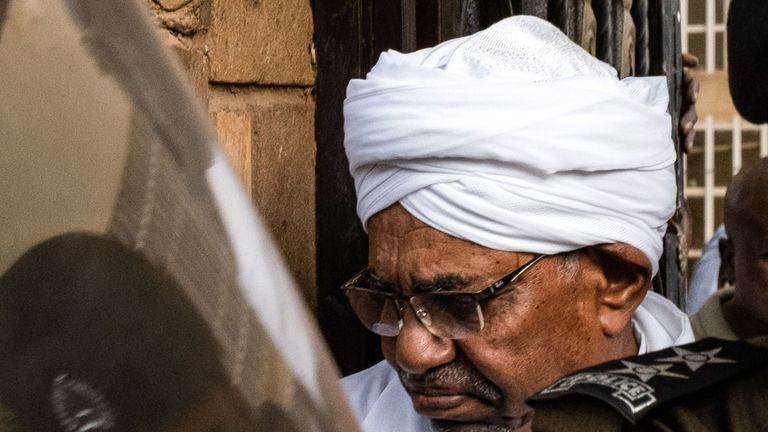 His name is Omar Hassan Ahmad al Bashir – a brigadier who took power in a coup in 1989. He ran the country with an iron fist, issuing purges and ordering executions – or jailing his enemies at Kober prison. The irony will not be lost on the inmates and guards.
The generals made their move against the president in early April after months of vigorous public protest. The economy had deteriorated and the opposition was enraged. They were also well-led by a coalition of professional and civil associations.
Now it is the military men who are the focus of the protesters' anger. Negotiations over a new civilian administration collapsed after the security forces cleared the demonstrators' main 'sit-in' on 3 June. A Sudanese doctors' committee says 118 people were killed, with the bodies of 40 dumped in the Nile River.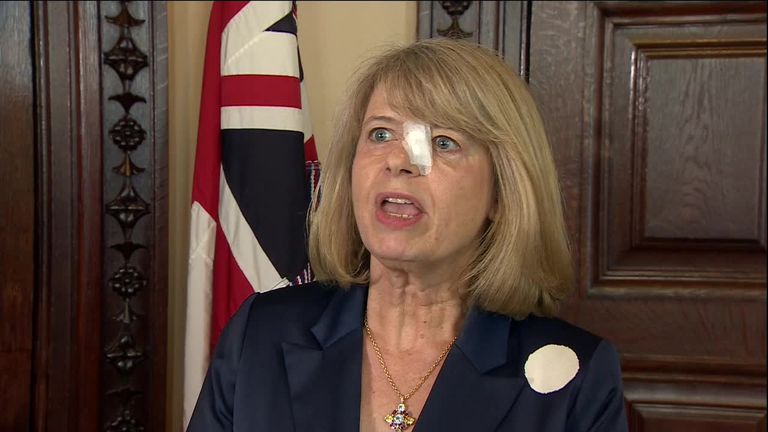 The prosecution of Omar al Bashir may be the only thing that both parties in Sudan agree on. Certainly, it does the military no harm to begin his prosecution.
That is probably why we found ourselves delivered to the door of Kober prison in 42-degree heat.
We got our pictures of the 75-year-old former tyrant as he exited under guard and he looked clean and well-fed in his robes. It was his first public appearance in nine weeks – a trip to the acting state prosecutor to answer charges of corruption and possession of foreign currency.
It seems the music has stopped for the man the Sudanese call "the dancer" but the question of succession is anything but solved.
Israel renames Golan Heights settlement after Donald Trump | World News
Israel's prime minister has renamed a settlement after his favourite world leader: Donald Trump.
The 30-year-old settlement in the Israel-controlled Golan Heights is currently known as Beruchim and has a population of 10 people, mostly elderly immigrants from the former Soviet Union.
It is around 12 miles from the border with Syria and surrounded by land mines and high yellow grass.
Benjamin Netanyahu's cabinet has agreed in principle to rename the community Ramat Trump (Hebrew for Trump Heights), hoping this will encourage more Israelis to move there.
The move is also to thank the US president for his recognition of Israeli sovereignty over the territory in March.
In a ceremony on Sunday, Mr Netanyahu said Mr Trump was a "great friend" of Israel and that the Golan Heights is an "inseparable part of our country and homeland".
The ceremony was also attended by US Ambassador David Friedman, who said: "Few things are more important to the security of the state of Israel than permanent sovereignty over the Golan Heights.
"It is simply obvious, it is indisputable and beyond any reasonable debate."
Two days after Mr Trump's 73rd birthday, Mr Friedman said: "I can't think of a more appropriate and a more beautiful birthday present."
A huge sign was unveiled with the settlement's new name in gold, with US and Israeli flags.
Mr Trump tweeted afterwards that the renaming was a "great honour" and residents of the settlement were also pleased.
Vladimir Belotserkovsky, 75, said: "We certainly thank, and I personally, am satisfied by the fact that they're founding the new settlement named for Trump."
Rosa Zhernakov, a resident since 1991, said she hoped a bigger settlement would give "more security" from any possible return of the land to Syria.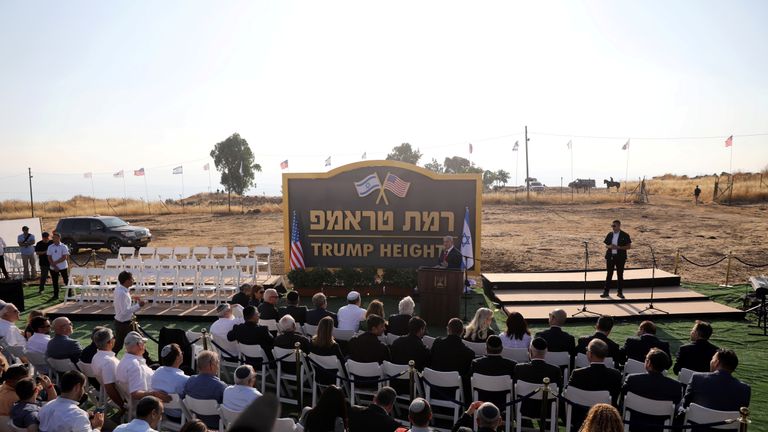 Opposition politician Zvi Hauser described the ceremony as a cheap PR stunt, adding: "Whoever reads the small print on the 'historic' resolution understands that it is a dummy-resolution."
Israel captured the Golan Heights from Syria in 1967 and annexed it in 1981, a move most countries consider illegal.
Almost 50,000 people live in the Golan Heights, roughly half of them Jewish Israelis and half of them Arab Druze.
It is several hours from the economic centre of Tel Aviv and attracts little business besides some tourism and agriculture.
Syria wants the area back but, while it deals with conflict within its own borders, talks are unlikely.