Mysterious energy readings from deep space that some experts have suggested could be evidence of alien life have been detected for only the second time.
The fast radio bursts (FRBs) are millisecond-long flashes of radio waves of unknown origin, and scientists have formulated several different theories as to how they might be generated.
Most believe the signals come from powerful astrophysical phenomena such as black holes or super-dense neutron stars, but others argue that they could be a result of advanced alien technology.
The last time they were detected was in 2007, when one was spotted by chance in radio astronomy data that had been collected in 2001.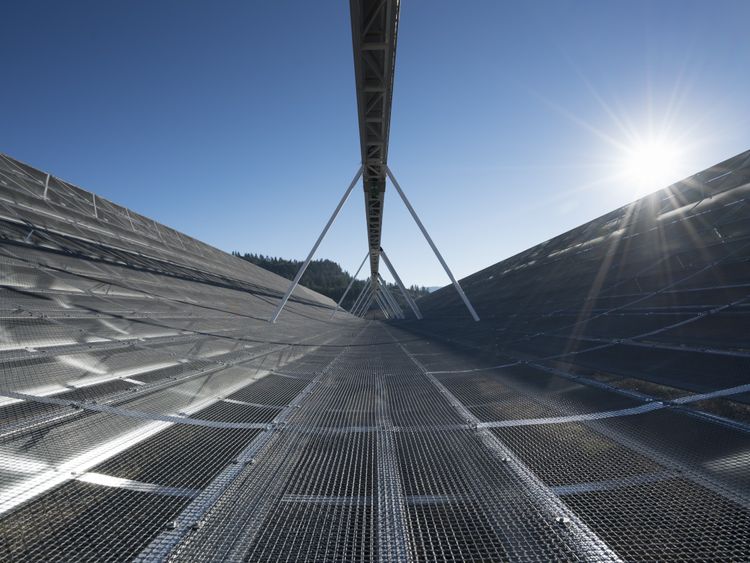 In 2017, Professor Avid Loeb, from the Harvard-Smithsonian Centre for Astrophysics in the US, proposed that FRBs could be leakage from planet-sized alien transmitters.
He said that rather than being designed for communication, they would more likely be used to propel giant space ships powered by light sails, which would bounce the beams off a huge reflective sheet to provide forward thrust.
In the journal The Astrophysical Journal Letters, he said: "An artificial origin is worth contemplating and checking."
Astronomers from Canada are responsible for the latest finding, which came over a period of three weeks last summer.
Thirteen flashes were seen via a new radio telescope dubbed the Canadian Hydrogen Intensity Mapping Experiment, affectionately known as Chime.
Journal Nature reported that one of the FRBs – of which 60 total have been detected to date – was repeating.
Chime astrophysicist Dr Ingrid Stairs, from the University of British Columbia, explained its significance.
He said: "Until now, there was only one known repeating FRB. Knowing that there is another suggests that there could be more out there.
"And with more repeaters and more sources available for study, we may be able to understand these cosmic puzzles, where they're from and what causes them."
FRBs are thought to emanate from sources billions of light years away outside our galaxy, the Milky Way.
Most of the 13 found by Chime showed signs of "scattering", which scientists said suggests they could come from powerful astrophysical objects in locations with special characteristics.
Another notable attribute of the new FRBs is their unusually low radio frequencies – coming in at 800 megahertz rather than the 1,400 megahertz of most previously detected signals.
There is calm in Hong Kong – but this fight is far from over | World News
There is an uneasy calm on the streets of Hong Kong – a break in the battle.
Riot police remain on alert but the huge crowds of protesters have gone.
In their place, small pockets of resistance serve as a reminder this fight is far from over.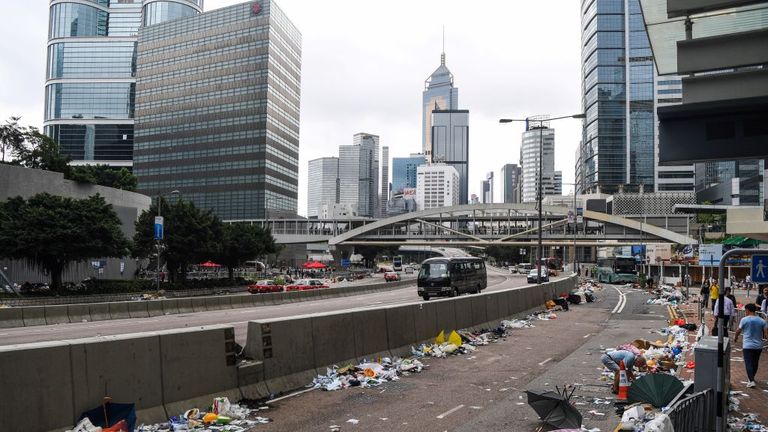 On a bridge near the Legislative Council, hunger strikers stack up their sleeping bags and prepare for a day of peaceful protest.
Jessica Yeung hasn't eaten for 36 hours, she told Sky News: "Nobody wants to go on hunger strike.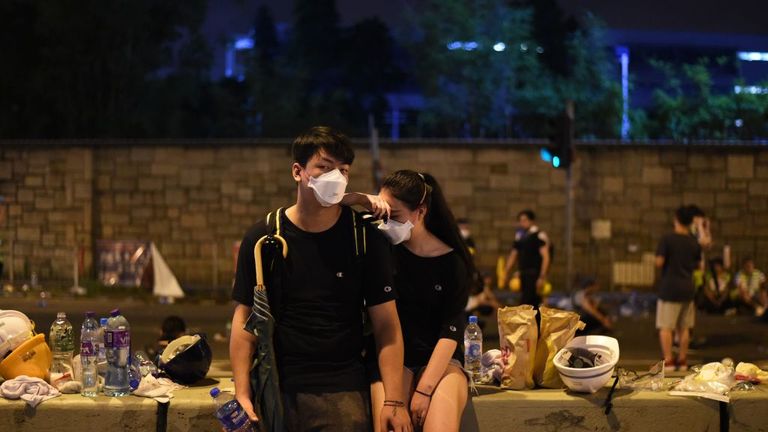 "Nobody wants to sleep in the street, nobody wants to have rubber bullets in their face or be suffocated by tear gas.
"We were already telling the government again and again what the people want and they don't hear us [so] we have to do this."
Wednesday's violence was some of worst since the return of Hong Kong to Chinese rule in 1997.
According to latest figures, 81 people were injured as tension over a controversial extradition bill boiled over again.
Pressure is now mounting on Hong Kong's leader to quit over this crisis.
Outside her home, opposition politicians staged a protest claiming chief executive, Carrie Lam is China's political puppet, dogmatically pushing the bill for Beijing.
Among them was Charles Mok who fears the freedoms they are fighting to protect are already being eroded by China.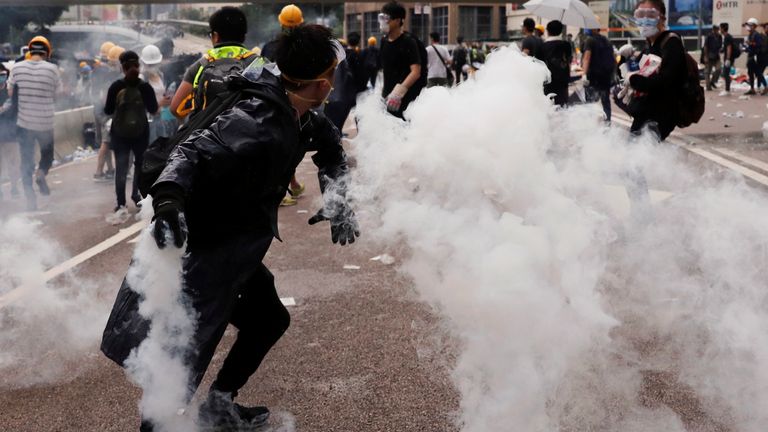 "More and more people are thinking about leaving Hong Kong," he explained.
"It's just not the same anymore. It's not the Hong Kong that we know, that is free."
While the chief executive is adamant changing the law would benefit the people, even supporters are urging her to slow down.
"She can not afford to have any loss of life on this issue. The warning is ample and enough," pro-administration lawmaker, Michael Tien, said.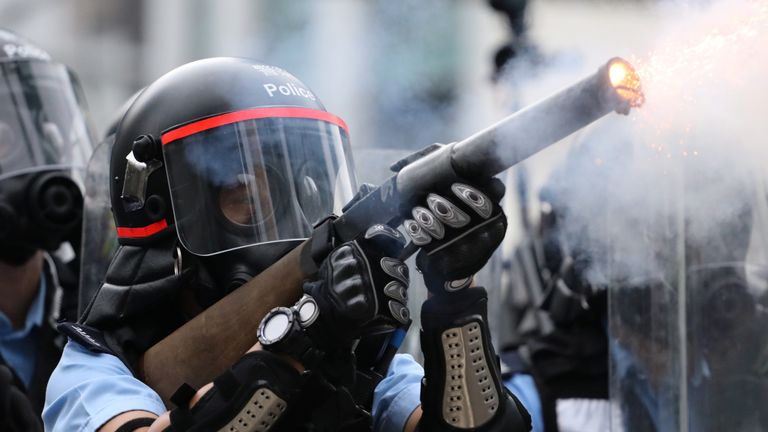 "So the only way out is to defuse the situation. There is still a window left for her to do something."
However, Wednesday's violent clashes have already forced a break in proceedings with the Legislative Council confirming there will be no debate of the bill on Friday either.
But the peace could be short lived.
Even the debris from street-battles is swept away, another demonstration is being planned for Sunday.
With neither side prepared to back down, Hong Kong's political crisis is deepening.
Trump says he met Prince of 'Whales' in tweet blunder | US News
Donald Trump has deleted a tweet where he referred to the UK's future king as the "Prince of Whales".
The US president made the gaffe as he claimed his recent meeting with Charles proves he talks to foreign governments every day about "everything".
Addressing reports he would take foreign information on a rival in the 2020 US election, the president referred to his state visit to Britain last week where he met the Prince of Wales, misspelling his official title.
The president tweeted: "I meet and talk to 'foreign governments' every day.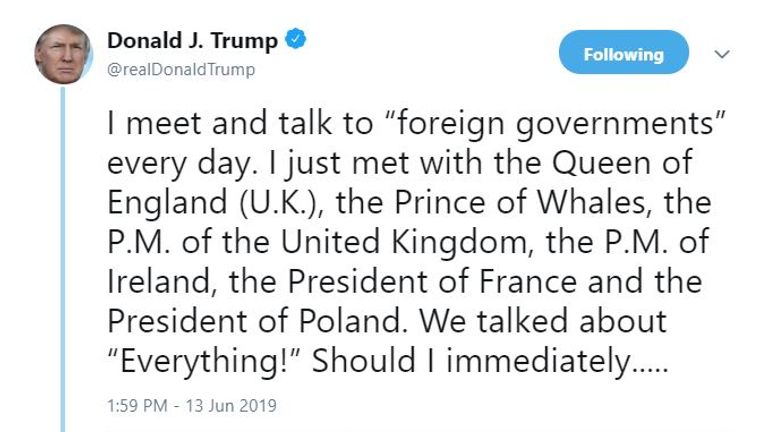 "I just met with the Queen of England (UK), the Prince of Whales, the PM of the United Kingdom, the PM of Ireland, and the President of Poland."
Mr Trump deleted the tweet and reposted it 25 minutes later, correcting his mistake.
The tweet was in response to an interview with NBC journalist George Stephanopoulos, in which he suggested he would be open to accepting dirt on his 2020 opponent if it was offered by a foreign power.
He said in the interview: "There's nothing wrong with listening.
"If somebody called from a country – Norway – we have information on your opponent, oh, I think I'd want to hear it."
Tweeting on Thursday, the president continued and denied any suggestion of wrongdoing.
He added: "Should I immediately call the FBI about these calls and meetings?
"How ridiculous. I would never be trusted again.
"With that being said, my full answer is rarely played out by the Fake News Media."
This is not the first Twitter gaffe the president has made.
Who could forget the great Covfefe gaffe of 2017?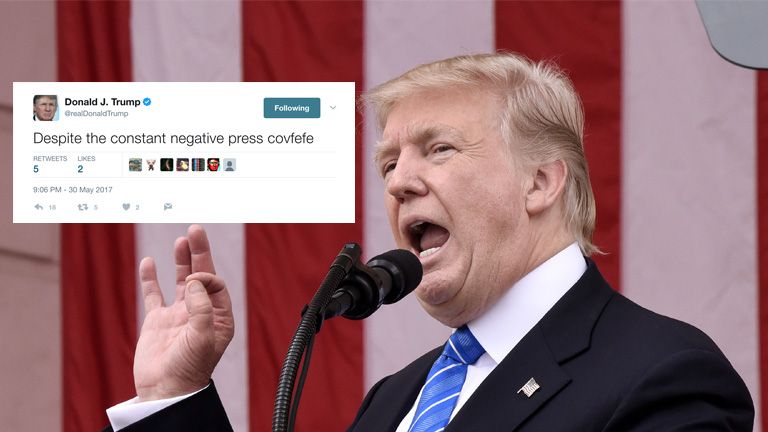 We still don't know what that one meant, but the president tweeted: "Without the constant negative press covfefe."
Twitter users went into meltdown over what the president had meant to write, coming up with their own theories.
Later, he fired off another tweet saying: "Who can figure out the true meaning of covfefe ??? Enjoy!".
But the president is aware the Fake News Media is always "looking for a mistake".
A mistake like the one he made in that very tweet, in which he was praising his own book success and priding himself on his "ability to write".
Mr Trump wrote: "After having written many best selling books, and somewhat priding myself on my ability to write, it should be noted that the Fake News constantly likes to pour over my tweets looking for a mistake. I capitalize certain words only for emphasis, not b/c they should be capitalized!"
Shortly after, Mr Trump's original tweet was deleted, and replaced with a new version which used the correct spelling of "pore".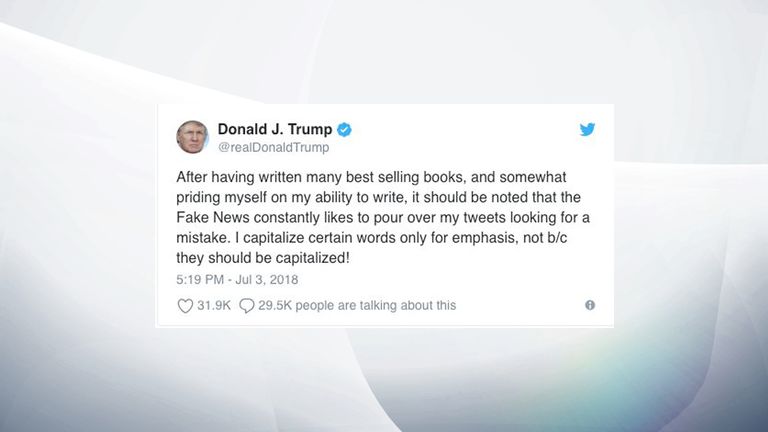 And last but not least, in December 2016, he tweeted about the "unpresidented" act of China capturing a US Navy research drone.
Oh, and the time he tried to tweet his daughter Ivanka to praise her as a "great, a woman with real character and class", but ended up tweeting a lady in Brighton with the same name.
Amanda Knox in Italy for first time since acquittal to discuss 'murder I didn't commit' | World News
Amanda Knox has arrived in Italy for the first time since being acquitted of killing British student Meredith Kercher in Perugia.
The American former exchange student, 31, is due to take part in a panel discussion on wrongful convictions in Modena on Saturday.
Accompanied by her mother Edda Mellas and fiance Christopher Robinson at Milan's Linate airport, she did not respond to reporters' questions.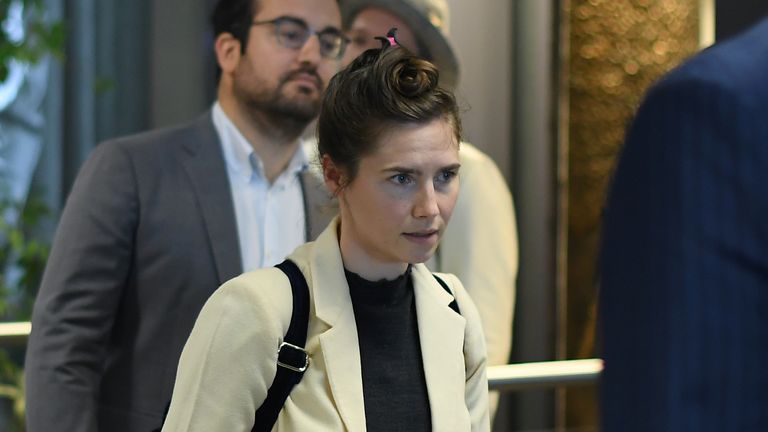 Prior to her arrival she published an essay called "Your Content, My Life", discussing her decision to accept an invitation from the Italy Innocence Project.
In it, she said that "while on trial for a murder I didn't commit, my prosecutor painted me as a sex-crazed femme fatale".
She added that the media "profited for years by sensationalising an already sensational and utterly unjustified story".
It was "on us to stop making and stop consuming such irresponsible media", she wrote.
I've chosen not to do interviews in the lead up to Italy, in the hopes that what I will say in Modena will speak for itself.
That said, @manunderbridge & I did write this piece for @Medium about what happens when your life becomes someone else's content.https://t.co/EBBRVr0gOz

— Amanda Knox (@amandaknox) June 12, 2019
She had chosen "not to do interviews in the lead up to Italy, in the hopes that what I will say in Modena will speak for itself", she said on Twitter.
Ms Knox added that she was "ever suspect of the press and media because of the loss of friends and supporters who found greater comfort in entertainment than truth".
When it emerged last month that she was travelling to Italy, she tweeted: "The Italy Innocence Project didn't yet exist when I was wrongly convicted in Perugia.
"I'm honoured to accept their invitation to speak to the Italian people at this historic event and return to Italy for the first time."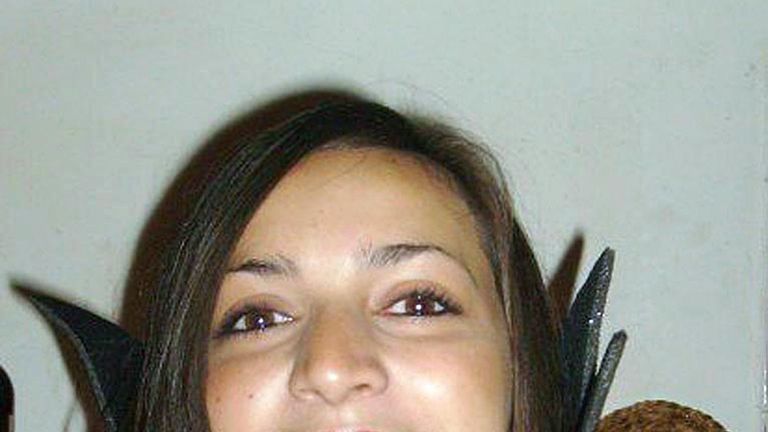 Ms Knox and her former boyfriend, Raffaele Sollecito, were convicted of the 2007 murder of 21-year-old Ms Kercher in 2009.
The Briton was stabbed 47 times and her throat slashed at the flat she shared with Ms Knox.
The American spent four years in prison, before being cleared on appeal in 2011.
Italian courts overturned the acquittal in 2014, but Italy's highest court overturned the conviction definitively in 2015.
Judges ruled there had not been enough evidence to prove their wrongdoing beyond reasonable doubt, and said there were no "biological traces" firmly connecting them to the murder.
An immigrant from the Ivory Coast, Rudy Guede, is serving a 16-year jail sentence for the murder of Ms Kercher.
Prosecutors have maintained that the wounds sustained by Ms Kercher were inflicted by more than one person.
A conviction against Ms Knox for falsely accusing a bar owner in the case has been upheld.