Donald Trump has visited the US-Mexico border in an effort to boost his case for a proposed wall after threatening to declare a national emergency over his failure to secure funding.
The president flew south aboard Air Force One to the town of McAllen in Texas on Thursday, some 24 hours after talks with senior Democrats aimed at ending an ongoing government shutdown concluded in acrimony.
Mr Trump denied throwing a "temper tantrum" after House of Representatives speaker Nancy Pelosi and Senate minority leader Chuck Schumer again said they would not fund his wall – a dispute that has seen the government in partial shutdown for 20 days.
On Thursday afternoon the Democrat-controlled House of Representatives passed bills that would re-open agriculture and transportation agencies – though the bills are likely to be vetoed by Mr Trump.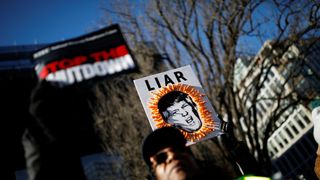 As hundreds of federal workers protested in Washington demanding they be allowed to go back to work, Mr Trump went to a border patrol station as he sought to make his case for why a $5.7bn wall needed to be built.
He told workers there: "It's tough stuff here but it could be a lot easier for you if we had the wall, so we'll get it.
"I think we're winning the battle in a big way."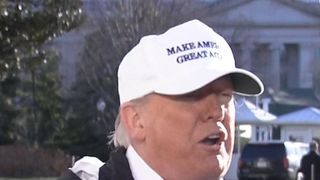 He repeated his claim that Mexico would end up paying for its construction, albeit via a trade deal rather than a cheque for millions of dollars – something he had promised voters on the campaign trail before the 2016 election.
And after Ms Pelosi told reporters at an earlier news conference in Washington that a wall was "not the best way to protect our borders", the president looked – unconvincingly – to history for evidence of its effectiveness.
"They say a wall is medieval – well so is a wheel, a wheel is older than a wall," he said.
"I looked outside and every single car out there – even the really expensive ones that the secret service use, and believe me they're expensive – they all still have wheels.
"The wheel is older than the wall, you know that? And there are some things that work. You know, a wheel works and a wall works."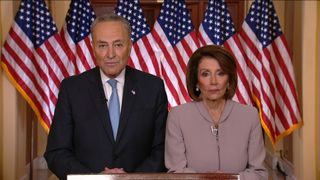 Despite his assertion that he was "winning the battle" over the wall, Ms Pelosi and Mr Schumer have continued to insist that the Democrats will not agree to fund it.
But Mr Trump does not appear to be ready to compromise and reopen the government, announcing on Twitter that he was pulling out of a World Economic Forum in Davos, Switzerland, next week because of the shutdown.
Just hours before, he said he would be willing to declare a national emergency.
By law, that could give him authority to use some military money for construction projects for the wall.
As he left the White House for Texas, he said: "I have the absolute right to declare a national emergency. If I have to, I will. I have no doubt about it."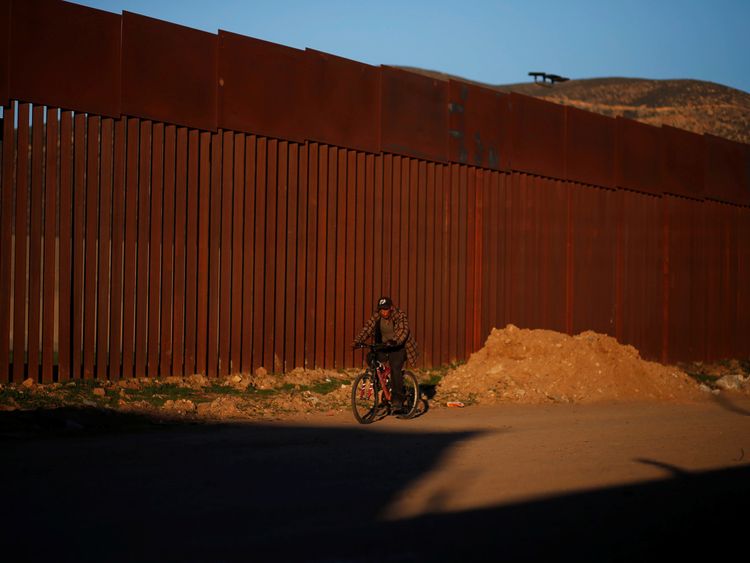 Sky's US correspondent Greg Milam said people in McAllen were more in favour of improving security in other ways.
He explained: "This is the place that has more illegal crossings than anywhere along the US-Mexico border and there are people who live here and understand it very well.
"They say that money would be better spent on improving security and technology at the legal border crossings because that's where they say the drugs and the human trafficking issues that Donald Trump talks about are very real.
"They're not in the unprotected areas of the border.
"But that detail is getting lost in what is very much now about two ideologies. A president who says he wants this wall and won't back down, and the Democrats in Washington who have said a very definite no to that."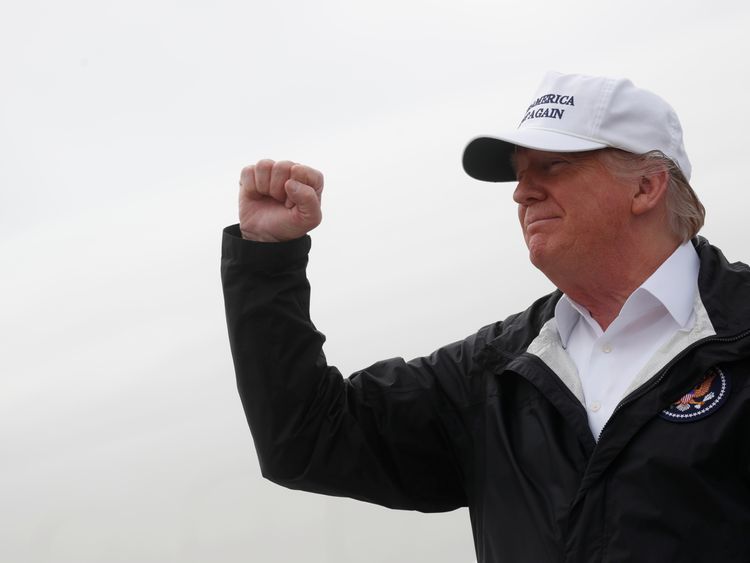 Mr Trump can at least look to Montana and South Dakota for some support, with Republican state senators in both suggesting that they contribute to the funding of the wall.
Senator Scott Sales said Montana should give a "small token" of $8m to help build the wall even though the state borders Canada to the north, and the idea was quickly derided by Democrat governor Steve Bullock.
The visit to the border by Mr Trump came as his former lawyer Michael Cohen announced he would testify publicly before a House committee next month.
Mr Cohen – a pivotal figure in investigations by special counsel Robert Mueller into potential collusion between Russia and the Trump election campaign – will testify before the house oversight and reform committee on 7 February.
Garuda Indonesia scraps order for 49 Boeing 737 MAX 8 jets after crashes | World News
Indonesia's national carrier Garuda has cancelled a multibillion-dollar order for 49 Boeing 737 MAX 8 jets after two fatal crashes involving the plane.
It is thought to be the first airline to publicly confirm cancellation of an order for the model.
Garuda spokesman Ikhsan Rosan said the company had sent a letter to Boeing "requesting that the order be cancelled".
He said Garuda passengers in Indonesia had "lost trust" and no longer have "confidence" in the plane, adding that the airline was awaiting a response from Boeing.
The Indonesian airline ordered 50 Boeing 737 MAX 8 jets in 2014 for $4.9bn (£3.7bn).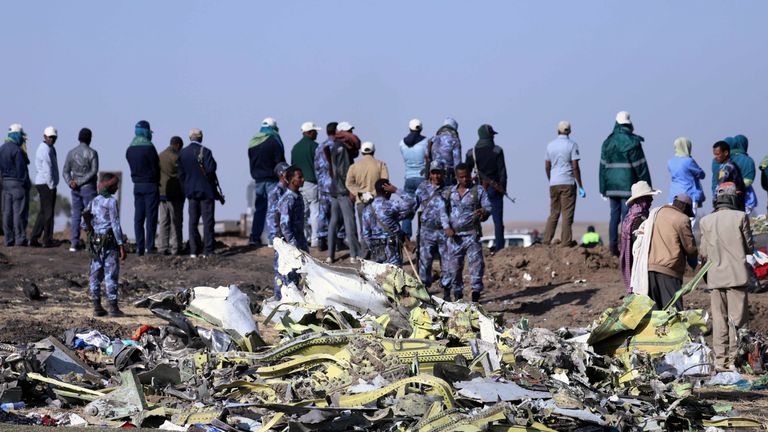 It has already received one of the planes, and Mr Ikhsan said the carrier was in talks with Boeing about whether or not to return it.
The airline has already paid Boeing around $26m (£19.8m), Garuda's director, Gusti Ngurah Askhara Danadiputra, told Indonesian media outlet Detik.
"In principle, it's not that we want to replace Boeing, but maybe we will replace (these planes) with another model," he said.
The scrapping of the order comes amid reports that Boeing would be making a safety feature – a cockpit warning light – standard on its 737 MAX 8 aircraft. The feature was previously optional.
It is expected to be offered as part of a software update to the MAX fleet that was grounded in the wake of the Ethiopian Airlines crash earlier this month. The crash left 157 people dead.
ET302 was on its way to Nairobi in Kenya at the time of the crash. Nine Britons were among the dead.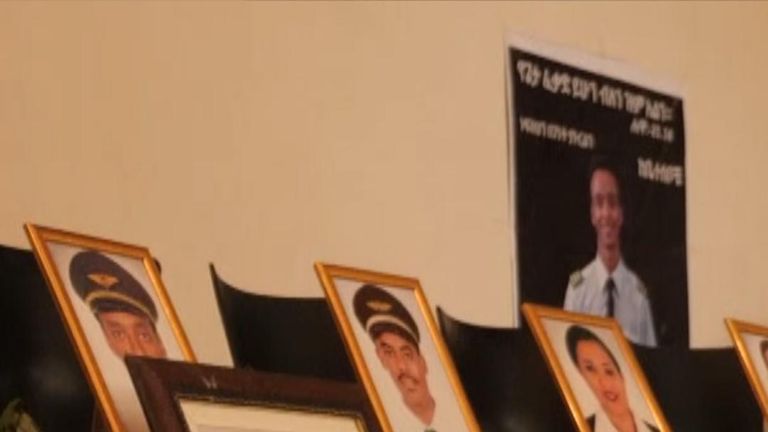 In the aftermath of the tragedy, Boeing promised to upgrade some flight control software "in the coming weeks".
It has since also grounded its entire global fleet of 737 MAX 8s and 9s.
The cause of the crash is still being investigated, but the pilot had reported difficulties and requested to return to the airport.
A Lion Air plane of the same model crashed into the Java Sea in October last year, shortly after taking off from Jakarta, Indonesia – killing all 189 on board.
Earlier this week, it emerged the pilots of the aircraft frantically scoured a manual before their plane crashed
Recordings from the cockpit suggest the pilots were struggling to understand why the jet was lurching downwards, but ran out of time before it hit the water.
Figure skater cleared after claim she 'stabbed' rival with skate | World News
An American figure skater has been cleared of causing intentional harm to a rival during a warm-up session at the world championships in Japan.
Mariah Bell, 22, was accused of colliding with 16-year-old Lim Eun-soo of South Korea during a practise session at the championships.
There were reports that Ms Lim had to be treated for a calf injury after Ms Bell's blade "stabbed" her.
But the International Skating Union (ISU) has ruled out foul play, and said there was no evidence of intentional harm.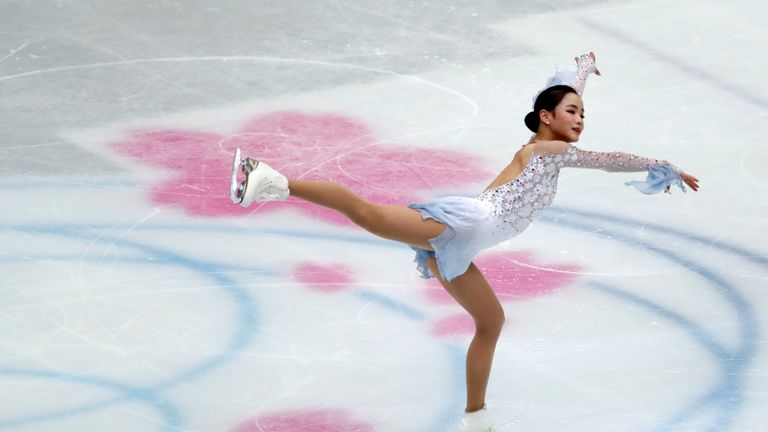 In a statement, the ISU said: "Based on the evidence at hand at this point in time, which includes a video, there is no evidence that Ms Bell intended any harm to Ms Lim."
The ISU said it has been aware of the Korea Skating Union posting a statement about the incident on 21 March, but had not received a formal complaint.
The ISU added: "The ISU met with delegates from both USA and Korea and urged both parties to find an amicable solution. The ISU maintains that this remains the appropriate approach."
Video footage shows the pair skating close to one another on the rink. As Ms Bell passes Ms Lim, Ms Lim gasps and grabs at her leg.
Ms Lim placed fifth in the women's short programme on Wednesday, one place above Ms Bell.
Donald Trump's Golan policy change is 'illegal and unnacceptable' | World News

Donald Trump's declaration that it is "time to recognise" Israel's sovereignty over the Golan Heights has been described as "illegal", "irresponsible" and a "direct violation of United Nations" decisions.
The president's announcement signalled a shift in US policy and comes ahead of the Israeli prime minister's planned visit to the White House next week.
However, it has been met with condemnation from around the region – most notably from Syria, who Israel seized the area from during the 1967 Middle East war, annexing it in 1981.
A foreign ministry statement said that Mr Trump's comments confirm "the blind bias of the United States to the Zionist entity", referring to Israel.
It added the policy shift will not change "the fact that the Golan was and will remain Arab and Syrian".
Russia's foreign ministry said in a statement that a change in the status of the Golan Heights would be a "direct violation of United Nations decisions".
A spokesman for Iran's foreign ministry, quoted on state TV, said: "This illegal and unacceptable recognition does not change the fact that it belongs to Syria."
The US president made his announcement on Twitter, writing: "After 52 years it is time for the United States to fully recognise Israel's Sovereignty over the Golan Heights, which is of critical strategic and security importance to the State of Israel and Regional Stability!"
The Golan is internationally recognised as occupied territory and Syria has demanded its return as a condition in the event of a future peace agreement.
Mr Trump's tweet was posted during his secretary of state Mike Pompeo's visit to Jerusalem, although Mr Pompeo declined to comment on the president's remarks.
Israeli Prime Minister Benjamin Netanyahu thanked the US president for "boldly" recognising Israel's control over the territory.
He tweeted: "At a time when Iran seeks to use Syria as a platform to destroy Israel, President Trump boldly recognises Israeli sovereignty over the Golan Heights. Thank you President Trump!"