New York's iconic Chrysler Building has been put up for sale – without a price.
The Art Deco structure, one of the city's most defining buildings, has been put up for sale by its owners, the Emirati investment firm Mubadala and developer Tishman Speyer.
A source close to the sale said the owners have not set a selling price.
The nearly 90-year-old building, which is situated in midtown Manhattan, was acquired by Mubadala in 2008 for $800m, for a 90% stake.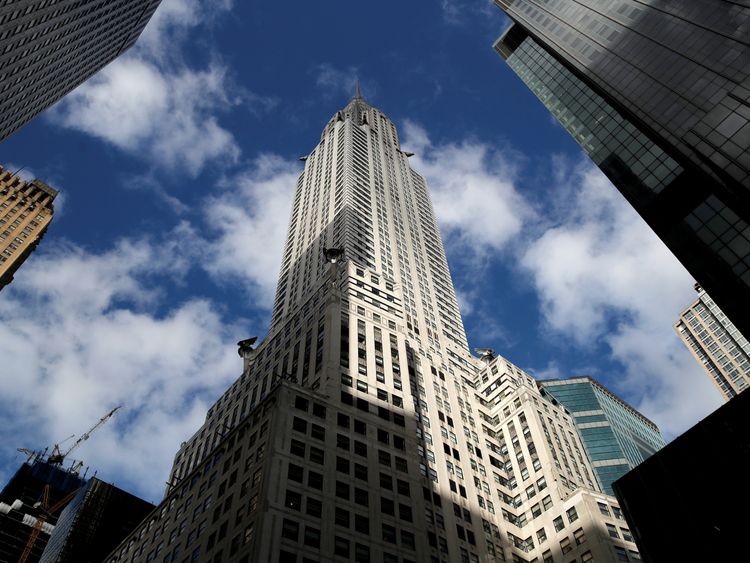 Tishman Speyer, which bought the entire building for a reported $210-250m in 1997, retained a 10% stake.
"It's exciting. I'm getting inquiries from all over the world," said Darcy Stacom, chairman and head of New York City Capital Markets at brokerage CBRE Group Inc.
The sale, managed by CBRE, comes at a testing time for the New York real estate market, especially in Manhattan.
Development of the Hudson Yards neighbourhood, on Manhattan's West Side, is almost complete, driving prices down further for older buildings.
The 77-storey stainless steel-clad skyscraper on the intersection of 42nd Street and Lexington Avenue was finished in 1930 and was briefly the world's tallest building before the Empire State Building dethroned it 11 months later.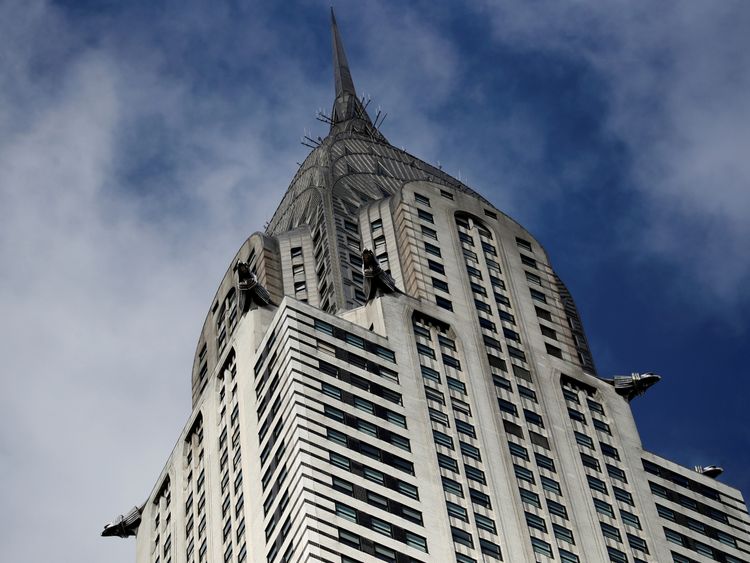 In 1997, Tishman Speyer negotiated a long-term lease until 2147 with the privately owned Cooper Union University, which owns a third of the land underneath the Chrysler.
Potential buyers will have to take into account the deal which calls for a rent rise from $7.8m in 2017 to $32.5m from 2019-2027.
The value of the land alone was estimated at $679m in late 2017.
The building, which is 319m (1,046ft) tall, was built by Walter Chrysler, the founder of the car manufacturer, with his own money so his children could inherit it.
International worries as China's consumption and economy slows
Picture China's economy and you might be thinking of massive factories, gigantic airports or train stations built from scratch in 24 hours.
For another view, you could follow Xu Liqiang as he threads the streets of Beijing in a beaten-up tuk-tuk (motorised rickshaw).
Xu is 21 years old and a "kuaidi" (express delivery) driver. Each day 100 million packages are delivered in China and they're delivered by people like him. It's part of a boom in Chinese consumption that has driven growth in global GDP over the last decade.
But today, work is slow. "After Double Eleven [an online shopping festival], the packages have been getting less and less with time," he tells me.
Xu lives in a dormitory provided by his employer with three other kuaidi drivers. He moved to Beijing from Shanxi province in the north.
Migrants used to move to the capital and send money back to their families. Not any more. "Sometimes, I need my family to send me some money, to support my life here," says Xu.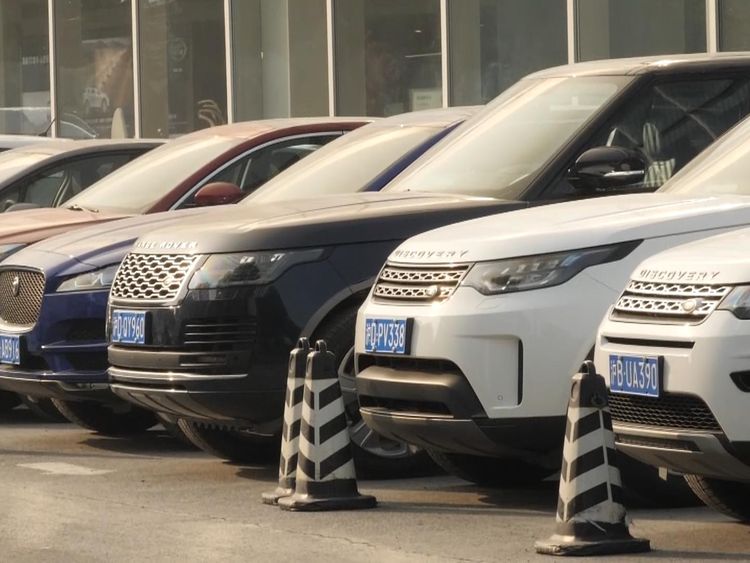 The consumption boom appears to be fading. JD and Alibaba, home-grown internet giants similar to Amazon and eBay, have both reported disappointing sales figures.
But a drop in Chinese consumption isn't just China's problem, it's all of ours. Western companies have pinned their hopes on the 1.4 billion strong market. Recently, though, they've run into trouble.
Apple delivered a shock profit warning at the start of the year, blaming a lack of appetite among Chinese consumers for its newest models. And Jaguar Land Rover announced that 4,500 jobs in the UK would go largely because Chinese customers are buying fewer cars.
It looks gloomy across the entire economy. Last year GDP growth was slower than predicted, with official Chinese figures on Monday putting the figure at 6.6% – the weakest annual growth since 1990.
The Chinese stock markets was the worst performing of any major economy as the trade war with the US shook confidence.
That's not too much of a worry in itself – the stock market isn't a huge part of the Chinese economy (at least by Western standards) and foreign markets aren't that connected to it.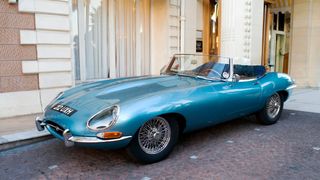 But the property market is also slowing – leading partly to that drop in consumption – manufacturing is contracting, and local governments are stuck with huge amounts of debt. Throw in the trade war with the US on top and you've got a tricky situation.
Now it seems to be affecting employment, too.
Tao Wei met me on his lunch break from an unpaid internship in Pudong, Shanghai. The 24-year-old goes to the Burger King in the shopping centre next door every day.
Unlike Xu, he's extremely well-educated, earning degrees in China and in the UK. But he's been looking for a job since he graduated from Sheffield University in 2017.
"It's a little bit hard compared with previous years because the overall economic situation is not very good and many companies, they don't want more people," he says.
But like many young people here, China's continued success is an article of faith.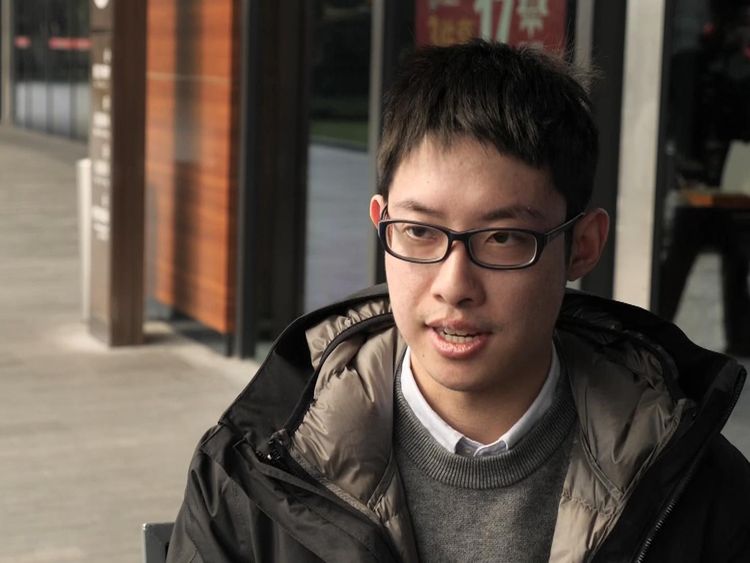 "I trust China's economy will go up, up and up," he says enthusiastically, before he returns to the job search.
Others aren't so sure. Kobe Yang, a headhunter also based in Shanghai, says: "2018 was quite challenging and quite unprecedented.
"I think that 2019 may be even tougher but the situation might be a little bit complicated because it really also depends on the negotiations with the trade war as well, but I think for the next few years the situation won't be improved and will still be very challenging.
"We have a very high debt ratio and actually we need some structural reform to improve the quality of the GDP."
The next two years, Yang says, are all about "survival".
Many, though, have called time on the Chinese economy before. It hasn't happened yet.
The Chinese Communist Party will go to almost any length to protect the economy, aware that much of its legitimacy as a regime derives from China's development. It's already announced measures to stimulate consumer demand and to loosen monetary policy.
It's not just the CCP who will be looking on nervously. What happens in China matters to the whole world, more than it ever has before.
Boy mauled by pack of dingoes at Australian tourist spot

A young boy has been mauled by a pack of dingoes at Fraser Island, a popular tourist spot in Australia.
The animals "wanted blood" according to the father of six-year-old Michael Schipanski, who is currently recovering from his ordeal in hospital.
He had been swimming with his family and had tried to race up a sand dune, witnesses said, but when he reached the top there were a pack of four dingoes.
"I heard him screaming, bone-chilling screams of terror and fear and pain, and turned around and saw him set upon and dragged down by this pack of dingoes. It was out-of-control, vicious, terrifying," his father Mark Schipanski said.
"He has severe puncture wounds, bite and teeth marks, to both his legs. One dingo had him by the leg and was trying to drag him off down the sand."
Mr Schipanski managed to pull his son from the dogs after a few seconds and carry him off. He was then treated by paramedics and flown to a nearby hospital.
Authorities have in the past warned of the dangers of dingoes on Fraser Island, which is the world's largest sand island and a popular tourist resort.
A nine-year-old boy was killed by one of the wild dogs in the area in 2001, and a woman and child were bitten in separate incidents last year.
The dogs became famous following the case of baby Azaria Chamberlain, whose mother was convicted of murder after the child's disappearance in 1980.
A landmark court ruling in 2012 found a dingo snatched the baby from a tent.
Families visiting Fraser Island are advised not to feed dingoes and to keep their children close by.
Israel says it is carrying out strikes on Iranian targets in Syria

Israel's military says it is striking Iranian targets in Syria after it intercepted a rocket fired from Syrian territory.
In a statement, it said it was "currently striking" the Iranian Revolutionary Guards' Quds Force in Syria and warned Syria's military against "attempting to harm Israeli territory or forces".
Israel's military said its air defence systems intercepted the rocket from Syria on Sunday, after Damascus accused Israel of carrying out air raids in the country's south.
More to follow…