A cruise ship has been forced to cut short a Caribbean tour after hundreds of passengers were hit by the dreaded norovirus.
Oasis Of The Seas – once the world's largest cruise liner – is returning to a port in Florida a day early after 277 guests and crew members were struck down with the vomiting and diarrhoea bug.
Owen Torres, a spokesman for Royal Caribbean, which operates the vessel, said: "We think the right thing to do is get everyone home early rather than have guests worry about their health."
Passengers complained the ship was in "complete chaos" after they were forced to stay on board when the vessel docked in Falmouth, Jamaica.
Elizabeth Schellberg wrote on Twitter: "Today is my birthday and we were so excited to go and enjoy Jamaica. Of course all of us are now stuck on the boat since some people have the norovirus."
Another passenger tweeted: "One hell of a time on #OasisoftheSeas. I took a week off from work to sail on a boat for 6 days.
"@RoyalCaribbean this is NOT the trip we purchased. #completechaos."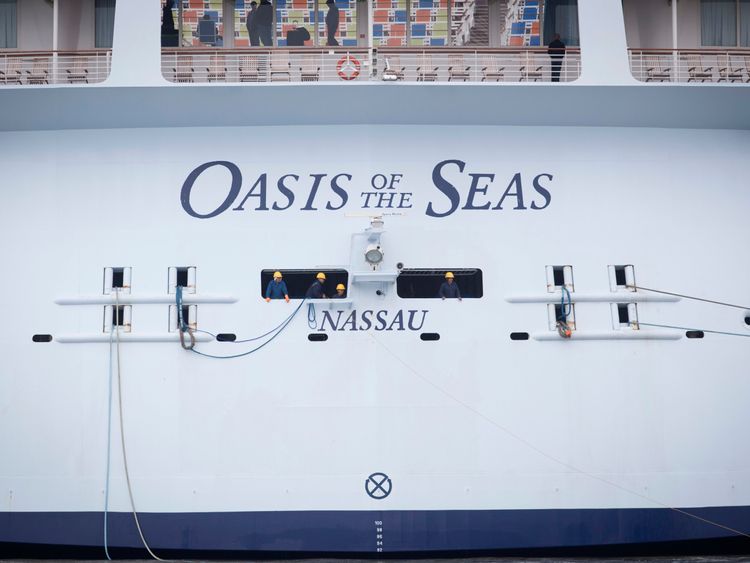 The ship will return to Port Canaveral on Saturday after it set sail from there last Sunday for a planned seven-day Caribbean cruise.
Royal Caribbean has said passengers on board will be given full refunds of their fares.
Ending the cruise early will provide "more time to completely clean and sanitise the ship" before it sets off on another voyage with new passengers, Mr Torres said.
Oasis Of The Seas has 16 passenger decks and can carry more than 6,000 guests.
Advertising for the ship promises "amazing entertainment, thrilling activities, delectable dining" and "some of the most incredible destinations in the world".
The ship's website greets holidaymakers saying: "Welcome to paradise."
Could Chinese investment endanger national security? | World News
Britain has a delicate balancing act to perform when it comes to China.
It wants to encourage trade and investment with the world's second largest economy.
But the UK needs to weigh all dealings with Beijing against the threat posed by Chinese spying and rivalry in an era of increasing global competition.
This contradiction was evident on Monday when Philip Hammond shared a podium with Chinese Vice Premier Hu Chunhua after the pair celebrated the linking of the London and Shanghai stock exchanges – an important, new financial relationship.
The chancellor faced a question from Sky News about what he knew as defence secretary back in 2013 about the acquisition by a Chinese firm of a British company that makes parts for Britain's top secret F-35 warplane.
I also asked him whether there was a danger that by welcoming more Chinese investment into the UK, national security and military secrets could be compromised.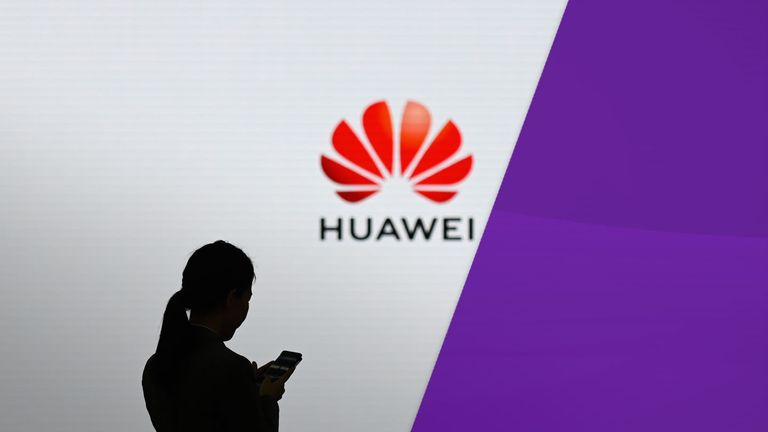 Mr Hammond said he could not recall the specific take-over but on the broader point, he said: "It's vital that we forge a relationship with China that works both for trade and for investment to our mutual benefit.
"But of course we aware of the risks and… not just in relation to China but more generally."
He added: "We have been looking at how we can manage those risks around inward investment to make sure that investment in the most sensitive areas of our economy is handled appropriately."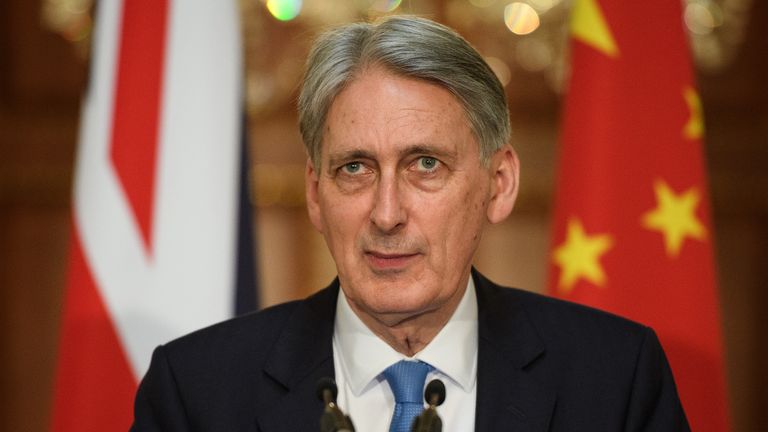 A big decision looming for the government is what to do about Chinese technology company Huawei and the UK's fifth generation mobile network.
US President Donald Trump says Huawei can play no role in the United States' next generation communications technology because of spying fears.
Huawei says these concerns are unfounded.
However, Mr Trump has signalled he wants his allies to ditch the Chinese company as well, putting the UK in a bind.
Britain has been exploring the possibility of keeping Huawei out of its core 5G network but allowing the firm to play a role in areas deemed less sensitive.
This middle-way would enable the UK to keep in China's good books and – British officials believe – guarantee the security of its networks from any malign Chinese behaviour.
However it is unlikely such a compromise would wash with the Trump administration, meaning the next prime minister could face a stark choice over whether to side with Washington or Beijing.
Chinese president Xi Jinping to make state visit to North Korea | World News
Xi Jinping will arrive in North Korea on Thursday for the first state visit a Chinese president has made to the country for 14 years.
President Xi will meet North Korean leader Kim Jong Un during the two-day visit, with Pyongyang's nuclear programme likely to be top of the agenda.
The trip coincides with the 70th anniversary of the establishment of diplomatic relations between China and North Korea.
A summit in Vietnam in February between Kim and Donald Trump broke down after the US rejected North Korea's request for extensive relief from UN sanctions in exchange for dismantling its main nuclear complex – a partial disarmament step.
Since the summit, no major contact between the US and North Korea has been announced.
Kim travelled to Russia in April for a meeting with Vladimir Putin.
The move was seen as being aimed at strengthening his leverage over Washington and persuading Moscow to loosen its sanctions against North Korea.
In May, North Korea fired short-range missiles and other weapons into the sea in an apparent effort to apply pressure on the US.
It was reported in April that Kim said he will give the US "till the end of the year" to come up with further proposals.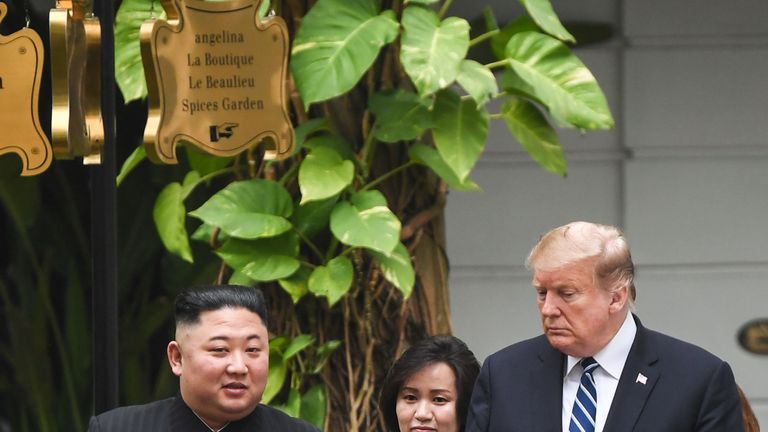 Since taking office in 2012, President Xi has met Kim four times in China and the meetings were timed in proximity to Kim's meetings with Mr Trump and South Korean President Moon Jae-in, highlighting Beijing's role as a key player in the nuclear standoff.
Chinese political scholar Zhang Lifan said the aim of President Xi's trip is unlikely to make any breakthroughs but will serve to remind the world of China's unique position.
Mr Lifan said Beijing may be seeking to gain leverage ahead of a G20 summit in Japan later this month and reassert itself as a global player amid growing concerns over its economy.
He added: "North Korea is a card for China to play. China may want to show off its relationship with North Korea and demonstrate its importance to US-North Korean relations."
South Korea's presidential office said it hopes President Xi's visit to North Korea will contribute to a swift resumption of negotiations to resolve the nuclear standoff.
Walter Luebcke: 'Right-wing background' to killing of pro-migrant Angela Merkel ally | World News
German prosecutors believe there was a "right-wing extremist background" to the suspected murder of a popular member of Chancellor Angela Merkel's party who was known for his pro-migrant views.
Walter Luebcke was found dead at his home in the central city of Kassel earlier this month, having been gunned down at close range by a single shot to the head.
The federal prosecutor's office has said it suspects far-right involvement in the killing, with German media having earlier reported that a 45-year-old man arrested on Saturday had a history of hate crimes.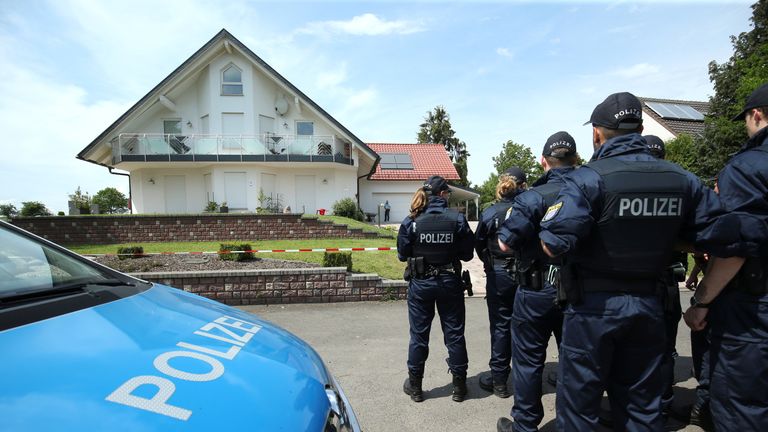 "Based on the current state of investigations, we assume that there is a right-wing extremist background to this act," a spokesman for the office said on Monday.
No further details have been released about the arrest, but Zeit Online reported that the man was involved in hate crimes dating back decades, including a 1993 pipe bomb attack on a refugee shelter in Hesse state.
The arrest was announced by a regional prosecution office, and public broadcaster SWR said the federal office had taken over due to the suspected political motive behind the killing.
Mr Luebcke – a leading member of the ruling centre-right Christian Democratic Party who headed the Kassel regional government in Hesse – had previously been subjected to far-right threats after speaking out in defence of migrants at the height of the 2015 refugee crisis across Europe.
Mrs Merkel drew criticism for opening the German borders to more than one million migrants, but Mr Luebcke publicly supported the move and told anyone who opposed it they were "free to leave".
Police and prosecutors have not spoken of any link between his killing and these earlier threats.
Mr Luebcke was described as a "popular and extraordinarily approachable" man and hundreds of people attended his funeral on Thursday.
The 65-year-old left behind a wife and two grown-up children.