Up to a million fish have died in an Australian river in "an ecological catastrophe on an international scale".
Critically endangered Murray cod, some up to 100-years-old, were among the fish carcasses to line the Darling River in New South Wales (NSW) this week.
There were three other mass fish deaths around the Christmas period in the same region, which is a key breeding area for endangered fish species.
Algal blooms, which can be caused by agricultural chemicals, have been blamed for the deaths, but locals say corruption and greed are the reasons.
A video of people holding up the dead fish from the latest incident has gone viral as local farmers and the community blame the state government's mismanagement of the Murray-Darling Basin.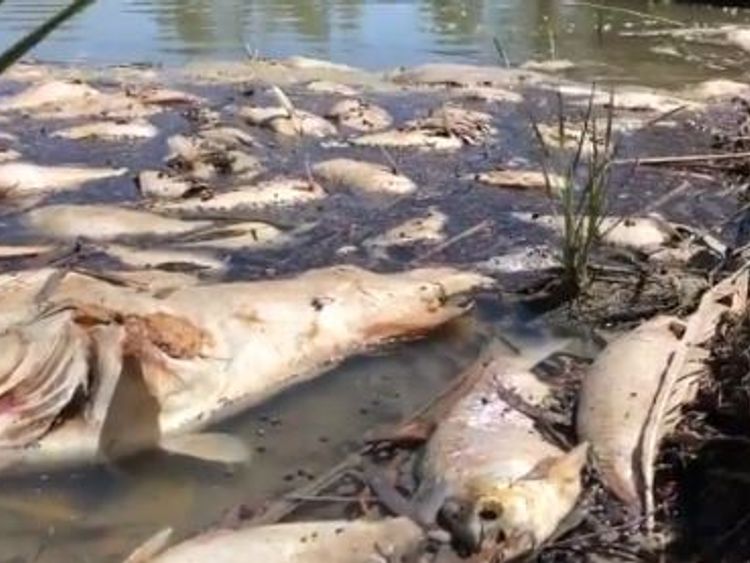 Dick Arnold and Rob McBride held up two massive fish as they accused the government and cotton growers for the "man made environmental disaster" which they said made them feel like crying.
Mr McBride said: "This is nothing to do with drought, this is a man-made disaster.
"This is the result of draining the Menindee Lakes twice in four years, killing the system."
He added that 250,000 livestock and millions of native animals are at risk from the increasingly toxic river water.
His daughter, Kate McBride, who is also a farmer, added: "They have survived that many droughts, and the highs and lows of it all, but the one thing they haven't been able to survive is this mismanagement."
Niall Blair, NSW's fisheries and regional water minister, blamed the deaths on drought.
"Unfortunately this is the sort of thing we do see during drought," he said.
"We're looking at the operating rules around the Menindee Lakes and what we can do."
He was accused of ignoring locals after he sped past a group waiting for him on a boat with a police escort, but said he met others.
Upriver the basin is about 20% full but in the lower Darling River levels are as low as 5%, a spokeswoman for the Murray Darling Basin Authority said.
The state's independent MP, Jeremy Buckingham, travelled to the area after the farmers' video went viral, and said he vomited when he saw the scale of the deaths.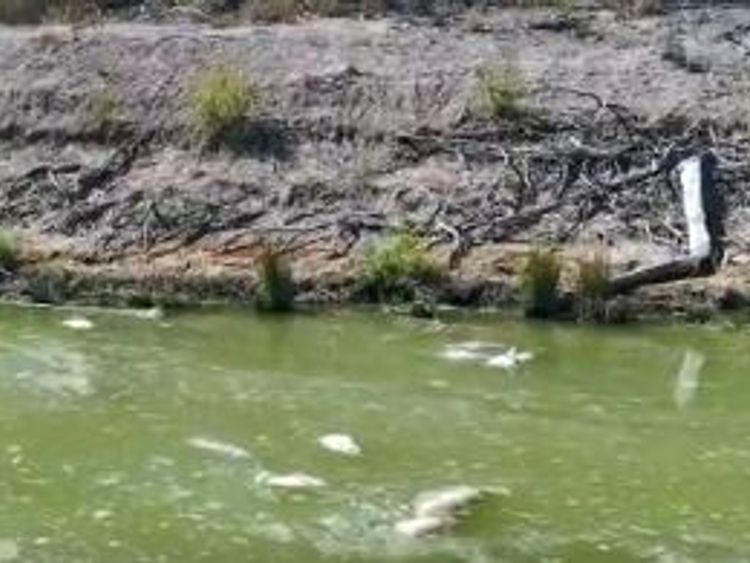 "The huge extraction of water for big irrigators is literally choking the life out of the system downriver and leaving stagnant, blue-green algae infested dregs for everyone else," he said.
"It is an ecological catastrophe on an international scale."
Richard Kingsford, director of the Centre for Ecosystem Science at the University of NSW, said the latest incident probably "killed up to a million fish".
He said the lakes being drained make such disasters more likely.
"It's a classic example of nature biting back," he said.
:: Sky's Ocean Rescue campaign encourages people to reduce their single-use plastics. You can find out more about the campaign and how to get involved at www.skyoceanrescue.com
Mueller report: Putin ready to improve US ties after Trump cleared of collusion | US News
Vladimir Putin is ready to improve ties with the US after Donald Trump's 2016 presidential campaign was cleared of colluding with Russia, the Kremlin has said.
Russia's foreign ministry has called on the US to formally recognise the findings of the long-awaited Mueller investigation after Mr Trump said he had "complete and total exoneration".
Responding to the special counsel report, Kremlin spokesman Dmitry Peskov said Russia had never interfered in elections in other countries and "doesn't intend to do so".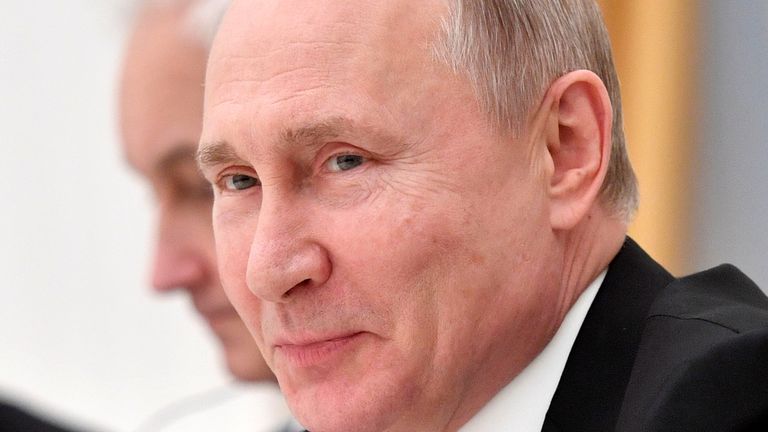 He added: "It's hard to find a black cat in a dark room, especially if it isn't there."
Mr Peskov said it was now up to the US to make the first move in improving relations with Russia, telling reporters: "The ball is absolutely in their court."
Special counsel Robert Mueller spent almost two years examining alleged Russian interference in the 2016 US presidential election, bringing charges against 34 people and three Russian companies.
A summary of his main findings was released on Sunday which said there was no evidence that Mr Trump's campaign "conspired or coordinated" with Russia.
The report does not exonerate the president of obstruction of justice, the US Justice Department said.
However, the summary, sent by the US Attorney General William Barr to members of Congress, said there was not enough evidence to prove charges of obstruction.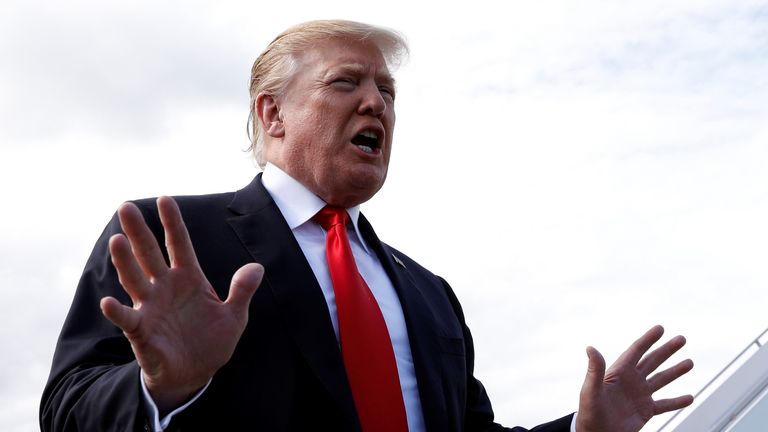 White House spokeswoman Sarah Sanders said Mr Trump will let Mr Barr decide whether the full report should be publicly released after calls from high-profile Democrats, adding the president was "more than happy for any of this stuff to come out".
After the release of Mr Mueller's findings, Mr Trump wrote on Twitter: "No Collusion, No Obstruction, Complete and Total EXONERATION. KEEP AMERICA GREAT!"
No Collusion, No Obstruction, Complete and Total EXONERATION. KEEP AMERICA GREAT!

— Donald J. Trump (@realDonaldTrump) March 24, 2019
He also tweeted several quotes from news reports about the investigation on Monday, including one that said it had found "no Trump-Russia conspiracy".
Former FBI director James Comey, who headed the investigation before being fired by Mr Trump in May 2017, tweeted an image of himself in a forest surrounded by trees with the caption: "So many questions."
Republican senator Lindsey Graham replied to the tweet, writing: "Could not agree more. See you soon," implying Mr Comey may be called before Congress in the near future.
Congo ebola epidemic becomes second worst outbreak ever | World News
The ebola epidemic crippling parts of the Democratic Republic of Congo has now exceeded 1,000 cases, making it the second worst outbreak in history.
In a statement, the Congolese health ministry revealed that the total number affected stood at 1,009, with the numbers of people killed having climbed to 629.
New technologies including a trial vaccine, experimental treatments and mobile units for looking after patients had raised hopes that medics would be better equipped to cope, but security issues have hampered the response.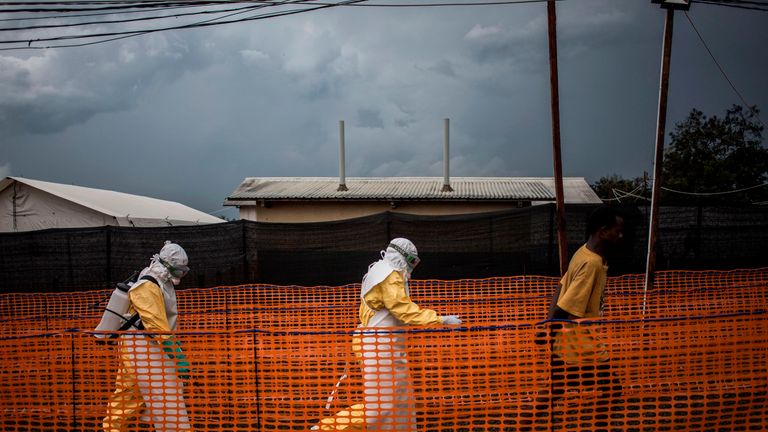 Five centres set up to treat those with the disease have been attacked since last month, sometimes by armed assailants, which forced a French medical charity to suspend its activities in eastern areas that are most badly affected.
Last December, Sky News visited a similar centre set up in the city of Beni, where 200 health workers were tasked with treating those admitted.
They erected a series of innovative, air-conditioned tents to house and treat the most serious cases, but there is no cure for the disease, which kills more than half of those it infects.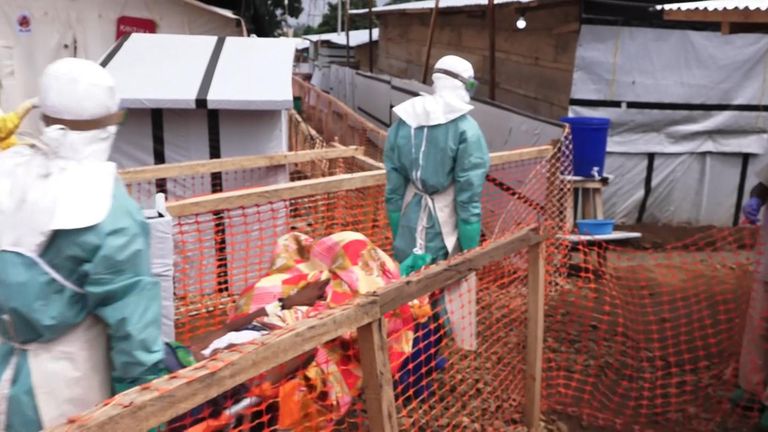 It has since become the second deadliest ebola outbreak of all-time, behind an unprecedented crisis in West Africa that killed more than 11,000 people between 2013 and 2016.
There are fears that the Congo outbreak could still spread further, with authorities confirming a case last week in the northeastern city of Bunia, which is home to almost one million people.
The disease, which causes severe vomiting, diarrhoea and bleeding, is thought to be able to move across vast distances due to it being carried by bats.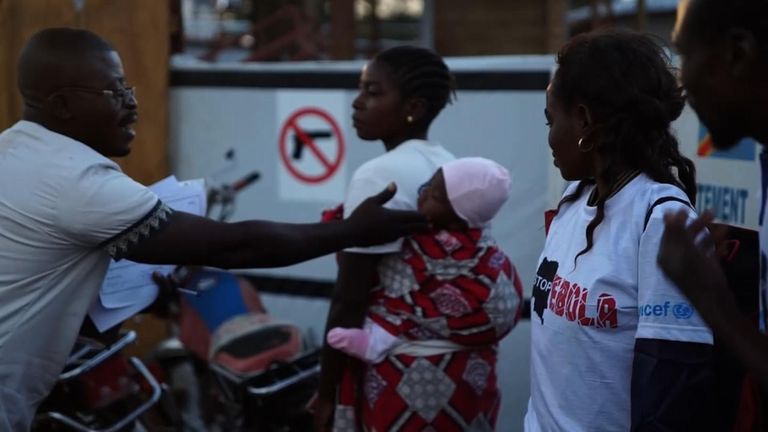 Large gaps between outbreaks can be explained by the likelihood that ebola-carrying bats move around and will only occasionally come into the kind of contact with people that leads to infection.
But as they are extremely social animals, the potential for the disease to spread from bat to bat – and potentially to other animals that could come into contact with humans – is very high.
Emiliano Sala contract not legally binding, Cardiff to tell FIFA | UK News
Cardiff City will tell world football's governing body FIFA that the contract to sign Emiliano Sala from Nantes was not legally binding.
The Welsh club have refused to pay the £15m transfer fee for the striker, who was killed in a plane crash two months ago.
Ligue 1 outfit Nantes have complained to FIFA, and Premier League side Cardiff have until 3 April to respond.
The 28-year-old Argentinian died, along with pilot David Ibbotson, when the Piper Malibu aircraft they were travelling in came down in the English Channel on 21 January, two days after the Welsh club made him their record signing "subject to international clearance".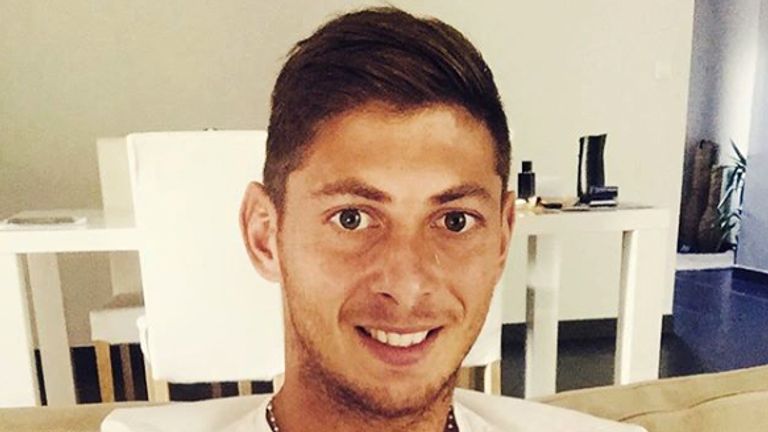 Cardiff have refused to pay the first £5m instalment of the Sala transfer fee.
It is understood Cardiff will argue that Sala's contract had been rejected by the Premier League because it contravened signing-on fee rules and was therefore 'null and void'.
He had been unable to sign a revised deal before his death.
The club will also claim that further contract clauses – proposed by Nantes – had not been met.
Without these clauses being fulfilled, Cardiff will argue Sala was perfectly entitled to join another club with more than a week of the January transfer market remaining.
Nantes say they are fully compliant with FIFA rules and point to the fact that FIFA registered the international transfer certificate on 21 January, 2019 at 5.30pm.
A Cardiff spokesperson said: "The club is aware of FIFA's request for a response by 3 April and is processing that accordingly. We have no further comment at this stage."
Separately, Cardiff City has denied claims it failed to offer Emiliano Sala suitable travel arrangements before his ill-fated flight to the UK.
In a statement the club said: "Cardiff City FC strongly rejects the claim that it neglected to provide Mr Sala with travel arrangements.
"Our club was in the process of organising a commercial flight for Mr Sala until this offer was declined owing to separate arrangements being made – the planning and specifics of which Cardiff was not privy to.
"Cardiff has serious concerns over the potential unlawfulness of the journey following information that has been released. Clearly more answers as to the details surrounding this terrible tragedy are required."