Heavy snow across Europe has grounded flights and forced schools and resorts to close as freezing weather looks set to continue into the weekend.
At least 17 people have died in weather-related incidents across the continent this week.
Three people were hurt when a 300-metre-wide avalanche hit the Santis hotel in Schwaegalp in Switzerland on Thursday.
An image taken from inside the hotel showed the snow had crashed into the restaurant and buried more than 25 vehicles, including a coach, in the car park.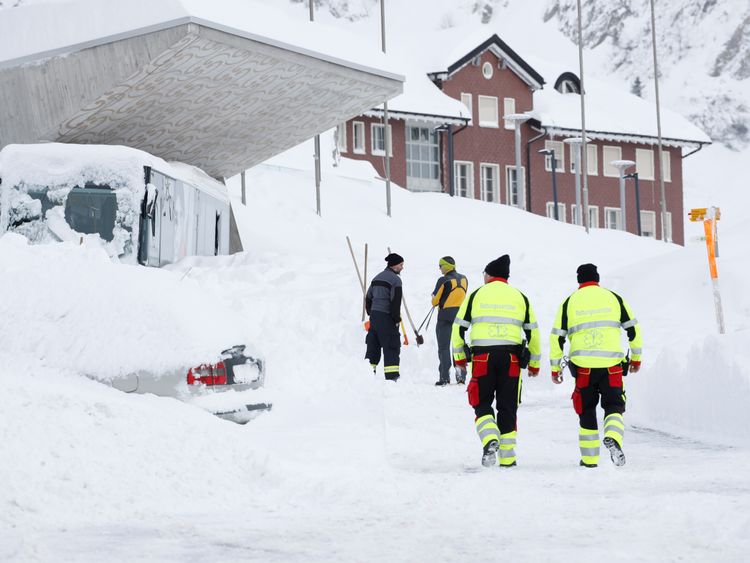 A hotel guest told the Tagblatt newspaper: "There was a massive noise and a load of snow came in the back of the restaurant."
Elsewhere, schools were forced to shut after heavy snow left some remote villages cut off and disrupted traffic and power supplies in the Balkans.
Serbian state TV said on Friday that six regions in the southwest of the country had introduced emergency measures.
:: Parts of Britain could see snow by end of next week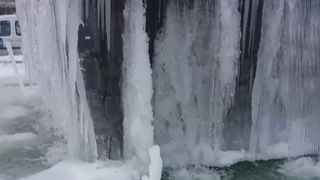 Authorities were attempting to distribute supplies to residents, hindered by snowdrifts, it said.
In neighbouring Montenegro, three towns on the Adriatic coast are still without electricity after a snowstorm earlier in the week hit a key power distribution line.
In the central Bosnian region of Kladanj, snow disrupted power supplies and cut phone lines.
Zijad Vejzovic, from the area's civil protection agency, said authorities have declared an emergency.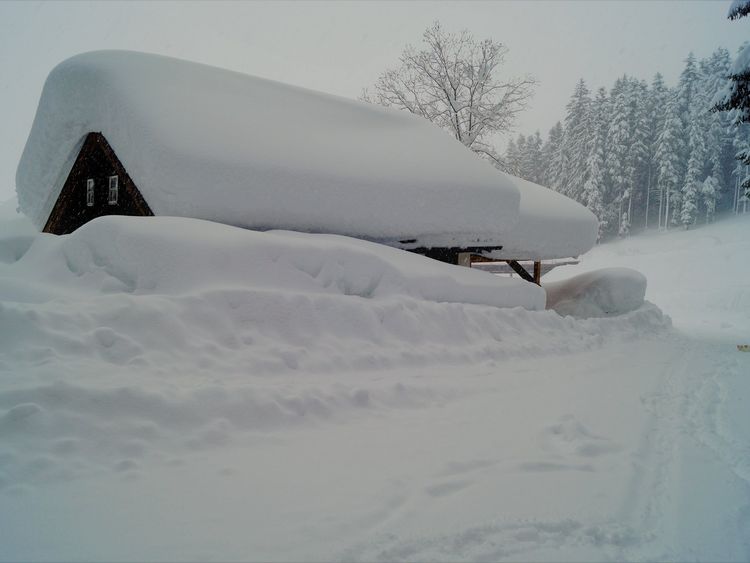 He said roads were impassible in some areas covered in one-metre-deep snow
"We need more machines. We have run out of resources and money," he said.
The weather has caused major disruption across Austria and Germany too.
Around 120 flights were cancelled at Frankfurt Airport and 90 at Munich Airport on Friday due to snow.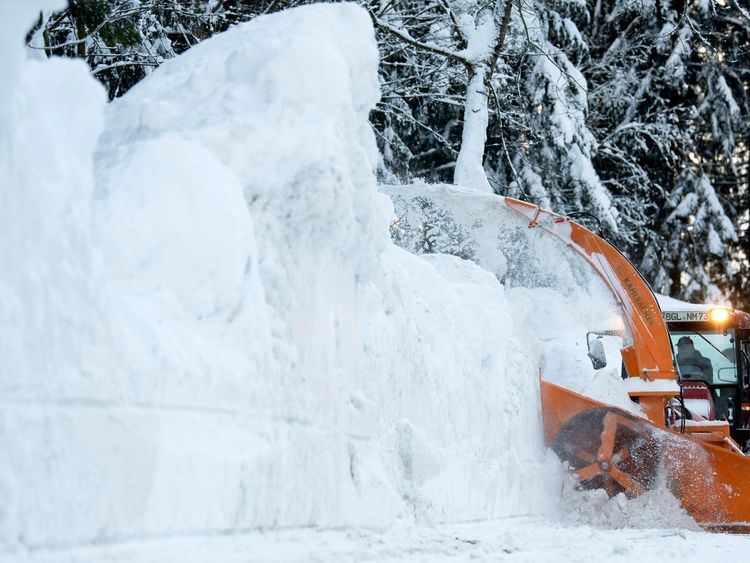 In the eastern German city of Chemnitz, all planned burials at the civic cemetery through Monday have been called off because of the snow.
Five districts in Bavaria have declared a state of emergency with schools closing and some towns requesting the military to help clear the snow.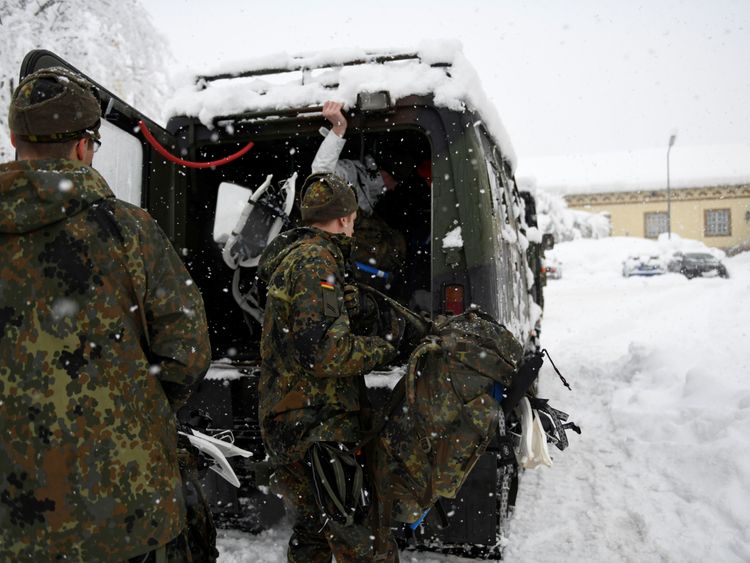 In the eastern state of Saxony on the border with the Czech Republic, forest workers felled trees along a road leading through woods "as a precaution".
The UK could also be experiencing cold weather towards the end of January, if early European predictions are correct.
Forecasters have said the same weather pattern which sparked last year's "Beast from the East" bringing freezing temperatures and heavy snow, could return.
Priests wear hard hats at first Notre Dame mass since devastating fire | World News
Notre Dame in Paris held its first Mass since the fire which caused enormous damage to the cathedral's roof and destroyed its spire.
The gothic structure was at risk of being destroyed on 15 April when it was engulfed in a blaze, although its twin medieval bell towers and many of priceless artistic treasures were saved.
Wearing hard hats, clergy led by the Archbishop of Paris Michel Aupetit held the first Mass that Notre Dame had seen in months to a limited assembly of around 30 people.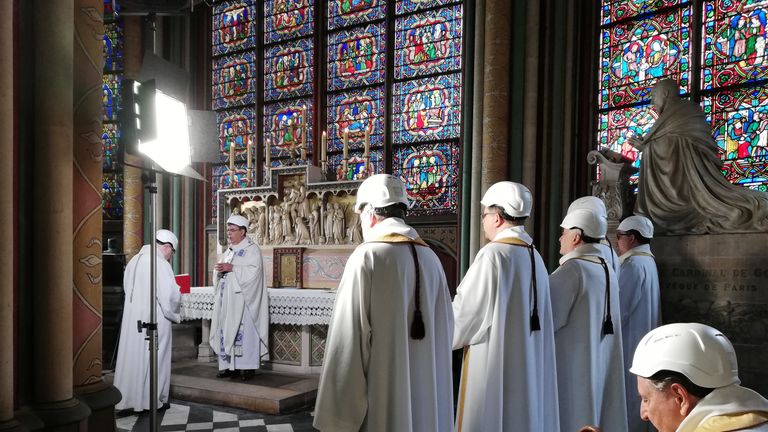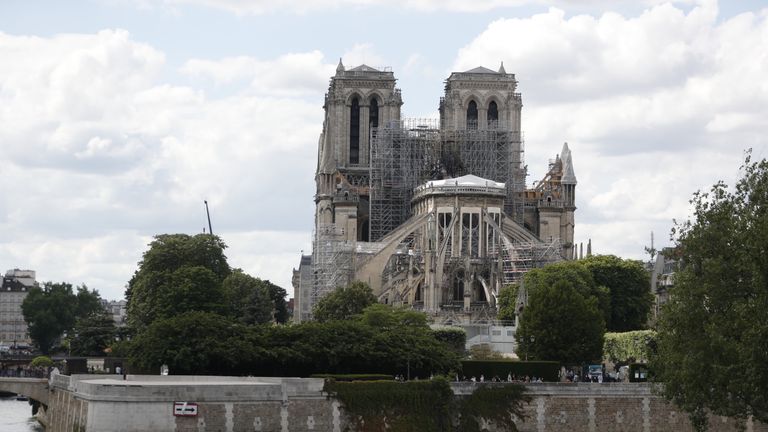 Construction experts had allowed the service to take place in a side chapel behind the choir which holds the Crown of Thorns due to safety concerns about the stability of the rest of the construction.
French president Emmanuel Macron said he hoped the country would pull together to rebuild the centuries-old masterpiece, a symbol of France in the heart of Paris.
Franck Riester, France's minister of culture, said that the building remains in a "fragile" state and warned its vaulted ceiling was still at risk of collapsing.
The limited crowd permitted to attend the Mass were mainly clergy and church employees, as well as some of the workers rebuilding the church.
A Catholic television station broadcast the Mass live, revealing burnt wood amid the construction and repair apparatus.
"This cathedral is a place of worship, it is its very own and unique purpose," said Archbishop Aupetit.
Outside the cathedral, members of the public watched the service on their mobile phones.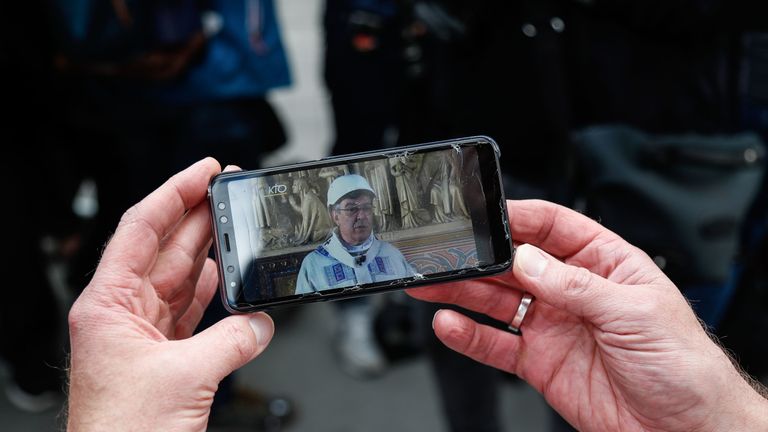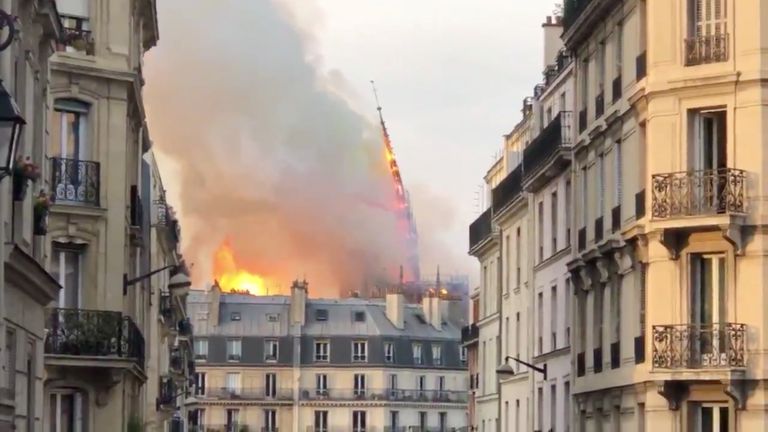 "We will rebuild this cathedral. It will take time of course – a lot of money, lot of time, lot of work – but we will succeed," Father Pierre Vivares said outside the cathedral.
"Today it's a small but a true victory against the disaster we have had," Father Vivares added.
No date has yet been set for the cathedral's reopening.
President Macron pledged to rebuild it within five years, declaring it would be "even more beautiful" than before as about €700m (£605m) of donations poured in.
However, some have questioned whether this time-frame is realistic.
The French parliament is currently debating new legislation which would allow the government to create a public body tasked with restoring Notre Dame while circumventing the nation's complex labour laws.
Nazanin Zaghari-Ratcliffe: Jailed British-Iranian mother goes on new hunger strike | UK News
The British-Iranian mother jailed in Iran on spying charges has begun a new hunger strike, her husband has said.
On a petition page dedicated to freeing Nazanin Zaghari-Ratcliffe, her husband Richard Ratcliffe said she had stopped taking food in protest at her "unfair imprisonment".
Mr Ratcliffe said he would also not eat for the duration of her protest.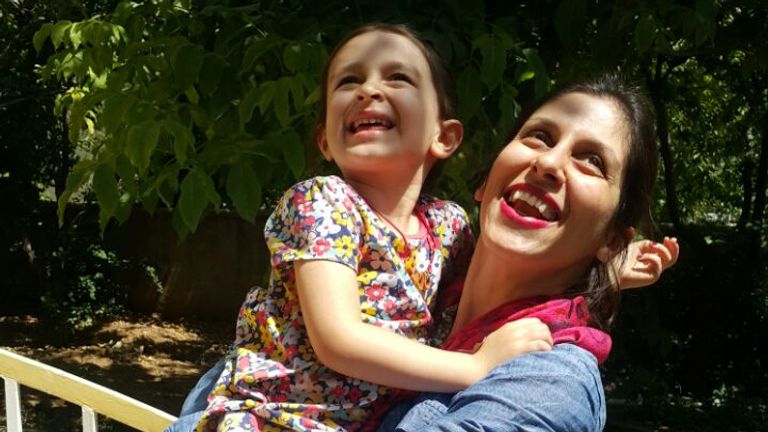 He said his wife's decision followed the fifth birthday of their daughter, Gabriella, who has not been allowed to leave Iran following her mother's arrest in 2016 and is living with her grandparents.
"Nazanin had vowed that if we passed Gabriella's fifth birthday with her still inside, then she would do something – to mark to both governments that 'enough is enough,'" he said.
"This really has gone on too long."
Mr Ratcliffe said his wife sounded "nervous, but calm" when she spoke to him from prison.
"Her demand from the strike, she said, is for unconditional release. She has long been eligible for it."
The decision comes amid heightened tension between the two countries, as the UK has said it is "almost certain" that a branch of the Iranian military had attacked two oil tankers the Gulf of Oman.
Foreign Secretary Jeremy Hunt tweeted on Saturday that he met with Mr Ratcliffe and his message to Iran is to "do the right thing, show the world your humanity and let this innocent woman home".
Mr Hunt granted Mrs Zaghari-Ratcliffe diplomatic protection in March, but Tehran refuses to acknowledge her dual nationality.
Mr Ratcliffe thanked the secretary for the "kind words" but said, "our position is that the government has to do more".
With Richard Ratcliffe this morning whose family have been separated for over 3 years. As Richard continues his campaign for Nazanin's release at the Iranian embassy,my message to Iran: DO THE RIGHT THING, SHOW THE WORLD YOUR HUMANITY & LET THIS INNOCENT WOMAN HOME #freenazanin pic.twitter.com/bitSctNmn9

— Jeremy Hunt (@Jeremy_Hunt) June 15, 2019
Speaking to Sky News on Saturday, Mr Ratcliffe said they will take the hunger strike "day by day", hoping it will make an impact.
He said he was committed to staying outside the Iranian embassy in London as long as his wife remains on her hunger strike.
Mrs Zaghari-Ratcliffe was arrested in April 2016 at Tehran'sImam Khomeini Airport accused of plotting to undermine the regime, a charge she denies, as she prepared to board a plane with Gabriella back to the UK after visiting relatives.
Footage of her arrest in Iran was released earlier this year as part of what Mr Ratcliffe called "cruel psychological game".
Mrs Zaghari-Ratcliffe went on her last hunger strike in January, protesting her imprisonment. She also said at the time she was asked to spy on Britain for Iran.
Mr Ratcliffe said the new hunger strike is "open-ended" and he was hoping it won't last for "weeks and weeks" but his wife is "certainly pretty resolved".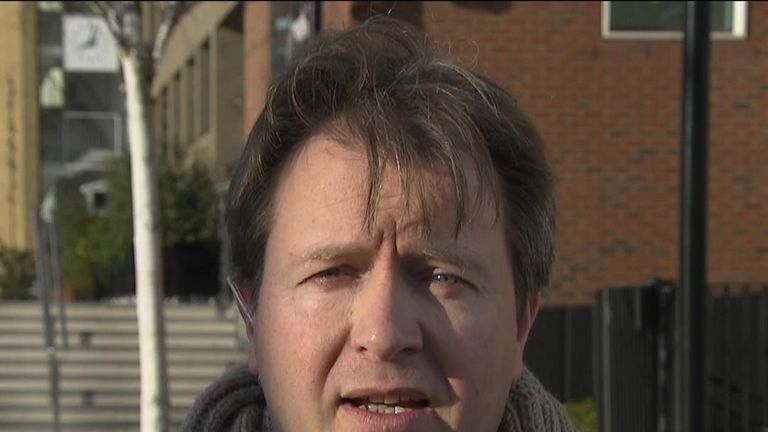 Mr Ratcliffe told Sky News his wife's mental health has deteriorating and she has complained of lumps in her breasts and neck problems.
She was granted a three-day temporary release and was reunited with her daughter last August, but had to go back to jail.
The 41-year-old charity worker from Hampstead, north London, is serving a five-year sentence in Tehran's notorious Evin Prison.
Last month, it emerged that a row between government departments could be preventing the mother's release.
But in April, Iran's foreign minister suggested Mrs Zaghari-Ratcliffe could be released from jail as part of a prisoner swap.
Appeasement in Hong Kong has failed and divisions deepened as more protests are planned | World News
On a bridge by Hong Kong's government headquarters, messages to the authorities plaster the walls.
"Stop shooting our children" and "HK isn't China yet!" they read.
Fear, anger and mistrust sparked by a controversial extradition bill have spread through this city.
But Hong Kong's people have spoken, and the proposed law which could see fugitives extradited to mainland China has been put on hold indefinitely.
"We will pause and think and for the time being suspend and halt the legislative amendment process," announced Chief Executive of Hong Kong Carrie Lam after days of mounting pressure.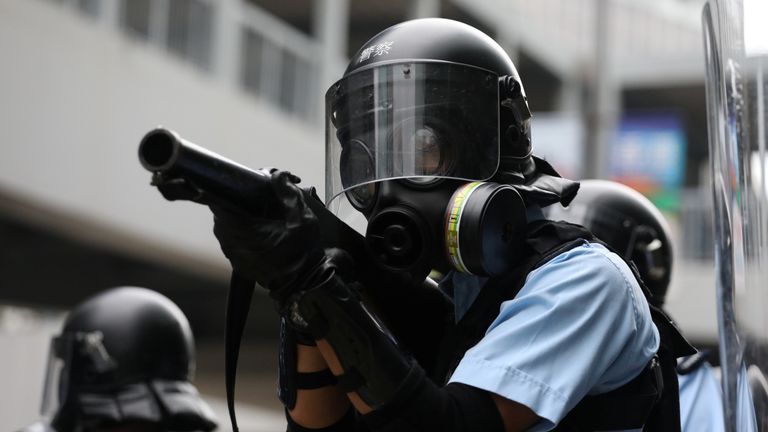 The violence the bill sparked is some of the worst in Hong Kong in more than 20 years, pitching police against protesters in running street battles.
When I asked Hong Kong's leader if she would apologise, she was defiant: "I confess that we have not been as effective as we would like to communicate with the people to justify these very good objectives that are worth doing.
"And at the same time there are other factors and other circumstances that have given rise to some anxiety and fear and concern.
"So the best way forward is to pause and think and to find opportunities and time to see whether we could still reach those good objectives as laid down in the bill."
Opponents are now calling for Carrie Lam's resignation.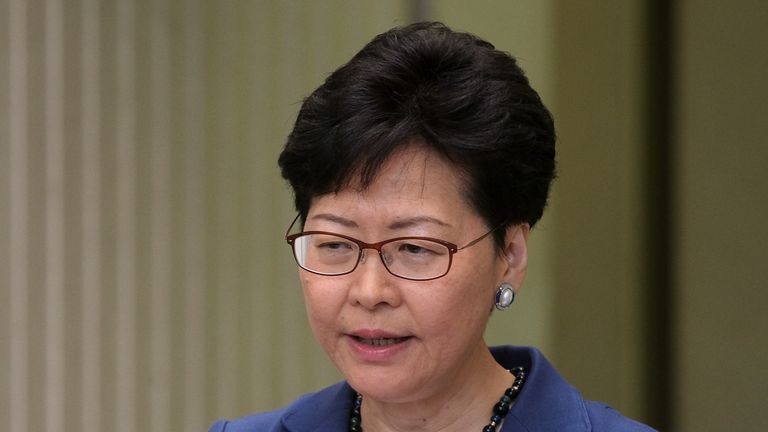 They claim by not cancelling the bill, she's ignoring the people.
"She was totally arrogant, not willing to admit any of her misdeeds or her misjudgements and continued to use a forceful way to try to govern Hong Kong and I think this will push us over the brink," opposition politician Charles Mok told Sky News.
Shortly after Ms Lam's announcement, protest leaders confirmed a mass demonstration planned for Sunday would go ahead.
If the government's plan was to calm the situation down, it may have come too late.
Angry and afraid, a youth resistance has mobilised.
Jack and George were among thousands who fought with police this week. They say they no longer trust the authorities.
"I'm prepared to fight to the death against this government," George said.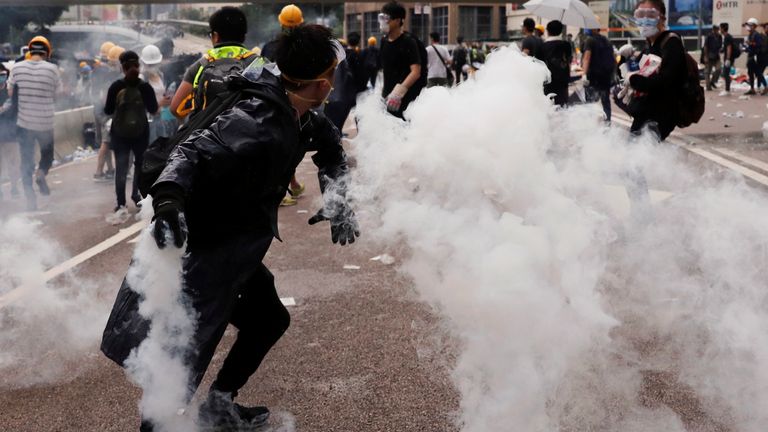 "Whether the bill is passed or not they (young people) will not forget what they have experienced from the police," Jack added.
More than 80 people were injured in Wednesday's protests with police accusing protesters of endangering lives.
They in return were accused of using excessive force – firing rubber bullets and 150 rounds of tear gas at the crowd.
Undeterred, Jack and George say they will be back on Hong Kong's streets on Sunday.
It appears appeasement has failed – divisions have deepened.