Seven people are dead and five are in critical condition after a bus crashed in Cuba.
More than 20 British tourists are thought to have been on board, according to local media.
State media reported that the bus was carrying 18 Cubans and 22 tourists from the UK, the Netherlands, France, Mexico and Canada when it crashed on a wet road between the eastern cities of Baracoa and Guantanamo.
The driver told Radio Guantanamo he lost control on the wet and winding road.
Thursday's wreck is the fourth major bus accident in a month.
More follows…
Hong Kong leader apologises amid mass protests | World News
The Hong Kong chief executive has issued an apology to the public after mass protests against a controversial extradition bill.
Tens of thousands of people have been demonstrating against the bill, which they claim would allow China to extradite Hong Kong residents to the mainland for political trials.
Recognising the "strong and different views in society" the government said it had stopped work on the new law, without any timetable to restart it, "with a view to restoring calmness in society as soon as possible and avoiding any injuries to any persons".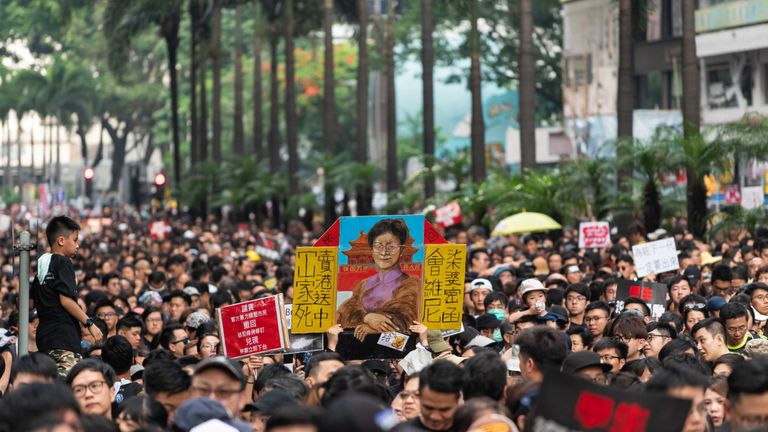 Carrie Lam, the chief executive, admitted "that the deficiencies in the government's work had led to substantial controversies and disputes in society, causing disappointment and grief among the people".
"The chief executive apologised to the people of Hong Kong for this and pledged to adopt a most sincere and humble attitude to accept criticisms and make improvements in serving the public," her statement added.
Ms Lam had claimed the law would prevent criminals using Hong Kong as a safe haven, however many people believed it would repeal legal protections and freedoms promised by the Chinese government when it took control of the territory in 1997.
According to law, Beijing should abide by the "one country two systems" rule, which promises to respect Hong Kong's legal autonomy for 50 years.
The U-turn was seen as one of the biggest political moves in the territory's history, and led many to question Ms Lam's ability to lead Hong Kong.
Over the past week, hundreds of thousands of people marched in Hong Kong over the bill, with many being met by potentially lethal force in police clashes.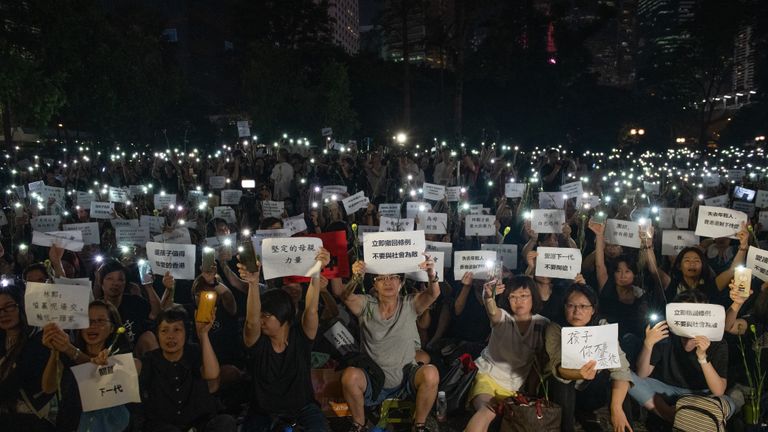 Politician Claudia Mo said: "Democrats in Hong Kong simply cannot accept this suspension decision. Because the suspension is temporary. The pain is still there."
Bonny Leung, a leader of the Civil Human Rights Front, one of the groups that has helped organise the demonstrations, said: "Hong Kong people have been lied to so many times."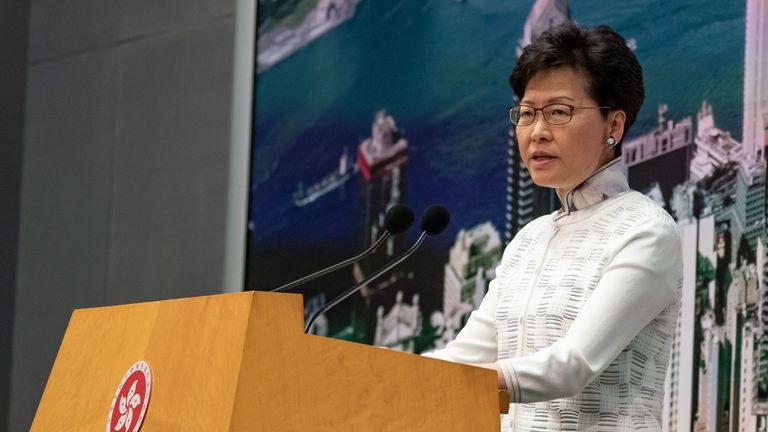 Across the border in China, the communist-led government issued statements that gave their backing to Ms Lam's decision to suspend the bill.
Meanwhile, mourners have been laying flowers on the pavement close to where a man lost his life, after seemingly falling to his death from scaffolding on a shopping mall while he was holding a protest banner.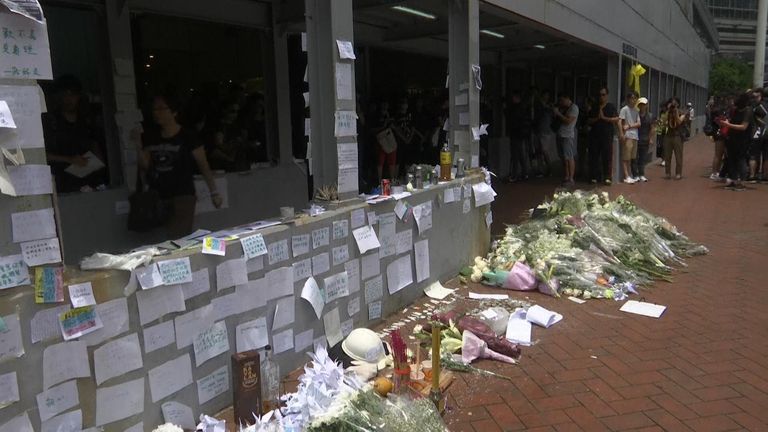 Emergency workers reportedly tried to cushion the man's fall, but failed to catch him.
On Saturday, Foreign Secretary Jeremy Hunt tweeted his support of Ms Lam's decision, saying: "Well done HK Government for heeding concerns of the brave citizens who have stood up for their human rights.
"Safeguarding the rights and freedoms in the Sino-British Joint Declaration is the best future for HK and Britain stands behind this legally-binding agreement."
Deposed Sudanese president seen for first time since uprising | World News
Sudan's ex-president has been seen in public for the first time since he was overthrown by the military.
Omar al-Bashir was seen as he was taken from prison to the office of the anti-corruption prosecutor, where he was to make a statement related to charges against him of corruption and possession of foreign currency.
He wore traditional white robes and a turban and was taken in a Toyota Land Cruiser to the office in Khartoum, a witness told Reuters.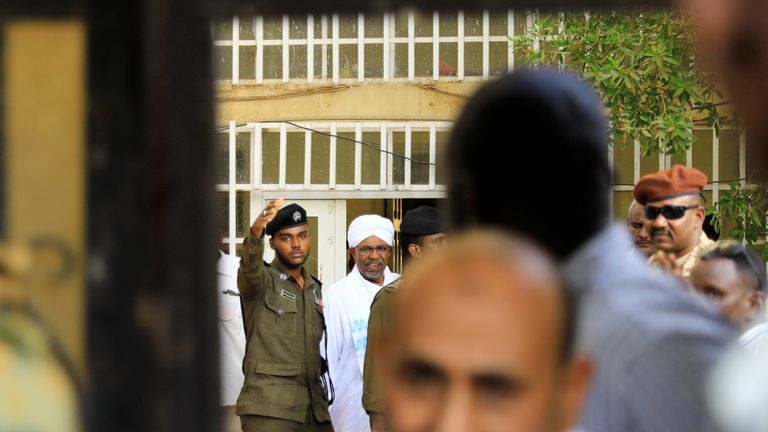 According to reports, he was smiling as he walked in and scowling as he left.
The military overthrew and detained Bashir on 11 April after 16 weeks of street protests against his 30-year rule.
He had been held in prison in Khartoum North, across the Blue Nile.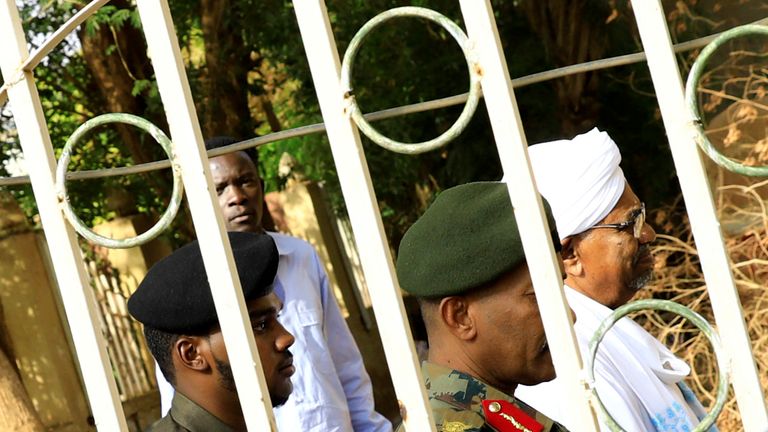 Prosecutor Alaa al-Din Abdallah said: "The prosecution accused him of possession of foreign currency, accepting gifts in an unofficial manner."
The prosecutor said Bashir was given the opportunity to respond, but the former leader's lawyers did not comment as they left.
Benjamin Netanyahu's wife Sara admits misusing state money for luxury meals | World News
The wife of Israeli Prime Minister Benjamin Netanyahu has admitted to misusing state funds to pay for luxury restaurant meals, despite employing a full-time chef at home.
Prosecutors agreed on Sunday to a plea deal with Sara Netanyahu, which orders her to pay 45,000 shekels (£10,000) to reimburse the state's costs, and a further 10,000 shekels (£2,200) fine.
The 60-year-old was indicted last year on charges of fraud and breach of trust after spending an alleged £79,000 of state funds on catered food, but this was later reduced to a lesser charge.
She was eventually convicted in a Jerusalem court on Sunday for "intentionally exploiting the mistake of someone else" for her benefit.
A government employee has also been fined 10,000 shekels (£2,200).
This is not the first time scandal has hit the Netanyahus' household.
In 2016, a court awarded the prime minister's former caretaker 170,000 shekels (£37,000) in damages after he reported mistreatment and abuse from the couple.
Another case is currently under way in which a former housekeeper is suing Mrs Netanyahu for 225,000 shekels (£50,000), citing claims of mistreatment and harassment.
Yossi Cohen, the lawyer representing Mrs Netanyahu, said his client has "been put through hell" following a year-long "witch hunt" against her public standing.
He added: "I hope that indeed this is the end of the story."
Meanwhile, Mr Netanyahu called his wife a "true hero", who had been treated like a "punching bag".
But the 69-year-old is currently in the midst of his own scandal after Israel's attorney general said in February that he planned to file charges of bribery, fraud and breach of trust against the prime minister.
A pre-trial hearing is scheduled for October, just weeks after the upcoming general election.