Rapper and LGBT activist Kevin Fret has been shot dead in Puerto Rico.
The 24-year-old musician, known as Latin trap music's first openly gay artist who has been credited with "transforming the genre", was killed in the country's capital San Juan on Thursday, according to police.
Fret was shot eight times while riding his motorbike in the street at around 5.30am, according to local media.
Fret's manager, Eduardo Rodriguez, confirmed the artist's death and described the rapper as "an artistic soul".
He said: "Kevin was an artistic soul, a big-hearted dreamer. His passion was music, and still had a lot to do.
"This violence must stop. There are no words that describe the feeling we have and the pain that causes us to know that a person with so many dreams has to go.
Kevin Fret was known not only for his music style but also image- who was breaking gender norms in #PuertoRico and stigma about being gay, gender nonconforming, and expressing gender identity freely – in a country where gay people still get mocked, bullied and killed. pic.twitter.com/SQQxePu9vv

— Samy Nemir Olivares (@Samynemir) January 10, 2019
"We must all unite in these difficult times, and ask for much peace for our beloved Puerto Rico."
Fret gained acclaim for his single Soy Asi, which has more than 600,000 views on YouTube,
His death brings the number of murders in Puerto Rico this year to 22, police said.
Fret, who spent time living in Miami, told magazine Paper last year: "I'm a person that doesn't care what anybody has to say… [I see] young gay guys or young lesbians that are looking at me now like a role model, like wow, if he did it, and he don't care what anybody else has to say, I can do it."
The magazine described his music as "transcending the machismo and transforming the genre".
Singapore records its largest ever haul of smuggled ivory | World News
Elephant ivory weighing 8.8 tonnes has been seized in Singapore, with authorities saying the haul is the biggest ever in the city-state's history.
The elephant tusks were discovered in a Vietnam-bound container from the Democratic Republic of Congo. Also in the illegal cargo were scales from the giant pangolin.
This is the third major seizure of pangolin scales in Singapore in 2019. Altogether, the haul was valued at $48.6m (£39.1m).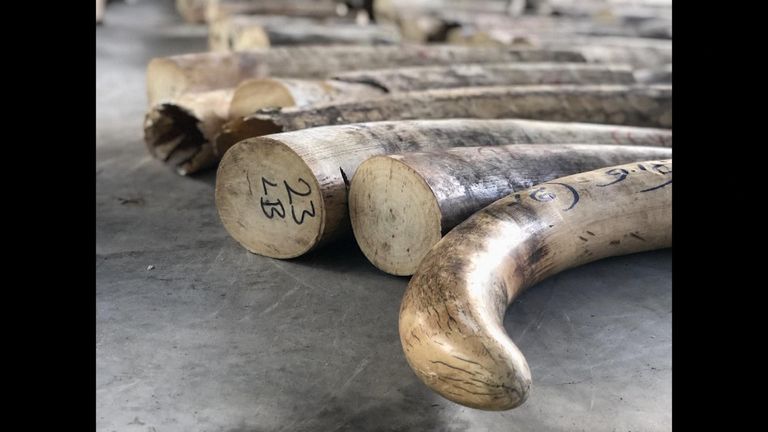 The haul of ivory came from an estimated 300 elephants, with almost 2,000 giant pangolins believed to have been killed for the 11.9 tonnes of scales found in the raid.
The haul falls just short of the 9.1 tonnes of ivory seized in Vietnam back in March, which the Environmental Investigation Agency said was the largest ever haul in the world.
"The seized pangolin scales and elephant ivory will be destroyed to prevent them from re-entering the market," the Singapore Customs, Immigration and Checkpoints Authority and the National Parks Board confirmed.
Authorities in Singapore said China's General Administration of Customs had shared the information about the illegal haul.
"The Singapore government adopts a zero-tolerance stance on the use of Singapore as a conduit to smuggle endangered species and their parts and derivatives," they told local media.
"Our agencies will continue to collaborate and maintain vigilance to tackle the illegal wildlife trade."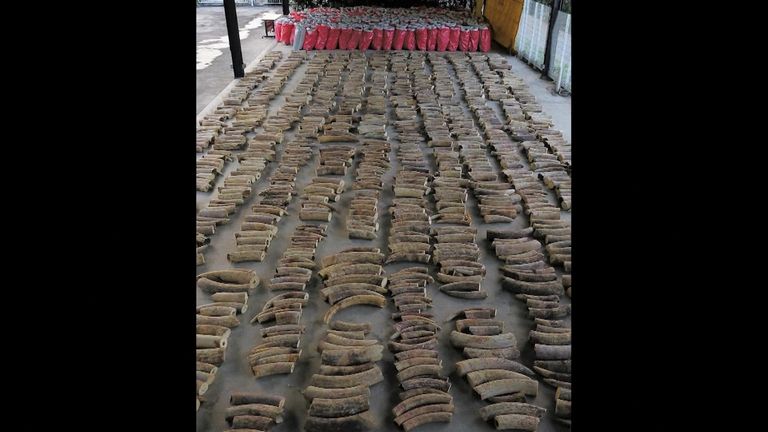 A flurry of seizures of illegal animal products, including rhino horns, have taken place across East Asia in recent months, including in Singapore, Hong Kong, and Vietnam.
Singapore is a part of the Convention on International Trade in Endangered Species of Wild Fauna and Flora (CITES), which banned the trade of ivory globally in 1989.
Even so, the charity Save The Elephants estimates that 100,000 elephants were killed for their ivory between 2010 and 2012 alone.
The pangolin, meanwhile, is the world's most trafficked mammal and is critically endangered.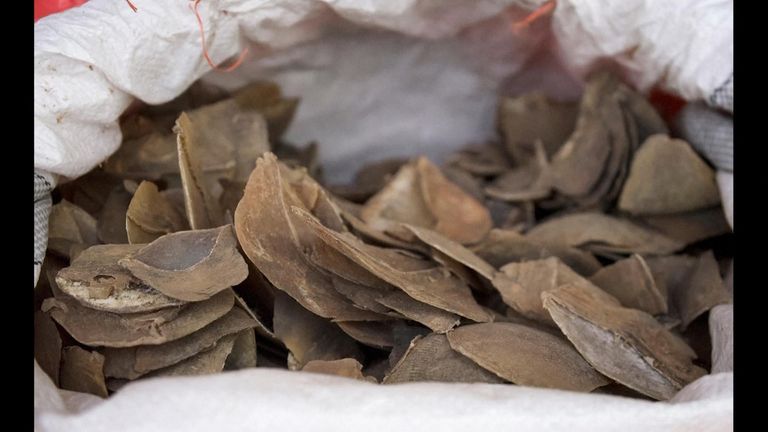 The meat of the pangolin is considered a delicacy in some countries, while others believe their scales are able to cure diseases.
However, this has never been proven. The scales of the pangolin are made of keratin, the same material that the human body uses to make hair and fingernails.
Elephant ivory is coveted as it can be made into items such as jewellery and ornaments. The tusks are also occasionally used in traditional Chinese medicine.
Under law in Singapore, the penalty for the illegal import, export and re-export of wildlife is a fine of up to $500,000 SGD (£295,000). Those found guilty also can face two years in prison.
Li Peng: Chinese premier who ordered Tiananmen Square crackdown dies | World News
The Chinese premier who ordered a bloody crackdown in Tiananmen Square to counter pro-democracy protests has died.
Li Peng died at the age of 90 on Monday of an unspecified illness.
While he leaves behind a legacy of long-term economic growth, he is best known for his role in the demonstrations that spawned the enduring image of a protester blocking the path of three tanks.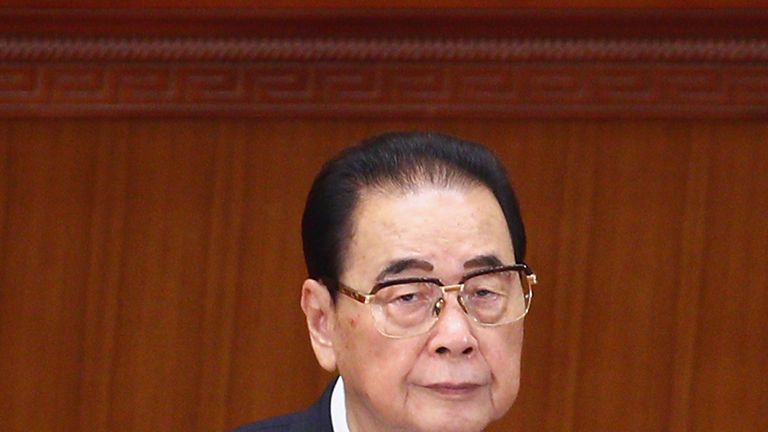 Hundreds of thousands of people gathered in the centre of Beijing for a series of protests during the spring and summer of 1989, which were brought to an end in hostile fashion by the military.
Mr Li was broadly disliked by the population as a result of what happened and became known as the "Butcher of Beijing", but still spent another 13 years at the pinnacle of power before retiring in 2002.
During that period he helped China rise in diplomatic and economic might, a development he proudly celebrated in public statements that were often defiantly nationalistic.
In a 1995 speech to mark the anniversary of the 1949 revolution that brought the ruling Communist Party to power, he celebrated how the country had rid itself from "imperialist bullying, humiliation and oppression".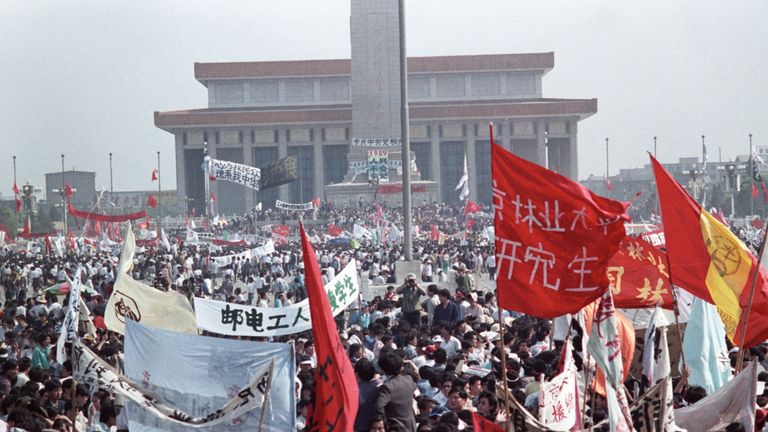 He had risen to power as a result of what happened at Tiananmen Square, with pro-reform party leader Zhao Ziyang being toppled for sympathising with the student protesters.
Mr Li, who had become acting premier in November 1987, told student leaders during a confrontational meeting that the situation "will not develop as you wish and expect".
The next night, he went on national television to announce martial law in the capital "to end the turmoil" – and hundreds of people were killed by troops when they invaded on 3 June.
In a lengthy eulogy read by the state broadcaster CCTV to mark his death, the current regime honoured the "resolute measures" he took to quell the protests.
But it was not just Tiananmen that made him unpopular with some.
He spent his final years in power pushing through approval for the multi-billion pound Three Gorges Dam on the Yangtze River, which forced 1.3 million people to leave homes that were swallowed up by its enormous reservoir.
He eventually stepped down as premier in 1998 to become chairman of the Chinese parliament, before retiring.
Mr Li rarely appeared in public in his later years, usually seen only at official gatherings aimed at displaying unity.
Unhatched birds can warn other eggs in nest of danger by vibrating | Science & Tech News

Unhatched baby seabirds can warn each other of impending danger by vibrating within their shells, scientists have discovered.
A study of yellow-legged gull embryos, found they reacted to warning calls from a parent and even passed on the message to siblings who had not heard the call.
The researchers collected gull eggs and divided them into groups of three.
A week before hatching, two of the three eggs in each nest were temporarily removed and exposed to a recording of a predator alarm call.
The noise was delivered four times a day at random intervals for three minutes at a time until hatching.
The third egg from each group remained in the nest in silence.
All three eggs were then reunited and left to hatch.
It was found the embryos responded to the external alarm calls by vibrating more.
This information appeared to be passed on to the third egg which had not been directly exposed to the sounds and it then mimicked the vibrations.
Experts from the Animal Ecology Group at the University of Vigo in Spain discovered all the chicks underwent genetic changes that delayed hatch time.
There was also evidence of increased production of stress hormones which is known to make birds more aware of their surroundings after hatching.
The findings were published in the journal, Nature Ecology and Evolution.