A primary school teacher has been suspended in South Africa after being accused of racially segregating the black and white children in her class.
The teacher posted an image of the four to five-year-olds on their first day at Laerskool Schweizer-Reneke on the school's private Whatsapp group to show parents how they were settling in.
It showed all the white pupils sitting around one table and the black students around another.
The image went viral after it was shared by a parent on social media and provoked a protests outside the school on Thursday.
Some white parents came to remove their children from the school, according to local media reports.
The mother of one of the four black pupils in the photo told South African news website TimesLIVE: "This was meant to be an exciting day for me but it's not."
She said she discussed the image with another parent who contacted the school about the seating arrangements in the classroom.
"We saw the photo and we were also angered by what we saw," Jozeph du Plessis, chairman of the school's governors, told the eNCA television channel.
"The kids were quite unsettled – you must realise they were five years old on their first day at school – and she grouped them in a way she thought would settle them quickly and comfort them.
"There was no intent of racism or segregation from the teacher's side.
"We are investigating – perhaps it could be a language issue, perhaps those kids are not speaking Afrikaans, but I can't speculate."
Sello Lehari, education chief for the North West province, visited the school and confirmed the teacher had been suspended and the matter was being investigated.
According to the parent who spoke to TimesLIVE, a second image later emerged showing two of the white pupils sitting at the table previously occupied by the black pupils – two of whom had also been moved to sit with the rest of the class.
Oil tanker hit by 'torpedo' in the Gulf of Oman | World News

A "torpedo" may have been used in an attack on two oil tankers in the Gulf of Oman.
One of the vessels – Front Altair – is "suspected of being hit by a torpedo", Taiwan's state oil refiner, CPC Corp, said.
It was carrying 75,000 tonnes of a petrochemical feedstock called naphtha when it was attacked at 5am, UK time, the company added.
Wu I-Fang, CPC's petrochemical division CEO, said all crew had been rescued.
The other tanker – Kokuka Courageous – sustained damage to its starboard hull, the vessel's management said.
The US navy is providing assistance, saying it was "aware of the reported attack" and had received "two separate distress calls" earlier this morning.
All major Gulf stock markets dropped following the news.
More follows…
Telegram cyber attack timed to coincide with Hong Kong protests | World News
Messaging platform Telegram has said it was hit by a powerful cyberattack that coincided with protests in Hong Kong.
Hundreds of thousands have taken to the streets of the Chinese-ruled city in recent days to protest against an extradition bill that would allow people to be sent to the mainland to stand trial.
Activists in both Hong Kong and mainland China, where Telegram is blocked, frequently use the messaging system to organise protests in the hope of evading government surveillance.
Telegram CEO Pavel Durov tweeted that the attack – which was aimed at disrupting the service rather than an attempt to steal user data – came from mostly Chinese IP addresses.
"Historically, all state actor-sized [attacks] we experienced coincided in time with protests in Hong Kong [coordinated on @telegram]. This case was not an exception."
Telegram detailed the attack in a thread on Twitter, explaining: "We're currently experiencing a powerful DDoS attack. Telegram users in the Americas and some users from other countries may experience connection issues.
"A DDoS is a 'Distributed Denial Of Service attack': your servers get GADZILLIONS of garbage requests which stop them from processing legitimate requests. Imagine that an army of lemmings just jumped the queue at McDonald's in front of you – and each is ordering a Whopper.
"The server is busy telling the Whopper lemmings they came to the wrong place but there are so many of them that the server can't even see you to try and take your order.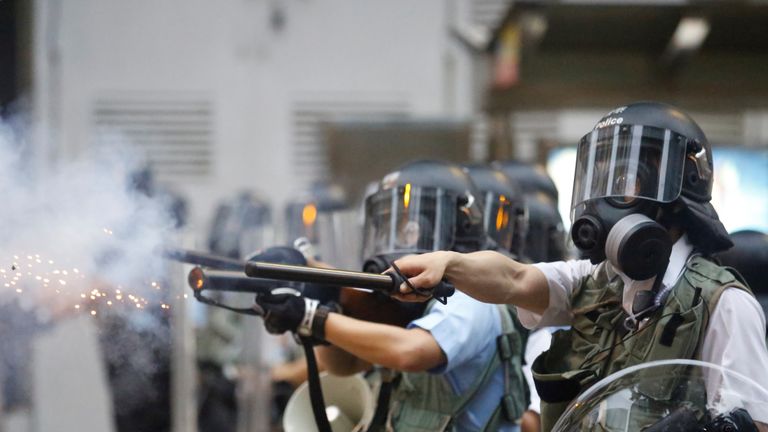 "To generate these garbage requests, bad guys use 'botnets' made up of computers of unsuspecting users which were infected with malware at some point in the past. This makes a DDoS similar to the zombie apocalypse: one of the Whopper lemmings just might be your grandpa.
"There's a bright side: All of these lemmings are there just to overload the servers with extra work – they can't take away your BigMac and coke. Your data is safe."
The messaging app, which offers end-to-end encryption through its so-called secret chats, has over 200 million users.
Trial date announced for Saudi prince's sister over beating of a workman | World News

The sister of Saudi Arabia's crown prince will face trial next month, accused of ordering her bodyguard to beat up a workman.
Princess Hassa bint Salman is expected to be absent from the trial which is to take place in Paris on 9 July, according to a legal source quoted by news agency AFP.
The victim had been hired to refurbish the princess's apartment in an ultra-expensive part of the French capital in September 2016.
When he took a photograph of a room where the work was to be done, the princess accused him of wanting to sell it to the media.
Then she allegedly ordered her bodyguard to assault him, shouting: "Kill him, the dog, he doesn't deserve to live".
The workman said he was punched in the face and his hands were tied before he was forced to kiss her feet.
He was allowed to leave the apartment hours later but his tools were allegedly confiscated and he was off work for eight days.
The bodyguard was charged in 2016 with armed violence, theft, issuing death threats and holding someone against their will.
But Princess Hassa fled France and a warrant was issued for her arrest in December 2017.
She has not been apprehended.
The princess is the sister of Saudi Arabia's Crown Prince Mohammed bin Salman.
Said to be aged in her 40s, she has been praised by Saudi media for her work in charity and women's rights.