A diet rich in fibre found in bread, pasta, wholegrain cereals and potatoes could cut the risk of early death by up to a third, a study suggests.

Source link
Mohammed Morsi: Former Egyptian president buried after collapse and death in court | World News
Ousted Egyptian president Mohammed Morsi has been quietly buried under heavy security in Cairo after his collapse and death in court, a lawyer said.
Mr Morsi's family attended funeral prayers in the mosque of Cairo's Tora prison before the burial at a cemetery in the city's western district of Nasr City, said Abdul-Moneim Abdel-Maqsoud, a member of his defence team.
Security agencies refused to allow Mr Morsi to be buried at the family's cemetery in his hometown in Sharqia province, his son Ahmed said.
The 67-year-old, who was on trial for espionage charges, had addressed the room just minutes before fainting.
Speaking from the glass defendants cage, he told the court of the "many secrets" he harboured and could reveal.
State television later quoted an unnamed medical source as saying he had suffered a heart attack.
The hearing at the courthouse in Cairo's Tura Prison on Monday was part of a re-trial for espionage charges relating to the Palestinian Hamas militant group.
A lawyer representing Mr Morsi said his client was "calm and organised" ahead of the hearing.
He said: "He summarised our argument in three to five minutes. He insisted on a special tribunal as he is the president of the republic."
A statement from Egypt's attorney general said surveillance cameras inside the court would be reviewed, and a post-mortem would be carried out.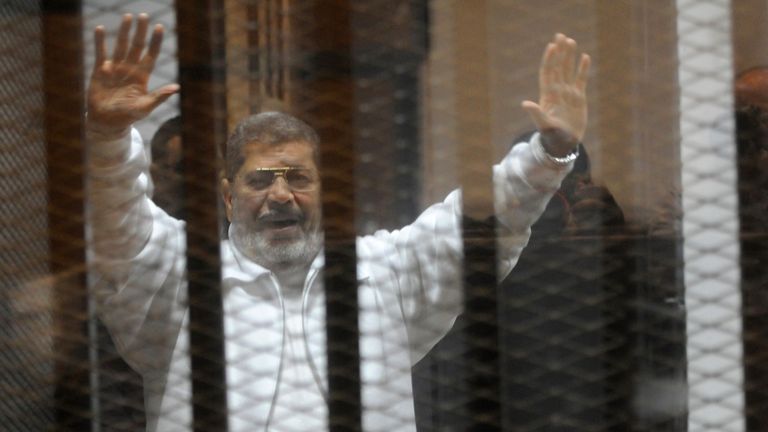 Mr Morsi gained prominence as the leader of the now-banned Muslim Brotherhood group, before becoming Egypt's first democratically elected president in July 2012.
He was ousted just a year later in a military coup led by Abdel Fattah Al-Sisi, who is Egypt's current president, following weeks of huge anti-government protests across the North African nation.
The well-being of the former president, who has been detained since the coup, has repeatedly featured in the headlines.
His son Ahmed has previously spoken to media about the "severe deterioration" of his father's health in prison, and said authorities had "ignored" his needs.
Mohammed Sudan, a member of the London branch of the Muslim Brotherhood group, said Mr Morsi's death amounted to "premeditated murder".
He said: "He has been placed behind glass cage [during trials].
"No one can hear him or know what is happening to him. He hasn't received any visits for a months or nearly a year. He complained before that he doesn't get his medicine. This is premeditated murder. This is slow death."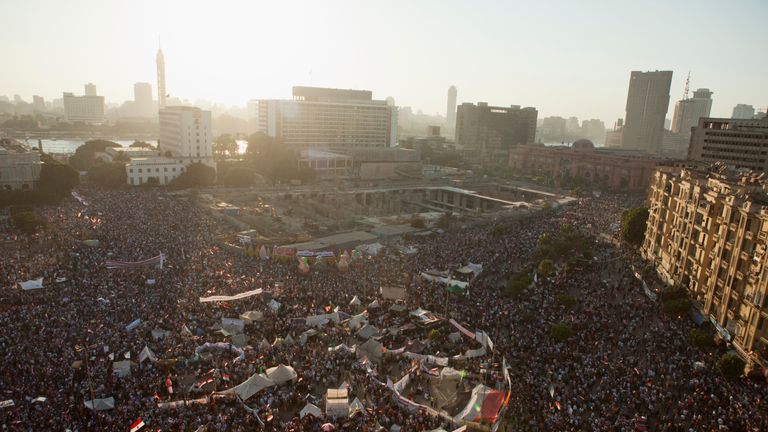 Meanwhile, Human Rights Watch said the incident was "predictable" given authorities' "failure" to provide necessary care.
The organisation pointed to a report that it had written two years earlier, which described the "cruel and inhumane" treatment Mr Morsi had received in detention.
It detailed "appalling conditions" that led to him losing weight, fainting, and experiencing a diabetic coma.
In a tweet on Monday, Amnesty International called for an investigation surrounding Mr Morsi's sudden death, and the conditions he had faced in prison.
It said: "We call on Egyptian authorities to conduct an impartial, thorough and transparent investigation into the circumstances of Morsi's death, including his solitary confinement and isolation from the outside world."
As news broke of the death, condolence messages from Mr Morsi's allies around the Arab world were quickly published.
Turkish President Recep Tayyip Erdogan said Mr Morsi was a "brother" and a "martyr", and sent his best wishes to the Muslim Brotherhood and the Egyptian population.
Qatar's Emir, Sheikh Tamim bin Hamad al-Thani, also tweeted his condolences to Mr Morsi's family and "brotherly Egyptian people".
In a statement, Hamas praised the Egyptian as an "unforgettable and brave" leader, and referred to Mr Morsi's role in easing restrictions placed on the Gaza Strip, which were initially put in place after the militant group took control in 2007.
Chanchal Lahiri: Indian stuntman found dead after magic trick in River Ganges goes wrong | World News
The body of an Indian magician who drowned when his Houdini-like escape stunt went wrong has been recovered from the River Ganges.
Chanchal Lahiri, also known as Jadugar Mandrake, was tied up with ropes and steel chains for a magic trick and was lowered into the river on Sunday while his friends and family watched from the river bank.
Rescue services launched a frantic search for the stuntman after he failed to reappear.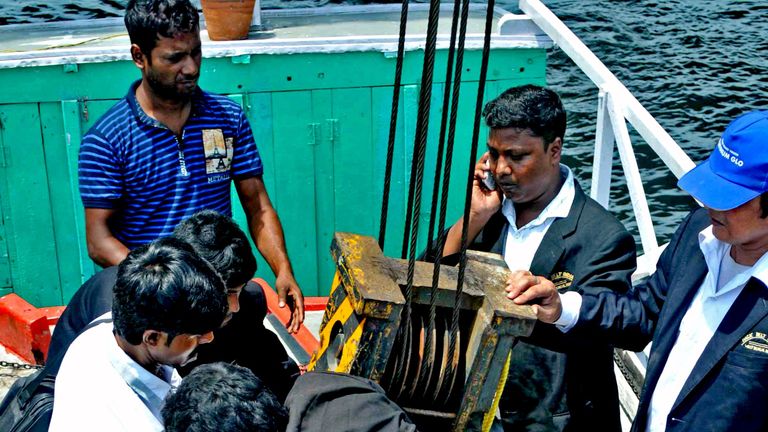 The magician's body was discovered on Monday night, according to Syed Waquar Raza, deputy commissioner of the port division of Kolkata police.
Before being lowered into the river, the 40-year-old magician reportedly told the crowd: "If I can open it up, then it will be magic, but if I can't, it will be tragic".
The Indian escape artist performed a similar act 21 years ago by locking himself inside a bulletproof box while he was tied with chains and locks.
He was dropped down from a bridge into the same river and managed to escape in 29 seconds, according to reports.
Hong Kong leader 'sorry' and 'should have done better' after mass protests | World News
Hong Kong's leader has given her "sincere apology" following mass protests against a controversial extradition law proposal, but has not said she will scrap the bill.
Carrie Lam had been facing calls to abandon the plans and to resign but failed to do either in a news conference on Tuesday.
However, Ms Lam said the bill won't be brought back in the current climate, given public outrage on the matter.
The bill would allow China to extradite Hong Kong residents to the mainland for political trials.
Over the past few weeks, hundreds of thousands of people have marched in Hong Kong over the bill, with many being met by potentially lethal force in police clashes.
Ms Lam reiterated there was no timetable to resume the extradition bill and it would not be resumed if the government could not resolve divisions, saying she would not proceed again with the bill if fear can not be adequately addressed.
She said she had "come to understand that I should have done better," adding that she must "do more to balance the different views".
The courts in China are strictly controlled by the Communist Party, and many say the latest bill is yet another example of the country meddling.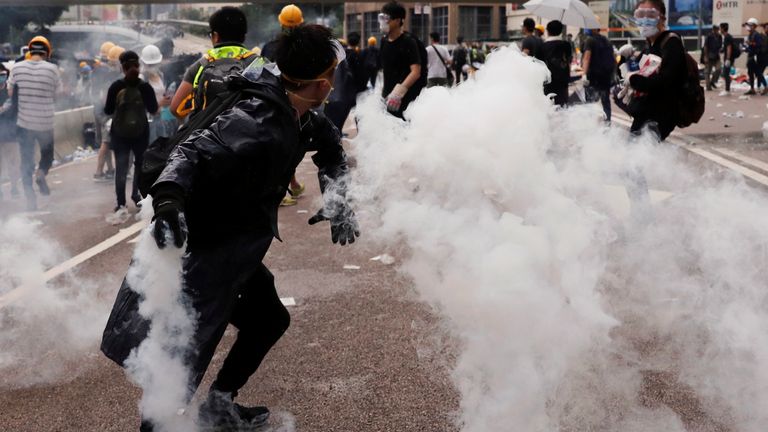 Critics say the bill would undermine Hong Kong's rule of law, guaranteed by the "one country, two systems" formula, under which Hong Kong returned to China, by extending China's reach into the city.
They say it would allow individuals to be arbitrarily sent back to China where they couldn't be guaranteed a fair trial.
Many protest organisers say they will continue to hold street demonstrations until Ms Lam scraps the bill, fearing that authorities may seek to revive the legislation in future when the public mood is calmer.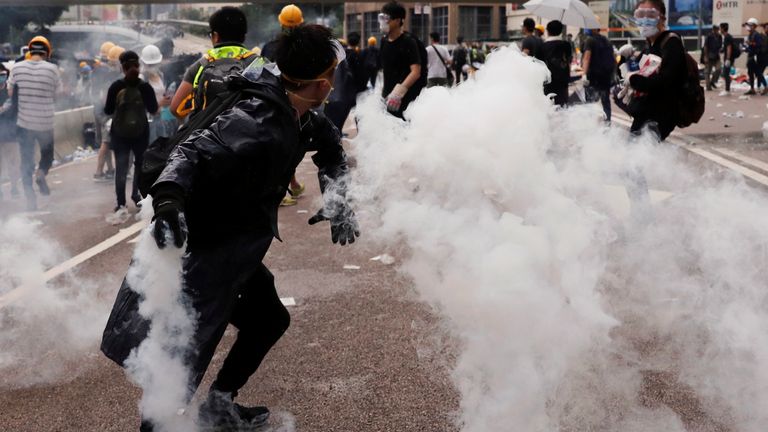 An estimated two million people marched on Sunday.
The recent clashes are the most violent that Hong Kong has seen in more than 20 years.
In a televised address to the nation during the height of the protests, Ms Lam said she was saddened by the riots and condemned the violence: "We can all have different opinions but there have to be limits on how they are expressed.
"If people think violence is the solution, then things will only get worse. It will harm Hong Kong."