One woman brought a sledgehammer to the protest. Her message was about breaking down walls but, still, it was a striking image of the belligerence of political debate in America.
Along both sides of the road outside McAllen International Airport, supporters and opponents of Donald Trump's wall spent hours shouting at each other.
In Texas, as in Washington, there is no sign of anyone backing down or giving ground in a dispute that means the US government remains partially shut down.
McAllen is the part of the US border which sees most illegal crossings. It was also ground zero of the family separation scandal last summer.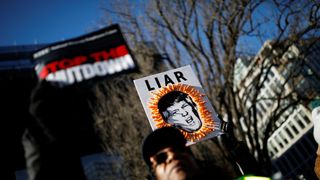 It made for the perfect photo opportunity for a president trying to sell his wall as a reality rather than just a campaign promise.
McAllen is a heavily Latino city, separated by the border from its age-old twin town of Reynosa, and the presence of a significant "Latinos for Trump" crowd was notable.
"They have fallen for his lies," said one anti-Trump protester.
"They like the tax cuts because they are small business owners, I get that, but look at what he has said about us."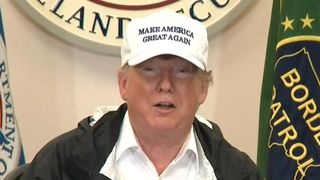 The freshly unpacked Make America Great hats and Trump banners vied for prominence with a rash of homemade signs with the blunt, sometimes profane, message that the president was not welcome.
Those opponents will tell you that crime is low here, a sign that the wall is a waste of money. It would be better spent, they say, on improving security at legal points of entry.
They say that is where the smugglers of drugs, guns and people are doing their business – and the statistics back them up.
In a surreal scene at a border station, the president was surrounded by weapons and bags of cash and narcotics in an effort to prove his point.
He promised those there that he would "win" on getting the wall.
But his decision to cancel his trip to the World Economic Forum in Davos, 12 days before he is due to depart, suggests he doesn't expect a speedy solution to the shutdown.
Giving in on the wall now, he clearly believes, would betray those who voted for him and be a sign of weakness.
But with Democrats now in control of House of Representatives in Congress, the chances of advancing his agenda have taken a big knock.
For that reason, it is now or never for him to get funding for his wall.
There are equally determined voices who want to make sure it is never.
Tearful Jon Stewart finds congress 'empty' during 9/11 victims' fund talks | US News
US comedian and broadcaster Jon Stewart has attacked a "near-empty" congress after members failed to show up to a hearing on renewing funding for the healthcare of 9/11 first responders.
The former Daily Show host was testifying before the judiciary committee's subcommittee about securing more money to help care for members of the emergency services who became ill after responding to the attacks.
But most of the panel's 14 members failed to show up.
"Sick and dying, they brought themselves down here to speak and no one," Stewart said.
"Shameful, it's an embarrassment to the country and a stain on this institution. You should be ashamed of yourselves for those who aren't here but you won't be because accountability doesn't appear to be something that occurs in this chamber."
Becoming tearful, he continued: "Where are they? It would be one thing if their callous indifference and rank hypocrisy was benign, but it's not.
"Their indifference cost these men and women their most valuable commodity, time, the one thing they're running out of."
Retired NYPD bomb squad detective, Luis Alvarez, was part of the attack response team.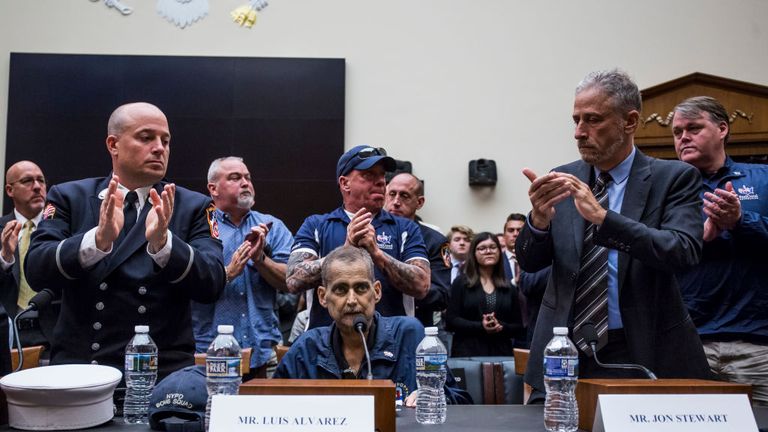 He told the hearing: "Less than 24 hours from now, I will be serving my 69th round of chemotherapy… I should not be here with you. But you made me come. You made me come because I will not stand by and watch as my friends with cancer from 9/11 like me are valued less than anyone else."
Other emergency service members sat behind Mr Alvarez wiping away tears.
He continued: "We were there with one mission and we left after completing that mission. I have been to many places in this world and done many things. But I can tell you that I did not want to be anywhere else than Ground Zero when I was there.
"I have been lucky enough to have had 68 rounds of chemo. You heard me right. 68 rounds. Many others haven't had the opportunity to have five. Some have had none.
"It is my goal and it is my legacy to see that you do the right thing for all 9/11 responders.
"You all said you would never forget – well I'm here to make sure that you don't."
The fund, originally approved for five years in 2010, provides medical treatment for those who require ongoing care due to inhaling toxic dust in the days following the attack.
Republicans were unhappy with the cost of the original legislation and as a compromise at the time, Democrats agreed to authorise the fund for five years and cover the cost with an excise tax, with a re-evaluation every five years.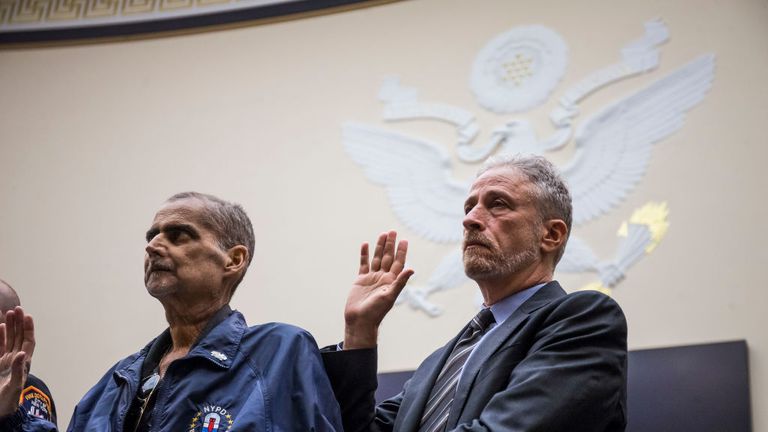 Stewart criticised congress for continuing to require the fund be renewed every five years – pointing to the panel's top Republican, Mike Johnson, for saying that congress has to balance other emergencies as well.
"I'm pretty sure what's going to happen five years from now, more of these men and women are going to get sick and they are going to die and I am awfully tired of hearing that it's a 9/11 New York issue," Stewart said, adding: "Al Qaeda didn't shout death to Tribeca."
More than 40,000 people have applied to the Victim Compensation Fund, which covers illnesses potentially related to being at the World Trade Center site, the Pentagon or Shanksville, Pennsylvania, after the attacks.
More than $5bn in benefits have been awarded out of the $7.4bn fund, with about 21,000 claims pending.
Stewart criticised the fact that nearly 18 years after the attacks, first responders and their families still have no assurance the fund will not run out of money.
Artists challenge Facebook's fake video policy with Mark Zuckerberg speech | Science & Tech News

Artists are challenging Facebook's policy of refusing to take down videos which have been manipulated to misrepresent their subjects by creating one about Mark Zuckerberg.
The stunt follows criticism of Facebook for refusing to remove a video of US Democratic politician Nancy Pelosi, a prominent critic of President Donald Trump, which had been slowed down to make her appear inebriated.
Artists Bill Posters and Daniel Howe, working with an advertising company, created the video featuring Facebook's founder and chief executive giving a speech about his desire to control the world's data.
The so-called "deepfake" speech features the Facebook founder appearing to revel in knowing social media users' "secrets" before thanking the artists behind the clip.
"Imagine this for a second: One man, with total control of billions of people's stolen data," Mr Zuckerberg appears to say.
"All their secrets, their lives, their futures. I owe it all to Spectre. Spectre showed me that whoever controls the data, controls the future."
As in many manipulated videos which use artificial intelligence software to manipulate the frames of an existing video to change someone's appearance, there are strange movements around Mr Zuckerberg's mouth which give the game away.
Journalists who check the origin of such footage can see that it is a doctored version of a speech which Mr Zuckerberg gave in September 2017, fittingly about manipulation on Facebook during the US presidential election.
The video was created, alongside others featuring Kim Kardashian and Donald Trump, by advertising company CannyAI's video dialogue replacement (VDR) technology for an exhibition in Sheffield.
Although it is possible to detect the VDR technology in the clip of Mark Zuckerberg, the Kim Kardashian clip is exceptionally convincing.
The sophistication of the technology is expected to improve with time which has prompted concerns that it will be used to spread fake news and disinformation.
At the time Ms Pelosi's altered video was spreading online – amplified by a tweet from Donald Trump – critics noted that Facebook was alone among social media companies refusing to take it down.
Instead the company merely de-prioritised it so that it did not appear high in users' news feeds, and was presented alongside information from third-party fact checkers.
Currently no such information appears alongside the Mark Zuckerberg video, but it may be coming if the video gains traction.
A spokesperson for Instagram told Sky News they would not be removing the video.
They said: "We will treat this content the same way we treat all misinformation on Instagram. If third-party fact-checkers mark it as false, we will filter it from Instagram's recommendation surfaces like Explore and hashtag pages."
Beijing's surveillance apparatus pushing Hong Kong protesters analogue | Science & Tech News
The Chinese government's surveillance apparatus is driving protesters away from digital technologies while police activity ramps up in Hong Kong.
An estimated million demonstrators have gathered in recent days to peacefully protest against an extradition bill which they fear Beijing would use to attack political opponents.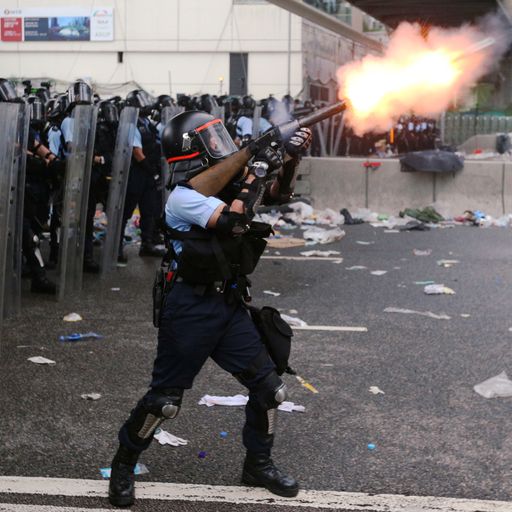 Panic spreads as riot officers fire tear gas
Officers warn they "will use force" as tens of thousands of demonstrators gather outside government buildings
The protests are the largest in Hong Kong since the former British colony's handover to China in 1997 and turned violent on Wednesday as police used tear gas and rubber bullets on the crowds.
Journalist Mary Hui, of business news website Quartz, tweeted an image of long queues at train ticketing machines to buy paper tickets rather than use their smart cards.
Ms Hui reported that the demonstrators were attempting to avoid leaving digital records through the metro system, which Beijing could use to accuse them of attending the protests.
There is usually never a line at the train ticketing machines. Judging from an overheard convo, it appears that people are reluctant to use their rechargeable Octopus cards for fear of leaving a paper trail of them having been present at the protest. pic.twitter.com/s1rsgSnCqL

— Mary Hui (@maryhui) June 12, 2019
One 18-year-old protester who spoke to Sky News, only giving her name as Jacky, said: "We're young but we know that if we don't stand up for our rights, we might lose them."
Some demonstrators are reluctant to be identified by their full names and professions, with many wearing surgical masks over fears of being identified from images of their faces.
They appear particularly mindful of Beijing's growing use of facial recognition technology to build files on those it considers politically unreliable.
One of the most pervasive forms of surveillance which the Chinese government utilises is through social media and apps, notably WeChat – one of the largest social networks in the world.
Individuals who have been detected referencing censored topics on WeChat are forced to provide their facial image to the app in order to reactivate their accounts after the suspensions.
Among the most censored of topics in China is the anniversary of the Tiananman Square protests in which the Chinese army fired on unarmed student protesters.
Despite the protests in Hong Kong, which do not yet appear to have turned fatal, the region's chief executive, Carrie Lam, has vowed to press ahead with the legislation.
Ms Lam has insisted that extradition cases would be decided by Hong Kong courts and that, without the changes, Hong Kong could become a haven for criminals evading justice.
Many in Hong Kong fear that residents sent to China could face ambiguous national security charges and would not be given a fair trial.
They note that courts on the mainland are controlled by the Communist Party and have been accused of using torture, arbitrary detentions and forced confessions.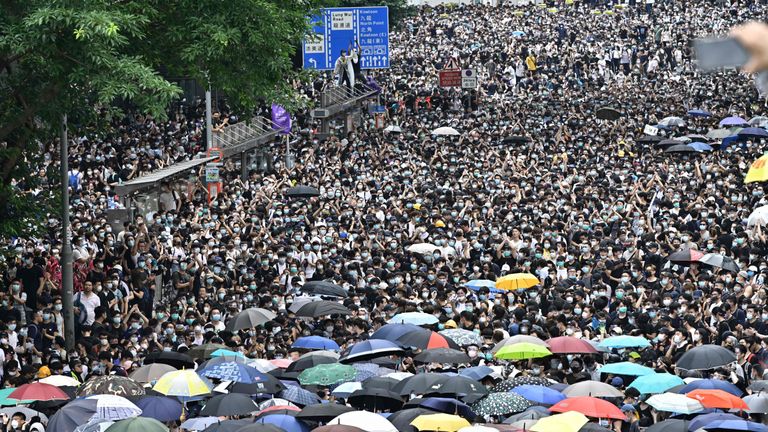 Ronny Tong Ka-wah, a lawyer and member of Ms Lam's administration advisory committee, warned that Beijing's patience for Hong Kong was limited.
He said: "We need to gain the trust and confidence of Beijing so they can allow us the freedom of political reform.
"They don't want to see Hong Kong as a base of subversion. And I'm sorry – we're doing exactly that."
The legislature's president, Andrew Leung, has scheduled a vote on the extradition law for 20 June, although it is not clear if this date will also be postponed.