Andy Murray has returned to the practice courts as he prepares for his final tournaments before retiring by the end of the season.
The former world number one reminded tennis colleagues of his constant professionalism as he hit some practice games with Bulgaria's Grigor Dimitrov in Melbourne.
Coach Jamie Delgado and his mother Judy watched the session.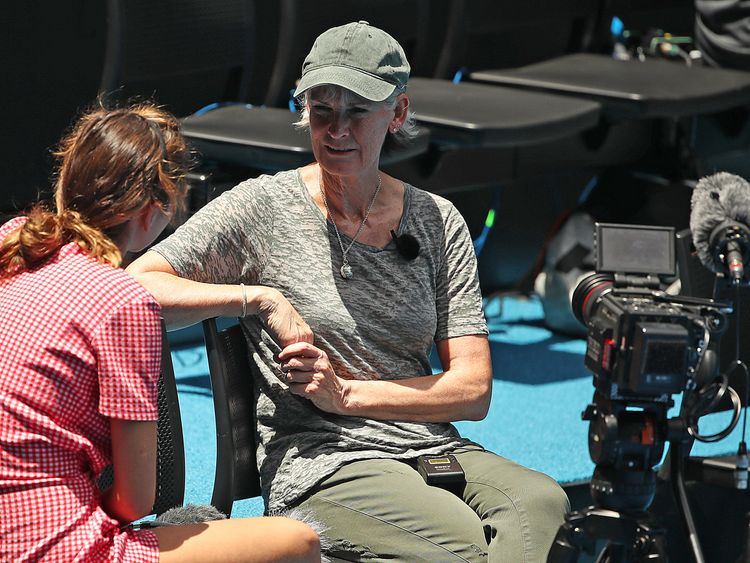 Murray's first-round match at the Australian Open will be against Roberto Bautista Agut on Monday on the tournament's second-biggest court.
Bautista Agut is known for his baseline style, which could test Murray's hip to its limit.
Although the Spaniard has never taken a set off Murray, he comes to Melbourne having beaten Novak Djokovic, taking his ninth ATP tour singles title in Doha.
Agut said: "Everybody knows Andy, everybody knows when he goes on court he gives every time 100%. I think Andy's going to fight as he did all his career. It's a great experience for me to play in one of his last grand slams against him so I want to enjoy the experience."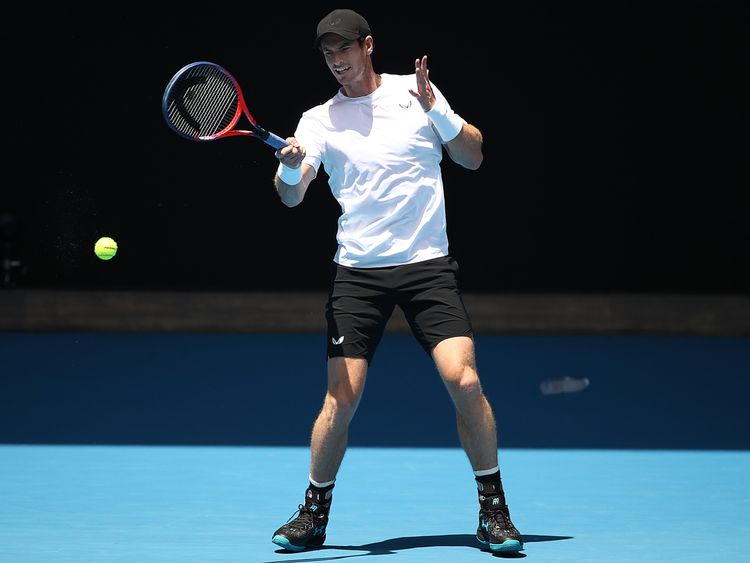 The tennis community was left shocked and saddened by Murray's announcement on Friday that he would be retiring after Wimbledon, if not before, after 20 months attempting to repair a severely damaged hip.
Despite surgery and months of rehabilitation, Murray still finds himself in pain, and said he told his team he needs an "end point" which will be this year's Wimbledon tournament.
Annabelle Croft told Sky Sports News: "Andy Murray as left an extraordinary legacy, he won Wimbledon twice, two Olympic gold medals, Davis Cup champion, he finished the year as world number one, 45 titles to his name and I think everyone will remember him as an utter Braveheart on the court.
"Never say die, he pushed any opposition to the absolute physical and mental possibilities and limit on the court.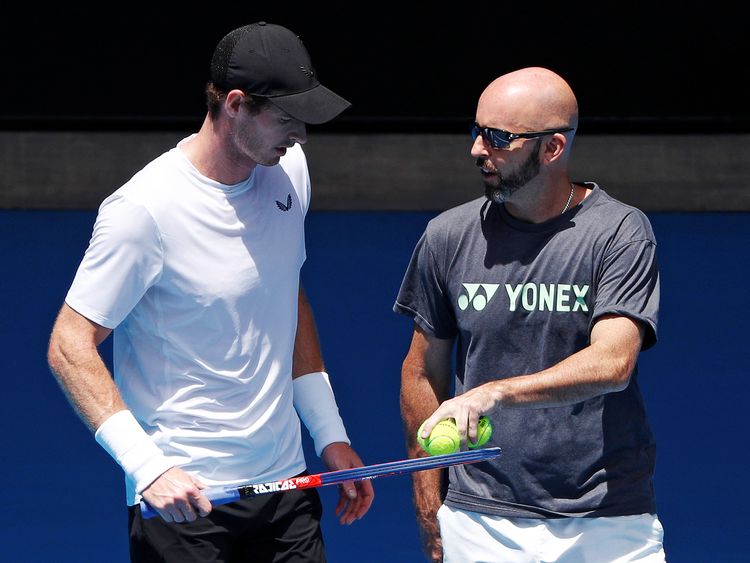 "Anyone who has seen Andy around the courts and the ground, will know even walking is painful, clearly that hip is giving him a lot of pain.
"I guess it's a surprise to get the announcement before the match, but he has laid his cards out on the table now, so there are very low expectations when he plays that match on Monday.
"I think he has been enjoying being a spokesman in the game and now he has a reputation as encouraging women into sport and into coaching. He's a strong character but I think he is not going to remain silent.
"There is a big adjustment when you retire, you are going into a whole new world. He has two young kids, I'm sure he will be doing the school run, getting their supper and helping with homework.
"But he has a management company, he represents athletes and we have seen him in the commentary box. He will see life doesn't revolve around playing professional tennis."
Despite a tearful news conference revealing the news on Friday, Murray posted a cheery snap on Instagram that evening, alongside his mother.
He captioned it: "Best way to feel better after a tough day is a big cuddle from your mum."
Although Ms Murray came under fire for her relationship with her boys, with Boris Becker once telling Murray to "cut the apron strings", she has remained their biggest tennis influence from the early days in Dunblane to the highs of winning Wimbledon.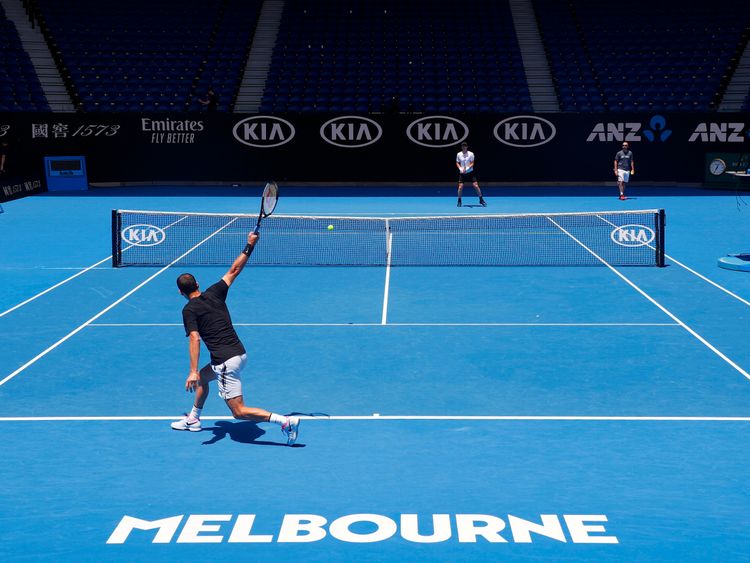 Tributes continued to come into the three time Grand Slam winner after the announcement.
Childhood friend Rafael Nadal said: "We shared court in the most important stadiums in the world, competing for the most important things. That's impossible to forget.
"He has a good fighting spirit. He have been a hard worker. Is not nice to finish like this because is great that you finish when you want to finish, not because of another thing.
"Overall, when he puts everything on the balance, will be that the positive things of the balance are much heavier than the negative things, even if in the end is not probably the way that he dreamed about. But you can't manage that."
Oil tanker hit by 'torpedo' in the Gulf of Oman | World News

A "torpedo" may have been used in an attack on two oil tankers in the Gulf of Oman.
One of the vessels – Front Altair – is "suspected of being hit by a torpedo", Taiwan's state oil refiner, CPC Corp, said.
It was carrying 75,000 tonnes of a petrochemical feedstock called naphtha when it was attacked at 5am, UK time, the company added.
Wu I-Fang, CPC's petrochemical division CEO, said all crew had been rescued.
The other tanker – Kokuka Courageous – sustained damage to its starboard hull, the vessel's management said.
The US navy is providing assistance, saying it was "aware of the reported attack" and had received "two separate distress calls" earlier this morning.
All major Gulf stock markets dropped following the news.
More follows…
Telegram cyber attack timed to coincide with Hong Kong protests | World News
Messaging platform Telegram has said it was hit by a powerful cyberattack that coincided with protests in Hong Kong.
Hundreds of thousands have taken to the streets of the Chinese-ruled city in recent days to protest against an extradition bill that would allow people to be sent to the mainland to stand trial.
Activists in both Hong Kong and mainland China, where Telegram is blocked, frequently use the messaging system to organise protests in the hope of evading government surveillance.
Telegram CEO Pavel Durov tweeted that the attack – which was aimed at disrupting the service rather than an attempt to steal user data – came from mostly Chinese IP addresses.
"Historically, all state actor-sized [attacks] we experienced coincided in time with protests in Hong Kong [coordinated on @telegram]. This case was not an exception."
Telegram detailed the attack in a thread on Twitter, explaining: "We're currently experiencing a powerful DDoS attack. Telegram users in the Americas and some users from other countries may experience connection issues.
"A DDoS is a 'Distributed Denial Of Service attack': your servers get GADZILLIONS of garbage requests which stop them from processing legitimate requests. Imagine that an army of lemmings just jumped the queue at McDonald's in front of you – and each is ordering a Whopper.
"The server is busy telling the Whopper lemmings they came to the wrong place but there are so many of them that the server can't even see you to try and take your order.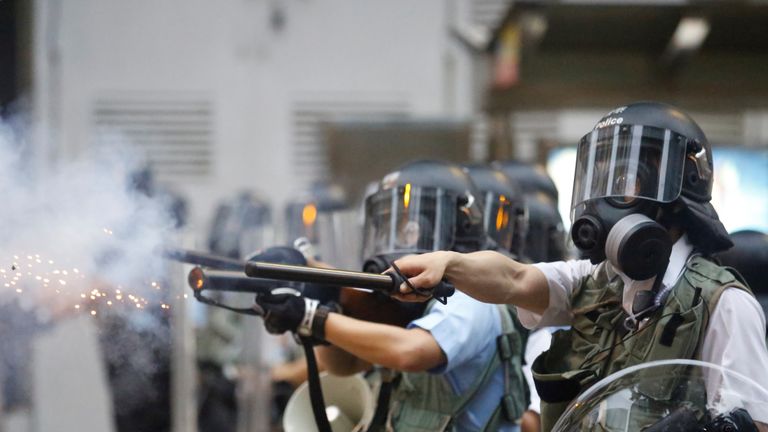 "To generate these garbage requests, bad guys use 'botnets' made up of computers of unsuspecting users which were infected with malware at some point in the past. This makes a DDoS similar to the zombie apocalypse: one of the Whopper lemmings just might be your grandpa.
"There's a bright side: All of these lemmings are there just to overload the servers with extra work – they can't take away your BigMac and coke. Your data is safe."
The messaging app, which offers end-to-end encryption through its so-called secret chats, has over 200 million users.
Trial date announced for Saudi prince's sister over beating of a workman | World News

The sister of Saudi Arabia's crown prince will face trial next month, accused of ordering her bodyguard to beat up a workman.
Princess Hassa bint Salman is expected to be absent from the trial which is to take place in Paris on 9 July, according to a legal source quoted by news agency AFP.
The victim had been hired to refurbish the princess's apartment in an ultra-expensive part of the French capital in September 2016.
When he took a photograph of a room where the work was to be done, the princess accused him of wanting to sell it to the media.
Then she allegedly ordered her bodyguard to assault him, shouting: "Kill him, the dog, he doesn't deserve to live".
The workman said he was punched in the face and his hands were tied before he was forced to kiss her feet.
He was allowed to leave the apartment hours later but his tools were allegedly confiscated and he was off work for eight days.
The bodyguard was charged in 2016 with armed violence, theft, issuing death threats and holding someone against their will.
But Princess Hassa fled France and a warrant was issued for her arrest in December 2017.
She has not been apprehended.
The princess is the sister of Saudi Arabia's Crown Prince Mohammed bin Salman.
Said to be aged in her 40s, she has been praised by Saudi media for her work in charity and women's rights.