Andy Murray has returned to the practice courts as he prepares for his final tournaments before retiring by the end of the season.
The former world number one reminded tennis colleagues of his constant professionalism as he hit some practice games with Bulgaria's Grigor Dimitrov in Melbourne.
Coach Jamie Delgado and his mother Judy watched the session.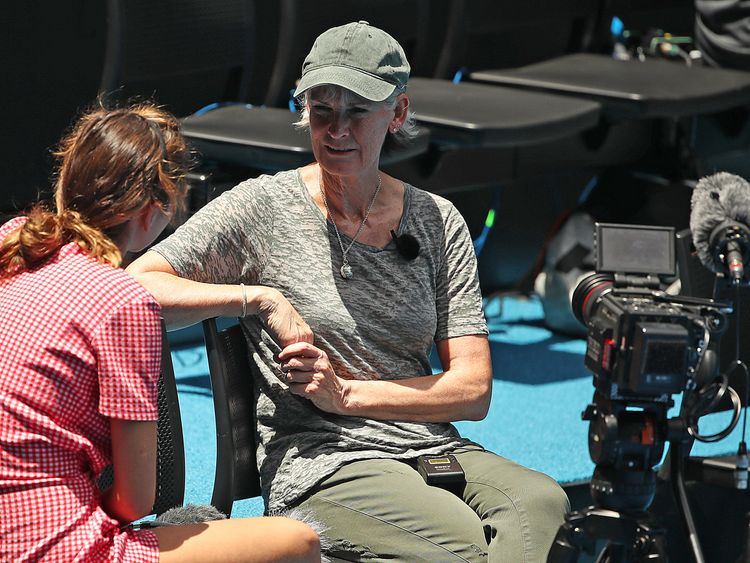 Murray's first-round match at the Australian Open will be against Roberto Bautista Agut on Monday on the tournament's second-biggest court.
Bautista Agut is known for his baseline style, which could test Murray's hip to its limit.
Although the Spaniard has never taken a set off Murray, he comes to Melbourne having beaten Novak Djokovic, taking his ninth ATP tour singles title in Doha.
Agut said: "Everybody knows Andy, everybody knows when he goes on court he gives every time 100%. I think Andy's going to fight as he did all his career. It's a great experience for me to play in one of his last grand slams against him so I want to enjoy the experience."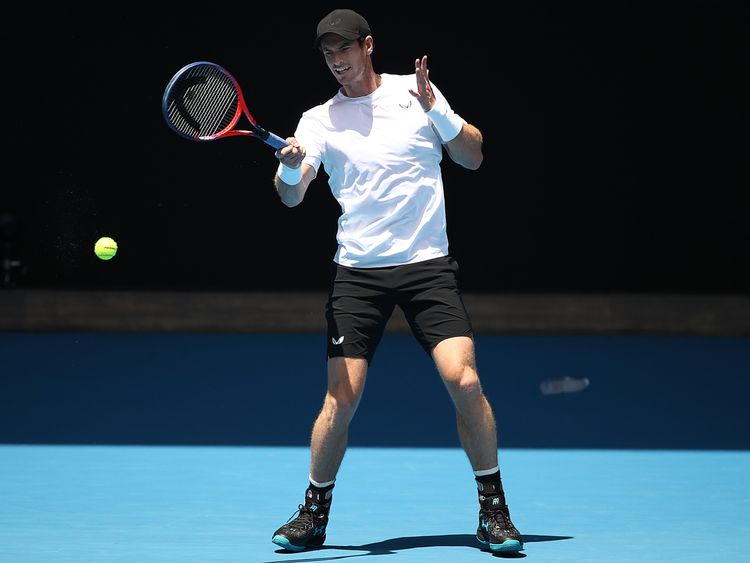 The tennis community was left shocked and saddened by Murray's announcement on Friday that he would be retiring after Wimbledon, if not before, after 20 months attempting to repair a severely damaged hip.
Despite surgery and months of rehabilitation, Murray still finds himself in pain, and said he told his team he needs an "end point" which will be this year's Wimbledon tournament.
Annabelle Croft told Sky Sports News: "Andy Murray as left an extraordinary legacy, he won Wimbledon twice, two Olympic gold medals, Davis Cup champion, he finished the year as world number one, 45 titles to his name and I think everyone will remember him as an utter Braveheart on the court.
"Never say die, he pushed any opposition to the absolute physical and mental possibilities and limit on the court.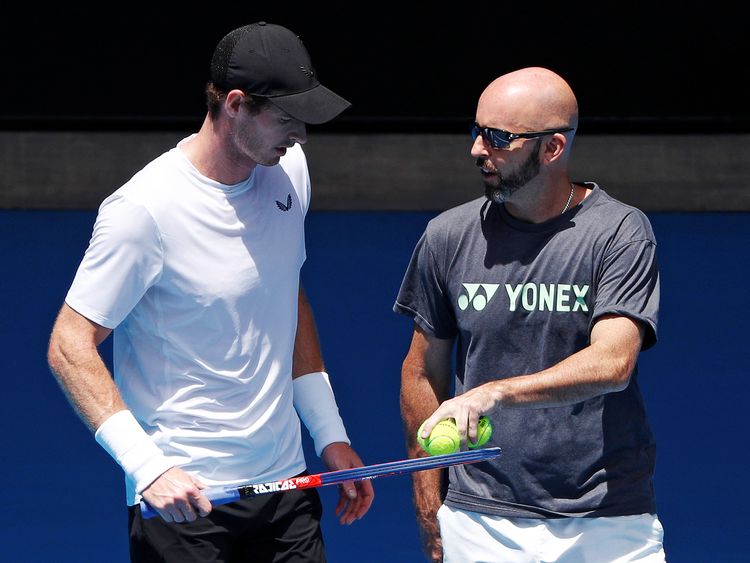 "Anyone who has seen Andy around the courts and the ground, will know even walking is painful, clearly that hip is giving him a lot of pain.
"I guess it's a surprise to get the announcement before the match, but he has laid his cards out on the table now, so there are very low expectations when he plays that match on Monday.
"I think he has been enjoying being a spokesman in the game and now he has a reputation as encouraging women into sport and into coaching. He's a strong character but I think he is not going to remain silent.
"There is a big adjustment when you retire, you are going into a whole new world. He has two young kids, I'm sure he will be doing the school run, getting their supper and helping with homework.
"But he has a management company, he represents athletes and we have seen him in the commentary box. He will see life doesn't revolve around playing professional tennis."
Despite a tearful news conference revealing the news on Friday, Murray posted a cheery snap on Instagram that evening, alongside his mother.
He captioned it: "Best way to feel better after a tough day is a big cuddle from your mum."
Although Ms Murray came under fire for her relationship with her boys, with Boris Becker once telling Murray to "cut the apron strings", she has remained their biggest tennis influence from the early days in Dunblane to the highs of winning Wimbledon.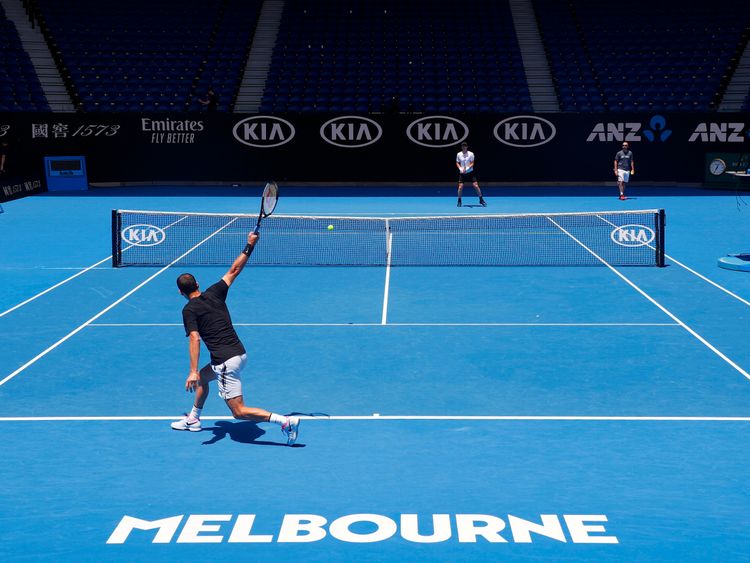 Tributes continued to come into the three time Grand Slam winner after the announcement.
Childhood friend Rafael Nadal said: "We shared court in the most important stadiums in the world, competing for the most important things. That's impossible to forget.
"He has a good fighting spirit. He have been a hard worker. Is not nice to finish like this because is great that you finish when you want to finish, not because of another thing.
"Overall, when he puts everything on the balance, will be that the positive things of the balance are much heavier than the negative things, even if in the end is not probably the way that he dreamed about. But you can't manage that."
US 'pipe bombs': Cesar Sayoc pleads guilty to using weapons of mass destruction | US News
Cesar Sayoc has pleaded guilty to posting "pipe bombs" to Democrats and critics of US President Donald Trump
The 57-year-old entered his plea in Manhattan, speaking in a shaky voice that at times fell into a whisper.
He admitted to sending 16 devices "designed to look like pipe bombs" consisting of a plastic pipe filled with powder from fireworks and fertiliser, a digital clock and wires.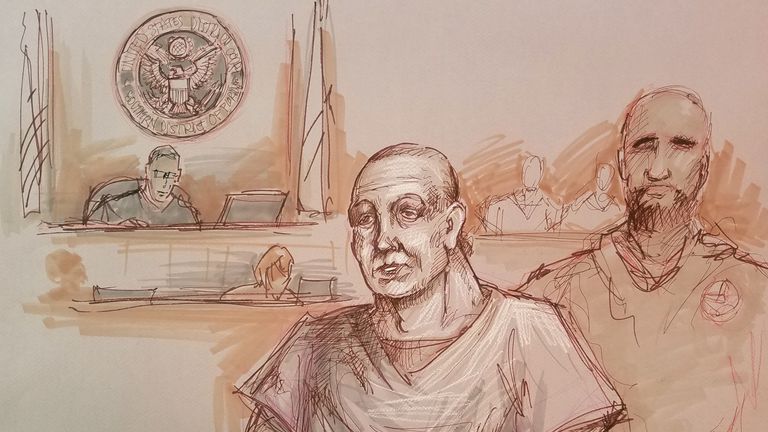 At one point, Sayoc began to cry. He said: "I know that these actions were wrong and I am extremely sorry."
He said it was not his intention for the devices to explode, kill or injure people – but acknowledged he knew there was a risk they could explode.
Sayoc, who had been working as a part-time pizza deliveryman, grocery worker and is a former stripper, faced charges of using weapons of mass destruction, mailing explosives with an intent to kill or injure people or property, and conveying threats through interstate commerce.
He was charged after his fingerprint was found on one of the devices.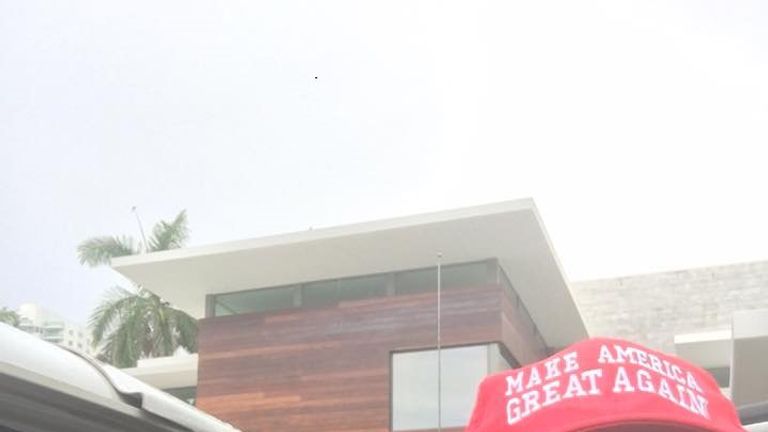 Thirteen explosive devices were sent to several high-profile figures, including Hillary Clinton, Barack Obama and Robert De Niro.
All of the devices were intercepted before reaching their intended targets and none exploded.
Sayoc faces up to life in prison when he is sentenced on 12 September.
Cyclone Idai: Aid workers struggle as 12,000 homes and schools destroyed | World News
I last heard from my small team in Beira at 4.30pm today.
Their homes have been damaged and they are still very anxious but they and their families are all safe.
For the past few days, staff had to travel nine miles (15km) to call us for updates as there was no phone signal.
It was raining heavily the whole time and the waters were rising.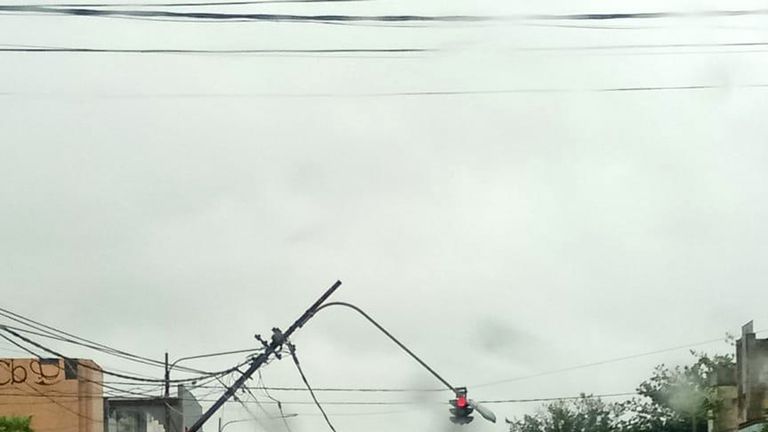 Since this morning they have been able to call from inside the city but the quality is very bad so it is still hard to
communicate and to get all of the details we need.
The latest information is that the rain seems so be slowing down, which is good news, but we are not sure if it will last.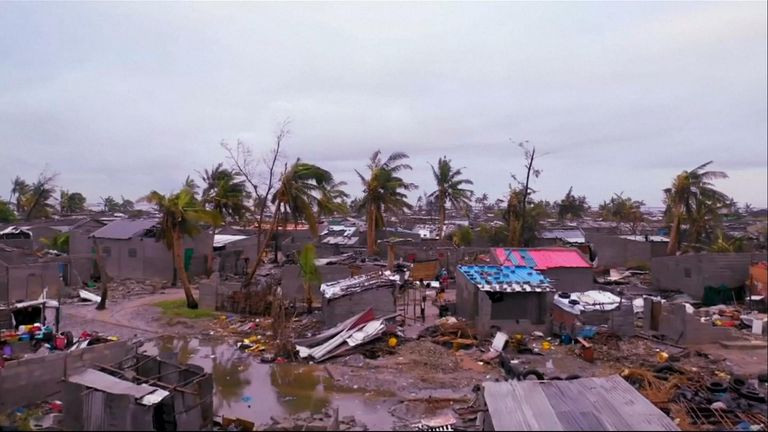 The water was at around eight metres (26ft) in many places but now has fallen to around five (16ft) – some internal roads can be used by many of the major routes out of Beira and connecting to rural areas are still impassable.
The airport and the port are starting to function again.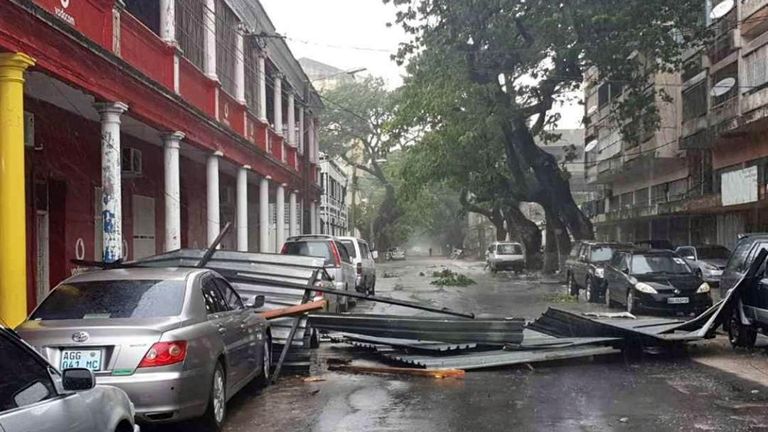 One priority is access to areas that still haven't been reached. Humanity and Inclusion's (HI) logistic expert will arrive in Beira on Saturday to assess the problems and try to co-ordinate a response – clearing roads, co-ordinating transport, organising stocks of aid etc.
A huge number of people have lost their homes, all of their belongings and their crops, so their needs are very far reaching.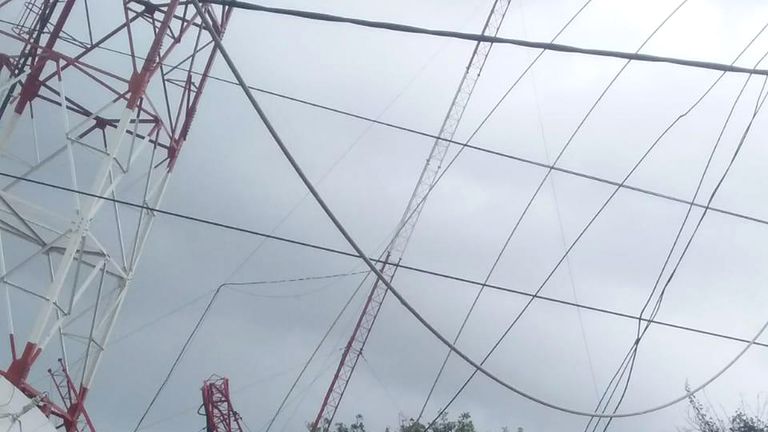 In the next few days, protection against diseases will also be essential, including mass vaccination programmes.
We believe more than 600,000 people are affected by the disaster, including 141,000 displaced people. Twelve thousand houses and schools have been destroyed alongside 85,000 hectares of crops.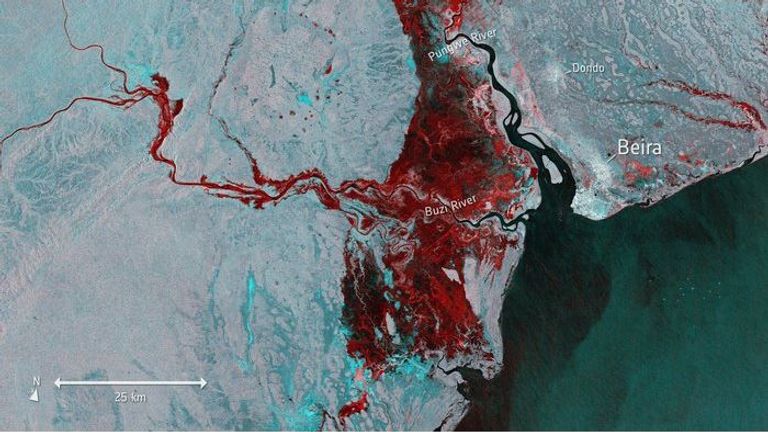 If heavy rains return, the situation will deteriorate.
I can confirm that there are a large number of people in need, including and perhaps especially, people with disabilities.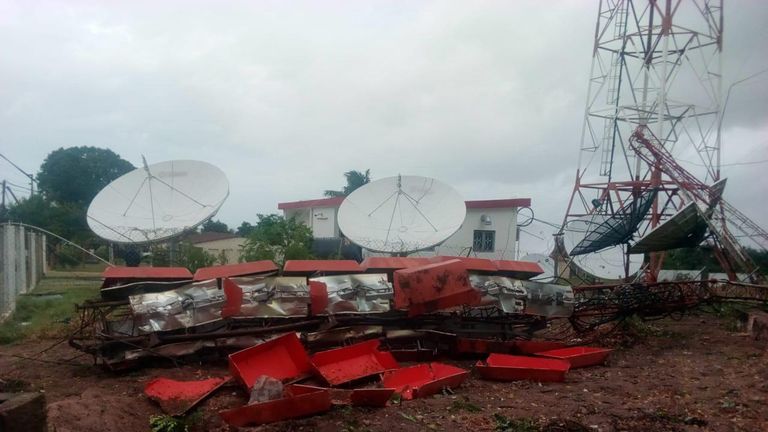 Before the cyclone, HI was working with 137 people with disabilities in Beira, including 28 children. We have not yet been able to confirm where they are, if they are safe and if they have access to humanitarian aid.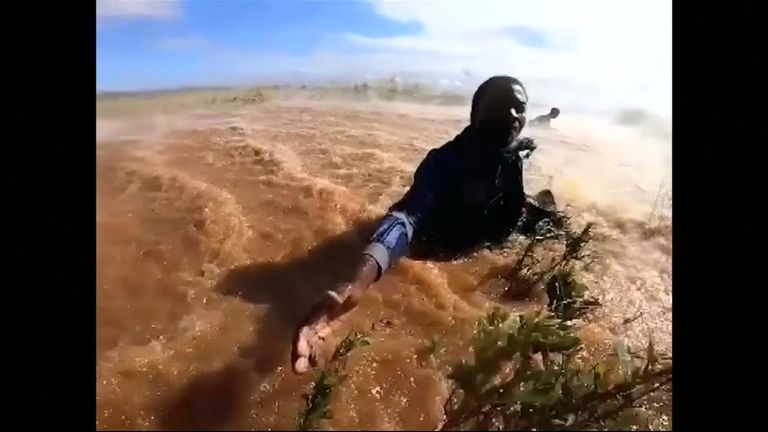 Our focus in the coming days will be the needs of the most vulnerable.
All humanitarian organisations are working in extremely complex conditions.The main challenge over the past days has been the communication network and access to the areas affected.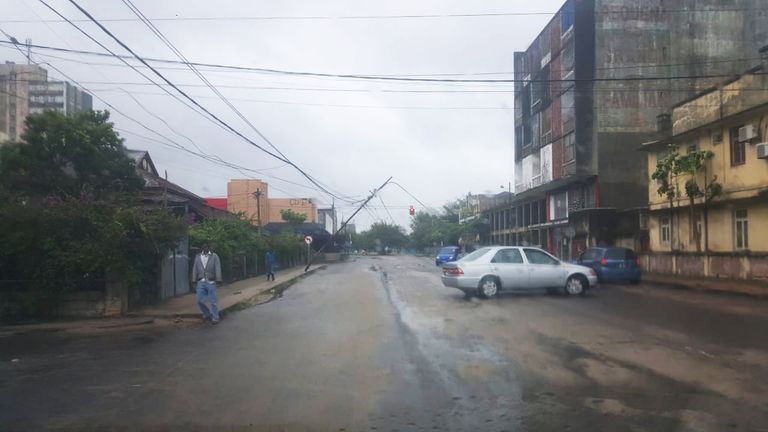 Due to these problems, we still don't have all of the information we need to be able to fully co-ordinate the response. But we are all working together, ensuring that everyone plays to their strengths.
HI will be focusing on providing logistics support to get the area up and running again and making sure that the most vulnerable survivors have access to appropriate support.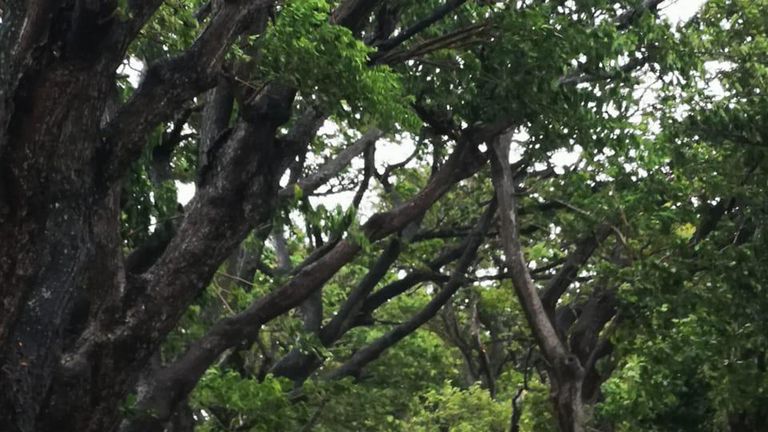 In any case humanitarian response plan is in place, and the firsts activities will start in a few days.
Due to the communication problems, I haven't been able to confirm these reports with our team, but the photos showing the scale of the destruction speak for themselves.
People have now been battling impossible conditions for almost a week. We need to reach everybody and provide some relief.
IH is raising funds to support vulnerable people impacted by the cyclone in Mozambique.
To donate to the DEC emergency appeal, visit their website, call the 24-hour hotline 0370 60 60 610, donate at any bank or Post Office or give £5 by texting SKY to 70000.
Thousands starve as Cyclone Idai's impact continues in Mozambique | World News
A large crowd turned as one as we arrived at the Mango Mascarenha primary school. Then, they began to cheer. I think they thought we were bringing them aid and assistance.
But the celebratory shouts soon turned to despair when they realised we were actually journalists.
It was understandable. Who wants to talk about a cyclone and days of torrential rain if you are starving and forced to drink from dirty puddles?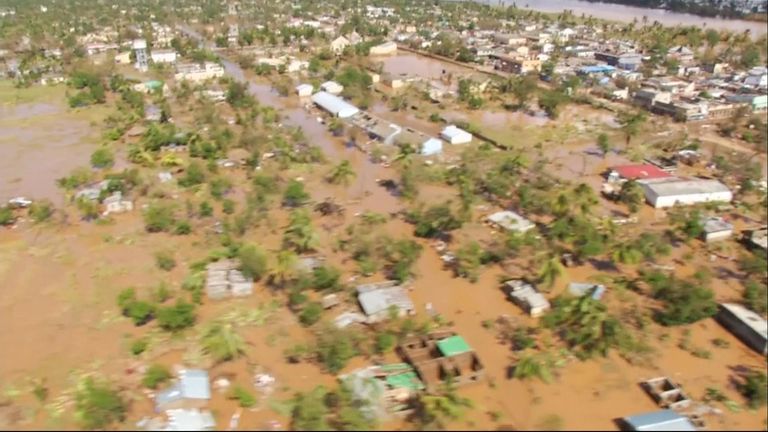 Two thousand people have been waiting in the school yard for a meal – or cup of porridge they can take home to their families – and they've been waiting in this suburb of Beira for days.
One man could not contain himself, saying: "They took our phone numbers and our names three days ago and they said they were bringing supplies but they haven't done anything."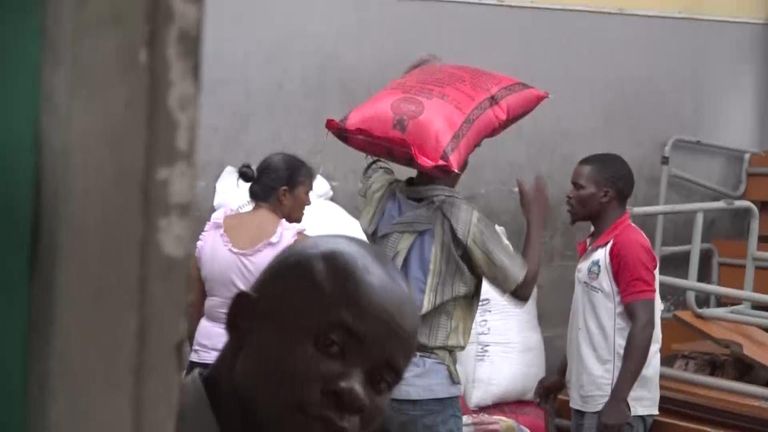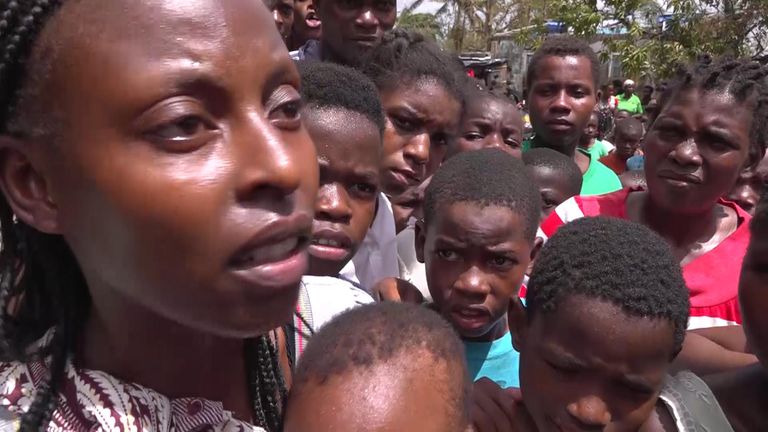 A woman spoke to me softly in English. "It's bad, everything is very bad."
Cyclone Idai has levelled homes and businesses and disrupted the power supply. It also seems also to have knocked out the government.
My hand was taken by a local government leader who was clearly struggling to deal with this primary school rebellion.
Pensar Ardo Hotela Pamala told me he is responsible for a hundred or so people sheltering in the school after their homes were destroyed in the storm, but he says he cannot look after everyone in the community.
He said: "The government brought supplies according to the number [being sheltered] at the school so when we divide it all up, it is not enough for everyone, that is why we have all this confusion."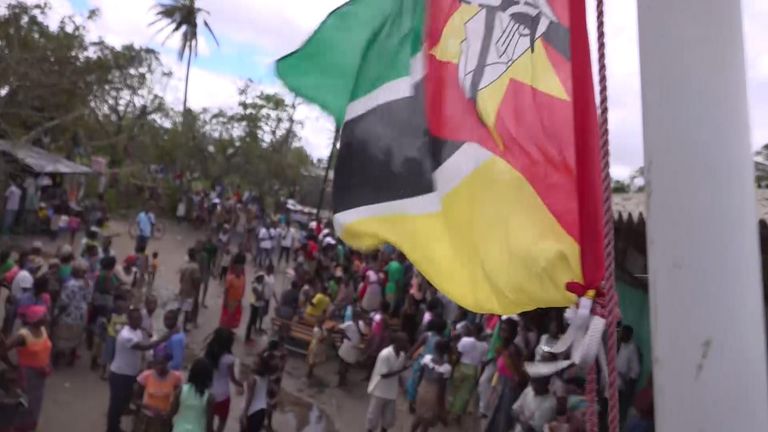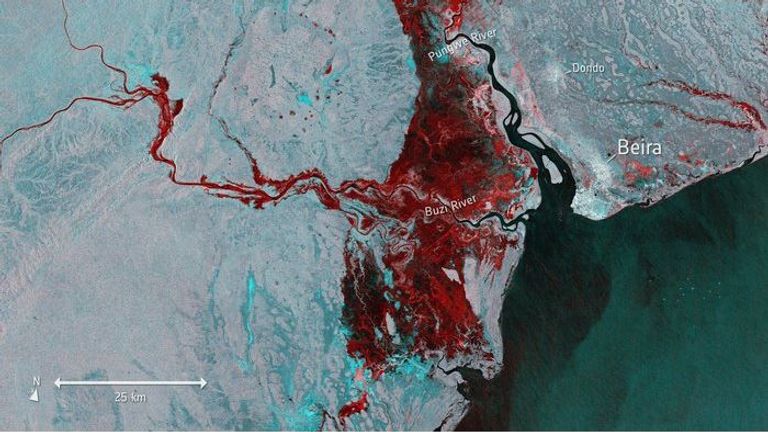 To make sure his meagre looking grain store is kept safe, Mr Pamala has deployed a soldier with a machine gun at the entrance of classroom three.
But the municipal government leader sounded frustrated.
"Until now we have had nothing from government. Ok, they give us 500kg of [porridge] for 2,000 people. It is not enough, not enough," he said.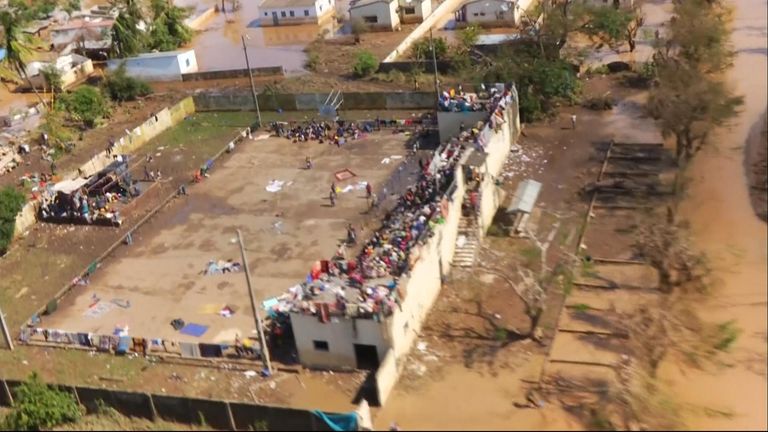 A few hundred metres away we witnessed similar scenes of desperation. Three men in a truck carrying a tank of clean water were trying to make a delivery at another primary school.
However, word soon spread that water had arrived and dozens of people ran to the site with their empty containers
What followed next was little short of a brawl as neighbours fought neighbours for a few litres of water. Unable to cope, the crew departed without giving it all away. I saw them swatting young boys away as they made their retreat.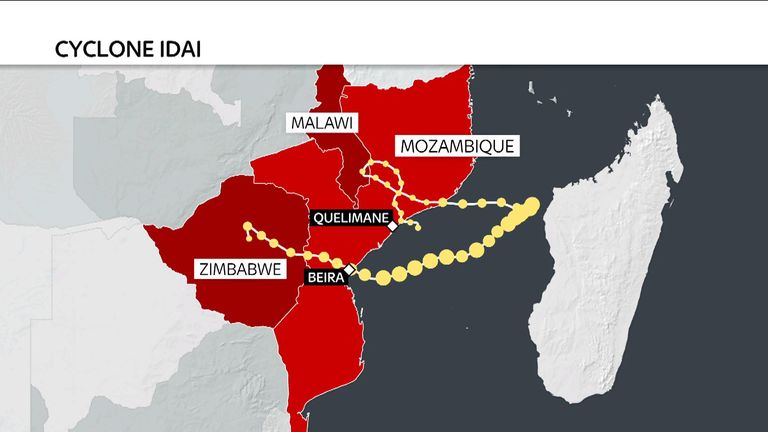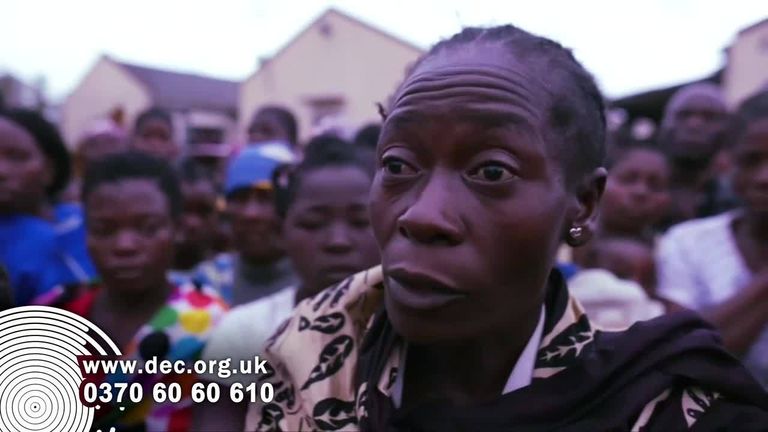 The authorities in Mozambique and the international aid agencies have had a week to assess the scale of this disaster but they are clearly struggling to get aid to those who need it.
Their operations base, at the local airport in Beira, is a hive of activity but the suburb of Mango Mascarenha lies only two or three kilometres away.
To donate to the DEC emergency appeal, visit their website, call the 24-hour hotline 0370 60 60 610, donate at any bank or Post Office or give £5 by texting SKY to 70000.