At least 17 people have died and 12 others have been injured in a fire at a drug rehabilitation clinic in Ecuador, authorities have said.
Officials said the blaze took hold after patients set mattresses on fire in a bid to escape the facility in Guayaquil – the country's biggest city.
Police chief Tania Varela said the centre lacked the necessary permits required to operate. Makeshift treatment facilities are common in the South American nation.
In a statement, the Guayaquil fire department said: "We regret the loss of 17 human lives in this tragedy, and we reject the negligence of the owners."
Officers are hoping to question the owners and operators of the rehabilitation facility.
More follows…
F-35 jets: Chinese-owned company making parts for top-secret UK-US fighters | UK News
A Chinese-owned company is making circuit boards for the top secret next generation F-35 warplanes flown by Britain and the United States, Sky News can reveal.
Exception PCB, a printed circuit board (PCB) manufacturer in Gloucestershire, south west England, produces circuit boards that "control many of the F-35's core capabilities", according to publicity material produced by the UK Ministry of Defence (MoD).
This includes "its engines, lighting, fuel and navigation systems", it said.
When asked about the firm's Chinese ownership, the MoD said Exception PCB is an established manufacturer of circuit boards to the defence industry and presents "no risk" to the F-35 Joint Strike Fighter supply chain.
But defence experts, including former defence ministers, expressed concern that a Chinese-owned company is producing any parts for such a classified, British and American fifth generation programme, because of long-standing fears about Chinese espionage and rivalry.
They said it is a particularly odd situation given President Donald Trump's trade war with China and his opposition to any involvement by another Chinese company, Huawei, in fifth generation civilian mobile phone networks.
"We have been completely and utterly naive about the role of China and it is only now that people are beginning to wake up," said Sir Gerald Howarth, a former Tory defence minister.
There is no suggestion that Exception PCB or its Chinese parent, Shenzhen Fastprint, have done anything wrong.
The Chinese state has long been accused of seeking to steal details on the multi-billion-pound F-35 programme, headed by US defence giant Lockheed Martin.
The stealth aircraft, fitted with a suite of highly classified sensors and other technology, will form a core part of US, British and other allied air and naval forces for the coming decades.
Companies in nine countries that partnered on the programme from its early stages supply components for the entire fleet of aircraft that is being built.
This means parts made in the UK are put on F-35 jets flown by the US, Japanese, Norwegian, Italian and other militaries.
The revelation that one Chinese-owned firm is part of this global supply chain raises the possibility there could be others.
Lockheed Martin was unable to state categorically this was not the case.
"We are not aware of any other Chinese-owned F-35 suppliers at this time," the firm said.
A March publication by the UK MoD, entitled Small and Medium-Sized Enterprise (SME) Action Plan, promoted Exception PCB as an example of a UK-based firm that is part of the supply chain for the F-35.
What it did not mention is that Shenzhen Fastprint – a company based in China and listed on the Shenzhen Stock Exchange – bought Exception PCB in 2013.
Describing its involvement in the aircraft programme, the MoD publication said: "Gloucestershire-based Exception PCB manufacture the circuit boards that control many of the F-35's core capabilities."
A news article published by the MoD last November again promoted Exception PCB's F-35 credentials as part of an event called "Small Business Saturday".
It said the company's 107 employees "manufactured the circuit boards that control many of the F-35's core capabilities, including its engines, lighting, fuel and navigation systems".
An MoD spokesman this week played down the firm's activities when asked about its Chinese ownership and what due diligence the UK had carried out.
"Exception PCB produces bare circuit boards and as a result there are no risks associated with their product in the F-35 aircraft supply chain," he said.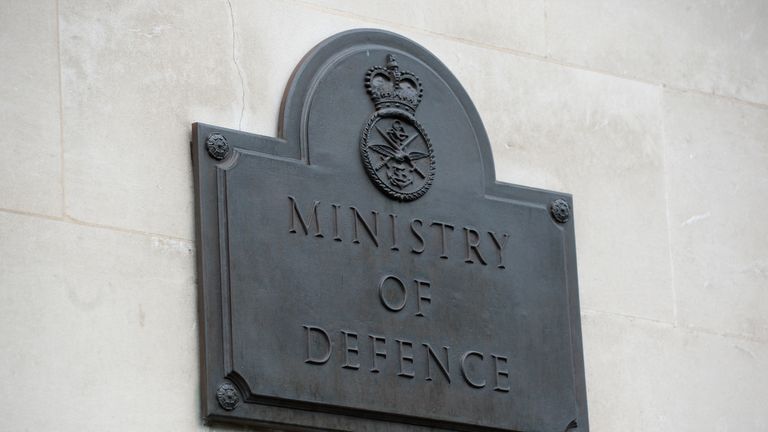 Lockheed Martin, however, signalled there could be a limited risk.
It described Exception PCB as a "third-tier" supplier because its products go via another company, GE Aviation, before reaching the aircraft.
"Exception PCB produces bare circuit boards with no electronics to GE Aviation," it said.
"These parts, like all components on the F-35, are inspected repeatedly at each stage of manufacture. Additionally, Exception PCB has no visibility or access to any sensitive programme information and there is limited to no risk associated with their minimal role in the programme."
It added: "Should Exception PCB be determined an unapproved source in the future, GE Aviation has alternate sources of supply that would ensure no impact to the programme."
Clark Ince, a director of Hallmark Electronics, another printed circuit board manufacturer in the UK, said firms make boards according to a design given to them by their customer.
He said he thinks it is possible for a company that buys another firm to glean details of what the circuit boards on its acquisition's order books might be used for even if – as in the case of Exception PCB – it is simply bare circuit boards for the F-35.
"They can look at certain designs and probably recognise what it's used for. If it is similar to what they are making but of a better design then they will copy it," he said.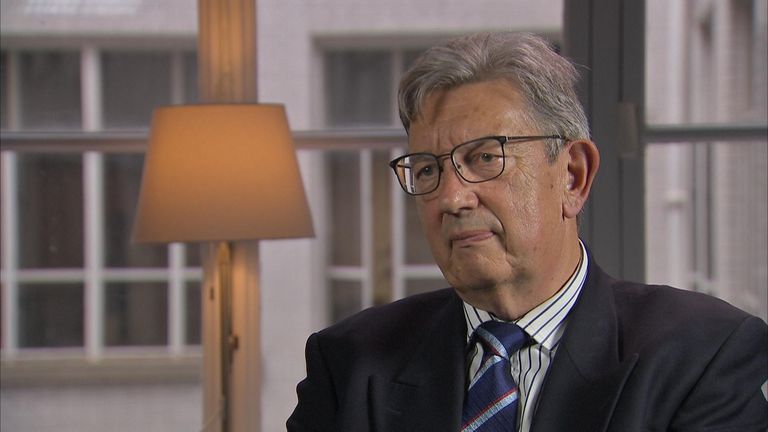 It is also possible to embed technology such as a chip without a customer's knowledge into a circuit board that could affect the way it functions, he said.
Asked whether he thought there was a risk to allow a Chinese-owned company to make circuit boards for the F-35, Mr Ince said: "Yes I think so, personally I think so."
A senior manager at Exception PCB had initially been happy to talk on camera about the F-35 work and show Sky News around the firm's plant on an industrial estate in Tewkesbury.
But the request was denied when he sought approval from his boss and from GE Aviation.
Exception PCB did not reply to subsequent emailed questions about its Chinese ownership, such as whether a firewall is in place to ensure no information about the company's F-35-related work is shared with Shenzhen Fastprint.
An industry source said a delegation from GE Aviation was due to visit Exception PCB's Tewkesbury headquarters this week in the wake of Sky News asking questions about its Chinese ownership even though this had been known when the takeover happened.
Documents on Exception PCB's website show that the company has also done work on other sensitive defence programmes including the Eurofighter Typhoon fighter jet, operated by the Royal Air Force, the US military's F-16 warplanes and the Apache attack helicopter.
An MoD source said the firm has been involved in Lockheed Martin's F-35 programme since its inception almost two decades ago.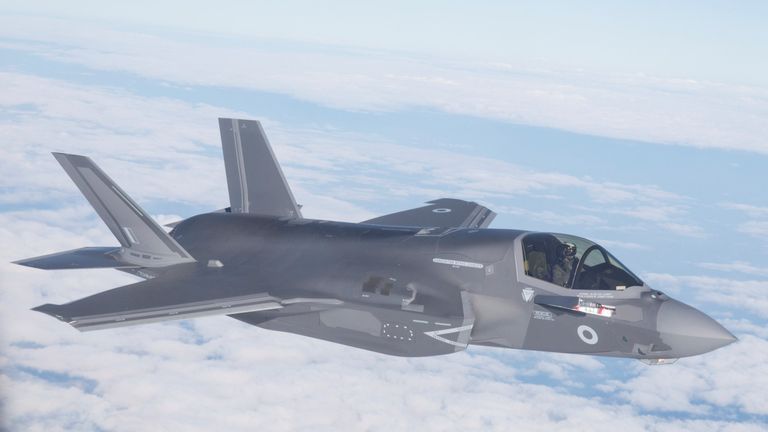 Defence and security experts said it is surprising that a Chinese firm was allowed to acquire a British company with these kind of defence contracts.
"I think it's breath-taking," said Bob Seely, a Tory MP and army reservist who co-authored a paper about concerns on China's Huawei and Britain's 5G mobile network.
"It's not a question of: Is this bad? But it's a question of: How bad is it?" he said. Mr Seely said he plans to raise the matter with Defence Secretary Penny Mordaunt in a letter.
Paul Beaver, a defence analyst, said there can be a blurring of the line between commercial entities and the state in China, which is particularly relevant when it comes to defence.
Beijing "believes that commercial companies in China are part of the state effort", he said.
"What people are concerned about – and I'm one of those – is if you have anything with a Chinese connection at least it ought to be known and the risks need to be assessed… To have it in the world's first fifth generation strike aircraft I think is really a cause for concern."
Lockheed Martin said there are no "direct F-35 suppliers based in China or under Chinese ownership". This does not include indirect suppliers like Exception PCB, however.
"We work closely with our industry partners to manage the F-35 Global Supply Chain in accordance with rigorous defence acquisition standards to ensure no parts and components from unapproved sources are included in aircraft production," Lockheed Martin said.
GE Aviation said it "works closely with all of our suppliers to ensure rigorous compliance with defence acquisition standards, export regulations and all legal obligations, including the F-35 supply chain.
"Exception PCB – a commonly-used industry supplier – produces bare circuit boards in the UK for GE Aviation and has no visibility to the design or drawing of the F-35 system".
Stowaway lizard travels from Kos to Bridgend in holidaymaker's suitcase | World News

A lizard has left behind hot and sunny Greece for South Wales after sneaking into a holidaymaker's suitcase.
The bright green Balkan reptile, which is not dangerous, said goodbye to temperatures of 26C (78.8F) when it travelled over 2,000 miles from Kos to a much cooler Bridgend.
After discovering him in their belongs on their return home to Laleston on 6 June, the holidaymaker called the RSPCA.
The lizard, around 20cm long, or 8 inches, had shed its tail – a common defence mechanism for the species – but apart from that, he was in good condition, despite the journey.
The animal is now being cared for at Silent World, which specialises in exotic creatures.
RSPCA inspector Nic de Celis said: "We're really grateful to the callers, who contacted us and safely confined the lizard in their utility room before we came and made the rescue.
"As a stowaway in a suitcase from Kos to Bridgend for many hours, and with temperatures falling from a high of 26C to 15C, this was some ordeal for the reptile.
"Fortunately, this lizard is now at a specialist centre in Pembrokeshire for boarding and care and is doing well. It is anticipated it will now live there, in safe and appropriate conditions."
Russ and Ginny Spenceley, who run Silent World, added: "He's quite friendly, went straight into a vivarium with us and is eating locusts directly from our hands.
"This lizard will join our other exotic species kept at our specialist facilities."
Cars plunge into river as bridge collapses in southern China | World News
Two people are missing after a road bridge plunged into a river and sent two vehicles into the water in southern China.
Heyuan city police said the 120-metre (390-foot) section collapsed early on Friday morning.
China's Xinhua News Agency said two nearby security guards rescued a 44-year-old man but two other people are still missing.
Dramatic footage aired on state broadcaster CCTV showed two arches of the six-arch bridge, which spans the Dongjiang river in Guangdong province, falling apart within seconds.
The cause of the collapse is under investigation but it came as southern China was battered by heavy rain which has brought flooding. At least 61 people have died.
In Longyan City in the Fujian Province, a landslide swept cars away and one man was trapped in his vehicle.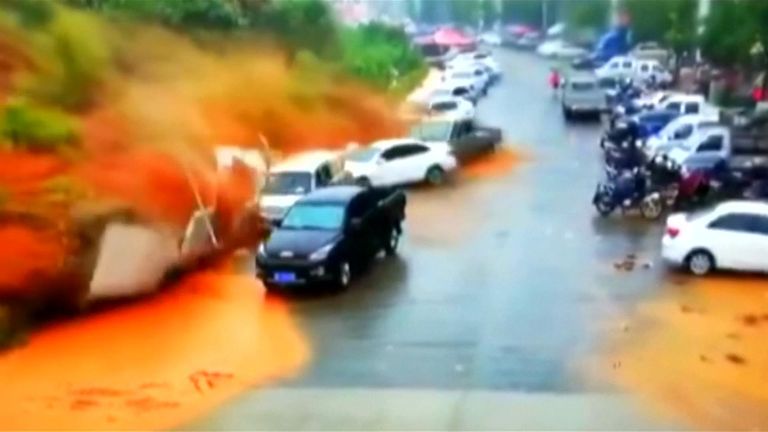 A local resident who went to the market was buried by the landslide.
His family could not reach him by phone and there was no response from him when rescuers shouted his name.
His rescue is still underway and his condition remained unknown, according to CCTV.
Hundreds of homes and businesses have been evacuated amid the heavy rains, affecting more than two million people across southern China.
More than 20,000 homes in the south-west region of Guangxi are without power, the state-run China Daily newspaper reported.