Dozens of people are feared dead after an oil tanker overturned and exploded in Nigeria.
The blast happened as locals scooped up fuel from the leaking tanker.
A police spokeswoman said 12 people are known to have died, and 22 others have been taken to hospital with "serious burns".
However, nearby residents fear as many as 60 people could have been killed in Friday evening's explosion, which happened in Cross River State.
Richard Johnson, who witnessed the explosion, said people were burnt to ashes – telling the AP news agency that the police had only recovered a few of the bodies.
He said: "It is not likely that anyone inside the pit survived as there was a lot of fuel in the pit."
Mr Johnson suggested that the blast could have been caused by an electricity generator brought to the scene to help pump out the fuel for people's containers.
Nigeria is Africa's largest oil producer – and impoverished people risking their lives to collect fuel leaking from pipelines and trucks is common.
Hundreds of people have died in similar accidents over recent years.
About a year ago, more than 30 people were burnt to death in the same area while scooping fuel from an oil tanker involved in an accident.
Nigeria's worst accident occurred in 1998, when more than 1,000 people died scooping fuel from a leaking oil pipeline that exploded in the town of Jesse.
Hong Kong police fire pepper spray at anti-extradition protesters during scuffles | World News
Hong Kong police have fired pepper spray at protesters angry about an extradition bill that would allow people to be sent to mainland China for trial.
Tens of thousands of demonstrators, most of them young people dressed in black, had gathered peacefully outside government buildings in the Chinese-ruled city before tempers flared, with claims some threw bottles at officers.
Rubber bullets were also used to try and keep people back as the protests turned to chaos, with some campaigners charging officers with umbrellas.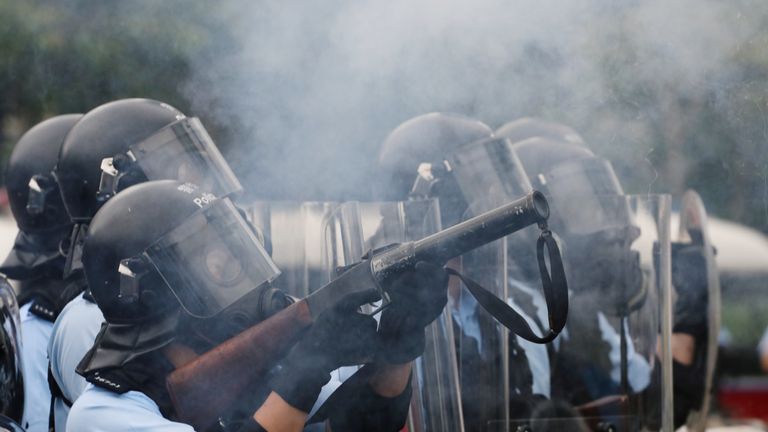 Ambulances were seen heading towards the crowds as a police chief warned protesters they – "must stop the violence", and urged residents to stay away from the area.
Riot police with shields and batons have pushed back against people attempting to storm past barricades to get to into Hong Kong's government headquarters.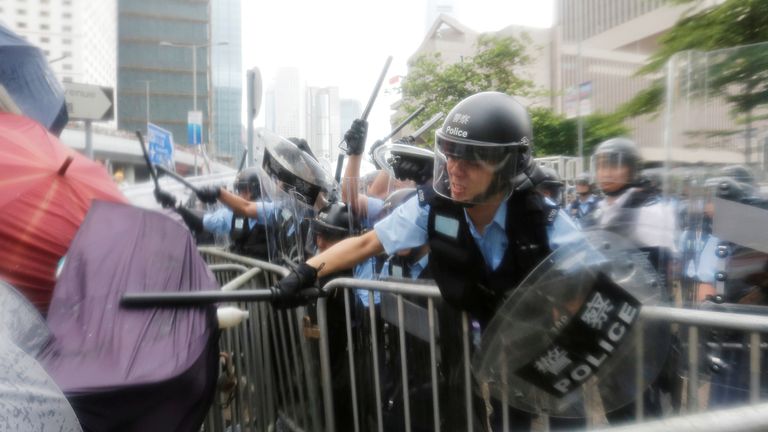 Protesters have scattered from some areas as claims compressed water was also deployed by officers trying to protect official buildings.
More follows…
Climate change helping 'make world less peaceful', Global Peace Index says | World News
Climate change is helping to make the world less peaceful by causing conflicts or making them worse by affecting livelihoods, security and resources, a study has said.
Nearly one billion people worldwide live in areas with high or very high exposure to climate hazards and 400m of them are in countries with already low levels of peacefulness, the Global Peace Index (GPI) found.
The link between climate change and conflict is illustrated by eight of the 25 least peaceful countries having 10% or more of their population in areas of high climate hazard.
More than 100 million people across those countries – South Sudan, Iraq, Libya, the Democratic Republic of the Congo, Sudan, North Korea, Nigeria and Mexico – are at risk.
Even more people – 122 million – are considered vulnerable in sub-Saharan Africa, the region least able to cope with climate hazards, which could exacerbate climate-related violent conflicts.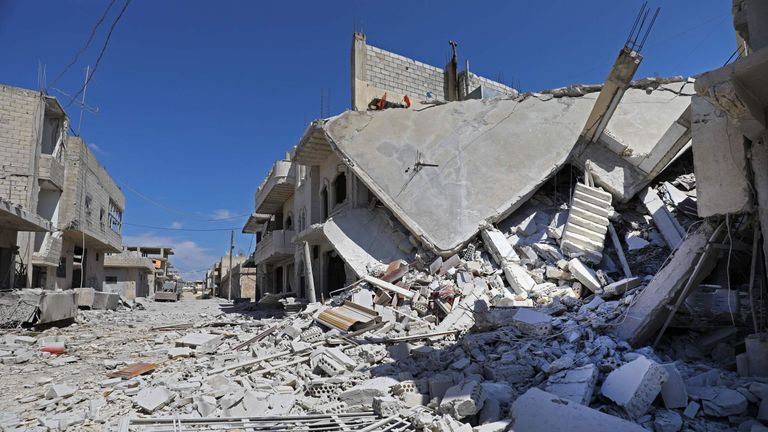 More peaceful countries are better-placed to cope with climate-induced shocks and tend to have higher environmental performance than less peaceful nations, for whom climate shocks are harder to manage, the report found.
"The impacts of fluctuating climate conditions on societal stability and its potential to lead to violent conflict is of growing importance," the report said.
"Research is clear that changes in the natural environment impose stress on human societies."
While admitting "long-term" evidence on the link between climate change and peace is "scarce", the report states that what there is, "suggests that climate has played a role in triggering or exacerbating conflict through its effects on livelihood security and resource availability."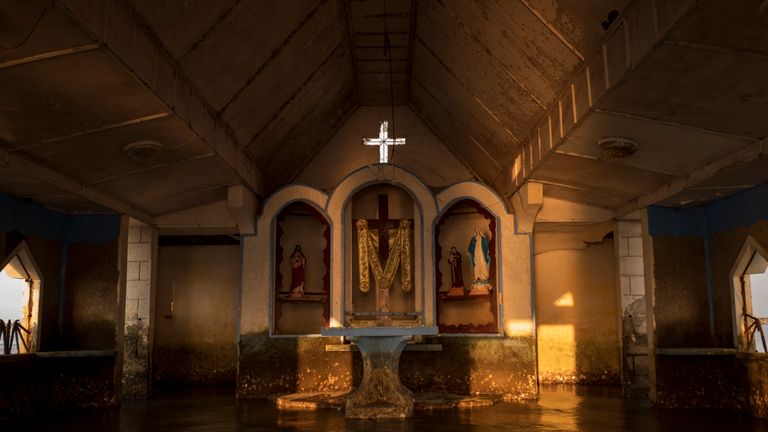 The annual report, produced by the Institute for Economics and Peace (IEP) and in its 13th edition, ranks 163 independent states and territories according to their level of peacefulness.
This year it classed more than a quarter (45) of the countries as low or very low.
Scientists will have more chance to explore the link between climate change and conflict in the future.
The Intergovernmental Panel on Climate Change (IPCC) predicts Earth's surface temperature could rise by a further 1.5 degrees Celsius between 2030 and 2052.
Over the decade the report has been issued, the average level of global peacefulness has decreased by nearly 4%, with the Middle East and North Africa (MENA) region the least peaceful for the fifth year in a row.
:: Most peaceful countries
1. Iceland
2. New Zealand
3. Austria
4. Portugal
5. Denmark
:: Least peaceful countries
1. Afghanistan
2. Syria
3. South Sudan
4. Yemen
5. Iraq
Instagram 'influencers' criticised for insensitive Chernobyl pics | Ents & Arts News

Social media "influencers" have been criticised for "insensitive" photos taken at Chernobyl.
The nuclear power plant, near the city of Pripyat in Ukraine, has seen a massive increase in tourism since the success of the Sky Atlantic/HBO miniseries, starring Jared Harris, Stellan Skarsgard and Emily Watson.
Some of the adventurers are risk-takers, some are simply curious.
But the site has also attracted some who seek an unusual backdrop for photos of themselves in the quest for likes and followers on social media.
One, Julia Baessler, posted photos of herself to her 319,000 followers, where she dons a reflective pose while sitting on a rusting swing in the town.
She also poses wearing a helmet and white coat inside the control room of the nuclear plant where the safety test went wrong 33 years ago, sparking the tragedy.
Some have pictured themselves touching the animals in the radioactive area while others pose on the furniture that was left behind when the city was abandoned.
Some have posed smiling in front of the ferris wheel that was never used and one even posed half naked on the streets of the ghost town.
The Foreign and Commonwealth Office has said that radioactive isotopes at the site "still linger [but] are at tolerable exposure levels for limited periods of time".
But it was not just the safety aspect that concerned other social media users – many deemed the photos insensitive.
One said: "People died there in a very horrific way – have some respect" while another described a photo as "stupid" and a third said they were "disrespectful in the extreme".
Responding to a photo of Instagram user nz.nik posing with her bra and knickers visible, a follower said: "This photo is disrespectful to the people who lost their lives. How insensitive can you be?"
Others said the photos were "opportunistic" and "dumb".
Chernobyl was the scene of the world's worst nuclear disaster in April 1986.
Thirty-one people were officially recorded as killed but estimates range from 4,000 to 93,000.
Without the bravery of those who risked their lives in the aftermath, that death toll could have stretched to millions.
Pripyat, about 70 miles north of Ukraine's capital Kiev, is one of the world's most polluted places and has only been open to tourists since 2011, although it can only be accessed as part of a licensed tour.