There have been 20 previous US government shutdowns over budget disputes, but there's never been one as long as this.
As of midnight, 800,000 federal employees are entering their 22nd day without pay. They have either been laid off, or are working for free – in the hope that they will eventually get back pay.
Understandably, they are angry, fearful of missing payments for their homes, cars, and healthcare. Some are struggling to pay for food. Everyone agrees it is not their fault and they should not have to suffer. But their increasingly desperate pleas for the standoff to be resolved are not pushing political rivals towards a compromise.
The president cannot risk a defeat on his key campaign promise to build a wall on the Mexican border. And Democrats will not back down and spend taxpayers money on a project they believe is unnecessary and ineffective. Some have gone as far as calling it immoral. As Senator Chuck Schumer said in his rebuttal to Donald Trump's address to the nation: "The symbol of America should be the Statue of Liberty, not a 30ft wall".
Mr Trump has shifted his rhetoric, but has not retreated on his promise of a physical barrier along the border. He now calls it a "humanitarian crisis", and would accept a steel fence rather than a concrete wall.
He has even backtracked on his assurance that Mexico would pay for the wall, a pledge repeated over and over again. Apparently we all misunderstood the nuances of this financial transaction. He now explains that he was not expecting the Mexican government to write a cheque for billions of dollars but that the money will come as a result of a new trade deal (which has not yet been fully signed). His words have naturally been greeted with derision, and replays of his original promise.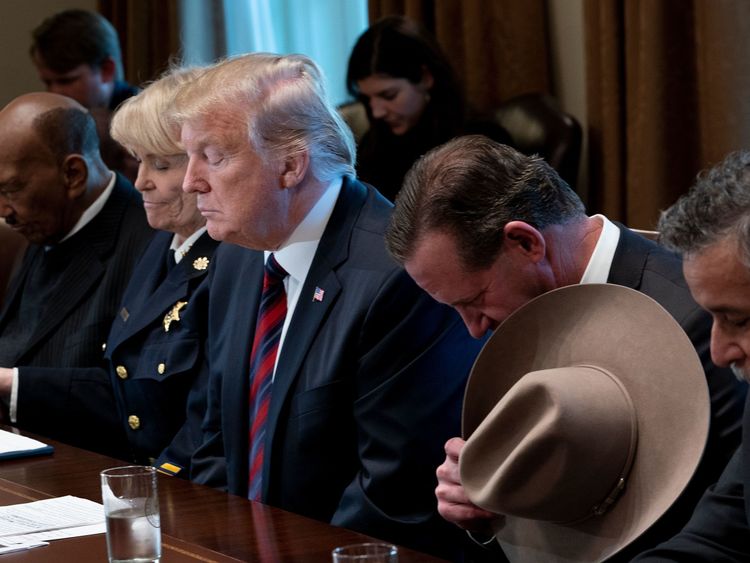 So if the wall is to be built it will be funded by American taxpayers. And there is a way of making that happen which the Democrats can do little to stop: Mr Trump can declare a national emergency and raid the Department of Defence coffers. All week, Pentagon planners and accountants have been drawing up contingency measures in case the emergency is declared.
Friday afternoon seemed a likely time for that to happen. Mr Trump was holding an immigration and border security meeting in the White House, and what better time to announce a major escalation in the dispute, just as members of the Senate and House of Representatives were heading home for the weekend.
But the president held back, saying it would be too easy a solution, and he still wanted Democrats in Congress to see the light and agree to his border funding demands. He is also wary of the long legal battle that would result, even if he is publicly confident that the Supreme Court, with a fresh conservative majority, would ultimately rule in his favour.
Declaring national emergencies to free funding is not uncommon, and usually uncontroversial. Waiting for congressional approval could delay the response to a genuine, unexpected emergency. But border security has been an issue for decades, and the number of illegal immigrants has been falling steadily over that time.
In this case, say critics, it is simply a way of circumventing the very heart of America's Constitution. In the system of checks and balances which were supposed to stop a president wielding too much power, Congress has to agree on the budget. If that principle was overturned it would set a dangerous precedent that Republicans may regret when a Democrat is next in the White House.
Man jailed for sharing footage of Christchurch mosque shooting | World News
A man has been jailed in New Zealand for sharing footage of the al Noor Mosque attack.
Christchurch businessman Philip Neville Arps had admitted two charges of distributing an objectionable publication after the shootings.
On Tuesday he was jailed for 21 months, with a judge saying he had "glorified" the shootings.
Fifty-one Muslims died after being shot as they attended Friday prayers at the Al Noor and Linwood mosques in March.
The al Noor shooting was streamed on Facebook.
Arps, among 13 people charged regarding the attack material, distributed the video to approximately 30 people on the social networking site, the court heard.
The second charge related to him asking another person to add crosshairs and a "kill count" to the video, intending to use this as a meme.
He was arrested days after the shootings and has been kept in solitary confinement since then.
In comments reported by the NZ Herald, Judge Stephen O'Driscoll said on Tuesday that Arps, 44, had "strong and unrepentant views towards the Muslim community".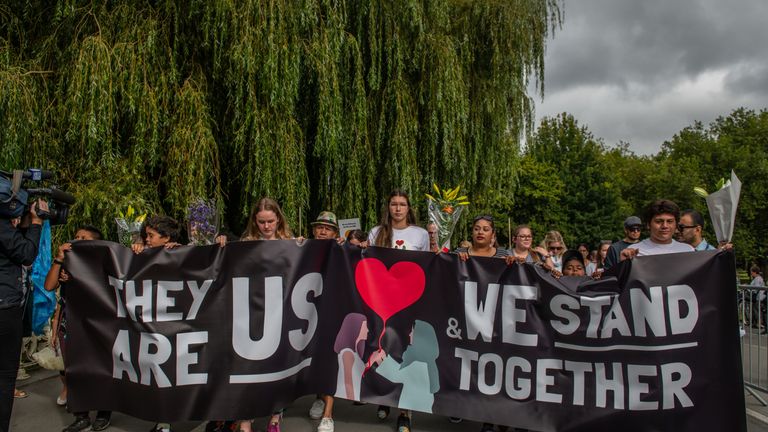 The court heard that Arps, who runs what was described as an insulation company that has used neo-Nazi imagery, showed "particular cruelty" in sharing the footage the day after the attack.
A pre-sentence report said Arps showed no remorse or empathy for any of those affected.
Judge O'Driscoll said some parts of the pre-sentence report were concerning but he did not mention them publicly, wary of Arps considering them a "badge of honour".
The judge did, however, say that Arps had once compared himself to Nazi war criminal Rudolf Hess and that the report said he was a high risk of re-offending.
According to TVNZ, Arps faces six months of strict conditions after he completes his sentence.
These include psychiatric assessments, drug and alcohol treatment and a ban on using the internet.
Facebook, the world's largest social media platform, has been criticised for being slow to take down footage of the attacks, which was deemed objectionable by New Zealand's Chief Censor.
Along with other social media, Facebook has long been under pressure to do more about hateful and abusive posts.
Toronto Raptors: Two injured in shooting at victory parade for NBA champions | World News
Two people have been injured in a shooting at a victory parade for the Toronto Raptors basketball team, police have said. 
Tweets from people attending the parade at Nathan Philips Square said they heard several gunshots, which sparked a stampede from the crowd.
Canadian journalist Diana Weeks said she heard four shots in total, but "thought they were fireworks".
She added: "I don't even know what to say right now."
"Started running for our lives. This is not Toronto. Children crying… ppl running."
Videos of the incident showed people running to exit the square as the incident unfolded.
Toronto police said the victims' injuries were "serious but not life threatening", and that two people had been arrested.
Two firearms have also been recovered.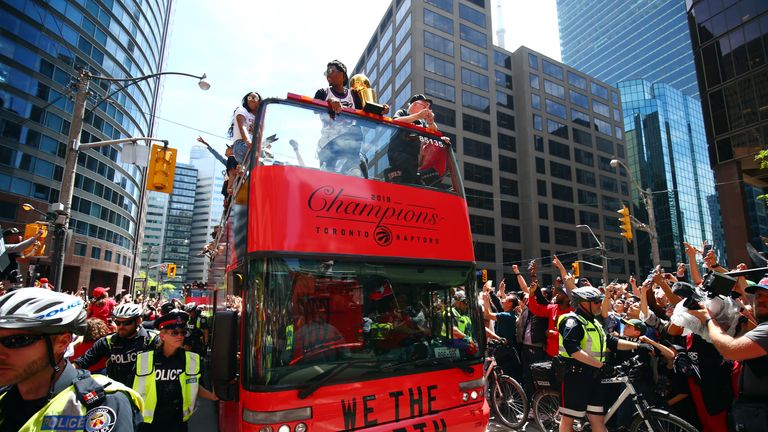 More than a million people had lined the streets on Monday to celebrate the Raptors' – and Canada's – first ever NBA championship win.
The team was paraded aboard five double-decker buses through the city, before coming to an end at the square.
Several public figures delivered speeches, including Canadian Prime Minister Justin Trudeau.
Mr Trudeau, Toronto's mayor and Raptors player Kawhi Leonard remained on stage as the incident unfolded, and resumed celebrations shortly after.
Teenager survives after 10in blade narrowly misses his brain | World News
Surgeons have told a 15-year-old Kansas boy who got a 10in knife embedded in his skull when he fell on it that he was within millimetres of death.
The knife narrowly missed Eli Gregg's brain with the tip pushing against his carotid artery, which supplies the brain with blood.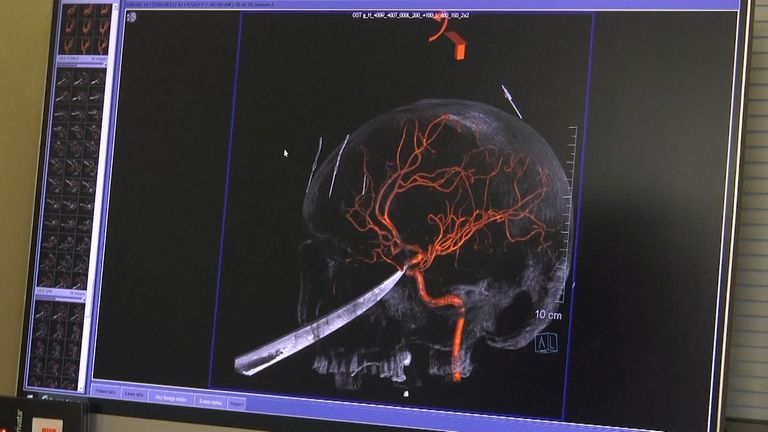 Dr Koji Ebersole, who oversaw the removal, said: "It could not have had a pound more force on it and him survive that event.
"I don't think he would have survived it."
Eli's mum Russell said her son was playing in the garden on Thursday when she heard him scream.
She found him with the large knife jutting out from just below his eye.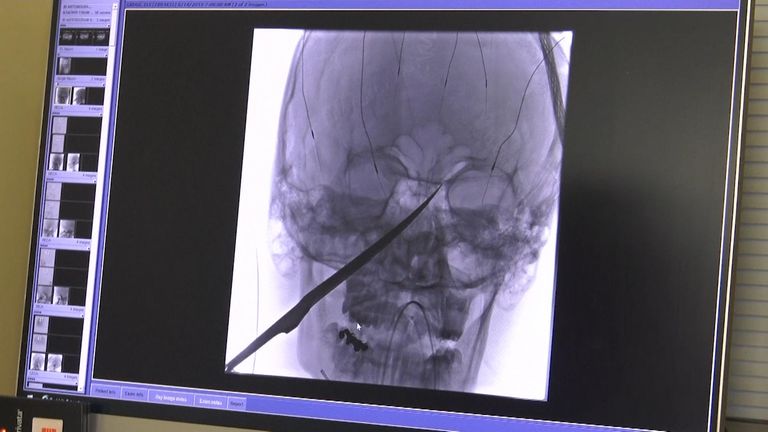 "It looked pretty grim, it was scary," she said.
Within 24 hours of the surgery, Eli was able to talk and make light of the situation.
His mum added: "He says he is going to stay away from sharp objects."