A suspect has been threatened with having a live snake stuffed in his mouth during a police interrogation in Indonesia.
Video of the alleged incident also shows the man with the snake draped around his neck as officers try to get him to admit to stealing mobile phones.
The suspect is seen with his hands tied behind his back – yelling as a snake is pushed towards his face by an officer.
A voice is also heard ordering the man to open his eyes as an officer threatens to put the snake into his mouth and up his trousers.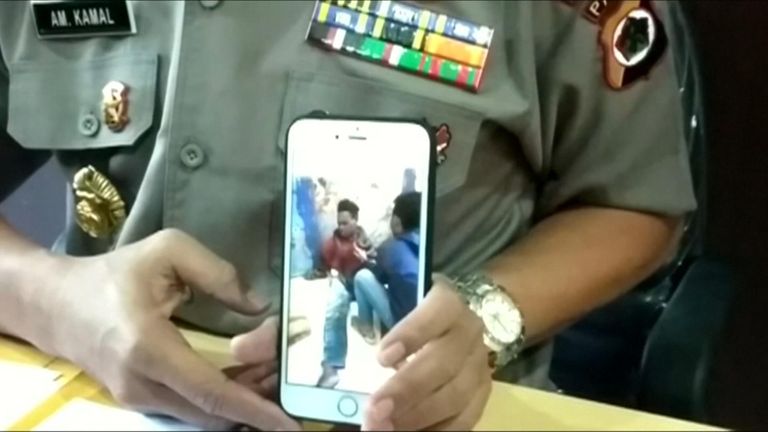 During the interrogation, an officer asks: "How many times have you stolen mobile phones?"
The suspect is then heard admitting: "Only two times."
Jayawijaya police chief Tonny Ananda Swadaya insisted the snake was non-venomous and tame, but accepted the "investigator was not professional in doing his job".
Stressing that the officers did not physically attack the suspect, he added: "We have taken stern action against the personnel."
A human rights lawyer has claimed that this is not an isolated incident.
Veronica Koman claimed a snake was used during the interrogation of one of her clients last month, but police in Papua have said they are not aware of this.
The incident could further inflame tensions in the region, where an insurgency has simmered since the 1960s when the resource-rich Western New Guinea was incorporated into Indonesia.
Flooding and mudslides kill at least 60 people in South Africa | World News
Flooding and mudslides have killed at least 60 people on South Africa's eastern coast, officials have said.
Most of the deaths were in KwaZulu-Natal province, where many homes collapsed, and at least three people died in neighbouring Eastern Cape.
Rescuers were digging through the collapsed buildings on Wednesday after days of heavy rain hit areas around the port city of Durban.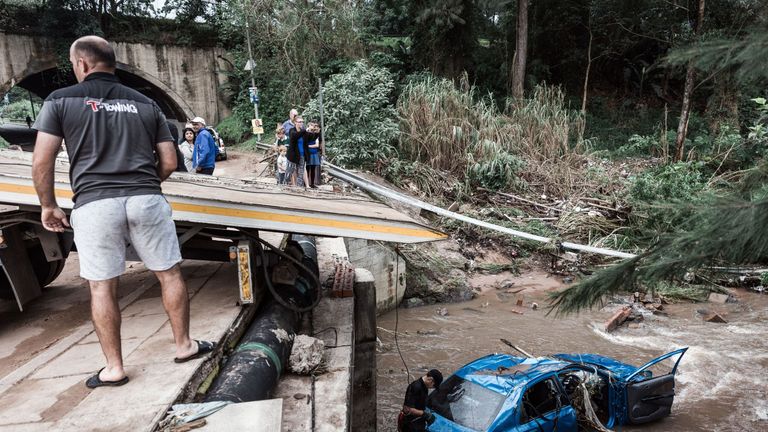 More than 1,000 people have also fled their homes.
The extent of the rain late on Monday was unexpected, said Lennox Mabaso from the Co-operative Governance and Traditional Affairs Department.
He said some people had been swept away by floodwater, adding: "There was flooding and some structures were undermined and collapsed on people."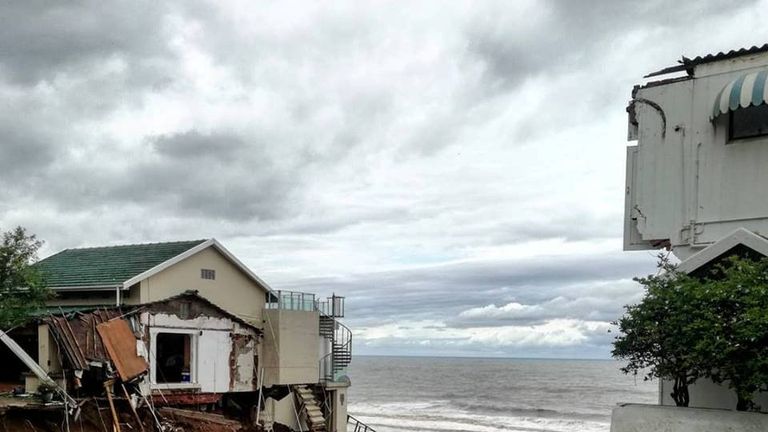 Victor da Silva, from the coastal town of Amanzimtoti, said his family managed to get out before the floods destroyed their home and cars.
He said: "On Monday, the water was just crazy.
"And yesterday morning I got here, everything was fine, my garage was still here, the other part of the house was still here, and it just couldn't stop raining.
"And then an hour-and-a-half later, everything [vanished] because the rain just hasn't stopped."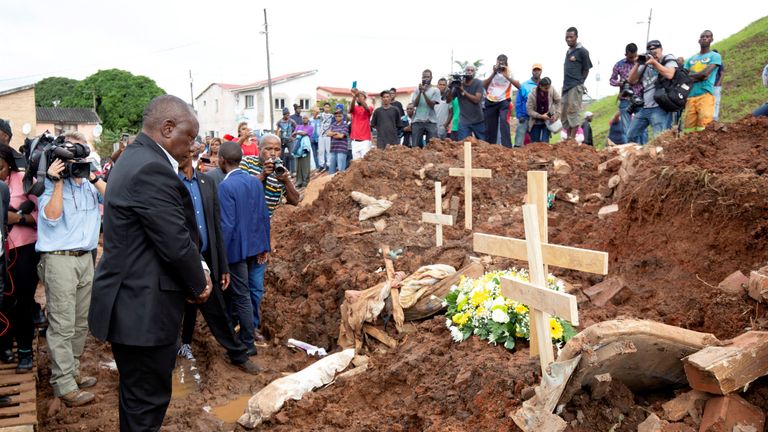 The deaths come a week after 13 people died when a wall at a church in KwaZulu-Natal collapsed after heavy rain.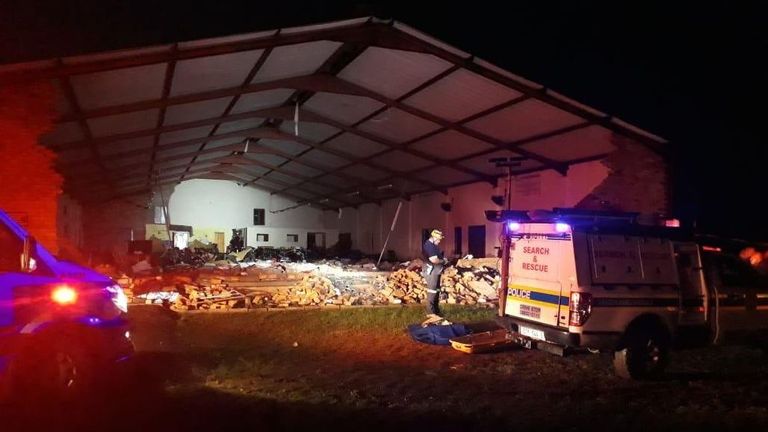 South African President Cyril Ramaphosa visited the province on Wednesday and is expected to visit the Eastern Cape in the next few days.
"This is partly what climate change is about, that it just hits when we least expect it," said Mr Ramaphosa.
Facebook warns of $5bn hit as US investigates how it handles user data | Business News

Facebook has warned it could face a hit of up to $5bn (£3.88bn) as a result of an investigation by US regulators into its handling of user data.
The social media giant, which also owns Instagram and WhatsApp, disclosed the estimated cost of the investigation into it by the Federal Trade Commission (FTC) as it published first-quarter financial results.
Facebook reported a 26% rise in revenues to $15.1bn (£11.7bn) – beating analysts' targets – and estimated that more than 2.1 billion people on average now use its "family" of services every day.
But profits fell by 51% compared with the same period last year to $2.43bn (£1.88bn) as it set aside $3bn (£2.33bn) to cover the FTC inquiry into its "platform and user data practices".
The FTC has been investigating revelations that Facebook inappropriately shared information belonging to 87 million of its users with political consulting firm Cambridge Analytica.
The probe has focused on whether the sharing of the data with the British firm, and other privacy disputes, violated a 2011 agreement with the regulator to safeguard users' privacy.
The FTC is yet to announce any findings.
Facebook said it estimated the range of loss it faced as a result of the investigation was between $3bn and $5bn.
The company added: "The matter remains unresolved and there can be no assurance as to the timing or the terms of any final outcome."
Investors shrugged off the disclosure, sending shares 5% higher in after-hours trading as they focused on Facebook's buoyant revenues – boosted by the success of its Instagram platform and surging ad income.
Facebook also reported an 80% rise in costs to $11.8bn (£9.15bn) as it ramped up spending to improve content and security across its platforms.
The company's number of employees stood at nearly 38,000 at the end of last month, up 36% on last year.
It added that its measure of monthly active users rose by 8% to 2.38 billion as of 31 March, while daily active users rose 8% to 1.56 billion on average for March.
Founder and chief executive Mark Zuckerberg said: "We had a good quarter and our business and community continue to grow.
"We are focused on building out our privacy-focused vision for the future of social networking, and working collaboratively to address important issues around the internet."
Three-year-old migrant boy found alone and in tears near US border | US News
A three-year-old migrant boy was found wandering alone in a Texas cornfield near the US-Mexico border.
The boy, in tears, was discovered in the Rio Grande Valley near Brownsville by US Border Patrol agents on Tuesday morning.
Officials said his name and a telephone number were written on his shoes.
The US Customs and Border Protection (CBP) tweeted: "We believe the boy was with a larger group that ran when they encountered agents."
The boy has been taken to a nearby border station while officials try to trace his family.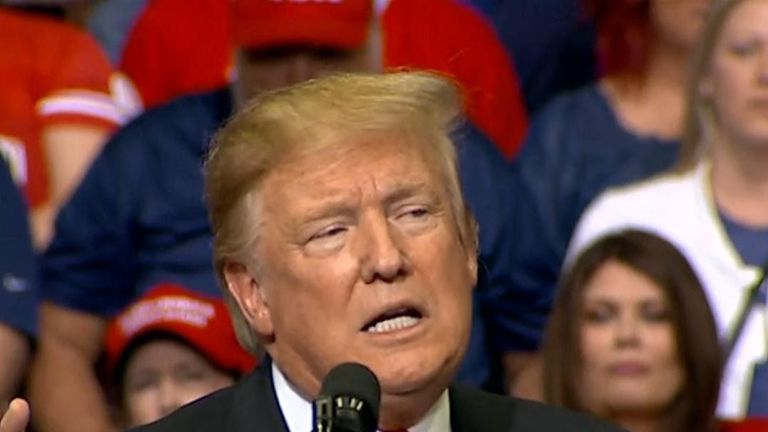 It came as Donald Trump renewed his threat on Wednesday to send more troops to the US-Mexico border after an incident in which Mexican soldiers confronted US personnel.
Mexico blamed the incident on confusion, and said it was not looking for confrontation with the US.
In tweets on Wednesday morning, Mr Trump said: "Mexico's Soldiers recently pulled guns on our National Guard Soldiers."
He said it was probably as a diversionary tactic for drug smugglers on the border.
The president added: "Better not happen again! We are now sending ARMED SOLDIERS to the Border. Mexico is not doing nearly enough in apprehending & returning!"
US Border Patrol agents have been struggling to cope with the rising number of families trying to reach the US from Central America.
Between January and the end of March this year, 207,475 people have been detained on the southwest US border, according to US Border Patrol figures.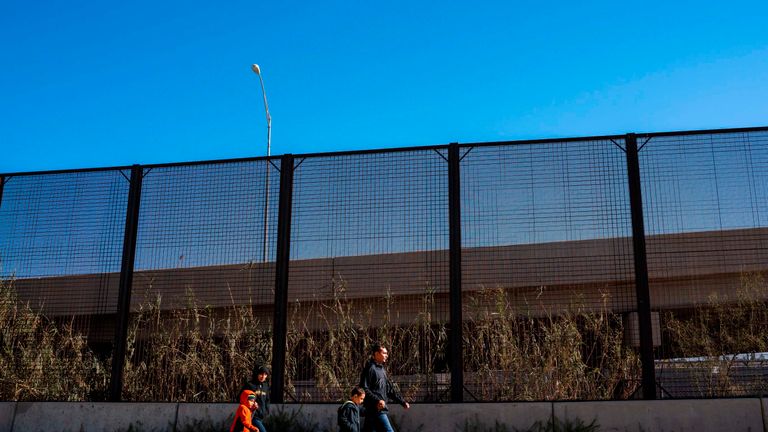 Mr Trump made migration a key part of his presidential campaign as he said criminals and drug dealers from Mexico were swamping the US.
The president had promised to build a wall to stop the flow of migrants – but last year, Congress refused to give him the $5.7bn (£4.5bn) needed to construct it, leading to a government shutdown.
In February, he declared a national emergency so he could get round Congress and divert funds from the military to the wall.
In March, army engineers received permission to start planning and building 57 miles of 18ft-high fencing along the border.