At least 3,000 suspected bootleggers have been arrested after a batch of illegal alcohol killed more than 100 people in India.
According to NDTV, the alcohol was first drunk at a funeral in the city of Haridwar, where 36 people have been confirmed dead and a further 18 remain in hospital.
It is believed the drink had been laced with methanol – a highly toxic substance commonly used as anti-freeze.
A further 69 people are feared to have died after sachets of the alcohol were then taken to the neighbouring state of Uttar Pradesh.
Many of those killed had complained of stomach pains and respiratory problems.
This is believed to be the deadliest outbreak since 2011, when a batch of bootleg booze killed 172 people in West Bengal.
Deaths from illegally made alcohol – often referred to as "hooch" or "country liquor" – are common in India because licensed brands are often out of the reach of those in poverty.
Bootleg alcohol is cheap and often has chemicals added to increase its strength.
In some states, like Bihar, the sale of alcohol is banned.
Stranded migrants jump off rescue boat to try to reach Italy | World News
Migrants on a humanitarian ship off the Italian coast had to be chased down after they jumped into the sea in a desperate attempt to reach land.
Four of them put on life jackets and jumped into the water as two crew members swam after them and brought them back to the boat.
It comes as the group that runs the ship warned of an "extreme humanitarian emergency" on board.
The boat is carrying 107 migrants rescued near Libya two weeks ago and has been anchored near the island of Lampedusa trying to get permission to dock.
Italy's anti-immigration interior minister Matteo Salvini has refused them permission but on Saturday had to let minors disembark on the orders of Italy's prime minister.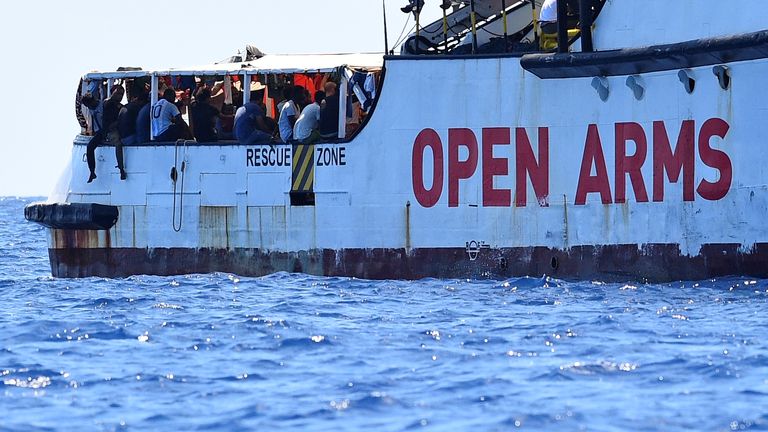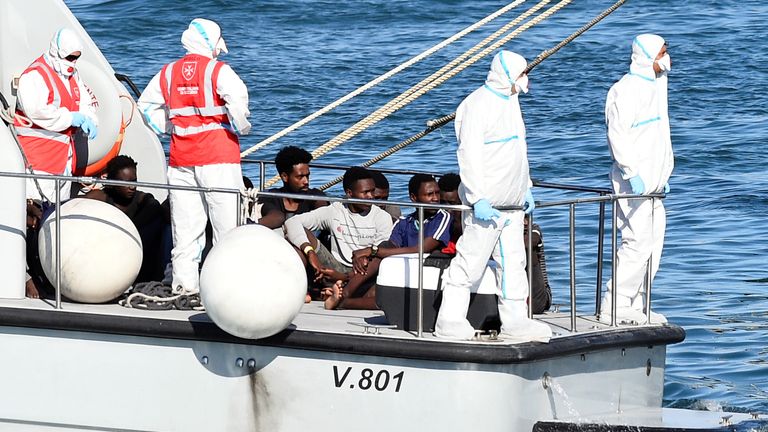 Spain's prime minister has offered to break the stand-off and let the ship dock in its southern port of Algeciras.
Pedro Sanchez said the offer reflected the dire conditions on board – where violence has started to break out and there are just two toilets.
Mr Sanchez also described Mr Salvini's refusal to let the boat in as "inconceivable".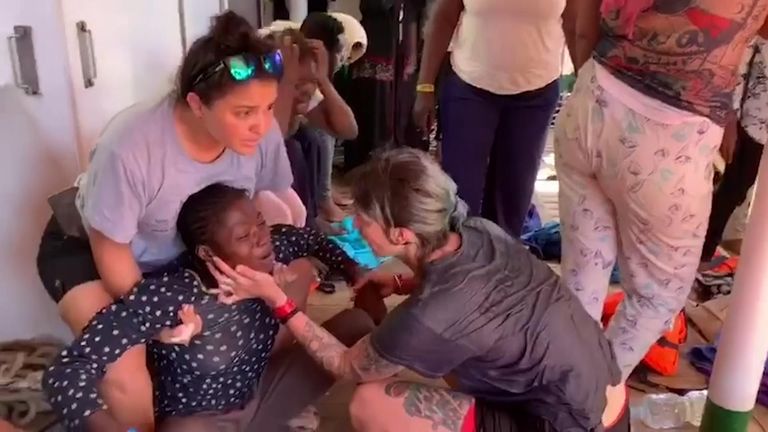 However, the group that operates the ship, Barcelona-based Open Arms, rejected Spain's offer saying it is too far and the situation is at breaking point.
"There is anxiety, bouts of violence, control is becoming increasingly difficult," said spokeswoman Laura Lanuza.
"To embark on a six day sailing with these people on board who are at the very limit of their possibilities would be crazy. We can't put their health and lives at risk."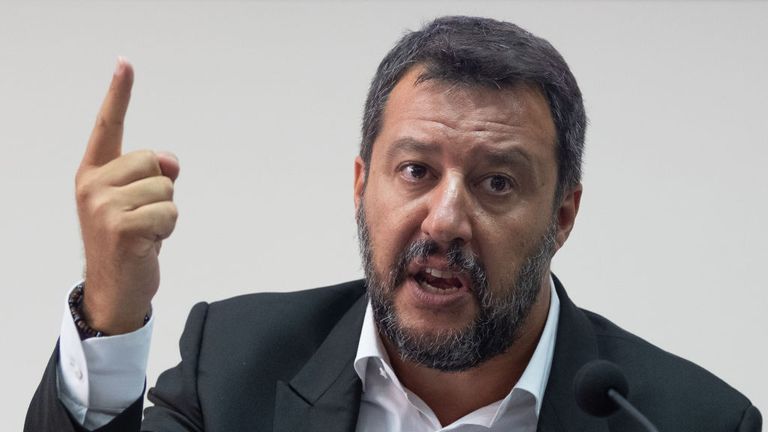 Five other countries have also offered to let the ship dock
Mr Salvini has built his reputation on being tough on migrants and on Sunday told the ship to leave Italian waters and go to Spain.
He tweeted that the boat was refusing to move "just to provoke me and Italy."
Open Arms has accused Mr Salvini of using the situation for "xenophobic and racist propaganda" and says the people on board are victims of abuse, rape and torture.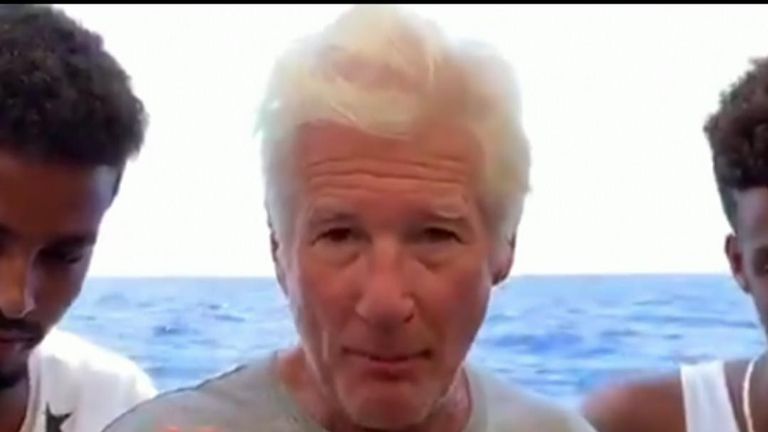 The situation on the boat – which has now been at sea for 17 days – was highlighted by US actor Richard Gere, who recently went on board to give the migrants food and supplies.
People are continuing to try to cross the sea from North Africa to Europe.
Attempted crossings this week include four boats carrying 278 people picked up by the Libyan coastguard and 330 people seized by Turkish authorities as they tried to get to the Greek island of Lesbos.
However, the numbers are much lower than the peak of the migrant crisis a few years ago.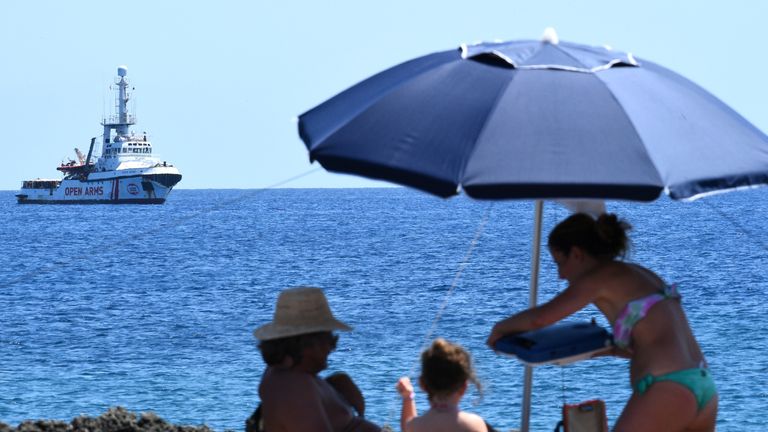 More than 4,200 migrants have so far arrived in Italy by sea this year, says the UN Refugee Agency. Most of them are from Tunisia (858) and Pakistan (620).
Some 575 are also dead or missing on the North Africa-Italy route, up until end of July.
Across the Mediterranean region, the figure is 838 – just over half of what was recorded in the same period in 2018.
Huge Hong Kong march is show of absolute defiance | World News
This has been absolutely extraordinary.
Some had thought there had been a drop in the public's levels of commitment to this pro-democracy movement in Hong Kong – but those doubters could not have been more wrong.
Victoria Park, the venue for this rally, only holds 150,000 or so people. Even as I arrived for some early filming, I could tell by the numbers all round me that it was going to be very full.
And I wasn't wrong – it was full to bursting before the event was even due to start.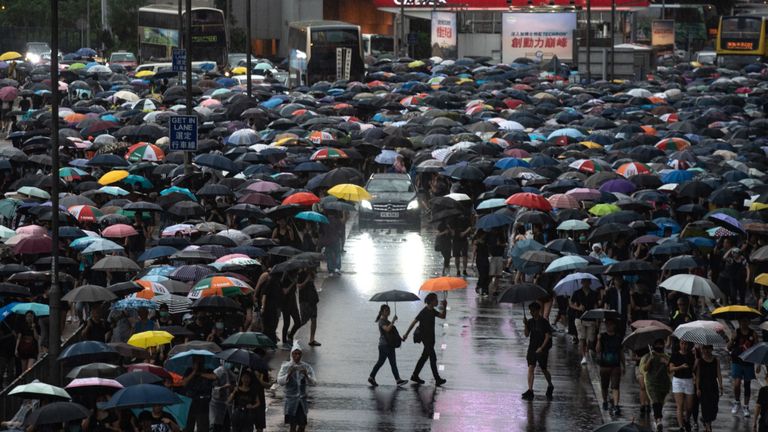 Tens, then hundreds of thousands, descended on this high-end part of Hong Kong Island, determined to "be there" to show their solidarity.
They queued to get into the entrances of the park as the heavens opened.
As the rain lashed down, the umbrellas – which are very much an emblem of protesting here – were opened.
With the park at absolute capacity, the late arrivals filled the streets as far as the eye could see, while a huge influx of passengers overwhelmed nearby metro stations, which were eventually forced to close.
But still people kept on coming – now on foot.
From pedestrian footbridges, we filmed some of the most remarkable images of a rally I have ever seen: the streets a heaving mass of pretty, colourful umbrellas marching in different directions on a six-lane highway. People around us gasped at the size of the crowd – the sheer numbers were astonishing.
They marched and chanted. No pushing or shoving, and no sign of violence. They defied a police marching ban and government condemnation.
The Beijing and Hong Kong administrations already knew they had a problem, especially after a week of increased violence and airport shut downs. But now they know they really have a problem.
This show is one of absolute defiance and absolute demand to be heard.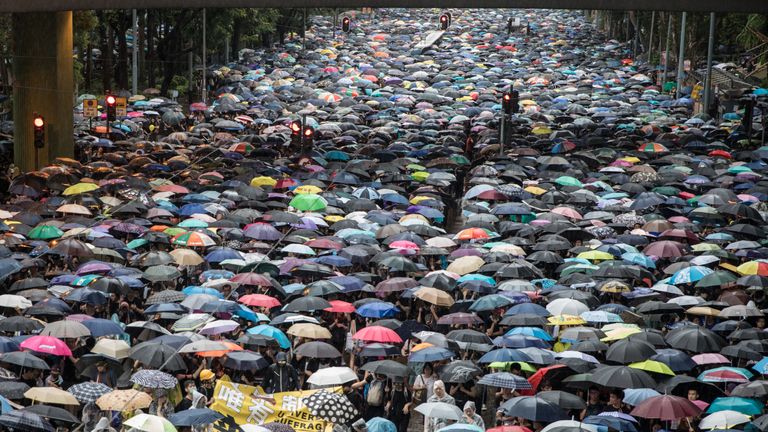 Time and again protesters have acknowledged that their demands are not being listened to.
"So we carry on, we have no choice," one young man told me.
The people clearly never had any intention of staying put regardless of what the police had said. With these numbers, there wouldn't be a way of stopping them without causing pandemonium, and almost certain loss of life.
So began an enormous, sometimes chaotic, but always good-humoured march in the pouring rain.
It wasn't just one march though – it was everywhere. Moving in different directions. The aim to be on the streets, and not to head for a final destination. Essentially a takeover of the streets.
Roads in every direction were choked with protesters. Some of the city's largest streets were filled to bursting.
It was almost impossible to go against this tide of humanity.
Incredibly, the shops in the Causeway Bay remained open as the march continued. We found ourselves pushed through the doors of a super upmarket shopping mall, past mega expensive handbag and jewellery shops. Nobody could stem this crowd.
:: Listen to the Daily podcast on Apple Podcasts, Google Podcasts, Spotify, Spreaker
Near an escalator, a smartly suited member of staff forlornly held a sign above his head, reading: "Don't Push". The crowd tried to observe etiquette befitting such an establishment. It was a crazy scene.
Then onwards, we were swept through streets, skyscrapers towering above the people, crowds determined to be listened to.
After hours and miles on the move, their numbers still filled the streets.
A remarkable event that won't be forgotten in Hong Kong, or, for that matter, in Beijing.
French waiter 'shot dead over slow sandwich' | World News

A French waiter has allegedly been shot dead by an irate customer who got frustrated waiting too long for his sandwich.
The waiter's colleagues called police after he was shot in the shoulder with a handgun, according to the French news agency AFP.
The incident happened in the Noisy-le-Grand suburb east of Paris on Friday night at a pizza and sandwich eatery, according to French media
The 28-year-old died at the scene.
According to a witness, the gunman lost his temper "as his sandwich wasn't prepared quickly enough".
He shot the man and fled the scene.
Police told AFP a murder investigation has been opened and the gunman is on the run.
Residents gathered around outside after news of the incident spread.
Some shocked residents emphasised what they said was a degraded neighbourhood with problems of drug-dealing and public drunkenness, the newspaper Le Parisien reported.
It said the restaurant had opened three or four months before the incident.